Over 90 Experts Call on Human Rights Watch to Speak Out on Honduras Abuses
WASHINGTON
93 scholars
and Latin America experts from institutions such as Yale, Harvard, and
New York University sent an open letter to Human Rights Watch today
urging the organization to highlight various human rights violations in
Honduras under the coup regime, and to conduct its own investigation.
The signers, who include well-known experts on Latin America such as
Eric Hershberg, John Womack, Jr., and Greg Grandin, Honduras experts
such as Dana Frank and Adrienne Pine, and well-known authors including
Noam Chomsky, John Pilger, and Naomi Klein, note that Human Rights
Watch could help force the Obama administration to denounce the abuses
and put greater pressure on the regime. Highlighting
"politically-motivated killings, hundreds of arbitrary detentions, the
violent repression of unarmed demonstrators, mass arrests of political
opposition, and other violations of basic human rights," the letter
notes that Human Rights Watch has not issued a statement or release on
the situation in Honduras since July 8, a little over a week following
the June 28 coup d'etat.
The signers write, "...the coup could easily be overturned, if the Obama
administration sought to do so, by taking more decisive measures, such
as canceling all U.S. visas and freezing U.S. bank accounts of leaders
of the coup regime."
The letter comes just a day after Amnesty International issued a new report on the coup regime's violations of human
rights in cracking down on protests, and as the Inter-American
Commission on Human Rights (part of the Organization of American
States) wraps up a fact-finding delegation to Honduras. The author of
the Amnesty International report, Esther Major, has stated
that the report was
released to call on the international community to take action to
"prevent a human rights crisis occurring in Honduras."
The full text of the letter follows:
August 21, 2009
Kenneth Roth
Executive Director
Human Rights Watch
Dear Mr. Roth,
We are deeply concerned by the absence of statements and reports from
your organization over the serious and systematic human rights abuses
that have been committed under the Honduran coup regime over the past
six weeks. It is disappointing to see that in the weeks since July 8,
when Human Rights Watch issued its most recent press release on
Honduras [1], that it has not raised the alarm over the
extra-judicial killings, arbitrary detentions, physical assaults, and
attacks on the press - many of which have been thoroughly documented -
that have occurred in Honduras, in most cases by the coup regime
against the supporters of the democratic and constitutional government
of Manuel Zelaya. We call on your organization to fulfill your
important role as a guardian of universal human rights and condemn,
strongly and forcefully, the ongoing abuses being committed by the
illegal regime in Honduras. We also ask that you conduct your own
investigation of these crimes.
While Human Rights Watch [2] was quick to condemn the illegal coup
d'etat of June 28 and the human rights violations that occurred over
the following week, which helped shine the spotlight of international
media on these abuses, the absence of statements from your organization
since the week following the coup has contributed to the failure of
international media to report on subsequent abuses.
The coup regime's violent repression in Honduras has not stopped.
Well-respected human rights organizations in Honduras, such as the
Committee for the Relatives of the Disappeared Detainees (COFADEH), and international human rights monitors have documented a series of
politically-motivated killings, hundreds of arbitrary detentions, the
violent repression of unarmed demonstrators, mass arrests of political
opposition, and other violations of basic human rights under the coup
regime. The killing of anti-coup activists has beendocumented in pressreports,
bringing to a total of ten people known or suspected to have been
killed in connection to their political activities. Press freedom
watchdogs such as Reporters Without Borders and the Committee to
Protect Journalists have issued releases decrying the regime's attacks
and threats against various journalists and the temporary closure and
military occupation of news outlets. Various NGO's have issued alerts
regarding the politically motivated threats to individuals, and concern
for people detained by the regime, but no such statements have come
from Human Rights Watch.
This situation is all the more tragic in that the coup could easily be
overturned, if the Obama administration sought to do so, by taking more
decisive measures, such as canceling all U.S. visas and freezing U.S.
bank accounts of leaders of the coup regime. Yet not only does the
administration continue to prop up the regime with aid money through
the Millennium Challenge Account and other sources, but the U.S.
continues to train Honduran military students at the Western
Hemispheric Institute for Security Cooperation (WHINSEC) - the
notorious institution formerly known as the School of the Americas. If
the coup were overturned, and the democratically elected government
restored, it is clear that the many rampant human rights abuses would
immediately cease. If Human Rights Watch would raise its voice, it
would be much more difficult for the Obama administration to ignore
Honduras' human rights situation and maintain financial and other
support for its illegal regime.
We know that there are, sadly, innumerable urgent human rights crises
around the world, all of which require your attention. Addressing the
deteriorating situation in Honduras, however, is of paramount
importance given its potential to serve as a precedent for other coups
and the rise of other dictatorships, not just in Honduras, but
throughout the region. History has shown that such coups leave deep
scars on societies, and that far too often they have led to the rise of
some of history's most notorious rights abusers, such as in Pinochet's
Chile, Videla's Argentina, and Cedras' Haiti, to name but a few. As
human rights defenders with extensive experience in dealing with the
appalling human consequences of these regimes, Human Rights Watch is
clearly well placed to understand the urgency of condemning the
Honduran regime's abuses and to helping ensure the coup is overturned,
that democracy is restored, and that political repression and other
human rights abuses are stopped. Your colleagues in the Honduran human
rights community are counting on you, as are the Honduran people. We
hope you will raise your voice on Honduras.
Sincerely,
Leisy Abrego
University of California President's Postdoctoral Fellow
UC Irvine
Paul Almeida
Associate Professor, Department of Sociology
Texas A&M University
Alejandro Alvarez Bejar
Professor, Economic Faculty
UNAM-Mexico
Tim Anderson
Senior Lecturer in Political Economy
University of Sydney
Australia
Anthony Arnove
Author and Editor
Brooklyn, NY
Marc Becker
Truman State University
Kirksville, MO
Marjorie Becker
Associate professor, Department of History
University of Southern California
John Beverley
Professor of Spanish and Latin American Literature and Cultural Studies
University of Pittsburgh
Larry Birns
Director, Council on Hemispheric Affairs
Washington, DC

Jefferson Boyer
Professor of Anthropology (ethnography of Honduras)
Appalachian State University

Jules Boykoff
Associate Professor of Political Science
Pacific University
Edward T. Brett
Professor of History
La Roche College, Pittsburgh, PA
Renate Bridenthal
Professor of History, Emerita
Brooklyn College, CUNY
Bob Buzzanco
Professor of History
University of Houston
Aviva Chomsky
Professor of History and Coordinator, Latin American Studies
Salem State College
Noam Chomsky
Professor of Linguistics
Massachusetts Institute of Technology
James D. Cockcroft
SUNY
Honorary Editor, Latin American Perspectives
Daniel Aldana Cohen
Graduate Student
New York University
Mike Davis
Distinguished Professor of Creative Writing
University of California-Riverside
Pablo Delano
Professor of Fine Arts
Trinity College , Hartford CT
Roxanne Dunbar-Ortiz
Professor Emeritus
California State University
Luis Duno-Gottberg
Rice University

Les W. Field
Professor of Anthropology
The University of New Mexico
Dana Frank
Professor of History
University of California, Santa Cruz
Todd Gordon
Department of Political Science
York University, Toronto

Manu Goswami
Department of History
New York University

Jeff Gould
Rudy Professor of History
Indiana University
Greg Grandin
Department of History
New York University
Richard Grossman
Department of History
Northeastern Illinois University
Peter Hallward
Professor of Modern European Philosophy
Middlesex University, UK.
Nora Hamilton
Professor, Political Science
University of Southern California
Jim Handy
Professor of History
University of Saskatchewan
Tom Hayden
Writer
Doug Henwood
Editor and Publisher
Left Business Observer
Eric Hershberg
Simon Fraser University
Vancouver, Canada
Kathryn Hicks
Assistant Professor of Anthropology
The University of Memphis

Irene B. Hodgson
Professor of Spanish, Director of the Latin American Studies Minor
Interim Director of the Academic Service Learning Semesters
Xavier University
Forrest Hylton
Assistant Professor of Political Science/Int'l. Relations
Universidad de los Andes (Colombia)
Susanne Jonas
Latin America and Latino Studies
University of California, Santa Cruz
Rosemary A. Joyce
Richard and Rhoda Goldman Distinguished Professor of Social Sciences,
Professor and Chair of Anthropology
University of California , Berkeley
Karen Kampwirth
Knox College
Naomi Klein
Journalist, syndicated columnist and author
Andrew H. Lee
Librarian for History, European Studies, Iberian Studies, & Politics
Bobst Library
New York University
Catherine LeGrand
Associate Professor
Dept. of History, McGill University.
Deborah Levenson
Associate Professor of History
Boston College
Frederick B. Mills
Professor of Philosophy
Bowie State University
Cynthia E. Milton
Chaire de recherche du Canada en histoire de l'Amerique latine
Canada Research Chair in Latin American History, Professeure
agregee/Associate Professor, Departement d'histoire
Universite de Montreal
Lena Mortensen
Assistant Professor, Anthropology
University of Toronto Scarborough
Carole Nagengast
Professor
Department of Anthropology
University of New Mexico
Robert Naiman
Policy Director
Just Foreign Policy
Marysa Navarro
Charles Collis Professor of History
Dartmouth College
Sharon Erickson Nepstad
Professor of Sociology
University of New Mexico
Mary Nolan
Professor, Department of History
New York University
Elizabeth Oglesby
Assistant Professor
School of Geography and Development
Center for Latin American Studies
University of Arizona
Jocelyn Olcott
Department of History
Duke University
Christian Parenti
Contributing Editor, The Nation
Visiting Scholar
CUNY Graduate Center

Ivette Perfecto
Professor
University of Michigan

Hector Perla Jr.
Assistant Professor
Latin American and Latino Studies
University of California, Santa Cruz
John Pilger
Journalist and documentary filmmaker
Adrienne Pine
Assistant Professor of Anthropology
American University
Deborah Poole
Professor, Anthropology
Johns Hopkins University
Suyapa Portillo
Pomona College
History Dept.
Vijay Prashad
George and Martha Kellner Chair in South Asian History and Professor of
International Studies
Trinity College
Margaret Randall
Feminist poet, writer, photographer and social activist
Marcus Rediker
Professor and Chair in the Department of History
University of Pittsburgh
Gerardo Renique
Associate Professor, Department of History
City College of the City University of New York
Ken Roberts
Professor, Department of Government
Cornell University
Nancy Romer
Professor of Psychology
Brooklyn College
City University of New York

Seth Sandronsky
U.S. journalist
Aaron Schneider
Assistant Professor
Political Science
Tulane University
Rebecca Schreiber
Associate Professor, American Studies Department
University of New Mexico
Ernesto Seman
Journalist

Richard Stahler-Sholk
Professor, Department of Political Science
Eastern Michigan University
Julie Stewart
Assistant Professor, Department of Sociology
Assistant Investigator, Institute of Public and International Affairs
University of Utah
Sylvia N. Tesh
Lecturer, Latin American Studies
University of Arizona.
Miguel Tinker Salas
Professor of History
Pomona College
Mayo C. Toruno
Professor of Economics
California State University, San Bernardino
Sheila R. Tully
San Francisco State University
John Vandermeer
Asa Gray Distinguished University Professor
Department of Ecology and Evolutionary Biology
University of Michigan
Jocelyn S. Viterna
Assistant Professor
Departments of Sociology and Social Studies Harvard University
Steven S. Volk
Professor, Department of History
Director, Center for Teaching Innovation and Excellence (CTIE)
Oberlin College
Maurice L. Wade
Professor of Philosophy, International Studies, and Graduate Public
Policy Studies
Trinity College
Shannon Drysdale Walsh
Fulbright-Hays Fellow
Doctoral Candidate
Department of Political Science
University of Notre Dame
Jeffery R. Webber
Assistant Professor, Political Science
University of Regina, Canada
Barbara Weinstein
Professor, Department of History
New York University
Mark Weisbrot
Co-Director
Center for Economic and Policy Research
Gregory Wilpert
Adjunct Professor of Political Science
Brooklyn College
Sonja Wolf
Institute of Social Research
National Autonomous University of Mexico
John Womack, Jr.
Professor of History, Emeritus
Harvard University
Elisabeth Wood
Professor of Political Science
Yale University
Richard L. Wood
Associate Professor
Department of Sociology
University of New Mexico
Marilyn B. Young
Professor of History
New York University
Marc Zimmerman
Modern and Classical Languages
University of Houston
1). Human Rights Watch, "Honduras:
Evidence Suggests Soldiers Shot Into Unarmed Crowd." July 8, 2009.
Found at https://www.hrw.org/en/news/2009/07/08/honduras-evidence-suggests-soldiers-shot-unarmed-crowd.
2).
Human Rights Watch, "Honduras: Military Coup a Blow to Democracy." June
28, 2009. Found at https://www.hrw.org/en/news/2009/06/28/honduras-military-coup-blow-democracy
LATEST NEWS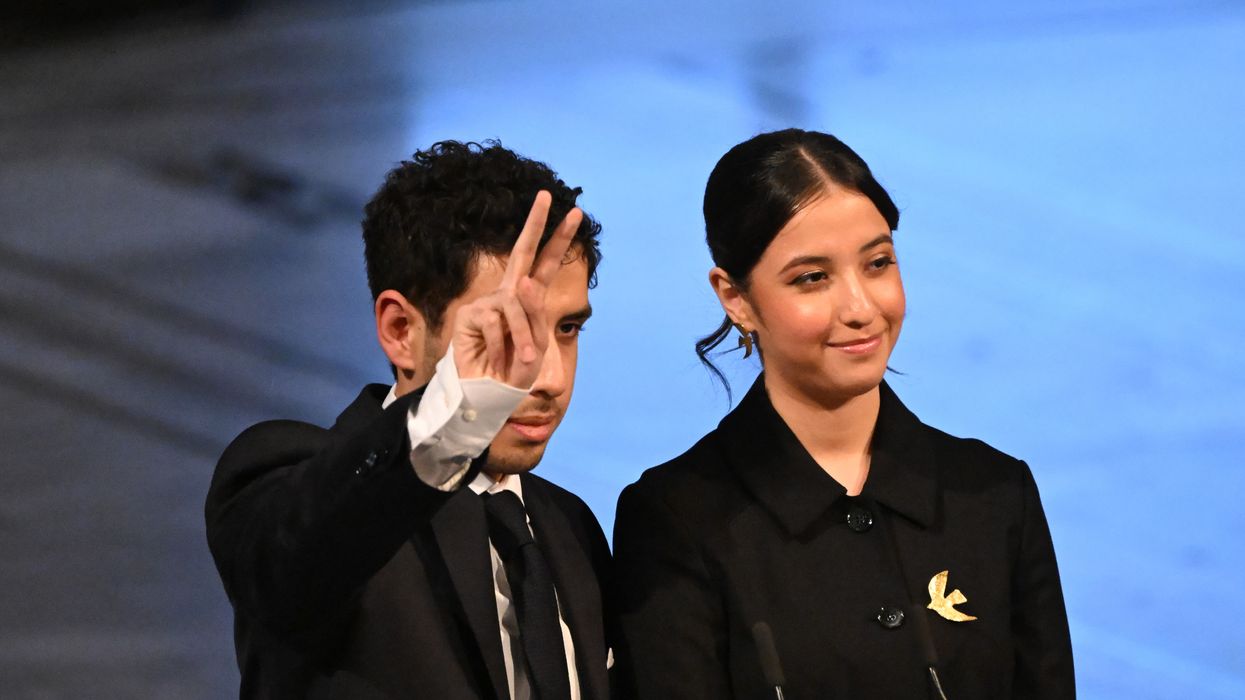 "This bittersweet moment reminds us of the important, brave, and selfless work of human rights defenders who shape a brighter future for everyone and also of the pushbacks they still face," said the U.N. human rights chief.
An empty chair sat on the stage at the 2023 Nobel Peace Prize ceremony in Oslo, Norway on Sunday, symbolizing the absence of the rights activist who was being honored: Narges Mohammadi, who is currently serving a 12-year prison sentence in Tehran for multiple charges related to her activism against Iran's theocratic government.
Accepting the award in Mohammadi's place were her 17-year-old twins, Kiana and Ali Rahmani, who read a speech their mother had prepared.
"I write this message from behind the tall and cold walls of a prison," Mohammadi wrote. "It seems that in the globalized world, either human rights will become respected internationally or human rights violations will continue to spread across state borders."
"The realization of democracy is contingent upon the realization of human rights," she continued. "Human rights have reached the level of historical awareness among the people of Iran and constitute the focal point of the activities of many movements, currents, and groups. It has the capacity and power to create widespread national solidarity and coalitions."
Mohammadi has been a rights campaigner for three decades, most recently serving as deputy head of the Defenders of Human Rights Center in her home country of Iran.
The Nobel Committee chose to honor her "for her fight against the oppression of women in Iran and her fight to promote human rights and freedom for all."
In her speech, Mohammadi denounced "the mandatory hijab" as "a disgraceful government policy." Her family has said she's been denied medical care in prison for refusing to wear the head covering.
On Saturday, her family also announced she had begun a hunger strike to protest the treatment of the Baha'i religious minority in Iran and other human rights violations. She has not seen her children since 2015 and has not been permitted to speak to them for two years.
"This bittersweet moment reminds us of the important, brave, and selfless work of human rights defenders who shape a brighter future for everyone and also of the pushbacks they still face," said Volker Türk, the United Nations high commissioner for human rights.

Mohammadi ended her acceptance speech with a message of hope, urging human rights defenders to continue "resistance and non-violence."
"With hope and eagerness, and alongside the resilient and courageous women and men of Iran, I extend my hand to all forces, movements, and individuals that focus on peace, the global covenant of human rights, and on democracy," said Mohammadi. "I am confident that the light of freedom and justice will shine brightly on the land of Iran. At that moment, we will celebrate the victory of democracy and human rights over tyranny and authoritarianism, and the anthem of the people's triumph on the streets of Iran will resonate worldwide."

News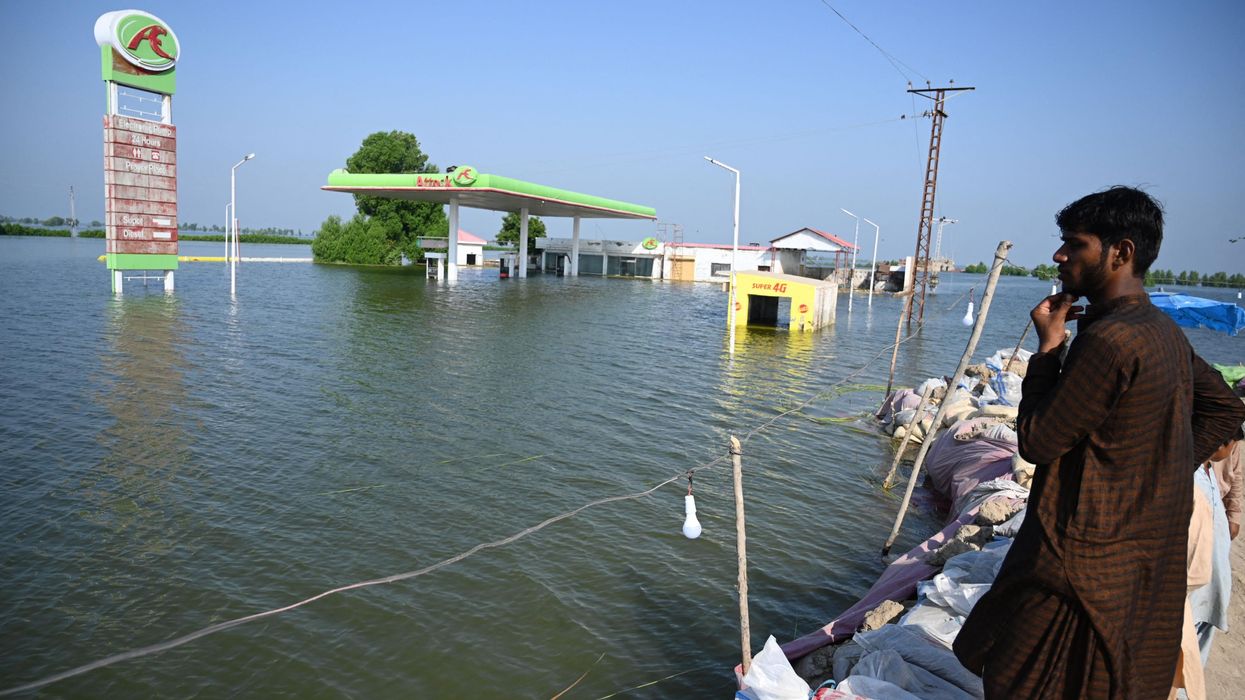 "There are countries here with the capacity to ensure the outcome of this summit is historic for the right reasons," said Mary Robinson, chair of The Elders. "They need to lean in now with ambition and urgency."
With just two days left until the conclusion of the 28th United Nations Climate Change Conference in Dubai, climate justice advocates from the Global South on Sunday expressed alarm over the latest draft of the Global Goal on Adaptation, a document being negotiated at the summit as policymakers finalize an agreement on further progress that must be made to limit planetary heating.
African countries proposed a Global Goal on Adaptation (GGA) a decade ago, and a number of advocates warned Sunday that the document so far appears "vague," with insufficient financial pledges from fossil fuel-producing nations to help the Global South to adapt various sectors—including agriculture, water, and transportation—to the climate emergency.
"Across the world millions of people, most of whom are least responsible for carbon emissions, are attempting to adapt their lives and livelihoods to a distorted climate," wrote Mohamed Adow, founder and director of Power Shift Africa, at Climate Change News. "Although it isn't just about money, funding is important and severely lacking. The goal for 2023 was to raise $300 million for the Adaptation Fund, but at COP28 we've only seen $169 million in pledges, a mere 56% of the intended amount."

On social media, Simon Evans, deputy editor of Carbon Brief, provided an analysis of Sunday's draft, which he said was "very heavily qualitative, not quantitative" and includes only a "vague link to finance."
"Qualitative targets" in the text include "significantly reducing climate induced water scarcity" and "strengthening resilience"—phrases that "could mean almost anything," said Evans.
The draft reiterates an earlier call for wealthy nations to double adaptation finance by 2025, but only "urges" and "invites" governments to provide resources for developing countries that are disproportionately affected by climate-linked sea level rise, drought, and flooding—despite the fact that the entire continent of Africa is behind just 4% of planet-heating global greenhouse gas emissions.

The call to "urge" powerful countries to contribute meaningfully to a climate adaptation fund "is code for 'only if you feel like it, but no worries if you don't'," said Teresa Anderson, global climate justice lead for ActionAid.

"Overall, the text is weak and doesn't sufficiently address the aspiration for setting the required adaptation measures and indicators and mobilizing adaptation financing," said Adow.

The U.N. Environment Program said in November that between $215 billion and $387 billion is needed annually to help the Global South adapt their infrastructure to the climate crisis. In 2021, just $21 billion was provided.

While developed countries "have committed to at least double adaptation finance by 2025," said Obed Koringo of CARE Denmark, "a detailed roadmap is the only way to achieve this. This must set out what individual developed countries plan to provide by 2025 and how this adds up to $40 billion annually."

"It is disappointing to see that negotiations on adaptation are hurtling towards a damaging global failure," said Koringo. "We are afraid that it will have catastrophic consequences for communities on the frontlines of the climate crisis, especially in Africa... Failure to invest in adaptation, including early warning systems, flood defenses, and drought-resistant crops, will only increase the costs of loss and damage in the long run."
African policymakers this weekend also continued to sound alarms over the language being negotiated for the Global Stocktake (GST), the document that's expected to direct countries on how to proceed to limit planetary heating. Climate campaigners have joined experts in demanding a phaseout of fossil fuels, but European and American negotiators have pushed for language that would call only for a "phasedown," and fossil fuel-producing countries are demanding that the agreement address only "unabated" emissions—allowing for failed technical fixes like carbon capture instead of moving to reduce emissions altogether.
"Allowing 'abated' fossil fuels will mean developed countries which can afford expensive carbon capture technologies can keep expanding," chief Egyptian negotiator Mohamed Nasr told The Guardian.
Mary Robinson, chair of The Elders, called on governments including Saudi Arabia, the U.S., and the E.U to "abandon their subterfuge" and stop "obstructing a livable future."
"I fear COP28 is falling short of what is required to stay within the 1.5°C warming threshold. The science tells us we are in grave danger of bequeathing our children a completely unlivable world," said Robinson. "There are countries here with the capacity to ensure the outcome of this summit is historic for the right reasons. They need to lean in now with ambition and urgency. COP28 presents an opportunity for leaders to be on the right side of history."
"Governments must not leave this summit without an agreement to phase out all fossil fuels," she said, "and this agreement must not be at the expense of other critical workstreams here."
News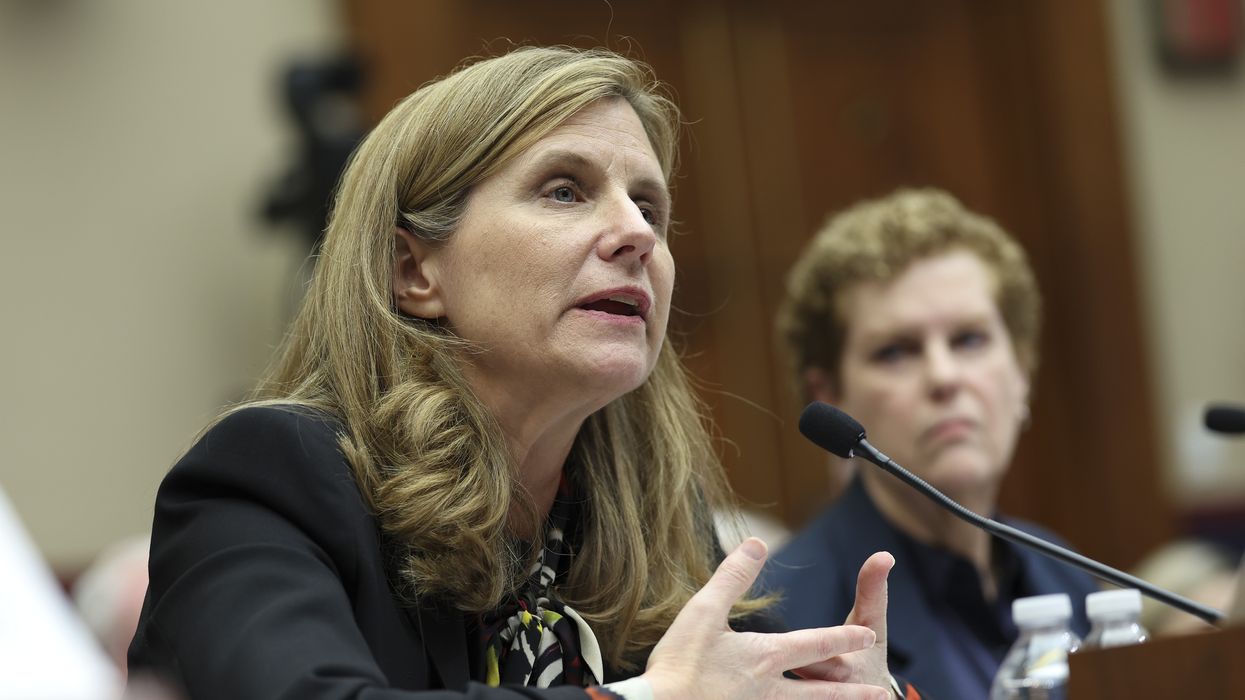 "She was coerced into resigning for defending her students' right to political free speech," said one critic.
Professors at the University of Pennsylvania on Saturday were joined by rights advocates in condemning the attacks that forced university president Liz Magill to resign days after she testified before the U.S. Congress.
Magill had angered lawmakers from both parties by refusing to say students should be punished for hypothetically "calling for the genocide of Jews."
Magill announced her resignation Saturday after the university lost a $100 million donation from hedge fund manager Ross Stevens, a Penn alum, due to last Tuesday's hearing at the House Education and Workforce Committee.

At the hearing, Rep. Elise Stefanik (R-N.Y.) demanded to know whether hypothetical calls for committing a genocide against Jewish people would violate the policies of Penn, Harvard, and the Massachusetts Institute of Technology. Stefanik also conflated calls for "intifada"—an uprising against oppression which is not necessarily violent or aimed at eliminating any group of people—with demands for a genocide against Jewish people. Committee members did not point to examples of students actually calling for genocide.
Magill, along with the presidents of the other two elite institutions, told the committee that such speech, if "directed and severe, pervasive," would qualify as harassment and would be disciplined as such, but suggested that in accordance with the U.S. Constitution, Penn does not generally discipline people for speech alone.
Magill's testimony represented Penn's official rules governing free speech, which state that "universities can invest their efforts and resources in educating their members and in creating spaces and contexts for productive dialogue, but they cannot legitimately punish members—students, staff, and faculty—who choose not to participate in those, or who profess bigoted and other hateful views."
But powerful donors including Stevens and former Utah Gov. Jon Huntsman, another Penn graduate, demanded Magill's ouster and said they would end their financial support until the president resigned.

The Penn chapter of the American Association of University Professors (AAUP) said that "Penn faculty and students who have expressed concern for Palestinian civilians and criticized the war in Gaza," had been targeted by "distortions and attacks" that have done nothing to actually address "the scourge of antisemitism—a real and grave problem."
"Instead, they have threatened the ability of faculty and students to research, teach, study, and publicly discuss the history, politics, and cultures of Israel and Palestine," said the group. "These attacks strike at the heart of the mission of an educational institution: to foster open, critical, and rigorous research and teaching that can produce knowledge for the public good in a democratic society."
The AAUP said the next university president must "defend the principles of shared governance and academic freedom, which protect the educational mission of the university."
"And they must correct what has become a dangerous myth suggesting that the defense of academic freedom and open expression is in any way contradictory to the fight against antisemitism," the group added.
The attacks on Magill from Congress—including a letter signed last week by 74 members of both parties who demanded her resignation—followed calls in September from the school's Board of Trustees for Magill to distance Penn from a literature festival that celebrated Palestinian writers.
The Board of Advisors at Wharton, Penn's business school, also wrote to Magill on Thursday asking for her resignation and notifying her of resolutions they had unanimously proposed, including one saying students and faculty would not "engage in hate speech, whether veiled or explicit."
Jonathan Friedman, director of free expression and education programs at PEN America, said the "vague" resolutions threaten "to ban wide swaths of speech."
Writer and rights advocate Leah McElrath said Magill's resignation set "a horrifying precedent" and was indicative of a larger effort in the U.S. to suppress political speech that is critical of the Israeli government and and to "expand the definition of antisemitism to include anti-Zionism."

"The story here is not solely about Liz Magill," said Alex Kane, senior staff reporter for Jewish Currents. "The main story is a McCarthyist atmosphere consuming college campuses over calls for Palestinian liberation. Magill tepidly defended free speech for Palestine advocates, then made a big PR misstep and fell into a right-wing trap."

Since October 7, colleges including Columbia University and Brandeis University have suspended their campus chapters of Students for Justice in Palestine, which has held protests against Israel's U.S.-backed war in Gaza. About 18,000 Palestinians—including more than 6,600 children—have now been killed and 49,500 have been wounded as the Israel Defense Forces have claimed they are targeting Hamas and making efforts to protect civilians.

Peter Beinart, editor-at-large for Jewish Currents, said the ongoing controversy over antisemitism on college campuses—now the subject of an official House investigation—is meant to distract from the massacre of civilians in Gaza.

"Forcing [the] resignation of [a] university president for failing to condemn non-existent 'calls for genocide' of Jews," said Sarah Leah Whitson, executive director of Democracy for the Arab World Now, "all while an actual U.S.-supported genocide of Palestinians [is] underway—is ALL about silencing criticism of Israel."
Note: This article has been corrected to better reflect the comments of the AAUP at University of Pennsylvania.

News