For Immediate Release
Contact:
Renee Willis, Vice President for Field and Communications,media@nlihc.org,Ph.,202-662-1530 x. 247
Study Finds That Rents for Modest Studio and 1-Bedroom Housing Units Are Higher Than Monthly Income or People With Disabilities
TAC and CCD Housing Task Force release new study documenting extreme housing affordability crisis for the most vulnerable people with disabilities
WASHINGTON
Across the United States in 2008, people with
disabilities with the lowest incomes faced an extreme housing affordability
crisis as rents for moderately priced studio and one-bedroom apartments soared
above their entire monthly income. The national average rent for a one-bedroom
unit climbed to $749 per month in 2008 - higher than $667, the average monthly
income of over 4 million people with disabilities.
These shocking statistics are some
of the important findings included in Priced
Out in 2008 - a study of the severe housing affordability
problems of people with disabilities who must survive on incomes far below the
federal poverty line. The study compares the federal Supplemental Security Income
(SSI) payments of people with serious and long-term disabilities to U.S.
Department of Housing and Urban Development (HUD) Fair Market Rents for modestly
priced rental units. Priced Out
is published every two years by the Technical Assistance Collaborative (TAC)
and the Consortium for Citizens with Disabilities (CCD) Housing Task Force to
shine a spotlight on our nation's most compelling - and least
understood - housing affordability crisis.
In 2008, 219 housing market areas
across 41 states had modest one-bedroom rents that exceeded 100 percent of
monthly SSI, including 25 communities with rents over 150 percent. Between
2006-2008, the number of market areas with modest rents higher than SSI rose
from 164 to 219 - a 34 percent increase. For the first time, there were 3
housing market areas - Honolulu (HI), Columbia City (MD), and Nantucket
County (MA) - where SSI recipients needed to spend over 200 percent of
their income for a modest 1-bedroom housing unit - not only an
impossibility, but absurd.
Perhaps the most shocking
revelation in Priced Out in 2008
is the precipitous and relentless decline in housing affordability for SSI
recipients since 1998 when the first edition of Priced Out was developed. The amount of monthly SSI income
needed to rent a modest one-bedroom unit has risen an astonishing 62 percent from
69 percent of SSI in 1998 to 112.1 percent of SSI in 2008. The root cause of
the nation's most severe - and most hidden - housing crisis
is clearly revealed in the painful statistics included in the 2008 edition of Priced Out.
As stated by Congressman Barney
Frank in the Foreword to Priced Out,
"The lack of adequate housing is a serious obstacle to a decent life for
anyone. It can be particularly troublesome for people dealing with
disabilities, for whom the physical and emotional stress of a lack of decent
shelter are added burdens for people already doing their best to deal with
difficulty."
Discretionary state SSI
supplements provided by states are not the solution to the housing
affordability problems experienced by people with disabilities living on SSI
payments. Even in the State of Alaska - which had the highest state SSI
supplement in 2008 of $362 and a total monthly SSI payment of $999 -
people with disabilities receiving SSI still needed to pay 80.6 percent of
their monthly income to rent a modest one-bedroom unit.
While some progress has been made
by Federal officials responding to creating additional affordable housing
resources, a bolder action is essential to inaugurate a new era in housing
policy that places the housing needs of people with disabilities within the
mainstream of national housing policy. TAC and the CCD Housing Task Force urge
the federal government to take the following actions:
Enact Section 811 legislation
that will create at least 5,000 new units of permanent supportive housing each
year.
Provide 10,000 new Housing Choice
Vouchers for People with Disabilities in HUD's annual budget.
Support the
Administration's proposal to appropriate at least $1 billion in funding
for the National Affordable Housing Trust Fund.
Remove Barriers to Permanent
Supportive Housing in the LIHTC Program.
Facilitate a Coordinated
Disability Housing Policy Across the Federal Government.
Reinvigorate Fair Housing
Enforcement.
By implementing these
recommendations, the federal government will send a powerful message of
inclusion to state and local communities, along with the housing resources
necessary to finally begin to achieve the vision of community integration for
people with disabilities first articulated almost 20 years ago through the ADA.
A copy of Priced Out in 2008 can be found online at https://www.tacinc.org/pubs/pricedout/2008.html. For
more information about Priced Out,
please contact Emily Cooper at ecooper@tacinc.org
or (617) 266-5657 x123.
The National Low Income Housing Coalition is dedicated solely to ending America's affordable housing crisis. Established in 1974 by Cushing N. Dolbeare, NLIHC educates, organizes and advocates to ensure decent, affordable housing within healthy neighborhoods for everyone. NLIHC provides up-to-date information, formulates policy and educates the public on housing needs and the strategies for solutions.
LATEST NEWS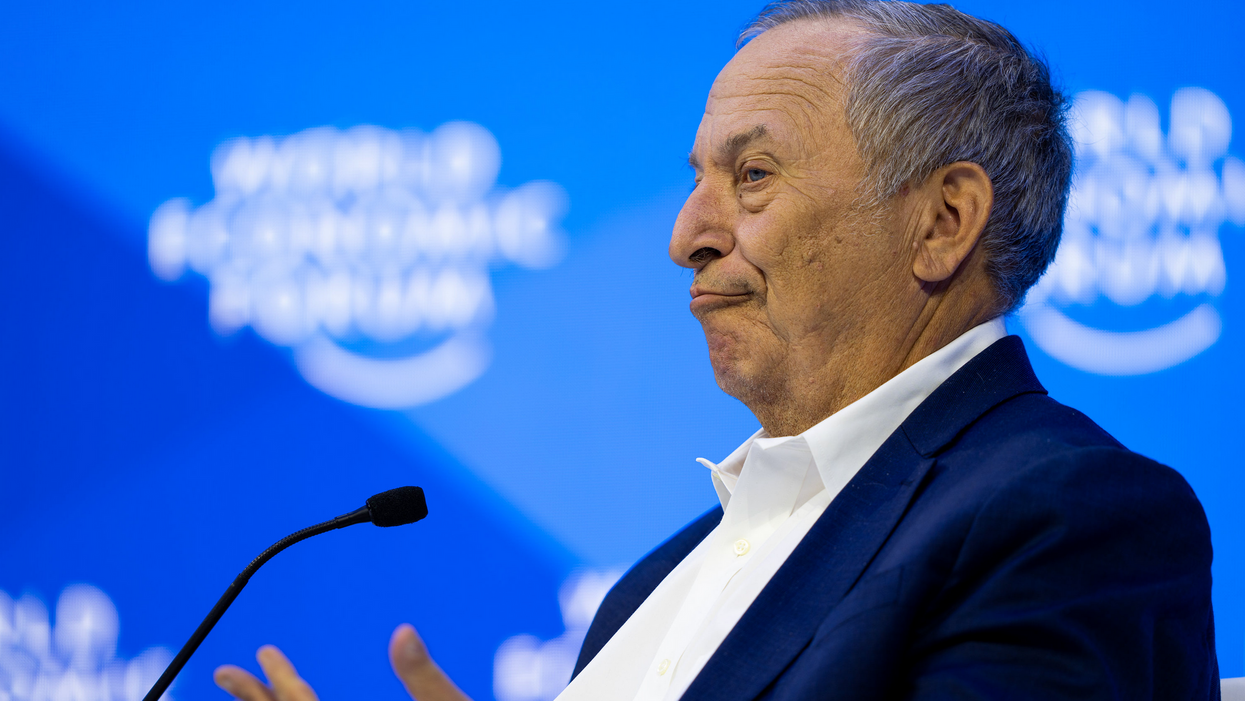 "Anyone who claims they have the absolute answer to every economic question isn't being honest with you. They're being a hack, and they shouldn't be considered serious sources."
Taking aim at "conflicts of interest and flat-out falsehoods in economics reporting and the so-called experts who perpetuate them," the Revolving Door Project on Wednesday launched a new website, Hack Watch, to name and shame Wall Street-friendly experts pushing often harmful neoliberal financial theories as absolute truths.
"Anyone who claims they have the absolute answer to every economic question isn't being honest with you. They're being a hack, and they shouldn't be considered serious sources," Max Moran, the personnel team director at Revolving Door Project (RDP), said in a statement introducing the new site.
"Economists like to sound certain, and they like to ridicule anyone who disagrees with them."
A follow-up to RDP's wildly successful Hack Watchnewsletter—which began by scrutinizing former U.S. Treasury Secretary Larry Summers, often called "Wall Street's favorite economist," and his cryptocurrency partnerships—the website features an FAQ section on the federal debt as well as a "Trope Tracker" meant to dispel "common fallacies, falsehoods, and framing mistakes in economics coverage."
"Economists like to sound certain, and they like to ridicule anyone who disagrees with them," said Moran. "This can incline reporters, especially reporters who worry that they don't understand economics very well, to defer to economists unquestioningly."
Moran continued:

In the neoliberal age, economic analysis (from the right kind of neoclassical economists) was considered scientific truth. This is nonsense. Economics isn't a hard science, it's a method of analysis—a set of tools that help us to understand a few particular ways of how the economy works. Deciding what's actually right or wrong for the economy is always, ultimately, a matter of values and philosophy, which we express through politics.
"Top hacks" who already have bios on the new site include Summers, 2009 auto industry bailout architect Steven Rattner, Committee for a Responsible Federal Budget president Maya McGuineas, and senior vice president Marc Goldwein.
"Economics isn't a hard science, it's a method of analysis—a set of tools that help us to understand a few particular ways of how the economy works."
"When these hacks receive air time, they often present the existing socio-economic order as a natural phenomenon, softly echoing Margaret Thatcher's famous 'no alternative' declaration," said Dylan Gyauch-Lewis,who co-leads the Hack Watch project, in a reference to the former right-wing British prime minister's infamous neoliberal slogan.
"In a time of crisis after crisis, we cannot afford to restrict the public's imagination to the world as it was in 1992," Gyauch-Lewis asserted. "The staid old guard not only restricts the public conception of what economic policy can be, it misleads about what that view already is."
"To allow the same few Clintonian New-Democrats to monopolize discourse does viewers, policymakers, and the world a great disservice," he added.
News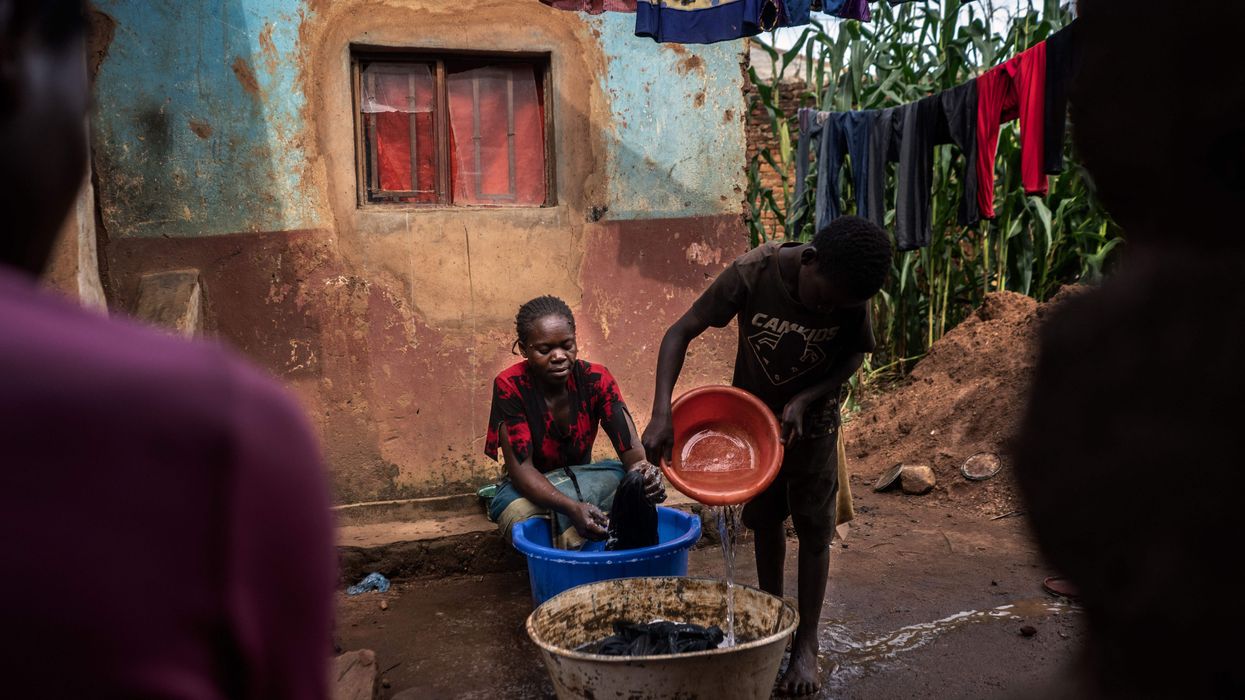 "Water is our common future and we need to act together to share it equitably and manage it sustainably," said the director-general of UNESCO.
Amid a lack of global cooperation, the world is far off-track in achieving universal access to clean drinking water by 2030, according to a United Nations report released Wednesday as officials marked World Water Day.
TheUnited Nations World Water Development Report 2023 was released by the U.N. Educational, Scientific and Cultural Organization (UNESCO) as global leaders convened in New York for the first international conference on water in nearly half a century.
With seven years to go until the end of the decade, 26% of the world population lacks access to safe drinking water and 46% don't have access to basic sanitation, the report found.
The persistent scarcity of potable water is being driven by a rapid increase in water use in recent decades, with usage growing by 1% per year in the last 40 years due to "a combination of population growth, socioeconomic development, and changing consumption patterns," including within the agriculture industry. Yearly water use growth is expected to continue at this rate until at least 2050.
In some of the most affected areas of the globe, progress on closing the water access gap and meeting this aspect of the U.N.'s sixth Sustainable Development goal would need to quadruple.
"Water is our common future and we need to act together to share it equitably and manage it sustainably," said Audrey Azoulay, director-general of UNESCO. "As the world convenes for the first major United Nations conference on water in the last half century, we have a responsibility to plot a collective course ensuring water and sanitation for all."
In addition to water use, UNESCO reported, "the acceleration and spreading of freshwater pollution"—the biggest source of which is untreated wastewater—and the climate crisis have helped to make water scarcity "endemic," particularly in middle- and lower-income countries.

"As a result of climate change, seasonal water scarcity will increase in regions where it is currently abundant—such as Central Africa, East Asia and parts of South America—and worsen in regions where water is already in short supply, such as the Middle East and the Sahel in Africa," reads the report. "On average, 10% of the global population lives in countries with high or critical water stress."

In a separate news report, Al Jazeeraprovided a visualization of water stress across the Middle East, showing how countries including Algeria, Egypt, and Sudan are "either extracting unsustainably from existing aquifer sources or relying heavily on desalination," and how rising temperatures, increased demand, and the construction of dams has shrunk a number of lakes across the region.

The UNESCO report emphasizes that global partnerships and cooperation are crucial to ensuring universal access to safe drinking water and sanitation by 2030, which Richard Connor, editor-in-chief of the report, told the Associated Press would require an investment of $600 billion to $1 trillion per year.
At the U.N. Water Conference, taking place from Wednesday through Friday, representatives from dozens of countries and international organizations focused on Indigenous rights, public health, and the climate are expected to speak about the solutions addressed in the report, including:
The reallocation of water from agriculture to urban centers, which has "become a common strategy to meet freshwater needs in growing cities";

Watershed protection, which can provide biodiversity conservation as well as jobs and training opportunities;

Water, Sanitation and Hygiene (WASH) initiatives such as water operators' partnerships, which "connect established, well-functioning utilities with others that need assistance or guidance";

Initiatives that allow the "meaningful" participation of beneficiaries, especially in rural areas; and

Coordination between climate and water agendas, with policymakers proactively reaching out to climate stakeholders and vice versa.

"Accelerating action through partnerships and cooperation between water and climate stakeholders can create additional benefits to freshwater ecosystems and to the most exposed and vulnerable people, reducing disaster risks, delivering cost savings, fostering job creation and generating economic opportunities," reads the report.

"Safeguarding water, food, and energy security through sustainable water management, providing water supply and sanitation services to all, supporting human health and livelihoods, mitigating the impacts of climate change and extreme events, and sustaining and restoring ecosystems and the valuable services they provide, are all pieces of a great and complex puzzle," it continues. "Only through partnerships and cooperation can the pieces come together. And everyone has a role to play."

News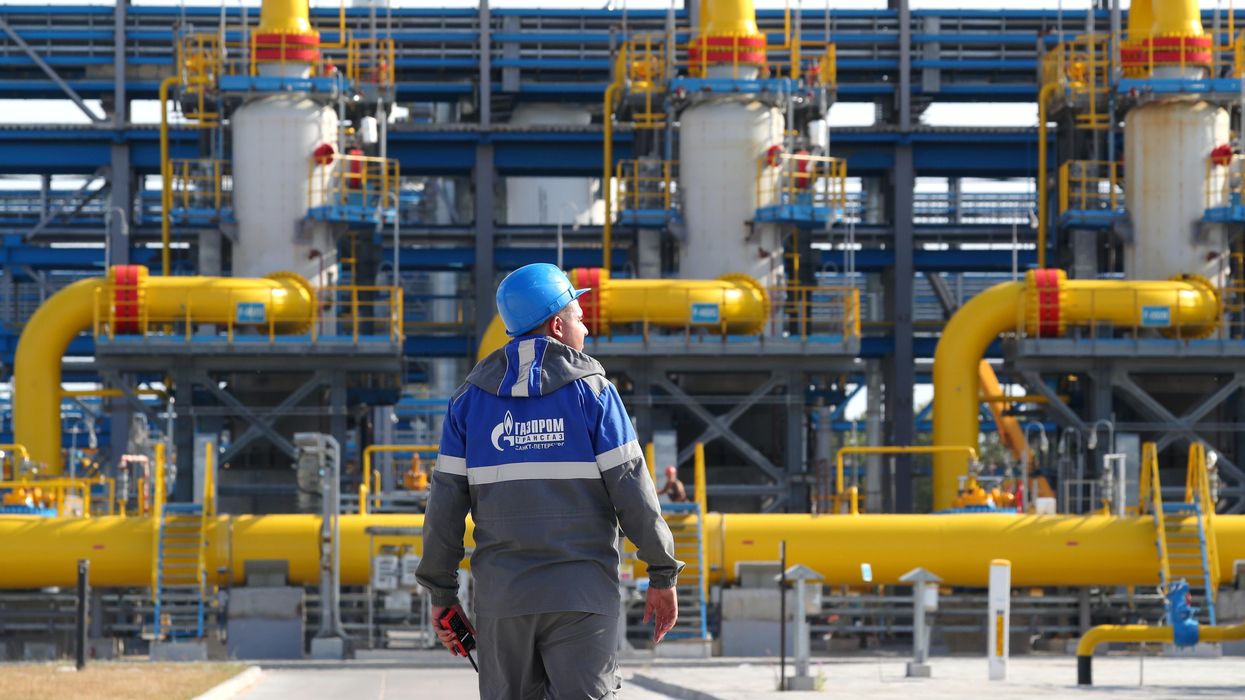 The veteran investigative journalist alleged that Biden administration officials have been "feeding" the press false stories to "protect a president who made an unwise decision and is now lying about it."
In a follow-up to his explosive story accusing U.S. President Joe Biden of ordering the sabotage of the Nord Stream pipelines, veteran U.S. journalist Seymour Hersh charged Wednesday that the White House—in collaboration with German Chancellor Olaf Scholz—is attempting a "cover-up of its operation" by "feeding" false alternative narratives to the press, most prominently The New York Times.
Hersh's initial reporting, which was based on anonymous sourcing, was quickly dismissed by the Biden administration, with State Department Spokesperson Ned Price calling the detailed February account "false" and suggesting that those who believe its version of events are "naive" and "gullible."
Hersh, who famously exposed U.S. forces' massacre of Vietnamese civilians in My Lai and the torture of detainees at Abu Ghraib prison in Iraq, forcefully hit back at the Biden administration on Wednesday and criticized the American press for failing to push the White House on the September attack, which has major geopolitical implications.
"Press aides for the White House and Central Intelligence Agency have consistently denied that America was responsible for exploding the pipelines, and those pro forma denials were more than enough for the White House press corps," Hersh wrote on his Substack.
"There is no evidence that any reporter assigned there has yet to ask the White House press secretary whether Biden had done what any serious leader would do: formally 'task' the American intelligence community to conduct a deep investigation, with all of its assets, and find out just who had done the deed in the Baltic Sea," the journalist continued. "According to a source within the intelligence community, the president has not done so, nor will he. Why not? Because he knows the answer."
Officials from Norway, Germany, and Sweden told the United Nations last month that they are still investigating the explosions that severely damaged the Nord Stream pipelines, setting off an environmental nightmare and immediate speculation as to who was responsible. Such speculation is ongoing, with both official and unofficial probes attempting to determine the perpetrator.
The Nord Stream 2 pipeline—which Biden vocally opposed—never became operational, as the German government put it on hold just ahead of Russia's invasion of Ukraine in February 2022.
During a press briefing late last month, Price said the U.S. "is not a party to this investigation because there are countries on whose sovereign territory this attack occurred, and we're deferring it to them to conduct this investigation."
On March 7, nearly a month after Hersh published his report, The New York Timesran a story—also based on anonymous sourcing—alleging that "new intelligence reviewed by U.S. officials" indicates "a pro-Ukrainian group carried out the attack on the Nord Stream pipelines last year."
The Ukrainian government has denied any involvement in the attack.

"U.S. officials said there was much they did not know about the perpetrators and their affiliations," notes the Times report, which makes brief mention of Hersh's story and quotes unnamed U.S. officials denying any Biden administration involvement.
"The disinformation professionals inside the CIA understand that a propaganda gambit can only work if those on receiving are desperate for a story that can diminish or displace an unwanted truth."
The same day as the Times published its story, the German weekly newspaper Die Zeit ran a report alleging that German investigators "succeeded in identifying the boat that was allegedly used for the secret operation" to sabotage the Nord Stream pipelines.
"It is said to be a yacht rented from a company based in Poland, apparently owned by two Ukrainians," Die Zeit reported. "According to the investigation, the secret operation at sea was carried out by a team of six people. It is said to have been five men and one woman."
In his Wednesday piece, Hersh contended that the message of the Times and Die Zeit stories—both of which emphasized that much of the sabotage operation remains shrouded in mystery—"was that the press and the public should stop asking questions and let the investigators unravel the truth."
"Holger Stark, the author of the report in Die Zeit, went a step further and noted that there were some 'in international security services' who had not excluded the possibility that the yacht story 'was a false flag operation.' Indeed, it was," Hersh alleged, citing an anonymous source inside the U.S. intelligence community.
That source told Hersh that the yacht narrative reported by Die Zeit "was a total fabrication by American intelligence that was passed along to the Germans, and aimed at discrediting your story."

Hersh went on to add that "the disinformation professionals inside the CIA understand that a propaganda gambit can only work if those on receiving are desperate for a story that can diminish or displace an unwanted truth."
"And the truth in question is that President Joe Biden authorized the destruction of the pipelines and will have a difficult time explaining away his action as Germany and its Western European neighbors suffer as businesses are shuttered amid high day-to-day energy costs," wrote Hersh, citing an energy expert who argued that the damage to the Nord Stream pipelines "led to a further surge of natural gas prices."
According to Hersh, the "most telling evidence" of the "weakness" of the Times reporting can be found in a podcast interview featuring Julian Barnes, one of three reporters whose bylines appeared on the March 7 story.
Barnes told podcast host Michael Barbaro that "we know really very little" about the pro-Ukrainian group that the Times reporting alleges may have been behind the Nord Stream attack.
"This group remains mysterious," Barnes said. "And it remains mysterious not just to us, but also to the U.S. government officials that we have spoken to. They know that the people involved were either Ukrainian, or Russian, or a mix. They know that they are not affiliated with the Ukrainian government. But they know they're also anti-Putin and pro-Ukraine."
In response, Hersh wrote that "the Times reporters in Washington were at the mercy of White House officials 'who had access to intelligence.'"
"But the information they received," he added, "originated with a group of CIA experts in deception and propaganda whose mission was to feed the newspaper a cover story—and to protect a president who made an unwise decision and is now lying about it."
Hersh also alleged that while it remains an "open question" whether Scholz was aware of the planned pipeline sabotage in advance, the German leader has "clearly been complicit since last fall in support of the Biden Administration's cover-up of its operation in the Baltic Sea."
Hersh wrote:

In early March, President Biden hosted German Chancellor Olaf Scholz in Washington. The trip included only two public events—a brief pro forma exchange of compliments between Biden and Scholz before the White House press corps, with no questions allowed; and a CNN interview with Scholz by Fareed Zakaria, who did not touch on the pipeline allegations. The chancellor had flown to Washington with no members of the German press on board, no formal dinner scheduled, and the two world leaders were not slated to conduct a press conference, as routinely happens at such high-profile meetings. Instead, it was later reported that Biden and Scholz had an 80-minute meeting, with no aides present for much of the time.
Citing an anonymous official with "access to diplomatic intelligence," Hersh wrote that "certain elements in the Central Intelligence Agency were asked to prepare a cover story in collaboration with German intelligence that would provide the American and German press with an alternative version for the destruction of Nord Stream 2."
"In the words of the intelligence community," Hersh continued, "the agency was 'to pulse the system' in an effort to discount the claim that Biden had ordered the pipelines' destruction."

News
SUPPORT OUR WORK.
We are independent, non-profit, advertising-free and 100%
reader supported.