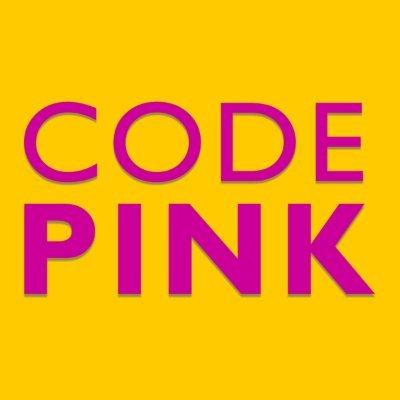 For Immediate Release
December, 10 2008, 03:08pm EDT
Contact:
Medea Benjamin, CODEPINK co-founder, 415-235-6517
Jodie Evans, CODEPINK co-founder, 310-621-5635
CODEPINK Disheartened by US Military Killing of Afghan Police
States an Increase in Troops Would Increase Civilian Deaths
WASHINGTON
The murder of six Afghan police and one civilian, as well as injury to a dozen others, at the hands of U.S. military Monday in Afghanistan is disheartening and upsetting, said CODEPINK Women for Peace leaders today in response to the story. It is a sad sign of what will come with an increase in U.S. troops in that country.
Such accidents -- the deaths of innocent Afghan civilians -- are bound to occur in far greater numbers if the U.S. sends more troops to Afghanistan, leading to more violence, more suffering and more recruits for the Taliban and Al Qaeda.
"If there's a surge, there will be a surge in the killing of innocent people," said Jodie Evans, CODEPINK co-founder. "There is no military solution in Afghanistan."
At the height of the U.S. invasion in 2001, hundreds of innocent Afghan civilians were killed and maimed by U.S. "smart bombs." Seven years later, they continue to be killed and maimed. According to a 2000 Human Rights Watch report, the number of Afghan civilians killed by U.S. and NATO air strikes nearly tripled from 2006 to 2007.
U.S. soldiers are also dying in greater numbers, about 153 so far this year and the Taliban has grown stronger.
"President-elect Obama must rethink his call for sending more troops," said co-founder Medea Benjamin, who has traveled several times to Afghanistan and maintains contact with Afghan women's groups. "Our military presence is a recruiting tool for Al Qaeda and is part of the problem, not part of the solution. There must be a negotiated settlement with the more moderate elements of the Taliban, with Afghan women being part of these negotiations so they can stand up for their rights."
Many top military and foreign policy experts are starting to oppose the idea of sending more U.S. troops into Afghanistan, as President-elect Obama has called for. Among them is former National Security Adviser Zbigniew Brzezinski, who has said that we run the risk that our military presence will gradually turn the entire Afghan population against us. Others acknowledge that it will be impossible to conquer tribal forces in a vast, rugged, thinly populated country like Afghanistan and the tribal areas of Pakistan and that a negotiated settlement is the only "solution."
For questions or interviews with Jodie Evans, Medea Benjamin or (retired) Col. Ann Wright, please call Jean Stevens at 508-769-2138.
CODEPINK is a women-led grassroots organization working to end U.S. wars and militarism, support peace and human rights initiatives, and redirect our tax dollars into healthcare, education, green jobs and other life-affirming programs.
(818) 275-7232
LATEST NEWS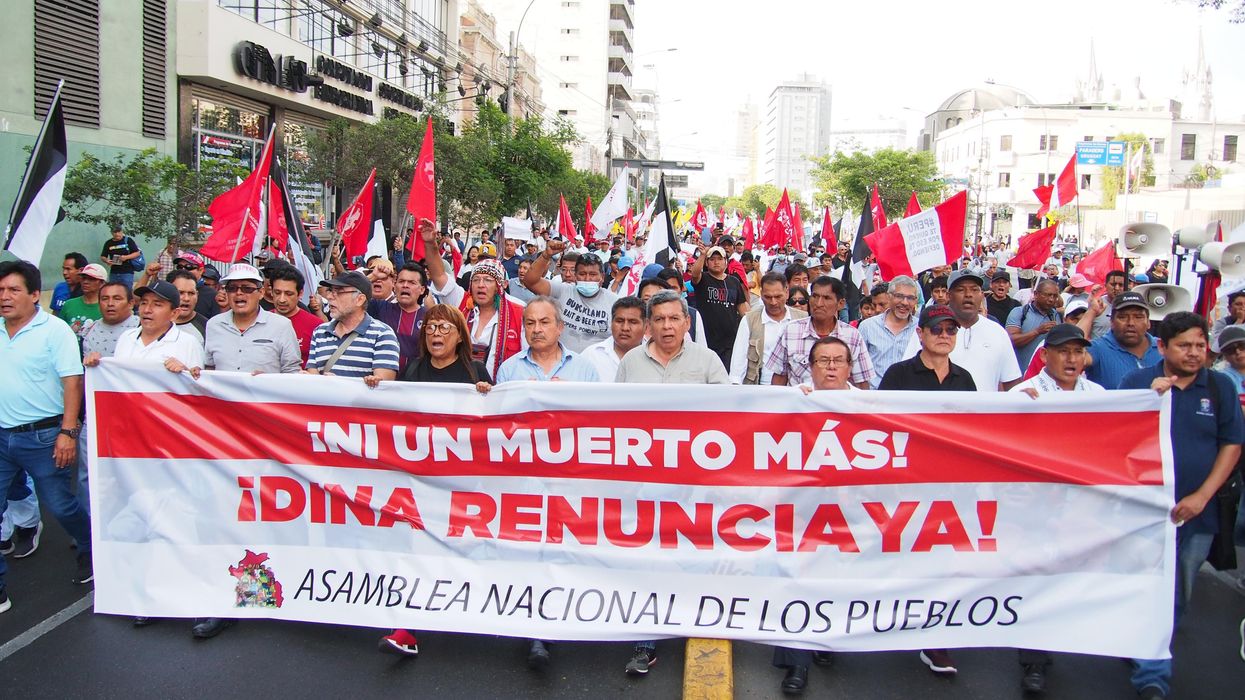 "We're at a breaking point between dictatorship and democracy," warned one student demonstrator.
Thousands of Peruvians took to the streets of the nation's capital on Thursday demanding the resignation of Dina Boluarte—the unelected U.S.-backed president—justice for the more than 50 people killed during the six-week uprising, the return to power of jailed former President Pedro Castillo, and the dissolution of the Congress that ousted him.
The protesters, many of them Indigenous Aymara and Quecha people, traveled to what they called the "Takeover of Lima" from all over the nation of 34 million inhabitants to take part in mostly peaceful demonstrations against what opponents call a "coup regime." The demonstrators carried banners with slogans including "Out, Dina Boluarte," "Dina, Murderer," and "Not One More Death."

"We want justice, we don't want our dead to be forgotten," protester Zulema Chacón toldThe Guardian.
"We want that usurper out, she doesn't represent us," she added, referring to Boluarte.
\u201cDespite repression, anti-coup protesters in Lima, Peru, continue in the streets calling for the fall of the regime.\n\ud83d\udcf9 @LuciaAlvites\u201d

— Kawsachun News (@Kawsachun News) 1674181008
Carrying a Bible, protester Paulina Consac, who traveled 750 miles from the Andean city of Cusco to coastal Lima, told the Associated Press that "our God says thou shalt not kill your neighbor. Dina Boluarte is killing, she's making brothers fight."
Referring to the right-wing-controlled Congress that overthrew Castillo—a leftist who was democratically elected but moved to dissolve the legislature before it could overthrow him—shopkeeper Delia Zevallos told The Guardian that "they are the thieves and they lie and lie to us."
"The people have woken up, we're not children anymore, we know how to read and write... and no one can tell us what to do," she added.

Pedro Mamani, a student at the National University of San Marcos, said that "we're at a breaking point between dictatorship and democracy."
According to Defensoria del Pueblo, Peru's national ombudsman, the 6,000-7,000 demonstrators who marched on Plaza 2 de Mayo and Plaza San Martín were peaceful. However, "violent groups" attempted to reach the building housing Peru's Congress. A massive fire broke out at a building near Plaza San Martín late in the evening; there was no indication that the blaze was related to the protests, although some on the left accused police of causing the inferno.
Defensoría del Pueblo reported injuries to 13 civilians and four of the more than 11,800 police officers deployed in the capital. The ombudsman said at least 53 people including one police officer have been killed and hundreds more were wounded since Castillo was ousted on December 7.
Protests continued elsewhere Thursday, including in the southern city of Arequipa, where a group of around 200 people attempted to storm Rodríguez Ballón International Airport. One protester, identified as 30-year-old Jhancarlo Condori Arcana, died after being shot in the abdomen by police at the airport.
Boluarte said during a nighttime television address that the protests had "no social agenda" and that protesters wanted to "break the rule of law, generate chaos and disorder, and seize power."
Earlier on Thursday, Boluarte met with officials from the United Nations Office of the High Commissioner for Human Rights, whose spokesperson, Maria Hurtado, said earlier this month that the agency was "very concerned at the rising violence."
\u201cYojana gives us the demands of Peruvian protestors that Western media fails to make clear.\n\nListen to "The Coup in Peru w/ Yojana Miraya Oscco and Renzo Aroni" now streaming wherever you get your podcasts!\u201d

— The Red Nation #TheRedDeal (@The Red Nation #TheRedDeal) 1674189927
Weighing in on the protests in a Spanish-language tweet, U.S. Ambassador Lisa Kenna—a former CIA agent appointed by former President Donald Trump whom Castillo claims met with Boluarte the day before his removal—said it's "fundamental that the forces of order respect human rights and protect the citizenry."
Commenting on the uprising, former Greek Finance Minister and progressive activist Yanis Varoufakis tweeted that "the protesters in Peru are right: When the elected president is deposed in a palace coup, only fresh elections can cure the rift and restore democracy."
"Solidarity with Peruvian democrats = solidarity with democracy," Varoufakis added.

News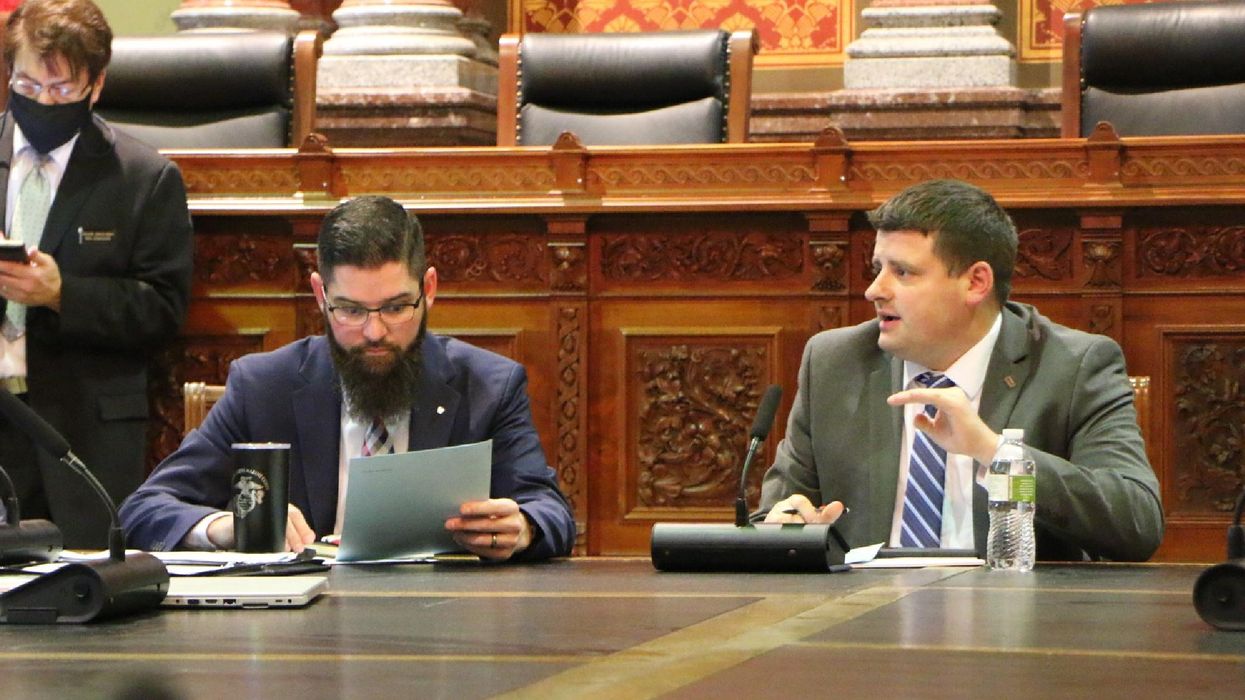 Under the new legislation, Iowans would no longer be allowed to purchase fresh meat, white grains, nuts, canned fruits, American cheese, and other foods with SNAP benefits.
Republicans in the Iowa House introduced legislation this month that would impose a slew of fresh restrictions on the kinds of food people can purchase using SNAP benefits, sparking outrage among local groups who say the measure would exacerbate hunger in the GOP-dominated state.
The Des Moines Area Religious Council (DMARC), an interfaith group that operates the largest food pantry network in Iowa, noted in a statement earlier this week that if the bill passes, "Iowans could no longer use their SNAP benefits to purchase meat, nuts, and seeds; flour, butter, cooking oil, soup, canned fruits, and vegetables; frozen prepared foods, snack foods, herbs, spices—not even salt or pepper."
"This is a punitive policy that will do nothing to improve the health and nutrition of Iowans, but rather be a detriment," the group said.
The Iowa Hunger Coalition (IHC) also condemned the bill, voicing opposition to its proposed food restrictions as well as new asset limits that would make it more difficult for families to qualify for SNAP, a program funded by the federal government and administered by states.
"This bill would restrict SNAP participants' ability to make their own food choices, take food away from Iowans, and increase hunger and food insecurity in our state," IHC warned.
\u201cThe GOP just proposed new restrictions on the types of food eligible for purchase with SNAP benefits, putting even more pressure on families with children.\n\nIn addition, they would aim to keep families with more than one vehicle from receiving help. \ud83d\udc4e\u201d

— Sami Scheetz (@Sami Scheetz) 1674174431
According to Feeding America, the largest hunger-relief organization in the U.S., roughly 229,500 people—including 80,160 children—are facing food insecurity in Iowa.
The details of the new legislation—which is sponsored by 39 Iowa House Republicans, including Speaker Pat Grassley—were met with national anger.

"This is so profoundly cruel and petty," said Leah Greenberg, co-executive director of the progressive advocacy group Indivisible.
Sarah Bowen, a sociologist who studies food and inequality, noted in a tweet on Thursday that "Republicans have tried to destroy SNAP for years," animated by the lie that "SNAP recipients are all stocking up on lobster and steak."
"This is the most ridiculous proposal I've seen though," Bowen added. "No chicken or ground beef. No chili beans. No American cheese?!"
SNAP recipients are already limited in what they can purchase at the grocery store using their benefits, but Iowa Republicans are seeking to dramatically expand those restrictions.
As Todd Dorman of the Iowa Gazetteexplained in a column on Thursday, the legislation "would require the Department of Health and Human Services to seek a federal waiver allowing Iowa to scrap an already restrictive federal list of approved foods and replace it with a list of food available to recipients of aid to Women, Infants, and Children, or WIC."

"The bill would also, for the first time, create an asset test, limiting household assets to $2,750 or $4,250 if one member of the household is over 60. It exempts just one vehicle, potentially making households with two cars ineligible," Dorman wrote. "Beyond all of that draconian wisdom, the bill would force recipients to jump through far more regulatory hoops to become eligible and stay on SNAP, wrapping recipients tightly in red tape and likely costing the state millions more to administer the program."
"Only two groups support the bill," Dorman added. "One is the Florida-based Opportunity Solutions Project, which sends its minions across the country to cut holes in the social safety net and oppose policies such as Medicaid expansion. The group is part of a web of conservative think tanks and bill mills bankrolled by rich donors who think if you just make poor people hungry and sick enough, they'll utilize their bootstraps."
The other group is the right-wing Iowans for Tax Relief.
News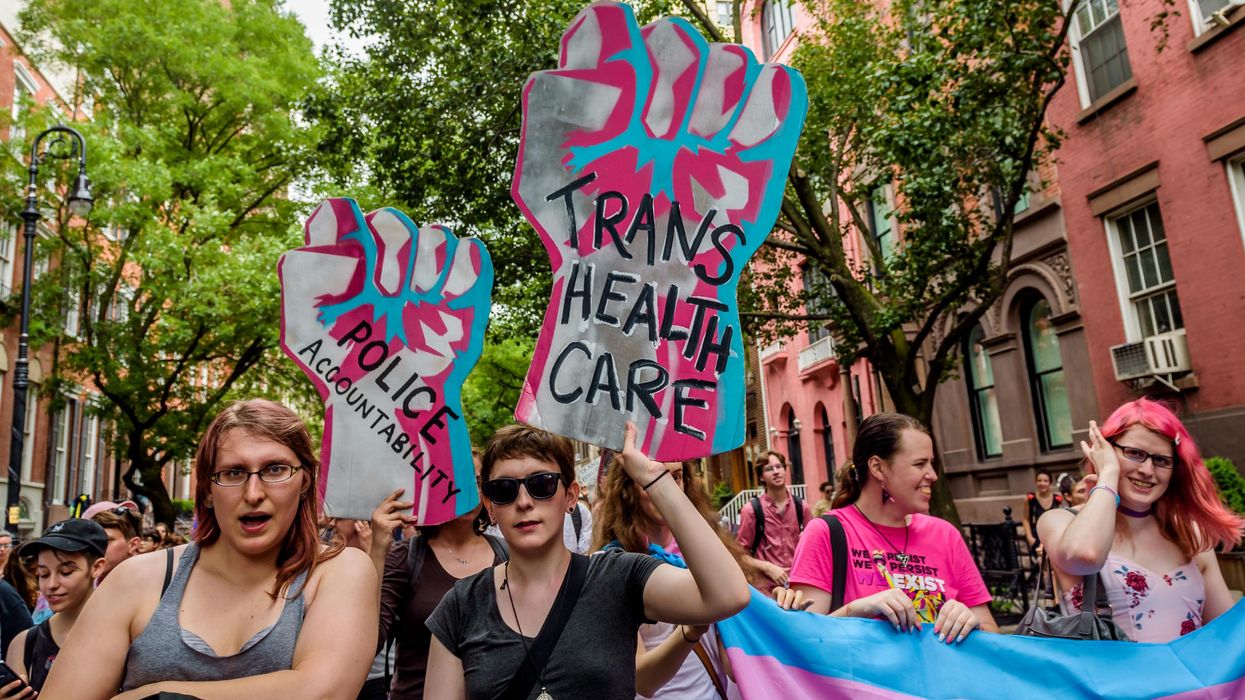 "This is not about protecting kids," said one advocate. "It's about policing transness."
A Democrat's proposed amendment to one of the latest anti-transgender rights bills exposed that Republicans' efforts to prohibit LGBTQ+ minors from accessing gender-affirming healthcare "is not about protecting kids," one advocate said Thursday.
In Utah on Wednesday, state Senate Minority Leader Luz Escamilla (D-1) proposed an amendment to Senate Bill 16, which would ban gender-affirming surgeries for minors and place a moratorium on medical professionals providing puberty blockers, citing concerns about equal opportunity protections.
If Republicans such as state Sen. Michael Kennedy (R-14), who sponsored S.B. 16, are as concerned as they say they are about ensuring minors don't have surgeries when they may not fully understand the long-term ramifications, Escamilla argued that cisgender teenagers should also be blocked from participating in Utah's plastic surgery boom.
"If we're going to target kids and the ability for their parents to make decisions with their providers, then all children should be included."

The state ranks second in the nation in per-capita plastic surgeons, and one surgeon estimated in 2005 that teenagers accounted for about 15% of his patients. A number of plastic surgery clinics in the state advertise services for teenagers.

"We happen to live in a state that loves plastic surgeries," said Escamilla in a committee hearing on S.B. 16, "and I think we should have an equal opportunity to make sure that no child will ever have access to plastic surgery. If we're going to target kids and the ability for their parents to make decisions with their providers, then all children should be included and [we should] not be targeting a specific group of kids."
Kennedy said he personally did not support plastic surgery such as breast augmentation for teenagers and denied the practice is prevalent in Utah, but said, "If that has been done it's likely to have been done for decades and decades and decades in this state," suggesting it should be allowed to continue for that reason.
As researchers at Boston Children's Hospital and Baylor College of Medicine wrote in a study published in the Journal of the American Medical Association in November, puberty blockers have also "been used safely for decades in children with precocious puberty and endometriosis among other medical indications" and are now endorsed by numerous medical organizations "for youth with gender dysphoria," but those facts haven't stopped Kennedy and other Republicans across the country from trying to ban their use.
The failure of Escamilla's amendment—which was supported by the two Democrats on the committee and opposed by the five Republicans—proves that the GOP in Utah is "totally fine with targeting trans teens and letting cis teens do what they want," said rights advocate Erin Reed, who tracks legislative attacks on transgender people.
\u201cIt was never about protecting kids.\n\nYesterday in Utah, Senator Escamilla called Republicans bluff by making them vote on banning teenage breast implants in an anti-trans healthcare ban.\n\nAll Republicans voted against it.\n\nSubscribe to support my work.\n\nhttps://t.co/KdOLjluXmp\u201d

— Erin Reed (@Erin Reed) 1674148127
S.B. 16 is now expected to be debated on the state Senate floor, and will have "catastrophic" consequences for transgender youth if it passes.
Numerous studies have shown that gender-affirming care reduces the risk of depression and suicide among transgender teenagers and children, leading the American Academy of Pediatrics to recommend that youths have access to puberty blockers and "when appropriate, surgical interventions."
Republicans' refusal to back Escamilla's amendment showed that "this is not about protecting kids."
"It's about policing transness," she wrote, "and making it harder to exist as a transgender person in America."
News
SUPPORT OUR WORK.
We are independent, non-profit, advertising-free and 100%
reader supported.