A Bad Deal for America's Wild Lands
Regulation Change and Environmental Rollbacks in the Bush Administration's Waning Days
WASHINGTON
Our public lands represent a heritage
that belongs to all Americans, one that is critical to safeguarding clean water
and air and reducing carbon emissions. The Bush administration has treated
these lands as if they belong to industry. And they're not done
yet.
With almost three months left in office,
the administration will be pushing hard to accomplish as much of its agenda as
possible. Political appointees are likely to be finalizing land management
plans, regulations, and policy changes that could severely damage our
nation's public lands for decades to come. Yet few Americans are aware of
these threats. On some of these issues there may still be time to hold off the
irreparable harm if citizens learn about them and take action.
1. Administration Rolling Back Protections for Pristine Roadless Lands
The Bush administration has circumvented
the Roadless Area Conservation Rule by adopting an Idaho-specific version that
opens up millions of acres of roadless national forest land to more road building
and logging than was possible under the earlier rule. Idaho
has more roadless national forest lands than any other state in the lower 48
and, thanks to the Bush administration, Idaho
now has weaker protection for its roadless lands than any other state. Of
immediate concern is the Smoky Canyon Phosphate Mine near Yellowstone
National Park, which is already a
designated Superfund clean-up site due to selenium pollution that threatens
streams and Yellowstone cutthroat trout
populations. The mine expansion would entail road construction within the
pristine Sage Creek and Meade
Peak roadless areas. In
rushing to complete this project, the Bush administration is also pressuring
agency officials to convert biological assessments from "likely to
adversely affect" certain animals to an opinion that the mine expansion
is "not likely to adversely affect" listed species.
[Craig Gehrke,
208/343-8153,
craig_gehrke@tws.org]
2. Commercial Oil Shale Leasing Plans Finalized
Without Opportunity for Protest, Appeals
We expect the Bush administration to
finalize commercial oil shale leasing and development regulations while
also amending 12 Bureau of Land Management (BLM) resource management
plans. They will become final over objections from the Environmental
Protection Agency, governors and local elected officials, who are concerned
about inadequate environmental analysis. BLM seems deaf to admissions from the
oil shale industry that a safe and efficient technology for squeezing oil from
shale won't exist for years or even decades. Without knowing which oil
shale technologies will prove viable and what the associated costs and impacts
will be, it is impossible to develop regulations that contain appropriate
protections for the environment, appropriate royalty rates to ensure a fair
return to taxpayers, and a financial safety net for affected communities. In
coming weeks, the record of decision on the plans will be signed by
Assistant Secretary Stephen Allred, a highly unusual act that effectively cuts
off opportunity for the public to file formal appeals with the Interior Board of
Land Appeals.
[Chase Huntley,
202/429-7431, chase_huntley@tws.org]
3.
Unilateral Proposal Strips Congressional Committees of Power to Protect Lands
Neither Congress nor future secretaries
of the interior would be able to protect public lands from mineral activities
in cases of emergency, if Interior Secretary Dirk Kempthorne succeeds in
unilaterally repealing a federal statute enacted under the Federal Land Policy
and Management Act. Responding to the threat that thousands of uranium mining
claims pose to Grand Canyon
National Park, the House
Natural Resources Committee passed a resolution last summer asking Kempthorne
to exclude areas of public land surrounding the park from mining. Instead, the
administration unilaterally issued a proposal to withdraw such power from the
House Natural Resources Committee, the Senate Energy and Natural Resources
Committee, and future interior secretaries. The proposal provided only a 15-day
public comment period (which closed on October 27), and it is expected to be
finalized before the Bush administration leaves office.
[Dave Alberswerth, 202/429-2695, dave_alberswerth@tws.org]

4. Concealed
Weapons to Be Allowed in Our National Parks and Wildlife Refuges
A new rule, to be finalized by the end of
the year despite immense opposition, would dramatically change the character of
our national parks and national wildlife refuges by overturning a
long-standing, functional firearm policy. Recognizing that parks and refuges
represent unique American landscapes, conserve critical habitat for wildlife,
and welcome millions of visitors each year, the Department of the Interior
prohibited loaded, assembled firearms on these public lands in the 1980s in
order to prevent wildlife poaching and protect cultural resources and
visitors. The recent proposal to allow loaded, concealed weapons would
not only be contrary to established rules, but would change the culture of our
national icons. A survey of present and retired park and refuge personnel
indicates that over 75 percent believe that the proposed rule would reduce the agencies'
ability to accomplish their conservation missions.
[Kristen
Brengel, 202/429-2694, kristen_brengel@tws.org]
5. Major
Fishery of Bristol Bay, Alaska Threatened by Oil and Gas Drilling
Bristol Bay has the world's largest
wild run of sockeye salmon, provides 40 percent of the U.S. fish catch, and generates nearly
$500 million in yearly fishing revenue. Yet the Interior Department's
Minerals
Management Service included this area in its proposed 2007-2012 plan for Outer
Continental Shelf oil and gas drilling without properly examining the
environmental impacts of such activity. President Bush set the stage for
drilling in Bristol Bay in 2007 when he lifted
an executive withdrawal put in place by his father to protect this significant
resource. The draft plan calls for two lease sales in the North
Aleutian Basin,
which includes the federal offshore waters of Bristol Bay and the eastern Bering Sea, in 2010 and 2012. Because of the potential for catastrophic damage, the
government should conduct extensive scientific studies to fully understand the
ecosystem and anticipate the potential consequences of development. Oil and gas
development in a region already compromised by climate change would jeopardize
habitat vital to wild salmon, polar bears, walrus, and other wildlife.
[Eleanor
Huffines, 907/272-9453x103, eleanor_huffines@tws.org]
6.
New Forest Service Directive Allows Timber
Harvesting on Potential Wilderness
The Forest Service has proposed changes
to its directive guiding vegetation management in forest plans. As a result,
there could be much more timber harvesting than has been permitted under
existing plans, particularly on lands once deemed unsuitable for timber
harvest. Under the Bush administration, the Forest Service has attempted to
make these rules changes for several years-with a federal court throwing
them out in 2007 after a lawsuit. The interim directive (ID_1909.12-2008-1 in
the Forest Service Handbook) could affect citizen-proposed wilderness and
roadless areas, depending on the outcome of legal challenges. It also allows
forest managers to allow logging without any intent to reforest the land,
jeopardizing these forest ecosystems. In an attempt to push its goals, the
administration has broken larger proposals like this into smaller pieces in an
attempt to escape notice in the final days of the administration.
[Mary Krueger,
978/342-2159, mary_krueger@tws.org]
7. Reagan-Era
Rule Protecting Steams From Coal Mine Waste to be Rescinded
We expect the Bush administration to
rescind a 1983 regulation adopted during the Reagan administration that
protects streams from the dumping of wastes from coal strip mining. The
current Office of Surface Mining rule prohibits wastes from coal mines from
being deposited in streams. The Bush administration proposal would
rescind this protection for streams, allowing for the further expansion of a
coal mining technique known as "mountain-top removal," where mining
companies literally blow up the tops of mountains to reach coal seams and
dispose of the waste rock in stream valleys.
[Dave Alberswerth, 202/429-2695, dave_alberswerth@tws.org]
8. Finalized
Transmission Corridor Plans Lock in Dirty Fuel Future
Corridors designated for power lines and
separate avenues for oil, gas and hydrogen pipelines prioritize dirty fuel sources
such as coal at the expense of renewable energies. They also threaten places
such as Arches National
Park in Utah
and the Havasu National Wildlife Refuge on the Arizona/California border. The Department
of Energy wants to finalize parts of the corridors designation under sections
368 and 1221 of Energy Policy Act of 2005 despite agencies' inability to
coordinate transmission and pipeline corridor designations. Corridor
designations should be limited to reasonable sizes, and should balance
protection of wildlands and ecological values with the need for additional
energy transmission capacity. Most also need to be revisited to ensure that they
include renewable sources of energy. The rush to judgment will preclude
adequate consideration of these issues.
[Nada Culver,
303/650-5818x117, nada_culver@tws.org]
9. Yellowstone National
Park's Winter Plan Falls Short, Endangers Park
Resources
The number of
snowmobiles allowed into Yellowstone
National Park under a new
proposal by the Bush administration continues to ignore the Park
Service's scientific findings. The Bush administration this week put
forward a new temporary plan to guide winter access, following a court decision
that its 2007 authorization of continued snowmobile use failed to protect Yellowstone's air quality, quiet, and wildlife. The
new plan ensures that Yellowstone's
winter season will begin on time and points the park in a better direction than
the administration's previous plan. These are encouraging developments-for
the short-term. For the long-term, however, the daily ceiling of 318
snowmobiles still exceeds the daily average of the past five winters and will lead
to damage of Yellowstone's resources. Every
scientific study has demonstrated that the Park Service can do a better job
protecting Yellowstone by increasing public
use of snowcoaches. Such an approach has been recommended by every Park Service
director who has served over the past 44 years.
[Kristen
Brengel, 202/429-2694, kristen_brengel@tws.org]
10.
Wilderness-quality Eastern Forests to be Leased to Oil and Gas Companies
Even though oil and gas companies already
hold undeveloped leases on millions of acres, the Bush administration has
continued to sell hundreds of thousands of acres of leases on sensitive Western
lands that are inappropriate for development. (For example, on December 19, the
Utah office of the Bureau of Land Management
(BLM) will sell leases ringing Arches and Canyonlands
National Parks while we expect similar
leasing in Colorado.)
A new twist, however, is the expanded leasing of eastern lands including
those proposed for wilderness designation. The BLM recently attempted to lease
a tract of land in West Virginia that is included in the Wild Monongahela Act
(now part of the omnibus lands bill pending in Congress), and The Wilderness
Society anticipates an increasing number of similar lease sales in the near
future.
[Mary Krueger 978/342-2159, mary_krueger@tws.org and Suzanne
Jones, 303/650-5818x102, suzanne_jones@tws.org]
11. Endangered
Species Act to Ignore Possible Extinctions Caused by Global Warming
The Bush administration
proposed new rules that would undermine the Endangered Species Act by changing
it to ensure that the potential effects of global warming will rarely, if ever,
be considered. These rule changes also would allow federal agencies to
make land management decisions or take other actions without consulting the
U.S. Fish and Wildlife Service or the National Marine Fisheries Service about
the impacts their actions might have on a particular species. These changes
have been proposed despite findings by the International Panel on Climate
Change that 30 percent of species alive today could become extinct if global
warming continues unabated.
[David Moulton, 202/429-2681, david_moulton@tws.org]
12. "Threatened" Polar Bears
Endangered by Accelerated Offshore Arctic Leasing
America's polar bear, listed just this year as "threatened"
under the Endangered Species Act, faces further endangerment from already
completed oil and gas lease sales in its primary hunting habitats of the frozen
Chukchi and Beaufort Seas of Alaska.
Major oil companies have begun seismic testing on lands they purchased last February
when the Interior Department's Minerals Management Service (MMS)
held the first of several planned lease sales on nearly 30 million acres of the
Chukchi-an area the size of Pennsylvania. The
administration's five-year plan proposes moving forward aggressively on
further leasing in the Chukchi and Beaufort, while a new expedited nationwide
offshore leasing and drilling plan could mean the opening of more areas in
these seas as well as in Bristol Bay. These Arctic waters are
also rich in marine life such as whales, seals and walrus, and are important
for indigenous peoples, who hunt seals and bowhead whales. Impacts from seismic
testing, marine traffic, and pollution threaten to irreparably harm these areas,
which are already vulnerable and changing due to global warming. MMS
documents insufficiently presented the cumulative impacts of oil leasing,
exploration, and development, and the effects of climate change on wildlife and
other values because most were based on outdated research for a region that
isn't well understood.
[Eleanor Huffines, 907/272-9453x103, eleanor_huffines@tws.org]
13. Utah's Canyon
Country Sacrificed in Favor of One Last Gift for Oil and Gas
After dismissing or resolving 87 protests
in less than a month, the Bureau of Land Management (BLM) will implement five
of six resource management plans that would manage more than 10.5 million acres
of Utah's public lands in the Moab, Price, Vernal, Richfield, Monticello,
and Kanab areas. The Monticello
plan will be released pending approval by state officials. The BLM prioritized
energy development and off-road vehicle access on nearly 5 million of these
acres that hold wilderness characteristics, making these plans the ribbon that
decorates the massive gift package that the Bush administration has already
delivered to the oil and gas industry over the last eight years.
[Nada Culver,
303/650-5818x117, nada_culver@tws.org]
14. Forest
Service Land
Managers Prevented From Making Air Quality Comments
In order to stymie recognition of air
quality problems by Forest Service land managers, the administration
issued a directive that decisions finding adverse air quality impacts must be
reviewed the chief of the Forest Service and then be passed on to the deputy
undersecretary for forests for a final decision. Among other problems,
this process ensures that air quality determinations will be made by Washington political
appointees rather than Forest Service land managers actually working in the
field. Specifically, the directive outlines an additional 30 days for this
political level of decision-making. This drawn-out timeline can
effectively derail meaningful comment by the agency, due to failure to meet
National Environmental Policy Act (and other process) comment deadlines.
[Stephanie Kessler, 307/332-3462, stephanie_kessler@tws.org]
15. Fish
and Wildlife Service to Issue National Wildlife Refuge Wilderness Policy
Without Public Review
Sound wilderness management practices not
only protect the resource, but also ensure that visitors to National Wildlife Refuge
System wilderness areas see the landscape and wildlife in a natural condition.
The U.S. Fish and Wildlife Service last offered a draft wilderness stewardship
policy for public comment under the Clinton
administration in 2001. That draft, which contained important protections for
wilderness, was never finalized. We expect that the Bush administration will
release guidelines on wilderness management without time for public review.
Given that wildlife refuges have faced a number of challenges, such as global
warming, in the seven years that have elapsed since the last version of the
draft was released in 2001, the need for public review of and comment on the
policy is critical.
[Maribeth Oakes,
202/429-2674, maribeth_oakes@tws.org]
Other Rollbacks:
Since 1935, The Wilderness Society has led the conservation movement in wilderness protection, writing and passing the landmark Wilderness Act and winning lasting protection for 107 million acres of Wilderness, including 56 million acres of spectacular lands in Alaska, eight million acres of fragile desert lands in California and millions more throughout the nation.
LATEST NEWS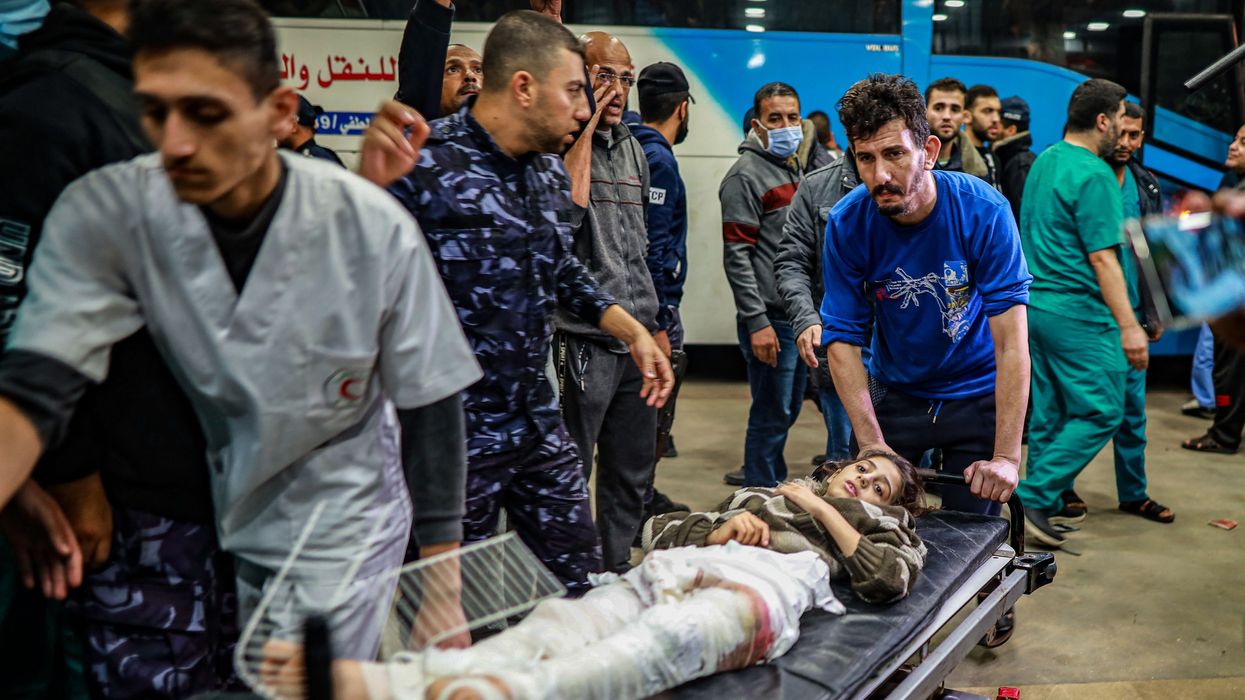 "You have destroyed the international rules of the game, insulted the authority of the U.N., torn apart the sense of justice... and tarnished the face of human civilization."
The director of the aid group that runs the Indonesian Hospital in Gaza—where Israeli attacks killed at least a dozen people on Monday—appealed directly to U.S. President Joe Biden, imploring him to push Israel to accept a cease-fire in a war that's killed or maimed more than 40,000 Palestinians.
"Gazans are facing death every day. Every five minutes, a Palestinian child is killed," Sarbini Abdul Murad, head of Medical Emergency Rescue Committee (MER-C) Indonesia, wrote in a letter to Biden.
Noting that Israeli forces have attacked "babies, children, women, the elderly, the disabled, hospitals, ambulances, medics, schools, teachers, residential complexes, worship places, and much more," Murad asserted that "this is completely genocide and ethnic cleansing."
"It is very unfortunate that your siding with Israel by facilitating weapons of mass destruction has actually made the conflict even wider," Murad continued. "Your action clearly contradicts various international treaties and agreements that apply to the existence of Palestine. You have destroyed the international rules of the game, insulted the authority of the [United Nations], torn apart the sense of justice, hurt human values, and tarnished the face of human civilization."
"Mr. President, we believe you still have a conscience," Murad wrote. "Your great country certainly wants to be seen as honorable for its humanitarian defenses. Moreover, your administration has determined to make the principles of multilateralism, justice, and human rights the foundation of United States foreign policy. So, actually, this is the right to prove it."
Urging Biden to "avoid double standards in dealing with the Palestinian-Israeli conflict," Murad added: "For the sake of peace and humanity, we demand that you immediately do [a] cease-fire. Restore the dignity of the United States as a country that upholds human rights. The cease-fire must be implemented now, so as not to increase the loss of life on both sides."
Murad's letter came as Israel Defense Forces tanks surrounded the Indonesian Hospital in northern Gaza after IDF artillery shelling killed 12 people in the facility's compound, including patients and their companions, according to the Gaza Health Ministry. The ministry also said many people were wounded in the attack, including patients in critical condition.
"The attack is a clear violation of international humanitarian laws. All countries, especially those that have close relations with Israel, must use all their influence and capabilities to urge Israel to stop its atrocities," Indonesian Foreign Minister Retno Marsudi said Monday.
According to Gaza officials, there are about 700 patients, staff, and other Palestinians trapped in the Indonesian Hospital. People trying to flee the compound have reportedly come under Israeli fire.
Marwan Abdallah, a medical worker at hospital, toldAl Jazeera that Israeli tanks could be seen maneuvering around the compound.
"You can see them moving around and firing," Abdallah said. "Women and children are terrified. There are constant sounds of explosions and gunfire."
The World Health Organization (WHO) said it is "appalled" by the attacks on Indonesian Hospital.
"Health workers and civilians should never have to be exposed to such horror, and especially while inside a hospital," the agency said in a statement.
"There have been multiple and ongoing attacks on health facilities in the last six weeks, that have resulted in forced mass evacuations from hospitals, and multiple fatalities and casualties among patients, their companions, and those who had sought refuge in hospitals," WHO continued.
"The Indonesian Hospital had already reportedly sustained damages due to at least five attacks since October 7," the organization added, referring to the date when Israel began bombarding Gaza by air, land, and sea following the Hamas-led attacks on southern Israel that killed around 1,200 people, with another 240 or so taken hostage.
"The world cannot stand silent while these hospitals, which should be safe havens, are transformed into scenes of death, devastation, and despair."
"WHO has recorded 335 attacks on healthcare in the occupied Palestinian territory since October 7, including 164 attacks in the Gaza Strip and 171 attacks in the West Bank," WHO noted. "There were also 33 attacks on healthcare in Israel during the violent events of October 7."
"The world cannot stand silent while these hospitals, which should be safe havens, are transformed into scenes of death, devastation, and despair," the agency added.
On Tuesday, Médecins Sans Frontières (MSF), or Doctors Without Borders, said two of its physicians—Drs. Mahmoud Abu Nujaila and Ahmad Al Sahar—were killed along with another doctor, Ziad Al-Tatari, in a strike on al-Awda Hospital in northern Gaza.
"We condemn this strike in the strongest terms, and call yet again for the respect and protection of medical facilities, staff, and patients," MSF said in a statement.
Israeli officials claim Hamas and other Palestinian militants are using hospitals as headquarters. However, Israel has provided no proof to support its allegations, which Palestinian and international medical professionals working in the facilities resoundingly refute.

According to Palestine's WAFANews Agency, at least 205 Palestinian medical workers have been killed by Israeli bombs and bullets during the war.

The WHO said Tuesday that one of its employees, Dima Alhaj, was killed in an Israeli attack on Gaza alongside her husband, their 6-month-old baby, and two of the woman's brothers.
Israel and Hamas appeared close to reaching a Qatar-brokered multiday cease-fire agreement on Tuesday, with hard-right holdouts in Israel's government—most notably, National Security Minister Itamar Ben-Gvir and Finance Minister Bezalel Smotrich—opposed to the deal, which would reportedly involve the release of around 50 civilian hostages held by Hamas and of Palestinian women and children imprisoned by Israel.
Gaza officials said Tuesday that the death toll from Israel's 46-day onslaught rose to at least 14,128, including over 3,900 women and 5,800 children. Tens of thousands more Palestinians have been wounded, nearly 1.7 million others have been forcibly displaced, and around half of all homes in the embattled strip have been damaged or destroyed.
News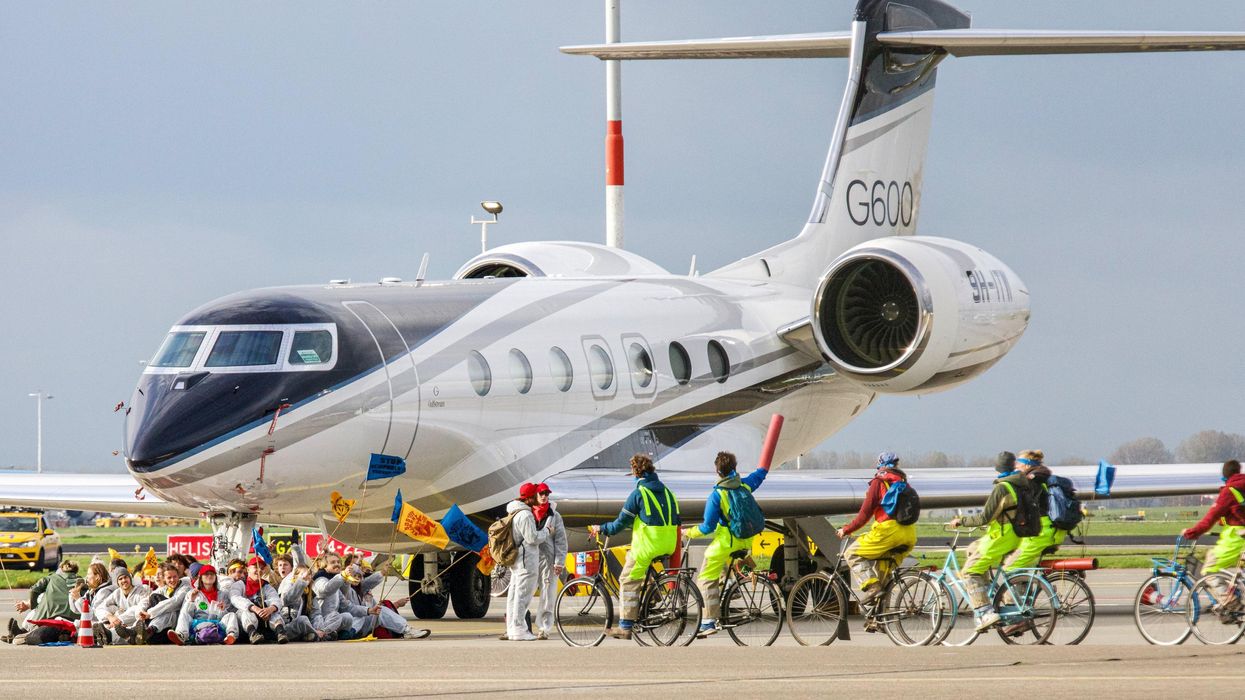 The planes tracked by a new Guardian report belong to celebrities, billionaires, CEOs, and their families, among them the Murdoch family, Taylor Swift, and the Rolling Stones.
The private jets of just 200 rich and famous individuals or groups released around 415,518 metric tons of climate-heating carbon dioxide between January 2022 and September 22, 2023, The Guardian revealed Tuesday.
That's equal to the emissions burned by nearly 40,000 British residents in all aspects of their lives, the newspaper calculated.
The planes tracked by the outlet belong to celebrities, billionaires, CEOs, and their families, among them the Murdoch family, Taylor Swift, and the Rolling Stones. All told, the high-flyers made a total of 44,739 trips during the study period for a combined 11 years in the air.
"Pollution for wasteful luxury has to be the first to go, we need a ban on private jets."
Notable emitters included the Blavatnik family, the Murdoch family, and Eric Schmidt, whose flights during the 21-month study period released more than 7,500 metric tons of carbon dioxide equivalent. The Sawiris family emitted around 7,500 metric tons, and Lorenzo Fertitta more than 5,000.
The Rolling Stones' Boeing 767 wide-body aircraft released around 5,046 metric tons of carbon dioxide, which is equal to 1,763 economy flights from London to New York. The 39 jets owned by 30 Russian oligarchs released 30,701 metric tons of carbon dioxide.
For comparison, average per capita emissions were 14.44 metric tons in the U.S. for 2022, 13.52 metric tons in Russia in 2021, and 5.2 metric tons in the U.K. the same year.
Taylor Swift was the only celebrity or billionaire in the report whose team responded to a request for comment.
"Before the tour kicked off in March of 2023, Taylor bought more than double the carbon credits needed to offset all tour travel," a spokesperson for the pop star told The Guardian.
Swift appears to have responded to public pressure to reduce private jet use. Her plane averaged 19 flights a month between January and August 2022, when she received criticism after sustainability firm Yard named her the celebrity who used her plane the most. After that point, the plane's average monthly flights dropped to two.
The Guardian's investigation was based on private aircraft registrations compiled by TheAirTraffic Database and flight records from OpenSky. Reporters calculated flight emissions based on model information found in the ADSBExchange Aircraft database and Planespotters.net and emissions per hour per model found in the Conklin & De Decker's CO2 calculator and the Eurocontrol emission calculator.
The report was released the day after an Oxfam study found that the world's richest 1% emitted the same amount as its poorest two-thirds. Given their high carbon footprint and luxury status, private jets have emerged as a rallying point for the climate justice movement.
"It's hugely unfair that rich people can wreck the climate this way, in just one flight polluting more than driving a car 23,000 kilometers," Greenpeace E.U. transport campaigner Thomas Gelin said in March. "Pollution for wasteful luxury has to be the first to go, we need a ban on private jets."
In the U.S., a group of climate campaigners is mobilizing to stop the expansion of Massachusetts' Hanscom Field, the largest private jet field in New England. An October report found that flights from that field between January 1, 2022, and July 15, 2023, released a total of 106,676 tons of carbon emissions.
"While plenty of business is no doubt discussed over golf at Aberdeen, Scotland, or at bird hunting reserves in Argentina (destinations we also documented), this is probably the least defensible form of luxury travel on a warming planet when a Zoom call would often do," Chuck Collins, who co-authored the Hanscom report, wrote for Fortune on November 14.
News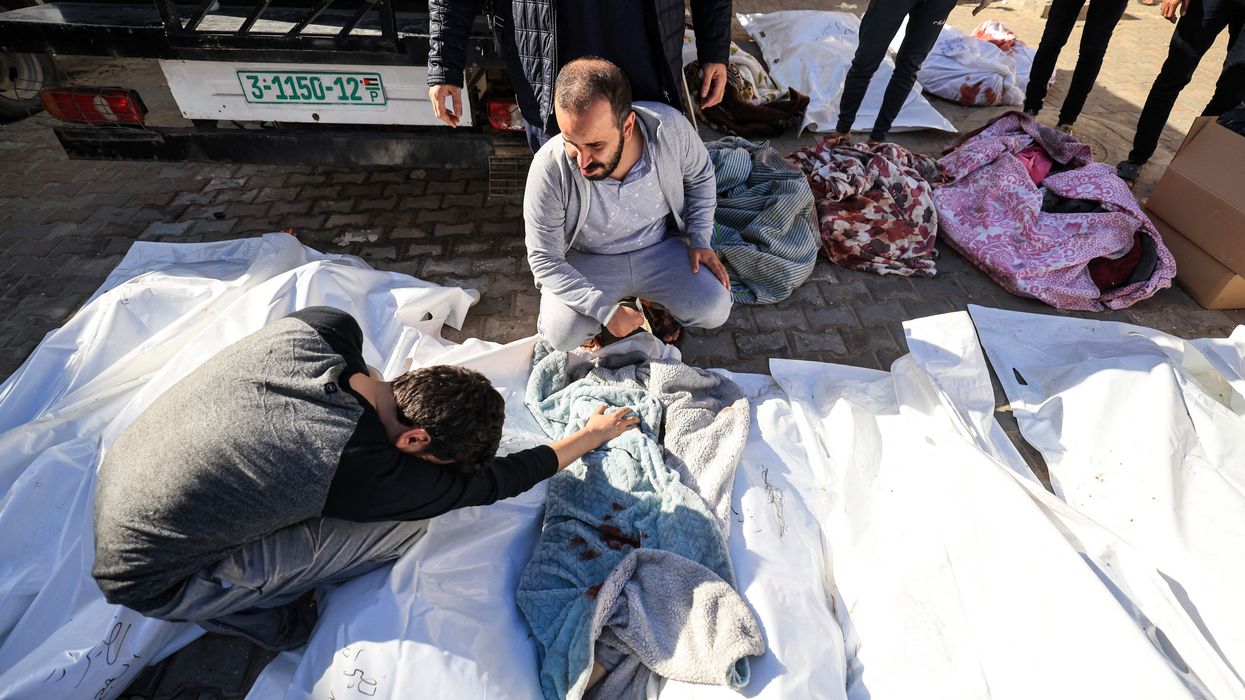 The leader of Hamas and Israel's prime minister both confirmed progress on a potential agreement to pause fighting and release hostages.
This is a developing story... Check back for possible updates...
Israel and Hamas are reportedly on the verge of a deal that would involve the release of hostages and a pause in bombing that has killed more than 13,000 people in Gaza and intensified the strip's humanitarian crisis.
An unnamed source briefed on the talks toldReuters on Tuesday that negotiations are in the "final stages" and a deal is "closer than it has ever been" since October 7, when a Hamas-led attack on southern Israel killed around 1,200 people.
The Qatar-mediated deal, according to Reuters, "envisages the release of around 50 civilian hostages by Hamas and of female and minor-aged Palestinian detainees from Israeli custody, as well as a multi-day pause in fighting."
Hamas leader Ismail Haniyeh confirmed Tuesday that a "deal on a truce" with Israel is "close." Israeli Prime Minister Benjamin Netanyahu said that "we are making progress" on a hostage agreement and hopes "there will be good news soon."
Netanyahu rejected a similar proposal earlier this month.

News of a potential deal comes after six weeks of Israeli bombing that has leveled much of the Gaza Strip, destroying homes and other civilian infrastructure, killing thousands of children, and displacing more than a million people. Additionally, Israel's siege has prevented adequate humanitarian aid from reaching desperate Gazans, leaving virtually the entire population at risk of starvation and forcing hospitals in the northern part of the strip to shut down.
A spokesperson for Gaza's Health Ministry toldAl Jazeera on Tuesday that the occupancy rate in northern Gaza's hospitals has reached 190%, overrun with victims of Israeli airstrikes.
Philippe Lazzarini, commissioner-general of the United Nations Relief and Works Agency for Palestine Refugees in the Near East (UNRWA), said in a speech Tuesday that "the people of Gaza are not safe anywhere: not at home, not under the U.N. flag, not in a hospital, not in the north, and not in the south."
"More than 900,000 people are sheltering in UNRWA installations, including in the north," said Lazzarini. "The conditions in these shelters are indescribable. They are massively overcrowded and shockingly unsanitary. On average, 150 people share a single toilet and 700 people share a single shower when available. These are breeding grounds for despair and disease."
A negotiated multi-day pause could allow additional humanitarian aid to enter Gaza, but it's unlikely that will be enough to alleviate emergency conditions in the Gaza Strip.
"We need an immediate humanitarian cease-fire," Lazzarini said. "We need respect for international humanitarian law so civilians are protected, and humanitarian organizations can work unhindered. We need a meaningful supply of humanitarian aid and commercial goods flowing into Gaza. The siege must be lifted."

News