Homeless and Low Income People Take Their First Step Towards the Polls by Registering to Vote September 21-27, 2008
Nationwide
Nonpartisan voter registration events will take place across the country during the week of September 21-27 to mark National Homeless and Low Income Voter Registration Week.
The National Homeless and Low Income Voter Registration Week arises each election cycle, asking local housing and homeless providers/advocates to conduct voter registration, education and get-out-the-vote efforts.
Events are co-sponsored by the National Coalition for the Homeless, National Alliance to End Homelessness, National Health Care for the Homeless Council, National Law Center on Homelessness & Poverty, and the National Low Income Housing Coalition.
Over 40 nonprofits and service agencies nationwide will dedicate the week towards registering homeless and low-income individuals to vote, because it is our belief that equal access to the vote is crucial for the maintenance of true democracy.
On Monday at Broad Street and Fairmount Avenue in Philadelphia, PA, for example, homeless individuals and advocates will march to encourage homeless and low-income people to register. A rally will follow later in the day, as well as appearances by public speakers, such as Mayor Michael Nutter. Ending the week on Friday September 26th, homeless and low income people will be invited to watch the first presidential debate. It is with events such as these that we hope homeless and low income persons will be able to make their voices heard on Election Day.
"It is vital that homeless and low-income individuals have the ability to exercise their constitutional rights, the right to vote being chief among them. The vulnerable in our society are often the ones to bear the outcome of elections most heavily, which makes it all the more crucial for their voices to be heard," said Michael Stoops, Acting Executive Director, National Coalition for the Homeless.
Please see the following page for a list of cities to hold events.
Event Locations for National Homeless and Low Income Voter Registration Week:
September 21-27, 2008
Appleton, WI
Atlanta, GA
Bergen County, NJ
Boston, MA
Columbus, OH
Davie, FL
Eden Prairie, MN
Green Bay, WI
Hartford, CT
Humboldt Park, IL
Huntsville, AL
Jamaica, NY
King County, WA
Livermore, CA
Los Angeles, CA
Macon, GA
Minneapolis, MN
Myrtle Beach, SC
New Haven, CT
Philadelphia, PA
Pittsburgh, PA
Portsmouth, NH
Redmond, OR
Richmond, VA
Sacramento, CA
San Pablo, CA
Santa Monica, CA
Seattle, WA
St. Paul, MN
Topeka, KS
Washington, DC
West Palm Beach, FL
Yakima County, WA
National Coalition for the Homeless is a national network of people who are currently experiencing or who have experienced homelessness, activists and advocates, community-based and faith-based service providers, and others committed to a single mission: To end and prevent homelessness while ensuring the immediate needs of those experiencing homelessness are met and their civil rights are respected and protected. We envision a world where everyone has a safe, decent, accessible and affordable home.
LATEST NEWS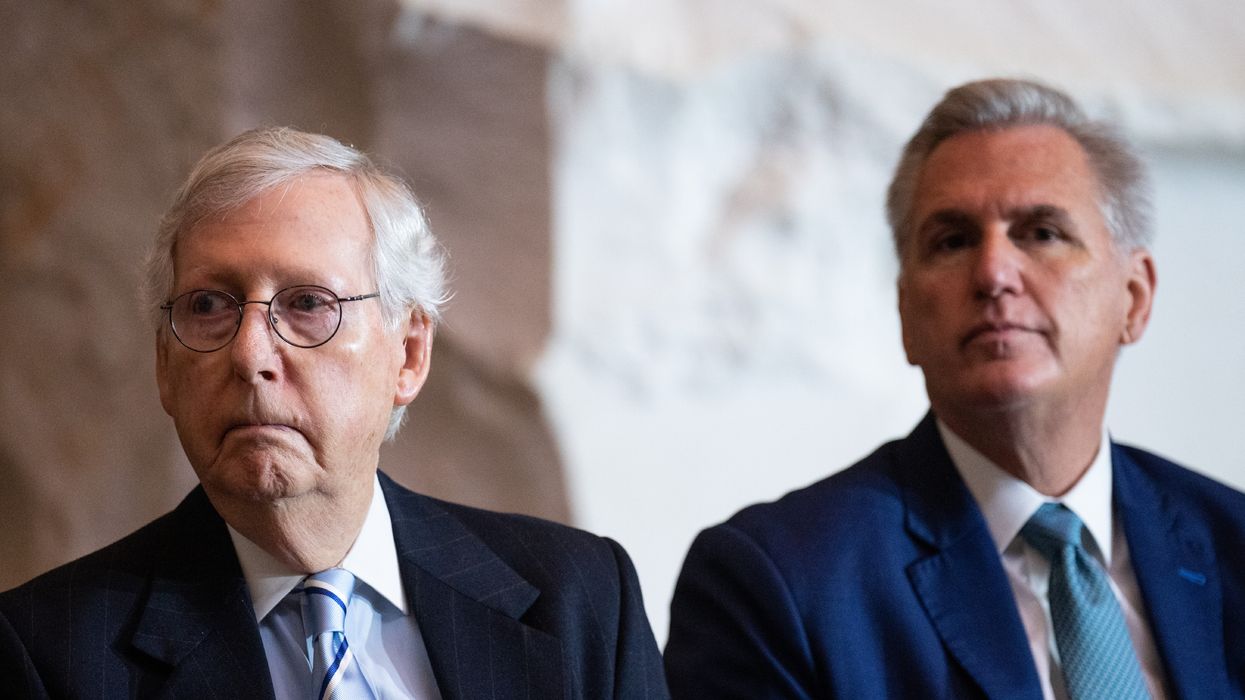 Failure to raise the borrowing limit, the economists warned, could spark "a swift and severe economic downturn" and "unnecessary layoffs across the economy."
More than 200 top U.S. economists warned congressional leaders Thursday that a failure to raise the debt ceiling would likely spark a devastating economic crisis, rattling global financial markets and killing jobs nationwide.
"The economic consequences of a federal default are unpredictable, but frightening," the economists warned in a letter to House Speaker Kevin McCarthy (R-Calif.), House Minority Leader Hakeem Jeffries (D-N.Y.), Senate Majority Leader Chuck Schumer (D-N.Y.), and Senate Minority Leader Mitch McConnell (R-Ky.).
"A swift and severe economic downturn could follow, with unnecessary layoffs across the economy," the experts wrote. "Chaos in world financial markets is highly likely. Higher borrowing costs for the federal government, and indeed for all Americans, could remain with us for a long time—an unwanted legacy of a foolish decision. We should not run the experiment."
The list of letter signatories includes Joseph Stiglitz, a recipient of the Nobel Memorial Prize in Economic Sciences, as well as former Federal Reserve Vice Chair Roger Ferguson, former Labor Secretary Robert Reich, Groundwork Collaborative chief economist Rakeen Mabud, and former Fed Chair Ben Bernanke.
"We have a wide range of views on economic policies, some 'conservative' some 'liberal,'" the economists wrote, "but we all agree that Congress should raise the debt limit promptly and without conditions in order to eliminate the risk of default."
\u201c\ud83d\udea8 More than 200 top economists, including Nobel laureates, former Fed & cabinet officials (and Groundwork's @rakeen_mabud!) urge Congress to raise the debt limit "promptly and without conditions in order to eliminate the risk of default"\n\nhttps://t.co/aE6gjbGFzD\u201d

— Groundwork Collaborative (@Groundwork Collaborative) 1677855690
The letter was sent as congressional debt ceiling talks remain at a standstill, with the House Republican majority refusing to drop its push for deep federal spending cuts in exchange for lifting the borrowing limit. In 2011, congressional Republicans leveraged the debt ceiling to push through an austerity measure that—according to one economist—helps explain "why the recovery from the Great Recession was so agonizingly slow."
The current impasse has forced the Treasury Department to take "extraordinary measures" to prevent the federal government from defaulting on its obligations, which include Social Security and Medicare benefits.
But the department's actions can only buy lawmakers so much time. Last month, the Congressional Budget Office said the U.S. will default this summer unless a deal is reached to raise the debt limit.

One analysis released during the last congressional debt ceiling standoff in 2021 estimated that a U.S. default would wipe out upwards of $15 trillion in household wealth and eliminate nearly 6 million jobs.
"It's clear that defaulting on the national debt would not only imperil the progress we've made over the past three years toward an equitable and long-lasting recovery, but would also risk a completely avoidable and historically severe economic crisis," Shayna Strom, president and CEO of the Washington Center for Equitable Growth, said in a statement Thursday.
"Economic research tells us that austerity measures can have negative long-term effects on workers, their families, and the economy," Strom added. "By raising the federal debt limit, Congress can avoid bringing unnecessary hardship on Americans and the economy and, in doing so, will take another needed step toward ensuring economic growth in the future is stronger, more stable, and more broadly shared."
News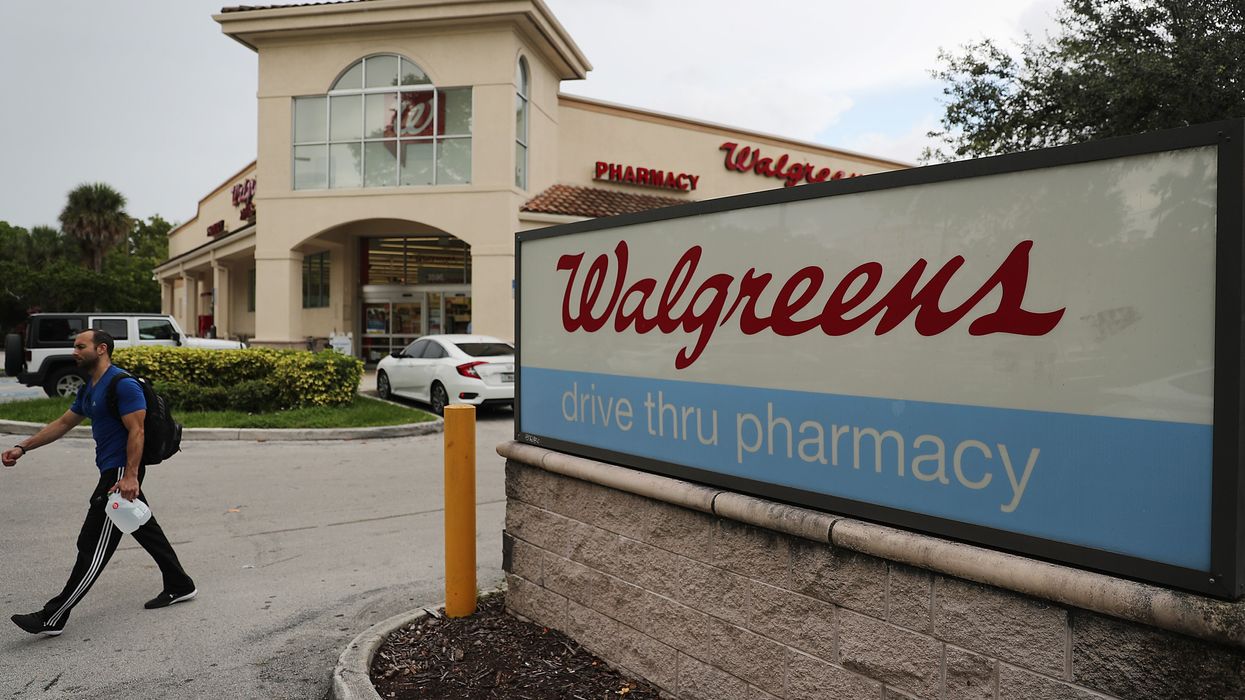 "This willful corporate choice will prevent so many women from choosing the healthcare they need and have a legal right to," said Sen. Tammy Duckworth.
Calls to "boycott Walgreens" grew on social media after the United States' second-largest pharmacy chain confirmed Thursday that it will not sell abortion pills in nearly two dozen GOP-controlled states, including several where such medication remains legal.
Walgreens' decision came after 20 Republican state attorneys generals in February threatened the company with legal action if it began distributing mifepristone by mail.
The AGs wrote that federal law and many state laws prohibit "using the mail to send or receive any drug that will 'be used or applied for producing abortion,'" adding that "the text, not the Biden administration's view, is what governs."
After a yearslong study by the U.S. Food and Drug Administration (FDA) found that mifepristone is safe and effective to use without a doctor's visit, the agency in January updated a rule allowing retail pharmacies to sell the drug—part of the Biden administration's attempt to protect abortion access in the wake of the U.S. Supreme Court's June 2022 decision overturning Roe v. Wade, which unleashed a right-wing assault on reproductive freedom that experts say violates international human rights law.
As Politico first reported Thursday, Walgreens recently informed the AGs that it will not dispense mifepristone either by mail or at its physical stores in the 20 states where those officials are the top law enforcement officers.
Abortion in general, and medication abortion in particular, are still legal in some of the affected states, including Alaska, Iowa, and Montana.
Ashley Fairbanks wrote that "the only way to end corporate compliance with fascism is to impact their profits."
"Looks like it's time to boycott Walgreens," tweeted Corinne Blalock of Yale Law School. "I really can't get over how disgusted I am by... private corporations unilaterally denying millions of women's access to reproductive healthcare."
Calling Walgreens' move "absolutely awful," Sen. Tammy Duckworth (D-Ill.) warned that "this willful corporate choice will prevent so many women from choosing the healthcare they need and have a legal right to," and implored the company to "reverse course—immediately."
The FDA approved the use of mifepristone, taken in conjunction with misoprostol, for abortion within the first 10 weeks of pregnancy in 2000. Medication abortion became the most common method in the U.S. for terminating a pregnancy in 2020.
Walgreens' decision, meanwhile, underscores the extent to which abortion access varies in the post-Roe U.S., including in states where the GOP has not outlawed the healthcare procedure.
According toThe Associated Press:
Nineteen U.S. states have imposed restrictions on abortion pills, but there's a court battle over whether they have the power to do so in defiance of U.S. Food and Drug Administration policy. A physician and a company that makes the pill mifepristone filed separate lawsuits earlier this year seeking to strike down bans in North Carolina and West Virginia.

The FDA for more than 20 years limited dispensing of the drug to a subset of specialty offices and clinics because of safety concerns. But it eased restrictions since the start of the Covid-19 pandemic by eliminating the in-person requirement for the pill and allowing brick-and-mortar pharmacies to dispense it. At least one lawsuit filed by abortion opponents argues that the FDA has overstepped its authority in approving the abortion drugs.
A Walgreens spokesperson said Thursday that the company is not yet selling abortion pills anywhere in the country but is working to become eligible through the FDA's certification process, after which it "will dispense only in those jurisdictions where it is legal to do so."
E. Michael Murphy, the adviser for state government affairs for the American Pharmacists Association, told Politico that members of the group are struggling to navigate "blatant contradictions between state and federal law that make it very challenging to identify what is legal and what is not legal."
"We are very concerned with those reports," he said, "because we as pharmacists want to ensure the patients have access to the best possible care that's informed by evidence."
As Bloombergreported:
The nation's biggest pharmacy chains announced in January that they planned to seek U.S. certification to sell the pills used in medication abortion, after the U.S. Food and Drug Administration loosened restrictions on where the drugs could be dispensed.

The attorney generals' February 1 letter was sent after the companies stated their intention. A rival missive was sent to executives at Walgreens and CVS by 23 Democratic state attorneys general two weeks later, urging them to ignore the legal threats from the GOP states.
According to Politico, "The group of Republican attorneys general, who argue that the Biden administration is misinterpreting the laws around mailing and dispensing abortion pills, also wrote to CVS, Albertsons, Rite Aid, Costco, Walmart, and Kroger demanding they, too, refuse to dispense the medication."
While "some independent and online pharmacies say they will seek certification to provide the drugs in these states, advocates warn that the impact of Walgreens' decision could significantly limit access," Politico noted.
Elizabeth Nash, a state policy expert at the Guttmacher Institute, told the outlet that forced pregnancy advocates and the pharmacy chain are "denying people agency over their lives."
"When we're thinking about states that have a lot of their population in rural areas, it's much more likely that a pharmacy is nearby than a provider's office," said Nash, "so these pharmacies play an outsized role in patient health and access to healthcare."
News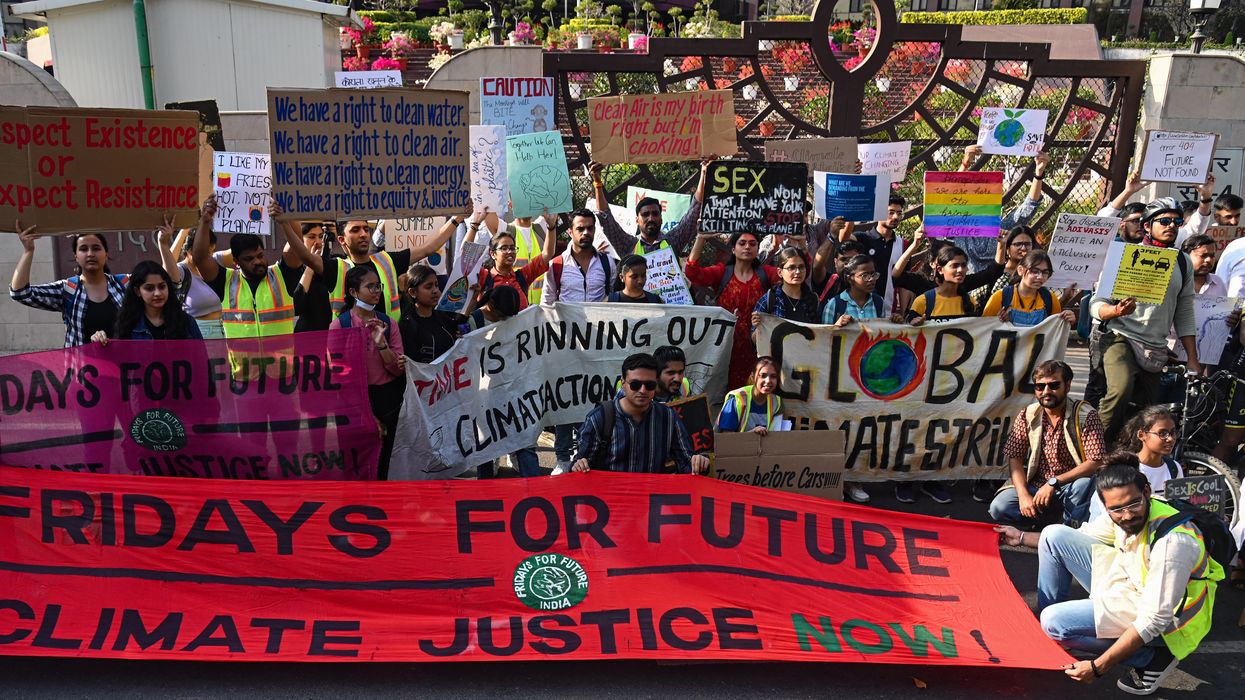 "The capitalistic system continuously puts profit over people," says Fridays for Future. "The Global North's fossil finance is the cause of the climate crisis, neocolonial exploitation, wars, and human rights violations."
"It's time to end fossil finance because #TomorrowIsTooLate!"
That's the takeaway message from climate strikers who took to the streets worldwide on Friday to demand an immediate end to the financing of all fossil fuel projects amid a worsening global emergency largely driven by coal, gas, and oil.
"The capitalistic system continuously puts profit over people," the youth-led Fridays for Future movement said in a statement. "Corporations' greed for more profit is driving the destruction of ecosystems and the climate. At the same time, frontline communities are paying the highest price while being the most affected by the climate crisis."
"The Global North's fossil finance is the cause of the climate crisis, neocolonial exploitation, wars, and human rights violations," Fridays for Future continued. Acknowledging the plight of frontline communities, the group argued that "as a global climate justice movement, it is our responsibility to join their fight and amplify their voices and demands."
The international movement—spurred by Swedish activist Greta Thunberg, who as a teenager engaged in a solitary strike outside her country's parliament—highlighted some specific battles against polluters' exploitation:
From the fight against fracking in the indigenous territories of the Esto'k Gna tribe in North America, to local resistance in Huasteca Potosina in Mexico or Vaca Muerta in Argentina; the resistance against the [East African Crude Oil Pipeline] in Uganda and Tanzania; the fight against gas fields in front of the coast of Senegal or LNG terminals in Mozambique; the resistance of the Peruvian people against deforestation and oil drilling in the Amazon; to local fisher's fight against TEEPSA in South Africa—all these fights are connected and their cause is finance. Fossil fuel corporations like Shell, TotalEnergies, Repsol, Perenco, or Chevron can only realize these projects because of money that is provided to them by banks, insurers, and investors.
In addition to demanding an end to fossil fuel financing, Fridays for Future is calling on the historically largest emitters of planet-heating pollution and Global North countries to "unconditionally cancel the Global South's financial debt" and provide reparations.
"Ending fossil finance is not a question of technical capacity but it is a matter of political will," the group said. "From voting to civil disobedience, we call on everyone to grassroots organize and act against fossil capitalism through the means of action suitable for them. For climate justice, we need to break the influence of fossil fuel corporations, banks, and insurers."
Various groups including global and local arms of Climate Action Network, Friends of the Earth, World Wide Fund for Nature, and 350.org supported the strike in the streets and on social media, sharing updates from demonstrations with the hashtags #FridaysForFuture, #GlobalClimateStrike, and #TomorrowIsTooLate.
"No action is too small to make a difference," tweeted Ugandan activist Vanessa Nakate.
African civil society groups—already pressuring leaders across the continent to ditch plans for further fossil fuel projects—not only joined the global strike but also organized events including "art exhibitions highlighting the role of renewable energy as one of the key solutions to the climate crisis, public dialogue on fossil fuels, and the screening of a documentary on the planned East African Crude Oil Pipeline," according to 350.org.
"The role of financial systems in the climate crisis is undeniable, as they continue to channel huge amounts to the fossil fuel industry, which is destroying our planet as it profits from coal, oil, and gas exploration," declared 350.org regional director Landry Ninteretse. "We are calling on financial institutions involved in fossil projects on the continent, such as the East African Crude Oil Pipeline, to rule out support for such projects."
"In addition, African nations must recognize that phasing out obsolete and harmful fossil fuels and leveraging the renewable energy potential at our disposal is key to keeping catastrophic impacts of the climate crisis at bay," he said. "The just transition powered by clean and decentralized renewables is urgent for Africa as the region most affected and vulnerable to the climate crisis."
"We cannot afford to gamble with the future of our planet and humanity," he warned, "by allowing or supporting the continued expansion of fossil fuels."
News
SUPPORT OUR WORK.
We are independent, non-profit, advertising-free and 100%
reader supported.