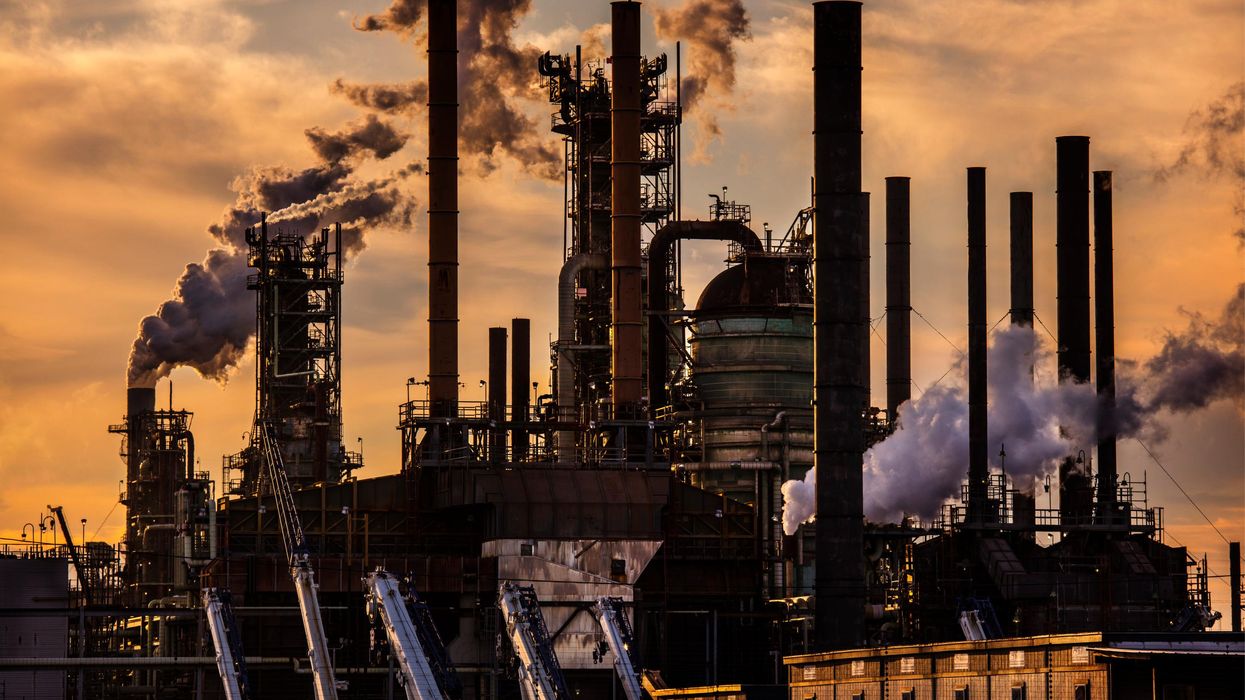 "This bill wraps climate denial and corporate giveaways into one tidy, toxic package as the world burns," said the Michigan Democrat. "I urge my colleagues in the Senate to not take this legislation up."
Climate campaigners and congressional Democrats on Thursday called out House Republicans for approving energy legislation that would, as U.S. Rep. Rashida Tlaib warned, "put polluters over people" by "further poisoning of our air and water."
The lower chamber passed the GOP-led Lower Energy Costs Act (H.R. 1) with a 225-204 vote mostly along party lines: The only Republican who opposed it was Rep. Brian Fitzpatrick (Pa.) and the only Democrats who supported it were Reps. Henry Cuellar (Texas), Jared Golden (Maine), Vincente Gonzalez (Texas), and Marie Gluesenkamp Perez (Wash.).
"It's hard to overstate the catastrophic impact H.R. 1 would have on our public lands and our ability to address the most severe effects of the climate crisis."

"This bill is nothing more than a cheap political stunt to pad the profits of the same greedy oil and gas companies that are gouging my residents at the pump and poisoning the air they breathe and the water they drink," said Tlaib (D-Mich.), noting that her constituents "are sick of respiratory issues, their children developing asthma, the unbearable odor, and the other public health impacts of pollution."
Highlighting Big Oil's historic 2022 profits, Tlaib continued:
The same oil companies that donated hundreds of thousands of dollars to House Republicans made nearly half a trillion dollars in profits last year alone, but their servants across the aisle don't think that's enough.

Residents know the truth is clear: Health protections for you and your family aren't making gas expensive, corporate greed is. Oil and gas companies have gotten away with price gouging and stock buybacks that enrich their shareholders but make everything less affordable for the rest of us, and they don't plan to stop. And Republicans are helping them to keep doing so.

This bill wraps climate denial and corporate giveaways into one tidy, toxic package as the world burns. I urge my colleagues in the Senate to not take this legislation up. I hope congressmembers on the other side of the aisle get serious about tackling climate change. People are dying and we are running out of time.
Several other House Democrats also spoke out against what critics have dubbed the "Polluters Over People Act," with Democratic Whip Katherine Clark (Mass.) saying on the floor: "Americans know that securing our future means investing in clean energy. Families know their health depends on it. Economists know our prosperity depends on it. And the Pentagon knows our national security depends on it. It's only MAGA Republicans who don't understand our future depends on a thriving clean energy economy."
\u201cThe decisions we make today will impact future generations and could condemn my entire generation to a lifetime of suffering, putting us on a path towards an unlivable future.\n\nI'm voting NO on H.R.1, and I encourage all of my colleagues to do the same.\u201d

— Congressman Maxwell Alejandro Frost (@Congressman Maxwell Alejandro Frost) 1680188293
The vote came a day after Democratic Sens. Catherine Cortez Masto (Nev.), Joe Manchin (W.Va.), Jacky Rosen (Nev.), and Jon Tester (Mont.) along with now-Independent Sen. Kyrsten Sinema (Ariz.) joined with Republicans to send a House-approved resolution that would gut federal water protections to President Joe Biden's desk, despite his threat to veto the measure.
The administration also "strongly opposes" H.R. 1 in its current form and said in a policy statement earlier this week that Biden would veto the bill, adding: "It would raise costs for American families by repealing household energy rebates and rolling back historic investments to increase access to cost-lowering clean energy technologies. Instead of protecting American consumers, it would pad oil and gas company profits—already at record levels—and undercut our public health and environment."
However, it seemed unlikely Thursday that the GOP energy bill will even get a vote in the divided upper chamber, with Senate Majority Leader Leader Chuck Schumer (D-N.Y.) declaring on the floor that H.R. 1 is "a giveaway to Big Oil" and "dead on arrival."
\u201cWe expected fossil fuel stooges @RepCuellar @RepGonzalez @RepGolden to vote for the #PollutersOverPeople Act, but are disappointed in @RepMGP for joining them. \n\nThis bill is a massive giveaway to Big Oil. The American people and our planet deserve better.\nhttps://t.co/4O92DgZduM\u201d

— Friends of the Earth (Action) (@Friends of the Earth (Action)) 1680202800
Still, climate action advocates—many of whom have lost some faith in Biden due to his administration's recent approval of ConocoPhillips' Willow oil project in Alaska—stressed the dangers of H.R. 1 and urged federal Democrats to block it.
"Even after Big Oil brought in over $400 billion in profit last year, their allies in Congress are racing to stuff their pockets with more giveaways at the public's expense," said Jordan Schreiber of Accountable.US. "It's hard to overstate the catastrophic impact H.R. 1 would have on our public lands and our ability to address the most severe effects of the climate crisis. We applaud both the Senate Majority Leader and President Biden for their pledges to stop this disastrous bill from ever becoming law."
Noting that "in 2022, Chevron alone raked in $6.3 million per hour and the five largest Big Oil corporations made a record $200 billion in profits," People's Action campaigner Sophia Cheng concurred that "Leader Schumer must hold firm to defeat this bill and President Biden must follow through on his commitment to veto any version of this dangerous policy."

The GOP push for the so-called Lower Energy Costs Act, spearheaded by House Majority Leader Steve Scalise (R-La.), comes after climate campaigners and progressives in Congress last year thrice defeated Manchin's "dirty deal" on permitting reforms.
"We stopped Manchin's dirty energy deal, and we will stop this heinous package that endangers frontline environmental justice communities," Grassroots Global Justice's Adrien Salazar vowed Thursday. "To deter the worst impacts of climate change requires a full phaseout of fossil fuels immediately, and we call on our climate champions in the Senate to uphold their promise to stand with our communities, oppose this terrible bill, and fight for real climate solutions that protect and invest in communities."
\u201cJust now, the @HouseGOP passed H.R. 1, the #PollutersOverPeople Act 225-204. This is a reflection of the #FossilFuel industries\u2019 influence over elected officials who have backed a bill that will increase profits for Big Oil & Gas and fails to act on climate, jobs, and justice.\ud83e\udd2c\u201d

— Climate Justice Alliance (CJA) \ud83c\udf3b (@Climate Justice Alliance (CJA) \ud83c\udf3b) 1680193199
Louisiana Bucket Brigade executive director Anne Rolfes specifically called out the House majority leader for this "outrageous assault on ordinary people in Louisiana in defense of big business," while adding that it's "no surprise coming from Steve Scalise."
"We are one of the most polluted states in the country, with cancer risks that are skyrocketing. People should understand that Scalise has introduced this bill at this moment explicitly to make the destruction of our coast easier," Rolfes said. "The oil and gas industry has a plan to build over a dozen gas export terminals along the Louisiana coast. That's what this bill is about. He wants to make that happen faster. Does this make sense for a state being destroyed by hurricanes? Absolutely not. This bill puts all of us in danger of more flooding via coastal destruction, and only serves Scalise's greedy ambitions."
"If industry were so good for our state, we would long ago have led the nation in health, education, and other meaningful categories. Instead, we remain mired in poverty, mired in pollution, and mired in dysfunctional and disgusting politics that prioritizes the destruction of our state," she added. "Steve Scalise and the Louisiana representatives who voted for this bill should be ashamed."
News