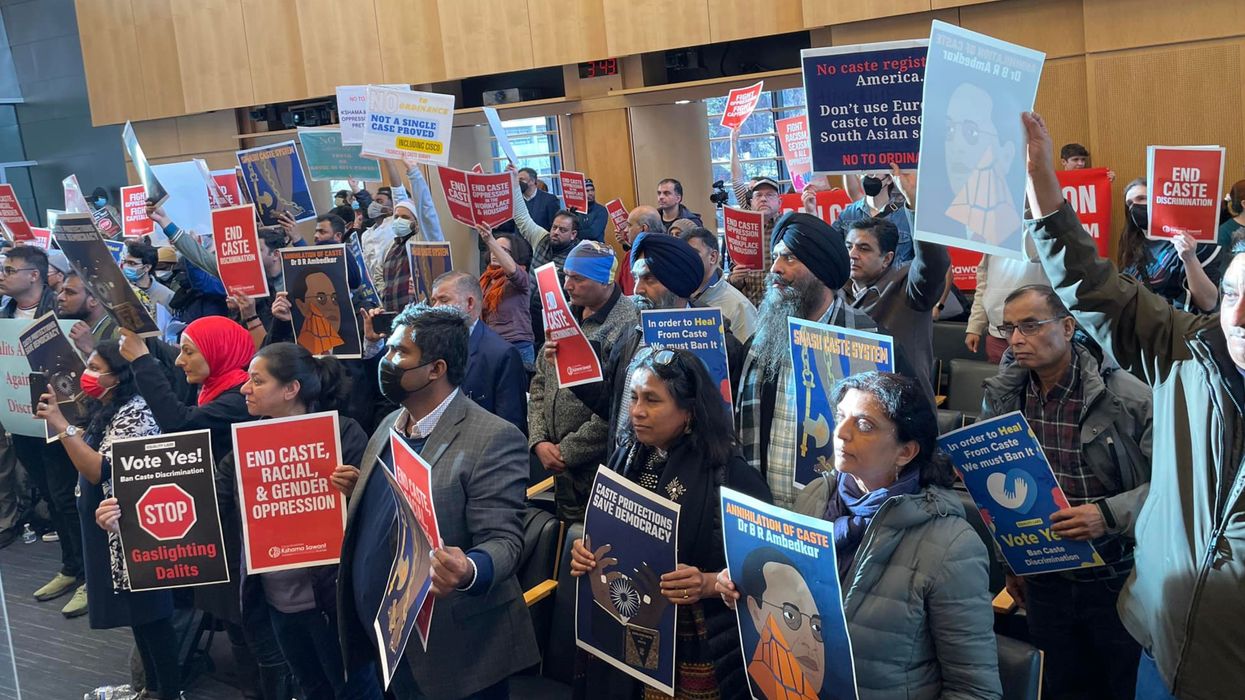 The Socialist Alternative Seattle Councilmember stressed that "caste discrimination doesn't only take place in other countries" and said she hopes the new law will become a "beacon" for other cities to follow.

The Seattle City Council voted Tuesday for the first U.S. ban on caste-based discrimination, a move the measure's socialist sponsor hopes will inspire similar legislation nationwide.
The council voted 6-1 in favor of an ordinance by District 3 Councilmember Kshama Sawant of the Socialist Alternative party that adds caste as a protected class to a long list that includes age, race, religion, gender identity, national origin, immigration status, disability, and military status.
Caste discrimination will now be banned in fields including employment, housing, and public accommodation. People experiencing caste-based discrimination will also be able to file official complaints.
Not only is it the first such law in the U.S., it's the first in the world outside South Asia.

"This bill is not technically complicated, it's a very simple question: Should discrimination based on caste be allowed to continue in Seattle?" Sawant said in a packed City Hall before Tuesday's vote.
Sawant, who is Indian-American, called the measure "profound and historic" and expressed hope that it will serve as a "beacon" for other cities to follow.
"If... you marched in the Black Lives Matter movement or you desire to live in a society free of racism, racial discrimination, sexism, or misogyny, then you should be paying attention," she toldCNN before the vote. "Because while caste oppression or discrimination does not affect all Americans, the way it manifests itself is no different than other types of oppression under capitalism."
Emotions and tensions ran high in City Hall before, during, and after the vote. Yogesh Mane, who grew up Dalit—the lowest caste—in India, wept as he heard the council's decision.
"I'm emotional because this is the first time such an ordinance has been passed anywhere in the world outside of South Asia," he told the Associated Press. "It's a historic moment."
The caste system, which has existed in South Asia for millennia, divides Hindus into groups including Brahmins (priests and teachers); Kshatriyas (rulers and warriors); Vaishyas (farmers, merchants, and traders); Shudras (laborers); and Dalits (street and latrine cleaners).
Although India's constitution, whose drafting was led by the Dalit scholar Bhimrao Ramji Ambedkar, officially banned caste-based discrimination, those on the lower rungs—especially the Dalits—continue to suffer endemic discrimination and frequent violence. Such bigotry has been inflamed by the rise of Hindu nationalism in recent decades, and during the tenure of right-wing Indian Prime Minister Narendra Modi.
Advocates of the ordinance in Washington state's largest city stressed that caste-based bigotry is by no means limited to South Asia.

"Caste discrimination doesn't only take place in other countries," Sawant—who grew up in a middle-class Brahmin family in Mumbai—said in a statement announcing the introduction of her bill. "It is faced by South Asian-American and other immigrant working people in their workplaces, including in the tech sector, in Seattle and in cities around the country."
"We know that caste discrimination has been growing in the United States across many industries, including technology, construction, restaurants, and the service industry, and in domestic work," she added. "Caste discrimination is increasingly a grave contributor to workplace discrimination and bias—data from Equality Labs show that 1 in 4 caste-oppressed people faced physical and verbal assault, 1 in 3 faced education discrimination, and 2 in 3 faced workplace discrimination."
Sawant continued:

Just as racism is not the result of an "inevitable" racial friction between white and Black people, caste oppression has also been maintained by the class structure of capitalist society in South Asia and now in the United States.

Beyond winning reforms such as this one, working people in our city, nationally, and internationally need to unite and build mass movements to fight for a socialist society. Because as long as an exploitative and rapacious system like capitalism exists, oppression will be endemic. The only way to end caste, racial, gender, and other oppressions is for the working class to fight for a different kind of world.
Caste-based discrimination is at the center of a case making its way through a California state court in which a former engineer at Cisco Systems says he was excluded from meetings and passed up for promotions because he is Dalit.
One Seattle-area tech worker, who gave only the name Maya for fear of retaliation, toldTheSeattle Times that she has been the target of workplace caste discrimination because she is Dalit. Maya said her manager rebuffed an offer to volunteer for a work project, telling her, "You better not touch the project because you're ill-fated."
"It might not sound like something major, but for us, it completely resonates with the caste and untouchability because not touching is what all of the dominant-caste people have made rules around for so long," Maya explained. "That's why we are called untouchables. We're not supposed to touch anything or anyone."
"Caste is an evil that has been practiced for more than 3,000 years now," she added. "We carry the genetic trauma of caste for such a long time already. But if we don't have caste protections, then this is going to affect even the next generations."
News