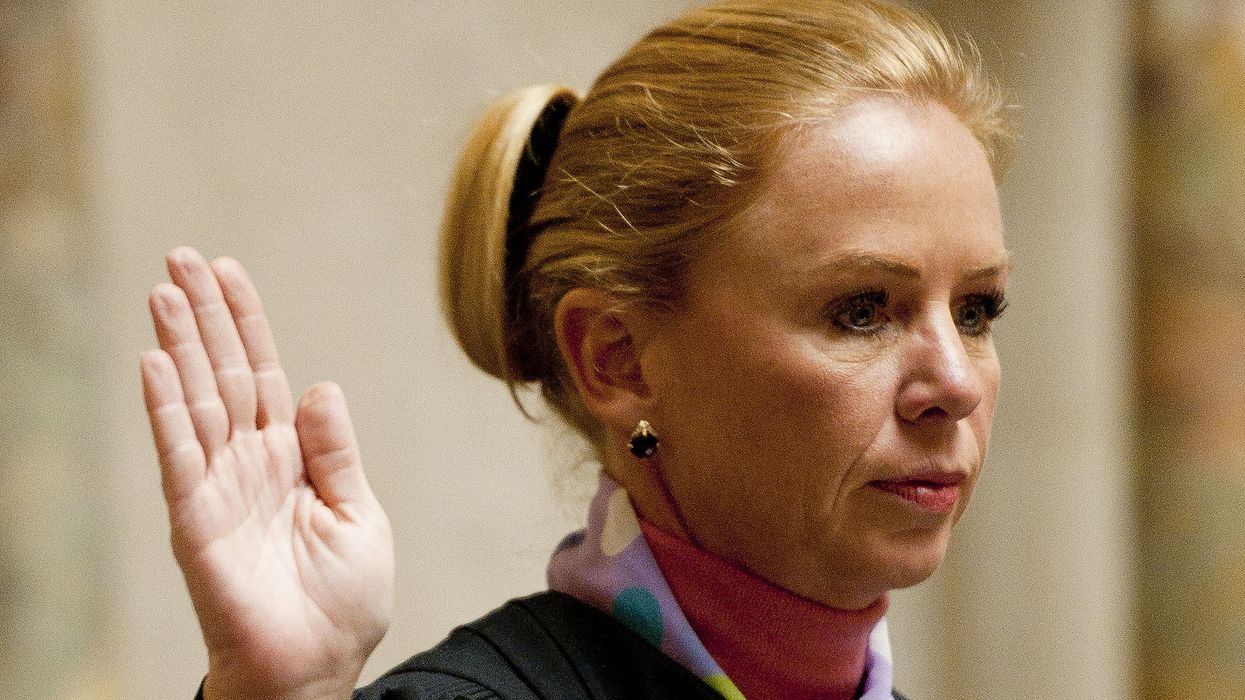 Chief Justice Annette Ziegler "claims that the court's new majority has 'gone rogue,'" wrote the editorial board of one newspaper. "That's absurd. That's dishonest. And, coming from Ziegler, that's wildly hypocritical."
One of the liberal Wisconsin Supreme Court justices who now make up the panel's majority after 15 years of conservative control strongly rejected right-wing Chief Justice Annette Ziegler's accusation on Monday that the liberal justices have staged a "coup" by voting on key court business.
Ziegler wrote to interim state court director Audrey Skwierawski on Monday to demand that she stop signing off on court business that she was hired earlier this month to oversee, claiming the liberal justices took part in an "illegal experiment" when Skwierawski was appointed to oversee state court operations, the judiciary's budget, and other business.
In the email obtained by the Associated Press, Ziegler wrote that Skwierawski should not sign off on assignments of reserve judges, who fill in for state judges when they are ill or need to be absent for another reason. Skwierawski has signed off on nearly 30 such assignments since Justice Janet Protasiewicz was sworn in on August 1, giving the liberals a 4-3 majority.
When they appointed Skwierawski, a Milwaukee County circuit judge, the liberal majority also voted to shift much of the chief justice's power to a committee that will appoint members of judicial committees and the court's planning and policy advisory panels, among other matters.
"This is nothing short of an unprecedented coup," Ziegler wrote to Skwierawski and the liberal justices, including Protasiewicz, Rebecca Dallet, Jill Karofsky, and Ann Walsh Bradley. "For 40 years, the role of the chief justice has been understood and respected. Your short-term goals will cause long-term, irreparable damage to the judiciary. What a historical disgrace."
Ziegler's comments, which Dallet later suggested were being leaked to the media, amounted to what Daily Kos political director David Nir called a "meltdown over the fact that Wisconsin voters elected a liberal Supreme Court," giving the majority the right to form the committee and hire a new state court director.
The chief justice told the AP she would soon advertise nationally for a replacement for Skwierawski and reissue the orders that the court director had signed, even though Skwierawski said in a statement earlier this month that she had reviewed legal opinions, including one from a former Republican state attorney general, to ensure she met the qualifications to serve in the position.

Dallet responded to Ziegler in another email obtained by the AP, calling her comments in the media "deeply inappropriate, and at times partisan, tone, and tenor" and saying that the chief justice, had pushed the committee and the state court director to operate without Ziegler's input.
"The attempt to obstruct the proper business of the court and the furtherance of justice comes from you," Dallet wrote. "Judge Skwierawski tried on many occasions to discuss how the Office of State Courts could better serve the people of our state. You not only refused to meet with her but today you send emails (which are then immediately leaked to the media) falsely accusing her of violating the law for doing her job in keeping the courts running in service to the people of the state of Wisconsin."
"We are simply creating process so that a majority of the court can effectively work in the face of an intransigent and uncollegial chief who apparently insists on a public debate about issues for political purposes, rather than allow a court majority to function as it always has," she added.
Ziegler has spent much of the month since Protasiewicz was sworn in publicly railing against the new liberal majority, writing an opinion piece in The Capital Times on August 3 arguing that the firing of the previous state court director, who was aligned with Ziegler, was "unwarranted" and a "dangerous" example of "overreaching power."
In response, The Capital Times editorial board noted on August 9 that Ziegler joined other right-wing justices to oust former Chief Justice Shirley Abrahamson in 2015 and refused to hold another conservative justice accountable for verbally and physically attacking colleagues.
"Ziegler and her allies shoved Abrahamson aside in what really was a raw exercise of overreaching power," wrote The Capital Times. "Now Ziegler claims that the court's new majority has 'gone rogue.' That's absurd. That's dishonest. And, coming from Ziegler, that's wildly hypocritical."
"It is Ziegler who went rogue years ago," the outlet added. "The new majority is simply seeking to restore a measure of balance and dignity to a court that desperately needs to turn a new page."
News