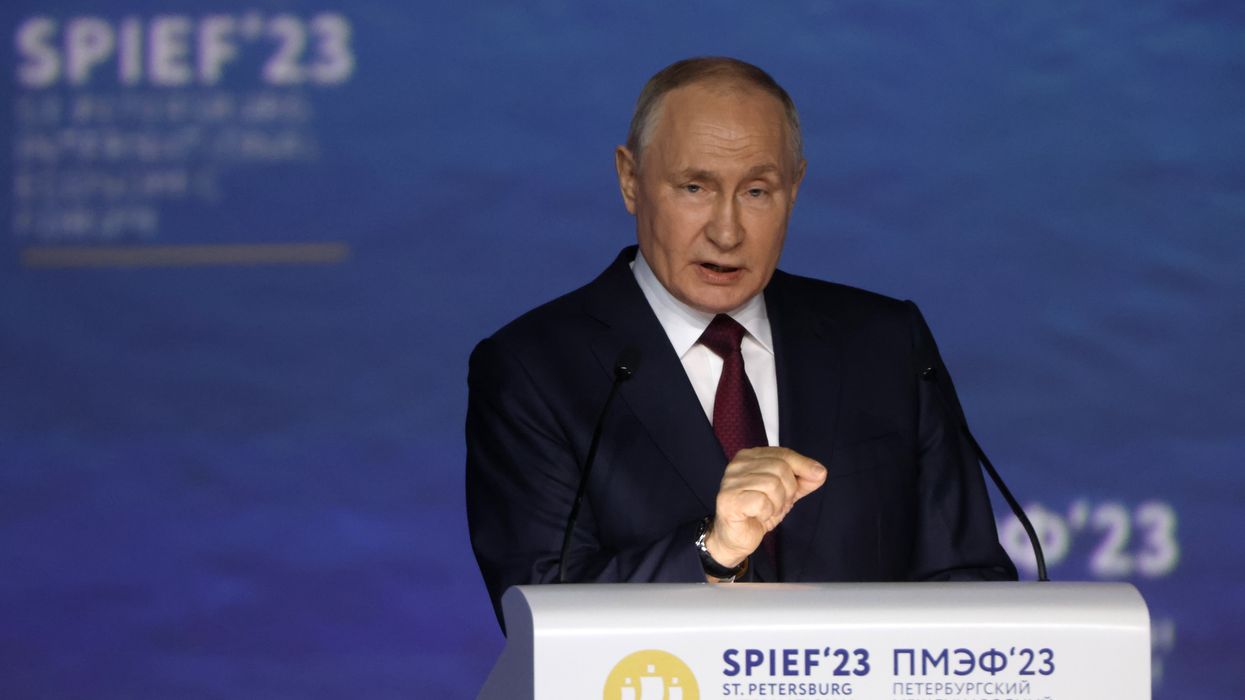 "No matter what the political climate, Russia must work with the United States to control the risk that nuclear weapons will be used—and to eliminate them," says Global Zero. "Anything less means disaster for everyone."
Nearly 16 months into Russia's invasion of Ukraine, Russian President Vladimir Putin said Friday that Moscow has begun deploying "tactical" nuclear weapons in Belarus, confirming recent remarks from Belarusian President Alexander Lukashenko.
In what the Nobel Peace Prize-winning International Campaign to Abolish Nuclear Weapons (ICAN) called an "extremely dangerous escalation" that "risks catastrophic humanitarian consequences," Putin had announced the plan in late March.
"We have missiles and bombs that we have received from Russia, both that are three times more powerful than the ones used on Hiroshima and Nagasaki," Lukashenko told a Russian state television channel earlier this week, referencing the 1945 U.S. bombing of the Japanese cities. "Up to a million people would die immediately if, God forbid, this weapon were used."
Putin, who has said that Moscow will retain control over the Russian nukes in Belarus, addressed the deployment on Friday while speaking at the St. Petersburg International Economic Forum, according to the Russian state news agency TASS.
"As you know, we held talks with our union state, with President Lukashenko on deploying part of these tactical weapons to Belarusian territory," Putin said. "It has happened—the first nuclear warheads have been delivered to Belarusian territory. This is the first batch. We will complete this work by the end of this year."
\u201cThe amount of deciphering required with every Putin/Lukashenko statement on moving nuclear weapons to Belarus demonstrates how much uncertainty there is with this proposed deployment.\n\nTimelines, goalposts, locations all keep changing. And what is meant by \u201cfirst part\u201d here? Odd.\u201d

— Matt Korda (@Matt Korda) 1686944360
In response to a question about the deployment, the Russian leader reportedly said that "this is a deterrence measure."
According to the BBC: "When asked by the forum's moderator about the possibility of using those weapons, he replied: 'Why should we threaten the whole world? I have already said that the use of extreme measures is possible in case there is a danger to Russian statehood.'"
Writing Friday for Responsible Statecraft, Greg Lane, a former senior executive in the U.S. Central Intelligence Agency's Directorate of Operations, argued that "Russia's goals here appear more political than military."
"First, and as it relates to the war in the Ukraine, he wants to again highlight his own unpredictability, specifically his willingness to escalate the conflict if certain red lines are crossed," Lane wrote. "Highlighting the possibility of a nuclear exchange over the war in the Ukraine also serves a second political goal for Moscow, which is to find and exploit wedge issues that can be used to influence European public opinion."
"Perhaps most importantly for the Kremlin, however, is that the re-stationing of nuclear weapons in Belarus marks real and measurable progress in Putin's effort to reconstitute a 'Greater Russia,'" Lane added. "With the debacle of his so-called 'special military operation' and the now extreme improbability that the Ukrainians would ever voluntarily join such a union, the Russian president needs to be able to identify some success in making Russia great again."
\u201cPutin: \u201cWe have more [nuclear] weapons than NATO countries. They know about it and all the time we are persuaded to start negotiations on their reduction. Fuck them, you know, as our people say.\u201d https://t.co/En6U9Z7DzY\n\nDirect violation of NPT Article VI.\u201d

— Hans Kristensen (@Hans Kristensen) 1686939895
TASSreported that Russia's embassy in Washington D.C. said that Russian Ambassador to the United States Anatoly Antonov met with U.S. Ambassador to Russia Lynne Tracy on Friday and "topical issues of the bilateral agenda were discussed."

Asked about Putin's statements on Friday, U.S. Secretary of State Antony Blinken told reporters that "we'll continue to monitor the situation very closely and very carefully. We have no reason to adjust our own nuclear posture. We don't see any indications that Russia is preparing to use a nuclear weapon."
Noting U.S. President Joe Biden's comments earlier this week about the American commitment to defending the North Atlantic Treaty Organization (NATO), Blinken stressed, "That is our north star and we're very focused on that."
"As for Belarus itself, this is just another example of Lukashenko making irresponsible, provocative choices to cede control of Belarus' sovereignty against the will of the Belarusian people," the top U.S. diplomat said.
Blinken's remarks aligned with NATO Secretary General Jens Stoltenberg's Thursday response to Lukashenko announcing the arrival of Russian nukes.

According toThe Associated Press, Stoltenberg told journalists in Brussels that "we are, of course, closely monitoring what Russia is doing. So far, we haven't seen any changes in the nuclear posture that requires any changes in our posture."
"Russia's nuclear rhetoric and messaging is reckless and dangerous... Russia must know that a nuclear war cannot be won and must never be fought," he added, noting that "Russia has invested heavily in new modern nuclear capabilities and also deployed more nuclear capabilities, including close to NATO borders, for instance, in the high north."
The AP pointed out that "Biden and his NATO counterparts are gathering for a summit on July 11-12 in the Lithuanian capital, Vilnius, about 35 kilometers (22 miles) from the Belarus border."

Of the world's nine nuclear-armed nations, Russia has the largest stockpile, followed by the United States; the other seven countries have far fewer. None of them support the Treaty on the Prohibition of Nuclear Weapons.
"No matter what the political climate, Russia must work with the United States to control the risk that nuclear weapons will be used—and to eliminate them," Global Zero, a campaign to abolish nukes, tweeted Thursday. "Anything less means disaster for everyone."

News