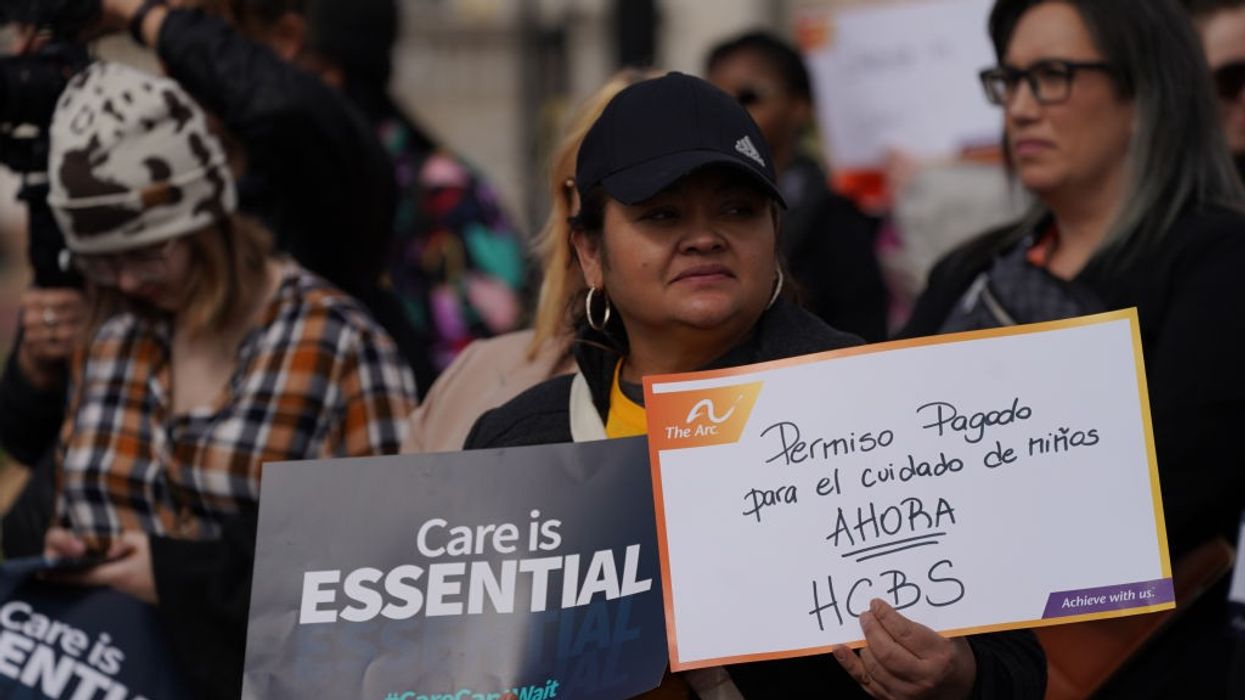 Our elected leaders need to start investing in people with disabilities and the organizations that support them.
I was teaching a class on personal finance to my students with disabilities when I read the story about the ant and the grasshopper. While the ant was busy putting food away for the winter, the grasshopper laid out to enjoy the beautiful day. Finally, when winter arrived, the ant had plenty to eat, but the grasshopper was starving.
I asked my students why the grasshopper wasn't prepared and, much to my enjoyment, one of my students responded, "He didn't have a calendar, so he didn't know winter was coming."
I work as a Direct Support Professional, or DSP, at Community Access Unlimited in New Jersey, where I provide daily care and support to people with disabilities in my community. When I'm not working as a DSP for individuals, I also serve as an Education Specialist for Community Access Unlimited's Academy for Continuing Education (ACE), teaching and inspiring adults with disabilities on a range of topics, from personal finance to the visual arts. I cherish my work. But it's not easy, and it's only getting harder.
Just like the ant and the grasshopper, Congress needs to plan for the future. That means passing home-and community-based services funding before our system completely collapses.
For decades, and even more so since the pandemic, DSPs like me have been dealing with rampant understaffing and high turnover, due in large part to the nationwide funding crisis for caregivers.
Providers like Community Access Unlimited rely on Medicaid reimbursement rates to pay their DSPs, and these rates have been stagnant for years. As a result, providers can't pay their workers living wages—the national average wage for a DSP is just $13.36 per hour—driving DSPs to companies like Target and McDonald's that have more consistent hours and don't rely on rates set by the government to pay their employees. The end result: Providers, dealing with rampant understaffing, are forced to shut down essential services or even close their doors completely.
The funding crisis holding DSP wages down is so dire that some states are considering radical solutions, like eliminating income taxes for DSPs in order to help them keep more earnings in their pockets.
Significant funding for home-and community-based services (HCBS) has been proposed to Congress numerous times. In 2021, President Joe Biden proposed $400 billion to expand Medicaid HCBS in the America Jobs Plan. In 2022, the Biden administration proposed $150 billion. Meanwhile, this April, Biden signed a groundbreaking executive order designed to strengthen the caregiving workforce in the U.S.
One side of Pennsylvania Avenue is clearly putting in the work. Yet, Congress continues to leave out or remove these crucial investments from congressional legislation.
Just like the ant and the grasshopper, Congress needs to plan for the future. That means passing HCBS funding before our system completely collapses.
Last year, 92% of providers reported struggling to achieve quality standards, according to a survey from the American Network of Community Options and Resources (ANCOR). The same survey shows that 83% of providers have been forced to turn away or stop accepting new referrals due to insufficient staffing, a 26% increase since the beginning of the pandemic.
Congress cannot wait until there are only a few disability providers left to provide services. Our elected leaders need to start investing in people with disabilities and the organizations that support them.
Earlier this year, ANCOR Foundation and United Cerebral Palsy (UCP) released their annual report, which provides a comprehensive look at the state of services for people with intellectual and developmental disabilities and the workforce that serves them. The report indicates that nearly 500,000 people with disabilities across the country remain on their state's waiting lists for services. It also notes that by 2030, demand for DSPs is projected to increase 37% over 2020 levels, with an estimated 7.9 million new job openings in the direct care industry.
Being a DSP is an incredible job. It brings me so much joy knowing that I'm helping people and making this world a better place. As a DSP, I provide daily support for people with disabilities taking them to doctor appointments, grocery shopping and more.
I also help people with disabilities engage with their communities, and oftentimes that means going above and beyond for them. For example, one of the women I support is deaf; to communicate with her, I not only enrolled in the ASL course offered by Community Access but also enrolled in ASL I, ASL II, and ASL III offered by a local community college. While I wasn't the best at sign language, I worked hard to sign with her and give her a sense of community.
I love what I do, and I can't imagine doing anything else. It's time our elected leaders recognize how essential this work is and pass Medicaid HCBS funding.
Opinion