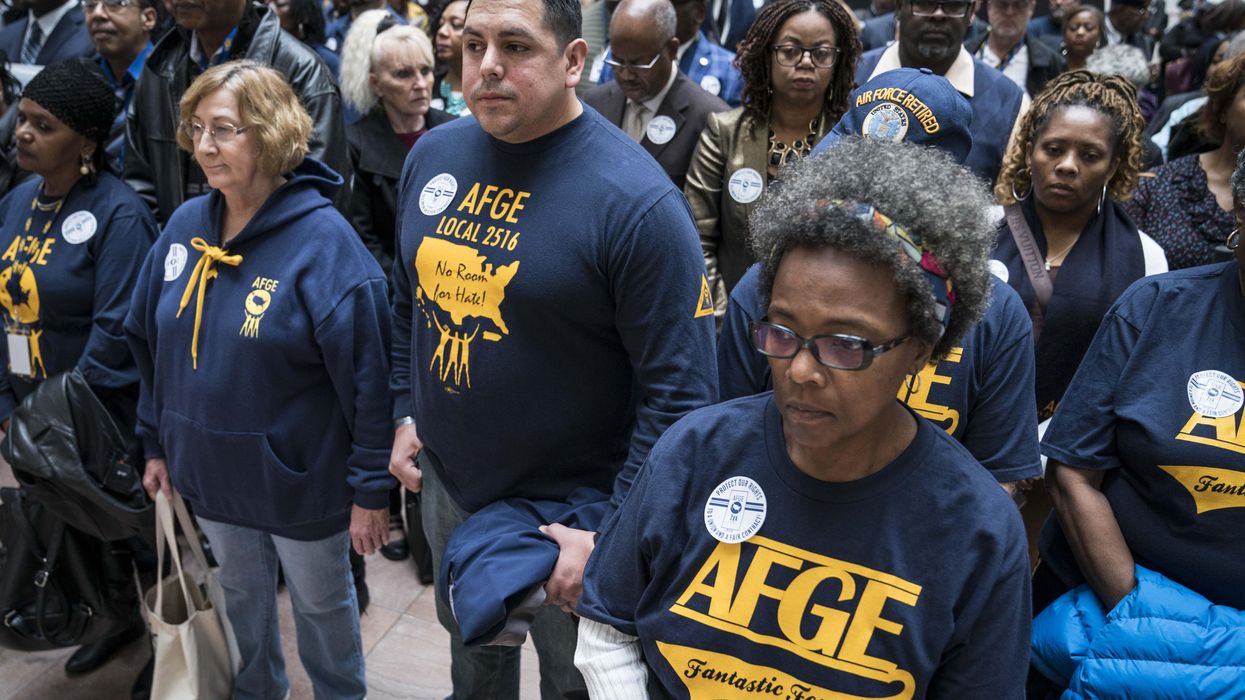 "The debt limit must be cleanly raised to avoid default and ensure the continuation of funding for the government and critical programs," the AFGE president told lawmakers.
The largest union of federal workers in the U.S. urged Congress this week to raise the debt ceiling without mandating reductions in social spending, arguing that President Joe Biden is right to reject the GOP's attempt to use the nation's borrowing limit as leverage to force through devastating cuts.
"The debt limit must be cleanly raised to avoid default and ensure the continuation of funding for the government and critical programs like Social Security, Medicare, veterans' benefits, and the U.S. military," Everett Kelley, president of the American Federation of Government Employees (AFGE), wrote in a letter sent to every member of Congress on Monday. "No negotiation that puts these programs or any aspect of federal employee compensation at risk should be considered."
Several House Republicans are threatening to block the lifting of the country's borrowing cap—an arbitrary and arguably unconstitutional figure set by Congress—unless Democrats agree to slash government spending, including on vital social programs
Notably, Capitol Hill's deficit hawks oppose reducing the Pentagon's ever-growing budget and rescinding former President Donald Trump's tax cuts for the wealthy.
The U.S. government's outstanding debt officially hit the statutory limit of $31.4 trillion last Thursday, at which point the Treasury Department started repurposing federal funds.
Treasury Secretary Janet Yellen recently told congressional leaders that "the use of extraordinary measures enables the government to meet its obligations for only a limited amount of time," possibly through early June. She implored Congress to "act in a timely manner to increase or suspend the debt limit," warning that "failure to meet the government's obligations would cause irreparable harm to the U.S. economy, the livelihoods of all Americans, and global financial stability."
A 2011 debt ceiling standoff enabled the GOP to impose austerity and led to a historic downgrading of the U.S. government's credit rating, but the country has never defaulted on its debt. Economists warn that doing so would likely trigger chaos in financial markets, resulting in millions of job losses and the elimination of $15 trillion in wealth.
Aware that an economic calamity is at stake, many Republican lawmakers "have announced that they will not support an increase in the debt ceiling without concomitant reductions in spending, possibly in the form of reductions to Social Security, Medicare, and Medicaid," Kelley wrote in the letter sent earlier this week.
"The White House says it will not negotiate such an arrangement," he added. "AFGE strongly supports the administration's refusal to negotiate on this matter."
"No negotiation that puts these programs or any aspect of federal employee compensation at risk should be considered."
In a Wednesday speech from the floor of the upper chamber, Senate Majority Leader Chuck Schumer (D-N.Y.) criticized "the House GOP's reckless approach to the debt ceiling" and challenged Speaker Kevin McCarthy (R-Calif.) "to level with the American people" on which popular programs his party wants to cut.
"The debt ceiling is a subject of the highest consequence, and using it as a bargaining chip, using it as brinkmanship, as hostage-taking, as Republicans are trying to do is exceedingly dangerous," said Schumer.
"If the House of Representatives continues on [its] current course and allows the United States to default on its debt obligations, every single American is going to pay a terrible and expensive price," Schumer continued. "The consequences of default are not some theoretical abstraction; if default happens, Americans will see the consequences in their daily lives."
"Interest rates will go soaring on everything from credit cards, and student loans, to cars, mortgages, and more," he added. "That's thousands of dollars for each American going right out the door, and it will happen through no fault of their own."
As many observers pointed out repeatedly in the wake of the midterm elections, Democrats had the power to prevent this high-risk game of brinkmanship altogether by raising the debt ceiling—or abolishing it completely—when they still controlled both chambers of Congress.
Despite ample warnings from Sen. Elizabeth Warren (D-Mass.) and other progressive lawmakers and advocacy groups, conservative Democrats refused to take unilateral action during the lame-duck session.
On Wednesday, Schumer pleaded with GOP lawmakers to simply raise the debt ceiling without demanding policy concessions in exchange.
"I'd remind my Republican colleagues that they did it before when Trump was president three times; no Democratic obstruction or hostage-taking," said Schumer. "We did it once together when Biden was president. And much of this debt comes from spending when Trump was president, voted on by a Republican House and a Republican Senate."
"It's a bit of hypocrisy now to say that they can't do it again, and they are holding it hostage and are playing a dangerous form of brinksmanship," Schumer argued. "It shouldn't matter who is president. It's still bills we already incurred that must be paid for the good of all Americans."
News