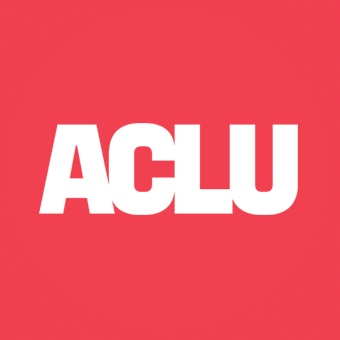 For Immediate Release
Contact:
Southern Poverty Law Center, Anna Núñez, anna.nunez@splcenter.org, 334-201-9236
ACLU of Florida Media Office, media@aclufl.org, 786-363-2737
ACLU National, Inga Sarda-Sorensen, isarda-sorensen@aclu.org, 347-514-3984
Americans for Immigrant Justice, Devra Gelman, dgelman@aijustice.org, 305-409-3639
American Immigration Council, Maria Frausto, mfrausto@immcouncil.org, 202-507-7526
Civil Rights and Legal Advocates File Lawsuit Against Florida's Anti-Immigrant Law SB 1718
The complaint challenges the constitutionality of a provision within the law criminalizing the transportation of individuals into Florida
Miami
Today, legal organizations, including the Southern Poverty Law Center, American Civil Liberties Union, ACLU of Florida, Americans for Immigrant Justice and American Immigration Council, filed a federal lawsuit challenging Florida's new anti-immigrant law, Senate Bill 1718.
The lawsuit focuses on the provisions outlined in Section 10 of the law, which criminalizes the transportation of individuals into Florida who may have entered the country unlawfully and have not been "inspected" by the federal government since. The complaint states that it is unconstitutional for a state to unilaterally regulate federal immigration and subject people to criminal punishment without fair notice and that Florida's use of the term "inspection" is incoherent and unconstitutionally vague.
The case was filed against Gov. Ron DeSantis, Attorney General Ashley Moody, Florida Statewide Prosecutor Nicholas B. Cox and the attorneys general for all 20 Florida Judicial Circuits, on behalf of the Farmworker Association of Florida and various impacted individuals, including U.S. citizens and undocumented drivers and passengers who routinely travel into and out of Florida.
Section 10 is only one of a host of new laws within SB 1718 that harm Florida immigrants and their families and seeks to target and intimidate immigrant families in every facet of their lives. The law inhibits and intimidates immigrant Floridians seeking health care, expands E-Verify requirements and penalties on businesses, prohibits local government funding of new community identification cards, and invalidates certain driver's licenses from states like Connecticut, Vermont, Delaware and Hawaii.
The lawsuit was filed in the U.S. District Court for the Southern District of Florida in Miami.
The complaint can be found here.
The following comments are from:
Paul R. Chavez, senior supervising attorney with the Southern Poverty Law Center's Immigrant Justice Project:

"This harmful anti-immigrant bill is unconstitutional, xenophobic and will increase the unlawful racial profiling of Florida's Black and Brown communities. Admittedly designed to inflict cruelty, SB 1718 is unconstitutional and undermines our democracy. This lawsuit will vindicate all of our constitutional rights, and we remain committed to ensuring that immigrants are treated fairly, equally and with dignity. Such an ugly attack on our immigrant community will not stand."
Amien Kacou, staff attorney for the ACLU of Florida:
"As news of the predictable damage inflicted on Florida by SB 1718 comes in, we are filing this lawsuit to stop its unconstitutional criminalization of the immigrant community in a state where one-fifth of the population was born abroad. This legislation is not the solution to any problem. It is an attempt to scapegoat and terrorize vulnerable families and workers already burdened by the difficulty of the federal immigration process and to pick a fight with the federal government in order to serve the ambitions of a few politicians. Our challenge aims to uphold the Constitution and protect our communities from the rising threat of discrimination posed by this new Florida law."
Evelyn Wiese, litigation attorney with Americans for Immigrant Justice:
"SB 1718 is an attack on Florida's immigrant community and on the rights of all Floridians, who count immigrants among their family members, neighbors, coworkers and friends. By making it a felony for anyone to travel into the state with immigrants who fall into a broad and not-clearly-defined category, Section 10 is both extreme and unconstitutional. There's no denying the viciousness and inhumanity of this xenophobic new law. But Governor DeSantis and his anti-immigrant allies in the Florida Legislature should make no mistake: when they attempt to flout the Constitution, we will fight back. Florida has a long and proud history of welcoming immigrants into the state. Now, we are proud to stand with members of Florida's immigrant community in fighting to protect their — and all Floridians' — constitutional rights."

Kate Melloy Goettel, legal director of litigation at the American Immigration Council:
"Florida's attempt to regulate federal immigration law violates the rights and dignity of all individuals in the state and harms immigrant families. Criminalizing transportation without federal 'inspection' and subjecting individuals to vague definitions is both unconstitutional and unfair. This ill-advised legislation not only singles out immigrants and their families but also poses a threat to the social and economic well-being of Florida's communities. We stand firm in our commitment to uphold the rights and dignity of every individual in the state, regardless of their immigration status. Unity and fairness must triumph over fear and hostility."
Nezahualcoyotl Xiuhtecutli, PhD, general coordinator, Farmworker Association of Florida, Inc.:

"FWAF is proud to stand shoulder-to-shoulder with our 12,000 members to challenge this hateful law. Not only is this law detrimental to our members' abilities to put food on their own tables, it is detrimental to our members' ability to put food on everyone's tables. Florida's SB 1718 is a self-inflicted wound — the product of short-sighted lawmakers unable to see beyond the most immediate political opportunity. Though the impact of similar anti-immigrant laws in Arizona, Alabama and Georgia clearly foreshadowed its legal and economic fallout, SB 1718 was passed with little regard for the hardships those states have experienced."
Individual Plaintiff 1 MM:

"I'm suing because this law harms our family and many others. We aren't doing anything to hurt anyone. On the contrary, we're here working, paying taxes and trying to provide a safe life for our families. Now we're scared to even travel together as a family. I would never want my son to face a felony for traveling with his mother and his sister. It makes no sense. We're family — how can this be?"
The American Civil Liberties Union was founded in 1920 and is our nation's guardian of liberty. The ACLU works in the courts, legislatures and communities to defend and preserve the individual rights and liberties guaranteed to all people in this country by the Constitution and laws of the United States.
(212) 549-2666
LATEST NEWS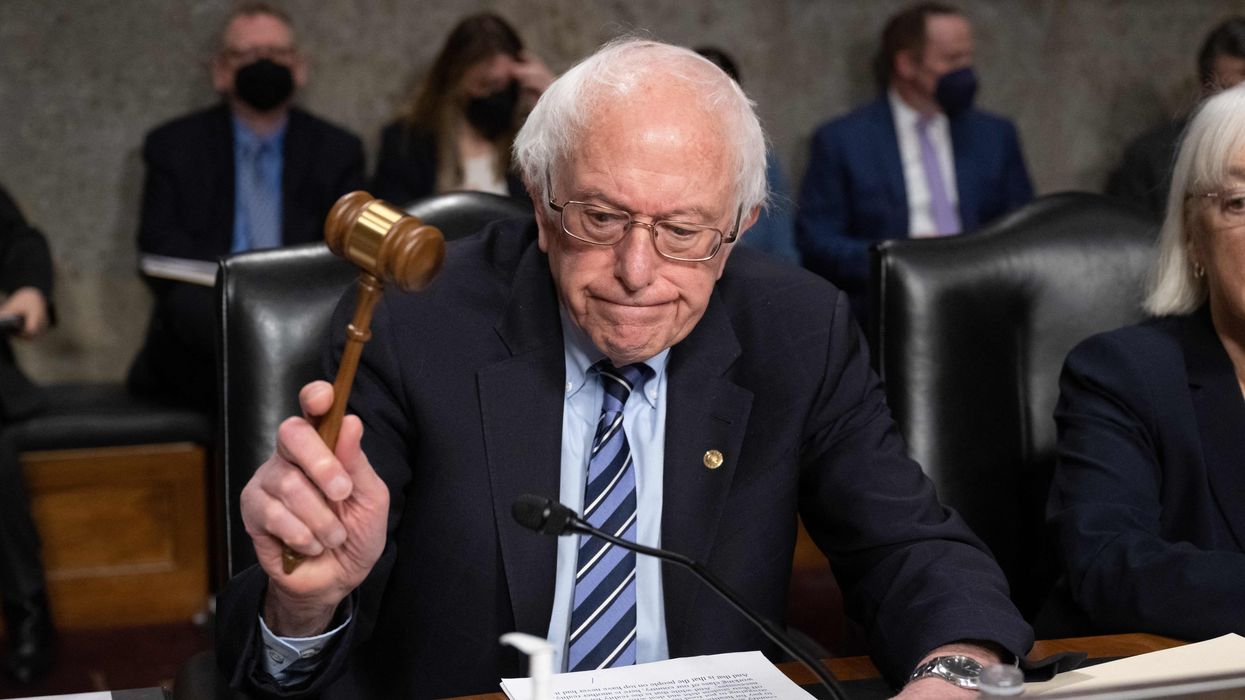 The HELP Committee chair pledged to work with Senate leadership "in the coming weeks to move this bill forward and ensure that millions more Americans can get the healthcare they deserve."
U.S. Senate Health, Education, Labor, and Pensions Committee Chair Bernie Sanders celebrated on Thursday after the panel advanced his Bipartisan Primary Care and Health Workforce Act, teeing up a possible full-chamber vote on the bill.
"Everyone in America understands that our healthcare system is broken and getting worse," Sanders (I-Vt.) said in a statement. "Despite spending twice as much per capita as any other nation, millions of Americans are unable to access the primary care and dental care they desperately need and we have a massive shortage of doctors, nurses, dentists, and mental health professionals."

"With today's passage of bipartisan legislation in the Senate HELP Committee, we are beginning to address that crisis," added the senator, a longtime advocate of Medicare for All. "I'm pleased this legislation passed with a strong bipartisan 14-7 vote."

"I especially want to thank Sen. Roger Marshall (R-Kansas) for his hard work on this legislation," he said. "Together, we will work with Senate leadership in the coming weeks to move this bill forward and ensure that millions more Americans can get the healthcare they deserve."
The committee's decision to advance the healthcare bill—and three others, which were agreed to by voice votes—comes just a week after Sanders and Marshall, a physician, announced that they had reached a deal on the "historic" legislation.
The bill, which took months of work, "increases mandatory funding for Federally Qualified Community Health Centers from $4 billion a year to $5.8 billion a year for three years, which will enable more Americans to receive not only high-quality primary healthcare, but dental care, mental health counseling, and low-cost prescription drugs," Sanders told the committee on Thursday.
"What we have in front of us with your vote is the most significant piece of legislation in addressing the primary healthcare crisis in modern American history."

"In addition, this bill includes a one-time allocation of $3 billion to be used to establish dental operatories so that community health centers can expand their dental care capabilities," he continued. "This legislation will save substantial sums of money. Investing in primary healthcare will keep people healthier and out of hospitals; investing in community health centers will keep people out of emergency rooms, which cost about ten times more per visit than a community health center."
Dr. Kyu Rhee, president and CEO of the National Association of Community Health Centers (NACHC), said last week that "health centers appreciate the strong leadership from Chairman Sanders and Sen. Roger Marshall."
"This bill lays out a vision that emphasizes the role of health centers and expands their reach beyond the 31.5 million existing patients," he pointed out. "The bill also encourages much-needed growth of the primary care workforce by investing in innovative health center-led career development programs."
Noting Thursday that Senate HELP Committee Ranking Member Bill Cassidy (R-La.) put forth over five dozen amendments, Sanders said: "Is this a perfect piece of legislation? No, I don't think so."
Yet, Sanders stressed, it also represents a remarkable opportunity.
"As every member of this committee knows, it is very difficult to get any substantive legislation passed in Congress today," he said. "Sen. Marshall and I and other senators have tried, and what we have in front of us with your vote is the most significant piece of legislation in addressing the primary healthcare crisis in modern American history."
The Senate panel's vote for the Bipartisan Primary Care and Health Workforce Act comes as House Republicans are self-destructing, pushing the United States toward a potential government shutdown in just over a week. Unless Congress acts to prevent a shutdown before the end of the month, all federal funding for health centers will expire.
NACHC's Rhee said Monday that "I am staying up at night worrying about the stability of our primary care workforce."
"This debate over health center funding comes as clinicians are considering what residency they should go on, what training program, or whether or not they should sign a contract at a community health center," he added. "That is why it makes sense to invest in health centers and in primary care development programs to grow the current workforce of 285,000 health center professionals."

News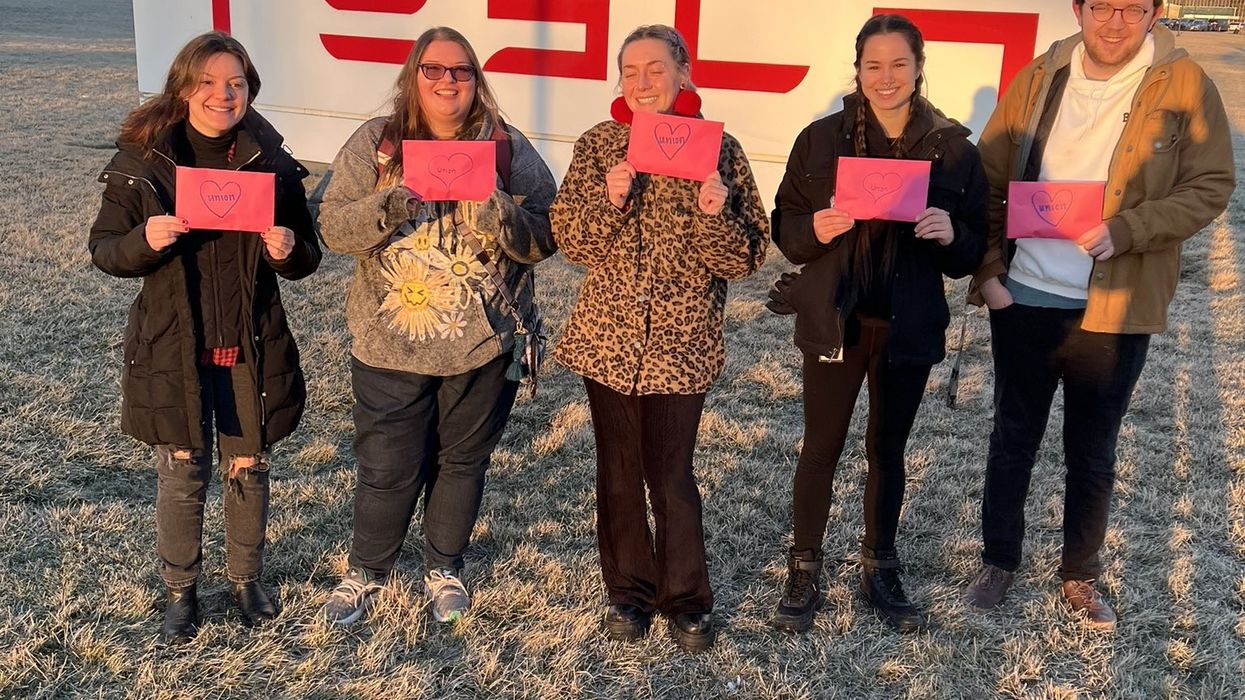 "This strike could be a bellwether," said one professor. "It's a hot time in the labor movement."
As members of the United Auto Workers union strike for better pay and benefits at General Motors, Ford, and Stellantis plants, labor advocates and progressive politicians this week took aim at what could be the next big unionization target: Elon Musk's Tesla.
"There is a group of Tesla workers who are actively talking about forming a union and creating the best representation they can for themselves and their co-workers through collective bargaining," Mike Miller, director of UAW Region 6—which is made up of California and Nevada, where Tesla makes vehicles and batteries—toldThe New York Times on Thursday.
While Tesla—which is owned by the notoriously anti-union Elon Musk, the world's wealthiest person—may enjoy short-term advantages over the Big Three as production lines are idle in the Midwest, some observers say that the UAW strike could prove an inspiration and catalyst for Tesla workers seeking to unionize.
"This strike could be a bellwether," Villanova University professor Rick Eckstein told the Times. "It's a hot time in the labor movement."
In 2018, the UAW tried, and failed, to organize workers at Tesla's Fremont, California plant, which was previously a unionized GM-Toyota facility. Despite Musk's assertion on Twitter—which he later bought and renamed X—that there was "nothing stopping" workers at the plant from voting to unionize, UAW officials alleged the company was engaging in illegal union-busting activities, and the National Labor Relations Board agreed. The NLRB ordered Tesla to rehire a worker illegally fired for disparaging a non-union colleague and compelled Musk to delete his tweet. The 5th U.S. Circuit Court of Appeals subsequently affirmed the NLRB's decision.
In February, Tesla terminated dozens of workers at its Buffalo, New York plant in what critics called an act of "retaliation" for their effort to unionize. The fired workers' case is currently before the NLRB.
"Such tactics are fully in line with the attitude of Musk himself, who has routinely made anti-union statements and publicly threatened to take away employees' stock options if they unionized," labor writer Hamilton Nolan wrote in an opinion piece published Thursday by The Guardian.
"Despite having a net worth of $270 billion, Musk does not believe that the workers who make his products should be able to get together and negotiate a fair contract for themselves," Nolan added. "He's greedy. He's ignorant. He's a crumb."
Some observers say autoworkers are paying close attention to the strikers' demands—and whether they win them.

New York Times auto industry reporter Jack Ewing wrote Thursday that "as representatives of the national union demand 40% wage increases from the Detroit automakers, along with significant gains in benefits, they are certainly thinking about the signal that any deal would send to nonunion workers at Tesla."
As Nolan put it: "The UAW knows damn well that Tesla workers need a union. But organizing an $800 billion company run by a union-buster with infinite money is not easy."
But, he asserted, "not even Musk can hide from the labor movement forever."
"It's been around a lot longer than he has," Nolan noted, adding wryly that "if he can't bear to have a free union election in his plant, I'm sure that we could arrange a cage match for him with an auto worker to settle this issue once and for all."
News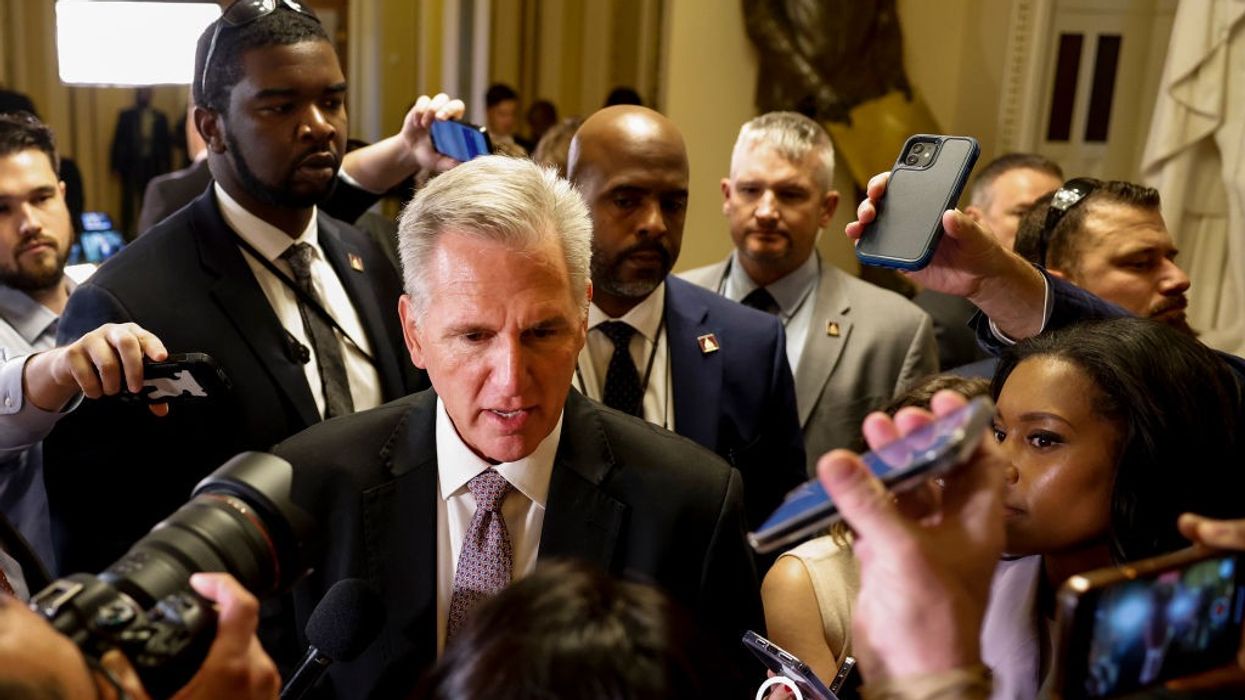 "Speaker McCarthy is wasting precious time catering to the hard, hard MAGA right," said Senate Majority Leader Chuck Schumer.
"The House Republicans are a total shit show."
So said Congressman Robert Garcia (D-Calif.) Thursday afternoon, just over a week away from a potential U.S. government shutdown, as the fractured House Republican Conference once again proved incapable of passing anything resembling an appropriation.
After far-right Republicans blocked a defense spending bill for the second time this week, House Speaker Kevin McCarthy (R-Calif.) opted to send lawmakers home with the warning that they may be called back for votes on Friday or over the weekend.
So far, the House has passed only one of a dozen appropriations bills for fiscal year 2024, which begins October 1. The defense bill—which was also opposed by all Democrats due to spending levels and other provisions—would have made it two.

The latest failure of the Pentagon funding measure, described by some as " embarrassing" for the embattled speaker, comes after the House GOP kicked off the week with a continuing resolution (CR) to prevent a shutdown for 30 days that was "doomed to fail," not only due to MAGA Republicans but also because it would have imposed spending cuts that conflict with the Fiscal Responsibility Act, the debt ceiling deal McCarthy struck with President Joe Biden earlier this year.
As of late Wednesday, House GOP leadership reportedly planned to pass the defense bill then move to a new CR on Saturday. Now, according to multiple journalists on Capitol Hill, the plan is spend next week trying to pass the remaining FY24 appropriations bills—bills that, as CNN reporter Melanie Zanona highlighted, are dead on arrival in the Democrat-controlled Senate.
In other words, as Punchbowl News' Jake Sherman noted, the House GOP is adopting the strategy of Rep. Matt Gaetz (R-Fla.)—one of the far-right lawmakers who in January forced 15 rounds of voting for McCarthy to become speaker. McCarthy secured the post by making concessions to Gaetz and others, including a rule change that allows a single member to initiate a vote to oust the speaker.
"An ominous case of déjà vu is playing out this week in the House of Representatives: A national crisis is around the corner, the solution demands bipartisanship, but Speaker McCarthy is wasting precious time catering to the hard, hard MAGA right," Senate Majority Leader Chuck Schumer (D-N.Y.) said Thursday, recalling when the GOP almost forced an economically catastrophic debt default earlier this year.
"Instead of decreasing the chances of a shutdown, Speaker McCarthy is actually increasing it by wasting time on extremist proposals that everyone knows he knows cannot become law," Schumer charged. "If the speaker continues down on the path he's on, the odds of a shutdown sadly go up, and Americans will know that the responsibility of a shutdown will be on the Republicans' hands."
Schumer—who on Thursday evening took a procedural step toward passing a CR next week—urged the House to focus on funding bills that can pass with bipartisan support, a demand echoed by 144 House Democrats in a Thursday letter to McCarthy, Minority Leader Hakeem Jeffries (D-N.Y.), and appropriations panel leaders.
"Bogging down the appropriations process with controversial policy debates is contributing to another damaging political impasse," the Democrats wrote. "Given our country's many ongoing challenges and urgent needs, the House of Representatives must work cooperatively to complete the appropriations process in a timely manner. Clean funding bills—free of contentious poison pill riders—represent the best path forward as we work to fulfill our duty to the American people to keep the federal government running."
That followed a Wednesday letter in which 92 members of the Congressional Progressive Caucus (CPC) told McCarthy that "we stand ready to support a bipartisan funding vehicle free of poison pill policy riders that is consistent with the agreement you struck with President Biden and which was ratified by bipartisan majorities in both the House and Senate."
"Republicans are deliberately forcing a government shutdown because they know that we the people won't stand for their cruel, pro-hunger, pro-eviction, anti-parent, anti-senior, anti-worker, anti-veteran plot to please their cable news culture warriors or pay for handouts to their billionaire friends," Rep. Summer Lee (D-Pa.) said Wednesday during a CPC press conference. "Republicans know the American people see right through their... bullshit."
News
Independent, nonprofit journalism needs your help.
Please Pitch In
Today!