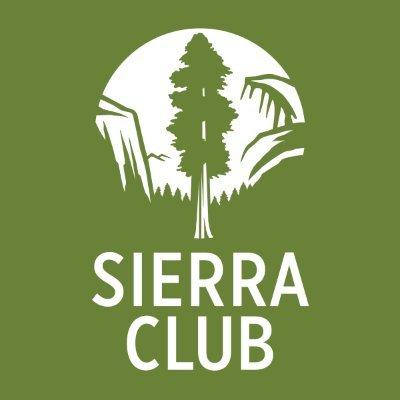 Global Financial Alliance Must Ensure Credible Net-Zero Plans After Severing Ties With UN Campaign
Sierra Club calls on GFANZ to stay committed to robust, science-aligned policies after initiative drops requirement for its members to follow Race to Zero's criteria.
WASHINGTON
The Global Financial Alliance for Net Zero (GFANZ) announced yesterday it would no longer require its members -- including major financial sector net-zero alliances -- to sign on to the emissions reduction criteria set by the UN's Race to Zero campaign.
GFANZ said in a progress report that its alliances "are independent initiatives subject only to their individual governance structures" with "sole responsibility" for changes to their membership criteria, and that the alliances would "take note of the advice and guidance" of Race to Zero and other bodies, including the International Energy Agency.
The move came after US banks JPMorgan Chase, Bank of America, and Morgan Stanley reportedly reportedly threatened to leave GFANZ, and the associated Net Zero Banking Alliance (NZBA), over concerns that updated Race to Zero criteria around financing of new fossil fuel projects may make the banks vulnerable to legal challenges from fossil fuel-aligned politicians.
In response to the news, Adele Shraiman, Campaign Representative with the Sierra Club's Fossil-Free Finance campaign, called on GFANZ to ensure its members stay committed to credible, robust, science-aligned policies on net zero.
The updated Race to Zero criteria affirmed what has been obvious for years: in order for banks' net-zero commitments to be credible, they must explicitly commit to phase out financing for new fossil fuels. Now, GFANZ and its associated alliances, including NZBA, must decide how to guide some of the world's largest banks toward the credible, robust, and science-aligned policies that are necessary for meeting the climate goals they have committed to.

Without explicit commitments to phase out financing for fossil fuel expansion, financial institutions will not be aligned with what leading climate scientists and energy experts tell us will be necessary to keep global temperature rise below 1.5C. If the various alliances in GFANZ want to maintain credibility and enforce robust standards on their membership, their guidance must reflect this reality. What's most important is for banks and other financial firms to actually meet their own net-zero commitments, and for global alliances like GFANZ to uphold high standards for its members. Whether NZBA holds its members accountable via its own governance or via Race to Zero's criteria isn't what matters most -- the strength of banks' commitments, and their plans to meet those commitments, is.

Ultimately, global alliances and initiatives like GFANZ and Race to Zero are just a means to an end. What's most important is the outcome: getting the financial sector to make strong commitments, and actually have credible plans to follow through on those commitments. Moving forward, GFANZ and its associated alliances face the challenge of upholding robust, credible, science-backed guidance, without alienating its members or diluting the impact.
The Sierra Club is the most enduring and influential grassroots environmental organization in the United States. We amplify the power of our 3.8 million members and supporters to defend everyone's right to a healthy world.
(415) 977-5500
LATEST NEWS
"These actions undermine the integrity of the COP presidency and the process as a whole," former Marshallese President Hilda Heine wrote in her resignation letter to COP28 chief Sultan Ahmed Al Jaber.
United Nations Climate Change Conference advisory board member Hilda Heine resigned on Friday, citing reports that the Emirati oil executive presiding over COP28 has been busy pushing for fossil fuel deals in the run-up to the event.
Earlier this week, the Center for Climate Reporting and the BBCreported that Sultan Ahmed Al Jaber—who is simultaneously serving as COP28 president and CEO of the Abu Dhabi National Oil Company (ADNOC)—"has held scores of meetings with senior government officials, royalty, and business leaders from around the world in recent months" as the "COP28 team has quietly planned to use this access as an opportunity to increase exports of ADNOC's oil and gas."
"These actions undermine the integrity of the COP presidency and the process as a whole."
In her resignation letter, which was seen and first reported by Reuters, Heine—who is a former president of the low-lying Marshall Islands, one of the world's most climate-imperiled nations—called the United Arab Emirates' plan to make oil and gas deals at COP28 "deeply disappointing."
"These actions undermine the integrity of the COP presidency and the process as a whole," she asserted, adding that the only way Al Jaber can restore confidence is to "deliver an outcome that demonstrates that you are committed to phasing out fossil fuels."
Al Jaber has denied that he's using COP28 for fossil fuel deal-making.
"These allegations are false, not true, incorrect, and not accurate," he said Wednesday at a Dubai press conference. "And it's an attempt to undermine the work of the COP28 presidency."
A spokesperson for COP28's presidency said they are "extremely disappointed by Dr. Heine's resignation."
"We appreciated her advice throughout the year and that we only wish she would have been with us here in the UAE celebrating the adoption of a fund that will support vulnerable island states and those most affected by climate impacts," the spokesperson said, referring to the global "loss and damage" fund that one critic slammed as "a drop in the ocean compared to the scale of the need they are to address."

The UAE isn't the only major oil producer pushing fossil fuels while participating in COP28. Saudi Arabia—whose Crown Prince Mohammed bin Salman on Thursday was among the world leaders kicking off talks at the conference—"is overseeing a sweeping global investment program" intended to "ensure that emerging economies across Africa and Asia become vastly more dependent on oil," the Center for Climate Reporting and Channel 4 Newsrevealed this week.
News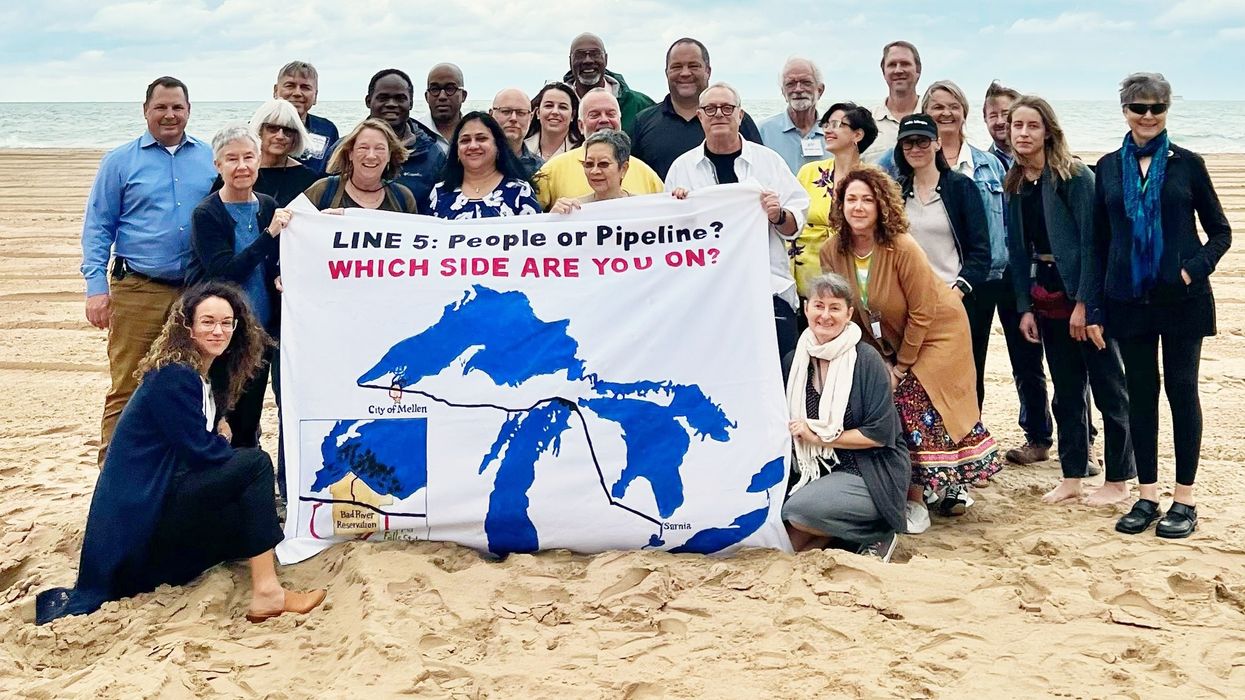 "Today's decision is another notch in a long history of ignoring the rights of tribal nations," said one Indigenous leader.
Days after climate advocates applauded Michigan Gov. Gretchen Whitmer's signing of a package of clean energy bills that one campaigner said would "translate into better air, water, and health for everyone," state regulators took several steps back from a sustainable future as they approved a key permit for Enbridge's Line 5 expansion project beneath the Great Lakes.
In a 2-0 vote with one member abstaining, the Michigan Public Service Commission (MPSC) approved siting for the project, granting Canadian oil firm Enbridge permission to build a concrete tunnel beneath the Straits of Mackinac—which connect Lake Michigan and Lake Huron—to house a four-mile section of its 645-mile petroleum pipeline.

The company can't break ground on the project without approval from the U.S. Army Corps of Engineers, which isn't expected to announce its decision until 2026, but Indigenous tribes and advocacy groups that have fought for years to stop the pipeline from being built expressed outrage that the commission approved the permit despite well-documented objections.
All federally recognized tribes in Michigan have passed resolutions opposing Line 5, which safety experts have warned puts the Great Lakes at risk for a massive explosion and oil spill.
"Today's decision is another notch in a long history of ignoring the rights of tribal nations," said Whitney Gravelle, president of the Bay Mills Indian Community. "We must act now to protect the peoples of the Great Lakes from an oil spill, to lead our communities out of the fossil fuel era, and to preserve the shared lands and waters in Michigan for all of us."
Tribes have said the project would violate their treaty rights and that Enbridge has not proven it can operate the tunnel safely. The company's Line 6B oil spill in 2010 contaminated nearly 40 miles of the Kalamazoo River.

"Disappointment isn't a big enough word," Rebecca Liebing, attorney for Bay Mills, told Michigan Bridge after the MPSC vote was announced. "There's no ambiguity regarding how the tribes feel about this matter... We're not done fighting."
The lakes hold 84% of North America's surface freshwater, and the Line 5 expansion would be the largest underwater hazardous liquids tunnel ever completed, said the coalition Oil and Water Don't Mix (OWDM).
"With this action, the Michigan Public Service Commission is putting Michigan in uncharted, dangerous territory while ignoring warnings by independent industry experts who testified during the MPSC's proceedings," said Sean McBrearty, a campaign coordinator for OWDM. "Never before has an oil tunnel that also carries other hazardous liquids been built in one of the most ecologically sensitive spots on Earth."
McBrearty pointed out that Enbridge already operates other oil pipelines in the Straits of Mackinac, and said there is "an open question whether Enbridge intends to build the tunnel or is simply using the project as a diversion and delay from shutting down the existing twin oil pipelines."
"Moreover, the Line 5 tunnel will worsen the impacts of the climate crisis by adding 27 million metric tons of polluting and climate altering carbon into the atmosphere, equivalent to 10 coal-fired power plants," said McBrearty, calling on President Joe Biden to revoke the presidential permit for Line 5.
Whitmer campaigned on closing down Line 5, but Enbridge has claimed the governor has no authority to shut down its pipelines because it runs between the U.S. and Canada and is subject to federal regulations.
A spokesperson for the governor toldMichigan Bridge that Whitmer is reviewing the MPSC's decision and that her goal "has always been getting the pipelines out of the water as quickly as possible."
Christopher Clark, senior attorney for Earthjustice, which represented Bay Mills as it presented its case objecting to Line 5 to the MPSC, said the commission ignored "the concerns of tribal communities in favor of the profit of a fossil fuel company."
"The evidence before the commission demonstrated that the proposed tunnel would put the Great Lakes region at serious risk and profoundly endanger the identity and lifeways of the Bay Mills Indian Community, a sovereign tribal nation whose relationship to these waters preexists the United States," said Clark. "We will use every open avenue to shut down Line 5 in order to avert an environmental catastrophe and slow the unthinkable impacts of climate change."
News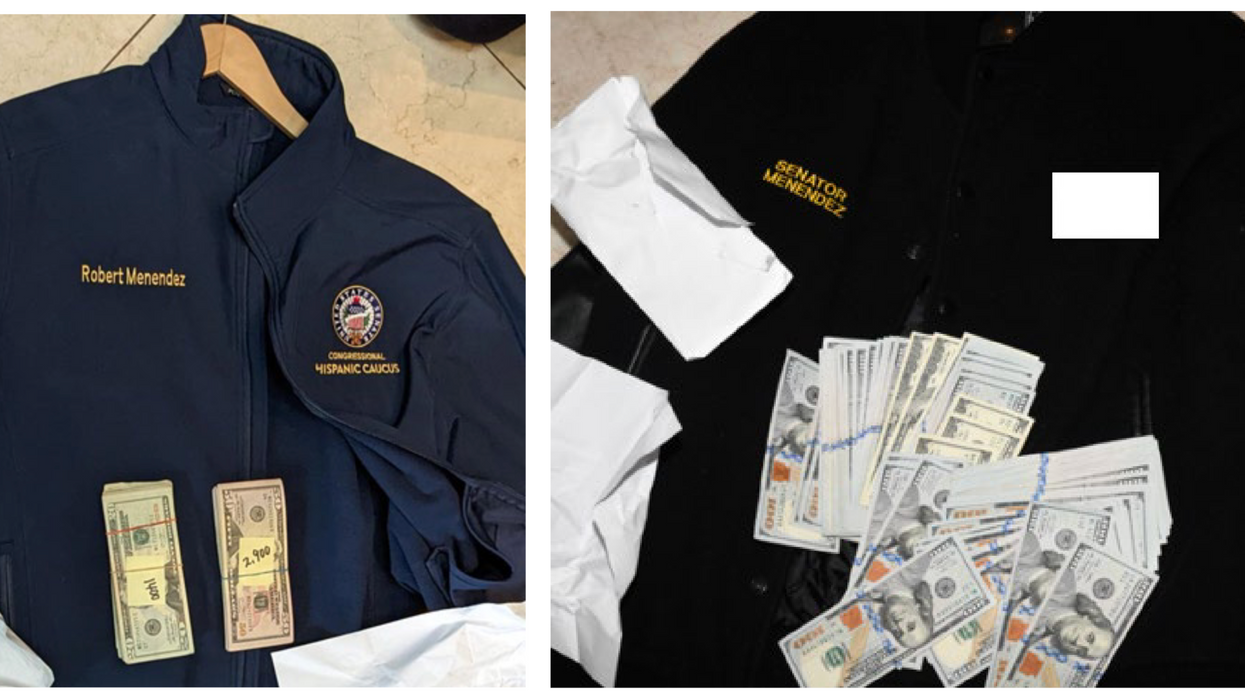 "If you are going to expel Santos, how can you allow... somebody like Menendez to remain in the Senate?"
After the U.S. House of Representatives on Friday voted to expel Republican New York Congressman George Santos, Sen. John Fetterman renewed his demand for similar action against Sen. Bob Menendez.
Fetterman (D-Pa.) has been calling for Menendez (D-N.J.) to exit the Senate since he was indicted in September and accused aiding the government of Egypt, engaging in "a corrupt relationship" with multiple businessmen, and accepting bribes in the form of "cash, gold, payments toward a home mortgage, compensation for a low-or-no-show job, a luxury vehicle, and other things of value."
Menendez has temporarily stepped down as chair of the Senate Foreign Relations Committee but refused to voluntarily leave the chamber, even after he was hit with another federal charge in October for allegedly acting as an unregistered agent for Egpyt.

Appearing on "The View" Friday, Fetterman argued that Menendez's alleged actions are "much more sinister and serious" than those of Santos—who faces 23 charges including wire fraud, aggravated identity theft, and conspiracy to commit offenses against the United States.
"He needs to go. And if you are going to expel Santos, how can you allow... somebody like Menendez to remain in the Senate?" said Fetterman, who previously returned $5,000 that his colleague gave to his 2022 campaign. "Menendez, I think, is really a senator for Egypt, not New Jersey."
Asked about the fact that Menendez has not been convicted of any crimes, Fetterman responded that "he has the right for his day in court... but he doesn't have the right to have those kind of votes [in the Senate]. That's not a right and I think we need to make that kind of decision to send him out."

Congressman Rob Menendez (D-N.J.)—the embattled senator's son, who has not been accused of any wrongdoing—was among the 105 Republicans and 206 Democrats who voted Friday to expel Santos. It was a reversal from his position last month, before the House Ethics Committee released its report on the New Yorker's alleged misconduct and criminal activity.

News