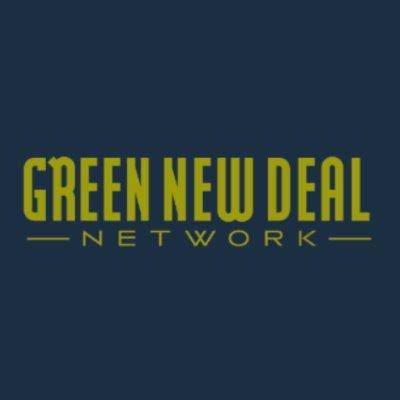 For Immediate Release
June, 30 2022, 05:30pm EDT
In Response to WV v. EPA, Green New Deal Network and Allies Call on Congress and President Biden to Act on Climate, Expand SCOTUS
In press call today, Sen. Ed Markey, Rep. Jamaal Bowman joined GNDN members U.S. Climate Action Network, Sunrise Movement, Indivisible, and Climate Justice Alliance to call for climate action, expanding number of SCOTUS justices to restore balance to the Court

SCOTUS decision to limit EPA power under the Clean Air Act puts people and the planet at risk
WASHINGTON
Today, the Green New Deal Network (GNDN) led Congressional allies and advocates calling for climate action from Congress and President Biden in response to the dangerous Supreme Court's decision on West Virginia v. the Environmental Protection Agency (WV v. EPA), a ruling that sharply limits EPA's power to regulate harmful power plant emissions under the Clean Air Act. In a press call following the decision, U.S. Senator Edward J. Markey, D-MA, U.S. Representative Jamaal Bowman, D-NY-16, joined GNDN coalition members U.S. Climate Action Network, Sunrise Movement, Indivisible, and Climate Justice Alliance.
A link to a recording of today's press call is available here.
In response to the conservative hijacking of the Supreme Court and the unelected Justices' assault on our climate, health, democracy, and human rights, GNDN is demanding that our elected leaders take the following actions:
Pass the reconciliation package in Congress and invest in climate, care, jobs and justice;

Use remaining authority of the EPA to limit greenhouse gasses at the source under Section 111 and more broadly through other Clean Air Act provisions;

Establish new, stronger EPA standards to reduce carbon and toxic pollution, invoke the Defense Production Act (DPA) to speed the production of renewable energy technologies, stop new fossil fuel projects, and declare a climate emergency;

Activate Congressional authority to expand the Supreme Court through the Judiciary Act of 2021.
"A stolen, illegitimate, radical right-wing Supreme Court just let polluters turn back the clock on fifty years of reduced pollution and improved air quality all across the country," said Senator Ed Markey. "This dangerous decision will undermine the EPA's ability to protect the public from harmful pollution and greenhouse gas emissions. We cannot sit idly by as extremists on the Supreme Court eviscerate the authorities that the government has had for decades to combat climate change and reduce pollution. Congress must act to protect public health and our planet by passing meaningful climate and clean energy funding to protect our communities and our future. We must also pass my Judiciary Act to expand the Court to restore balance and legitimacy to the bench."
"The Supreme Court's ruling in West Virginia v. EPA is an attack on our health, safety, and future, and a direct assault on our government's ability to restrain corporate interests," said Congressman Jamaal Bowman, Ed.D (NY-16). "In the midst of a world-historic climate crisis that requires an unprecedented public response, the Supreme Court of the United States has undermined our government's ability to respond to the needs of our planet and the people. Not only does this ruling show that the Supreme Court 'majority' has been captured by corporate interests, it shows its loyalty to fossil fuel CEOs and right-wing billionaires, not our Constitution or the people. It is a very dangerous power grab by the Court, and it could have implications for every kind of regulation. In response to this judicial overreach, Congress and the White House must restrain this runaway Supreme Court."
"The Clean Air Act is crucial for keeping fossil fuel executives from profiting off of outdated, dirty, and expensive power plants. For the often Black, brown, and low-income communities that live in the shadow of polluting infrastructure, the Clean Air Act is a pathway to facilitating a transition to a clean and affordable energy future and ending the climate crisis. When communities across the country are grappling with climate disasters, toxic pollution, and dirty energy sources, the Federal government needs to provide solutions. With one fell swoop, the Supreme Court made achieving climate and environmental justice even harder at a time when we need it the most. Since the GOP-backed Supreme Court Justices have shown themselves to be climate criminals, we must pursue systemic changes to the Court, even as we push Congress, the White House, and state and city governments to step up to ensure bold, urgent investments for climate, care, jobs and justice," said Keya Chatterjee, Executive Director of US Climate Action Network.
"Our communities should be able to rely on our lawmakers to regulate emissions and toxins to protect the people, our communities, and Mother Earth but, now, that imperative is being repealed by the largely Republican influenced Supreme Court. Those on the frontlines of the climate crisis fought hard to enact measures such as the Clean Air Act and the subsequent Clean Power Plan; we can't afford for more to be eroded," said Bineshi Albert, Co-Executive Director of Climate Justice Alliance"Instead of cowering to the oil, coal, and gas industries and their lobbyists, the Supreme Court should ensure that people's health and well-being is safeguarded and protected, not the profits of big business."
"We are extremely heartbroken and enraged at SCOTUS' latest attack on our rights, our democracy, and our lives. Today's WV v. EPA ruling threatens the government's ability to stop the climate crisis and enact a Green New Deal. It hands over more power to corporate executives who will make record profits while our communities choke, burn, and flood," said John Paul Meija, Sunrise Movement National Spokesperson. "A Supreme Court that sides with the fossil fuel industry over the health and safety of its people is beyond broken. We cannot and will not let our Democratic leaders standby while the GOP goes on the offense. If our Democratic leaders are really as outraged as they say they are, they must urgently pass legislation to expand the court, as well as pass sweeping Executive Actions to substantially reduce the harm caused by this devastating ruling."
"The Supreme Court's decision to gut the Environmental Protection Agency's authority to regulate greenhouse gas emissions and protect our air, water, and environment provides further proof that the conservative supermajority is irredeemable. Today's ruling is yet another attack on popular policies, supported by the majority of Americans, by justices who were installed by Republicans and special interests who don't care about the future of our planet," said Meagan Hatcher-Mays, Director of Democracy Policy at Indivisible. "For nearly fifty years, the Clean Air Act has been a critical tool in drastically reducing fossil fuel emissions and reducing pollution. Today's decision severely limits the EPA's ability to perform one of its basic functions: keeping our air and water clean. The impacts of this decision will reverberate throughout the federal government and leave us an executive branch with a significantly reduced authority to protect or enforce basic safety regulations. Congress must act--not just by passing critical climate justice legislation, but by also addressing the six existential threats in judicial robes who brought us this appalling decision. Congress must pass the Judiciary Act and add four seats to the Court."
For 50 years, the Clean Air Act has protected communities and the planet from the toxins pumped into the air by fossil fuel plants and the corporate utilities who have kept us hostage to unreliable, dirty, and expensive energy.
This ruling comes on the heels of a series of the Republican-backed Supreme Court's assault on our democracy and basic human rights, from the repeal of Roe v. Wade to limiting the ability to enforce Miranda rights. SCOTUS has gone as far as compromising the authority of states to protect their constituents, overturning state-based gun safety laws. The WV v. EPA decision is yet another blow to the health of Black, brown and low-income communities by the U.S. judicial branch, greedy corporations and billionaires, religious extremists, and white supremacists.
The Green New Deal Network is a 50-state campaign with a national table of 15 organizations: Center for Popular Democracy, Climate Justice Alliance, Grassroots Global Justice Alliance, Greenpeace, Indigenous Environmental Network, Indivisible, Movement for Black Lives, MoveOn, People's Action, Right To The City Alliance, Service Employees International Union, Sierra Club, Sunrise Movement, US Climate Action Network, and the Working Families Party.
LATEST NEWS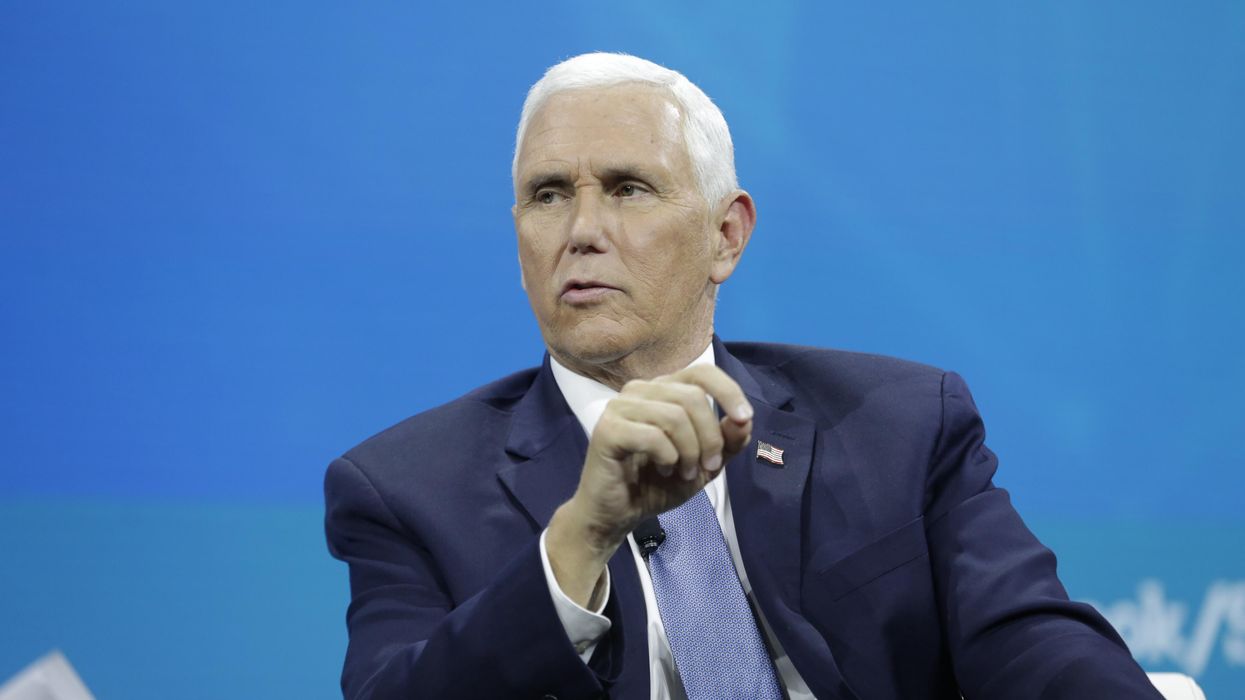 "They want to cut and privatize Social Security and take away our young people's futures," said Democratic Rep. Pramila Jayapal.
Former Vice President Mike Pence, a possible 2024 presidential candidate, has voiced support for a Social Security privatization scheme that the George W. Bush administration unsuccessfully pushed nearly two decades ago.
In a closed-door event Thursday hosted by the National Association of Wholesale-Distributors, a corporate trade group, Pence said he believes that "the day could come when we can replace the New Deal with a better deal, literally give younger Americans the ability to take a portion of their Social Security withholdings and put that into a private savings account that the government would oversee."

"I mean, a very simple fund that could generate 2% would give the average American twice what they're going to get back on their Social Security today. And it could save the government money doing it," Pence said, according to video footage obtained by the Democratic-aligned group American Bridge 21st Century.
Watch:

\u201cMike Pence calls for privatizing Social Security for young people as a way to cut spending on public benefits. "We could replace the New Deal with a better deal," he told a conference of business executives.\u201d

— More Perfect Union (@More Perfect Union) 1675466552
Experts have forcefully rejected the notion that private savings accounts of the kind Pence endorsed—which would allow workers to divert a portion of their payroll tax contributions into private investment accounts—would be more beneficial than Social Security's guaranteed benefits, as the former vice president suggested.
"The popular argument that Social Security privatization would provide higher returns for all current and future workers is misleading, because it ignores transition costs and differences across programs in the allocation of aggregate and household risk," Olivia Mitchell, John Geanakopolos, and Stephen Zeldes—economists sympathetic to the idea of privatization—wrote in a 2000 paper.
Experts have also said private accounts would not, as Pence put it, "save the government money."

In 2005, analysts with the Center on Budget and Policy Priorities (CBPP) estimated that a privatization plan put forth by former Sen. John Sununu (R-N.H.) and former Rep. Paul Ryan (R-Wis.) would "create $85.8 trillion in additional debt (equal to 93.7% of GDP) by 2050" while not boosting Social Security's long-term solvency—something Republicans claim they want to do.

"Creation of a system of private accounts would not change the amount of revenue coming into the federal government, but it would increase government spending, because the federal government would be making regular payments into the private accounts," the CBPP analysts explained. "These payments would represent new government spending. This increase in spending, unaccompanied by an increase in revenues, would widen annual deficits."
Despite the myriad drawbacks of private accounts as a partial or full-scale alternative to Social Security, Republicans have continued to promote them.
Last year, the Republican Study Committee—a panel that Pence chaired during the Bush administration—released a budget proposal that urged lawmakers to "consider legislative options that allow employers and employees to reduce their payroll tax liability and use those savings to invest in private retirement options."
Pence's remarks Thursday came as the White House and House Republicans are locked in a high-stakes standoff over the debt ceiling, which the GOP does not want to raise without also inflicting steep cuts to federal spending.
As part of their sweeping austerity push, House Republicans have suggested raising the retirement age, which would cut Social Security benefits across the board.

"Republicans keeping saying the quiet part out loud: They want to cut and privatize Social Security and take away our young people's futures," Rep. Pramila Jayapal (D-Wash.), chair of the Congressional Progressive Caucus, tweeted late Saturday. "Democrats will never let this happen."
News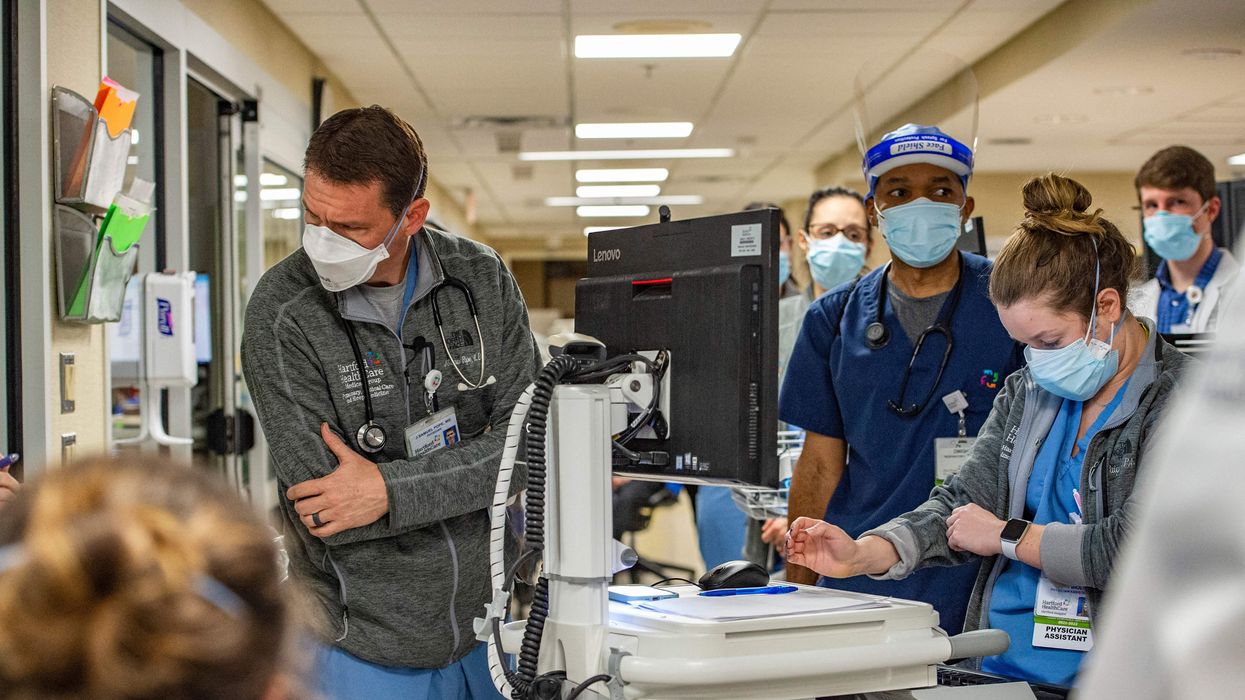 "Doctors' sense of our complicity in putting profits over people has grown more difficult to ignore."
A U.S. physician took to the op-ed pages of The New York Times on Sunday to offer a scathing condemnation of the country's for-profit healthcare system and his profession's historical complicity in campaigns against universal coverage.
"Doctors have long diagnosed many of our sickest patients with 'demoralization syndrome,' a condition commonly associated with terminal illness that's characterized by a sense of helplessness and loss of purpose," wrote Eric Reinhart, a physician at Northwestern University. "American physicians are now increasingly suffering from a similar condition, except our demoralization is not a reaction to a medical condition, but rather to the diseased systems for which we work."
"The United States is the only large high-income nation that doesn't provide universal healthcare to its citizens," Reinhart continued. "Instead, it maintains a lucrative system of for-profit medicine. For decades, at least tens of thousands of preventable deaths have occurred each year because healthcare here is so expensive."
The coronavirus pandemic accelerated that trend and spotlighted the fatal dysfunction of the nation's healthcare system, which is dominated by a handful of massive corporations whose primary goal is profit, not the delivery of care.
According to one peer-reviewed study published last year in the Proceedings of the National Academy of Sciences, a universal single-payer healthcare system could have prevented more than 338,000 Covid-19 deaths in the U.S. from the beginning of the crisis through mid-March 2022.
"In the wake of this generational catastrophe, many healthcare workers have been left shaken," Reinhart wrote Sunday. "One report estimated that in 2021 alone, about 117,000 physicians left the workforce, while fewer than 40,000 joined it. This has worsened a chronic physician shortage, leaving many hospitals and clinics struggling. And the situation is set to get worse. One in five doctors says he or she plans to leave practice in the coming years."
"To try to explain this phenomenon, many people have leaned on a term from pop psychology for the consequences of overwork: burnout. Nearly two-thirds of physicians report they are experiencing its symptoms," he added.
But for Reinhart, the explanation lies more in "our dwindling faith in the systems for which we work" than in the "grueling conditions we practice under."
He explained:
What has been identified as occupational burnout is a symptom of a deeper collapse. We are witnessing the slow death of American medical ideology.

It's revealing to look at the crisis among healthcare workers as at least in part a crisis of ideology—that is, a belief system made up of interlinking political, moral, and cultural narratives upon which we depend to make sense of our social world. Faith in the traditional stories American medicine has told about itself, stories that have long sustained what should have been an unsustainable system, is now dissolving.

During the pandemic, physicians have witnessed our hospitals nearly fall apart as a result of underinvestment in public health systems and uneven distribution of medical infrastructure. Long-ignored inequalities in the standard of care available to rich and poor Americans became front-page news as bodies were stacked in empty hospital rooms and makeshift morgues. Many healthcare workers have been traumatized by the futility of their attempts to stem recurrent waves of death, with nearly one-fifth of physicians reporting they knew a colleague who had considered, attempted, or died by suicide during the first year of the pandemic alone.

Although deaths from Covid have slowed, the disillusionment among health workers has only increased. Recent exposés have further laid bare the structural perversity of our institutions. For instance, according to an investigation in The New York Times, ostensibly nonprofit charity hospitals have illegally saddled poor patients with debt for receiving care to which they were entitled without cost and have exploited tax incentives meant to promote care for poor communities to turn large profits. Hospitals are deliberately understaffing themselves and undercutting patient care while sitting on billions of dollars in cash reserves.
Acknowledging that "little of this is new," Reinhart wrote that "doctors' sense of our complicity in putting profits over people has grown more difficult to ignore."
"From at least the 1930s through today, doctors have organized efforts to ward off the specter of 'socialized medicine,'" he wrote. "We have repeatedly defended health care as a business venture against the threat that it might become a public institution oriented around rights rather than revenue."
Confronting and beginning to solve the myriad crises of the U.S. healthcare system will "require uncomfortable reflection and bold action," Reinhart argued, and "any illusion that medicine and politics are, or should be, separate spheres has been crushed under the weight of over 1.1 million Americans killed by a pandemic that was in many ways a preventable disaster."
"Doctors can no longer be passive witnesses to these harms," he concluded. "We have a responsibility to use our collective power to insist on changes: for universal healthcare and paid sick leave but also investments in community health worker programs and essential housing and social welfare systems... Regardless of whether we act through unions or other means, the fact remains that until doctors join together to call for a fundamental reorganization of our medical system, our work won't do what we promised it would do, nor will it prioritize the people we claim to prioritize."
Reinhart's op-ed came as the prospects for legislative action to transform the U.S. healthcare system appear as distant as ever, despite broad public support for a government guarantee of universal coverage.

With the for-profit status quo deeply entrenched—preserved by armies of industry lobbyists and members of Congress who do their bidding—the consequences are becoming increasingly dire, with tens of millions uninsured or underinsured and one health crisis away from financial ruin.
In a study released last month, the Commonwealth Fund found that "the U.S. has the lowest life expectancy at birth, the highest death rates for avoidable or treatable conditions, the highest maternal and infant mortality, and among the highest suicide rates" among rich countries, even as it spends far more on healthcare than comparable nations both on a per-person basis and as a share of gross domestic product.
"Not only is the U.S. the only country we studied that does not have universal health coverage," the study added, "but its health system can seem designed to discourage people from using services."
News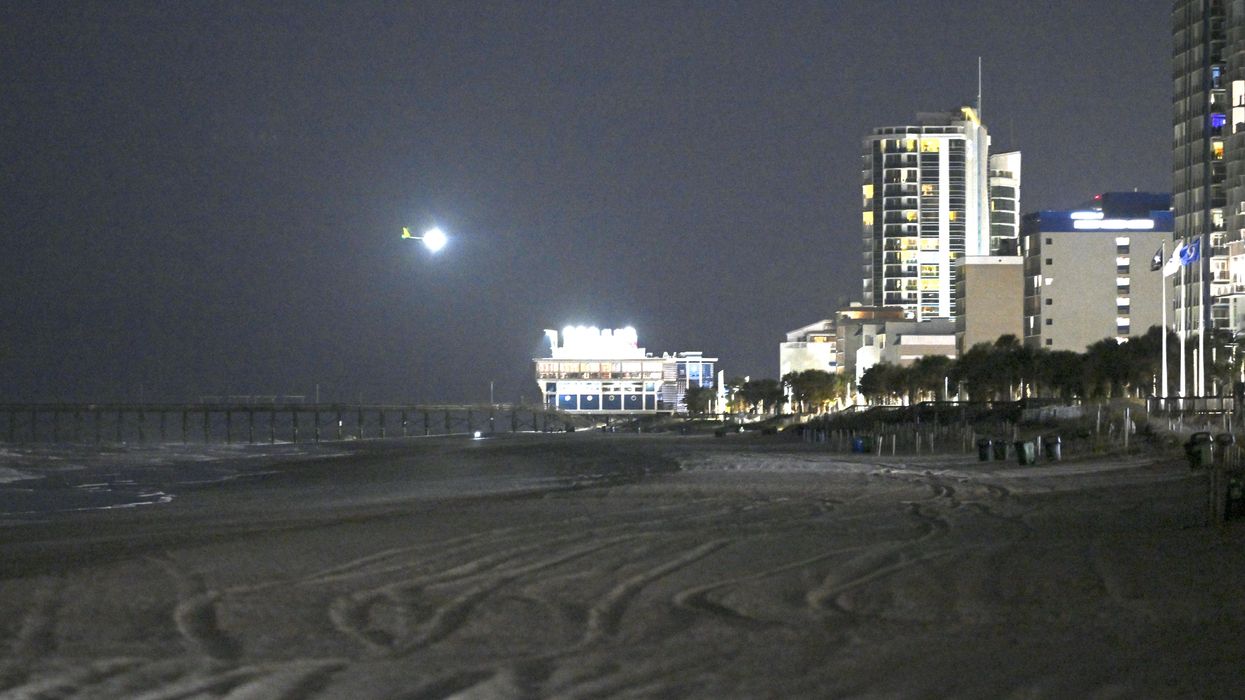 China's Ministry of Foreign Affairs said the U.S. military's move, ordered by President Joe Biden, "seriously violates international convention."
China's Foreign Affairs Ministry issued a
statement
Saturday condemning the Pentagon for
shooting down
a balloon that Beijing says was a civilian aircraft that drifted over the United States by mistake.
"The Chinese side clearly requested that the U.S. appropriately deal with this in a calm, professional, and restrained manner," the ministry said, again dismissing the Pentagon's claim that the high-altitude balloon was part of a surveillance operation aimed at monitoring sensitive military sites.
"For the United States to insist on using armed force is clearly an excessive reaction that seriously violates international convention," the ministry continued, invoking force majeure, which under international law refers to unforeseen circumstances that are beyond a state's control. China has claimed the balloon was a civilian weather research aircraft that was blown way off course by unexpected winds.
"China will resolutely defend the legitimate rights and interests of the enterprise involved, and retains the right to respond further," the ministry concluded.
War hawks in the Republican Party, including former President Donald Trump, predictably reacted with hysteria to the Pentagon's Thursday announcement that it detected the balloon over the state of Montana.
"President Biden should stop coddling and appeasing the Chinese communists. Bring the balloon down now and exploit its tech package, which could be an intelligence bonanza," said Sen. Tom Cotton (R-Ark.), one of the most vocal warmongers in Congress. "And President Biden and Secretary Austin need to answer if this was detected over Alaskan airspace. If so, why didn't we bring it down there? If not, why not? As usual, the Chinese Communists' provocations have been met with weakness and hand-wringing."
An unnamed Pentagon official said Saturday that this latest incident is one of several times a Chinese balloon has been detected in U.S. airspace in recent years. The other balloons were not shot down.
"[People's Republic of China] government surveillance balloons transited the continental United States briefly at least three times during the prior administration and once that we know of at the beginning of this administration, but never for this duration of time," the official said in a briefing with reporters.

Tensions between the U.S. and China have risen sharply in recent months, largely over Taiwan. The Biden administration recently announced that it is expanding the U.S. military's footprint in the Philippines, a move widely characterized as a message to China.
As The New York Timesreported Thursday, "A greater U.S. military presence in the Philippines would... make rapid American troop movement to the Taiwan Strait much easier. The archipelago of the Philippines lies in an arc south of Taiwan, and the bases there would be critical launch and resupply points in a war with China. The Philippines' northernmost island of Itbayat is less than 100 miles from Taiwan."

Rep. Michael McCaul (R-Texas) said late last month that the odds of a U.S. war with China within the next two years are "very high," echoing the assessment of the head of the Air Mobility Command.

Far from promoting diplomatic talks with China, Republicans in Congress appear bent on ratcheting up tensions further—and some Democrats are joining them. Last month, with overwhelming bipartisan support, House Republicans established the Select Committee on the Strategic Competition Between the United States and the Chinese Communist Party.
Upon her appointment to the panel on Thursday, Rep. Mikie Sherrill (D-N.J.) called the Chinese Communist Party "a threat to our democracy and way of life" and said the select committee represents the "best opportunity to accomplish real results for Americans and respond to China's aggression."
Rep. Mike Gallagher (R-Wis.), the chair of the select committee, has said the panel's goal is to help the U.S. "win this new Cold War" with China.
Nearly two dozen House progressives issued a statement last month opposing the formation of the committee, saying the U.S. "can and must work towards our economic and strategic competitiveness goals without 'a new Cold War' and without the repression, discrimination, hate, fear, degeneration of our political institutions, and violations of civil rights that such a 'Cold War' may entail."
News
SUPPORT OUR WORK.
We are independent, non-profit, advertising-free and 100%
reader supported.