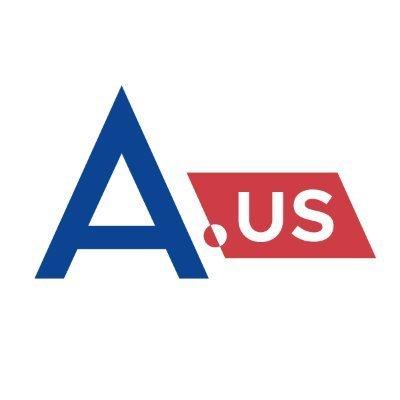 For Immediate Release
Contact:
Karl Frisch, 202-580-5813
Oil Giant Executives In Hot Seat Over High Gas Prices
WASHINGTON
This morning at 10:30 a.m. ET, executives from oil giants BP America, Chevron, Devon Energy, ExxonMobil, Pioneer Natural Resources, and Shell will appear before the House Energy and Commerce Committee's Oversight and Investigations Subcommittee for a hearing titled, "Gouged at the Gas Station: Big Oil and America's Pain at the Pump." In advance of the hearing, government watchdog Accountable.US released the following statement:
"The oil giants testifying at today's hearing raked in an eye-popping $71.2 billion in profits last year, but rather than use that money to lower gas prices for American consumers struggling to fill their tanks, they showered wealthy executives and shareholders with billions in dividends and stock buybacks. They should be ashamed," said Kyle Herrig, president of Accountable.US. "These executives are exploiting the pandemic and war in Ukraine to pad their bottom lines. They are gouging consumers at the pump and rigging the system to avoid paying their fair share in drilling royalties on public lands, shortchanging taxpayers, public schools, and critical infrastructure like roads and hospitals."
Massive Profits: The six companies testifying today reported more than $71.2 billion in profits in 2021.

Billions to Shareholders, Not Consumers: They used over $38 billion of those record profits on shareholder dividends and over $8 billion on stock buybacks.

They Want High Prices: Many of the witnesses today are on the record celebrating high commodity prices for the benefit to their bottom line.

Buying Influence: Republican members of Energy and Commerce have taken over $11.5 million from the oil and gas industry in campaign contributions; all but one of the 26 have taken in at least five figures.
Accountable.US is a nonpartisan watchdog that exposes corruption in public life and holds government officials and corporate special interests accountable by bringing their influence and misconduct to light. In doing so, we make way for policies that advance the interests of all Americans, not just the rich and powerful.
LATEST NEWS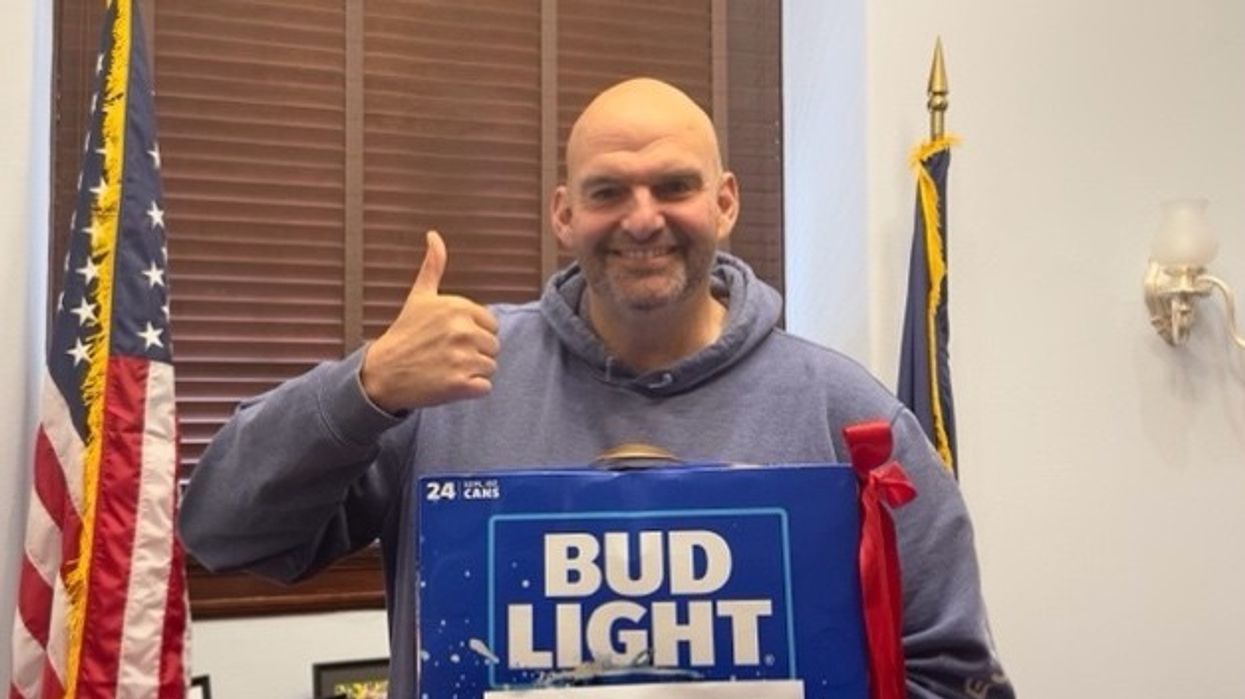 The Democrat "directed his staff to deliver a gift to the House Oversight Committee to congratulate and salute Rep. Comer and his Team America™ squad as they embark on their historic impeachment journey."
Democratic U.S. Sen. John Fetterman of Pennsylvania continued his trend of calling Republican lawmakers on " their bullshit" by delivering a case of Bud Light beer to the House Committee on Oversight and Accountability on Thursday, as the panel held its first hearing for the GOP's widely condemned impeachment inquiry into President Joe Biden.
Instead of trying to avert the looming government shutdown, House Speaker Kevin McCarthy (R-Calif.) caved to the far-right wing of his party earlier this month by announcing the impeachment probe—led by Oversight Chair James Comer (R-Ky.)—despite the lack of any evidence of wrongdoing by the Democratic president.

Fetterman's (Pa.) office said that the first-term senator "directed his staff to deliver a gift to the House Oversight Committee to congratulate and salute Rep. Comer and his Team America™ squad as they embark on their historic impeachment journey."
His stunt was lauded online as " top tier trolling," given that some right-wing political leaders and other transphobic figures behind attacks on LGBTQ+ people and rights have boycotted Bud Light this year because of its paid partnership with trans social media influencer Dylan Mulvaney.
Thursday was not the first time Fetterman has garnered attention for mocking the GOP's impeachment inquiry.
Asked by a journalist to comment on the probe just after McCarthy announced it, Fetterman sarcastically said in a video that quickly spread online, "Oh my gosh, you know, oh—it's devastating!"
After chuckling, he added: "OooOooo. Don't do it! Please, don't do it!"
News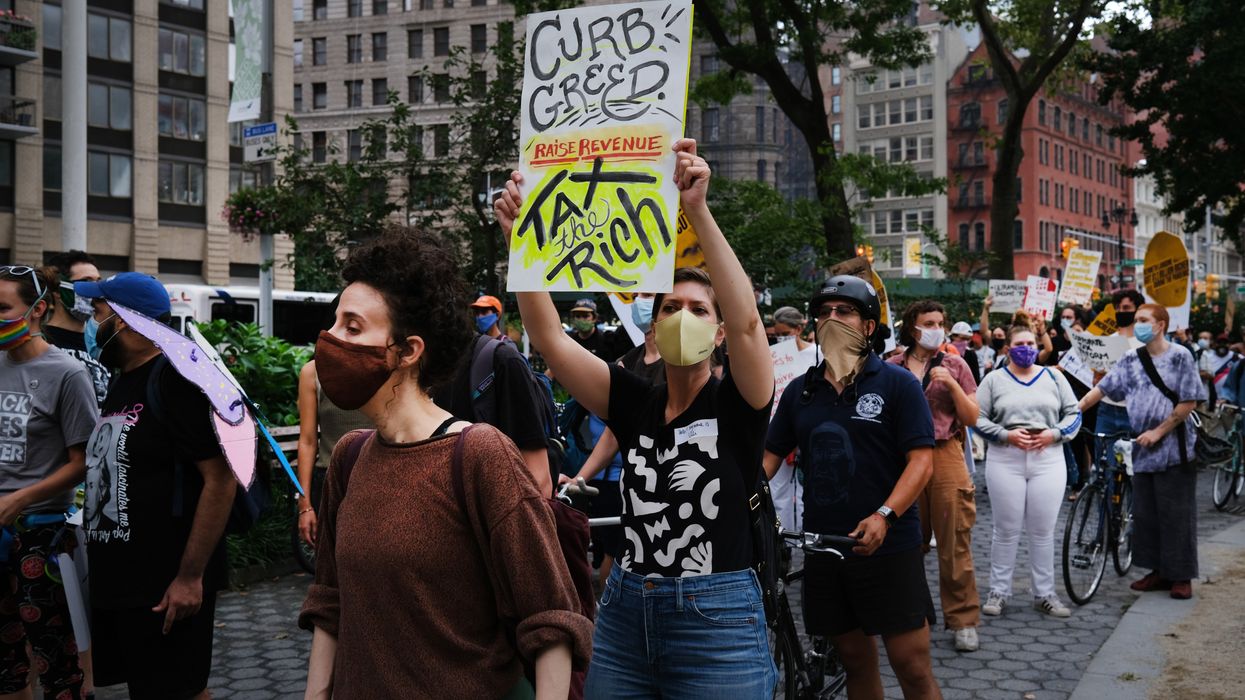 U.S. Sen. Ron Wyden called on the IRS to further strengthen tax dodging enforcement, including criminal prosecution referrals.
Citing "alarming" data provided by the federal government about the prevalence of tax evasion among the richest Americans, U.S. Sen. Ron Wyden on Thursday called on the Internal Revenue Service to crack down on "particularly brazen" high-income tax cheats and noted that Democratic initiatives have already helped to begin addressing the problem.
Writing to IRS Commissioner Danny Werfel, the Oregon Democrat and chair of the Senate Finance Committee cited data provided by the agency regarding taxes filed from 2017-20.
More than 1.4 million wealthy Americans have still not filed their taxes for those years, Wyden said, with the total amount owed to the federal government reaching "a whopping $65.7 billion"—almost enough to fund a universal childcare program for one year or a universal school lunch program for more than two years.
Nearly 1,000 people who earn $1 million per year or more have yet to file their tax returns, but Wyden wrote that the "most alarming" revelation in the data provided to his committee by the IRS "was the extraordinary amount of unpaid taxes owed by a small subset of ultra-wealthy non-filers," with the 2,000 highest-earning tax dodgers currently owing $923 million.
These high earners, said Wyden have "access to professional advisors and are well aware of their filing obligations with the IRS," but continue to withhold hundreds of millions of dollars that could support food aid, housing assistance, public health efforts, and other federal programs.
"These are people who essentially blow raspberries at the IRS," Wyden toldWashington Post columnist Greg Sargent on Thursday. "They're sophisticated people. They know this is wrong, wrong, wrong. And they do it anyway."
On social media, the senator noted that Republicans in Congress—and those running for president in 2024—aim to drain the IRS of its resources and "[make] it easier for the rich to cheat on their taxes," while Democrats included $80 billion in the Inflation Reduction Act to strengthen enforcement against tax evasion.
With the data provided to the Senate Finance Committee pertaining to 2017-20, wrote Sargent, it "underscores that when the IRS is underfunded, wealthy tax cheats benefit in a big way. An underfunded IRS is what Republicans are advocating for."
After being elected U.S. House Speaker in January, Rep. Kevin McCarthy's (R-Calif.) first action was to propose a repeal of the IRS enforcement funding. Republican presidential candidates including Florida Gov. Ron DeSantis and Sen. Tim Scott of South Carolina have also called for a repeal of the IRA provision, claiming it's an attack on working-class Americans.
But the GOP narrative about IRS enforcement contrasts with the reality, wrote Sargent.
"Unfortunately for Republicans, enforcement funded by [the IRA] has paid off—bringing in more than $38 million from 175 rich tax delinquents, the IRS announced in July," he wrote. "And this month, the agency announced plans to use the funding for still more efforts targeting wealthy tax avoiders."
With tax evasion from previous years still affecting federal coffers, Wyden told Werfel in his letter that the IRS should "initiate enforcement actions against every single millionaire non-filer as part of its ongoing effort to use Inflation Reduction Act funding to restore fairness in tax compliance."
"I also urge IRS to utilize the enforcement tools available to it for instances of willful millionaire non-filers," he added, "including referrals to DOJ for civil or criminal prosecution, liens, and levies."
News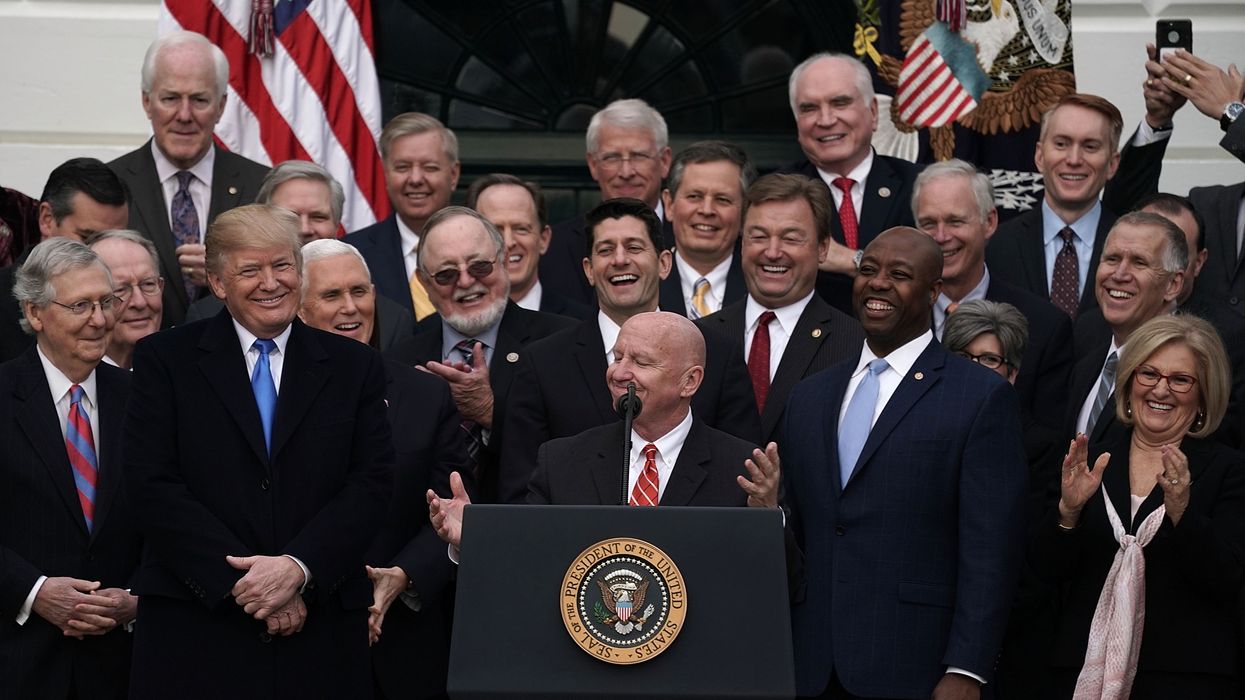 "The staggering runup of billionaire wealth since the passage of the Trump-GOP tax law is a sure indicator of who that law was meant to serve."
U.S. billionaires have seen their collective fortunes surge by more than $2 trillion since the enactment of the 2017 Trump-GOP tax cuts, according to a new analysis released Thursday as Republicans work to extend the law's expiring provisions.
Using Forbes wealth data, the progressive advocacy group Americans for Tax Fairness (ATF) calculated that the combined wealth of the nation's 748 billionaires exceeded $5 trillion this month—up 77%, or $2.2 trillion, since the Tax Cuts and Jobs Act took effect in 2017.
Tesla CEO Elon Musk saw the biggest wealth increase of all U.S. billionaires, surging from $20.4 billion in December 2017 to nearly $270 billion in September 2023—a 1,222.8% boost.
Amazon executive chairman Jeff Bezos, Oracle CEO Larry Ellison, Microsoft co-founder Bill Gates, and Meta CEO Mark Zuckerberg also enjoyed massive net worth spikes.
"The staggering runup of billionaire wealth since the passage of the Trump-GOP tax law is a sure indicator of who that law was meant to serve—and who it would go on serving if Republicans succeed in their plan to make its expiring provisions permanent," said David Kass, ATF's executive director. "Instead of extending tax breaks for billionaires, Congress should be working to better tax them through President Biden's Billionaire Minimum Income Tax and other reforms in how we tax the super-wealthy."
ATF notes that under current U.S. law, much of the boon billionaires have seen over the past six years won't be taxed, given that much of their wealth is held in stocks.
"Investment gains are only taxed when the underlying asset is sold," ATF noted, "but billionaires and other hyper-wealthy people don't need to sell in order to benefit: they can obtain low-interest loans against their rising fortunes and live luxuriously tax-free. And when the gains are handed down to the next generation, they completely disappear for tax purposes."
Far from distancing themselves from the unpopular 2017 law—which slashed individual and corporate tax rates—congressional Republicans have doubled down in recent months, making clear that they want to permanently extend provisions of the law that disproportionately benefited the wealthiest Americans.
In June, House Republicans unveiled a trio of bills that would deliver $28.4 billion in tax cuts to the top 1% next year alone.
The Congressional Budget Office estimated earlier this year that extending the 2017 tax cuts would add $3.5 trillion to the deficit over the next decade.

"Worse than the Republicans' desire to give their political donors huge tax cuts is that they want hard-working Americans to pay for them through reduced public services," ATF said Thursday, noting that U.S. billionaires' $2.2 trillion wealth surge would be "more than enough" to fund a 10-year expansion of the boosted child tax credit.
That program expired at the end of 2021 after Sen. Joe Manchin (D-W.Va.) and congressional Republicans opposed an extension. As a result, child poverty more than doubled last year.

News
Independent, nonprofit journalism needs your help.
Please Pitch In
Today!