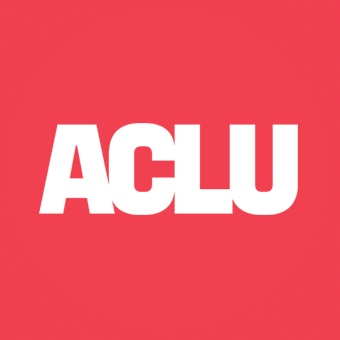 Groups File Lawsuit Against State of Texas Over Voter Suppression Bill SB1
AUSTIN, Texas
Civil rights organizations filed a lawsuit today challenging anti-voter Senate Bill 1.
The lawsuit was brought on behalf of the League of Women Voters of Texas, the Texas Organizing Project, Workers Defense Action Fund, Register, Educate, Vote, & Use your Power - Texas (REV UP Texas), and OCA of Greater Houston.
In their lawsuit -- filed by co-counsel at the American Civil Liberties Union, the ACLU of Texas, Asian American Legal Defense and Education Fund, Disability Rights Texas, the Texas Civil Rights Project and the law firm of Jenner & Block LLP, -- these organizations argue that numerous provisions of the bill violate the Voting Rights Act, the Americans with Disabilities Act, and the U.S. Constitution. The legislation makes it virtually impossible for members of the plaintiff organizations to vote, especially those who are more comfortable with languages other than English, those with disabilities, and who have no option but to vote by mail. SB 1 is opposed by diverse groups of Texans -- from business executives, faith leaders, community organizers, local elected officials and countless everyday Texans -- including those represented by MOVE Texas, Common Cause Texas, Texas Freedom Network, AFL-CIO Texas, Black Voters Matter and Jolt Texas.
Recent non-partisan polling shows most voters, regardless of political party, believe that all Texans should have equal access to the ballot box. SB 1 would not only make voting harder for all Texans, it threatens to harm communities of color and Texans with disabilities the most.
The following are comments from the plaintiffs:
"The DISABILITY VOTE has been growing in Texas. SB 1 will inhibit people with disabilities from participating in future elections," said Bob Kafka, Texas organizer with REV UP Texas.
"For democracy to work, it must include all voices. SB 1 is an extremist anti-voter bill that raises even more barriers to voting and specifically targets vulnerable communities, especially voters with disabilities, voters of color, and elderly voters," said Grace Chimene, president of the League of Women Voters of Texas. "SB 1 is a violation of our freedom to vote, and we will continue to fight every attempt to silence Texas voters."
"SB 1 deliberately targets people of color, the elderly, and those with disabilities, placing illegal restrictions on their access to the ballot box. There's no denying that this bill is an attack on democracy in our state and a transparent act of political desperation," said Brianna Brown, co-executive director of the Texas Organizing Project.
"Texas has a history of violating Section 208 of the Voting Rights Act - we will continue to fight when Texas tries to limit the federal rights of limited English speaking voters to get the language assistance they need. The SB1 restrictions needlessly erect barriers for Immigrant, limited English proficient, seniors, and working class Asian American Pacific Islander (AAPI) citizens to exercise their right to vote, and go against the principle of equitable access," said Deborah Chen, Civic Engagement Programs Director with OCA-Greater Houston.
"SB 1 is part of a larger coordinated attempt to take political power away from working families. We should be aiming to increase civic engagement throughout our state, not make it more difficult for our communities to exercise their right to vote. Texans building our state deserve to have their voices heard at the ballot box and SB 1 will significantly impact their ability to do so," said Emily Timm, Workers Defense Action Fund Co-Founder and Co-Executive Director
The following are comments from co-counsel:
"Voters with disabilities and voters with limited English proficiency have the same right to vote as anyone else," said Tommy Buser-Clancy, senior staff attorney at the ACLU of Texas. "SB 1 cruelly targets these voters and anyone who might assist them with increased burdens and unnecessary criminal penalties. These provisions are unlawful and part of a long history of Texas implementing discriminatory anti-voter measures. The legislation should be struck down."
"This assault on voting rights and democracy cannot go unchallenged," said Adriel Cepeda Derieux, senior staff attorney with the ACLU's Voting Rights Project. "We urge the court to strike down the barriers to voting that these new illegal restrictions impose."
"In 2018 AALDEF enjoined Texas from restricting assistance to voters with limited English proficiency," said Susana Lorenzo-Giguere, Senior Staff Attorney at AALDEF. "With SB1,Texas is at it again. SB1's restrictions on any assistance outside of reading and marking the ballot, like answering questions on how to use the voting machine or where to drop the completed ballot at the polling place, and SB1's criminalization of anyone answering those questions, unlawfully restricts the broad voting assistance rights under Section 208 of the Voting Rights Act."
"People with disabilities, who make up 20 percent of the U.S. population, already face significant barriers to exercising their legal right to vote, such as physically inaccessible polling sites, election workers refusing to provide accommodations, mail-in ballots that cannot be used by people who are blind, and more," said Lia Sifuentes Davis, Senior Litigation Attorney with Disability Rights Texas. "SB1 is a discriminatory law that creates more unnecessary barriers and silences the voices of Texans with disabilities as well as Texans of color."
"SB1 officially cements Texas as the hardest state to vote in the country," said Ryan V. Cox, Senior Attorney with the Texas Civil Rights Project. "For decades, voters of color have been silenced through voter suppression, gerrymandering, and deceptive tactics. We cannot allow our democracy to be undermined by these blatantly illegal voting restrictions aimed at disenfranchising communities of color and voters with disabilities."
"Equal access to voting is the foundation of democracy," said Jessica Ring Amunson, Chair of Jenner & Block's Election Law and Redistricting Practice. "This Texas bill violates the U.S. Constitution, the Voting Rights Act, and the Americans with Disabilities Act, and we are proud to fight to secure the right to vote for voters with disabilities and voters with limited English proficiency and the organizations that assist them in preserving this fundamental right."
The American Civil Liberties Union was founded in 1920 and is our nation's guardian of liberty. The ACLU works in the courts, legislatures and communities to defend and preserve the individual rights and liberties guaranteed to all people in this country by the Constitution and laws of the United States.
(212) 549-2666
LATEST NEWS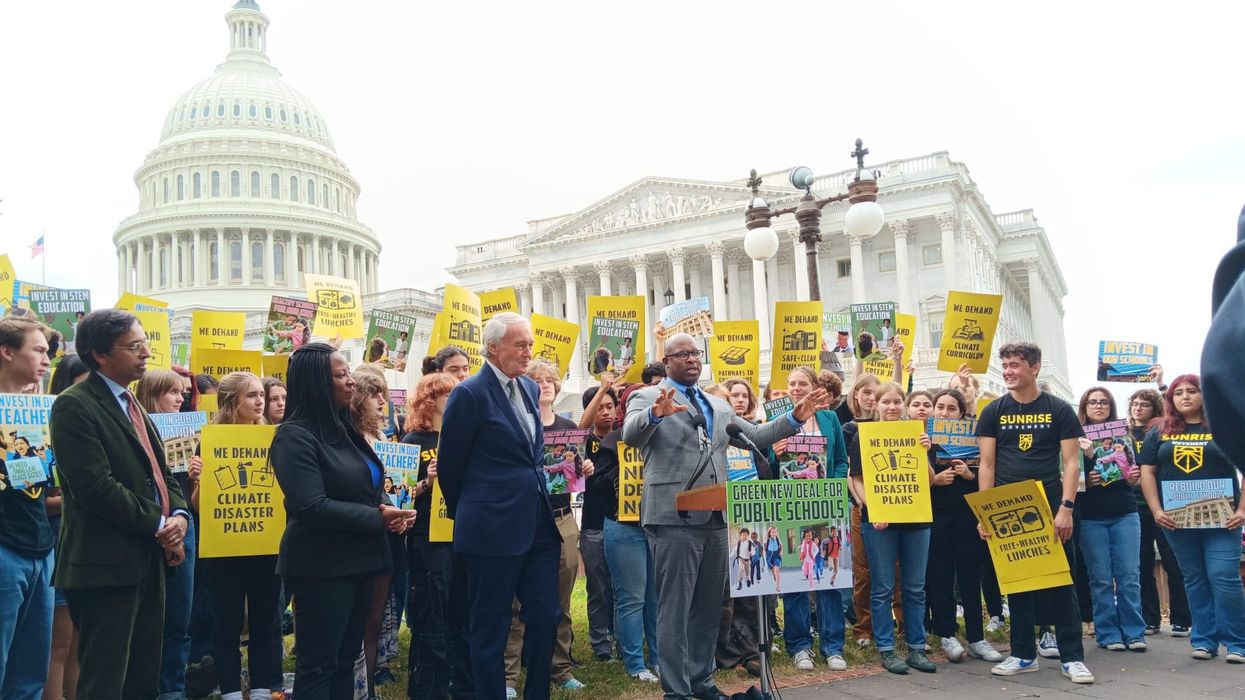 "Let's build a green future where every student can learn and thrive," said Sen. Ed Markey while introducing the proposed legislation.
Climate and education advocates on Thursday cheered the introduction in the U.S. Congress by Sen. Ed Markey and Rep. Jamaal Bowman of the Green New Deal for Public Schools Act, which the lawmakers said would invest $1.6 trillion to transform the nation's education system while "creating 1.3 million jobs and eliminating 78 million metric tons of carbon emissions over 10 years."
A statement promoting the proposed legislation says it would "fund green upgrades that remove all health harms and carbon pollution fromevery public school in the nation while taking on environmental and racial inequities."
"It will unleash the potential of safe and inspiring public education for 50 million K-12 students in every neighborhood across the country," the statement added. "And, it willadd essential staff to vulnerable schools, create 1.3 million good-paying jobs annually, and reduce carbon emissions by 78 millionmetric tons each year—that's the same as taking 17 million gas-powered cars off the road!"
The measure is currently co-sponsored by 74 House lawmakers and is endorsed by advocacy groups including the Sunrise Movement; American Federation of Teachers; Gen Z for Change; Working Families Party; Sierra Club; Institute for Policy Studies; GreenLatinos; March for Our Lives; Progressive Democrats of America; and the American Federation of State, County, and Municipal Employees.
"The United States of America should have the best public education system in the world—our students, parents, teachers, staff, and administrators are doing their part, but Congress is failing them at every turn," Markey (D-Mass.) said in a statement. "School buildings are falling apart, educators and staff are creating makeshift air conditioners from window units, aging infrastructure is making our kids and our planet sick—it's a disgrace."

"The Green New Deal for Public Schools Act delivers climate justice, health justice, social justice, economic justice, and racial justice so that students—no matter their zip code—can learn in a safe and healthy environment, and one that is contributing to a healthier planet for the next generation," Markey added. "It is long past due for the United States to invest in schools what schools invest in us."
Bowman (D-N.Y.)—the founder and former principal of the Cornerstone Academy for Social Action, a public middle school in the Bronx—said that "it's time to revolutionize our public schools."
"As we face the devastating impacts of the climate crisis and confront the harms of underinvestment in redlined communities and inequities in our education system, we must center our kids and their futures," he asserted. "Education can change the world."
Bowman continued:

Schools should be the centers of our communities, places of joy and self-discovery where students feel safe to grow, thrive, and explore their passions and curiosity. Right now, they're crumbling, leaving our students, educators, and communities behind. We must take advantage of this moment by putting them first and facing the climate crisis head-on with bold investments in our schools focused on environmental, educational, economic, and racial equity.
"It's time for us to provide our kids with the resources they need to unlock their brilliance and have a livable planet by passing the Green New Deal for Public Schools Act and making urgent and necessary investments to revitalize our public education system," Bowman added.
The proposed legislation comes three days after students at more than 50 high schools across the U.S.—led by the Sunrise Movement—launched the Green New Deals for Schools campaign. The campaign is demanding that education officials provide school buildings powered by renewable energy; free, healthy, local, and sustainable meals; support for finding well-paying, unionized green careers; plans for extreme weather events; and instruction about the climate crisis.
News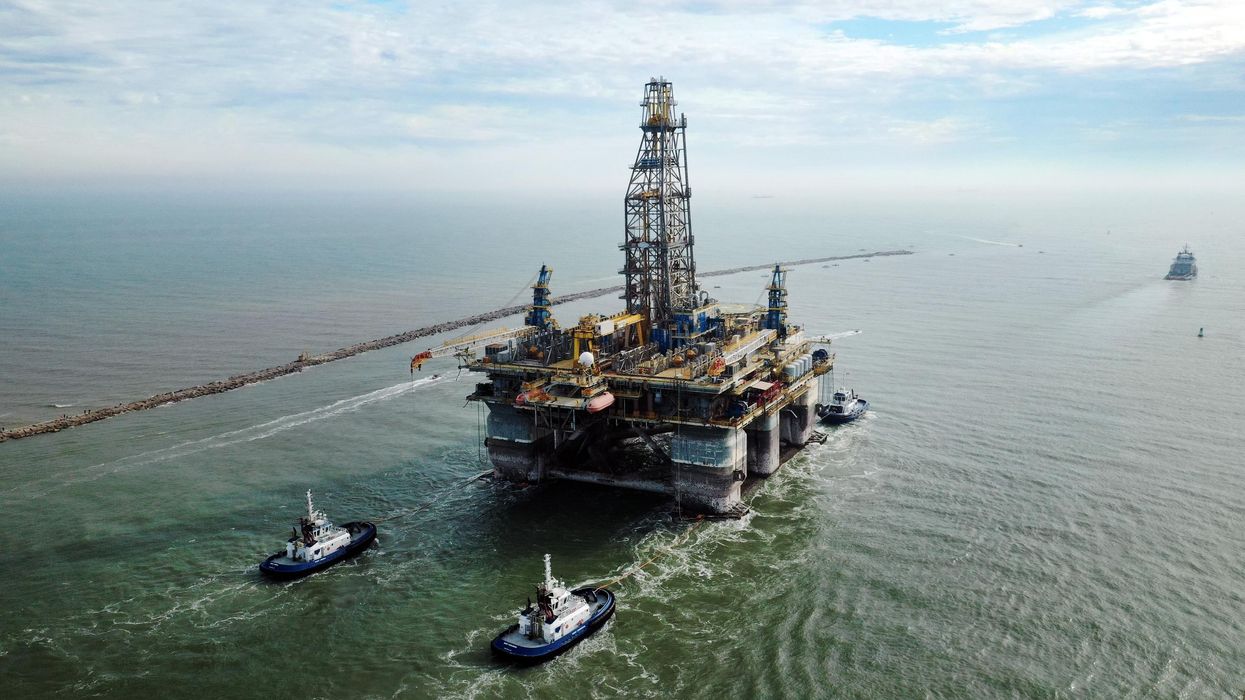 "President Biden says that climate change is an existential threat," said one campaigner. "Unfortunately, this decision is yet another sign that his administration is not willing to take actions that would match that rhetoric."
Climate and environmental defenders on Thursday condemned the Biden administration's imminent plan to sell offshore oil and gas drilling rights in the Gulf of Mexico over the next five years.
Bloombergreported Deputy Interior Secretary Tommy Beaudreau told a Senate panel on Thursday that the Biden administration's five-year offshore drilling rights plan will be released on Friday. Beaudreau said the plan was "definitely informed" by the Inflation Reduction Actction Act, which–while allocating hundreds of billions of dollars in clean energy investments—mandates fossil fuel drilling, a move made to gain the support of corporate Democrats including Sen. Joe Manchin of West Virginia.
"The only way to avert the worst impacts of the climate crisis is by stopping new fossil fuel projects."
The previous drilling plan expired last year. The new one will include details regarding drilling rights in Alaska and the Gulf of Mexico. Congress will have 60 days to review the proposal.
"The only way to avert the worst impacts of the climate crisis is by stopping new fossil fuel projects. The Biden administration knows this, and yet is making the outlandish and irresponsible decision to increase oil production for decades to come," Wenonah Hauter, executive director of the advocacy group Food & Water Watch—which warned the drilling plan would be a "climate nightmare"—said in a statement.
"This decision is yet another reminder that thanks to Sen. Joe Manchin, the Inflation Reduction Act requires oil and gas drilling on public lands in order to develop clean energy sources like wind and solar," she added. "This short-sighted political dealmaking will continue to have grave consequences."
Biden was praised by green campaigners earlier this month for canceling existing oil and gas drilling leases in the Arctic National Wildlife Refuge in Alaska and for banning drilling on 13 million acres of the National Petroleum Reserve.
However, the president—who campaigned on a pledge to phase out fossil fuel extraction on public lands and waters—has been criticized for approving new drilling permits ata faster rate than his predecessor, former President Donald Trump, and for approving major fossil fuel infrastructure including the Willow Project in Alaska, the Mountain Valley Pipeline in West Virginia, and for green-lighting liquefied natural gas export terminals in Alaska and along the Gulf of Mexico.
Numerous green groups also sued the U.S. Interior Department earlier this year over its plan to offer more than 73 million acres in the Gulf of Mexico in a lease sale.
"Approving new offshore drilling is an unconscionable betrayal of future generations who will be forced to live through an intensifying planetary emergency, and will pose direct and severe threats to healthy oceans and marine life," said Hauter.
"President Biden says that climate change is an existential threat," she added. "Unfortunately, this decision is yet another sign that his administration is not willing to take actions that would match that rhetoric."
Last week, the Biden administration and green groups said they would appeal a Louisiana federal judge's ruling blocking the administration from exempting 6 million acres in the Gulf of Mexico from a drilling lease sale initially scheduled for Wednesday but postponed by the Interior Department's Bureau of Ocean Energy Management after the judge's decision.
News
"We commend the Ojai City Council for standing up for what is necessary and just," said an advocate.
Animal rights advocates are applauding this week following a historic vote in the city of Ojai, California, where local lawmakers on Tuesday night adopted an ordinance to recognize the bodily rights of elephants, making it the first U.S. city to recognize the legal rights of nonhuman animal.
The Nonhuman Rights Project (NhRP) helped develop and lobbied for the new ordinance, which was introduced by Councilmember Leslie Rule and passed in a 4-1 vote.
Under the ordinance, it is now illegal in Ojai to subject an elephant to the lack of freedom endured by an elephant named Tarra, who was held in captivity in Ojai Valley and exploited for entertainment—including a rollerskating act—in the early 1980s before becoming the first resident of the nation's largest elephant sanctuary in 1995.
"This legislation is historic," said Courtney Fern, director of government relations and campaigns for NhRP. "It's indisputable that elephants suffer when deprived of their freedom and that animal welfare laws can't end their suffering. For elephants and the nonhuman animal rights movement, we are proud to support this first-of-its-kind ordinance, and we commend the Ojai City Council for standing up for what is necessary and just."
"We have known for some time that elephants have strong empathetic responses to one another's condition."
The new law stems from researchers' findings that "elephants are similarly situated to humans, as they have long-term memories, learning abilities, empathy, and self-awareness," according to the city council.
"We have known for some time that elephants have strong empathetic responses to one another's condition," Mark Scott, interim Ojai city manager, toldKTLA. "I am glad that we are able to make this statement supporting the place of these noble creatures in our world."

NhRP expressed hope that the ordinance "will be the first of many such laws: introduced by elected officials who understand that a sustainable and just future for all life on Earth means extending compassion to and establishing legal rights for nonhuman animals."
"In legislatures, in courtrooms, and beyond, that's what this movement is about," said the group.
Josh Jowitt, senior lecturer on natural and animal rights at Newcastle Law School in the United Kingdom, said the ordinance should not be dismissed as pertaining to "just one city."
"It may not seem much," said Jowitt, "but this decision means that U.S. courts can no longer claim there is no precedent in the country for explicitly recognizing an elephant's right to bodily liberty."
News
Independent, nonprofit journalism needs your help.
Please Pitch In
Today!