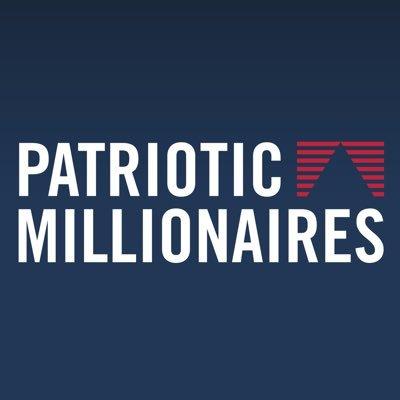 Patriotic Millionaires Blast Private Equity Campaign to Protect the Carried Interest Loophole
"The American Investment Council is lying to lawmakers and the American people to protect their special tax break."
WASHINGTON
This morning, details were released about a series of political advertisements, sponsored by the private equity industry, defending the carried interest loophole in a series of key Congressional districts and states. This ad campaign comes on the heels of a concerted lobbying effort by the industry, particularly the American Investment Council, to defend this loophole that allows millionaire fund managers to pay a lower tax rate than most working Americans.
In response to this report, Morris Pearl, former managing director at BlackRock, Inc., and Chair of the Patriotic Millionaires, released the following statement:
"We need to call this what it is: a misinformation campaign. The private equity industry's claims that closing the carried interest loophole would discourage investment are simply not true. Closing the carried interest loophole wouldn't discourage investment because it does not affect investment! None of the returns of investors in private equity funds would be affected in any way by this rule change - the only thing that would change is the tax rate that fund managers pay on their income from their fees. The American Investment Council knows this - they are lying to lawmakers and the American people to protect their special tax break.
The carried interest loophole is truly indefensible. There is no reason why private equity fund managers should pay lower tax rates than the vast majority of working people. Their compensation structure, with variable income dependent on performance, is no different than a restaurant servers or a car salesman or millions of other hard working Americans. Their income should be taxed as income, period."
The Patriotic Millionaires is a group of high-net worth Americans who share a profound concern about the destabilizing level of inequality in America. Our work centers on the two things that matter most in a capitalist democracy: power and money. Our goal is to ensure that the country's political economy is structured to meet the needs of regular Americans, rather than just millionaires. We focus on three "first" principles: a highly progressive tax system, a livable minimum wage, and equal political representation for all citizens.
(202) 446-0489
LATEST NEWS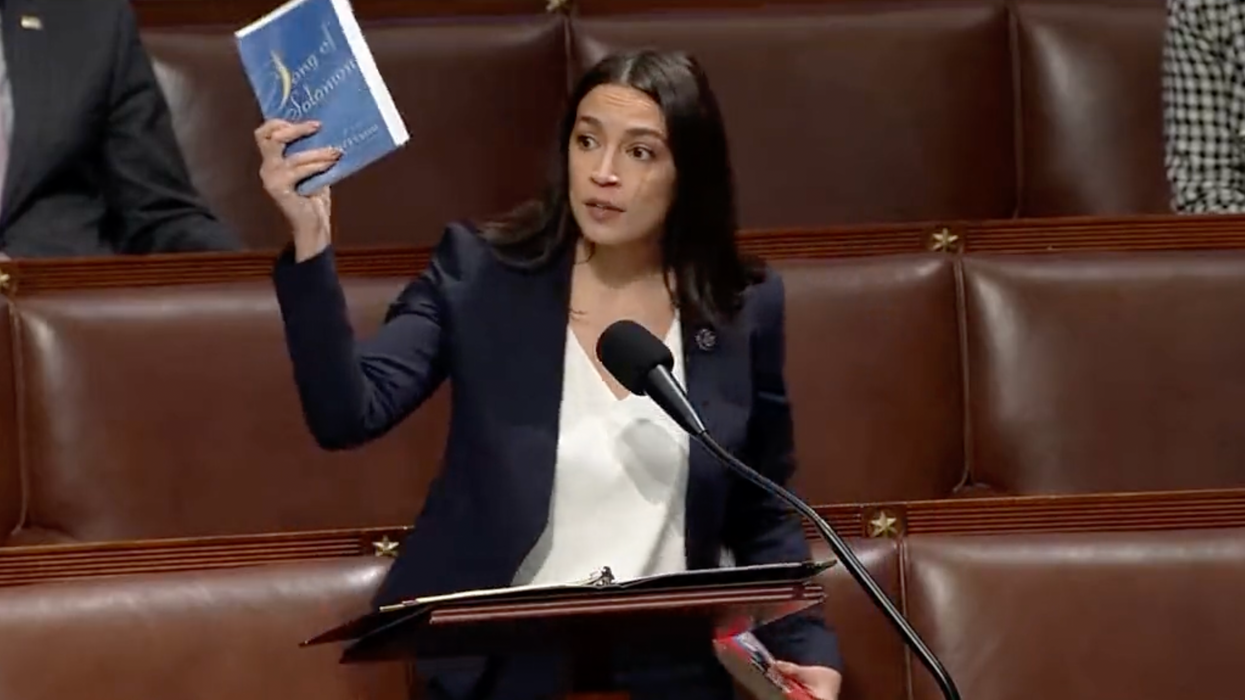 "Republicans say they oppose government overreach," said Rep. Alexandria Ocasio-Cortez. "But they're the ones passing bills that ban books in our libraries."
Progressive lawmakers and education advocates on Friday condemned federal Republican lawmakers' foray into the nationwide attack on people of color and the LGBTQ+ community as the GOP-led U.S. House passed the so-called Parents Bill of Rights Act—legislation that critics said is aimed at banning books and further ostracizing marginalized communities, while providing no improvements to children's safety at school.
Like legislation passed in at least six states and introduced in at least 26, the Parents Bill of Rights Act (H.R. 5) claims it will protect public school students by requiring schools to make classroom curricula publicly available and provide parents with a list of reading materials in school libraries.
School districts would also be required to inform parents about violent activity that takes place at schools, hold at least two parent-teacher conferences per student per year, and make budget information public.
The legislation was passed a day after the American Library Association (ALA) released a report showing that a record-breaking 2,571 book titles were the subject of "challenges," or demands that they be removed from schools or public libraries, in 2022—a 38% increase from the previous year.
"Conservatives have weaponized hate and fear to try to tear our schools apart, with students who just want to learn and thrive turned into pawns in their political games."
Ninety percent of the attempted book bans were part of challenges to multiple books, suggesting they are increasingly being driven by right-wing groups such as Moms for Liberty instead of individual parents who have concerns. The ALA said this trend began in 2021, as Florida Gov. Ron DeSantiswas pushing legislation to ban accurate classroom discussions about the history of racial injustice in the United States.
Schools in Florida have now removed dozens of book titles from shelves, including The Life of Rosa Parks and Who Is the Dalai Lama? as officials assess whether the material is appropriate for children.

"Forty percent of banned books are reported as significantly addressing LGBT issues," said Rep. Alexandria Ocasio-Cortez (D-N.Y.) on Thursday as the House debated the bill. "When we talk about progressive values, I can say what my progressive value is and that is freedom over fascism."

Speaking about marginalized people and children, Rep. Cori Bush (D-Mo.) said the legislation is the work of a political party that is "trying to 'write us out' of the curriculum."
Rep. Rashida Tlaib (D-Mich.) expressed outrage at the notion that Republicans are seeking to protect children by limiting their access to material dealing with LGBTQ+ issues and American history, considering that have blocked numerous pieces of gun control legislation even as gun violence has overtaken car accidents as the leading cause of death of children in the United States.

"Since Columbine over 20 years ago, more than 344,000 students in our country have experienced gun violence at school," said Tlaib. "Some of our children attend schools with unsafe drinking water. Others go to school in districts attempting to erase Black history from our classrooms by banning books like The Life of Rosa Parks. These are some of the real obstacles to our children thriving."
"When this bill was considered in committee, Democrats offered amendments that would keep firearms out of classrooms, remove lead pipes from our schools, and prevent censorship of Black history. But every single amendment aimed at the real threats to our children was voted down by these MAGA Republicans," she added. "It makes me angry to see how conservatives have weaponized hate and fear to try to tear our schools apart, with students who just want to learn and thrive turned into pawns in their political games."
The National Education Association noted that the legislation, which the Democratic-led Senate is not expected to take up, offers solutions to a number of problems that don't widely exist and promotes a "toxic vision of parental engagement" in schools.
The bill "contains a list of provisions already ensured by local and state law, including, but not limited to, a parent's right to view a school's budget or speak at a public school board meeting," wrote Tim Walker, a senior writer for the organization.
A survey released by Navigator this month showed that parents' top concerns about education are "making sure their children learn what they need to be successful, keeping them safe from gun violence, and protecting their mental health" and that having a "say in what their kids are learning" is not a high priority for a majority of parents.
A poll by National Public Radio last year also found that 76% of parents believe their children's schools keep them well-informed about the curriculum and classroom activities.
"At least in my experience, teachers have always been able to be accessible to parents, and I don't know what these parents' rights bills will do other than give more power and pathways to things like book banning and elimination of resources," York, Pennsylvania teacher Ben Hodge told Education Week recently.
American Federation of Teachers President Randi Weingarten said the bill is an example of "divisive performance politics" by the GOP.
"Every day in classrooms and communities around the country, parents and educators work tirelessly together to make the lives of our kids better and provide them with the knowledge they need to excel—with books, art, and music; tutoring programs and capstone projects; and counseling to help them navigate life, tackle challenges, and deal with trauma," said Weingarten. "The true work of partnering to support families and help our kids do well involves having meaningful discussions about the real things affecting our students and what we, as a country, must do to help."
News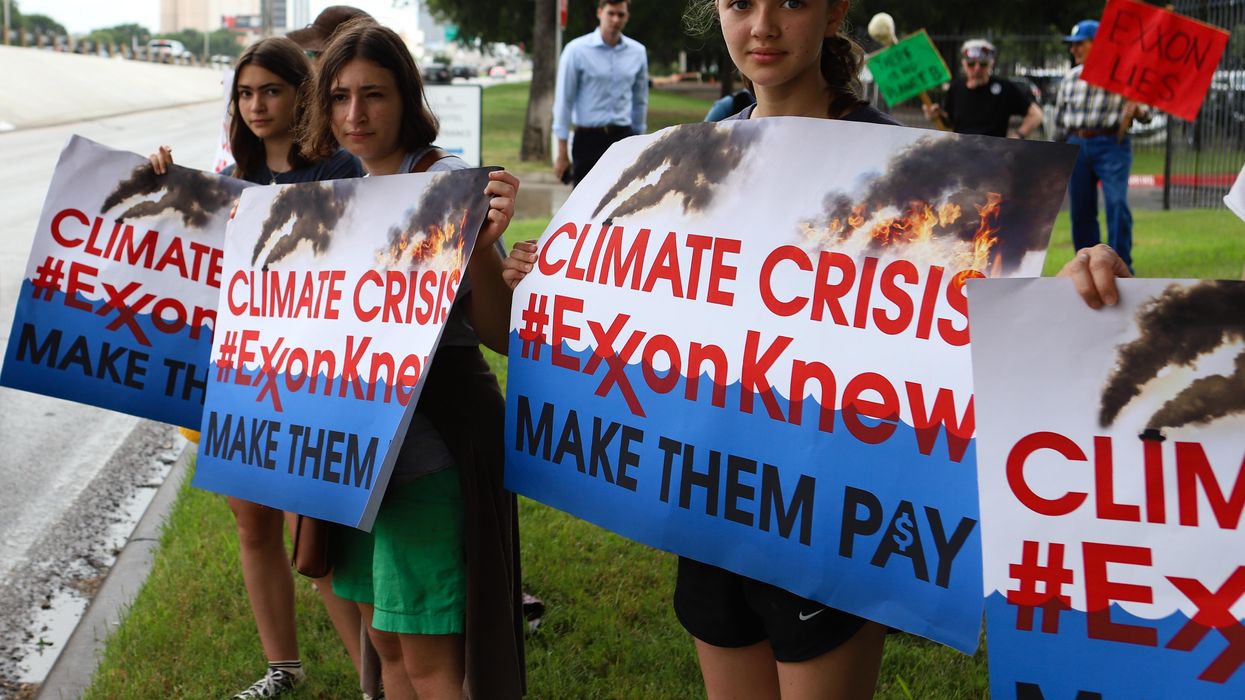 "This ruling is a major victory for Minnesota's efforts to hold oil giants accountable for their climate lies, and a major defeat for fossil fuel companies' attempt to escape justice," said one advocate.
Minnesota on Thursday scored a significant procedural win in a lawsuit seeking to hold Big Oil accountable for lying to consumers about the dangers of burning fossil fuels and thus worsening the deadly climate crisis.
In a unanimous ruling, the U.S. Court of Appeals for the Eighth Circuit agreed with a lower court that the state's climate fraud lawsuit against the American Petroleum Institute, ExxonMobil, and Koch Industries can proceed in state court, where it was filed.
"This ruling is a major victory for Minnesota's efforts to hold oil giants accountable for their climate lies, and a major defeat for fossil fuel companies' attempt to escape justice," Richard Wiles, president of the Center for Climate Integrity, said in a statement.
"Big Oil companies have fought relentlessly to avoid facing the evidence of their climate fraud in state court, but once again judges have unanimously rejected their arguments," said Wiles. "After years of Big Oil's delay tactics, it's time for the people of Minnesota to have their day in court."
Fossil fuel corporations have known for decades that burning coal, oil, and gas generates planet-heating pollution that damages the environment and public health. But to prolong extraction and maximize profits, the industry launched a disinformation campaign to downplay the life-threatening consequences of fossil fuel combustion.
"Big Oil companies have fought relentlessly to avoid facing the evidence of their climate fraud in state court, but once again judges have unanimously rejected their arguments."
Dozens of state and local governments have filed lawsuits arguing that Big Oil's longstanding effort to sow doubt about the reality of anthropogenic climate change—and to minimize the fossil fuel industry's leading role in causing it—has delayed decarbonization of the economy, resulting in widespread harm.
Since 2017, the attorneys general of Connecticut, Delaware, Massachusetts, Minnesota, New Jersey, Rhode Island, Vermont, and the District of Columbia, along with 35 municipalities in California, Colorado, Hawaii, Maryland, New Jersey, New York, South Carolina, Washington, and Puerto Rico, have sued fossil fuel giants in an attempt to hold them financially liable for misleading the public about the destructive effects of greenhouse gas emissions from their products.
"Minnesota is not the first state or local government to file this type of climate change litigation," the Eighth Circuit declared Thursday. "Nor is this the first time" that fossil fuel producers have sought to shift jurisdiction over such suits from state courts to federal court, where they believe they will be more likely to avoid punishment.
"But our sister circuits rejected them in each case," the federal appeals court continued. "Today, we join them."

According to the Center for Climate Integrity, "Six federal appeals courts and 13 federal district courts have now unanimously ruled against the fossil fuel industry's arguments to avoid climate accountability trials in state courts."
Last week, the U.S. Department of Justice moved for the first time to support communities suing Big Oil by urging the U.S. Supreme Court to reject Exxon and Suncor Energy's request to review lower court rulings allowing a lawsuit from three Colorado communities to go forward in state court.
News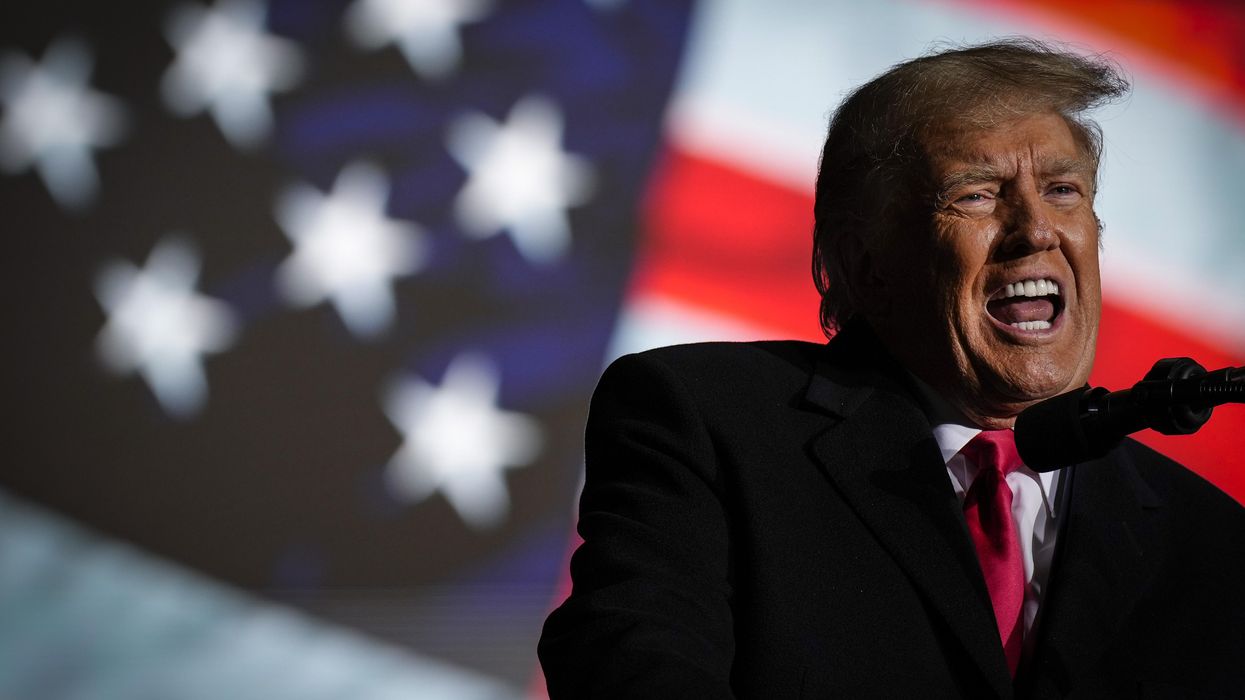 "Trump got his supporters to attack the government once," said one ethics watchdog. "He's making it clear that if he's arrested, he's going to try to do it again."
Government watchdogs on Friday said former President Donald Trump has potentially placed himself in even more legal jeopardyafter he threatened violence if he's charged in a criminal case in New York.
Shortly after midnight on Friday, Trump wrote on his social media platform, Truth Social, that potentially "catastrophic" violence would result if he is indicted by a Manhattan grand jury.
"What kind of person can charge another person, in this case a former president of the United States, who got more votes than any sitting president in history, and leading candidate (by far!) for the Republican Party nomination, with a crime, when it is known by all that NO crime has been committed, and also known that potential death and destruction in such a false charge could be catastrophic for our country?" Trump said.
He also called Manhattan Attorney General Alvin Bragg "a degenerate psychopath that truly hates the USA."

Bragg's office has presented a grand jury with evidence related to alleged hush-money payments to adult film star Stormy Daniels during the 2016 presidential campaign, years after the former president allegedly had a sexual relationship with Daniels.

Trump's former lawyer, Michael Cohen, said in 2018 that he made a $130,000 payment to Daniels. He was reimbursed in 2017 by the Trump Organization.
The former president has made several public statements about the case against him in recent days, saying last weekend that he expected to be indicted on Tuesday and calling for a "protest" in New York, and posting an image in social media on Thursday showing Trump holding a baseball bat next to Bragg's head.
His call for "death and destruction" is his most explicit statement about potential violence, said critics including government watchdog Citizens for Responsibility and Ethics in Washington (CREW).
"He's not being subtle, he's threatening prosecutors with violence... Trump got his supporters to attack the government once," said CREW, referring to Trump's encouragement of his supporters to attend the rally at the U.S. Capitol on January 6, 2021 that turned into a violent insurrection aimed at overturning his election loss. "He's making it clear that if he's arrested, he's going to try to do it again."
The group added that Trump's threats of violence "are admissible in court."

Rep. Don Beyer (D-Va.) called on Republicans to clearly "condemn and oppose" Trump's calls for violence, to avoid another violent uprising in his defense.
"Donald Trump's incitement of violence is more direct, explicit, dangerous now than it was before January 6th," said Beyer. "Republican leaders cannot ignore this or wish it away."

According toThe Washington Post, the grand jury is next scheduled to meet on Monday at the earliest.

News
SUPPORT OUR WORK.
We are independent, non-profit, advertising-free and 100%
reader supported.