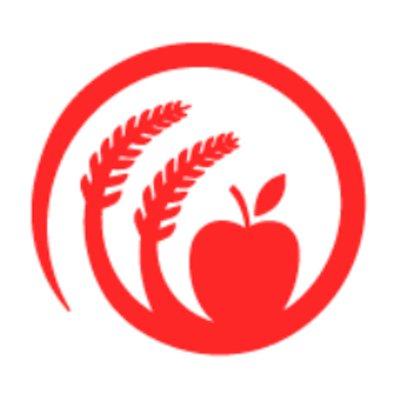 Farmers, Conservation Groups Challenge EPA's Unlawful Re-approval of Dangerous, Drift-Prone Dicamba Pesticide
Dicamba Drift Has Damaged Soybeans, Orchards, Trees, Gardens On a Scale Never Before Seen in History of U.S. Agriculture
WASHINGTON
Four public interest groups filed a lawsuit today challenging the Environmental Protection Agency's (EPA) rushed re-approval of products containing the dangerous, drift-prone dicamba pesticide.
Over the past four years, the dicamba products sprayed "over the top" of soybean and cotton crops genetically engineered to resist the pesticide have caused drift damage to millions of acres of soybeans as well as orchards, gardens, trees, and other plants on a scale unprecedented in the history of U.S. agriculture.
The new lawsuit follows the groups' successful prior cases, decided in June, in which the court ruled the EPA's previous approval to be unlawful and struck it down.
"Less than six months ago, the Ninth Circuit resoundingly rejected Monsanto's and EPA's arguments about this pesticide, detailing its substantial drift harms," said George Kimbrell, legal director of Center for Food Safety and counsel in the case. "Rather than do what the law and science requires, the Trump administration has again unlawfully promoted pesticide corporations' profits over protecting the interests of farmers or the environment. So they are getting what they deserve this holiday season: coal in their stockings and a federal lawsuit."
As today's lawsuit explains, the EPA again failed in its legal duties to ensure that the pesticide would not cause unreasonable harm to farmers and farming communities as well as to the environment and hundreds of endangered species.
In its June 2020 56-page decision, the court explained that the EPA violated the law when it failed to consider and account for the "enormous and unprecedented damage" caused by dicamba drift -- damage that has "torn apart the social fabric of many farming communities." However, just days before the November presidential election the EPA rushed to re-approve the dicamba products for five years. This is the third time the agency has registered these products, each time with additional restrictions that have failed to stem devastating drift.
"We're in court yet again because for four years the EPA has repeatedly claimed dicamba is safe, and for four years the agency has been dead wrong, resulting in millions of acres of damage," said Nathan Donley, a senior scientist at the Center for Biological Diversity. "The Trump administration keeps insisting it wants to grant 'certainty' to farmers, and it's certainly done that. Farmers across the U.S. are now certain dicamba use poses an extremely high risk of damaging neighboring crops, orchards, and forests."
"It's absurd that we have to go to court to force EPA to do its job," said Kristin Schafer, executive director of Pesticide Action Network North America, a plaintiff in the case. "Millions of acres of crops have already been damaged by dicamba. This herbicide is hurting farmers and is already creating more resistant weeds, accelerating a dangerous pesticide treadmill.
"The Environmental Protection Agency clearly has no intention of living up to its name or its mission," said Jim Goodman, a retired farmer and National Family Farm Coalition board president, a plaintiff in the case. "The agency continues to work on behalf of corporate profits over the health and wellbeing of farmers, farmworkers, and their communities."
Represented by Center for Food Safety and Center for Biological Diversity, plaintiffs in the case include National Family Farm Coalition and Pesticide Action Network North America.
Background:
According to agronomists, dicamba has caused the most extensive drift damage ever seen in the history of U.S. agriculture. In just four years of use, it has injured at least 5 million acres of soybeans, decimated fruit orchards and vegetable farms, and damaged trees, backyard gardens, and natural areas throughout much of rural America.
Recent findings also suggest dicamba endangers human health. Earlier this year scientists at the National Institutes of Health found that use of dicamba can increase the risk of developing numerous cancers, including liver and intrahepatic bile duct cancers, acute and chronic lymphocytic leukemia, and mantle cell lymphoma.
In separate actions, thousands of farmers have sued Monsanto and BASF for dicamba drift damages. These cases were consolidated into class-action lawsuits that were settled earlier this year for $400 million. In a separate lawsuit, a jury awarded Missouri peach farmer Bill Bader $15 million for dicamba damage to his peach orchard, and an additional $250 million in punitive damages.
Internal company memos released in the course of the Bader lawsuit revealed that even as Monsanto and BASF publicly denied that their products posed a major drift threat, they were internally projecting thousands of dicamba drift complaints over the first five years of use.
Center for Food Safety and many others urged the EPA as early as 2010 to reject Monsanto's petition to approve dicamba for use on the company's dicamba-resistant soybeans and cotton, warning of precisely the extensive drift damage that has now occurred, as well as the rapid emergence of dicamba-resistant weeds that is already underway on America's farmlands.
The EPA ignored those warnings, relying entirely on faulty, Monsanto-generated data in concluding drift injury would not occur, and on an ineffective herbicide-resistant management plan.
Center for Food Safety's mission is to empower people, support farmers, and protect the earth from the harmful impacts of industrial agriculture. Through groundbreaking legal, scientific, and grassroots action, we protect and promote your right to safe food and the environment. CFS's successful legal cases collectively represent a landmark body of case law on food and agricultural issues.
(202) 547-9359
LATEST NEWS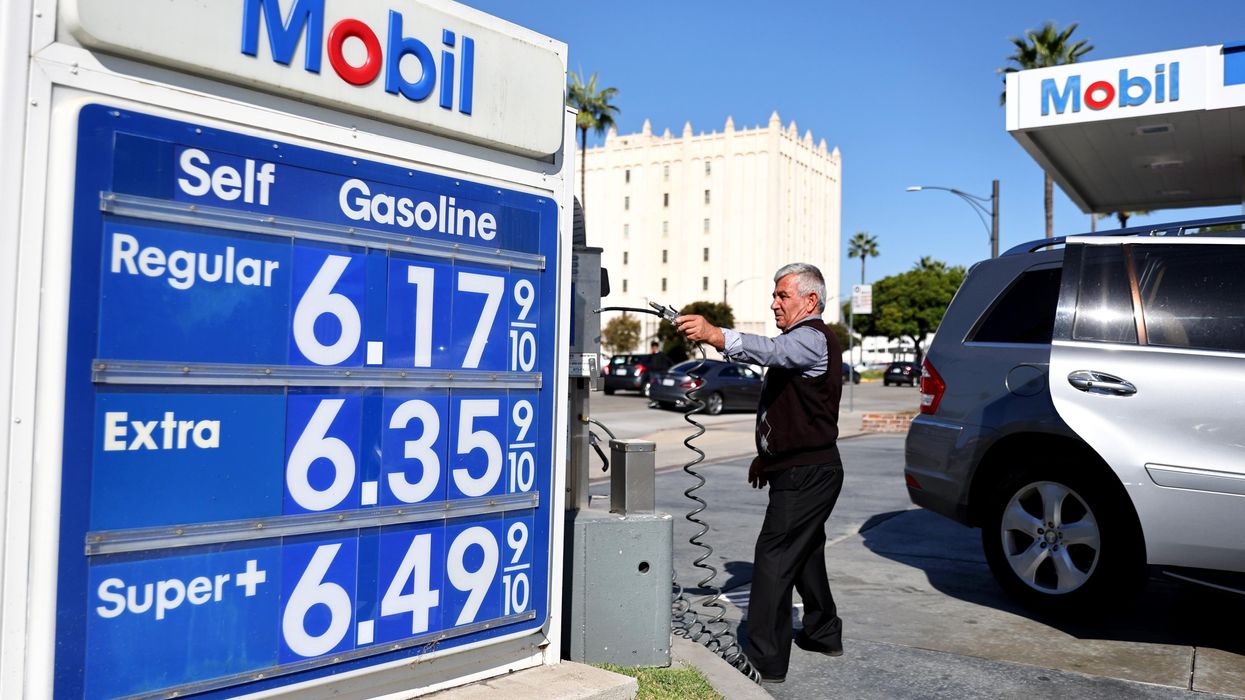 "The FTC is right to investigate Exxon's acquisition of Pioneer, which could raise prices at the pump and is aimed at keeping the U.S. reliant on fossil fuels," said one campaigner.
Amid outrage from climate campaigners and senators, the U.S. Federal Trade Commission is investigating fossil fuel giant ExxonMobil's proposed takeover of Pioneer Natural Resources, a regulatory filing revealed Tuesday.
Pioneer disclosed the FTC's request for more information about the pending merger, which Exxon announced in October.
U.S. Senate Majority Leader Chuck Schumer (D-N.Y.) said in a statement Tuesday: "Last month, I and 22 other senators urged the FTC to investigate Exxon's $60 billion proposed blockbuster merger with Pioneer. And today—they heeded my warning."
"Americans care a great deal about gas prices," Schumer stressed, "and if this merger were to go through it would most certainly raise gas prices for families across the country."
"This merger has all the hallmarks of harmful, anticompetitive effects. The FTC is right to investigate this merger to see if it would lead to higher gas prices or less competition," he added. "I look forward to following this investigation closely, and will encourage the FTC to block the deal if they find any antitrust laws are being violated."
Alex Witt of Climate Power, an advocacy group founded by the Center for American Progress (CAP) Action Fund, League of Conservation Voters, and Sierra Club, also welcomed the FTC's inquiry in comments to The Associated Press.
"Exxon publicly promised to reduce emissions, yet subsequently spent $60 billion acquiring another fossil fuel company—doubling down on their commitment to oil and gas and putting profits over people," Witt said. "The FTC is right to investigate Exxon's acquisition of Pioneer, which could raise prices at the pump and is aimed at keeping the U.S. reliant on fossil fuels."
A CAP report highlighted Tuesday that in hopes of continuing to profit off of the destruction of the planet, the fossil fuel industry is "undermining democratic functions to stem the tide of climate action" around the world.

That report and the heightened scrutiny of the possible merger come during the United Nations Climate Change Conference (COP28), where attendees are considering scientists' warnings that fossil fuels must be rapidly phased out to prevent more devastating global heating.
"This deal shows that Exxon is doubling down on fossil fuels and has no intention of moving towards clean energy," Jamie Henn, director of Fossil Free Media argued earlier this year. "Even after the hottest summer on record, Exxon is hellbent on driving the thermostat even higher."
News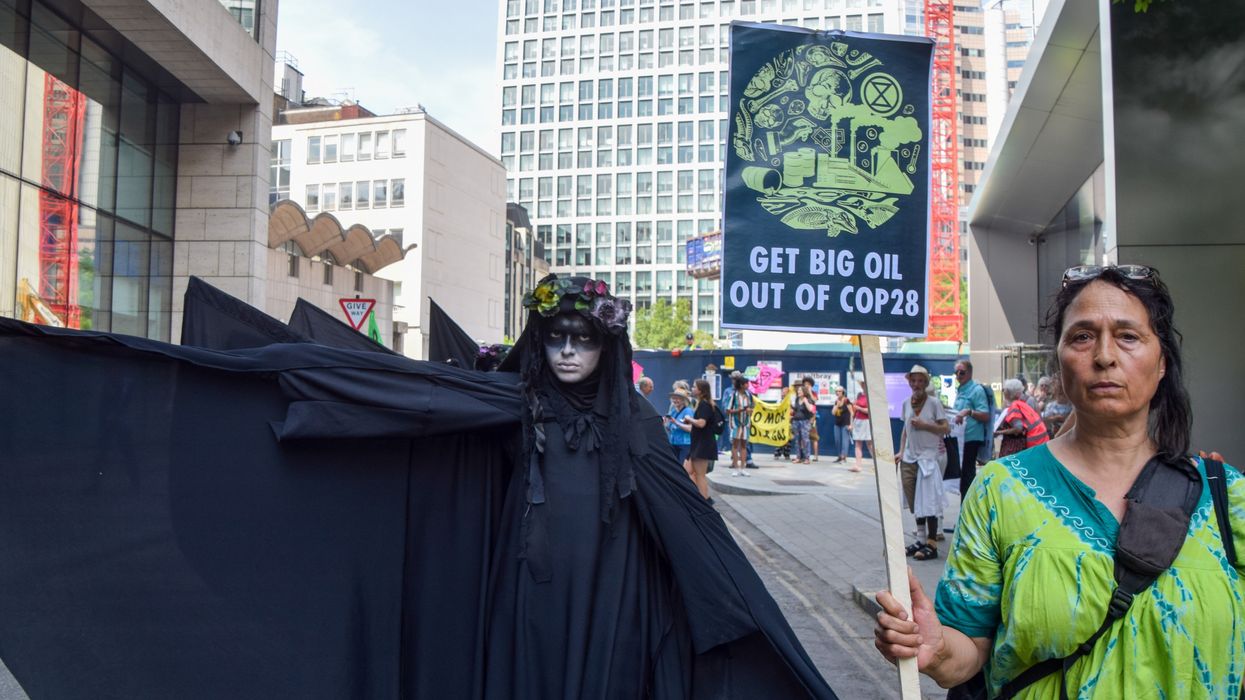 "The multinational $4 trillion fossil fuel industry has not only corrupted citizens' understanding of the climate crisis but also contributed to the erosion of democracy around the world."
As more people around the world demand an end to the fossil fuel era in the face of a worsening planetary emergency, Big Oil is "undermining democratic functions to stem the tide of climate action," a report published Tuesday revealed.
"Through a wide array of tactics, the multinational $4 trillion fossil fuel industry has not only corrupted citizens' understanding of the climate crisis but also contributed to the erosion of democracy around the world," the Center for American Progress (CAP) said in a new analysis.
CAP's Chris Martinez, Laura Kilbury, and Joel Martinez examined "what these tactics look like in practice and how they work against democratic systems to stifle climate action."
According to the authors, the three main democracy-destroying tactics are:
Polluting democratic societies' information ecosystems with deception and false climate solutions;
Using massive financial and lobbying influence over policymakers to defeat climate action and serve industry interests; and
Directly undermining democratic rights and freedoms.
The fossil fuel industry is "stifling democratic rights through lawsuits, anti-protest laws, and voter suppression," the report states. Meanwhile, Big Oil greenwashes its harmful practices through direct advertising and via lobby groups like the American Petroleum Institute, which "regularly publicizes its member companies' investments in renewable energy and carbon reduction technologies."
"On closer inspection, however, industry's declared efforts to fight climate change fall woefully short, with oil and gas companies often devoting more attention to creating the appearance of working on climate solutions than actually developing them," the analysis contends.
Big Oil also uses the tactic of "astroturfing," or creating the appearance of grassroots support for policies and practices that are beneficial to the industry but harm the climate by perpetuating the fossil fuel era.
"The oil and gas industry's strategy is clear: Manipulate the levers of power to obstruct any climate policies that may reduce the world's reliance on fossil fuels," Martinez, CAP's associate director for domestic climate, said in a statement. "If left unchecked, these tactics stifle democratic rights, making governments more responsive to corporations than their own citizens."
The CAP analysis comes as a record 2,456 fossil fuel lobbyists flood the floors of the United Nations Climate Change Conference, or COP28, in Dubai, peddling influence and false climate solutions like so-called "abated" emissions, biofuels, and hydrogen.
"In the case of the [United Arab Emirates'] COP28 presidency, the industry capture of these spaces is complete, with a state-backed fossil fuel company threatening to interfere with multilateral climate progress at the highest and most consequential level," the report states, referring to summit president Sultan Ahmed Al Jaber, who is also the CEO of the UAE's national oil firm—and who has reportedly been using the run-up to the conference to pursue new fossil fuel deals.
"As warning lights of democratic backsliding strobe across the world and endanger critical efforts to address the climate crisis," the analysis adds, "the twin threat of the fossil fuel industry's attacks on climate action and the democratic functions necessary to take that action must not be ignored."
News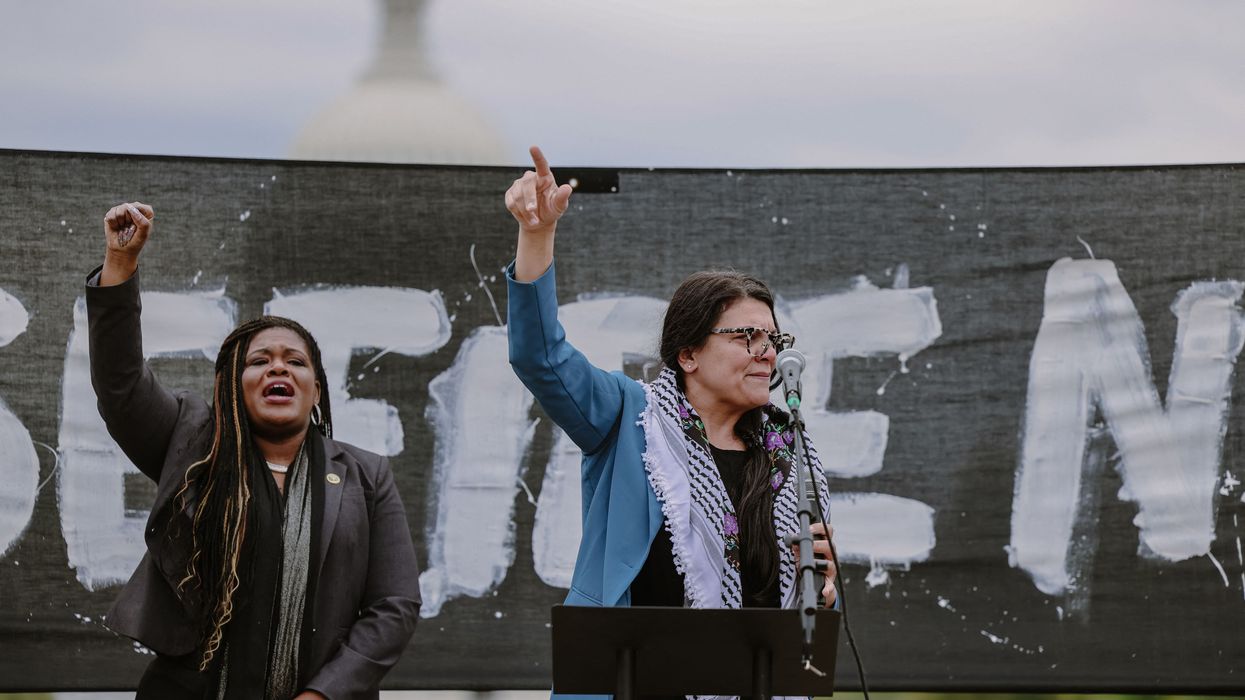 "This extreme and cynical Republican resolution does nothing to combat antisemitism," said Rep. Ilhan Omar, stressing the importance of "legitimate criticism" of the Israeli government and its war on Gaza.
As Israel continued to wage what critics are calling a genocidal war on the Gaza Strip, just 13 U.S. House Democrats and one Republican on Tuesday voted against a GOP resolution that conflates anti-Zionism and antisemitism.
House Resolution 894 passed with support from 95 Democrats and 216 Republicans, including its sponsors, Reps. David Kustoff (Tenn.) and Max Miller (Ohio), who are both Jewish. Almost as many Democrats—92—voted present.
The resolution, which embraces the International Holocaust Remembrance Alliance's controversial working definition of antisemitism, was widely condemned by progressive and Jewish groups this week ahead of the vote.
Republican Congressman Thomas Massie (Ky.) joined the 13 Democrats who opposed H.Res. 894: Reps. Jamaal Bowman (N.Y.), Cori Bush (Mo.), Gerry Connolly (Va.), Jesús "Chuy" García (Ill.), Raúl Grijalva (Ariz.), Pramila Jayapal (Wash.), Summer Lee (Pa.), Alexandria Ocasio-Cortez (N.Y.), Ilhan Omar (Minn.), Ayanna Pressley (Mass.), Delia Ramirez (Ill.), Rashida Tlaib (Mich.), and Bonnie Watson Coleman (N.J.).
"This extreme and cynical Republican resolution does nothing to combat antisemitism, relies on a definition that conflates criticism of the Israeli government with antisemitism, paints critics of the Israeli government as antisemites, and falsely states that anti-Zionism is antisemitism," Omar said in a statement about her vote. "We must stand against any attempt to define legitimate criticism of this war and the government perpetrating it as antisemitism."
According to The Hill, Bowman said after the vote that while he "strongly condemn[s] antisemitism and hate in all of its forms," he voted against H.Res. 894 because "it fuels division and violence, conflates criticism of the Israeli government with antisemitism, and ignores one of the greatest threats to the Jewish community, white nationalism."
Bowman and Omar are among the House progressives facing serious primary challenges for the next cycle, in part because of their criticism of the Israeli government and its war on Gaza that has killed nearly 16,000 Palestinians in under two months.
They joined with Bush, Lee, Massie, Ocasio-Cortez, Ramirez, Tlaib, and Reps. André Carson (D-Ind.) and Al Green (D-Texas) in October to oppose a bipartisan resolution, which declared that the House unconditionally "stands with Israel as it defends itself against the barbaric war launched by Hamas and other terrorists," and did not mention Palestinian suffering.
News