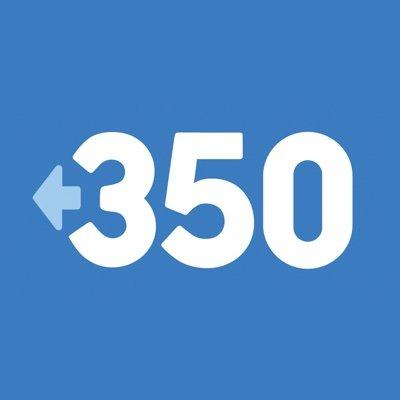 New Report Shows How Fossil Fuel Corporations, Utilities, and Fossil-Financiers Help Direct, Sponsor, Partner With, and Fund Police Foundation
WASHINGTON
Today, the Public Accountability Institute released a report that maps out how fossil fuel companies, utilities, and fossil-financiers help direct, sponsor, partner with, and fund police foundations.
Through this mapping, it shows how efforts to defund the police and reinvest in Black and Brown communities, and efforts to divest from fossil fuels and reinvest in environmental justice and a just transition, have a common foe in the fossil fuel industry.
Many companies that are polluting Black and Brown communities - or funding polluting operations - are the same companies helping to prop up and bankroll police foundations in those same communities.
As Little Sis writes,
Oil and gas companies, private utilities, and financial institutions that bankroll fossil fuels are all big backers of police foundations, which privately raise money to buy weapons, equipment, and surveillance technology for police departments, bypassing public police budgets. These corporate actors - from Chevron and Shell to Wells Fargo and JPMorgan Chase - can be found serving as directors and funders of police foundations nationwide. Furthermore, these companies sponsor events and galas that celebrate the police and remind the public that police power is backed up by corporate power.
On this report, Tamara Toles O'Laughlin, 350.org North America Director, issued the following statement:
"This report confirms what so many of us have known for decades: the police state exists to protect white supremacy with extraction as a primary tactic. Our work as a part of the movement for climate justice is to dismantle racist structures perpetuating continued harm to communities. From policing to financial violence, the road to tackling the climate crisis includes addressing connected predatory systems. As workers risk their lives to keep the economy afloat, the grift and greed of fossil fuel financiers continues. We support the demand to defund and divest from the police and fossil fuels, and to reinvest in the resilience of people and planet for a Just Recovery.
QUOTE SHEET:
"This report revealing the ways that Wall Street and the fossil fuel industry support police foundations highlights how firms such as Blackrock and JP Morgan Chase routinely act to extract wealth, health and safety from Black, Brown and Indigenous communities. It's past time to defund the police and demand that Wall Street compensate Black, Brown, and Indigenous communities for the irreparable harm they have inflicted," said Maurice BP-Weeks, Co-Executive Director, Action Center on Race and the Economy
"The fossil fuel industry is a sinking ship hellbent on drowning the planet and taking humanity down with it. It will stop at nothing to keep black and brown afraid of mobilizing and it's no surprise they would partner with the same institution terrorizing our communities and Black Lives Matter protesters in the streets," said Lucas Sanchez, Deputy Director, New York Communities for Change.
"It's no surprise that the companies driving a climate crisis that disproportionately kills black and brown people are also major funders of racist police forces that disproportionately kill black and brown people," said Alec Connon, coalition coordinator with Stop the Money Pipeline. "If companies really value Black Lives they need to stop investing in institutions that destroy and terrorize black communities."
"As we have seen too many times, the fossil fuel industry relies on a militarized top-down police to keep the public from protesting their expansion plans; it's past time to move to a new future," said Bill McKibben, the co-founder of 350.org and Stop the Money Pipeline.
"This report sheds a harsh and needed light on the ways police violence and systemic racism intersect with the climate crisis. Rather than address growing public concerns with the dangers of pipelines and petrochemical plants, the fossil fuel industry has responded instead by seeking to criminalize protest, suppress dissent, and mislabel acts of free speech as acts of terrorism. The result is a rising tide of human rights abuses by militarized police forces against environmental and rights defenders. That oil and gas companies are actually funding the forces inflicting those harms is sadly unsurprising and absolutely unacceptable," said Carroll Muffett, President, Center for International Environmental Law.
"There is little public scrutiny when private donors pay to give police controversial technology and weapons. And it is with no surprises that the Public Accountability Initiative & LittleSis report shows how the same financial institutions like BlackRock that are financing the climate crisis and environmental racism in Black and Brown communities, are the same institutions that are backing the growing militarization of police forces that have beaten down black and brown communities with impunity for so long," said Mary Cerulli, co-founder Climate Finance Action.
"Big Surprise: Most of the same banks that fund fossil fuels, redline loans against people of color also fund private prisons for profit, like JPMorgan Chase, BOA and BlackRock," said Mary Kay Benson, 350 Butte County.
"The fossil fuel industry's ties to police foundations show a willingness to ignore the calls of racial justice advocates to dismantle the systemic racism of policing -- despite some oil and gas companies' hypocritical claims otherwise. Fossil fuel companies harm the racial justice movement in their operations, their public relations and their political funding. In reality, they are part of the system that upholds structural racism in the US," said Zorka Milin, senior advisor, Global Witness.
"The Earth and all people are sacred. Violence against black and brown communities is morally abhorrent. Violence against the earth is an offense against life. Extractive industries and the banks that finance them need to stop supporting racist authoritarianism and quit financing the planet's destruction," said Rev. Fletcher Harper, executive director of GreenFaith.
"Chevron has long treated Richmond like a community that can be bought and sold out, be it through our police or elected officials. This new report further outlines what we already know: fossil fuel companies bankroll the police as a bribe, to keep our communities polluted, over-policed and bound to the charity of companies like Chevron. To reinvest in Black and Brown communities and move toward a just transition from the Ecuadorian Amazon to Richmond, CA, we must hold these companies accountable for their ties to the destruction of our climate and the funding of the police," said Ada Recinos, Amazon Watch communications manager and Richmond, CA resident.
"It is no surprise that big banks and fossil fuel companies see it as in their interest to fund the police. They need to ensure that when they want to impose dangerous and polluting projects on Black, Indigenous and brown communities that the police will be there for them and willing and ready to repress community members who seek to protect their families, and their air, land and water," said Paddy McCully, Energy and Climate Program Director, Rainforest Action Network.

350 is building a future that's just, prosperous, equitable and safe from the effects of the climate crisis. We're an international movement of ordinary people working to end the age of fossil fuels and build a world of community-led renewable energy for all.
LATEST NEWS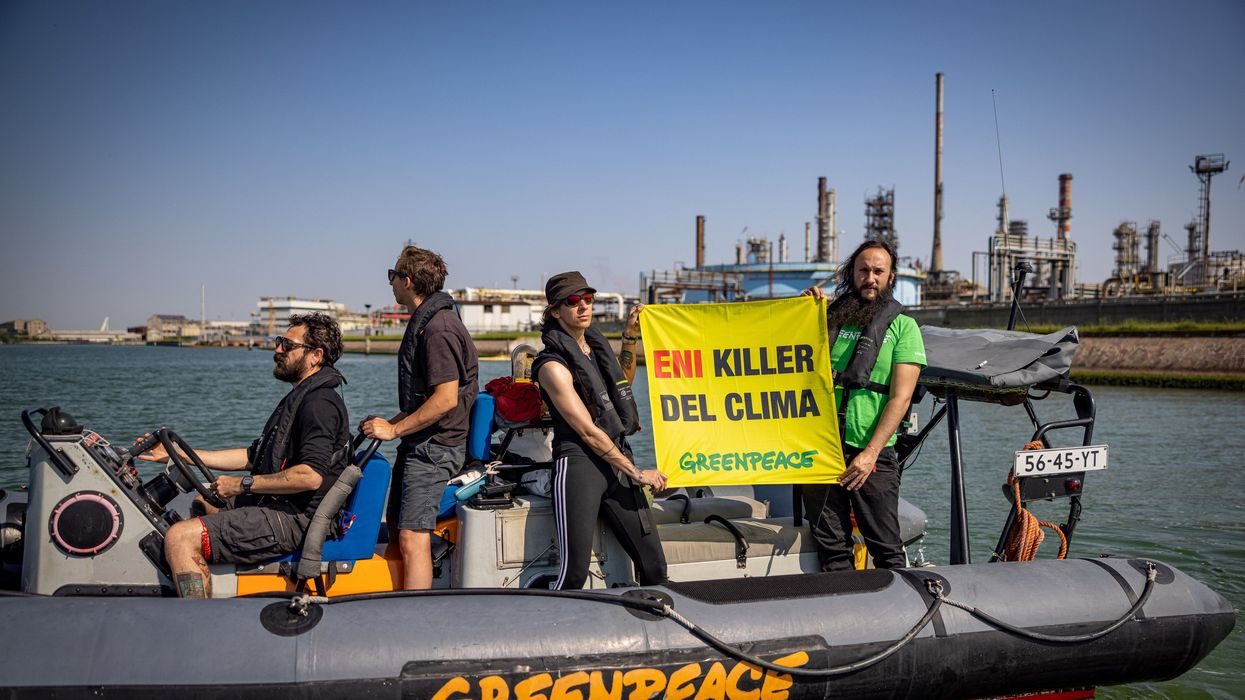 "ENI joins the long list of fossil fuel companies that... have been aware for decades of the destructive impacts of greenhouse gas emissions from coal, gas and oil" the report's research coordinator said.
Italian oil company ENI also knew it's product would contribute to the climate crisis as early as 1970, a report published Monday by Greenpeace Italy and ReCommon revealed.
The news comes as Greenpeace Italy, ReCommon, and 12 plaintiffs are in the midst of a lawsuit against ENI seeking damages for the past and future impacts of its emissions.
"Our investigation adds evidence to the cynical attitude of energy majors," Felice Moramarco, a communication expert at Greenpeace Italy who coordinated the report's research, said in a statement. "ENI joins the long list of fossil fuel companies that, according to numerous international investigations conducted in recent years, have been aware for decades of the destructive impacts of greenhouse gas emissions from coal, gas, and oil on the climate, but chose to ignore what they knew."
The report details several internal documents showing that the fossil fuel company knew that burning oil, gas, and coal could disrupt the future climate.
In 1969, ENI—while entirely owned by the state of Italy—charged its center the Istituto per gli Studi sullo Sviluppo Economico e il Progresso Tecnico (ISVET) with completing a technical-economic survey. The survey, completed the next year, acknowledged the potential impact of greenhouse gas emissions in the introduction to its summary.
"The carbon dioxide in the atmosphere, according to a recent report by the U.N. Secretary, due to the increased use of mineral fuel oils, has increased over the last century by an average of 10% worldwide; towards the year 2000 this increase could reach 25%, with 'catastrophic' consequences for the climate," the introduction read.
The next piece of evidence dates from 1973. As the environmental movement began to pick up steam in the early 1970s due to pollution concerns, ENI founded a company called TECNECO in 1971 whose sole purpose was to tackle pollution. Two years later, TECNECO published the First Report on the Environmental Situation of the Country. The report included a table that stated carbon dioxide's "increase in the atmosphere is considered a potential cause of climate change."
Another TECNECO report from 1978 included this passage:
Various hypotheses have been made about the effect of fossil fuel emissions on climate. On a local scale, even considerable changes to climate have been noted. Similar climatic changes may occur on a regional scale due to the continued, increasing consumption of fossil fuels, and this may become a major problem by the end of the century. As already noted, the best available data indicate that the CO2 content of the atmosphere will reach 375-400 ppm in the year 2000; this would increase the temperature of the atmosphere by 0.5°C.
In the 1980s, ENI's company magazine Ecos also acknowledged the potential climate crisis on multiple occasions. For example, a 1988 article read, "The tremendous development of combustion processes during this century has led scientists to fear the greenhouse effect that could lead to climate change with devastating effects on the entire earth's ecosystem."
"It can therefore be said that ENI—like other oil and gas majors—was already aware from the very early 1970s that its core business, the exploitation of fossil fuels, was a serious danger not only to people's health, but also to the planet's climate," the report authors wrote.
Despite this, in the 1980s ENI also advertised natural gas as a "clean fuel" and participated in the International Petroleum Industry Environmental Conservation Association (IPIECA). IPIECA was used by ExxonMobil to sow climate denial and work against national climate policies during this decade, as a 2021 study found. Coauthors of that study Ben Franta, a senior climate litigation researcher at Oxford's Sustainable Law Program, and Christophe Bonneuil, who directs France's National Center for Scientific Research, both contributed to the Greenpeace report.
"It is time companies like ENI take responsibility for their harmful policies."
Bonneuil told the report authors that IPIECA, because it had many state-owned oil companies as members, played a key role in "international oil diplomacy" as nations sought to regulate the industry due to concerns over air pollution, oil spills, and global heating.
"Although IPIECA has never described itself as a pressure group, from 1988 to 1994 it clearly became a channel through which oil companies from around the world shared information and strategies regarding the work of the United Nations on the road to the 1992 Rio Earth Summit and the details of the negotiations on the Climate Change Convention," Bonneuil said.
In 1992, ENI co-hosted an IPIECA in Rome. During that meeting, and despite the more definitive statements in internal company documents, ENI's manager of its Safety, Quality, and Environmental Protection department Ennio Profili said it was "necessary to obtain data" about how oceans and clouds might contribute to climate change "before taking political decisions, such as adopting a carbon tax, which could lead to dire and unexpected economic consequences."
In response to Greenpeace's report, ENI toldDesmog in a statement that it had "already responded to the claims of the two organizations in the court of Rome, through the procedural tools provided and within the timeframe assigned by the law."
"The complexity of the matter is such that it merits spaces which are not compatible with journalistic reductions," the company continued.
However, for Moramarco, the situation is not complex.
"Carbon majors have contributed to and exacerbated the climate crisis and, despite the evidence in their hands, they have blocked progress towards effective regulation," Moramarco said in a statement. "It is time companies like ENI take responsibility for their harmful policies and invest in ambitious action to limit the impacts of the climate crisis on people and the planet."
News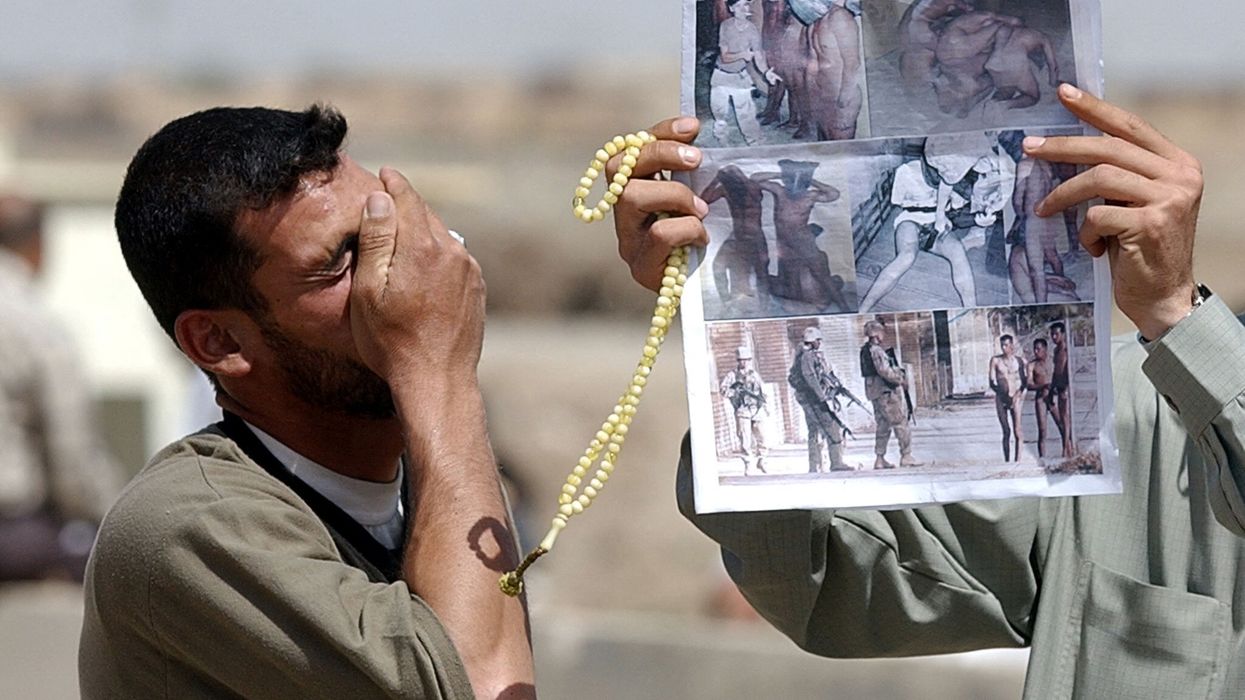 "Iraqis who were tortured by U.S. personnel still have no clear path for filing a claim or receiving any kind of redress or recognition from the U.S. government."
Iraqis tortured by American forces two decades ago during the disastrous U.S. occupation of their country have yet to receive any sort of compensation from the U.S. government as they suffer lasting physical and psychological trauma, according to a report released Monday by Human Rights Watch.
The group interviewed an Iraqi who was detained at Abu Ghraib prison—which U.S. forces used as a detention facility—between November 2003 and March 2005.
Taleb al-Majli, who was released without charge after 16 months, told HRW that he was one of the detainees in the infamous photo of naked, hooded Iraqi prisoners whom U.S. forces piled on top of each other to form a human pyramid. In the photo, two U.S. soldiers are behind the prisoners smiling, and one of them is flashing a thumbs-up.
"This one year and four months changed my entire being for the worse," said al-Majli, who told the human rights group that he started biting his hands and wrists as a coping mechanism while he was imprisoned—something he still does to this day.
"It destroyed me and destroyed my family," al-Majli said of his detention. "It's the reason for my son's health problems and the reasons my daughters dropped out of school. They stole our future from us."
HRW noted that al-Majli has spent the nearly two decades since his release pursuing redress for the abuse he endured at the hands of U.S. soldiers, to no avail. When the group wrote to the Pentagon earlier this year detailing al-Majli's case and asking for any information on plans to compensate Iraqis who were tortured by U.S. forces, it did not get a response.
"Twenty years on, Iraqis who were tortured by U.S. personnel still have no clear path for filing a claim or receiving any kind of redress or recognition from the U.S. government," Sarah Yager, HRW's Washington director, said in a statement. "U.S. officials have indicated that they prefer to leave torture in the past, but the long-term effects of torture are still a daily reality for many Iraqis and their families."
"The U.S. should provide compensation, recognition, and official apologies to survivors of abuse and their families."
During a 2004 congressional hearing convened days after reporting by veteran investigative journalist Seymour Hersh and others uncovered the grotesque torture that U.S. forces were perpetrating at Abu Ghraib, then-U.S. Secretary of Defense Donald Rumsfeld—a key architect of the Iraq invasion—said he was "seeking a way to provide appropriate compensation to those detainees who suffered such grievous and brutal abuse and cruelty at the hands of a few members of the U.S. military."
"It's the right thing to do," Rumsfeld added.
But HRW said Monday that it has "found no evidence that the U.S. government has paid any compensation or other redress to victims of detainee abuse in Iraq, nor has the United States issued any individual apologies or other amends."
"Some victims have attempted to apply for compensation using the U.S. Foreign Claims Act (FCA)," the group observed. "Human Rights Watch was unable to find public evidence that payments have been made under this law as compensation for detainee abuse, including torture. In 2007, the American Civil Liberties Union obtained documents detailing 506 claims made under the Foreign Claims Act: 488 in Iraq and 18 in Afghanistan. The majority of claims relate to harm or deaths caused by shootings, convoys, and vehicle accidents."
"The only case of a Foreign Claims Act payment relating to detention in those documents was for a claimant who was paid US$1,000 for being unlawfully detained in Iraq, with no mention of other abuse," HRW added. "Five other claims were for abuse in detention, but they are among eleven claims that do not contain the outcome, including whether payment was made."
Attempts by some Iraqis to pursue redress through the U.S. court system have also failed. According to HRW, "the U.S. Justice Department has repeatedly dismissed such cases using a 1946 law that preserves U.S. forces' immunity for 'any claim arising out of the combatant activities of the military or naval forces, or the Coast Guard, during time of war.'"
Yager argued that the heads of the Pentagon and Justice Department "should investigate allegations of torture and other abuse of people detained by the U.S. abroad during counterinsurgency operations linked to its 'Global War on Terrorism.'"
"U.S. authorities should initiate appropriate prosecutions against anyone implicated, whatever their rank or position," said Yager. "The U.S. should provide compensation, recognition, and official apologies to survivors of abuse and their families."

News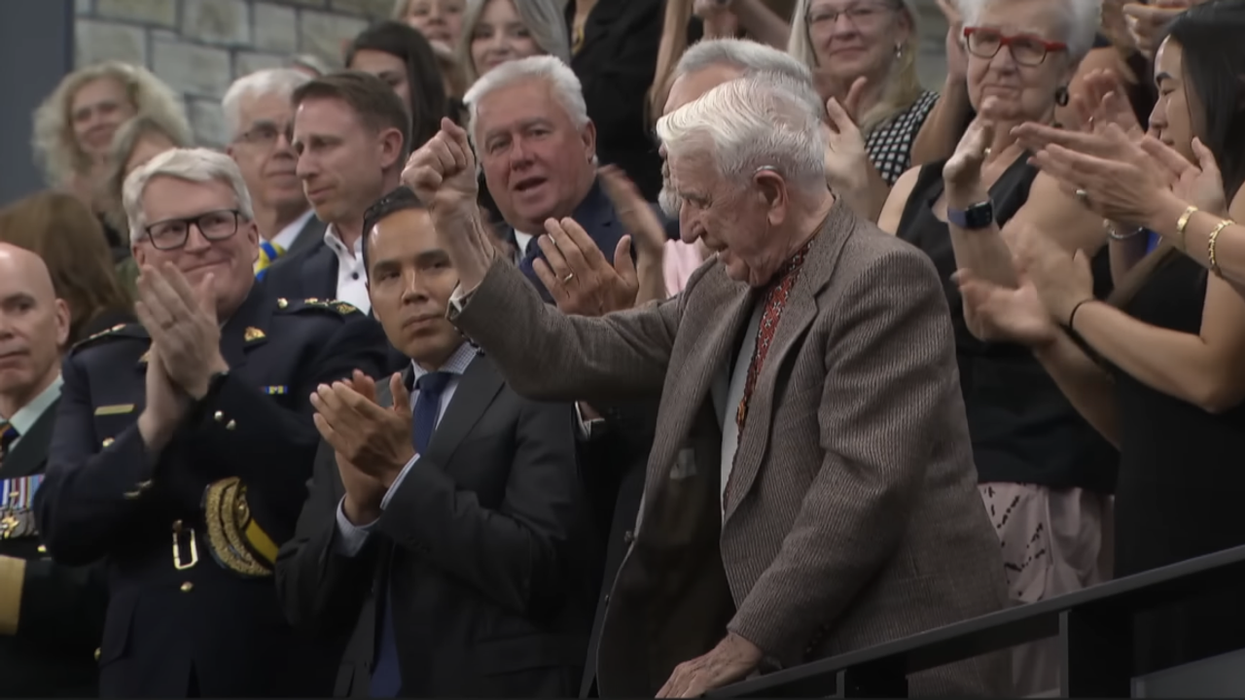 "The fact that a veteran who served in a Nazi military unit was invited to and given a standing ovation in Parliament is shocking," said the Friends of Simon Wiesenthal Center for Holocaust Studies.
A top Canadian lawmaker apologized on Sunday for honoring Yaroslav Hunka, a 98-year-old Ukrainian man who fought for a notorious Nazi military unit during World War II.
Anthony Rota, speaker of Canada's House of Commons and a member of the Liberal Party, hailed Hunka during a ceremony late last week as "a Ukrainian hero" and "a Canadian hero" who fought for "Ukrainian independence against the Russians" and "continues to support the troops today."
Canadian lawmakers in attendance gave Hunka a standing ovation, and Ukrainian President Volodymyr Zelenskyy—who had just delivered a speech to the House of Commons—"raised a fist during the applause," NBC Newsreported.
Rota's description of Hunka—who fought in the 14th Waffen Grenadier Division of the Nazi SS—sparked outrage, with the Friends of Simon Wiesenthal Center for Holocaust Studies saying in a statement that "the fact that a veteran who served in a Nazi military unit was invited to and given a standing ovation in Parliament is shocking."
The group continued:
At a time of rising antisemitism and Holocaust distortion, it is incredibly disturbing to see Canada's Parliament rise to applaud an individual who was a member of a unit in the Waffen-SS, a Nazi military branch responsible for the murder of Jews and others and that was declared a criminal organization during the Nuremberg Trials. There should be no confusion that this unit was responsible for the mass murder of innocent civilians with a level of brutality and malice that is unimaginable.

An apology is owed to every Holocaust survivor and veteran of the Second World War who fought the Nazis, and an explanation must be provided as to how this individual entered the hallowed halls of Canadian Parliament and received recognition from the speaker of the House and a standing ovation.
In response to the backlash, Rota issued a statement saying he has "become aware of more information" that leads him to "regret" the decision to recognize Hunka.
"I wish to make clear that no one, including fellow parliamentarians and the Ukraine delegation, was aware of my intention or of my remarks before I delivered them," said Rota. "This initiative was entirely my own, the individual in question being from my riding and having been brought to my attention. I particularly want to extend my deepest apologies to Jewish communities in Canada and around the world. I accept full responsibility for my actions."
Jagmeet Singh, the leader of Canada's New Democratic Party (NDP), said he shares "the concerns about the individual honored with a standing ovation in the House of Commons on Friday."
"He was not a guest of the NDP and we were not aware of his background or association with the Nazi regime in World War II," Singh added. "The event has caused harm to the Jewish community and for that, I am sorry. New Democrats will be raising our concerns about how this was allowed to happen with the government directly. We must all stand together against the rising tide of antisemitism."

News
Independent, nonprofit journalism needs your help.
Please Pitch In
Today!