Nearly Half Senate Dems Vote to Move Pentagon Funds to Poor
In response to today's Senate vote against an amendment to the National Defense Authorization Act to transfer 10% of the Pentagon budget to help poor U.S. communities, Paul Kawika Martin, Senior Director for Policy and Political Affairs at Peace Action, released the following statement:
WASHINGTON
In response to today's Senate vote against an amendment to the National Defense Authorization Act to transfer 10% of the Pentagon budget to help poor U.S. communities, Paul Kawika Martin, Senior Director for Policy and Political Affairs at Peace Action, released the following statement:
"Nearly half the Senate Democratic Caucus voted today for the largest transfer of the bloated Pentagon budget to the poor. Congress remains out of step with voters, where over half want to see reductions in excessive Pentagon spending to pay for other priorities. Current threats to America's security, like the global health pandemic and economic crisis, have no military solution. Congress must prioritize government spending to help Americans in need during this pandemic. The pandemic shows that endless wars costing over $6 trillion make us less safe.
"This historic amendment, introduced by Senators Bernie Sanders (D-VT) and Ed Markey (D-MA), cosponsored by Patrick Leahy (D-VT), Jeff Merkley (D-OR), Elizabeth Warren (D-MA) and Ron Wyden (D-OR) and supported by Minority Leader Schumer (D-NY) provided an opportunity to move $74 billion to help voters in real need with healthcare, affordable housing, education and local infrastructure. Yesterday, Reps. Barbara Lee (D-CA-13) and Mark Pocan (D-WI-2) led a similar amendment that garnered the votes of 40% of House Democrats.
"Unfortunately, a majority of Congress, predominantly Republicans, chose to maximally fund Pentagon pork despite its demonstrated irresponsibility with taxpayer dollars. The Pentagon is the only Government agency that cannot pass an audit, has returned over $80 billion in funds it failed to spend since 2013 and half of the Pentagon's total budget is going straight into the pockets of war contractors.
"The passage of the overfunded National Defense Authorization Act by the House yesterday and soon in the Senate fails to reflect the priorities of Americans who believe the Pentagon should not consume over half the Unites States' discretionary budget."
Peace Action is the United States' largest peace and disarmament organization with over 100,000 members and nearly 100 chapters in 34 states, works to achieve the abolition of nuclear weapons, promote government spending priorities that support human needs and encourage real security through international cooperation and human rights.
LATEST NEWS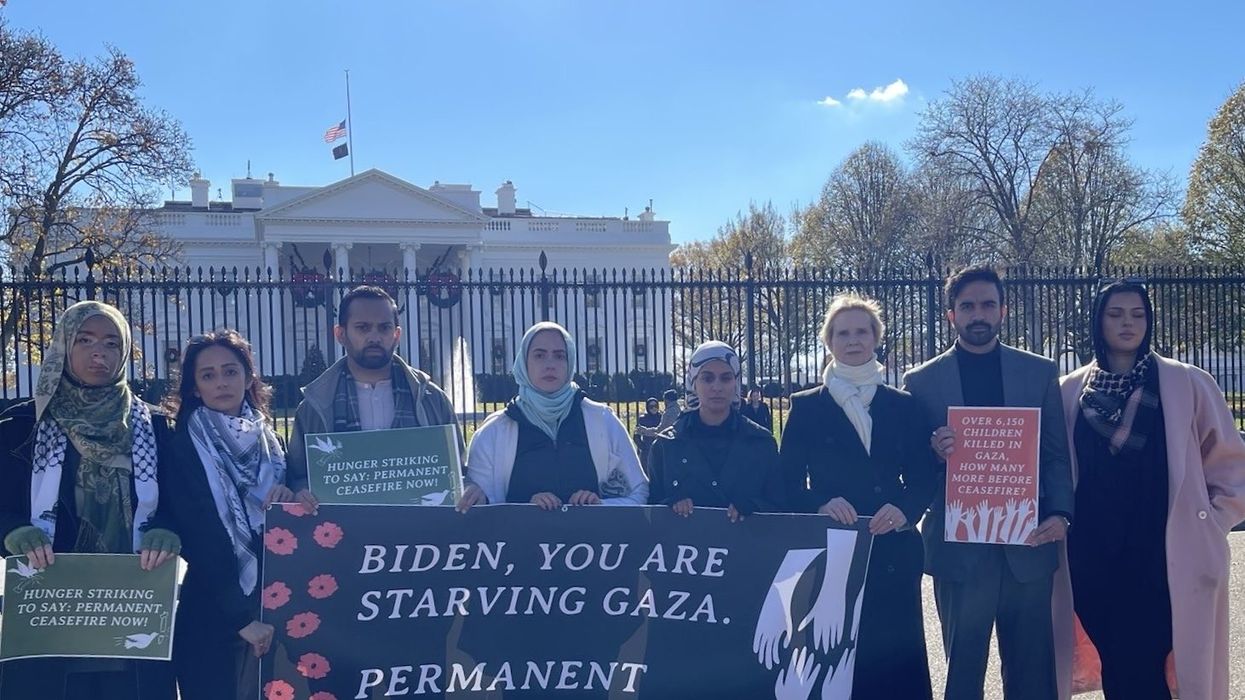 "As the mother of Jewish children whose grandparents are Holocaust survivors, I have been asked by my son to use my platform," said actor and activist Cynthia Nixon.
As Israel and Hamas on Monday agreed to extend their temporary pause of fighting in the Gaza Strip, advocacy group leaders, U.S. state lawmakers, and actor and activist Cynthia Nixon were among those who launched a hunger strike demanding a permanent cease-fire in Washington, D.C. outside the White House.
"As the mother of Jewish children whose grandparents are Holocaust survivors, I have been asked by my son to use my platform to project as loudly as possible that 'never again' means never again for everyone," said Nixon, one of more than 260 artists who signed a letter asking U.S. President Joe Biden and Congress to call for a cease-fire in Gaza.
"As an American, I am here to demand that our president stop funding the mass killing and starvation of thousands of innocent Palestinians, the majority of whom are children and women," she continued. "President Biden must use this moment to negotiate a permanent cease-fire that will bring all the hostages and political prisoners home and start to lay the foundation for a lasting peace."
"Palestinians in Gaza deserve to be grieved and it's astonishing that we even have to say this, but Palestinians in Gaza deserve to live."
Other supporters of the five-day hunger strike include Palestinian organizer and activist Linda Sarsour, Delaware state Rep. Madinah Wilson-Anton (D-26), Oklahoma state Rep. Mauree Turner (D-88), Virginia state Rep. Sam Rasoul (D-11), Adalah Justice Project (AJP), the American-Arab Anti-Discrimination Committee, Democratic Socialists of America, Dream Defenders, IfNotNow, the Institute for Middle East Understanding, Jewish Voice for Peace, and the U.S. Campaign for Palestinian Rights (USCPR).
"By every measure, this moment is the greatest loss of life and devastation in the history of the Palestinian people," said Iman Abid-Thompson, director of advocacy and organizing at USCPR. "We have been calling on Congress and President Biden to demand a total cease-fire since the beginning of October. While we welcome the 48 statements of support from members of Congress who have called for a total cease-fire, it is not enough. Time is of the essence."
"We know that Congress and President Biden could have called for a cease-fire weeks ago, but they haven't," she added. "We have all watched the destruction of Gaza and seen entire families, every generation, buried in mass graves. We cannot escape the images of children laying lifeless and in pieces. We are haunted by the dead and the living, and we will never forget what we have witnessed."

Since the October 7 Hamas-led attack that killed around 1,200 Israelis, Israel's retaliatory war on Gaza has killed over 14,850 Palestinians, including at least 6,150 children, and devastated civilian infrastructure in the besieged enclave. Both sides agreed to a four-day cease-fire that began Friday and have since exchanged hostages taken by Hamas last month and Palestinians imprisoned by Israel.

On Monday, Majed Al-Ansari, a spokesperson for the Qatari Ministry of Foreign Affairs, confirmed the two-day extension of the truce on social media. The Associated Pressreported that "Israel will resume its operations with 'full force' as soon as the current deal expires if Hamas does not agree to further hostage releases, government spokesperson Eylon Levy told reporters."'
Hunger strike supporter Rana Abdelhamid, an ex-New York congressional candidate, stressed that "a temporary cease-fire is not enough. Israel has made it abundantly clear that it has no intention of stopping its bombing of Gaza as long as it enjoys the full backing of the U.S. government. We will not allow the Biden administration to continue to fund the killing and starvation of Palestinians with impunity. We need a permanent cease-fire to save lives, and we need it now."

In the wake of Hamas' attack last month, Biden affirmed his "unwavering" support for Israel—currently controlled by the most far-right government in its history—and asked Congress for $14.3 billion for the war effort, on top of the $3.8 billion in annual military assistance that the country gets from the United States.
The Interceptreported Saturday that Biden has also asked Congress to lift most restrictions on Israel's access to a U.S. stockpile of weapons there, which "would essentially create a free-flowing pipeline to provide any defense articles to Israel," according to Josh Paul, a former U.S. State Department official who resigned over arms transfers to the country.
"Our government should not be supporting the mass murder of tens of thousands of Palestinians in Gaza," AJP director of strategy and communications Sumaya Awad declared Monday. "No one is spared by Israel's bombs, not journalists, not doctors, not children and NICU babies."
"As a Palestinian, as an American, and as a mother, I am on hunger strike to demand that President Biden call for a permanent cease-fire," she said. "Without a lasting cease-fire, Israel will continue the unfolding genocide in Gaza. Palestinians in Gaza deserve to be grieved and it's astonishing that we even have to say this, but Palestinians in Gaza deserve to live."

News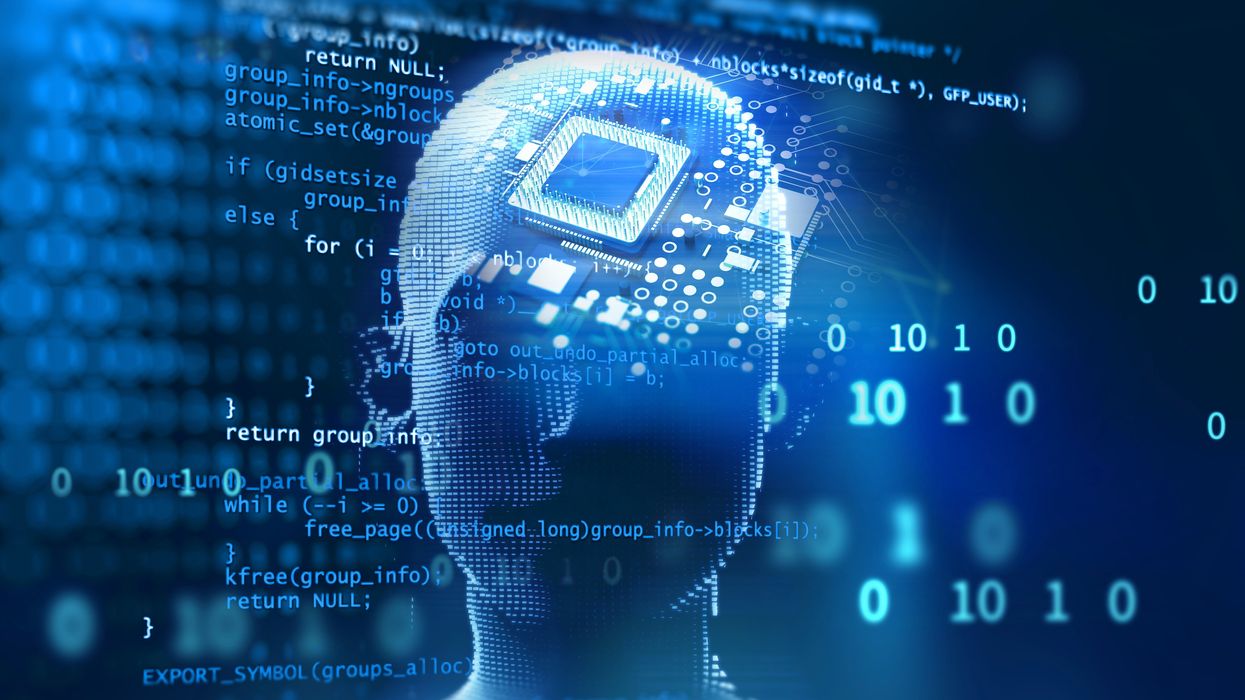 The agreement "is a step in the right direction for security," said one observer, "but that's not the only area where AI can cause harm."
Like an executive order introduced by U.S. President Joe Biden last month, a global agreement on artificial intelligence released Sunday was seen by experts as a positive step forward—but one that would require more action from policymakers to ensure AI isn't harmful to workers, democratic systems, and the privacy of people around the world.
The 20-page agreement, first reported Monday, was reached by 18 countries including the U.S., U.K., Germany, Israel, and Nigeria, and was billed as a deal that would push companies to keep AI systems "secure by design."
The agreement is nonbinding and deals with four main areas: secure design, development, deployment, and operation and maintenance.
Policymakers including the director of the U.S. Cybersecurity and Infrastructure Security Agency, Jen Easterly, forged the agreement with a heavy focus on keeping AI technology safe from hackers and security breaches.
The document includes recommendations such as implementing standard cybersecurity best practices, monitoring the security of an AI supply chain across the system's life cycle, and releasing models "only after subjecting them to appropriate and effective security evaluation."
"This is the first time that we have seen an affirmation that these capabilities should not just be about cool features and how quickly we can get them to market or how we can compete to drive down costs," Easterly toldReuters. The document, she said, represents an "agreement that the most important thing that needs to be done at the design phase is security."
Norm Eisen, senior fellow at the think tank Brookings Institution, said the deal "is a step in the right direction for security" in a field that U.K. experts recently warned is vulnerable to hackers who could launch "prompt injection" attacks, causing an AI model to behave in a way that the designer didn't intend or reveal private information.

"But that's not the only area where AI can cause harm," Eisen said on social media.

Eisen pointed to a recent Brrokings analysis about how AI could "weaken" democracy in the U.S. and other countries, worsening the "flood of misinformation" with deepfakes and other AI-generated images.
"Advocacy groups or individuals looking to misrepresent public opinion may find an ally in AI," wrote Eisen, along with Nicol Turner Lee, Colby Galliher, and Jonathan Katz last week. "AI-fueled programs, like ChatGPT, can fabricate letters to elected officials, public comments, and other written endorsements of specific bills or positions that are often difficult to distinguish from those written by actual constituents... Much worse, voice and image replicas harnessed from generative AI tools can also mimic candidates and elected officials. These tactics could give rise to voter confusion and degrade confidence in the electoral process if voters become aware of such scams."
At AppleInsider, tech writer Malcolm Owen denounced Sunday's agreement as "toothless and weak," considering it does not require policymakers or companies to adhere to the guidelines.
Owen noted that tech firms including Google, Amazon, and Palantir consulted with global government agencies in developing the guidelines.
"These are all guidelines, not rules that must be obeyed," wrote Owen. "There are no penalties for not following what is outlined, and no introduction of laws. The document is just a wish list of things that governments want AI makers to really think about... And, it's not clear when or if legislation will arrive mandating what's in the document."
European Union member countries passed a draft of what the European Parliament called "the world's first comprehensive AI law" earlier this year with the AI Act. The law would require AI systems makers to publish summaries of the training material they use and prove that they will not generate illegal content. It would also bar companies from scraping biometric data from social media, which a U.S. AI company was found to be doing last year.
"AI tools are evolving rapidly," said Eisen on Monday, "and policymakers need to keep up."

News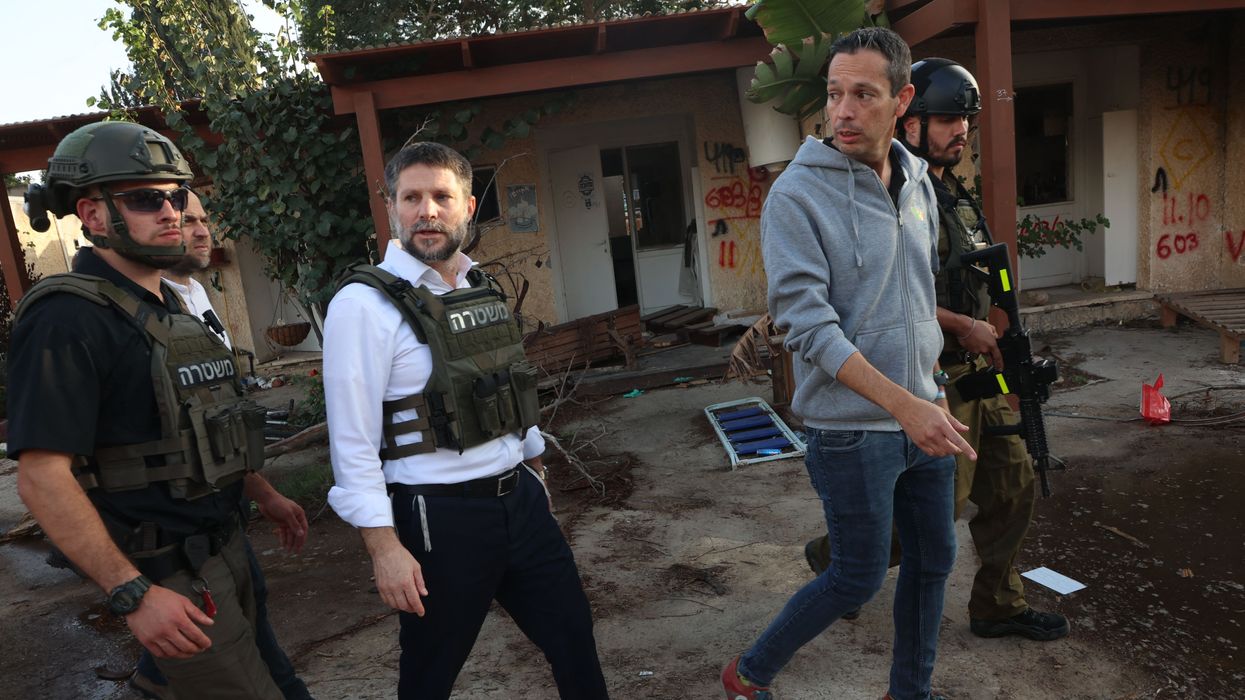 "This is not self-defense and will not make Israel safer," wrote Josep Borrell, the European Union's foreign affairs chief.

The European Union's foreign affairs chief on Monday said he was "appalled to learn" that Israel's wartime government is preparing to vote on a budget plan that includes money for illegal settlements in the occupied West Bank, where settler violence against Palestinians has grown in recent weeks amid Israel's assault on Gaza.
"In the middle of a war, the Israeli gov is poised to commit new funds to build more illegal settlements," Josep Borrell, the E.U.'s high representative for foreign affairs and security policy, wrote on social media. "This is not self-defense and will not make Israel safer. The settlements are a grave [international humanitarian law] breach, and they are Israel's greatest security liability."
Borrell was referring to settlement funding included in an end-of-year budget proposal that Israel's war cabinet is expected to approve on Monday. Under the proposed budget, funding would be allocated to West Bank settlement construction as well as to arming "civilian guard squads," according to a summary highlighted by Itay Epshtain of the Norwegian Refugee Council.
"Funds allocated to settlement local and regional councils allow for the purchase of off-road vehicles, body armor, camera-quipped UAVs, and other electronic surveillance equipment, and the employment of 'reconnaissance personnel,'" Epshtain wrote. "This is a militia of Israeli settlers mandated to obstruct humanitarian aid to Palestinians made vulnerable by the establishment and expansions of these very settlements."
BREAKING: these are the special budget allocation #Israel's government will vote on at 1800 hrs, confirming the following (for 2023 alone, with 5 weeks left to implement):
* 94.3 million ILS for settlement construction
* 39 million ILS for "search and destroy" of @eu_echo… pic.twitter.com/468VbR7eaE
— Itay Epshtain (@EpshtainItay) November 27, 2023
Israeli Finance Minister Bezalel Smotrich, a far-right supporter of settlement expansion, defended the budget proposal and denied that any of the money would go toward constructing new settlements.
"There is funding for security needs" in the West Bank, Smotrich toldThe Times of Israel, describing Palestinians in the territory as "Nazis."

The budget proposal sparked backlash from inside the Israeli government, with Knesset member and former opposition leader Benny Gantz demanding the removal of all "political payouts," including settlement funding, Reutersreported Monday.
"Under the coalition agreement Netanyahu struck with Smotrich and the heads of other religious and far-right parties after last year's election," the outlet noted, "billions of dollars are due to be set aside for ultra-Orthodox and far-right-wing pro-settler parties."
Middle East Eyereported Monday that leaked details of the budget "revealed an increase in funding for yeshivas by $133 million, as well as allocating $107 million to the National Missions Ministry, which is run by Smotrich's far-right party."
The budget fight comes amid growing alarm over deadly settler violence in the West Bank. Since last month, Israeli forces and settlers have killed more than 130 Palestinians in the West Bank.
"During the first eight months of 2023, settler violence soared to its highest level since the U.N. began recording this data in 2006; three incidents per day on average, up from two in 2022 and one in 2021," Omar Shakir, Israel and Palestine director at Human Rights Watch, wrote last week. "That rate has almost doubled since October 7."
"These abuses are a part of Israeli authorities' crimes against humanity of apartheid and persecution, as documented by Human Rights Watch and other Israeli, Palestinian, and international human rights organizations," wrote Shakir. "The roots of the violence in Israel-Palestine are multiple and run deep; ending the violence requires dismantling the systems of oppression that feed it, including in the West Bank."
Agnes Callamard, secretary-general of Amnesty International, echoed that message on Monday in response to the Israeli government's budget proposal.

"The settlements in the West Bank," she wrote on social media, "are part and parcel of the system of apartheid against Palestinian people, along with unlawful detention, torture, arbitrary killings, forced displacement, etc."
News