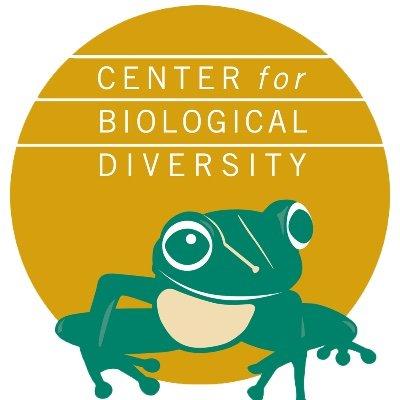 For Immediate Release
Contact:
Laird Lucas, Advocates for the West, (208) 342-7024, llucas@advocateswest.org  
Greta Anderson, Western Watersheds Project, (520) 623-1878, greta@westernwatersheds.org  
Michael Saul, Center for Biological Diversity, (303) 915-8308, msaul@biologicaldiversity.org
Sarah McMillan, WildEarth Guardians (406) 549-3895, smcmillan@wildearthguardians.org
Acting Interior Secretary Bernhardt Sued for Gutting Sage Grouse Plans
BOISE, Idaho
Conservation groups sued acting Interior Secretary David Bernhardt and the Bureau of Land Management in federal court Tuesday over their recent decisions to gut protections for greater sage grouse across millions of acres of public land in the West.
"The Trump administration is gutting sage-grouse protections on at least 50 million acres of public lands without admitting what they're doing," said Laird J. Lucas, lead attorney for the plaintiffs with Advocates for the West. "Today's lawsuit exposes these actions as violating bedrock federal laws and flouting the extensive body of science on what sage grouse need to survive."
Bernhardt, President Trump's nominee to replace Ryan Zinke as Interior secretary, is a former lobbyist and attorney for oil and gas, coal mining and other industries. He's been criticized for using his position to favor those industries, including by opening millions of acres of sensitive lands to fossil fuel development.
"We've tried to improve the 2015 plans by providing the agency with the best science and substantive recommendations," said Greta Anderson, deputy director of Western Watersheds Project. "The loopholes and exemptions built into the earlier plans were vulnerable to being exploited, but now they've been expanded into all-out industry giveaways, backroom decision-making, and weakened habitat protections. It's very discouraging to see these plans being crippled in light of still-declining populations."
Greater sage grouse once occupied hundreds of millions of acres across the West, but populations have plummeted as oil and gas development, livestock grazing, roads and powerlines and other actions have destroyed and fragmented their native habitats. To avoid Endangered Species Act listing, the BLM and U.S. Forest Service adopted sage-grouse plans in 2015 that identified key areas for protection and limited development there.
Today's lawsuit, filed in U.S. District Court in Boise, identifies Bernhardt as the architect of recent policy changes adopted by the Trump administration to rescind or weaken the 2015 plans on BLM land in seven states with most of the remaining sage-grouse populations -- Idaho, Wyoming, Utah, Colorado, Nevada, California and Oregon.
"Trump and his oil-industry buddies have declared open season on the vanishing sage grouse and the West's remaining sagebrush landscapes," said Michael Saul, a senior attorney at the Center for Biological Diversity. "This administration can't ignore the law, even if it wants to ignore science. We'll do everything possible to keep this beloved bird off the path to extinction."
The challenged plans created enormous loopholes that make it easier for fracking and drilling near the imperiled bird's prime habitat. The lawsuit notes that these changes were sought by the oil and gas industry, beginning in July 2017, and that Bernhardt and BLM have misled the public about the nature and extent of the changes.
"We knew that this administration was deeply enmeshed with fossil fuel production, but we're shocked that they are willing to sacrifice the sagebrush sea and the many plants and animals found there, not to mention to long-term impacts to climate disruption, while squandering public resources for private profit," said Sarah McMillan, conservation director at WildEarth Guardians.
In 2016 the groups challenged the plans as not doing enough for sage grouse. The complaint filed today seeks to supplement that case to challenge the recent Trump administration rollbacks. The groups are represented by Advocates for the West, a nonprofit, public-interest law firm based in Boise.
Background
As many as 16 million greater sage grouse once ranged across 297 million acres of sagebrush grasslands, a vast area of western North America known as the Sagebrush Sea.
Over the past 200 years, agriculture, oil and gas drilling, livestock grazing and development have reduced the grouse's range by nearly half, and sage grouse populations have steadily declined. Today sage grouse are found in 11 western states: California, Colorado, Idaho, Montana, Nevada, North Dakota, Oregon, South Dakota, Utah, Washington and Wyoming.
The greater sage grouse is under threat because it is intensely loyal to particular areas, reliant on large expanses of intact sagebrush, and is especially sensitive to disturbance and habitat fragmentation. It also needs sufficient vegetation cover and nutrition to raise chicks, unaltered mating grounds called "leks" for reproduction, and sufficiently healthy winter habitat to survive the cold season.
Protecting the grouse and its habitat benefit hundreds of other species that depend on the Sagebrush Sea ecosystem, including pronghorn, elk, mule deer, golden eagle, native trout, and migratory and resident birds.
The BLM is responsible for managing about half of the remaining sage grouse habitat. After years of inaction and then prompted by a 2011 decision by the U.S. Fish and Wildlife Service to list the bird for protection under the Endangered Species Act, the agency initiated sage-grouse protection planning.
This unprecedented five-year effort, led by the Department of the Interior, resulted in land-use plans with new measures to protect the bird. The Fish and Wildlife Service's decision not to list the greater sage grouse as endangered was predicated on the assumption that the public-land-management plans would be implemented and would reverse the decline of the grouse.
At the Center for Biological Diversity, we believe that the welfare of human beings is deeply linked to nature — to the existence in our world of a vast diversity of wild animals and plants. Because diversity has intrinsic value, and because its loss impoverishes society, we work to secure a future for all species, great and small, hovering on the brink of extinction. We do so through science, law and creative media, with a focus on protecting the lands, waters and climate that species need to survive.
(520) 623-5252
LATEST NEWS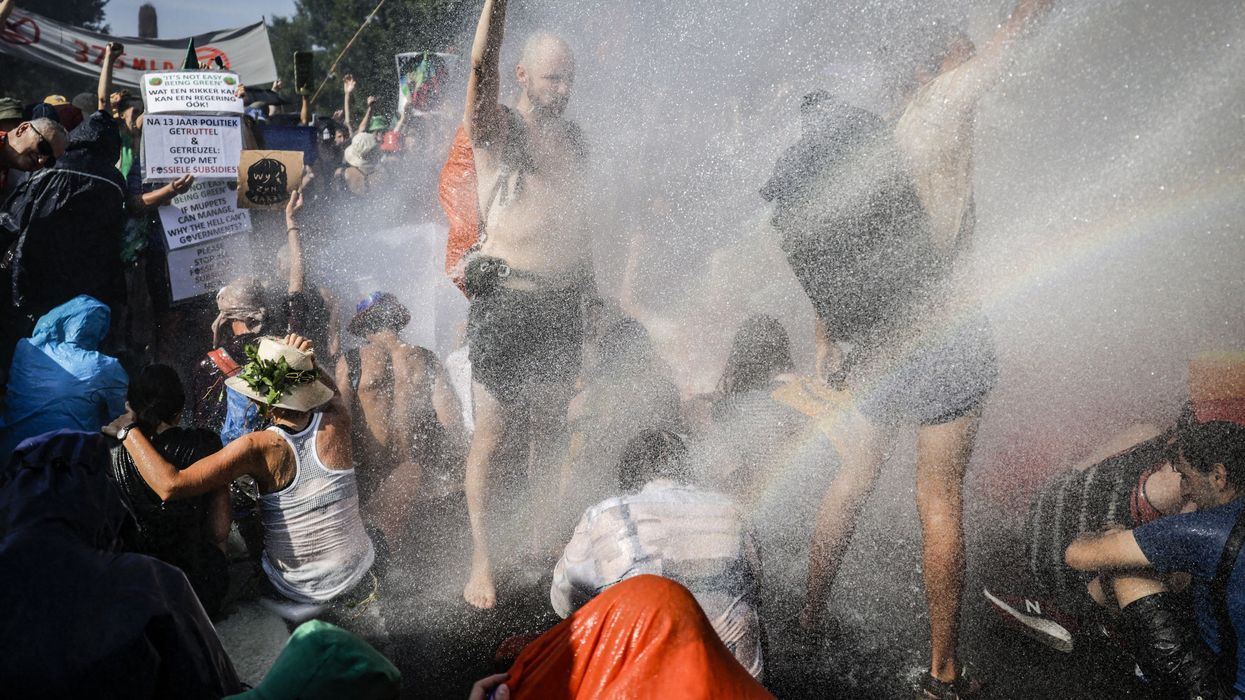 "While the world is going up in flames, the government continues to add fuel to the fire by propping up the biggest source of the climate crisis, fossil fuels, with billions in subsidies."
Climate campaigners calling for an end to fossil fuel subsidies were fired upon with water cannons and physically abused Saturday near The Hague in the Netherlands as the global movement demanding an end to the dominance of the coal, oil, and gas industry continues to call on world leaders to act.
Members of Extinction Rebellion spearheaded the direct action on the A12 Utrechtsebaan highway near the center of the Dutch government. With an estimated 10,000 participants overall, the jovial protesters sat down in the road, bringing traffic to a standstill as they chanted, "The seas are rising and so are we!" even as police vehicles sprayed them with water at high velocity.
The Associated Press reported that the protesters vowed to stay until the Netherlands ends public subsidies for the fossil fuel industry or, if removed by police, to return each day until the financial support is suspended.
"This is much larger than any one of us," one participant, Yolanda de Jager, told the AP. "This concerns the whole world."
Dutch police carted some protesters off in carts while others were beaten with batons or dragged off the roadway:
Earlier this week, a new report detailed how the Dutch government spends nearly $38 billion in taxpayer funds each year to support fossil fuels. The authors of the peer-reviewed report—a joint research effort by SOMO, Oil Change International, and Milieudefensie—argued that such subsidies should be eliminated by 2025 in order to help the nation meet its emission reductions goals and also help fund the necessary transition to renewable energy.
"Phasing out fossil subsidies kills two birds with one stone: it reduces fossil fuel emissions and raises additional revenue needed to accelerate a social and equitable transition," said Audrey Gaughran, director of SOMO, also known as the Centre for Research on Multinational Corporations.
OCI director Elizabeth Bast said, "The Netherlands has taken the international stage to promise an end to fossil fuel subsidies multiple times already, but it is failing to live up to its promise."
"While the world is going up in flames, the government continues to add fuel to the fire by propping up the biggest source of the climate crisis, fossil fuels, with billions in subsidies," she added. "With an urgent and fair phase-out plan the Netherlands can deliver on longstanding promises and take the lead within the EU and internationally to ensure other countries follow through."

News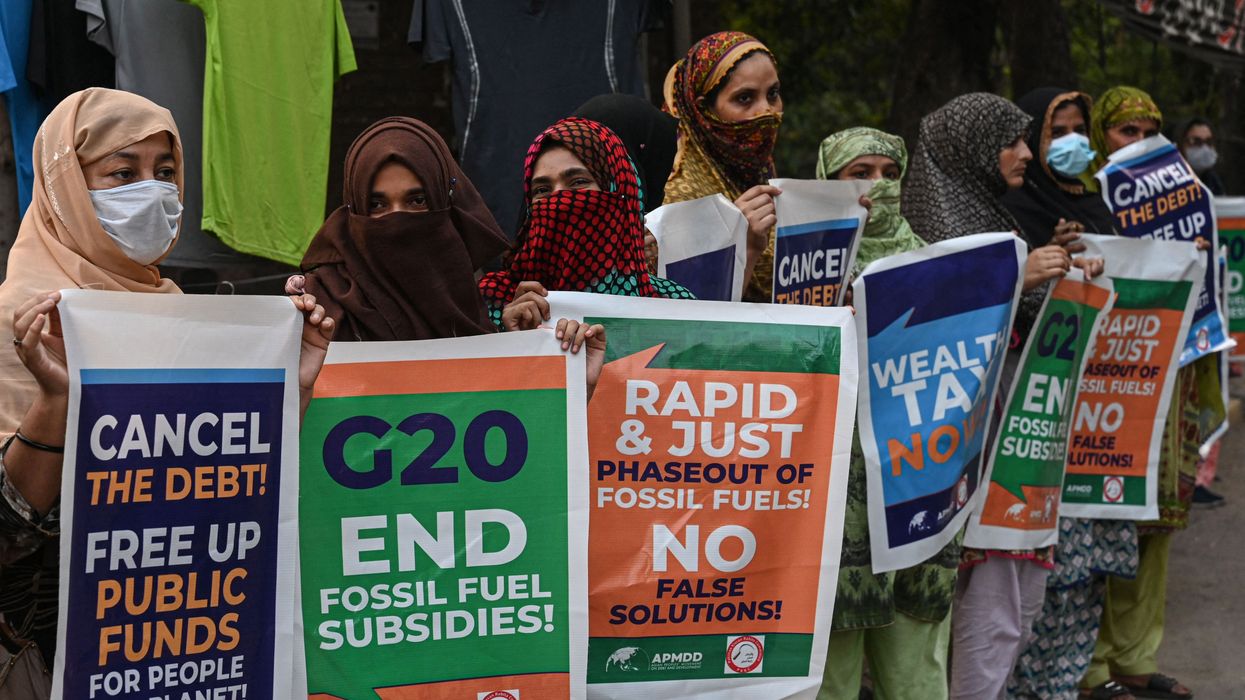 "Fossil fuels are killing us, and the G20's reckless failure to act will be measured in further lives and livelihoods lost," said one campaigner who noted the refusal by rich nations to pledge a phaseout of oil, coal, and gas.
Climate groups cried foul Saturday after an agreement generated at the G20 summit in New Delhi, India failed to see the world's wealthiest bloc of nations make anywhere near the kind of climate commitments—namely an agreement to phase out fossil fuels—required to address the planetary emergency fueled by greenhouse gas emissions.

Greenpeace described the lackluster pledge, which came in the form of a joint G20 communique, as an "incomprehensible failure" in the face of a runaway climate crisis that continues to wreak havoc, death, grave injustice, and economic disaster for working people across the globe.
"Despite record-shattering temperatures, raging wildfires, drought, floods and other climate disasters over recent months impacting tens of millions of people, G20 leaders have collectively failed to deliver anything meaningful on climate change this year," said Tracy Carty, a global climate politics expert for Greenpeace International.
"Fossil fuels are killing us, and the G20's reckless failure to act will be measured in further lives and livelihoods lost," Carty added. "Leaders failed to reach agreement on the phaseout of coal, oil and gas. They also made a timid commitment to triple renewables, but only through 'existing targets and policies.'"
Alex Rafalowicz, director of the Fossil Fuel Non-Proliferation Treaty initiative, also expressed dismay with the lack of ambition shown by the G20 leaders.
"World leaders, particularly rich countries, need to rise to the occasion and fulfill their fair share of responsibilities in the fight against the climate crisis. Anything less would be an affront to both humanity and our planet."
"Continued dependence on fossil fuels remains a primary driver of climate change, carrying dire and irrevocable consequences for ecosystems, communities, and the global economy," Rafalowicz said in a statement on Saturday.
The failure by the richest nations in the world "to come up with anything substantial on fossil fuel phaseout is unacceptable," he said. "World leaders, particularly rich countries, need to rise to the occasion and fulfill their fair share of responsibilities in the fight against the climate crisis. Anything less would be an affront to both humanity and our planet."
The G20 summit in India comes ahead of one-day United Nations climate summit that kicks off in New York City next week and a meeting of the UN General Assembly. While a major protest march by hundreds of climate-focused groups is planned for Sept. 17, the global movement calling for a just energy transition has seen few signs of hope as increasingly severe extreme weather events and dire warnings from the scientific community continue in the face of rising emissions.
UN Secretary General António Guterres, who is hosting what he's dubbed the "Climate Ambition Summit" in New York, suggested his disappointment with the G20's limited statement.
"Half-measures will not prevent full climate breakdown," Guterres said Saturday afternoon. "Today I urged the G20 to demonstrate far more ambition on reducing emissions and supporting climate justice. We have one planet. Let's save it."
While some applauded the G20 for the vow to ramp up renewables by the end of the decade, critical experts said an increase in green energy is simply not enough if fossil fuel companies are allowed to continue to extract and burn oil, gas, and coal.
"The G20's commitment to triple renewable energy is a historic step—a glimmer of hope in our battle against climate chaos," said Andreas Sieber, associate director of global policy at 350.org, but added that it was still not time to celebrate.
"We must hold them accountable, demand they phase out fossil fuels, and lead with urgency," Sieber added. "In particular, rich nations who bear the most responsibility for climate change must provide the finance required to achieve a tripling of renewable energy capacity globally by 2030."

Avinash Chanchal, campaign manager at Greenpeace India, said the lack of concrete financing commitments from the rich nations makes such lofty goals around renewables hard to stomach, especially as these top polluting countries remain responsible for 80% of global emissions.
According to Chanchal, "G20 developed countries have utterly failed to take concrete steps to increase international financial support for climate action. Existing promises such as providing USD100BN per year until 2025 in climate finance remain unfulfilled, and merely reiterating these promises in the G20 declaration is useless and will not lead to tangible change."

News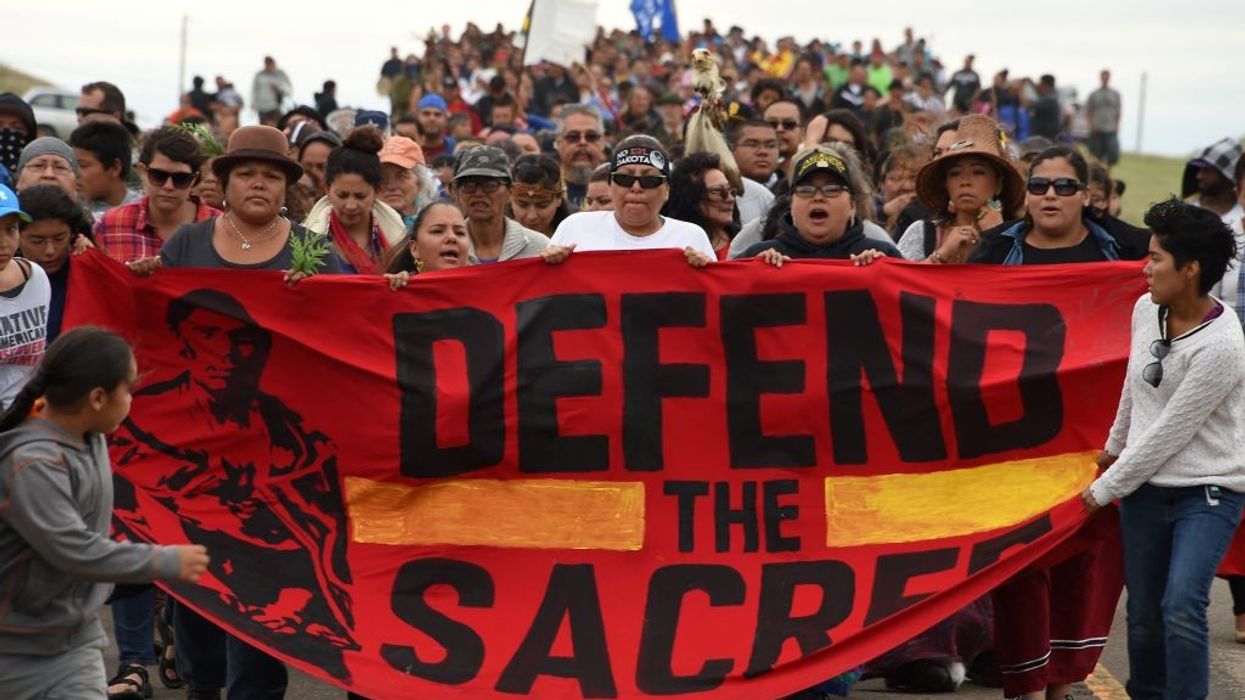 "The Corps' covering for the pipeline company's outrageous safety record and the reviewer's serious conflict of interest have now resulted in a failed effort," said Standing Rock Sioux Tribe Chairwoman Janet Alkire. "They need to start over with adult supervision."
Standing Rock Sioux Tribe Chairwoman Janet Alkire is leading a fresh demand that the U.S. Army Corps of Engineers throw out an ongoing environmental review process of the controversial Dakota Access Pipeline and start again from scratch alongside a superseding call for the pipeline to be shuttered completely.
Following Friday's release of a revised Environmental Impact Statement (EIS), ordered by a federal court, the tribe said the document reveals the entire process has been a failure and that the pipeline—currently operating across their land without consent in what they consider an "illegal" manner by the Energy Transfer company—should be shut down once and for all.
"We're furious that the Army Corps has addressed none of our major concerns during the review process," Chairwoman Alkire said in a statement.
"The pipeline is an imminent threat to the Missouri River, sensitive habitat, and sacred burial sites along the riverbank," she continued. "The oil company's emergency response plans are inadequate, its safety track record is horrendous, and there's been a stunning lack of transparency with Standing Rock throughout the environmental review process, including inaccurate characterizations of tribal consultation."
The Army Corps did not make any recommendations or indicate preferences among the alternatives presented in the new EIS report, which included keeping it in operation, possible rerouting, removing the pipeline by excavation, or abandoning it in place. The Corps said its final recommendations will accompany a final report once the review process is complete, but the Standing Rock Sioux said the process has been seriously flawed.
The tribe said the draft EIS fails to "account for the existence of criminal charges and a host of fines and serious citations" from regulators faced by Energy Transfer. Alkire accused the Corps of "doing all it can to ignore the company's poor safety record and the high risk" of the pipeline. According to the statement by the tribe:
the entirety of the environmental review process hasn't been taken seriously and is compromised because the Corps selected a company with a clear conflict of interest to prepare the just-released draft EIS. Environmental Resources Management — which also produced a sparkling environmental review for the Keystone XL pipeline, later shelved due to environmental concerns — is a member of the American Petroleum Institute. That organization previously filed a legal brief in support of DAPL in Standing Rock's suit against the Army Corps.
Moreover, Environmental Resources Management has contracted with at least five separate companies with an ownership interest in DAPL.

The release of the EIS triggers a 45-day public comment period and the Standing Rock Sioux Tribe is now requesting public support in opposition of the project.
"The Corps' covering for the pipeline company's outrageous safety record and the reviewer's serious conflict of interest have now resulted in a failed effort," said Alkire of the current process. "They need to start over with adult supervision."
Amy Mall, senior advocate at NRDC, said her group stands "in solidarity with the Standing Rock Sioux Tribe in opposing this dirty and dangerous pipeline that harms the climate and threatens the primary water source for the Tribe."
"The Army Corps must consider all of the risks of this pipeline, make all significant environmental information available without redactions, and honor the Tribe's treaty rights," Mall added. "We call on the Corps to shut it down."
News
Independent, nonprofit journalism needs your help.
Please Pitch In
Today!