Chevron CEO Faces Pressure Cooker Over Ecuador, Climate Change at Shareholder Meeting
OAKLAND, Calif.
Chevron's unprecedented $11 billion pollution liability in Ecuador and its refusal to address climate change are set to dominate the company's annual meeting as CEO John Watson faces increasing pressure from his own shareholders, court rulings, and environmental groups who are accusing the company of trying to intimidate critics and evade its legacy contamination problems.
A renowned indigenous leader, Humberto Piaguaje of the Secoya nationality, is traveling from his jungle home in the Ecuadorian Amazon to confront Watson over Chevron's refusal to pay the historic court judgment requiring that the company remediate billions of gallons of toxic waste dumped into the rainforest. The court judgment is considered one of the greatest triumphs in the corporate accountability movement in history and prompted a U.S. congresswoman to demand an SEC investigation of company management for hiding the risk from shareholders.
(Here is a summary of the evidence against Chevron. Here is a 60 Minutes segment documenting the company's toxic dumping in Ecuador. Here is a recent podcast interview about the case conducted by Alec Baldwin.)
"John Watson and Chevron's Board are facing a perfect storm of burgeoning problems stemming from the company's poor environmental record and primitive governance structure," said Paul Paz y Mino, Associate Director at Amazon Watch, an Oakland-based environmental group that works with Chevron's victims. "Watson's refusal to clean up his toxic waste in Ecuador and his evasive approach to climate change might explain why the company is now seen as the poster child for corporate greed.
"These issues will come to the fore in a big way both inside and outside the shareholder meeting, where protestors will gather to urge responsible action from Chevron's narrow-minded management team," Paz y Mino said.
Chevron operated in Ecuador under the Texaco brand from 1964 to 1992, leaving behind an environmental and public health catastrophe called the "Amazon Chernobyl" by locals. The pollution has devastated dozens of indigenous and farmer communities, driven up cancer rates, and cost Chevron an estimated $2 billion in legal and other fees while the company's reputation has been pounded by journalists and good government groups.
A top Chevron official has said the company would fight the indigenous groups "until hell freezes over" and "then fight it out on the ice." Although Chevron insisted for years that the environmental claims be heard in Ecuador and had accepted jurisdiction there, the company later sold all of its assets in the country and now refuses to pay the judgment.
The indigenous groups last year won a resounding victory before Canada's Supreme Court in their effort to force Watson to comply with the judgment by seizing the company's assets. In Canada, Chevron has an estimated $15 billion worth of oil fields, bank accounts, and refineries - or more than enough to pay the entirety of the Ecuador judgment. Watson and his chief lawyer, R. Hewitt Pate, have tried to argue that company assets in Canada should be off limits to the Ecuadorians because they are held by a wholly-owned subsidiary.
Chevron also faces mounting pressure from a growing international movement of communities from Europe and Latin America who have banded together to oppose the company's sub-standard environmental practices. This year's action, called the "Anti-Chevron Day", will take place from May 20-21 and will include online and live activities in several countries that will denounce Chevron's environmental and human rights violations. (See here for background.)
Apart from pressure from the Amazonian communities, some of Chevron's own shareholders are also demanding that Watson - who in 2015 personally earned $22 million despite a 75% drop in company revenue - comply immediately with the Ecuador court judgment and clean up the estimated 1,000 toxic waste pits and other pollution it left behind when it departed the South American nation in 1992.
Seattle-based Newground Social Investment this year filed a shareholder resolution (see p. 80 of Chevron's 2016 proxy) that sharply rebukes Watson for his mishandling of the Ecuador litigation. Chevron has used dozens of law firms and up to 2,000 lawyers to fight the indigenous groups, but it continues to suffer courtroom setbacks.
Eighteen consecutive appellate judges in Ecuador and Canada have now ruled against Chevron in a case that is fast becoming a potential "litigation catastrophe" for the company. The Supreme Courts of both Ecuador and Canada have unanimously ruled against Chevron; another U.S. appellate court unanimously ruled against the company when it tried to use a U.S. trial judge to block enforcement of the Ecuador judgment anywhere in the world.
The Newground resolution calls for Chevron to make it easier to hold special meetings given that Watson's management team "has mishandled a number of issues in ways that significantly increase both risks and costs to shareholders. The most pressing of these issues is the ongoing legal effort by communities in Ecuador to enforce a $9.5 billion Ecuadorian judgment for oil pollution." (The judgment is now roughly $11 billion because of statutory interest.)
Newground asserts that under Watson's leadership, Chevron "has yet to properly report these risks in either public filings or statements to shareholders. As a result, investors requested on several occasions that the U.S. Securities and Exchange Commission investigate whether Chevron had violated securities laws by misrepresenting or materially omitting information" relevant to the Ecuador liability.
Chevron also faces several other shareholder resolutions - one sponsored by the Union of Concerned Scientists - that suggest the company has fallen well behind its industry peers in reducing its greenhouse gas emissions and adapting to the challenges of climate change. One such resolution calls on the company to produce reports establishing company-wide goals for the reduction of greenhouse gas emissions. Another asks for a change in dividend policy given that the global shift away from fossil fuels will likely lead to billions of dollars of stranded assets in the form of oil reserves. Watson and Chevron's Board oppose all of the climate change resolutions.
Piaguaje's trip, being made on behalf of dozens of indigenous and farmer communities devastated by Chevron's pollution, will culminate in an expected face-to-face showdown with Watson on May 25 at company headquarters near San Francisco. Piaguaje will confront Watson with the extensive evidence of the company's toxic dumping relied on by Ecuador's Supreme Court to unanimously affirm the judgment.
Chevron continues to get hit hard on the Ecuador issue. Several months ago, Chevron's star witness admitted lying under oath after being paid more than $2 million by the company, moved to the United States, and coached for 53 consecutive days by Chevron lawyers before being allowed to testify. Separately, Amazon Watch recently disclosed a Chevron whistleblower video showing company scientists trying to fraudulently hide extensive evidence of oil pollution from the Ecuador court. The video has been seen millions of times on the internet.
Piaguaje and other Ecuadorian rainforest leaders - including Goldman Environmental Prize winners Luis Yanza and Pablo Fajardo - have been pressuring Watson for years to pay the pollution liability so their ancestral lands can be remediated. Disease rates have skyrocketed in the affected area, groundwater has been contaminated, and there is virtually no clean water for tens of thousands of people. Piaguaje's Secoya community has seen its culture decimated because of a lack of fresh water and clean food, according to evidence in the case.
"Our leaders plan to confront Mr. Watson with judgments from multiple courts mandating the company pay its pollution bill to the people of Ecuador," said Piaguaje. "Mr. Watson needs to accept responsibility for Chevron's environmental crimes in Ecuador, apologize to the company's victims, and abide by court orders that compensation be paid.
"Until he abides by the rule of law, Mr. Watson and Chevron's Board members will be considered by us to be fugitives from justice subject to arrest for crimes against humanity under principles of universal jurisdiction," he added.
In previous shareholder meetings, Chevron's management has suffered a series of sharp rebukes over its Ecuador liability. One resolution calling on Watson to separate the positions of Chairman and CEO - widely considered a corporate governance anachronism - received a whopping 38% support from all company shareholders. Normally, any shareholder resolution that receives more than 10% support is considered successful.
In addition, in 2011 several of Chevron's institutional shareholders with more than $580 billion in assets under management sent Watson a letter urging the company to settle the Ecuador case. Amazon Watch also organized a letter signed by 43 non-profit human rights and corporate accountability groups blasting the company for trying to silence its critics over the Ecuador issue.
"In failing to negotiate a reasonable settlement prior to the Ecuadorian court's ruling against the company, we believe that Chevron's Board of Directors and management displayed poor judgment that has exposed the Corporation to a substantial financial liability and risk to its operations," said the investor letter.
U.S. Congressman James McGovern (D-MA), who visited the affected area in 2008, also sent a letter to President-elect Obama describing the horrid living conditions caused by Chevron's dumping practices. The company has also been criticized for trying to silence an anti-Chevron activist in Canada, for trying to intimidate lawyers and scientists for the villagers by suing them privately under racketeering laws, and for trying to shut down dissent by issuing subpoenas to more than 100 journalists, bloggers, and even some of its own shareholders who have questioned management. In 2010, his first year as CEO, Watson lost his cool at the shareholder meeting and had five people arrested who had challenged him over Ecuador.
Deepak Gupta, a prominent U.S. appellate lawyer who represents U.S. attorney Steven Donziger (the main target of Chevron's retaliation campaign), recent called Chevron's litigation strategy an "intimidation model" in an interview with Rolling Stone.
Chevron faces a critical court hearing in Canada in September that could knock out most of the company's case that it plans to use to evade enforcement of the judgment.
"The damage is so extensive that it is unclear whether the full amount of the judgment would be sufficient for a comprehensive clean-up," Piaguaje said. "The humanitarian crisis in our communities due to Chevron's pollution is dire and getting worse."
Amazon Watch is a nonprofit organization founded in 1996 to protect the rainforest and advance the rights of indigenous peoples in the Amazon Basin. We partner with indigenous and environmental organizations in campaigns for human rights, corporate accountability and the preservation of the Amazon's ecological systems.
LATEST NEWS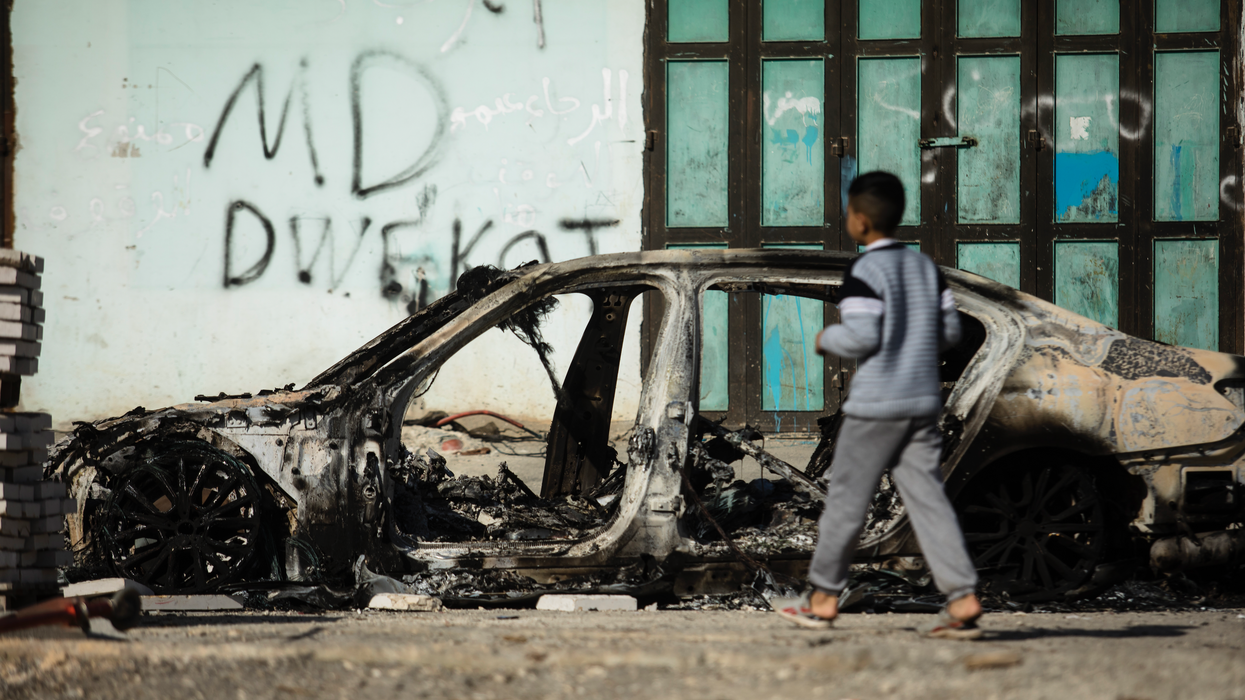 "Leaders in Congress who join this letter are following the demands of a rapidly growing number of Americans—including American Jews—who want to see the Israeli government held accountable for its decades of oppression of Palestinians," said one advocate.
Rep. Jamaal Bowman and Sen. Bernie Sanders are circulating a letter this week urging the Biden administration to "undertake a shift in U.S. policy in recognition of the worsening violence, further annexation of land, and denial of Palestinian rights" by Israel.
The letter, which was first obtained and published by Alex Kane at Jewish Currents, was written by Bowman (D-N.Y.) and is being circulated by Sanders (I-Vt.) in order to gain support from other senators. So far, Reps. Alexandria Ocasio-Cortez (D-N.Y.), Summer Lee (D-Pa.), Rashida Tlaib (D-Mich.), Cori Bush (D-Mo.), Ilhan Omar (D-Minn.), Betty McCollum (D-Minn.), André Carson (D-Ind.), and Ayanna Pressley (D-Mass.) have signed it.
In the letter, the lawmakers expressed their "deep concern" over the "rapidly escalating violence" perpetrated by Israeli occupation forces and settler-colonists against Palestinians. It notes that Israeli Prime Minister Benjamin Netanyahu's far-right government includes people like Itamar Ben-Gvir, the Jewish supremacist security minister who "openly encourages and praises violence against Palestinians," and Finance Minister Bezalel Smotrich, who "responded to the recent Israeli settler attacks on the Palestinian town of Huwara" by calling for the whole town to be "wiped out."
\u201cSCOOP: Bowman, Sanders and 8 others are urging the Biden administration to investigate whether Israel is using US weapons to commit human rights abuses against Palestinians. It's progressives' most forceful response yet to Israel\u2019s new far-right government\u00a0https://t.co/iPJVBdemIe\u201d

— Alex Kane (@Alex Kane) 1680104787
The letter—which, unlike various human rights groups, does not use the term apartheid—details "shocking violence" that is the "bloody reality" for Palestinians living under illegal occupation in the West Bank.
"On February 22, a daytime raid by the Israeli army into the crowded Palestinian city of Nablus killed 11 Palestinians, among them a 72 year-old-man and a 16-year-old child," the lawmakers wrote. "On February 26, a Palestinian gunman shot dead two Israeli settlers outside of Nablus. Subsequently, hundreds of Israeli settlers attacked the Palestinian town of Huwara."
"The settlers, accompanied by the Israeli army, set fire to homes, schools, vehicles, and businesses, killing one Palestinian and injuring over 300 Palestinians," the letter continues. "The local Israeli military commander called the attack a 'pogrom.'"
The letter notes:
This comes amid an already violent year. Israeli forces and settlers have killed over 85 Palestinians in 2023, including 16 children. At least 14 Israelis have been killed, including two children. The previous year was the deadliest for Palestinians in the occupied West Bank since 2004 and included the Israeli military's killings of two American citizens, Shireen Abu Akleh and Omar Assad...

This Israeli government's anti-democratic mission to dismantle the rule of law is a threat to Israelis and Palestinians alike. In addition to explicitly hateful, anti-Palestinian policies, this government is attempting to destroy the independent Israeli judiciary.
The Israeli government's judiciary reforms—which earlier this week were put on hold amid massive protests—"open the path towards further annexation of Palestinian lands," in "violation of international law," the U.S. legislators noted.
The lawmakers urge the Biden administration to:
Ensure U.S. taxpayer funds do not support projects in illegal settlements;
Determine whether U.S.-origin defense articles have been used in violation of existing U.S. laws, including for a purpose not authorized by Section 4 of the Arms Export Control Act... or to commit or support gross violations of human rights by the Israeli government; and
Ensure that all future foreign assistance to Israel, including weapons and equipment, is not used in support of gross violations of human rights.
The lawmakers' push was praised by organizations including the Institute for Policy Studies, Win Without War, and Jewish Voice for Peace, whose political director, Beth Miller, called the letter "an important call to action."
\u201cUSCPR is proud to sign onto this letter led by \n@SenSanders & @RepBowman. \n\nThis letter pushes action & accountability for the U.S.'s ongoing funding of the Israeli regime's human rights abuses against Palestinian people. \n\n#StopArmingIsrael\nhttps://t.co/N4YDS2CSDD\u201d

— #DefendMasaferYatta USCPR (@#DefendMasaferYatta USCPR) 1680112274
"Over 80 Palestinians have been killed by Israeli forces and settlers just since the beginning of 2023, and the Biden administration's statements of 'concern' mean nothing without action and accountability," Miller said in a statement. "Leaders in Congress who join this letter are following the demands of a rapidly growing number of Americans—including American Jews—who want to see the Israeli government held accountable for its decades of oppression of Palestinians."
News
"The senators who voted to remove these protections shamefully put corporate profits over our right to clean drinking water, healthy water-reliant economies, and sustainable water supply," said one critic.

U.S. President Joe Biden's vow to veto a Republican-led resolution that would gut his administration's water protections did not stop four Democratic senators and one ex-Democrat from helping the GOP send the measure to his desk on Wednesday.
Democratic Sens. Catherine Cortez Masto (Nev.), Joe Manchin (W.Va.), Jacky Rosen (D-Nev.), and Jon Tester (Mont.) along with now-Indepedent Sen. Kyrsten Sinema (Ariz.) joined with all Republicans present to pass H.J. Res. 27 in a 53-43 vote.
Passed by the GOP-controlled House early this month mostly along party lines—nine Democrats supported the measure while just one Republican opposed it—the resolution takes aim at regulations finalized by the Biden administration in late December.
"A majority of senators elected to represent the American people have chosen to side with corporate polluters."
Reversing one of many rollbacks under former President Donald Trump, under the Biden rule, the Environmental Protection Agency (EPA) defines "waters of the United States" (WOTUS) that are protected under the Clean Water Act as "traditional navigable waters, the territorial seas, interstate waters, as well as upstream water resources that significantly affect those waters."
In an early March policy statement threatening what is now expected to be Biden's second veto, the White House explained that "H.J. Res. 27 would leave Americans without a clear 'waters of the United States' definition. The increased uncertainty would threaten economic growth, including for agriculture, local economies, and downstream communities."
"Farmers would be left wondering whether artificially irrigated areas remain exempt or not," the White House warned. "Construction crews would be left wondering whether their waterfilled gravel pits remain exempt or not."
"Compared to the kind of uncertain, fragmented, and watered-down regulatory system that H.J. Res. 27 might compel," the White House added, "the final rule will secure substantial and valuable benefits each year in critical flood protections, enhanced water quality, and the treasured recreational activities—fishing, swimming, boating, and more—that fill the lives and livelihoods of tens of millions of U.S. households that depend on healthy wetlands and streams."
\u201cGood thing @POTUS plans to veto \ud83d\udc4e this misguided resolution. We're grateful to #ChesBay champ @SenatorCardin and @EPWCmte Chairman @SenatorCarper for forcefully speaking against it.\u201d

— Chesapeake Bay Foundation (@Chesapeake Bay Foundation) 1680118199
If they all choose to run, Manchin, Rosen, Sinema, and Tester, are up for reelection next year. Cortez Masto, who narrowly won reelection in November, told the Nevada Appeal on Wednesday that the Silver State's "unique water needs are unlike any other state, and this administration's rule forces our local governments, farmers, ranchers, and businesses to jump through unnecessary red tape."
As E&E Newsnoted Wednesday:
One vulnerable Democrat facing a tough reelection campaign opted to stick with his party. Arizona Sen. Mark Kelly's vote had previously been an open question, but during a recent hearing, he repeatedly questioned the use of the Congressional Review Act to target WOTUS.

The CRA allows for a simple majority to overturn recent rules, but also hinders the government's ability to pursue a similar rule. Kelly expressed concern the resolution might unravel any efforts to make Clean Water Act enforcement suitable to states like his.
"Restoring critical protections for waters across the country should be a simple and easily supported effort. Yet a majority of senators elected to represent the American people have chosen to side with corporate polluters and play politics with one of our most critical natural resources," declared Sierra Club executive director Ben Jealous. "This is inexcusable."
"Access to clean, safe water is a human right and should never be determined by where someone lives, how much money they make, or the color of their skin," he said. "The Sierra Club has and will continue to work with our allies to protect our waters, and we call President Biden to swiftly veto the WOTUS Congressional Review Act resolution."
Earthjustice senior legislative counsel Julián González similarly called out the senators and called for a swift veto, while also warning that "protections for clean water are constantly under attack from polluting industries, and this will not be the last Republican attempt to significantly weaken the Clean Water Act during this Congress."
\u201c@POTUS How did we get here? Industry has been hellbent on pursuing deregulatory policies that are politically unpopular and benefit very few, but want people to believe that it was done in their best interest. \n\nSimply put: they spread disinformation. https://t.co/oBa3GYgeuU\u201d

— Earthjustice (@Earthjustice) 1680122201
"The Clean Water Restoration Rule is grounded in the scientific consensus of how waters and wetlands are hydrologically connected and incredibly important to protect," González stressed. "This is a welcome step forward from the Trump administration's pro-polluter dirty water."
"Unfortunately, instead of relying on the science, Republicans—and some Democrats—are choosing to ally themselves with dirty industries whose mission is to eliminate any and all meaningful protections for our waters," he continued. "The senators who voted to remove these protections shamefully put corporate profits over our right to clean drinking water, healthy water-reliant economies, and sustainable water supply."

"We urge members of Congress who supported this resolution to reflect on why they are tossing aside concerns of people from all walks of life who value our waters in order to support those who would decimate the Clean Water Act if they had their way," González added. "Finally, we applaud President Biden for indicating he will reject this effort and veto this resolution when it reaches his desk."

News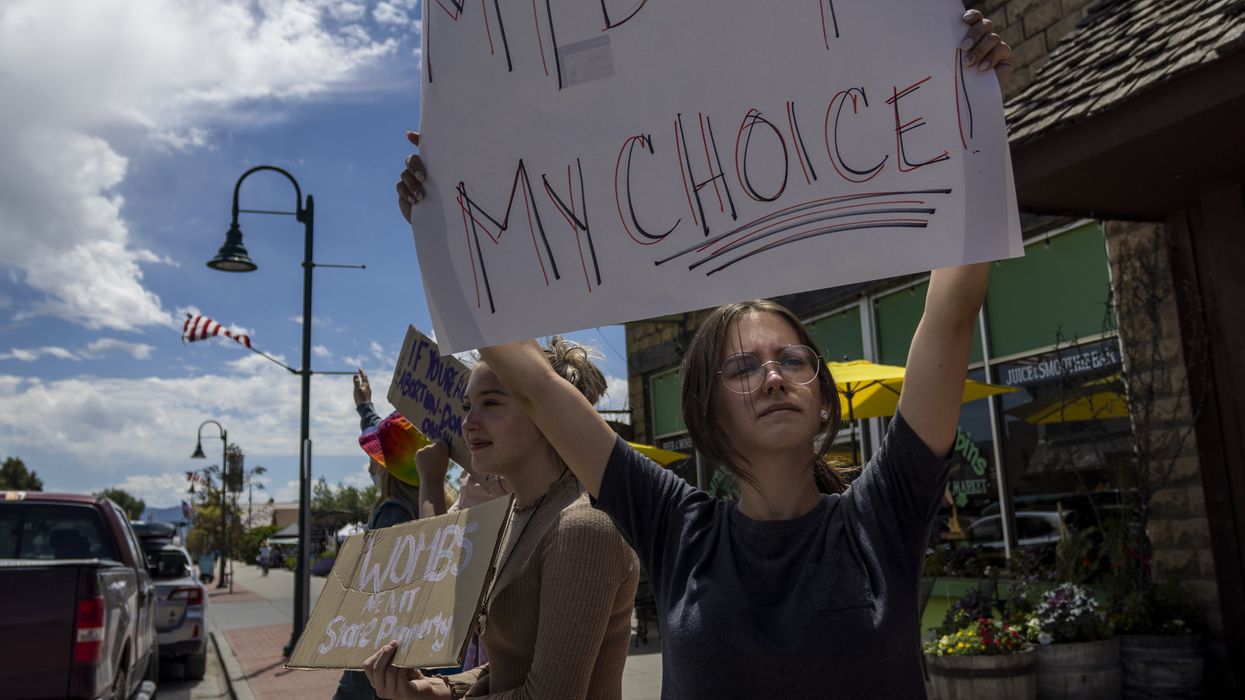 "Human trafficking is a terrible crime where one person takes another person against their will," said one state Democrat. "It is very different from helping a young woman seek medical care without her parents' knowledge."
Reproductive rights advocates and Democratic state lawmakers in Idaho on Wednesday condemned a Republican proposal to create a new crime in the state using the invented term "abortion trafficking," which would criminalize people who help minors to obtain out-of-state abortion care.
The bill (H.B. 242) is widely expected to pass in the state Senate and easily passed in the state House earlier this month on a party-line vote, with 57 Republicans supporting the proposal and and 12 Democrats opposing it. GOP Gov. Brad Little, who has strongly supported the state's abortion ban, is expected to sign the legislation.
H.B. 242 would establish so-called "abortion trafficking" as a new crime and would restrict minors' ability to travel to get abortion care without parental consent.
Any adult who, "with the intent to conceal an abortion from the parents or guardian of a pregnant, unemancipated minor, either procures an abortion... or obtains an abortion-inducing drug" for a minor could face felony charges and up to five years in prison.
Family members of a minor who obtains an abortion across state lines—or the person who impregnated the minor—would be permitted to sue the providers who helped facilitate the procedure for a minimum of $20,000.
Idaho Senate Minority Leader Melissa Wintrow (D-19),
told
The Washington Post
that the legislation "cheapens the term 'human trafficking' and that's shameful."
"Human trafficking is a terrible crime where one person takes another person against their will," Wintrow added. "It is very different from helping a young woman seek medical care without her parents' knowledge."
Last August, one of the nation's most restrictive anti-abortion laws went into effect in Idaho, two months after the right-wing majority on the U.S. Supreme Court overturned Roe v. Wade.
The law bans abortions after six weeks of pregnancy—before many people know they are pregnant—with exceptions in cases involving rape or incest or when the pregnant person's life is in danger. Exceptions to save a pregnant person's life have already resulted in medical providers refusing to provide care in cases when the patient is growing progressively sicker and their fetus has no chance of survival.
Women's March said the bill is likely "the first of many fascist, unconstitutional bills" that will seek to limit pregnant people's ability to travel for abortion care.

\u201cUPDATE: Idaho is about to become the first state to restrict interstate travel for an abortion. The GOP isn't stopping with Dobbs \u2014 now they're coming for our right to travel with the first of many fascist, unconstitutional bills.\u201d

— Women's March (@Women's March) 1680106725
Mistie DelliCarpini-Tolman, the Idaho state director for Planned Parenthood Alliance Advocates, told lawmakers this week that the legislation will place many vulnerable young pregnant people in harm's way.

"For young people living in abusive households, disclosing sexual activity or a pregnancy can trigger physical or emotional abuse, including direct, physical or sexual violence, or being thrown out of the home," said DelliCarpini-Tolman.
Republicans in the state are seeking to further criminalize abortion care days after the state's northernmost hospital announced it will soon close its obstetrics department, citing staffing issues that have following Idaho's abortion ban.
On Tuesday, Republicans in the state announced they would not consider a bill to expand postpartum Medicaid coverage.
"Last year, legislators said they wanted to pass policies to support the health of mothers," Hillarie Hagan, health policy associate for the advocacy group Idaho Voices for Children, told News From the States, "and now they're about to leave town without passing House Bill 201, which would've done just that."

News
SUPPORT OUR WORK.
We are independent, non-profit, advertising-free and 100%
reader supported.