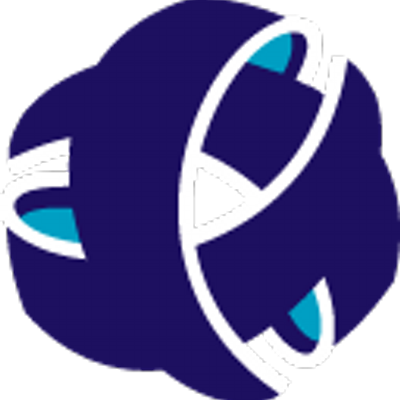 Tax Experts Push IRS to Expose Multinational Tax Dodging
FACT Members, Partners to Speak at Friday IRS Hearing on Proposed Country-by-Country Reporting Rule
WASHINGTON
The Internal Revenue Service is holding a public hearing Friday morning on proposed rules to crack down on corporate tax dodging by requiring multinational companies to report to the IRS their profits earned, taxes paid, and employee numbers on a country-by-country basis. Members and allies of the FACT Coalition are set to testify on the proposal, known as "country-by-country reporting".
Statement of Clark Gascoigne, deputy director of the FACT Coalition:
"Corporate tax dodging takes an enormous toll on our country--recent studies estimate that abusive profit shifting costs taxpayers $111 billion in lost revenue each year. When multinationals avoid paying taxes by manipulating their tax bills, small businesses and average American taxpayers have to pick up the bill in the form of cuts to public programs, higher taxes, or more debt.
"But, the real problem is that this profit shifting and tax dodging happens in the shadows, where neither tax authorities nor the public can see it. Many of the techniques abused by these companies to dodge taxes are legal--they shouldn't be. Other techniques certainly are illegal, but we can't know because there's no information.
"We welcome the proposed rule, which would require companies to disclose information on their abusive profit shifting to government authorities as an important first step, but it is far from sufficient. The public needs access to this very basic information--the stakes are simply too high.
"We will not be able to tackle tax avoidance and evasion until companies are required to publicly disclose their abusive tax dodging techniques publicly."
The hearing will take place at 10am EDT on Friday, May 13, 2016 at IRS Headquarters in Washington. The FACT Coalition previously submitted written comments to the IRS on the proposed rule in March.
FACT Coalition members speaking at the hearing include:
Other FACT allies speaking at the hearing include:
Frank Clemente, Americans for Tax Fairness
Joseph Kraus, ONE Campaign
The Financial Accountability and Corporate Transparency (FACT) Coalition is a non-partisan alliance of more than 100 state, national, and international organizations working toward a fair tax system that addresses the challenges of a global economy and promoting policies to combat the harmful impacts of corrupt financial practices.
(202) 827-6401
LATEST NEWS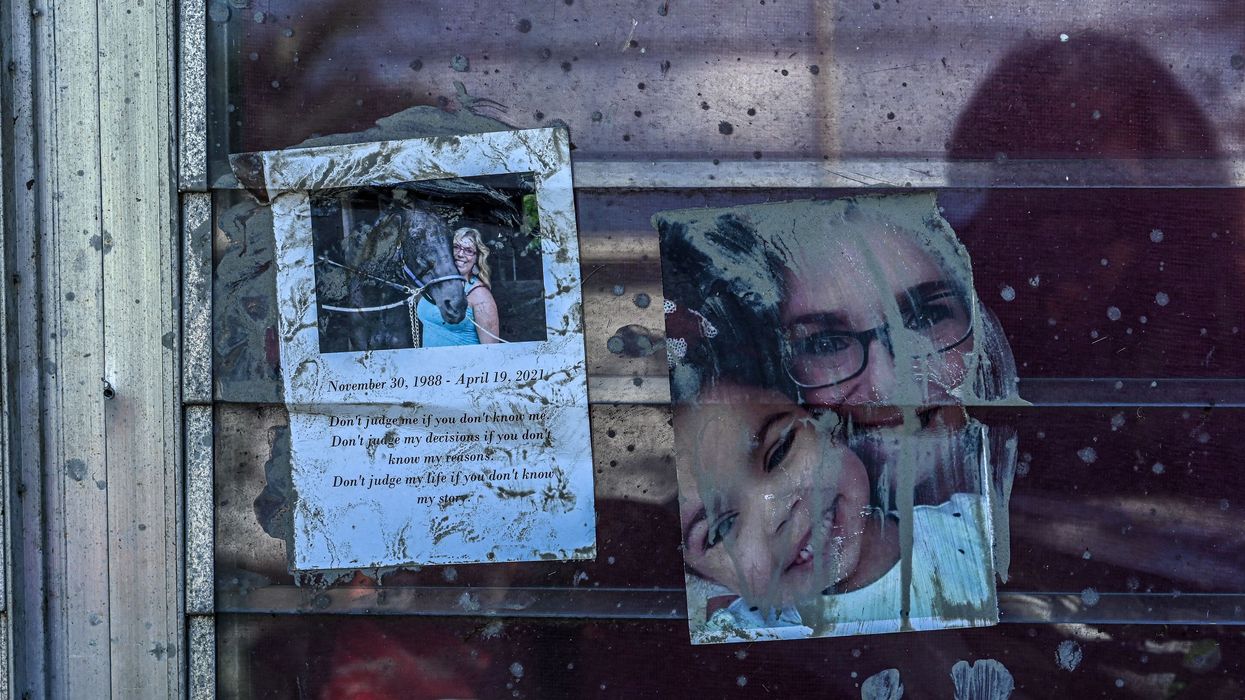 Mounting evidence about "what fossil fuel companies knew and what they did with that knowledge is revealing a story of antisocial conduct generating lethal harm so extensive it may soon become unparalleled in human history."
Fossil fuel corporations—the primary drivers of the climate emergency—are facing dozens of civil lawsuits that could see them pay billions of dollars for knowingly unleashing environmental destruction.
But a pair of legal experts argue they should be held criminally responsible for extreme weather-related deaths that occurred after the industry downplayed the dangers of burning coal, oil, and gas.
In a new paper titled Climate Homicide: Prosecuting Big Oil for Climate Deaths, Public Citizen's David Arkush and George Washington University law professor Donald Braman contend that "if our criminal legal system cannot focus more intently on climate crimes—and soon—we may leave future generations with significantly less for the law to protect."
"As of this writing, no prosecutor in any jurisdiction is bringing homicide charges of any kind against fossil fuel companies (FFCs) for even a single death related to climate change. They should," states the paper, which is set to be published next spring in the Harvard Environmental Law Review.
According to Arkush and Braman:
The case for homicide prosecutions is increasingly compelling. A steady growth in the information about what FFCs knew and what they did with that knowledge is revealing a story of antisocial conduct generating lethal harm so extensive it may soon become unparalleled in human history.

FFCs have long understood the "globally catastrophic" risks that the production, marketing, and sale of their product generates. But when confronted with extensive internal and external research about the grave dangers posed by their business model, they did not notify the public, regulators, or legislators, much less work to find solutions or change their business model. Instead, they developed extensive disinformation and political influence campaigns to obscure the risks, confuse others, and block legal or regulatory restriction of their increasingly lethal conduct. Moreover, while they put their wealth to work reducing regulatory and legal risks to their profit margins, they privately used the data they disputed and obscured to reduce their own exposure to climate-change-related industrial risks to further maximize their future profits.

FFCs were technically sophisticated enough to know that they could hide the harms they were generating from lay observers for decades, allowing them to earn trillions of dollars while researchers, activists, and regulators struggled to overcome the sophisticated disinformation and political influence campaigns these profits supported. In recent years, the harms have become increasingly lethal and will likely continue to worsen for decades to come. These harms, while global, already include thousands of readily foreseeable deaths of residents of the United States, a toll that may escalate into the hundreds of thousands and, over time, potentially millions.
In the co-authors' words, the preceding summary "describes the core elements of an ongoing mass homicide: conduct undertaken with a culpable mental state that substantially contributes to or accelerates death."
"Regardless of whether FFCs knew their conduct would contribute to these lethal risks, were aware of the substantial and unjustifiable risks they were running, or merely should have known and should have investigated further—that is, whether they had a knowing, reckless, or negligent attitude towards these risks—they satisfy at least one of the culpable mental states required for some gradation of homicide," Arkush and Braman argue. "Further, under misdemeanor manslaughter or felony murder laws, if prosecutors can prove that FFCs engaged in any related criminal conduct involving fraud, racketeering, anti-competitive practices, or safety violations, homicide liability could obtain independent of any mental state regarding the risk of death."
"As additional evidence of FFCs' knowledge of the lethal risks they were generating surfaces through leaks and court-mandated discovery, obstacles to a successful prosecution are falling away," the scholars continue. "At the same time, with every new wave of climate-related deaths, the justification for prosecution grows."
"Although some of the harmful externalities that FFCs generate may be suitable for tort or regulatory suits, the lethality of FFCs' conduct, their awareness of the risks they are generating, and their efforts to obscure those risks make criminal prosecution for homicide particularly appropriate," they add. "Perhaps most importantly, if FFCs continue to fight speedy reductions in the harms they are generating, and if they continue to obstruct or delay state and federal regulation and civil suits designed to reduce the lethal impact of their conduct, then homicide prosecutions may prove necessary."
Last month, BP and Shell announced they are diluting their emission-reduction targets and expanding fossil fuel production after Big Oil enjoyed record-breaking profits in 2022 as Russia's invasion of Ukraine disrupted global energy markets and gave firms an excuse to hike prices. Climate scientists have made clear that such decisions are, as United Nations Secretary-General António Guterres put it earlier this year, "inconsistent with human survival."
After the U.N.'s Intergovernmental Panel on Climate Change released its latest assessment report on Monday, Guterres said that limiting global warming to 1.5°C is possible, "but it will take a quantum leap in climate action," including a prohibition on funding and approving new coal, oil, and gas projects along with a phaseout of existing fossil fuel production.
The deadly consequences of unmitigated greenhouse gas pollution, which has increased average surface temperatures by roughly 1.1°C over preindustrial levels to date, are already apparent.
For instance, a report released Monday by UNICEF, the World Health Organization, and Somalia's health ministry found that an ongoing drought caused 43,000 excess deaths in the country last year. Nearly 130,000 people in Somalia and other countries in the Horn of Africa are at risk of dying prematurely this year from famine. In southern Africa, a record-breaking cyclone has killed more than 500 people this month, while last year's unprecedented flooding in Pakistan killed more than 1,700 people.
This is just a small sample of recent climate change-intensified calamities affecting the residents of low-income countries who have contributed the least to planet-heating pollution but are disproportionately vulnerable to its impacts. Nevertheless, increasingly frequent and severe hurricanes, heatwaves, wildfires, and other extreme weather disasters that are consistent with scientists' longstanding warnings are also wreaking deadly havoc in rich nations, including the United States.
Because their paper "addresses the question of criminal prosecution under domestic law," Arkush and Braman focus their attention on the U.S., where an estimated 12,000 people died each year from climate change-related heat exposure between 1991 and 2018—an annual mortality figure that is expected to surge to 96,000 by the end of the century.
Speaking with E&E News on Monday, Arkush said prosecutors are already intrigued by the novel legal theory of "climate homicide."
"We have some indication they're at least listening and curious," Arkush, director of Public Citizen's climate program and a fellow at the Roosevelt Institute, told the outlet. "To someone who knows the criminal law, there's a moment of 'What!?' and then, 'It's OK. It's not crazy.'"

"We concluded there aren't really any legal or factual barriers to prosecution," said Arkush. "The real potential barriers are political, cultural. Does this strike people as just too out there? Do the fossil fuel companies have too much power, culturally, politically, economically? Those are the real barriers."
According to Braman: "What's really probably stopping them is that no one has done it before. The level of culpability and the extent of the harm is so massive that it's not the kind of thing that prosecutors are used to prosecuting."
Anthony Moffa, an associate law professor at the University of Maine who has previously assessed the possibility of criminal liability for environmental policy decisions, told E&E News, "I think it's the next thing."
"If we're doing it in these other instances and saying there was environmental harm, logically it's hard to distinguish that from the climate crisis," said Moffa. The causal link between burning fossil fuels and climate change-exacerbated storms might be "longer and maybe more attenuated, but it's still a pretty direct line."
As E&E News reported: "Corporations can't be put behind bars even if they are convicted of a crime. But Arkush and Braman say they've identified an option for prosecutors to use in climate homicide cases that could lead to public good, rather than prison time or corporate dissolution. Companies that are convicted of criminal charges could instead face restructuring into a 'public benefit corporation,' a designation that gives a company latitude to focus on priorities other than simply maximizing shareholder value."
According to Arkush and Braman's paper, this could enable a reduction in "the production and distribution of fossil fuels at the fastest pace feasible—but not so fast as to cause harm—while protecting displaced workers and local economies and investing in the development and deployment of clean energy."
News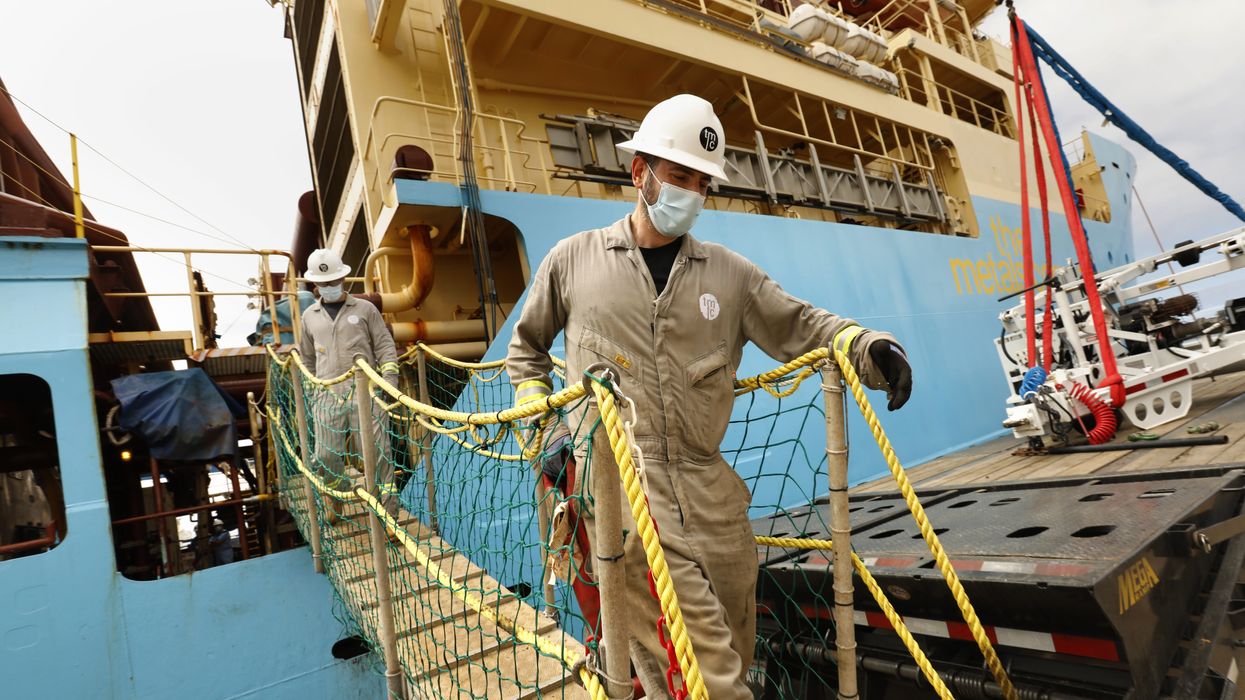 "There can be no exploitation of the deep seabed without agreeing on a set of rules and regulations that ensure high environmental standards," said one Belgian delegate to the International Seabed Authority.
As delegates from 36 countries convene in Kingston, Jamaica for a summit on the deep sea, a number of diplomats are accusing the administrative head of the United Nations-affiliated International Seabed Authority of trying to push the body to approve a mining application without first finalizing regulations on how the project should move forward.
The International Seabed Authority (ISA) is expecting to receive an application later this year from The Metals Company, a Canadian firm whose deep sea mining plans are sponsored by Nauru, the Kingdom of Tonga, and the Republic of Kiribati.
In 2021, a subsidiary of The Metals Company joined Nauru's then-president, Lionel Aingimea, in triggering a "two-year rule" obliging the ISA to adopt and finalize deep sea mining rules and regulations by July 2023.
The company " forced governments' hands, using an obscure and controversial legal loophole to set an ultimatum for governments," said Greenpeace last week as the delegates gathered in Kingston for the 28th session of ISA.
"The future of half the surface of the planet has to be decided in the best interests of humanity—not the timeframe imposed by a company running out of cash."
Several members of the authority say Michael Lodge, a British lawyer who serves as ISA's secretary general, is actively working to help The Metals Company achieve its goal of extracting 1.3 million tons of rocks containing cobalt, nickel, copper, and manganese—ingredients for electric vehicle batteries—starting in 2024. The company ultimately wants to collect 12 million tons per year and generate roughly $30 billion.
When the delegates met virtually ahead of the 28th Session to discuss how they would proceed if they receive the company's application this year, some suggested revising the ISA's permitting process to delay the start of mining, as several countries advocate for a "precautionary pause" to better evaluate the effect of deep sea mining on marine life.
A study by British and American researchers published last month found that "deep seabed mining operations, if permitted, could present significant risks to ocean ecosystems" and that "disturbance on any scale is likely to be long lasting and irreversible."
"There can be no exploitation of the deep seabed without agreeing on a set of rules and regulations that ensure high environmental standards and a sound scientific knowledge," Hugo Verbist, the Belgian representative on the ISA's governing council, said in Kingston last week.
In his prepared remarks at the earlier meeting, Lodge told the representatives that the "decision-making procedure is carefully designed to balance all interests represented in the council and it would be dangerous to disturb this balance," suggesting they should not make any changes that would delay The Metals Company's project.
"We should let the system work as it is intended to do," Lodge said.
Although Lodge's position as secretary general requires him to remain neutral as delegates on ISA's governing council weigh decisions about deep sea regulations, one Greenpeace senior oceans policy adviser said Lodge is showing clear support for "the two-year ultimatum" invoked by The Metals Company, which "puts the interests of the few over the many and would make it impossible for governments to fulfill their key obligation to protect the oceans."
"Many governments have voiced unease at pressure to rush vital political negotiations over equity and ocean health," said Sebastian Losada of Greenpeace. "The future of half the surface of the planet has to be decided in the best interests of humanity—not the timeframe imposed by a company running out of cash."
Lodge's comments were also criticized by delegates from Costa Rica and Germany, both of which have supported a "precautionary pause" on mining.
"It is not the task of the secretariat to interfere in the decision- making of the other organs and subsidiary organs of the International Seabed Authority," Franziska Brantner, Germany's minister for economic affairs and climate action, wrote in a letter to Lodge last week. "Notwithstanding the above, you used your introductory statement to the intersessional dialogue on 8 March 2023 to present your preferred interpretation of the agreements as the supposed legal framework for delegations' decision-making... The federal government is seriously concerned about this approach."
Lodge dismissed Brantner's allegations, calling them "bold and unsubstantiated" and telling The New York Times that he places "high importance on the preservation and protection of the marine environment" and wants "to ensure that decision-making processes around economic activity in the deep seabed is based on best available scientific knowledge."
The secretary general has dismissed the work of ocean conservation groups in the recent past, telling the Times in 2021 that advocates use images of "turtles with straws up their noses and dolphins" to "get public sympathy."
"They see an opportunity to exert power over governments and potentially shut down a new ocean activity before it begins," Lodge added.
Greenpeace called on the governing council to "draw a line and ensure that the deep sea is protected from mining."
"They can't allow this reckless industry to go ahead," Losada said.
News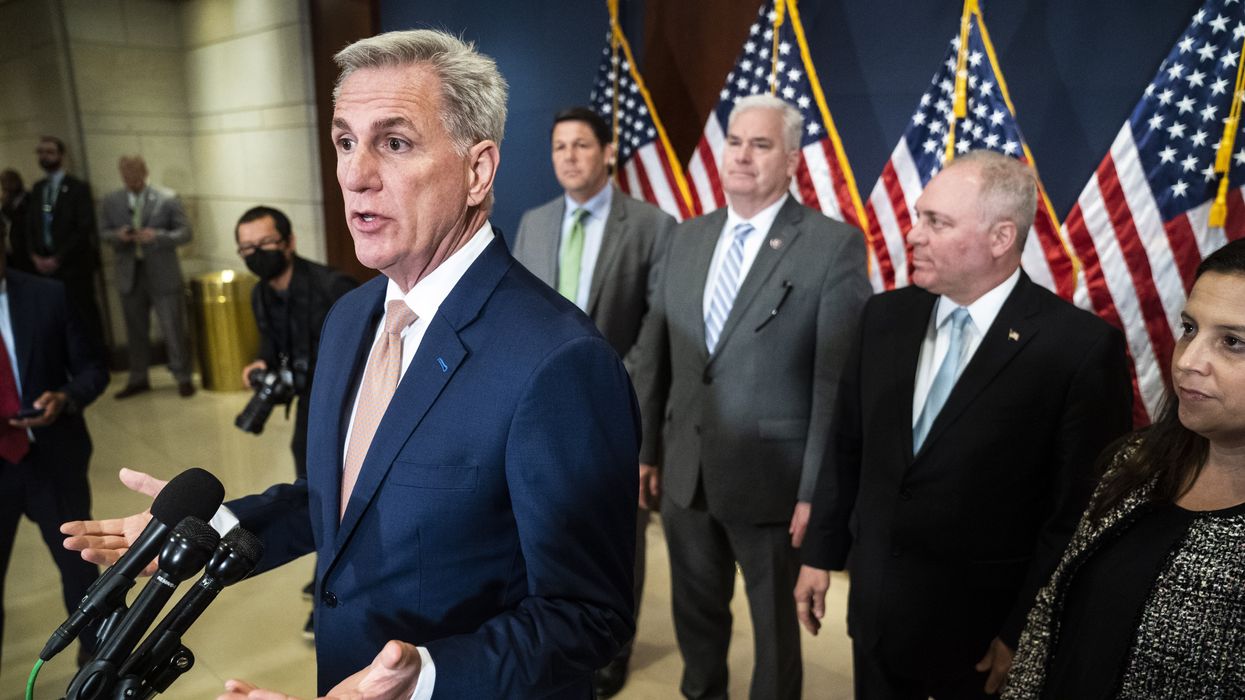 Citing assessments from federal agencies, Rep. Rosa DeLauro said House Republicans' push for across-the-board budget cuts is "unrealistic, unsustainable, and unconscionable."
The top Democrat on the House Appropriations Committee on Monday released letters from federal agencies that together provide a detailed look at the implications of the House GOP's proposed budget cuts, which would take an axe to programs that help millions of people make rent, feed their families, and afford childcare.

Rep. Rosa DeLauro (D-Conn.) asked the leaders of major government departments to outline what would happen if House Republicans succeeded in their push to freeze federal spending at fiscal year 2022 levels, a move that would inflict deep across-the-board cuts on agency budgets.
DeLauro said the agencies' responses make clear that the cuts "would cause irreparable damage to our communities by gutting the programs every single American relies on."
"Those proposals are unrealistic, unsustainable, and unconscionable," said DeLauro. "The draconian cuts would take away the opportunity for 80,000 people to attend college and impact all 6.6 million students who rely on Pell Grants. If implemented, 200,000 children will lose access to Head Start, and 100,000 children will lose access to childcare, undermining early education and parents' ability to go to work."
"As if that was not enough to deter these harmful cuts," she added, "1.2 million women, infants, and children would lose vital nutrition assistance they receive through WIC."
Those figures come directly from letters that agency heads sent to DeLauro last week as congressional Democrats and the Biden administration ramp up their criticism of the House GOP's pursuit of steep spending cuts, which Republicans are demanding in exchange for lifting the debt ceiling and averting a catastrophic default.
Rep. Mario Diaz-Balart (R-Fla.) toldRoll Call on Monday that House Appropriations Chair Kay Granger (R-Texas) has instructed Republicans to "scrub every penny, every department, every agency, dollar, every penny spent, to try to find savings, to try to figure out where we can cut spending in a responsible way"—though top GOP lawmakers have indicated they will likely shield the fraud-ridden Pentagon Pentagon from cuts.
"Continued Republican calls for cuts of this magnitude—both secret proposals from Republican leadership and public demands from extremists in the party—would be absolutely detrimental to all Americans."
In a March 17 letter, the U.S. Department of Housing and Urban Development (HUD) warned that reverting its budget to fiscal year 2022 levels would strip federal rental assistance from 640,000 families, making it "impossible to stave off mass evictions."

The Department of Education, meanwhile, estimated that GOP cuts would have the effect of "removing more than 13,000 teachers and service providers from classrooms serving low-income children."
"A reduction of 22% from currently enacted levels would cut $468 million in federal support to determine, disburse, and service student aid," the agency continued. "This level of funding would have devastating effects on student and parent interactions with the department, as well as on their ability to successfully apply for and receive student aid."
In a press release, DeLauro spotlighted projections from other agencies that demonstrate the far-reaching consequences of the GOP's austerity push:
After recent near-misses, our air travel would come to a halt with 125 Air Traffic Control Towers shutting down, impacting one-third of all airports;
Following the catastrophic derailments in eastern Ohio and West Virginia, rail safety jobs would be dramatically reduced, with 11,000 fewer safety inspection days, and 30,000 fewer miles of track inspected annually;
Amid a mental health and overdose crisis, nearly 1 million people facing a suicidal or mental health crisis would be unable to access support services through the 988 Suicide and Crisis Lifeline, and tens of thousands of individuals could be denied admission to opioid use disorder treatment, denying them a potentially life-saving path to recovery;
An estimated 2 million vulnerable individuals and families, including rural and underserved populations, would lose access to healthcare services through Community Health Centers;
With the looming rise of food insecurity, nutrition services, such as Meals on Wheels, would be cut for more than 1 million seniors; and
The Social Security Administration would be forced to close field offices and reduced access to in-person services, and people applying for disability benefits would wait an additional two months for the processing of claims.
And that's not even the full picture: DeLauro is still awaiting responses from the Environmental Protection Agency and the Agency for International Development, among other departments.
"The programs that we fund every year keep our communities safe and healthy, lower prices, and create jobs, and we have increased investments in them year after year with the support of Democrats and Republicans in both the House and the Senate," DeLauro said Monday.
"Continued Republican calls for cuts of this magnitude—both secret proposals from Republican leadership and public demands from extremists in the party—would be absolutely detrimental to all Americans, many of whom have not seen a pay raise in years and are struggling to pay their bills," said the Connecticut Democrat. "The math is not there."
News
SUPPORT OUR WORK.
We are independent, non-profit, advertising-free and 100%
reader supported.