For Immediate Release
April, 04 2016, 09:00am EDT
Contact:
Tel: +1-212-216-1832,Email:,hrwpress@hrw.org
Syria: Promised Aid for Key Areas Blocked
Eastern Ghouta, Daraya Civilians Denied Food, Medical Supplies
NEW YORK
The Syrian government should honor its commitments and cease unlawfully hindering the delivery of food and medical aid throughout Syria.
In his March 23, 2016 report to the United Nations Security Council, the UN secretary-general said that the Syrian government has blocked aid to at least six out of 18 besieged areas since the cessation of hostilities began on February 26. The government denied aid access to Eastern Ghouta - including Douma, Harasta, Arbin, Zamalka, and Zabadin - and Daraya, affecting over 250,000 civilians. Local council officials and aid workers in Daraya and Douma told Human Rights Watch in phone interviews that civilians are suffering from severe shortages of food and medicine as well as debilitating poverty.
"While aid delivery has improved in the last month, it's still not nearly enough and too many Syrians are still not receiving the aid they need," said Nadim Houry, deputy Middle East director. "The Syrian government should stop using aid as a pressure tactic and immediately allow it to reach all besieged civilians."
While aid delivery has improved in the last month, it's still not nearly enough and too many Syrians are still not receiving the aid they need.
--Nadim Houry, Deputy Middle East Director
The Syrian authorities have yet to give permission to impartial humanitarian agencies to enter parts of Eastern Ghouta and Daraya, where the conditions are "dire," the UN said. Government forces have besieged the town of Daraya, eight kilometers southwest of the capital, Damascus, since 2012, affecting about 4,000 civilians, according to the UN. Local activists say that number could be as high as 8,300. They said the last time an aid convoy was allowed into Daraya was in October 2012, before the government began its siege.
Mohamed Shehateh, a member of the local council in Daraya, said the siege had left the city without running water and electricity. "Food is very scarce here," Shehateh said from inside Daraya. "We used to depend on reserves and we could bring food in from the neighboring town but since the government tightened the siege we cannot bring in any food or medicine." He said that most people have been growing food like spinach and beans in their gardens to survive.
Shehateh said the medical situation gets worse by the day. "Medicine is lacking and many times we have to use expired medicine," he said. "There is only one field hospital to serve the whole city and they can't perform many operations because of a lack of equipment."
The government has besieged the town of Douma since October 2013. No aid convoys have been allowed to enter since that time. Local residents said about 140,000 people still live there. A local aid worker, Abdullah al-Shami, told Human Rights Watch from inside Douma that while there were options to buy food that entered through smuggling routes, most residents couldn't afford the high prices.
"The level of poverty in Douma is devastating," al-Shami said. "People in Douma aren't able to buy the basics like bread and rice because we can't afford it. Medicine is also scarce and finding the right treatment for sick people is almost impossible because there are no hospitals here."
Firas Abdullah, another local activist in Douma, said that the siege has made life harder for Douma's citizens. "Local residents are begging in the street to find a way to survive," he said. "The depression in the town is really high because we have lost hope that the world will stand with us, especially when other areas of Syria received aid and we didn't."
The secretary-general reported that the UN delivered assistance to 150,000 people in 10 of the 18 besieged areas and to tens of thousands in other hard-to-reach areas in February and early March 2016. Some 486,700 people were under siege as of March, the UN said. The independent project Siege Watch puts the number of people living under siege at 1 million.
The secretary-general said that even in areas where aid was allowed in, the Syrian government has removed life-saving items from convoys. In February alone, convoys with 80,000 medical treatments were not allowed to go on or were removed from aid convoys to besieged areas, the UN said. The government removed life-saving items such as diarrhea kits, emergency health kits, antibiotics, and other medicines. Out of 17 requests submitted in 2016 by the World Health Organization (WHO) to the Syrian government to send medicines and medical supplies to hard-to-reach and besieged locations, the UN reported, only two requests had been approved as of March 27. The UN was not able to reach an estimated 720,000 people in areas such as Deir al-Zour and Raqqa that are under siege by forces of the Islamic State, also known as ISIS.
The Syrian government requires UN and other aid agencies to obtain the government's approval to enter the areas under government siege before the agencies can deliver humanitarian aid. This approval process was made simpler in early March, when the government agreed to approve a monthly plan for UN convoys to besieged areas within seven working days and to approve all documents required for the movement of the convoys within three days, replacing an eight-tiered bureaucratic approval system. However, an international aid worker told Human Rights Watch that aid had still not reached about 60 to 70 percent of besieged areas and that the government was still picking and choosing where the convoys are allowed to go.
Evacuation of wounded civilians from besieged areas remains an issue, Human Rights Watch said. The aid worker said that only 15 people from Zabadani and Ma`ret Mesreen, which are under government siege, and from Foua and Kefraya, which are under siege by antigovernment armed groups, had been evacuated in the past week for medical reasons. There were some medical evacuations in March from Madaya, a town besieged by the government that drew global attention earlier this year because its people were starving, but the aid worker said that 300 civilians who needed urgent medical evacuation were still stuck in Madaya.
Security Council Resolution 2268, adopted on February 26, sets out the terms of the cessation of hostilities in Syria and calls on all parties to the conflict to allow humanitarian agencies "rapid, safe and unhindered access throughout Syria by most direct routes, allow immediate humanitarian assistance to reach all people in need, in particular besieged and hard-to-reach areas and immediately comply with their obligations under international law."
Under international humanitarian law, all parties to the conflict are obligated to grant humanitarian relief personnel freedom of movement, and protect them from attack, harassment, intimidation, and arbitrary detention. The parties to the conflict must allow and facilitate rapid and unimpeded passage of humanitarian relief for civilians in need. The use of starvation of civilians as a weapon is a war crime.
The International Syria Support Group (ISSG), which includes the United States and Russia, should use its influence to press the Syrian government and other parties to the conflict to allow unhindered access to aid particularly to all hard-to-reach and besieged areas of the country, Human Rights Watch said.
"The Syrian government cannot justify its ongoing starvation tactic of areas around Damascus or its removal of basic medicines from aid convoys." Houry said. "It shouldn't take another media sensation like Madaya to remind the world and make the government comply with its obligations."
Human Rights Watch is one of the world's leading independent organizations dedicated to defending and protecting human rights. By focusing international attention where human rights are violated, we give voice to the oppressed and hold oppressors accountable for their crimes. Our rigorous, objective investigations and strategic, targeted advocacy build intense pressure for action and raise the cost of human rights abuse. For 30 years, Human Rights Watch has worked tenaciously to lay the legal and moral groundwork for deep-rooted change and has fought to bring greater justice and security to people around the world.
LATEST NEWS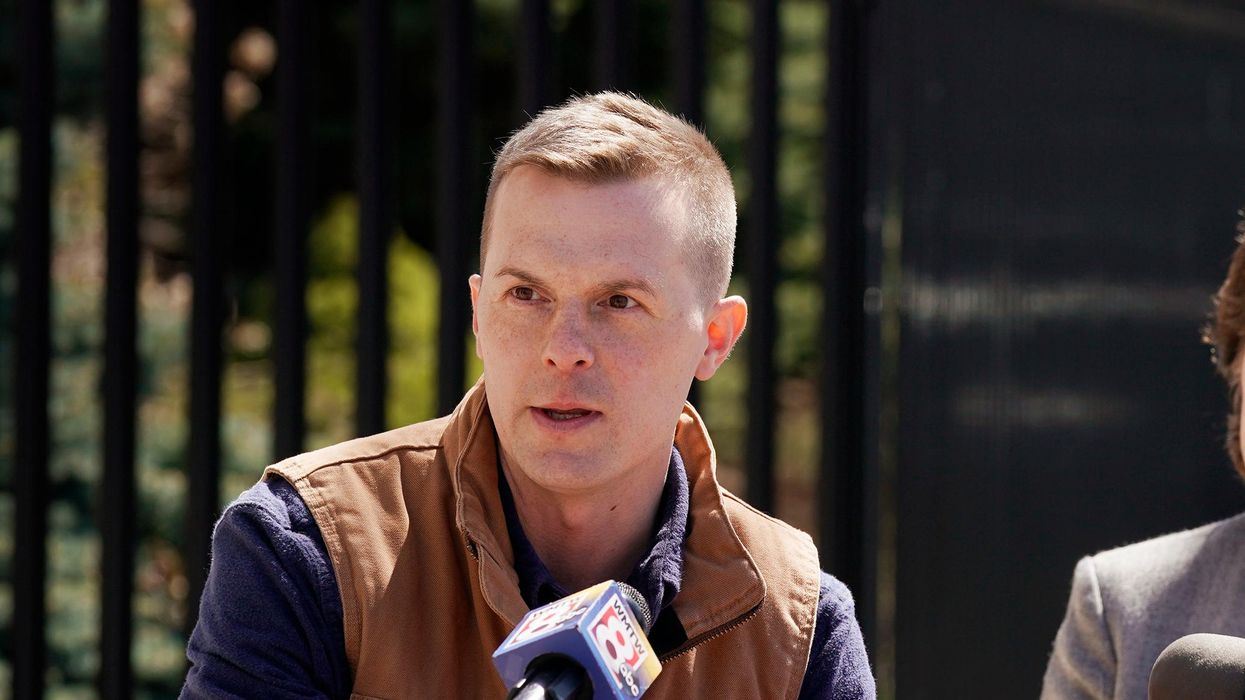 Climate groups said the legislation "advances a public land giveaway that could lock in at least a century of oil drilling."
House Republicans and a single Democrat—Rep. Jared Golden of Maine—passed legislation Friday that would require the federal government to lease a certain percentage of public lands and waters for fossil fuel extraction for every non-emergency drawdown of the U.S. Strategic Petroleum Reserve, a trade-off that climate advocates slammed as a huge gift to Big Oil.
"Fossil fuel companies are already swimming in record profits, but House Republicans are using one of their first legislative opportunities to auction off our public lands for more drilling," Martin Hayden, Earthjustice vice president of policy and legislation, said of the Strategic Production Response Act (H.R. 21), a bill led by Rep. Cathy McMorris Rodgers (R-Wash.).
Rodgers, the chair of the House Energy and Commerce Committee, was the top recipient of oil and gas PAC money in the House Republican caucus during the last election cycle.
"Ramping down fossil fuel extraction and transitioning to clean energy are our best opportunity to protect ourselves from the worst impacts of climate change, insulate families from volatile energy prices, and ensure that we reach our climate goals," Hayden added. "At a time when we're seeing the impacts of climate change every day, this bill would lock in decades of fossil fuel drilling that we simply cannot afford."
Republicans have accused Biden of abusing his authority to tap the nation's strategic reserve, a resource he drew on in a significant way last year in an effort to tamp down soaring gas prices by quickly increasing supply.
The White House has countered that it was operating well within its power to respond to major supply disruptions and warned the GOP bill would result in "more oil supply shortages in times of crisis and higher gasoline prices for Americans."
"Today, the SPR remains the largest strategic petroleum reserve in the world. And with our plans to refill it at... lower prices than what we sold at, the use of the SPR not only saved Americans money, but these releases will end up delivering a return for taxpayers," U.S. Energy Secretary Jennifer Granholm said during a press briefing earlier this week. "So I'll be very clear: If Congress were to pass H.R. 21, the president would veto it."

"This bill advances a public land giveaway that could lock in at least a century of oil drilling in response to an SPR drawdown that is truly a drop in the bucket."
Explaining his lonely yes vote on the House GOP's legislation, Golden said in a statement that "it is in the best interest of hard-working Americans, who are facing rising prices at the pump, to require a comprehensive plan from any administration in power to replace our stockpile as they dip into it."
But climate groups warn the specific plan required under the bill—which passed hours after Chevron reported record-shattering annual profits for 2022—would approve a massive expansion of fossil fuel drilling at a time when climate scientists say such extraction must be urgently phased out.
"Enactment of this bill would have dire implications for federal public lands and waters," a coalition of nearly 40 environmental groups wrote in a letter to members of Congress earlier this week. "As written, the bill permits the leasing plan to include as much as 10% of the federal land and water estate—an unconscionable amount—when SPR drawdowns exceed 10% of reserves."
"The federal government presides over roughly 640 million acres onshore and over 2.5 billion acres in the Outer Continental shelf. Ten percent of that is 314 million acres—almost twice the size of Texas and six times the combined size of all U.S. national parks," the letter continued. "In other words, this bill advances a public land giveaway that could lock in at least a century of oil drilling in response to an SPR drawdown that is truly a drop in the bucket."
After the groups sent their letter, the House GOP approved an amendment offered by Rep. Lauren Boebert (R-Colo.) that would authorize a leasing plan that could include up to 15% of federal lands and waters.

House Republicans rejected a number of amendments offered by Democrats, including one from Rep. Raúl Grijalva (D-Ariz.) that would have made national parks, national wildlife refuges, and other public lands off-limits for drilling.
"Under this bill, if the president needed to act again to keep prices low, he'd first have to pay off Big Oil by opening up our public lands," Grijalva said in a floor speech on Thursday. "This bill does not protect the American people, and it certainly does not protect our climate or environment."

News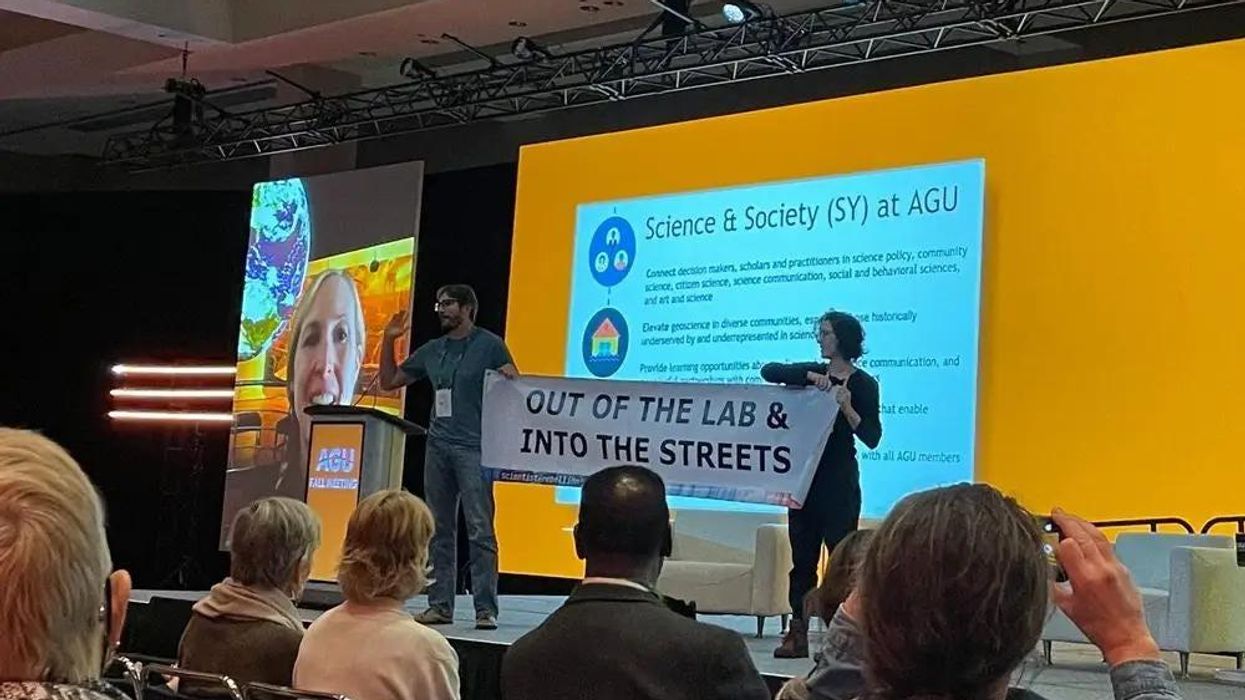 "Climate scientists are citizens and humans too. As citizens, we have our own views of the world and we engage in the public debate in the ways we see fit. As humans, we have the inalienable right to express our opinions in a peaceful manner."
More than 1,500 scientists on Thursday released a letter declaring that they are "appalled by the recent retaliation against colleagues who dared to exercise their civil and human rights" with a peaceful protest at a December conference in Chicago.
Published by news outlets around the world in English, French, and Portuguese, the letter comes after Rose Abramoff and Peter Kalmus unfurled a banner that read "Out of the lab & into the streets" just before an art and science plenary talk at the Fall Meeting of the American Geophysical Union (AGU).
"As scientists, we make detailed observations and carefully design experiments and models to understand the causes, processes, and implications of climate change" the letter states. "We stick to facts and do our best to inform policymakers and fellow citizens, and train students in rigorous scientific methods."
"Importantly, climate scientists are citizens and humans too," the letter adds. "As citizens, we have our own views of the world and we engage in the public debate in the ways we see fit. As humans, we have the inalienable right to express our opinions in a peaceful manner."
Citing scientific conclusions about the causes of the climate emergency and the urgent need to address them, the letter stresses that "more than ever, we need to engage actively as citizens-who-are-scientists in working for the mitigation of greenhouse gas emissions and the swift transition to a low-carbon future."
\u201cIt has to be said. People are drowning in their basement apartments. People are burning in megafires. People are dying in extreme humid heat. The projections for coming years are horrifying. We're heading into a nightmare.\n\nThe AGU took our badges and kicked us out of the meeting\u201d

— Peter Kalmus (@Peter Kalmus) 1671163871
The AGU—which has over 60,000 members and 23 peer-reviewed journals— describes the annual conference as "the most influential event in the world dedicated to the advancement of Earth and space sciences." The organization launched a probe into the protest.
While Kalmus still works at NASA's Jet Propulsion Laboratory, the Oak Ridge National Laboratory, which is sponsored by the U.S. Department of Energy, fired Abramoff over the demonstration, which she wrote about in a New York Times opinion piece earlier this month.
Abramoff and Kalmus—who have both been arrested for previous climate-related civil disobedience—disrupted the AGU event for less than 30 seconds. Someone swiftly ripped the banner from the scientists' hands and AGU staff escorted them from the stage. Kalmus tweeted that "the AGU took our badges and kicked us out of the meeting."

HEATEDreported Friday that the day before the protest, during a grief circle at the conference that was asked to disperse to clear a hallway, "Abramoff said she gave her phone number to one of the AGU officials. HEATED independently identified this official as the senior vice president of meetings, Lauren Parr."
The report added that "after being expelled from the conference, Abramoff said she received a phone call from Parr (Abramoff did not name Parr in the conversation with HEATED), in which Parr threatened arrest if the two returned; said their research would be removed from the conference; and that AGU would contact their work institutions."
Parr declined to comment while an AGU spokesperson declined to confirm those details and "also attempted to prevent HEATED from naming Parr, claiming she had been receiving significant harassment and death threats," according to the outlet.
\u201c"This wasn\u2019t the first-ever protest at AGU, which has welcomed climate action in the past. But it was the 1st time a scientist has been fired as a result of participating in a protest at the conference. We decided to dig into this story..."\n@ariellesamuel \nhttps://t.co/8rlwzpibMB\u201d

— Chris Hendel (@Chris Hendel) 1674840055
The new letter—signed by members of the Earth system science community from dozens of countries, including several authors of Intergovernmental Panel on Climate Change reports—charges that "the response with which they were met was by far disproportionate," calling out both "the AGU's actions against them and the recent retaliation that followed."
The letter continues:

We argue that the cost of silence in the face of such unfair and disproportionate treatment, for the scientific community and the planet, would be too high. The heavy-handed and unjust responses to a short banner unfurling not only threatens the careers of two scientists, it also discourages researchers—and especially early-career scientists—from engaging with their colleagues and society and to speak out about the urgent need for climate action. We are deeply concerned by a decision that tells scientists that they risk their careers if they dare speak out or engage in advocacy that is not formally approved. Employers should not punish scientific researchers for participating in nonviolent climate action. Academia and membership organizations like AGU should be safe spaces for freedom of expression.

We stand by our fellow climate scientists who express frustration with the lack of meaningful climate action within the scientific community and the public, who bring attention to the urgency of the moment in a nonviolent manner. We stand by Rose and Peter.
Scientists and others from across the globe have publicly shared similar sentiments since mid-December.

Erika Spanger-Siegfried, director of strategic climate analytics in the Union of Concerned Scientists' Climate and Energy program, warned last week that "in the absence of a clear endorsement of the objective (not the means) of Abramoff and Kalmus' actions, AGU's response, coupled with Abramoff's firing, may be seen by the scientific community as a strong, disapproving, and chilling signal to scientists to step back from climate activism—just when the world needs them to show up in new, courageous ways."
An open letter addressed directly to the AGU—so far signed by over 2,000 people—says that "we as scientists cannot and must not tolerate this censorship and chilling lack of support from our scientific society and therefore urge AGU to: i) reinstate the scientific contributions of Rose Abramoff and Peter Kalmus to the program; ii) officially rescind any communications AGU may have had regarding this incident with Rose Abramoff and Peter Kalmus' former or home institutions until after the AGU professional misconduct investigation has concluded; and iii) immediately close the professional misconduct investigation."

In response to AGU CEO Randy Fiser's January 11 statement about the demonstration and subsequent investigation, Aaron Thierry tweeted that such protest "is both necessary and justified," and pointed to an August paper he published in the journal Nature Climate Change with four other climate scientists and a political scientist who focuses on civil disobedience and social movements.
According to Thierry, rather than sanctioning and investigating Abramoff and Kalmus, the AGU "should be backing them in their efforts!"
This post has been updated with HEATED's additions clarifying that the news outlet independently identified Lauren Parr and Rose Abramoff did not name the AGU official.

News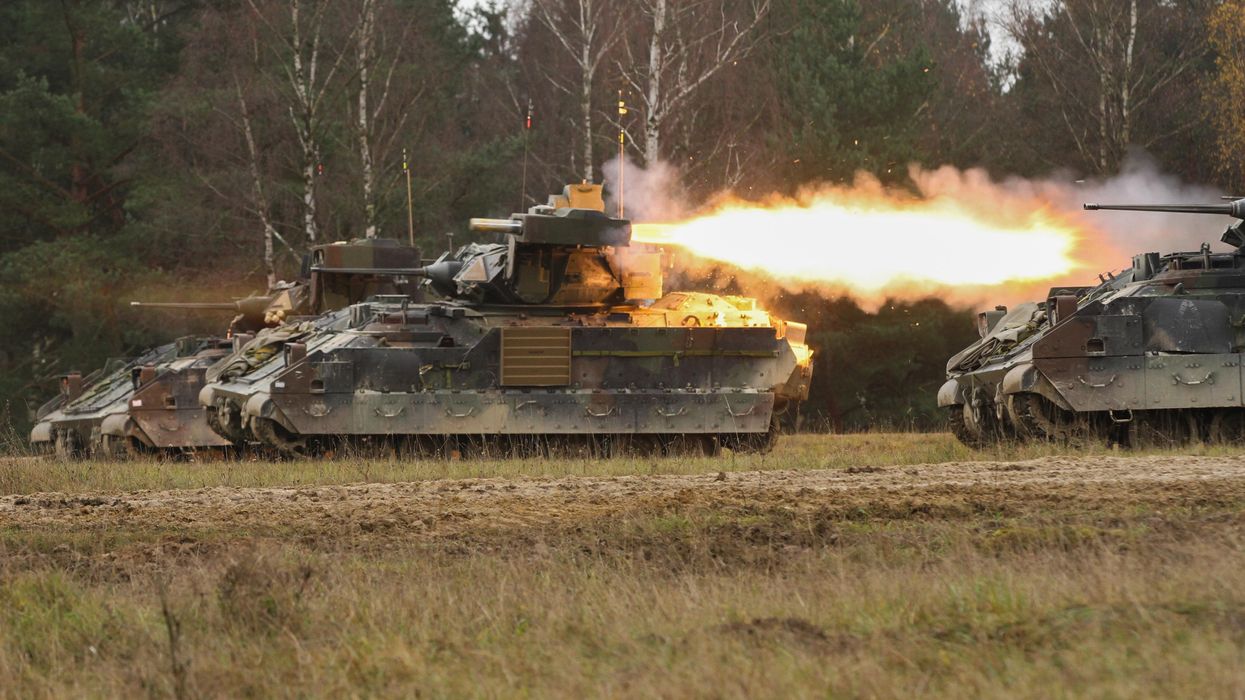 "We would regard it as the use of 'dirty nuclear bombs' against Russia, with all the consequences that entails," a Russian official said as the U.S. and Germany prepare to send tanks and armored vehicles capable of firing depleted uranium munitions to Ukraine.
A Russian official this week responded to the Biden administration's refusal to rule out sending depleted uranium anti-tank munitions to Ukraine by warning that deployment of such weapons—which have been linked to birth defects, miscarriages, and cancer—would be regarded by Moscow as use of "dirty nuclear bombs."
According to a White House transcript published after a Wednesday press call, an unnamed senior Biden administration official would not say when a reporter repeatedly asked whether the United States would provide armor-piercing depleted uranium (DU) ammunition for the Bradley Fighting Vehicles that are part of a recently announced $2.85 billion aid package to Ukraine. The Bradleys, as well as the U.S. Abrams and German Leopard tanks and Marder infantry fighting vehicles Ukraine is set to receive, can fire armor-piercing shells with uranium cores.
The official also declined to say whether the M1 Abrams main battle tanks the administration said it will send to Ukraine will be of the older M1A1 variety or the newer M1A2, which is equipped with DU armor. Citing "three people with knowledge of the deliberations," Politicoreported Thursday that the U.S. will deliver 31 M1A2 Abrams tanks—but without DU armor.
"We know that Leopard 2 tanks, as well as Bradley and Marder armored fighting vehicles, can use depleted uranium shells, which can contaminate terrain, just like it happened in Yugoslavia and Iraq."
"We know that Leopard 2 tanks, as well as Bradley and Marder armored fighting vehicles, can use depleted uranium shells, which can contaminate terrain, just like it happened in Yugoslavia and Iraq," Konstantin Gavrilov, head of the Russian delegation to the Vienna Negotiations on Military Security and Arms Control, said at an Organization for Security and Cooperation in Europe meeting on Wednesday. "If Kyiv were to be supplied with such munitions for the use in Western heavy military hardware, we would regard it as the use of 'dirty nuclear bombs' against Russia, with all the consequences that entails."
Garilov also warned of grave consequences should Ukraine's backers supply it with more long-range weapons.
"If Washington and NATO countries provide Kyiv with weapons for striking against the cities deep inside the Russian territory and for attempting to seize our constitutionally affirmed territories, it would force Moscow to undertake harsh retaliatory actions," he said. "Do not say that we did not warn you."
Russian officials including President Vladimir Putin have repeatedly threatened Ukraine's Western allies with nuclear retaliation for perceived escalations.
\u201cYesterday the White House refused to say whether or not the US will give Ukraine depleted uranium ammo, a powerful, toxic anti-tank weapon linked to cancer and birth defects. Experts I spoke with told me it's an important question that demands an answer.\n\nhttps://t.co/DVc80Mbz7v\u201d

— Sam Biddle (@Sam Biddle) 1674778026
Fired from tanks, planes, helicopters, and artillery, DU rounds are extremely dense and ideal for piercing hardened armor. However, exploding DU shells release radioactive dust particles that linger in the soil, water, food, and air for many years. While the Pentagon publicly states that DU is not known to cause any harm, an Army training manual warns that "contamination will make food and water unsafe for consumption" and requires soldiers coming within 80 feet of DU-contaminated material to wear protective clothing.
U.S. and allied forces relied heavily upon DU munitions during the 1991 and 2003-11 invasions of Iraq. In a situation reminiscent of the Agent Orange crisis in Vietnam, miscarriages, birth defects, and cancers soared in Iraq after both wars. One study found that more than half of the babies born in Fallujah between 2007 and 2010 had birth defects. Among the pregnant woman surveyed in the study, more than 45% experienced miscarriages in the two-year period following the U.S. assaults on Fallujah. Geiger counter readings of DU-contaminated sites in densely populated Iraqi urban areas have consistently shown radiation levels that are 1,000 to 1,900 times higher than normal.
\u201cIncredibly researched, devastating findings by @DahrJamail (p 2013) into the deadly long-term impact of two US-led wars in #Iraq \u2013 and the hundreds of tonnes of depleted uranium munitions and other toxic waste causing cancer, miscarriages, & birth defects. https://t.co/YmTGOxBali\u201d

— alannah travers (@alannah travers) 1674481647
DU rounds used by the U.S.-led NATO coalition during the 1999 air war against Yugoslavia are also believed to have caused a surge in leukemia in the region—both among the local population and foreign troops deployed there. Researchers and veterans groups also believe DU could be the cause of the mysterious Gulf War Syndrome afflicting hundreds of thousands of U.S. and coalition troops, although in 2021 the Pentagon concluded there is "no link" between the illness and DU.
In 2017, a U.S. military commander admitted that thousands of DU rounds were fired during attacks on Islamic State militants in Syria.
According to the International Campaign to Ban Uranium Weapons, the arsenals of at least 15 nations contain DU munitions.

Last year, the United Nations General Assembly approved a draft resolution submitted by Indonesia expressing concerns about "the health risks and environmental impact" of DU weapons and calling for a "cautionary approach" to their use. The vote was 147 to 4—the U.S., U.K., France, and Israel—with 24 abstentions.

News
SUPPORT OUR WORK.
We are independent, non-profit, advertising-free and 100%
reader supported.