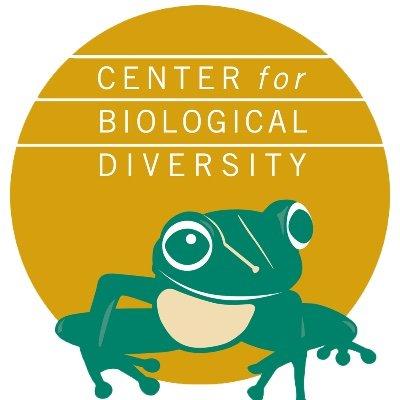 30 Scientists, 100+ Environmental, Health Groups Urge Federal Government to Maintain Moratorium on Offshore Fracking in California
SAN FRANCISCO
In a letter sent today, more than 30 prominent scientists urged the federal government to continue the moratorium on fracking in federal waters off the California coast and to prepare a comprehensive environmental impact statement for the controversial oil-industry technique.
Today's letter, signed by esteemed ocean and climate scientists including Drs. Sylvia Earle, Carl Safina, Michael Mann and risk assessment engineer Dr. Robert Bea, counsels the Bureau of Ocean Energy Management and the Bureau of Safety and Environmental Enforcement to consider the documented risks of hydraulic fracturing and significant data gaps on offshore well stimulation.
"We strongly advise you to continue the current moratorium on offshore well stimulation in California until a comprehensive review and scientific studies demonstrate that fracking and acidizing do not threaten wildlife, the marine environment, coastal communities, and the climate," the letter states.
In another letter sent today to the Department of the Interior, more than 100 health, environmental, labor and business organizations urged the federal government to ban offshore fracking.
"Given the known environmental and health hazards of fracking, as well as the information gaps of offshore fracking, we ask you to prohibit oil companies from fracking and acidizing wells off the California coast," states the letter, which is signed by the Center for Biological Diversity, Greenpeace, the Sierra Club, Defenders of Wildlife, Environment America, the Surfrider Foundation and the Pacific Coast Federation of Fishermen's Associations, among many others.
The federal government in February released a draft proposal to lift the offshore fracking moratorium, which had been put in place under a legal settlement with the Center for Biological Diversity and Environmental Defense Center. Interior's preliminary environmental assessment proposes allowing oil companies to frack and discharge their wastewater -- including toxic fracking chemicals -- into the ocean.
Today's letters come just before the March 23 end of the public-comment period on the proposal to resume offshore fracking. After the close of comments the government could resume permitting offshore fracking for oil and gas off the California coast at any time.
Oil companies have fracked at least 200 wells in state and federal waters off Long Beach, Seal Beach, Huntington Beach and in the wildlife-rich Santa Barbara Channel. Offshore fracking blasts vast volumes of water mixed with toxic chemicals beneath the seafloor, at pressures high enough to fracture rocks.
At the Center for Biological Diversity, we believe that the welfare of human beings is deeply linked to nature — to the existence in our world of a vast diversity of wild animals and plants. Because diversity has intrinsic value, and because its loss impoverishes society, we work to secure a future for all species, great and small, hovering on the brink of extinction. We do so through science, law and creative media, with a focus on protecting the lands, waters and climate that species need to survive.
(520) 623-5252
LATEST NEWS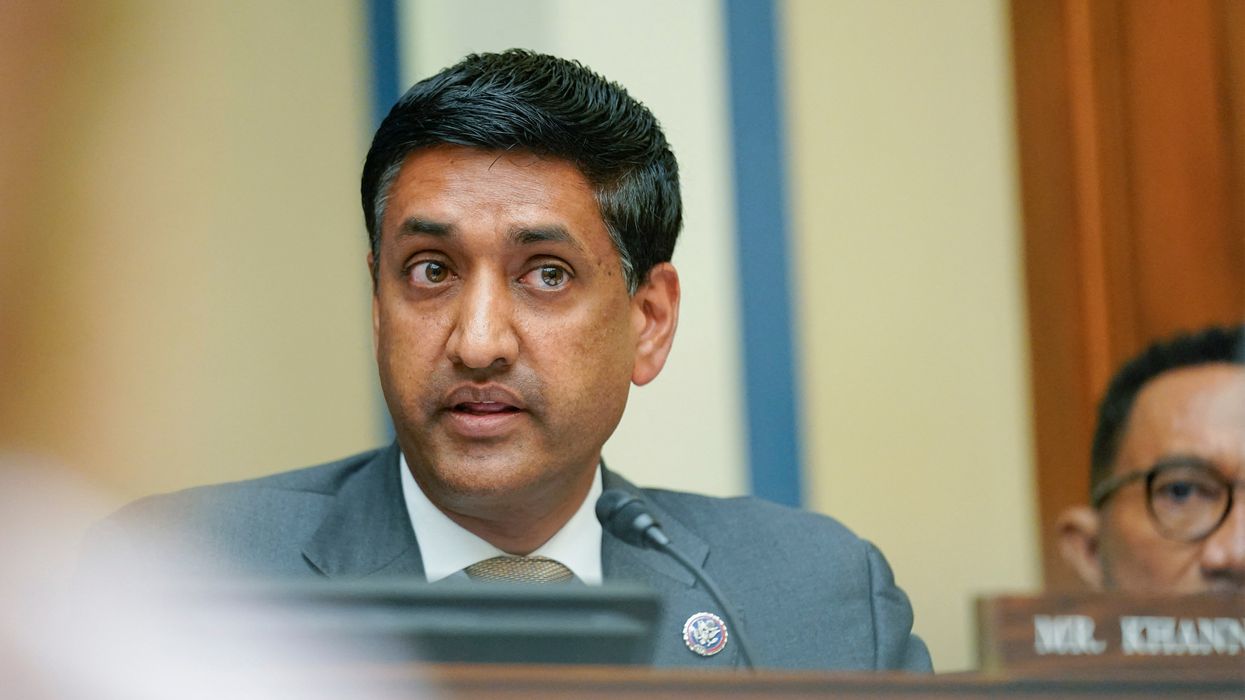 The California Democrat accused Johnson & Johnson—makers of the $160,000-per-year leukemia drug Imbruvica—of floating a "flimsy legal theory" in a "desperate attempt to protect profits."
U.S. Rep. Ro Khanna on Wednesday ripped a senior Johnson & Johnson attorney after she repeatedly dodged questions regarding the legal justification for the pharmaceutical giant's lawsuit alleging government efforts to negotiate lower drug prices are "unjust taking."
At a House Oversight Committee hearing, Khanna (D-Calif.) grilled J&J assistant general counsel Aviva Weis over the company's federal lawsuit, which argues that Medicare drug price negotiations—an overwhelmingly popular provision of the Inflation Reduction Act (IRA)—violate the First and Fifth amendments of the U.S. Constitution.
The J&J suit—and litigation separately initiated by Merck, Bristol Myers Squibb, Astellas, the U.S. Chamber of Commerce, and the industry lobby Pharmaceutical Research and Manufacturers of America (PhRMA)—alleges in part that the IRA mandate runs afoul of the takings clause, which states, "Nor shall private property be taken for public use, without just compensation."

Referring to Imbruvica—one of the first 10 drugs tapped by the Biden administration for Medicare price negotiations—Khanna told Weis that "you've got a pill for leukemia patients, you sell it for $484 per capsule, that's $160,000 a year, you make $22 billion over that over the last 10 years, and you're making $65 billion in profit."
"Now, we have passed, as a Congress, and the president has signed a bill, saying: 'You know what? Let Medicare negotiate to try to bring that price down,'" the congressman continued. "And you, in your department—'cause you're assistant general counsel—have filed a lawsuit saying that negotiation would be an 'unjust taking.'"
When Weis tried to avoid saying whether she believes that federal agencies negotiating drug prices with pharmaceutical companies constitutes "taking," Khanna said:
I guess I don't understand how, being the assistant general counsel, you can come before the United States Congress when you're suing the United States government, saying that we are taking your property. Now, that's a very serious charge... and you don't know whether it's a taking?
Khanna asserted that it's necessary for federal agencies to negotiate drug prices so that pharmaceutical firms "don't make $65 billion in profits every year and so leukemia patients don't pay $160,000" for a year's supply of Imbruvica.
"I think it is shameful what you and the pharmaceutical companies have done in suing the United States government to protect those profits," he added, "and you are totally unprepared to answer a single question about what the takings clause is and the justification for that lawsuit."

News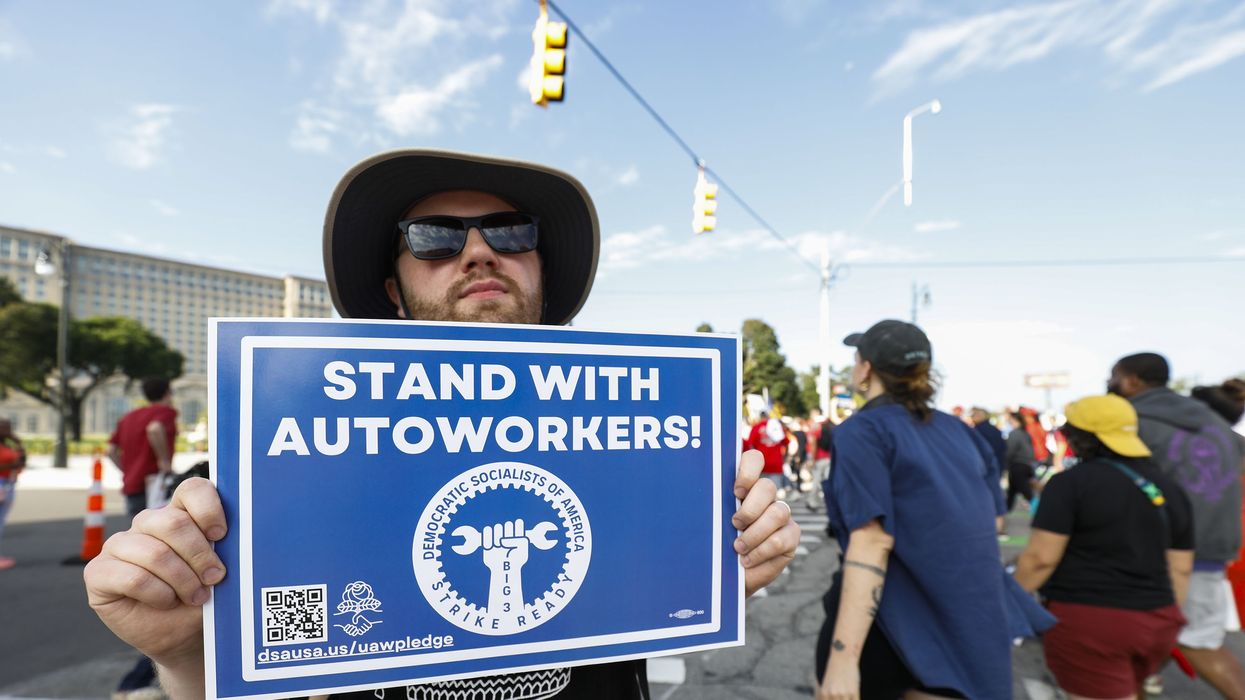 "This transition must center workers and communities," said advocates, "especially those who have powered our economy through the fossil fuel era, and be a vehicle for economic and racial justice."
On the eve of the expiration of the United Auto Workers union's contract and a potential strike Wednesday, climate action groups were among more than 100 civil society organizations on Wednesday calling on the "Big Three" automakers to ensure that a new contract protects workers as the U.S. transitions toward making electric vehicles.
Groups including the Center for Biological Diversity, Public Citizen, Sierra Club, and Earthjustice were among those expressing solidarity with nearly 150,000 union autoworkers who are demanding that employees of electric vehicle battery plants being developed by Stellantis, Ford, and General Motors are paid fairly—reflecting the record profits the automakers have reported in recent years.
"Within the next few years—the span of this next contract—lies humanity's last chance to navigate a transition away from fossil fuels, including away from combustion engines," wrote the groups in an open letter. "With that shift comes an opportunity for workers in the United States to benefit from a revival of new manufacturing, including electric vehicles (EVs) and collective transportation like buses and trains, as a part of the renewable energy revolution."
"This transition must center workers and communities, especially those who have powered our economy through the fossil fuel era, and be a vehicle for economic and racial justice," they added. "We are putting you on notice: Corporate greed and shareholder profits must never again be put before safe, good-paying union jobs, clean air and water, and a livable future."
"Corporate titans will try to split our movement by presenting us with a false choice. They'll try to argue that building more clean cars is more important than supporting workers. But we know better."
With the Biden administration—under the Inflation Reduction Act—poised to invest billions of taxpayer dollars "to boost your companies' transition to electric vehicle manufacturing and component production," the letter reads, the companies must "do right by the workers who have sacrificed to keep your companies profitable."
Without meeting the demands of the UAW, the organizations said, the Big Three will be embarking on a "race to the bottom" that continues to exploit workers.
"We do not have to choose between good jobs and green jobs," Trevor Dolan, industry and workforce policy lead at Everygreen Action, said Wednesday. "Corporate titans will try to split our movement by presenting us with a false choice. They'll try to argue that building more clean cars is more important than supporting workers. But we know better. Our collective movement can only succeed if workers directly benefit from climate action."
The groups highlighted the demands of the union, including:
an end to the industry's unjust tier system for workers, which leaves "tier-two" employees making less than half as much in hourly wages as top-tier employees and with less generous benefits;
just wage and benefit increases that keep in line with the cost of living;
the same pay and safety standards for workers in sustainable battery production as under the national agreements; and
a robust, fair, and just transition into the EV economy with no loss of autoworker livelihood.
The expression of solidarity came ahead of a bargaining update that UAW President Shawn Fain was
expected to give
prior to the contract deadline.
Fain has led the union in demanding a 40% wage increase over four years—noting that compensation for General Motors CEO Mary Barra grew by more than 32% from 2018-22 while the median worker got only a 2.8% raise—cost-of-living increases, and a workweek shortened to 32 hours.

"The revival of domestic manufacturing of electric vehicles must also deliver on the promise of safe, dependable, good-paying UNION jobs across the entire supply chain," said Ben Smith, senior campaigner with Greenpeace USA. "In addition, we call on the Biden administration and all those in government at the federal, state, and local level to use every tool at their disposal to ensure strong labor standards are deployed alongside any support that taxpayers provide for EV automakers."
"It's time for the Big Three CEOs to deliver what these workers have demanded," Smith added, "a fair contract and a just transition now!"
News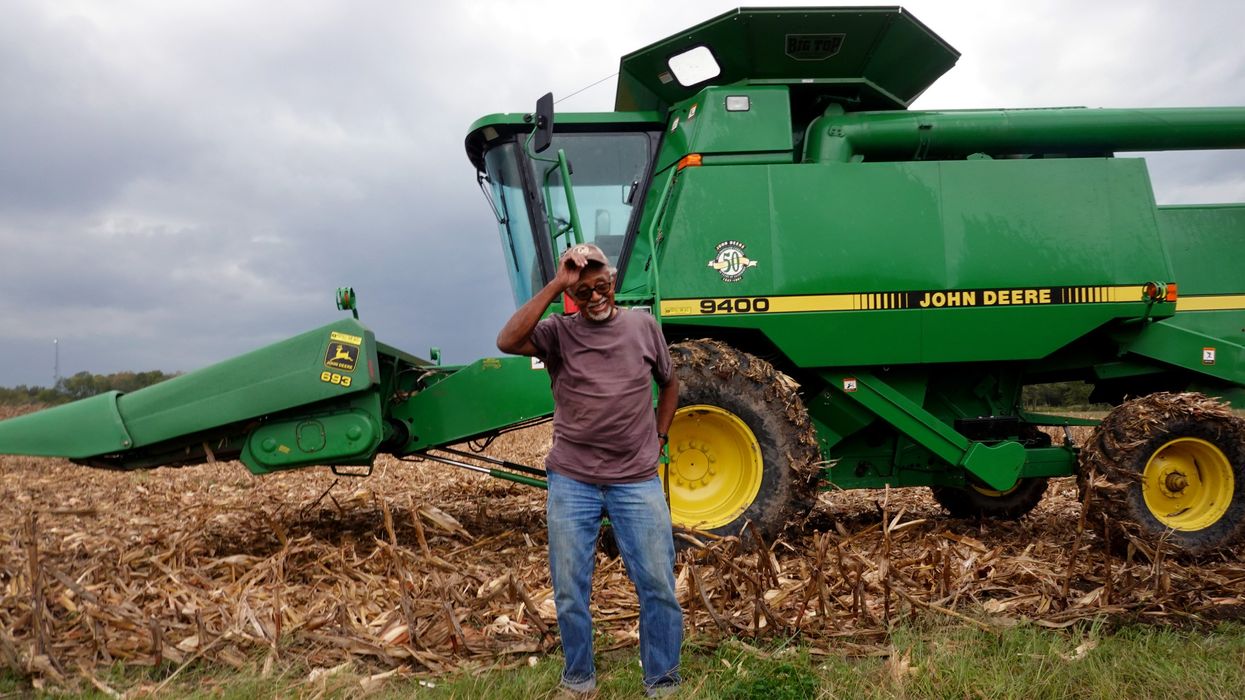 "Addressing the problems and concerns of rural America, isn't just the right thing to do, it is essential for the health of our nation," said the head of Progressive Democrats of America.
"A Rural New Deal is urgently needed to build and rebuild local economies across rural America, reverse 40 years of wealth and corporate concentration, restore degraded lands, reclaim land and ownership opportunities for those whose land was taken by force or deceit, and ensure that communities and the nation can and do meet the basic needs of its people."
That's the opening line of a report released Tuesday by Progressive Democrats of America (PDA) and the Rural Urban Bridge Initiative (RUBI), which recognizes that "for too long, we've neglected, dismissed and underinvested" in rural U.S. communities, and offers "a broad policy blueprint to help steer progressive priorities" in such regions.
"Addressing the problems and concerns of rural America, isn't just the right thing to do, it is essential for the health of our nation. Progressives have ignored rural for too long," said PDA executive director Alan Minsky in a statement. "The Rural New Deal will change that."
"Rebuilding and renewing supportive social and economic connections across rural and urban lines, empowering rural people and communities, moving away from extractive relationships of the past, is the course we must chart together."
The report provides principles to guide development and implementation of a Rural New Deal (RND), asserting that all policies must be worker-focused as well as "flexible, adaptable, and locally driven to the greatest degree possible," and should "encourage and invest in innovative, effective solutions."
The principles section stresses that "farmers and business people, nonprofit innovators, union and worker advocates, and community and political leaders must be part of the design of specific initiatives for their communities—rather than simply being recipients or implementors of top-down programs."
The section also highlights goals that should be woven into the 10 "pillars" of a Rural New Deal: reversing corporate concentration; focusing on real and durable wealth; addressing generations of racially based discrimination; restoring degraded landscapes to their full productive and ecological potential; and investing in the organizational infrastructure and local leaders that sustain rural programs.
The RND pillars—which each include up to eight recommendations for primarily federal action—are:
Rebuild farm, forest, and food economies;
Reward work and ensure livable wages;
Dismantle monopolies, empower and support local business;
Invest in community and regional infrastructure;
Rebuild small town centers;
Cultivate self-reliance and resilience;
Invest in rural healthcare;
Fully fund rural schools;
Make rural and small town housing affordable; and
Re-localize rural and small town banks.
Policy proposals include supporting regenerative farm, forest, and fishery businesses; adopting a federal jobs guarantee with a living wage and essential benefits; making broadband access universal; expanding Medicaid and Medicare access; incentivizing installation of solar technology on buildings and non-prime farmland, over parking lots, and in vacant spaces; and enacting reforms to rein in private equity's "unbridled power," such as eliminating the carried interest tax loophole.
"At the heart of a RND is the recognition that rural places are fundamentally different from urban and suburban areas, not only culturally and politically, but physically. They are 'rural' because they are expansive and land-based," the report emphasizes. "This does not mean that all efforts to rebuild rural economies and communities should revolve around farming or other land-based sectors. However, it does mean that land-based (also including rivers, lakes, and oceans) enterprises must still play a central role in rural development, even as internet access, virtual work, and the tech sector grow in importance."
While different, rural and urban communities are "deeply intertwined," with rural businesses often relying on urban markets and capital. Thus, the document adds, "rebuilding and renewing supportive social and economic connections across rural and urban lines, empowering rural people and communities, moving away from extractive relationships of the past, is the course we must chart together."
The RND report comes as a potential government shutdown looms and as far-right members of the U.S. House of Representatives open an impeachment inquiry into Democratic President Joe Biden, despite a lack of any proof of wrongdoing.
The politically divided Congress has passed few pieces of legislation this year, and the nation only narrowly avoided a catastrophic U.S. default because Biden struck a controversial deal with GOP economic hostage-takers to temporarily suspend the U.S. debt ceiling. As Common Dreamsreported during that fight in May, Fix Our House released an analysis arguing that "Congress lacks the incentive structure necessary to responsibly handle crucial tasks like raising the debt limit."
While "gerrymandering is a huge problem," polarization is also an issue, as "rural voters are increasingly trending more to the right, and urban voters more to the left," the Fix Our House report says. Members of Congress elected in uncompetitive districts fear primaries, so they focus on their voting base and refrain from working with "the enemy."
RUBI director Anthony Flaccavento said Tuesday that "the extreme political divide in our country robs rural communities of the resources and opportunities they need, while making it nearly impossible to address the biggest problems we face as a nation."
"The Rural New Deal will help break that stalemate," he suggested, "because it is both comprehensive and bottom-up in its approach, focusing on strategies that we know from experience will work."
In a Newsweek op-ed, Flaccavento noted that "some will argue that we can't afford the investments proposed in the Rural New Deal, or that the federal government should not be 'picking winners' by supporting small businesses, clean energy providers, or family farmers. We don't buy it. The United States currently has 756 billionaires with an estimated collective net worth of $4.5 trillion. If we include U.S. millionaires, this tiny slice of our population holds over $190 trillion of wealth."
"The federal government has been picking winners for decades, and most of them are among that group," he declared. "It's long past due for our elected representatives to level the playing field between the rich and the rest of us and to support the long-term resilience that investment in rural people and places will help bring about."
News
Independent, nonprofit journalism needs your help.
Please Pitch In
Today!