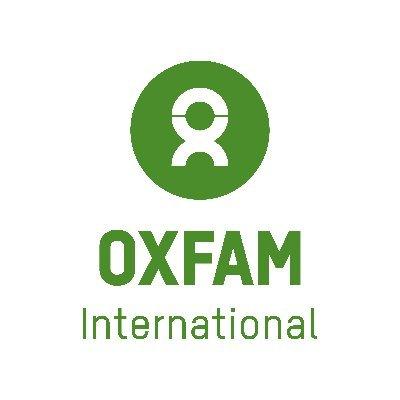 For Immediate Release
June, 18 2012, 03:39pm EDT
Contact:
Tricia O'Rourke, Oxfam on +55 21 6849 2371,
Bernadette Fischler, Beyond 2015 +44 7785 515 335 and
Rajiv Joshi, GCAP +1 917 545 6101.
Roberta Caldo + 55 21 6849.2369 or + 55 61 9297.7372 (Portuguese and English)
Rio 1992 Connected the Environment and Development. Rio+20 Looks Like Splitting Them Up
WASHINGTON
The Rio+20 Summit will fail if it agrees to current proposals, which risk worsening the divide between environment and development efforts, warned anti-poverty and environmental campaigners today.
Agreement on Sustainable Development Goals is expected to be one of the major outcomes from the UN Conference on Sustainable Development, which starts on Wednesday, 20 June in Rio de Janeiro.
The UN has already begun to deliberate on the post 2015 global development framework, starting with a review of lessons learnt from the existing Millennium Development Goals and options for after they expire in 2015. The current proposal on the table in Rio would effectively create a second process for global goals in the post-2015 period. A separate process focused on the environment will not provide the solution urgently needed to end poverty and inequality while protecting the planet, said international agency Oxfam and the international campaigns, Beyond 2015 and the Global Campaign against Poverty (GCAP).
"Ending poverty and protecting the environment are inextricably linked and cannot be addressed in isolation. The current proposals are a recipe for diluted commitment, duplicated effort, and dispersed focus," said Antonio Hill of Oxfam. "The world's poorest people, who still suffer a lack of quality healthcare and education, are also denied their fair share of water, land and clean air. Poor people will be the first to lose out if Rio+20 fails to aim for one set of goals for one planet. We need a single guiding framework whose purpose is to end poverty and restore the living world that sustains us all. "
The organizations believe that commitment in Rio to a single process that brings together the Sustainable Development Goals and the post-2015 development framework could represent a landmark agreement to eradicate poverty and ensure prosperity for all by sharing the Earth's limited resources. But the move could fail if this integration does not happen from the start.
"In the Philippines, the Millennium Development Goals are finally helping tackle poverty, but they aren't a true measure of sustainable development. The government priority is poverty reduction, but it heavily depends on environmentally-damaging mining to pay for it," said Nanette Antequisa, Executive Director of the Philippines NGO ECOWEB.
The groups also warn that the success of any future goals hinge on the progress made towards ending poverty through the Millennium Development Goals.
"Governments in Rio are re-arranging the deck chairs on the Titanic while 1.4 billion people still live in poverty, in a daily struggle for food, water and energy. For these people environment and development are not separate choices. We need a race to deliver the existing Millennium Development goals, and a single framework to succeed them," said Rajiv Joshi from GCAP.
"Governments are squabbling to agree who will lead yet another international initiative the exact purpose of which remains undefined. The new set of goals must deliver positive change for the world's poorest people who don't classify the food, water, energy, and clean air they depend on as either poverty or environment issues - they just want to survive and live decent lives," said Bernadette Fischler from the Beyond 2015 campaign.
Oxfam International is a global movement of people who are fighting inequality to end poverty and injustice. We are working across regions in about 70 countries, with thousands of partners, and allies, supporting communities to build better lives for themselves, grow resilience and protect lives and livelihoods also in times of crisis.
LATEST NEWS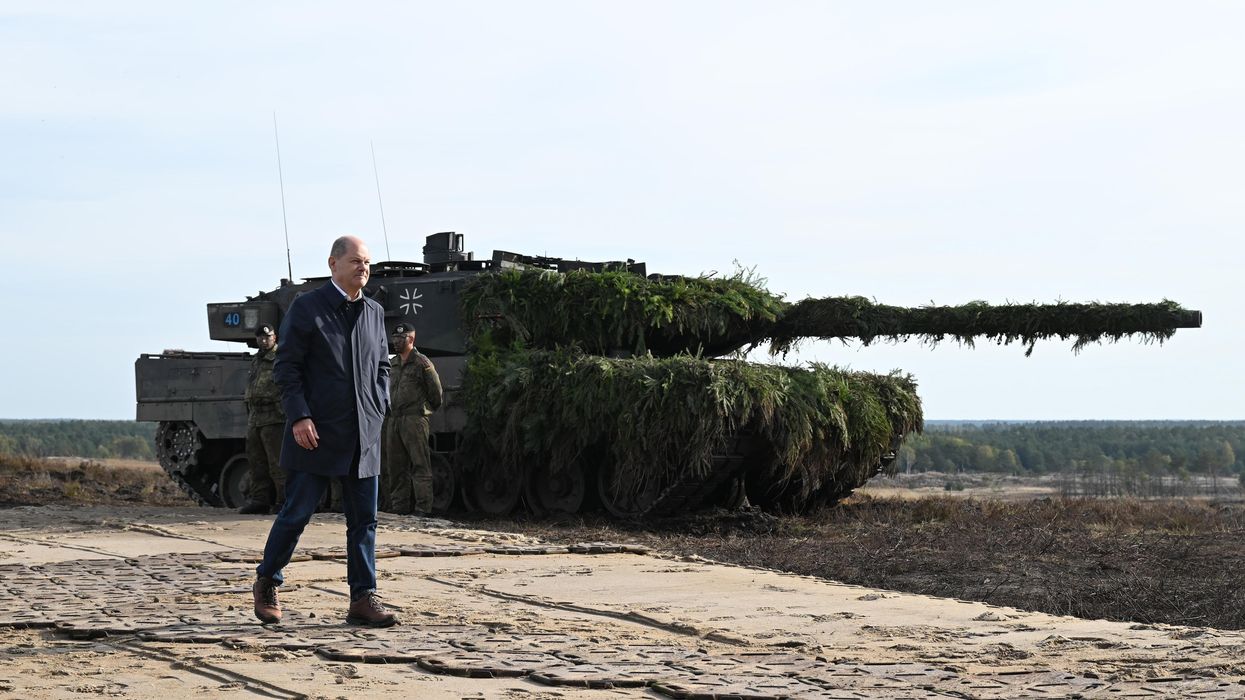 "This is not the path to peace and marks a serious escalation," said the U.K.-based Stop the War Coalition. "Sending tanks is a step further away from negotiation."
The Biden administration is reportedly finalizing a plan to send dozens of Abrams tanks to Ukraine and Germany announced Wednesday that it has agreed to supply Kyiv's forces with 14 Leopard 2 battle tanks, moves that peace advocates said represent a dangerous escalation of the war.

Both the U.S. and Germany had previously hesitated to approve the delivery of tanks to Ukraine, which has been under assault from Russian forces for nearly a year. As CNNreported Wednesday, "German officials had openly stated that they would only send their Leopard 2 tanks to Ukraine if the U.S. sent the M-1 Abrams tank, a system U.S. officials had repeatedly stated was overly complex and difficult to maintain."
"The U.S. decision to provide Abrams tanks to Ukraine is an abrupt about-face from its stated position, one that allows Germany to send its tanks and to clear the way for the approval of other European countries to send in more of the German-made Leopard 2 tanks as well," the outlet added.
The Biden administration is expected to announce its plan to send tanks to Ukraine later Wednesday. Citing a senior U.S. official with knowledge of the plan, The Washington Postreported that the U.S. tanks may not arrive in Ukraine "until at least the fall."
It will likely take months to train Ukrainian forces to use the tanks, analysts say.

Anti-war campaigners and commentators warned that the shipment of battle tanks into Ukraine will deepen the West's involvement in a devastating conflict that is at risk of becoming a direct—and potentially nuclear—confrontation between Russia and NATO.
"This is not the path to peace and marks a serious escalation," responded the U.K.-based Stop the War Coalition. "Arming Ukraine and sending tanks is a step further away from negotiation."
In a column for Responsible Statecraft on Monday, Branko Marcetic cautioned that "little by little, NATO and the United States are creeping closer to the catastrophic scenario President Joe Biden said 'we must strive to prevent'—direct conflict between the United States and Russia."
"When the United States involves itself militarily in a conflict, it often finds it hard to get itself out, let alone avoid deep entanglements that blow well past lines it had drawn at the start of the intervention," Marcetic wrote, citing Vietnam and Afghanistan as clear examples.
"Unless officials make a concerted effort to deescalate and pursue a diplomatic track—and prominent voices in media and politics create the political space for them to do it—Biden's vow to avoid World War Three will mean as much as President Johnson's 1964 promise not to 'send American boys nine or ten thousand miles away from home to do what Asian boys ought to be doing for themselves,'" Marcetic added.
"Little by little, NATO and the United States are creeping closer to the catastrophic scenario President Joe Biden said 'we must strive to prevent'—direct conflict between the United States and Russia."

German Chancellor Olaf Scholz, who faced significant pressure from Baltic nations to send tanks to Ukraine, said the agreement was reached after "intensive consultations that have taken place between Germany and its closest European and international partners."
Dietmar Bartsch, parliamentary leader of Germany's Left party, denounced Scholz's decision, warning that the "supply of Leopard battle tanks... potentially takes us closer to a third world war than in the direction of peace in Europe."
The U.S. and Germany's tanks will add to the supply already pledged by Poland, Spain, the U.K., the Netherlands, Finland, and Denmark.
"Together, we are accelerating our efforts to ensure Ukraine wins this war and secures a lasting peace," right-wing British Prime Minister Rishi Sunak tweeted Wednesday.
Dmytro Kuleba, Ukraine's foreign minister, wrote on social media that "the tank coalition is formed."
"Everyone who doubted this could ever happen sees now: for Ukraine and partners impossible is nothing," Kuleba added. "I call on all new partners that have Leopard 2 tanks in service to join the coalition and provide as many of them as possible."
Kremlin spokesman Dmitry Peskov, for his part, called the U.S. and German plans "disastrous" because of "technological aspects," an apparent reference to the complexities involved in training Ukrainian forces to use and maintain the tanks.
"I am convinced that many specialists understand the absurdity of this idea," said Peskov. "These tanks will burn down just like all the other ones... Except they cost a lot, and this will fall on the shoulders of European taxpayers."
News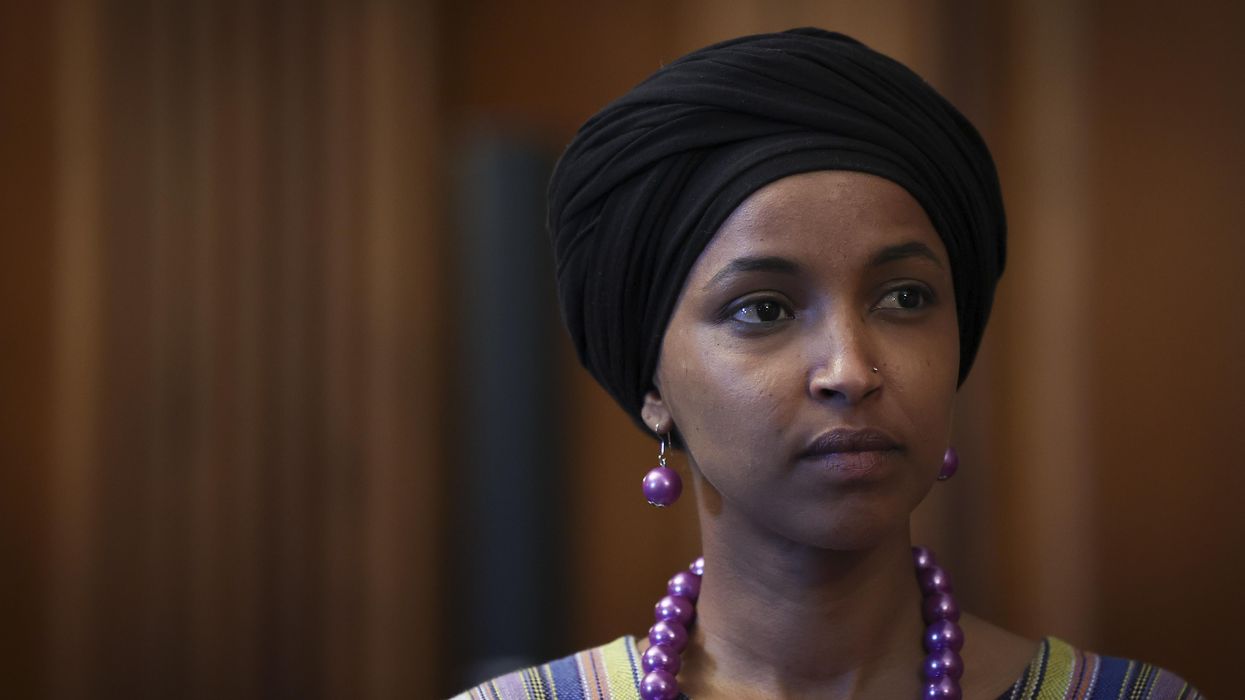 "It's disappointing but not surprising that Kevin McCarthy has capitulated to the right wing of his caucus," the three Democratic lawmakers said in a statement.
Speaker Kevin McCarthy on Tuesday formally blocked Reps. Adam Schiff and Eric Swalwell from serving on the House Intelligence Committee and is expected to hold a floor vote to remove Rep. Ilhan Omar from the chamber's foreign affairs panel, moves that the Democratic lawmakers slammed as "political vengeance."
"It's disappointing but not surprising that Kevin McCarthy has capitulated to the right wing of his caucus, undermining the integrity of the Congress, and harming our national security in the process," the Democrats said in a joint statement, calling the push to keep them off committees the product of a "corrupt bargain" that the Republican leader struck "in his desperate, and nearly failed, attempt to win the speakership."
"Despite these efforts, McCarthy won't be successful," the lawmakers added. "We will continue to speak out against extremism and doggedly defend our democracy."
The House speaker has final authority over who sits on the Intelligence Committee, allowing McCarthy (R-Calif.) to unilaterally block Schiff (D-Calif.) and Swalwell (D-Calif.) from the panel even after Minority Leader Hakeem Jeffries (D-N.Y.) requested that they be reappointed.
But a floor vote will be required to remove Omar from her spot on the House Foreign Affairs Committee, which she has used to grill officials on the sordid history of U.S. foreign policy in Latin America, speak out against military intervention, and advocate for global human rights.

Omar has argued that the GOP push to strip her committee assignments is rooted in bigotry.
"I do not actually think that he has a reason outside of me being Muslim and thinking I should not be," Omar said of McCarthy earlier this month.
Sumayyah Waheed, senior policy counsel at Muslim Advocates, a national civil rights group, said in a recent interview with HuffPost that "by stripping Rep. Omar of her committees, McCarthy kills two birds with one stone: He attempts to silence an effective, principled voice on the Foreign Affairs Committee, and he stokes the ugly culture of anti-Muslim hate for cheap political points."
McCarthy and other Republicans have also falsely accused Omar of antisemitism, an allegation that has drawn backlash from progressive Jewish organizations.
"We categorically reject the suggestion that any of her policy positions or statements merit disqualification from her role on the committee," Ameinu, Americans for Peace Now, Bend the Arc: Jewish Action, Habonim Dror North America, J Street, New Israel Fund, the Religious Action Center of Reform Judaism, and T'ruah said in a statement last month.
"McCarthy's pledge seems especially exploitative in light of the rampant promotion of antisemitic tropes and conspiracy theories by him and his top deputies amid a surge in dangerous right-wing antisemitism," the groups added. "He posted (and later deleted) a tweet charging that George Soros and two other billionaires of Jewish descent were seeking to 'buy' an election. His newly elected Whip Tom Emmer said the same people 'essentially bought control of Congress.' Meanwhile, Republican Conference Chair Elise Stefanik has promoted the deadly antisemitic 'Great Replacement' conspiracy theory."
McCarthy has even faced some pushback from members of his caucus who oppose removing Omar and other Democrats from their committee seats.

"Two wrongs do not make a right," Rep. Victoria Spartz (R-Ind.) said in a statement Tuesday, pointing to House Democrats' decision in 2021 to remove Reps. Paul Gosar (R-Ariz.) and Marjorie Taylor Greene (R-Ga.) from committees for promoting odious conspiracy theories and violence.
Both far-right Republicans have been reinstated to committees under the new House GOP majority.
Rep. Nancy Mace (R-S.C.) has also signaled she would vote against removing Omar from committees.
As for Schiff and Swalwell, McCarthy claimed in a letter to Jeffries on Tuesday that the two Democrats participated in the "misuse" of the House Intelligence Committee during the 116th and 117th sessions of Congress.
The Washington Postreported that "McCarthy has argued that both Schiff and Swalwell are unfit to serve on the committee, using Schiff's work conducting the first impeachment investigation of President Donald Trump and Swalwell's alleged ties to a Chinese intelligence operative. There has been no evidence of wrongdoing in relation to the allegation against Swalwell."
Speaking to reporters on Tuesday, Schiff accused McCarthy of "carrying the dirty water" for the twice-impeached former president.
"This is petty, political payback for investigating Donald Trump," Schiff added on Twitter.
News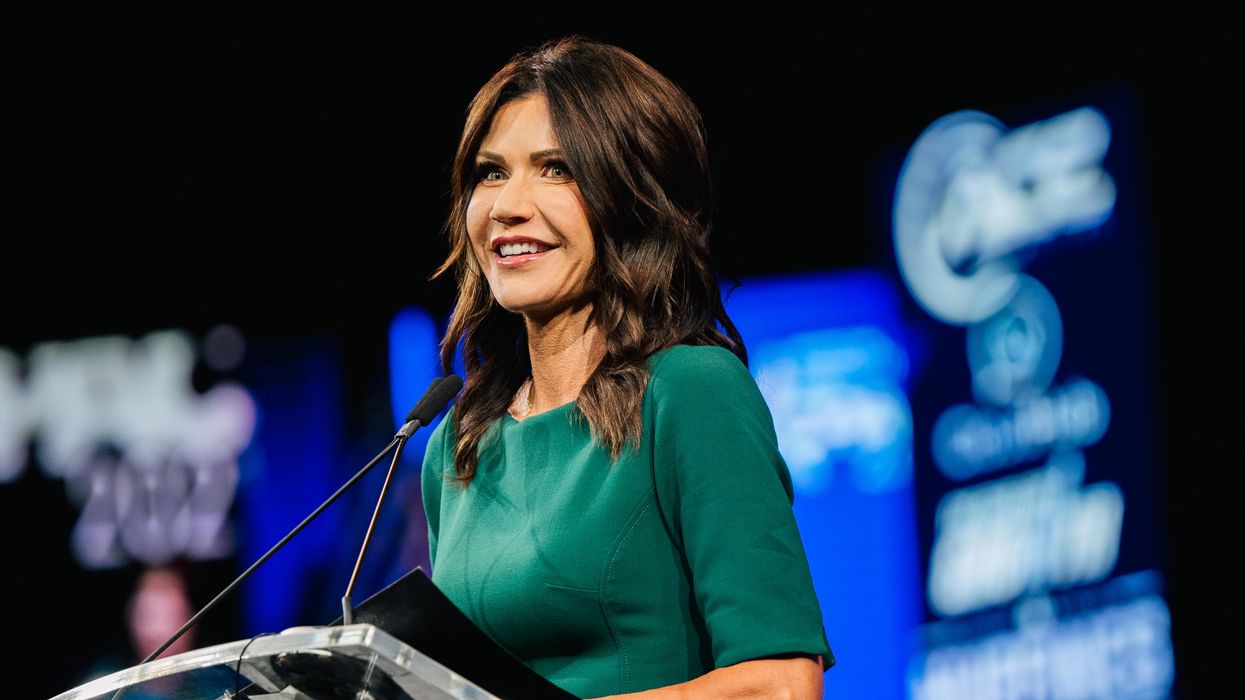 One critic said Republican Gov. Kristi Noem is "stopping at nothing until every woman in South Dakota is forced to carry an unwanted pregnancy to term."
South Dakota's Republican governor and attorney general on Tuesday issued a threatening letter directed at the state's pharmacists in response to a recent move by the Biden administration to ease restrictions on dispensing abortion pills amid the GOP's nationwide assault on reproductive freedom.
Gov. Kristi Noem and AG Marty Jackley's letter begins by noting that after Dobbs v. Jackson Women's Health Organization, the U.S. Supreme Court ruling that reversed Roe v. Wade last year, abortion became illegal in South Dakota except to save the life of the pregnant person. It's one of 14 states where abortions are now largely unavailable.
The letter states that "in South Dakota, any person who administers, prescribes, or procures for any pregnant female any medicine or drug with the intent to induce an abortion is guilty of a felony."
\u201c.@KristiNoem stopping at nothing until every woman in South Dakota is forced to carry an unwanted pregnancy to term\u201d

— Julie Alderman Boudreau (@Julie Alderman Boudreau) 1674590026
In a policy change long advocated by medical experts and rights campaigners, the Food and Drug Administration (FDA) earlier this month formalized a regulatory change to allow retail pharmacies in the U.S. to dispense mifepristone, one of two drugs often taken in tandem for a medication abortion.
Referencing that development, the letter says that "under South Dakota law, pharmacies, including chain drug stores, are prohibited from procuring and dispensing abortion-inducing drugs with the intent to induce an abortion, and are subject to felony prosecution under South Dakota law, despite the recent FDA ruling."
As The Associated Pressreported Tuesday:
The [FDA's] change could expand access at online pharmacies. People can get a prescription via telehealth consultation with a health professional and then receive the pills through the mail, where permitted by law.

Still, in states like South Dakota, the rule change's impact has been blunted by laws limiting abortion broadly and the pills specifically. Legal experts foresee years of court battles over access to the pills as abortion rights proponents bring test cases to challenge state restrictions.

Amanda Bacon, the director of the South Dakota Pharmacists Association, said in an email that she was not aware of any South Dakota pharmacies with plans to participate in the federal program to dispense abortion pills.
The pro-choice Guttmacher Institute, which tracks policies across the country, labels all six states that border South Dakota as restrictive of abortion access to various degrees—and South Dakota is among the dozen "most restrictive" states in the nation.
Since the Dobbs decision, states with pro-choice policies—especially those like Illinois, which is surrounded by states with abortion restrictions—have seen an influx of "healthcare refugees."
While the FDA's recent move was widely seen as a step toward alleviating some of the strain on clinics trying to serve a growing number of patients fleeing states with forced-birth policies, an ongoing legal battle over the agency's initial approval of mifepristone in 2000 could jeopardize access to the drug nationwide.
\u201cOne of the medications taken in the most common way to end a pregnancy could soon be taken off the market nationwide.\n\nNationwide.\n\nThat means medication abortion can\u2019t exist even in places that have PROTECTED abortion access.\n\nhttps://t.co/fZlZG6vBzA\u201d

— Planned Parenthood Action (@Planned Parenthood Action) 1674575101
Anti-choice physicians last month asked Judge Matthew Kacsmaryk—appointed by former President Donald Trump to the U.S. District Court for the Northern District of Texas—to throw out the FDA's 2000 decision. The judge, who was previously the deputy general counsel at a conservative Christian legal advocacy group, could issue a ruling as soon as February 10.
If the Christian alliance that launched the attack on the FDA approval "wins in federal district court, the Biden administration would appeal to the 5th Circuit in New Orleans, a conservative court with 12 of its 16 active judges appointed by Republicans," CNBCpointed out Tuesday. "From there, the case could end up at the Supreme Court."
Rights & Justice
SUPPORT OUR WORK.
We are independent, non-profit, advertising-free and 100%
reader supported.