Possibilities for Circumventing Congress' Constitutional Role Include Temporarily 'Pausing' the War
New York Times Offers Rare View Inside the Legal Spin Zone over Libyan War
WASHINGTON
Congressman Dennis Kucinich (D-OH), who will introduce a bill to end the war in Libya based on the War Powers Resolution when Congress returns on May 23, 2011, today made the following statement after the New York Times reported that "the Obama legal team is now trying to come up with a plausible theory for why continued participation by the United States [in the war in Libya] does not violate the law."
"The same legal minds that brought us the twisted logic that war against Libya did not require Congressional authorization because it was in our vital national interest, and that it is not really a war because it is a "humanitarian intervention," are now searching for a legal loophole to extend the war," said Kucinich.
According the War Powers Resolution of 1973, the President must terminate military operations within 60 days of submitting a report informing Congress of the military operation unless formal war is declared. The deadline for complying with this provision of the War Powers Resolution is May 20, 2011.
"Instead of applying the rule of law as it was intended, the Obama legal team is reportedly trying to distort the U.S. role in Libya to justify a continuation of our involvement absent a Congressional authorization, in violation of Article 1, Section 8 of the Constitution which places the power to declare or authorize war solely with Congress.
According to the New York Times, suggestions for squeezing a square peg into a round hole -- in this case the realities of war into the confines of the law -- include: stopping direct attacks on Libya and confining our involvement to intelligence, refueling and support, or possibly hitting 'pause' on the war in an attempt to restart the clock.
Dennis Kucinich is an American politician. A U.S. Representative from Ohio from 1997 to 2013, he was also a candidate for the Democratic nomination for president of the United States in 2004 and 2008.
LATEST NEWS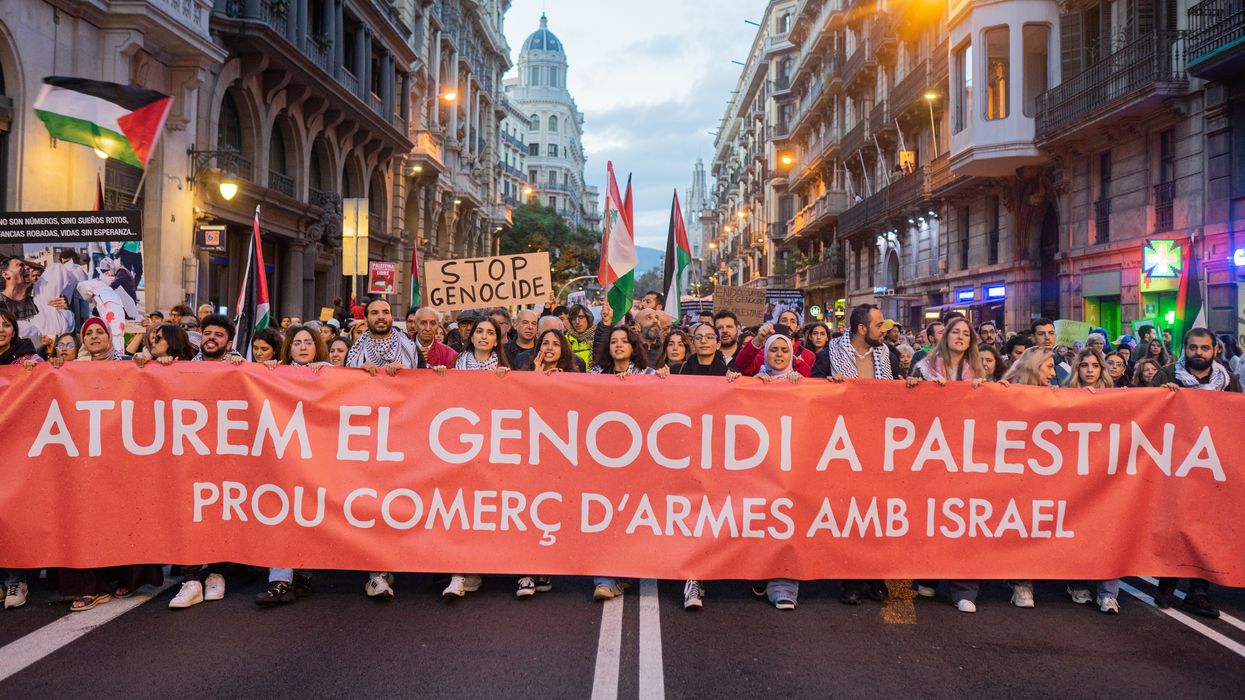 "It's not a war, it's a genocide," said Councilmember Ada Colau. "We not only need to denounce it, we must act and not stay on the sidelines."
The city council of Barcelona, Spain's second-largest city, voted Friday to suspend relations with Israel's far-right government over what the party behind the move called the "genocide" in Gaza.
Introduced by the leftist Barcelona en Comú party—which asserted that "no government can turn a blind eye to a genocide"—the resolution demands the municipal government discontinue "institutional relations with the current government of Israel until there is a definitive cease-fire, and respect for the basic rights of the Palestinian people and compliance with United Nations resolutions are guaranteed."
The resolution also calls for requiring public contracts to ensure that "no operator belongs to or carries out" activities "that go against international humanitarian law" and "rejects and condemns attacks against the population civilian, both Israeli and Palestinian, as well as any action constituting collective punishment, such as the forced displacement of population, the systematic destruction of homes and civilian infrastructure, or the blocking of the supply of energy, water, food, medical supplies and medicines to the population of the Gaza Strip."
Barcelona en Comú Councilmember Ada Colau said in a statement that "it's not a war, it's a genocide, and as [Spanish] President Pedro Sánchez has stated, it is unbearable, and if it is unbearable, we not only need to denounce it, we must act and not stay on the sidelines."
"Every 10 minutes, a child dies in the Gaza Strip under the bombs of one of the most powerful armies in the world," she added.
Colau, whose eight-year tenure as Barcelona's mayor ended in June, earlier this year announced her city was cutting ties with Israel and ending its symbolic 25-year-old "twin cities" relationship with Tel Aviv due to the Israeli government's "crime of apartheid against the Palestinian people."

Barcelona's current mayor, Jaume Collboni of the Socialists' Party of Catalonia, reversed Colau's move in September.
Earlier this month, Barcelona dockworkers also showed solidarity with Palestinians by refusing to load or unload military materials onto any ship bound for Israel or any conflict zone where they could be used against civilians.
The new Barcelona resolution urges Israel and Hamas to make permanent the temporary four-day ceasefire that began Friday morning, as well as an end to Israeli violence against Palestinian civilians in the illegally occupied West Bank and the unconditional and safe release of all hostages taken by Hamas.
On Friday, Hamas freed 24 captives—13 Israeli women and children, 10 Thai nationals, and one Filipino—as part of the cease-fire agreement. Israel released 39 Palestinian women and minors from behind bars to fulfill its end of the deal. Hamas has agreed to free 50 of its hostages in exchange for the release of 150 Palestinians imprisoned by Israel.
Israeli forces have arrested thousands of Palestinians on what critics claim are often dubious grounds meant to give Israel leverage and bargaining chips.
According to the Gaza Health Ministry, nearly 15,000 Palestinians, including more than 4,000 women and over 6,000 children, have been killed by Israeli bombs and bullets since the Hamas-led attacks on southern Israel that left around 1,200 people dead and 240 others kidnapped. The international humanitarian group Oxfam said Thursday that newborn babies are dying from preventable causes in Gaza's hospitals due to the Israeli siege.

More than 36,000 Palestinians have been wounded by Israeli attacks on Gaza, while around 7,000 others—including over 4,700 children—are missing and presumed dead. More than 1.7 million Gazans have been forcibly displaced and around half the homes in the besieged strip have been damaged or destroyed, according to United Nations agencies.
At least 255 Palestinians have also been killed by Israeli soldiers and settlers in the occupied West Bank and East Jerusalem.
In addition to the Barcelona councilmembers who voted Friday for the resolution, other Spanish officials have also called for cutting ties with Israel's government over its Gaza onslaught.
Last month, outgoing Social Rights Minister Ione Belarra, who also leads the leftist Podemos party, urged her country's coalition government to petition the International Criminal Court to open a war crimes investigation of Israeli Prime Minister Benjamin Netanyahu for Israel's indiscriminate bombardment of Gaza and for cutting off food, fuel, and electricity from the besieged strip's 2.3 million residents.
On Thursday, Belarra criticized Sánchez—a member of the Spanish Socialist Workers' Party—for visiting Israel this week, arguing that his trip "only serves to whitewash Netanyahu and to equate the state of Israel, an occupying power that perpetrates a genocide, with the victims of the Palestinian people."

"Such inaction," she added, "is absolutely unbearable."
News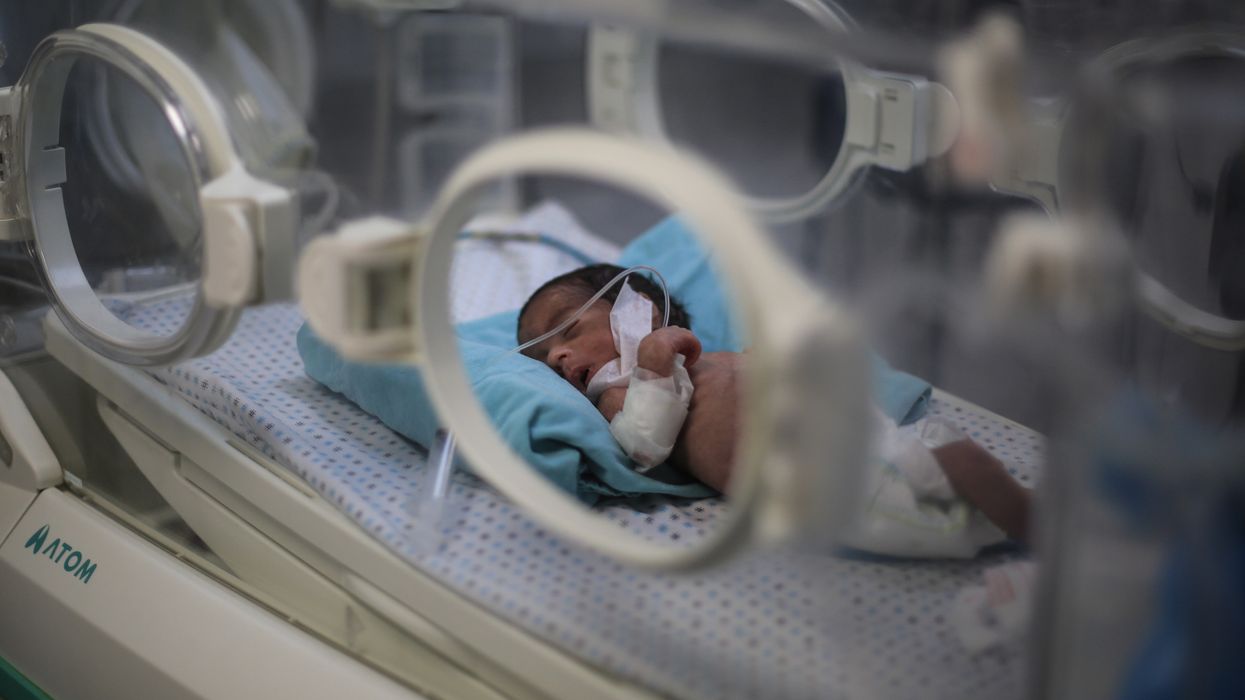 "Oxfam is urgently calling for a full cease-fire and unimpeded humanitarian access," said the group, explaining that a four-day pause in fighting is not sufficient.
Humanitarian workers in Gaza on Thursday said their daily experiences struggling to take care of pregnant people and babies demonstrate why a four-day pause in fighting is far from sufficient to save the lives of the blockaded enclave's most vulnerable residents, including newborns who have begun to die from preventable causes.
As Israel's blockade continues to keep Gaza authorities from providing clean water, food, sanitation, and heat to homes and hospitals, babies aged three months and younger "are dying of diarrhea, hypothermia, dehydration, and infection," said Oxfam International.
Juzoor, an organization partnering with Oxfam in northern Gaza, said premature births have increased by 25-30% since October 7 when Israel began its bombardment of Gaza in retaliation for an attack by Hamas.
The group has been supporting about 500 pregnant women in 13 shelters—where a total of 35,000 people are living—and many have gone into labor prematurely as they have the ongoing trauma of "walking long distances in search of safety, running away from bombs, and being crowded into shelters with squalid conditions."
Humanitarian workers are struggling to adequately care for thousands of people who have taken refuge in shelters, with waste piling up due to a lack of sanitation services and up to 600 people sharing one toilet.
Sally Abi Khalil, Middle East regional director for Oxfam, said the fact that the crisis has reached a stage where babies are dying of preventable illnesses is "abhorrent."

"Last month we lost at least one baby in every shelter, it's heartbreaking," said Umaiyeh Khammash, director of Juzoor. "Access to hospitals is extremely dangerous and virtually impossible, so many women are having to give birth with little or no maternity support in shelters."
As Common Dreams has reported, more than 50,000 Gaza residents are facing Israel's onslaught while pregnant, and more than 5,500 are expected to give birth within a month. Juzoor estimates that 30% of women will face pregnancy complications that require extra medical attention, putting their babies at greater risk—particularly in the first 28 days of life, when newborns are most vulnerable.

Khammash expressed fear that the group will soon be entirely out of food for residents.
"The absence of fuel has affected hospitals in the north and the shelters where we operate," he said. "There is no light, there is no heat. Now winter is coming and it's cold. It is really a disaster for everyone, but especially for expectant mothers."
Some women have given birth in recent weeks in repurposed classrooms surrounded by dozens of refugees, without qualified medical personnel present or any capacity for providing "basic hygiene," Khalil said.

"I don't think there is anyone anywhere in the world that would disagree that is simply inhumane," she added.

Oxfam is working to provide the Juzoor shelters with hygiene kits and food, while 60 health professionals have been mobilized to work with thousands of displaced people.

"But the ongoing violence, siege, and acute shortages of fuel and clean water severely hinder these efforts," said Oxfam as it called on officials to go further than negotiating only a four-day "humanitarian pause."

"Oxfam is urgently calling for a full cease-fire and unimpeded humanitarian access in order to restore vital services and provide desperately needed medical support particularly to pregnant women and newborn babies," said the group.
News
"We saw last night in Dublin a consequence of politicians spending years demonizing immigrants," said one critic.
Irish authorities on Friday condemned a far-right, anti-immigrant faction that rapidly spread rumors about the perpetrator of a violent knife attack in Dublin and ultimately tore through the streets of Ireland's capital Thursday night, setting cars and buses on fire and smashing storefront windows.
The country was shocked Thursday by a mid-day stabbing attack on three young children—including a five-year-old girl who sustained serious injuries—and a woman who were reportedly on their way to a daycare facility when a man assaulted them.
The Garda Síochána, Ireland's police force, were able to take the suspect into custody after several bystanders—including a Brazilian delivery driver who immigrated to the country—overtook the man, who authorities said acted on his own.
But the "appalling crime," as Minister for Justice Helen McEntee called the stabbing, soon gave way to chaos at the crime scene when far-right protesters arrived and began chanting anti-immigrant slogans.
One protester toldAgence France Presse that "Irish people are being attacked by these scum," even as the press reported that the suspected perpetrator was a naturalized Irish citizen who has lived in Ireland for 20 years.
The cost-of-living crisis in Ireland has fueled recent anti-immigrant protests and acts of violence, with a group of men violently attacking an encampment inhabited by migrants from several countries earlier this year. Such incidents have also led thousands of Irish people to march this year in support of the immigrant community.
The Brazil-born delivery driver, identified by The Irish Times as Ciao Benicio, told the paper that the far-right faction's decision to seize on the knife attack as evidence of a dangerous immigration crisis did not "make sense at all."
"I'm an immigrant myself and I was the one who helped out," said Benicio.
The city's public transit system was badly hit by the ensuing riots, with protesters setting trams and double-decker buses ablaze. They also smashed store windows on O'Connell Street, a major thoroughfare.
"This appalling incident is a matter for the Gardaí and that it would be used or abused by groups with an agenda that attacks the principle of social inclusion is reprehensible and deserves condemnation by all those who believe in the rule of law and democracy," said Irish President Michael Higgins in a statement.
Police commissioner Drew Harris said the riots were driven by misinformation that was spread for "malevolent purposes."

Mary Lou McDonald, president of the left-wing opposition party Sinn Féin, said the city of Dublin was "traumatized twice: by the barbaric attack... and then by marauding racist mobs."
Thirty-four rioters were arrested Thursday evening, and Prime Minister Leo Varadkar addressed the country's immigrant community by saying Ireland would be "vastly inferior" without immigration.
The demonstrators did not wreak havoc across the city "out of any sense of patriotism, however warped," said Varadkar, "they did so because they are filled with hate."

One critic of the riots noted that anti-immigrant sentiment has been egged on in recent years not only by politicians like Hermann Kelly, head of the far-right Irish Freedom Party, but also by liberal policymakers like British Labour Party Leader Keir Starmer.
Starmer said in a Sky News interview Thursday that migration levels in the U.K. are "shockingly high."
"We saw last night in Dublin," said agriculture researcher Alex Heffron, "a consequence of politicians spending years demonizing immigrants."
News