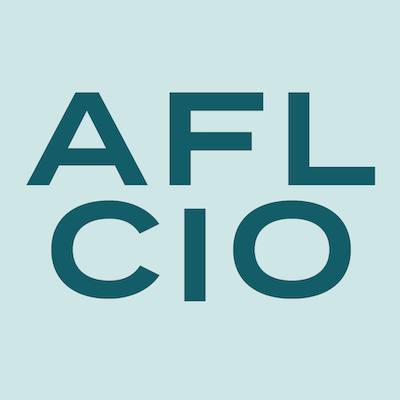 For Immediate Release
Contact:
Josh Goldstein (202) 637-5018
CEOs Collect Raises, Workers Collect Pink Slips
AFL-CIO President Trumka Launches 2011 Executive PayWatch and Campaign to Strengthen Wall Street Reform Searchable Online Data Bank Includes CEO Pay at 299 S&P 500 Companies
WASHINGTON
While millions of Americans struggled to get back on their feet after the worst economic downturn in decades, chief executive officers of the nation's largest companies got average pay of $11.4 million in 2010-a 23 percent increase in one year, according to Executive PayWatch (www.paywatch.org), released today by the AFL-CIO. AFL-CIO President Richard Trumka said release of the searchable online data bank is part of a broad campaign to strengthen Wall Street reform, close corporate tax loopholes and ensure that poor and middle class Americans are no longer required to pay for the greed of corporate CEOs.
"Despite the collapse of the financial market at the hands of executives less than three years ago, the disparity between CEO and workers' pay has continued to grow to levels that are simply stunning," said Trumka. The AFL-CIO campaign, he said, is making hard information widely available and encourages people to contact lawmakers to defend and strengthen Wall Street reform.
Executive PayWatch's searchable data bank enables users to get information by state, industry and top-paid CEOs and compare the pay of top CEOs with the median pay of nurses, teachers, firefighters and other workers. For the first time, Facebook users will also have access to the information and to participate in the campaign.
The AFL-CIO's CEO pay estimate is based on 299 companies in the S&P 500 Index whose executive compensation data is available for 2010. The 299 CEOs received a combined total of $3.4 billion in 2010, enough compensation to support 102,325 jobs paying median wages. The median wage for all occupations was $33,190 in 2009, according to the latest available data from the Bureau of Labor Statistics.
"For the first time, we have hope that things can change," Trumka said, noting that the Dodd-Frank Wall Street Reform and Consumer Protection Act passed last year gives shareholders tools to help rein in CEO pay. The new law requires public companies to begin disclosing the ratio of CEO pay to median worker pay. "The law," he said, "will help investors and the public learn which companies provide fair wages and good jobs to their employees, compared with those that have outrageous CEO-to-worker pay disparities."
Pointing to attacks by some large banks and Wall Street lobbyists on the Dodd-Frank Act, Trumka said the AFL-CIO campaign will work hard to defend historic reform. "Their brazen attempts to undermine reform surprise and offend me, and I think they will surprise and offend most Americans. Apparently Wall Street doesn't want people to know that while working Americans paid for the economic crisis with their jobs, their homes and their retirement savings, these Teflon CEOs escaped unscathed," he said.
The Dodd-Frank Act also provides shareholders with 'say-on-pay' advisory votes on executive compensation. This year, Executive PayWatch highlights case studies at Occidental Petroleum, Reynolds American, Hewlett-Packard, PulteGroup, Rite Aid, and Abercrombie & Fitch where there are red flags for investors to watch for when voting on these companies' executive pay practices.
The American Federation of Labor and Congress of Industrial Organizations (AFL-CIO) works tirelessly to improve the lives of working people. We are the democratic, voluntary federation of 56 national and international labor unions that represent 12.5 million working men and women.
LATEST NEWS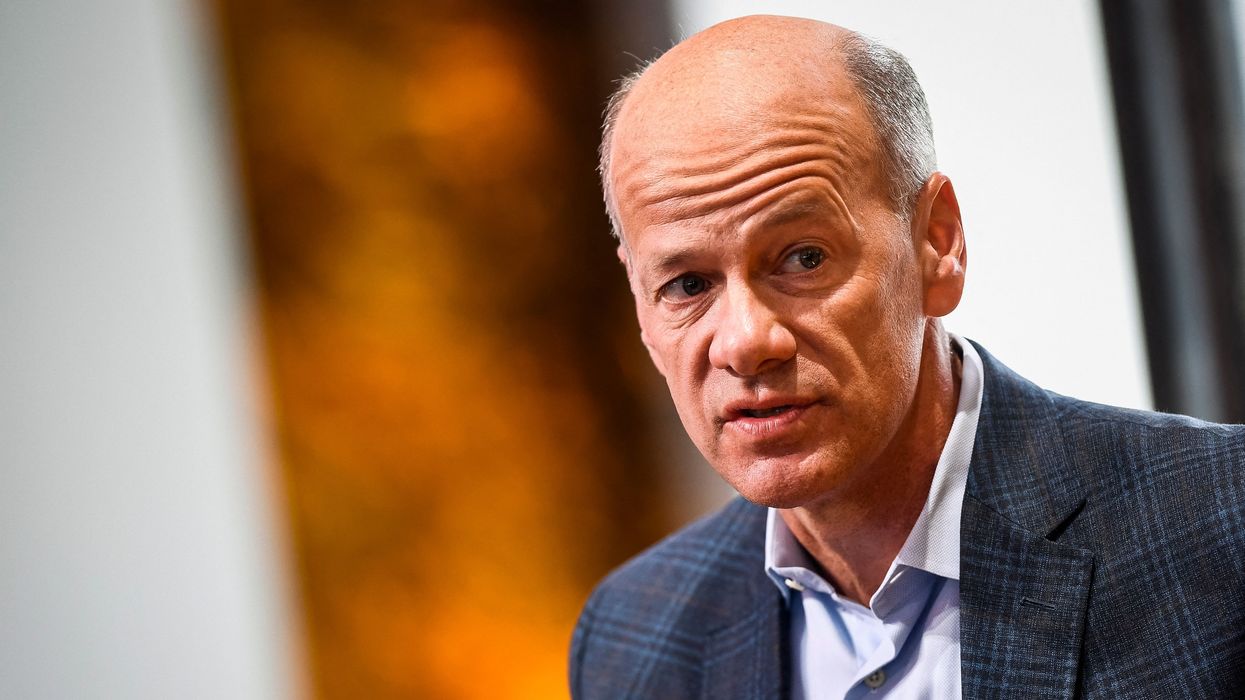 "SVB officials showed a pattern of risky and questionable decision-making that may have contributed to the bank's instability," wrote Sens. Elizabeth Warren and Richard Blumenthal.
Sens. Elizabeth Warren and Richard Blumenthal demanded Tuesday that the Biden Justice Department and Securities and Exchange Commission investigate whether Silicon Valley Bank executives "violated civil or criminal law" in the lead-up to the firm's collapse, which sent shockwaves through the entire U.S. financial system.
"This was a colossal failure in asset liability risk management," the Democratic senators in a letter to SEC Chairman Gary Gensler and Attorney General Merrick Garland. The letter was first reported by CNBC on Wednesday morning.
The lawmakers pointed to recent reporting detailing how "SVB officials showed a pattern of risky and questionable decision making that may have contributed to the bank's instability and collapse and the ripple effects being felt throughout the economy."
Warren and Blumenthal asked the Biden administration to launch a probe to determine "whether senior bank executives and other key officials involved in the collapse met their statutory and regulatory responsibilities or violated civil or criminal law."
"One of the enduring failures in the aftermath of the 2008 financial crisis was the inability or unwillingness of DOJ and bank regulators to hold bank executives accountable for behavior that destroyed millions of lives and cost trillions of dollars of wealth," they wrote. "The nation's bank regulators cannot make the same mistake twice."
The fallout from SVB's collapse has brought intense scrutiny to the venture capital lender's ill-considered investment moves as well as the conduct of its top executives, who sold tens of millions of dollars worth of stock in the two years leading up to the bank's failure last week—raising questions about possible insider trading.
Greg Becker, SVB's former CEO, sold millions of dollars of shares as recently as late last month.
The bank's leadership has also come under fire for dishing out bonuses hours before federal regulators took over on Friday.
"You have nobody to blame for the failure at your bank but yourself and your fellow executives."
In a letter to Becker earlier this week, Warren—a member of the Senate Banking Committee—slammed SVB for lobbying against bank regulations in recent years and argued that "you have nobody to blame for the failure at your bank but yourself and your fellow executives."
"SVB failed—while its chief risk officer position sat vacant for eight months as its financial standing deteriorated—because it failed to address two key risks: concentration in your client base, and rising interest rates," the Massachusetts Democrat wrote. "This is a failure of 'Banking 101'—what one analyst called 'sheer incompetence.' Had SVB been subject to Dodd-Frank rules undone by [a 2018 GOP law], the bank would have been required to maintain stronger liquidity and capital requirements and conduct regular stress tests that would have required SVB to shore up its business to weather the type of stress it experienced last week."
"You lobbied for weaker rules, got what you wanted, and used this opportunity to abdicate your basic responsibilities to your clients and the public—facilitating a near-economic disaster," Warren added.
The Wall Street Journalreported Tuesday that the DOJ and SEC have both opened investigations into the SVB failure, which was the second-largest bank collapse in U.S. history.
"The separate probes are in their preliminary phases and may not lead to charges or allegations of wrongdoing," the Journalnoted. "The investigations are... examining stock sales that SVB Financial's officers made days before the bank failed."
News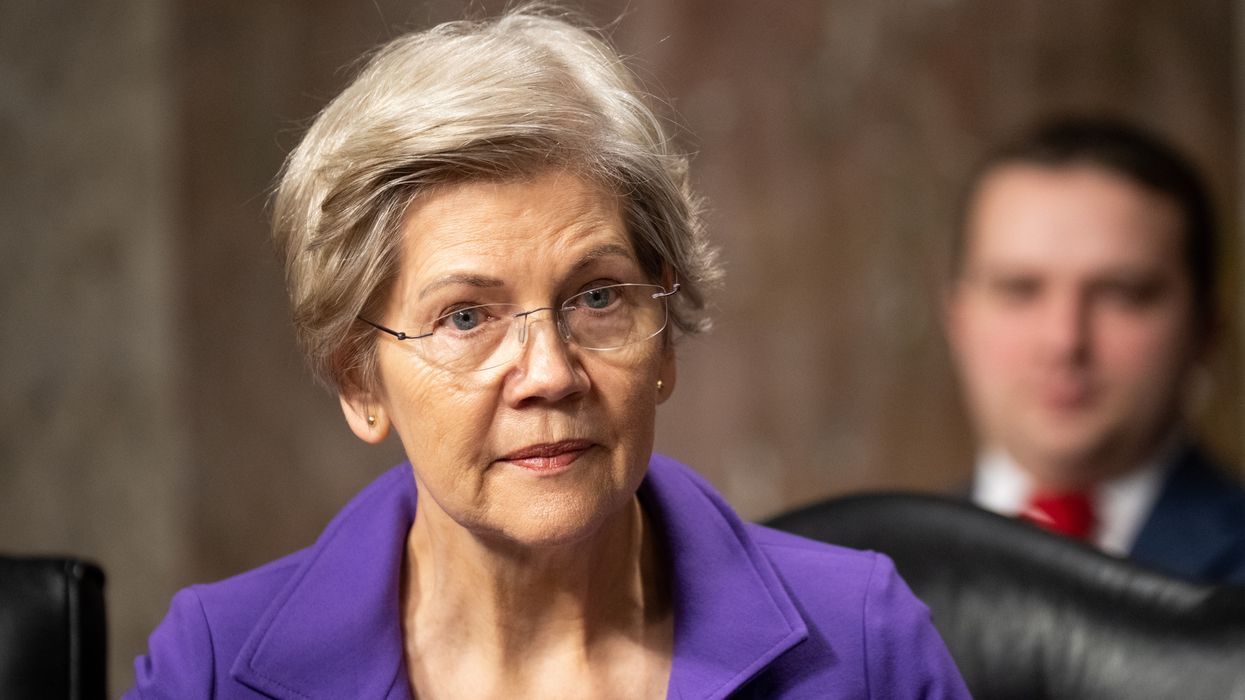 Sen. Elizabeth Warren said a 2018 law backed by Republicans and dozens of Democrats allowed banks to "load up on risk to boost their profits," endangering "our entire economy."
Sen. Elizabeth Warren and Rep. Katie Porter unveiled legislation Tuesday to repeal the section of a Trump-era law that weakened regulations for banks with between $50 billion to $250 billion in assets, a move that experts and lawmakers have blamed for the collapse of Silicon Valley Bank and the resulting turmoil.
"In 2018, I rang the alarm bell about what would happen if Congress rolled back critical Dodd-Frank protections: banks would load up on risk to boost their profits and collapse, threatening our entire economy—and that is precisely what happened," Warren (D-Mass.) said in a statement. "President Biden called on Congress to strengthen the rules for banks, and I'm proposing legislation to do just that by repealing the core of Trump's bank law."
That law, authored by Sen. Mike Crapo (R-Idaho) and backed by dozens of Democrats, raised the asset threshold for more stringent regulations to $250 billion or higher, exempting firms such as Silicon Valley Bank (SVB)—a major venture capital lender that controlled around $212 billion—from enhanced liquidity requirements and more frequent federal stress tests imposed on banks considered "systemically important."
SVB's leadership specifically lobbied for the higher threshold, insisting the tougher regulations were unnecessary even as experts and lawmakers raised concerns that gutting them would increase the risk of bank failures and cascading effects on the financial system.

"Americans deserve to know their money is safe when they deposit it in the bank," Porter (D-Calif.) said Tuesday. "In 2018, politicians rolled back critical regulations protecting Americans' deposits—ignoring warnings from financial experts in favor of Wall Street special interests. I'm calling on Congress to restore commonsense guardrails that keep corporate greed in check and restore confidence in our financial system."
Titled the Secure Viable Banking (SVB) Act, Warren and Porter's legislation would place more stringent regulations on institutions like Silicon Valley Bank by reviving safeguards for firms with between $50 billion and $250 billion in assets.
Facing backlash from Warren and others for glaring oversight failures, the Federal Reserve is considering stronger regulations for banks with between $100 billion and $250 billion in assets, Reutersreported late Tuesday.
Warren and Porter introduced their bill with the support of 31 Democrats in the House and 17 members of the Senate Democratic caucus, including Sens. Bernie Sanders(I-Vt.) and Ed Markey(D-Mass.).
"Taxpayers should not have to pay for the mistakes and mismanagement of big bank executives," Markey said in a statement. "The American people should have confidence in their financial institutions, and that starts with undoing Trump-era deregulation so that we can ensure a collapse like we saw last week never happens again."
Notably absent from the list of co-sponsors were the Democrats who helped Republicans usher the bill through Congress in 2018, often misleadingly arguing that the measure was chiefly about providing relief for "community banks."
In the Senate, 16 Democrats and Sen. Angus King (I-Maine) supported the bill, giving Republicans the votes they needed to overcome the chamber's legislative filibuster.
One of the Democratic supporters, Mark Warner of Virginia, defended the 2018 law over the weekend, tellingABC News that he believes it "put in place an appropriate level of regulation on mid-sized banks" and that "these mid-sized banks needed some regulatory relief."
The Leverreported last week that SVB chief Greg Becker held a fundraiser for Warner in 2016.
"The bank's political action committee also donated a total of $10,000 to Warner's campaigns in the 2016 and 2018 election cycles," the outlet noted.
Sen. Jon Tester (D-Mont.), another major backer of the 2018 law, held a fundraiser in Silicon Valley earlier this week, just days after SVB collapsed.

News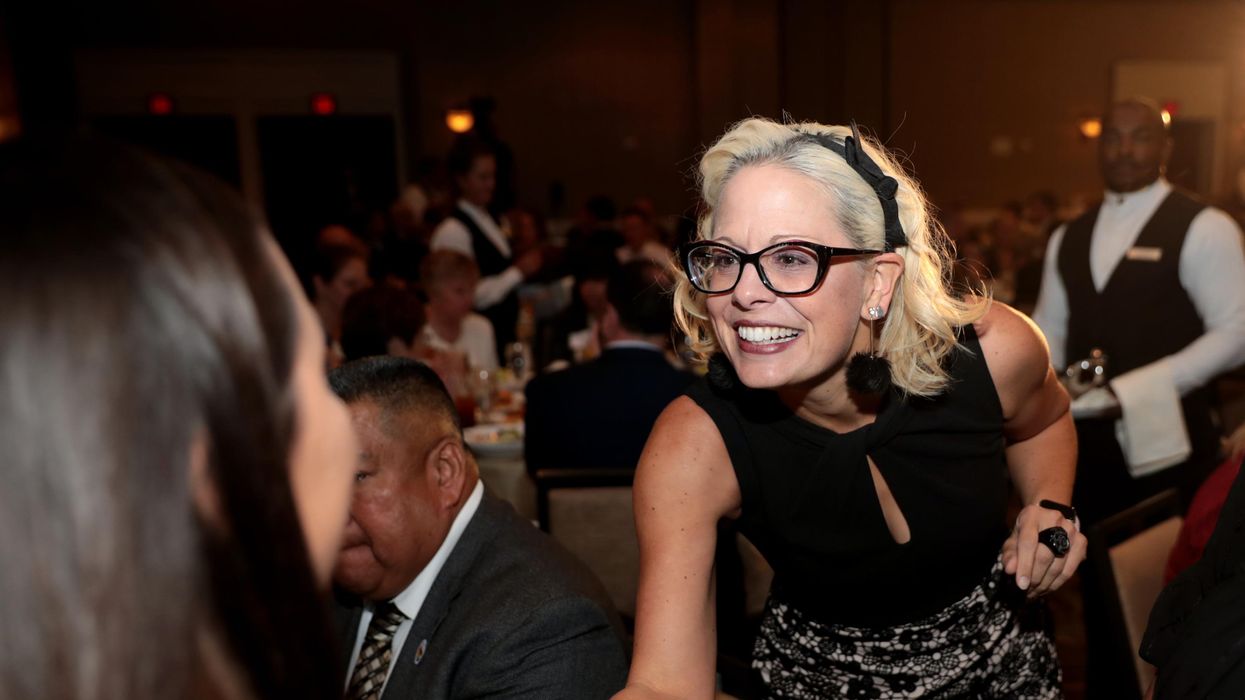 "When bank lobbyists asked me to weaken bank regulations, I said no. When they asked Sen. Sinema, she asked how much—and voted yes," said the Democratic Arizona congressman, who is running for Sinema's Senate seat.
Democratic Arizona Congressman Ruben Gallego on Tuesday accused Sen. Kyrsten Sinema—who he hopes to oust from the U.S. Senate next year—of playing a major role in the Silicon Valley Bank collapse by taking campaign contributions from lobbyists that represented the bank and then voting to deregulate it.
Politicoreports that Sinema (I-Ariz.) was one of numerous members of Congress to take campaign donations from Franklin Square Group, which once counted Silicon Valley Bank (SVB) among its clients. In 2018, Sinema—then a Democrat serving in the U.S. House of Representatives—received more than $8,000 from the lobbyists before she voted for Sen. Mike Crapo's (R-Idaho) Economic Growth, Regulatory Relief, and Consumer Protection Act.
"Before voting to loosen bank safeguards, Sinema received over $100,000 from big banks. And among those who bought Sinema's vote were three Silicon Valley Bank lobbyists that maxed out," Ruben said in a campaign email. "Simply put, she voted to give the banks free rein. And I did not."
"The SVB collapse is a direct result of Kyrsten Sinema's choice to side with big banks over everyday Arizonans."
Dubbed the Bank Lobbyist Act by critics, the law rolled back the Dodd-Frank Act—which was passed in the wake of the 2007-08 global financial meltdown—and exempted banks with between $50 billion and $250 billion in assets from rigorous stress-testing and capital requirements. Both SVB and Signature Bank, which are both now under federal government control, qualified for the "medium-sized bank" exemption.
Sinema argued at the time that "these important reforms will help protect the financial security of Arizonans young and old as they plan for homeownership, a college education, or a stable retirement."
Gallego asked Monday: "What's the difference between Sen. Sinema and me? When bank lobbyists asked me to weaken bank regulations, I said no. When they asked Sen. Sinema, she asked how much—and voted yes. Now we are all going to pay for her mistake."
On Twitter Tuesday, Gallego wrote that "the SVB collapse is a direct result of Kyrsten Sinema's choice to side with big banks over everyday Arizonans."
"FEC records and public lobbying reports show that three SVB lobbyists maxed out donations to Sinema ahead of 2018 Dodd-Frank rollback which led to the collapse," Gallego continued, referring to the Federal Election Commission. "Sinema is in the pocket of Wall Street and her vote put hardworking Arizonans, their families, and their small business, at risk of another 2008-like meltdown."
"Arizonans deserve a leader in the Senate who will fight for them, not Wall Street," he added. "Sinema is not that person and Arizonans know it."
Sinema was far from alone in taking campaign cash from SVB's lobbyists and political action committee.
As Politico's Hailey Fuchs, Jessica Piper, and Holly Otterbein noted:
Between 2017 and 2022, Silicon Valley Bank's PAC gave more than $50,000 to the campaigns of nearly two dozen senators and representatives, according to filings with the Federal Election Commission. The donations largely went to members—Republicans and Democrats—who served on relevant committees including the House Financial Services Committee or Senate Finance Committee. Sen. Mark Warner (D-Va.) and Rep. Patrick McHenry (R-N.C.) received the most from the PAC, each bringing in $7,500 over the six-year period.
SVB CEO Greg Becker "also made maximum individual donations to the campaigns of Warner and Senate Majority Leader Chuck Schumer (D-N.Y.) during the 2022 cycle," the reporters added, citing FEC records.
Sinema—who has been accused of "cartoonish-level corruption" for coziness with corporations and lobbyists—was excoriated in a Tuesday Daily Beast article by Michael Daly, who called the senator "a wolf for Wall Street."
Daly took aim at Sinema's Sunday statement asserting that "the federal government must now ensure those responsible [for the SVB collapse] are held accountable, while maintaining stability for all Americans who rely on our banking system."
"Sinema need only step in front of a mirror to find a prime suspect," wrote Daly. "Whether she's calling herself a Democrat or an independent, her voting record is the same. And it marks her a shill for the banking industry."

News
SUPPORT OUR WORK.
We are independent, non-profit, advertising-free and 100%
reader supported.