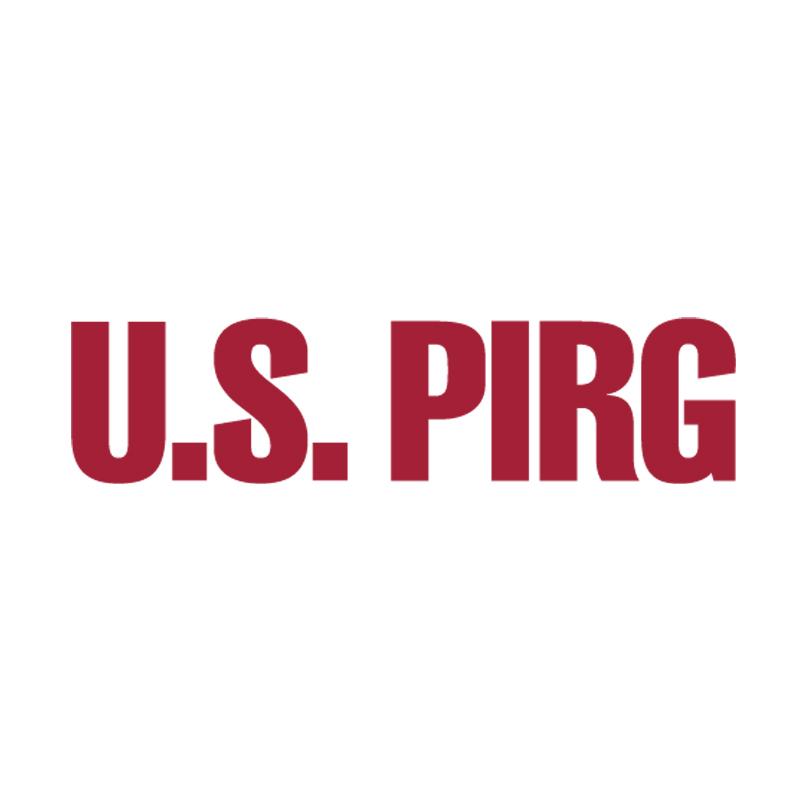 For Immediate Release
February, 14 2011, 02:10pm EDT
Contact:
Elizabeth Hitchcock, Public Health Advocate
Office: 202-546-9707
elizabeth@pirg.org
Obama Budget Proposes Important First Cuts to Ag Subsidies
Statement of U.S. PIRG Public Health Advocate Elizabeth Hitchcock on the President's proposed 2012 budget, which includes more than $1 billion in cuts over five years to agriculture subsidies that are achieved by reducing the cap on Department of Agriculture direct payments and tightening eligibility standards.
WASHINGTON
Statement of U.S. PIRG Public Health Advocate Elizabeth Hitchcock on the President's proposed 2012 budget, which includes more than $1 billion in cuts over five years to agriculture subsidies that are achieved by reducing the cap on Department of Agriculture direct payments and tightening eligibility standards.
"Billions of taxpayer dollars have been directed toward agribusiness - artificially driving down the cost of fats and sugars by subsidizing commodity crops like corn and soybeans. Meanwhile, the prices for fruits and vegetables, grown with relatively little government support, have steadily increased by nearly 40% in the past 20 years.
"We can take important steps toward curbing childhood obesity by curbing taxpayer subsidies to agribusiness that make a box of Twinkies cheaper than a bag of carrots.
"U.S. PIRG applauds the President's proposed cuts to these subsidies and calls for Congress to further cut such agriculture subsidies as it reauthorizes the Farm Bill."
U.S. PIRG, the federation of state Public Interest Research Groups (PIRGs), stands up to powerful special interests on behalf of the American public, working to win concrete results for our health and our well-being. With a strong network of researchers, advocates, organizers and students in state capitols across the country, we take on the special interests on issues, such as product safety,political corruption, prescription drugs and voting rights,where these interests stand in the way of reform and progress.
LATEST NEWS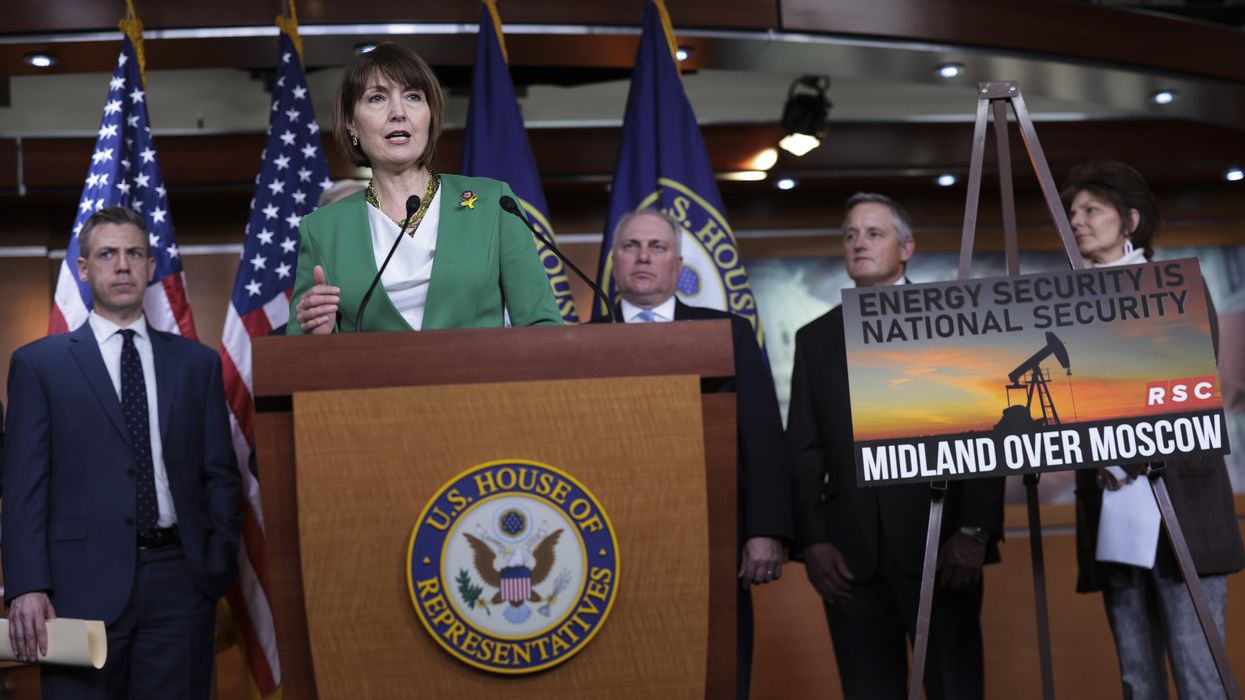 "Instead of holding accountable Big Oil CEOs for causing last year's record-setting gas prices, the new majority is hellbent on making political statements as American families suffer."
Climate watchdogs warned Monday that a bill House Republicans are expected to vote on this week is a thinly veiled effort to open more public lands and waters to planet-wrecking oil and gas drilling.
The Strategic Production Response Act, led by new House Energy and Commerce Committee chair Rep. Cathy McMorris Rodgers (R-Wash.), aims to curtail presidential authority to release oil from the United States' strategic reserve—something President Joe Biden did on a major scale last year in an attempt to curb gas prices.
But Joshua Axelrod, a senior advocate at the Natural Resources Defense Council (NRDC) who focuses on public lands, noted in a blog post Monday that "despite its title, the bill neither responds to any existing problem nor advances any coherent or achievable energy policy."
"Under the guise of limiting the use of the Strategic Petroleum Reserve (SPR), the Strategic Production Response Act appears, in fact, to be focused on establishing a federal oil and gas leasing mandate that eclipses all past efforts to hand over public lands and offshore areas to oil and gas companies," Axelrod wrote. "How? Under the proposed language, no non-emergency drawdown of the SPR can take place without the development of a plan from the Secretary of Energy and other relevant agency heads to 'lease for oil and gas production... [on lands and waters] by the same percentage' as the planned SPR drawdowns (up to 10%)."
"Put more clearly: If 1% of the SPR is to be drawn down, a plan to lease 1% of available public lands or offshore areas must first be developed," Axelrod added, cautioning that—if passed—the measure would "lock in another century of oil and gas."

In a letter to the House Energy and Commerce Committee last week, Energy Secretary Jennifer Granholm expressed strong opposition to Rodgers' bill, arguing it would cause "more oil supply shortages in times of crisis and higher gasoline prices for Americans."
Jordan Schreiber, the director of energy and environment at the progressive watchdog group Accountable.US, echoed that warning in a statement Monday.
"McCarthy and his MAGA majority are making it clear right out of the gate—they'd rather play politics than provide much-needed relief for American consumers," said Schreiber. "This bill hamstrings the executive branch, taking away a critical tool in combating rampant price gouging at the pump while making it easier to give our public lands away to the very companies responsible for artificially high prices. Instead of holding accountable Big Oil CEOs for causing last year's record-setting gas prices, the new majority is hellbent on making political statements as American families suffer."
Accountable.US also released an analysis countering Republican claims that have been used to justify the Strategic Production Response Act.
\u201cJUST IN: The @HouseGOP is taking up legislation that would prevent @POTUS from combating industry price gouging and make it easier for Big Oil to gain control of public lands.\n\nThe MAGA majority would rather play politics than provide relief to Americans. \nhttps://t.co/XtmCpd1hmw\u201d

— Accountable.US (@Accountable.US) 1674487452
The Biden Interior Department has itself come under fire from environmentalists for auctioning off huge swaths of public lands and waters for oil and gas extraction despite the president's campaign vow to put an end to such drilling. Recent research shows that drilling on public lands and waters has been responsible for roughly a quarter of all U.S. greenhouse gas pollution since 2005.
In 2021, the Biden administration approved more onshore oil and gas drilling permits per month than the Trump administration did during its first three years in power.
Nonetheless, Republicans awash in Big Oil campaign cash have repeatedly accused the Biden administration of being insufficiently aggressive when it comes to turning federal lands and waters over to the profit-soaked fossil fuel industry.
Rodgers, who received $218,367 from individuals and PACs associated with the oil and gas industry during the last election cycle, said in a floor speech earlier this month that "it's time to cut the red tape and expand energy production here at home."
In recent days, branches of the Koch-funded group Americans for Prosperity have been boosting Rodgers' legislation on Twitter, urging the GOP-controlled House to pass it.
With Democrats narrowly controlling the Senate, the bill—one of several Big Oil-friendly measures Republicans are planning to advance in the coming months—is unlikely to make it to Biden's desk.

Axelrod of NRDC argued it is "not hyperbole" to conclude that Rodgers' legislation proposes "a leasing plan so massive in scale it would eclipse all historic precedent and pave the way for federal oil and gas leasing well into the next century."
"The agencies implicated by this proposal have jurisdiction over 3.1 billion acres of onshore and offshore areas, suggesting that the 10% limit on acreage that could be leased translates into 314 million acres. That's more than eight times as many acres currently under lease," Axelrod wrote.
"This attempted public lands and waters giveaway comes as we are inundated daily with news of the escalating effects of the climate crisis on the United States," he added. "The incoming House majority appears to view those hardships and the enormous costs they impose on the U.S. economy as mere inconveniences to their laser-focused drive to prop up an oil and gas industry that not only recorded record-breaking profits in 2022, but also, is about to achieve record-breaking domestic production."
News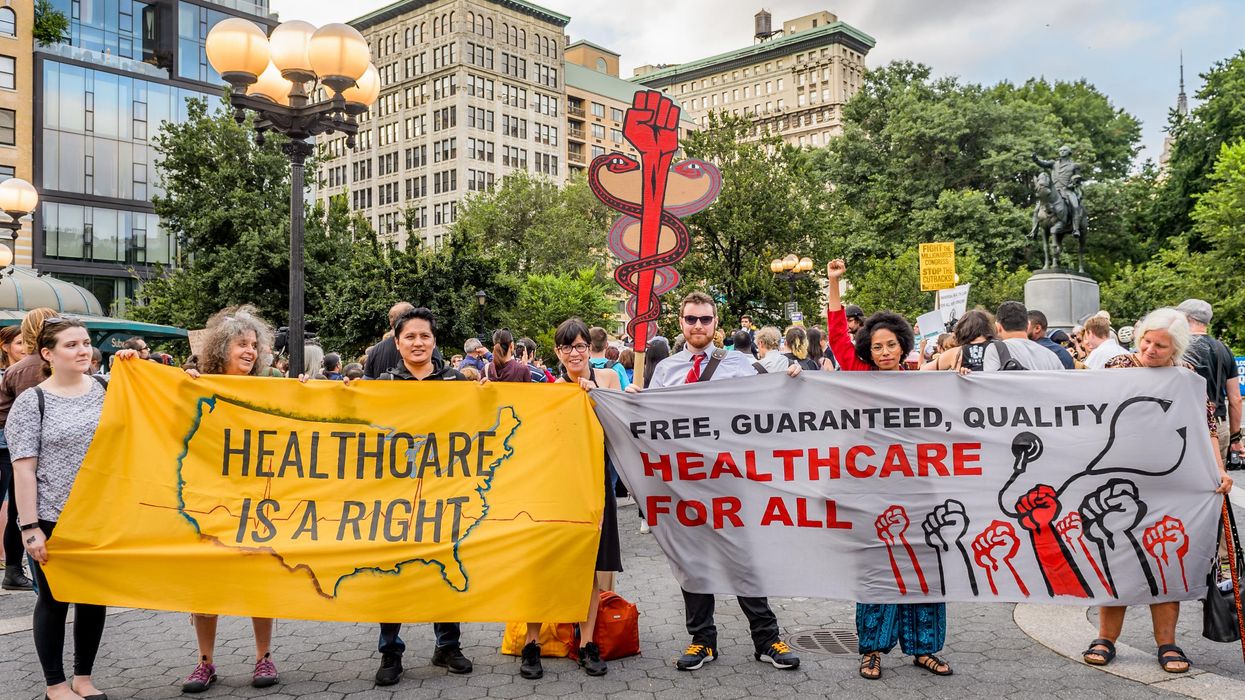 Across the political spectrum, 57% of respondents said they believe the government should ensure everyone in the U.S. has health coverage.
A new poll released by Gallup on Monday offered the latest evidence that Democratic leaders who continue to fight the progressive push for Medicare for All are out of touch with their own party, as more than 7 in 10 Democratic voters support a government-run healthcare system in which every American could participate and receive high-quality, free care.
Seventy-two percent of Democratic voters support what Gallup referred to as a "government-run healthcare system," compared to just 26% who backed continuing a "system based mostly on private health insurance," such as the "healthcare marketplace" created by the Affordable Care Act under the Obama administration in 2010. Under the law, 27.5 million Americans still were without health insurance as of 2021.
President Joe Biden suggested in 2020 that he would veto Medicare for All legislation if it passed in Congress and reached his desk, and said during the 2020 presidential campaign that the proposal to improve Medicare and expand it to all Americans was "unrealistic," adding that voters would prefer the option of keeping their employer-based health insurance if they have it.
The Gallup poll calls that claim into question, "with Democrats indicating support for a system where the government not only guarantees coverage but provides healthcare," reported Gallup.
The survey suggested that a majority of Democratic voters—contrary to repeated claims by the corporate media and Democratic leaders—hold views on healthcare that are closer to those of Medicare for All proponents such as Sen. Bernie Sanders (I-Vt.) and Reps. Alexandria Ocasio-Cortez (D-N.Y.) and Pramila Jayapal (D-Wash.), among a growing number of progressives in Congress.

The poll also found that across the political spectrum, 57% of respondents said the government should ensure all people have healthcare coverage—the highest number to say so in a Gallup poll since 2018.
Nearly half—46%—of independents also backed a government-run national healthcare program, but 50% were opposed, and the vast majority of Republicans backed a private health insurance system.
The poll comes days after another Gallup survey showed that under the current healthcare system, in which private insurance companies are expected to raise premium prices by between 6% and 12% this year, nearly 40% of Americans said they or a family member avoided or delayed seeking medical care in the last year due to cost.
\u201c@Gallup's annual #healthcare poll reports nearly 40% of Americans delayed medical care due to cost concerns last year. Experts emphasize that patients who skip preventive care and screenings risk worsening medical conditions. https://t.co/KKS8VQ1ttL\u201d

— Podimetrics (@Podimetrics) 1674168241
Just 12% of respondents in another poll released last September said they believed the U.S. healthcare system is run "very" or "extremely" well.
News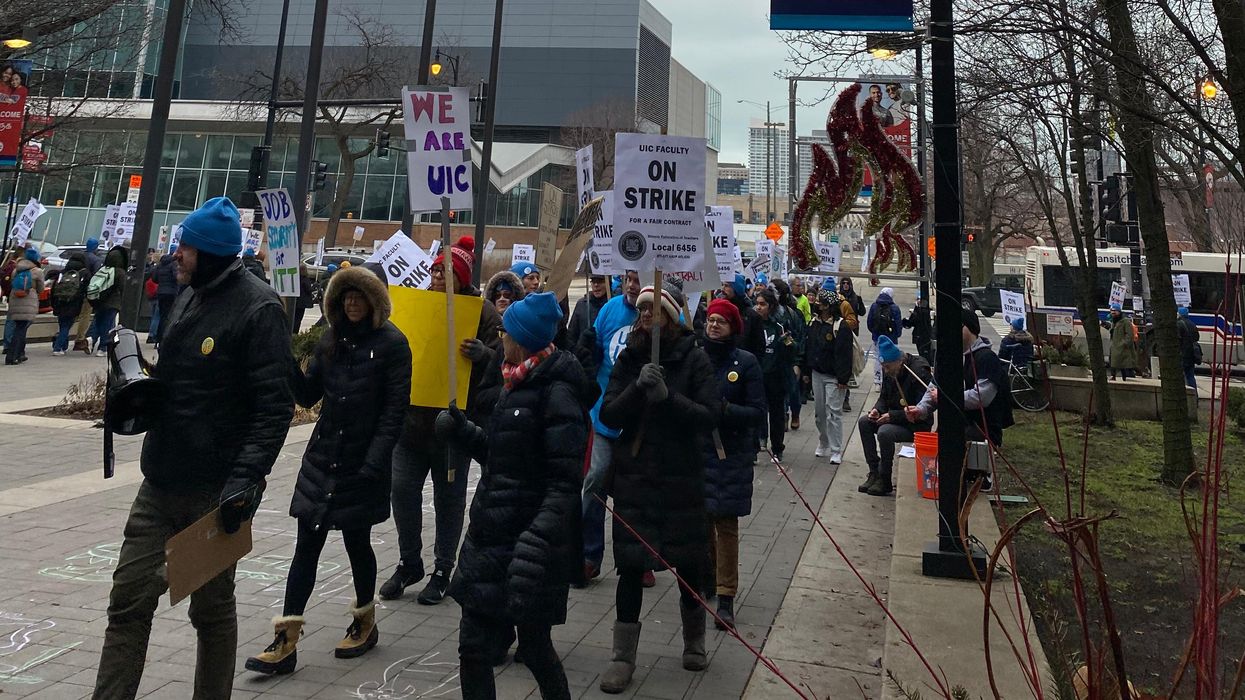 "This contract contains important gains on the issues most important to our members," said the president of the UIC United Faculty union.
Faculty members at the University of Illinois Chicago suspended their strike on Sunday after reaching a tentative deal with school administrators that includes minimum salary increases for both tenure-track and non-tenure-track staff.

"This contract contains important gains on the issues most important to our members," Aaron Krall, president of the UIC United Faculty (UICUF) union, said in a statement early Monday. "We are especially proud of winning $60,000 minimum salaries for our lowest-paid members and the commitments on student wellness and disability testing."
According to the union, the tentative contract deal—which must be ratified by UICUF members—includes:
Non-contractual, public commitments on expanding resources for student wellness and establishing psychoeducational testing;
Increased minimum salaries for the lowest-paid faculty: $60,000 NTT and $71,500 TT;
Equity adjustment to base salaries for all represented faculty;
5% average raise pools per each year of the 4-year contract;
Stronger job protections for non-tenure-track faculty; and
Expanded non-discrimination and anti-harassment policies.
The deal with university administrators was reached four days after faculty walked off the job last week to protest the lack of progress in contract negotiations and the school's refusal to budge on their demands for larger pay raises to account for higher living costs.
"We won! Strike suspended!" UICUF tweeted late Sunday following a nine-hour bargaining session that produced the tentative contract deal. "Feel free to notify your students that classes will resume tomorrow (Monday). Much, much more information is forthcoming, as well as a membership meeting where you all will vote on whether or not to ratify this contract."
As the local Chicago Sun-Timesreported Monday: "The agreement came after nine months of bargaining and 34 negotiation sessions, about half involving a federal mediator. Professors have been working without a contract since August."
Irene Mulvey, president of the American Association of University Professors, told the newspaper that "the academic labor movement is on fire right now."

"We've had decades of disinvestment at the federal and state level," Mulvey added. "[Higher education] is at a breaking point. And I think the answer is faculty organizing."

Last month, University of California graduate student workers ratified a contract deal that included better pay and benefits, ending a six-week strike that marked the largest academic employee walkout in U.S. history.

"The effects of the historic strike still reverberate across the nation, helping energize an unprecedented surge of union activism among academic workers that could reshape the teaching and research enterprise of American higher education," the Los Angeles Timesreported earlier this month. "In 2022 alone, graduate students representing 30,000 peers at nearly a dozen institutions filed documents with the National Labor Relations Board for a union election."
News
SUPPORT OUR WORK.
We are independent, non-profit, advertising-free and 100%
reader supported.