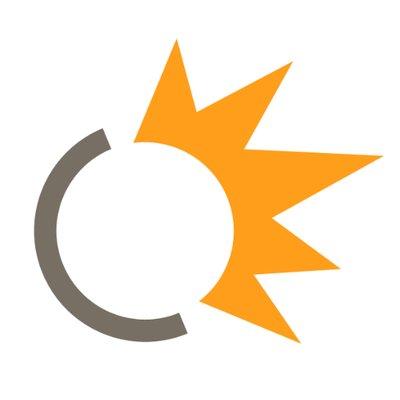 For Immediate Release
Contact:
Email:,info@corporateaccountability.org
Water Emergency an Opportunity to Advance Long-Term Solutions, Overcome Short-Term Fixes like Bottled Water
Statement by Leslie Samuelrich, Chief of Staff, Corporate Accountability International
WASHINGTON
This weekend's water main break outside Boston is an unfortunate
reminder of the day-to-day reality for so many across the globe, and
what we stand to lose in the U.S. if we do not immediately reinvest in
our public water systems. Nearly two million people in the greater
Boston-area have joined the hundreds of millions worldwide that are
forced to boil tap water to protect against waterborne illness.
Fortunately, the boil-order in Boston is only temporary and the break
promises to be repaired within the week.
However as a nation, if we don't take swift action in guaranteeing
high quality tap water for generations to come, our experience may look
increasingly like those in countries that currently look to us as a
model. After all, we boast near universal access to high quality tap
water here in the states. But public water systems in the U.S. currently
face a $22 billion annual funding gap. And though investments in public
water stimulate the economy at large, overall funding has declined as
bottled water marketing has eroded public confidence in the tap and the
resulting political will to adequately fund public water.
For this reason, it's important bottled water be seen for what it is -
a band-aid solution to a much larger problem that it's marketing has,
in fact, helped to create. The deterioration of public water systems is
good for business, as Nestle CEO Kim Jeffery has more than once pointed
out. It should be no surprise that bottled water corporations seize on
crises such as the one in Boston to promote its product. Never mind that
up to 40 percent of bottled water comes from the same source and is far
less regulated than the tap.
We simply cannot afford to remain in this vicious cycle where we put
off necessary investments with short-term solutions that serve only to
set us back. Today states, including Massachusetts, spend millions of
taxpayer dollars on bottled water that so clearly could be better spent
bolstering our public water systems. To Massachusetts' credit, $185
million is already being channeled into water projects. Still that
figure may not be enough to address the ongoing need. That's why we need
to think outside the box and Think Outside the Bottle.
Corporate Accountability International encourages Governor Patrick to
cut state spending on bottled water and to reallocate those dollars to
public water systems. The organization also encourages people everywhere
to join the Think Outside the Bottle campaign which is actively working
to promote, protect and ensure public funding for public water systems
across the country. Learn more about getting involved at: www.ThinkOutsideTheBottle.org
Corporate Accountability stops transnational corporations from devastating democracy, trampling human rights, and destroying our planet.
(617) 695-2525
LATEST NEWS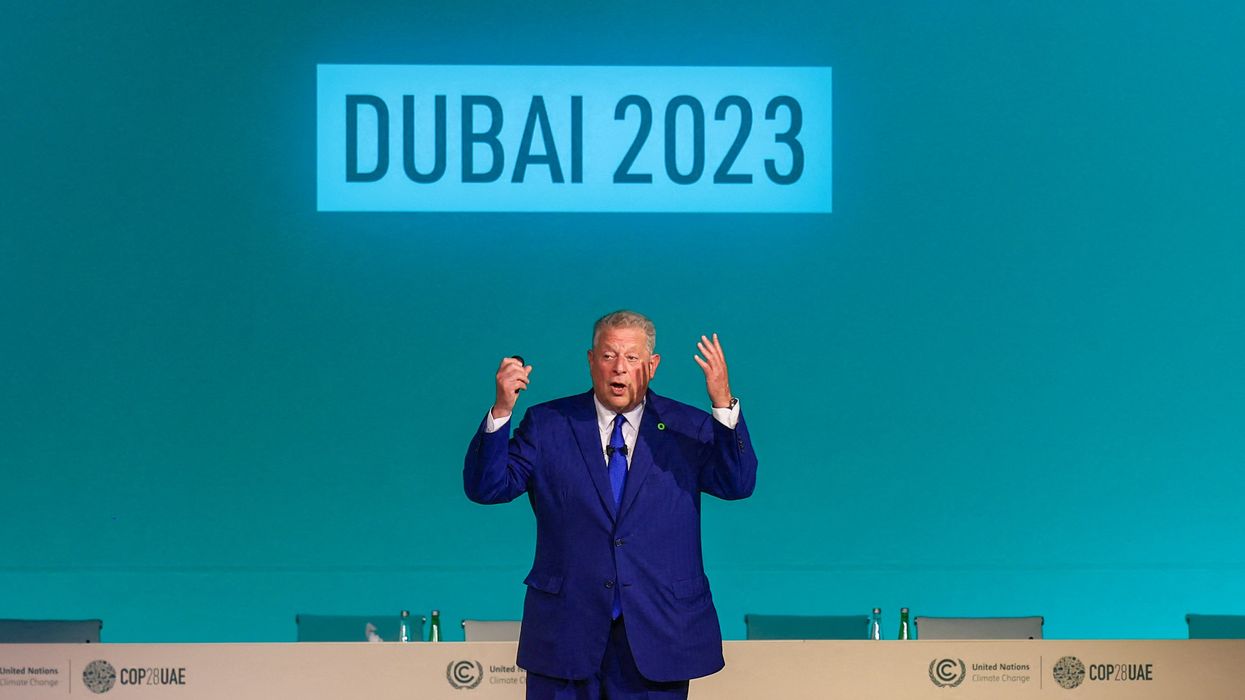 The former U.S. vice president accused the United Arab Emirates of "abusing the public's trust" by naming the CEO of its national oil company as president of COP28.
Former U.S. Vice President Al Gore said Sunday that fossil fuel interests have effectively seized the reins of the United Nations climate summit process, preventing the kind of ambitious action that scientists say is necessary to prevent catastrophic warming and all of its cascading impacts.
"This industry is way more effective at capturing politicians than they are at capturing emissions," Gore toldReuters on the sidelines of the COP28 summit in Dubai. "And they have captured the COP process itself now and overreached, abusing the public's trust by naming the CEO of one of the largest and least responsible oil companies in the world as head of the COP. It's an abuse of the public's right to have confidence in the processes by which the decisions about humanity's future are made."
Sultan Ahmed Al Jaber, COP28 president and chief executive of the Abu Dhabi National Oil Company (ADNOC)—which is planning a massive expansion of oil and gas production in the coming years—has insisted that any deal reached at the critical climate summit must include fossil fuels.
A record number of fossil fuel lobbyists are believed to be in attendance at the latest round of U.N. climate talks, and little has been done to curb their influence.

Gore's interview with Reuters came after he delivered a presentation highlighting the UAE's rising greenhouse gas emissions. Citing data from Climate TRACE—an emissions tracking coalition that he co-founded—Gore said the UAE's planet-warming emissions rose 7.5% last year compared to 2021, while the rest of the world's rose 1.5%.
As AFPreported Sunday, Dubai's skyline was "obscured by a blanket of smog rated as 'unhealthy'" as COP28 delegates attended day four of the summit, which was deemed "health day."
A Human Rights Watch report published Monday notes that the UAE's "dangerously high air pollution levels" are "creating major health risks for its citizens and residents." Pointing to World Health Organization estimates, the group observed that more than 1,800 people die from air pollution every year in the UAE.
"Even as the United Arab Emirates government works to burnish its image as a global climate leader," the report notes, "the country's vast fossil fuel production and use spew toxic pollutants into the air and contribute to climate change."
News
"This dismisses decades of work by IPCC scientists," said one expert. "Disgraceful."
Scientists and climate advocates responded with outrage Sunday to COP28 president Sultan Ahmed Al Jaber's claim that there is "no science" behind the push to rapidly phase out planet-warming fossil fuels, which Al Jaber's company is extracting on a large scale.
Al Jaber's comments, first reported by The Guardian on Sunday, came in response to questioning from Elders chair Mary Robinson during a virtual She Changes Climate discussion. Robinson told Al Jaber that "we're in an absolute crisis that is hurting women and children more than anyone... and it's because we have not yet committed to phasing out fossil fuel."
The COP28 chief and Abu Dhabi National Oil Company (ADNOC) CEO responded dismissively, saying he "accepted to come to this meeting to have a sober and mature conversation" and not to take part in "any discussion that is alarmist," according to audio published by The Guardian.

"There is no science out there, or no scenario out there, that says that the phaseout of fossil fuel is what's going to achieve 1.5°C," Al Jaber added. "Please help me, show me the roadmap for a phaseout of fossil fuel that will allow for sustainable socioeconomic development, unless you want to take the world back into caves."
That position runs directly counter to the outspoken stance of United Nations Secretary-General António Guterres, who said Friday that "the 1.5°C limit is only possible if we ultimately stop burning all fossil fuels," arguing that "the science is clear."
Joelle Gergis, a climate scientist and lead author of the Intergovernmental Panel on Climate Change's (IPCC) Working Group I contribution to the Sixth Assessment Report, called Al Jaber's remarks "disgraceful."
"This dismisses decades of work by IPCC scientists," Gergis wrote on social media.
"'Sending us back to caves' is the oldest of fossil fuel industry tropes: it's verging on climate denial."
The IPCC, which has synthesized the research of hundreds of climate scientists from around the world, has argued that any successful effort to prevent catastrophic planetary warming "will involve a substantial reduction in fossil fuel use."
"More than a century of burning fossil fuels as well as unequal and unsustainable energy and land use has led to global warming of 1.1°C above pre-industrial levels," the IPCC said following the release of its latest report earlier this year. "This has resulted in more frequent and more intense extreme weather events that have caused increasingly dangerous impacts on nature and people in every region of the world."
Other recent research has warned that rich nations must completely halt oil and gas production by 2034 to give the world a 50% chance of limiting warming to the 1.5°C target set by the Paris Agreement.
Bill Hare, chief executive of Climate Analytics, toldThe Guardian that Al Jaber's response to Robinson was "extraordinary, revealing, worrying, and belligerent."
"'Sending us back to caves' is the oldest of fossil fuel industry tropes: it's verging on climate denial," said Hare.
Al Jaber's comments, which he says have been misrepresented, were seen as further confirmation that he is ill-suited to lead a climate summit given his simultaneous role as the top executive at one of the world's largest fossil fuel firms. A Global Witness analysis released over the weekend found that ADNOC is on track to become the second-largest oil producer in the world by 2050, and Al Jaber has been accused of using his position as COP28 president to pursue oil and gas deals.
"ADNOC plans to produce more oil than any of the 'Big 5' supermajors—ExxonMobil, Chevron, Shell, BP, TotalEnergies," Global Witness found. "In fact, its projected output will positively dwarf that of the European majors; ADNOC's 35.9 billion barrels is 49% higher alone than the projected 24.1 billion barrels production of Shell, BP, and Total combined."
On Monday, the COP28 presidency published a summary of the World Climate Action Summit, a gathering of more than 150 heads of state aimed at facilitating coordinated climate action.
The document states that world leaders "highlighted the opportunities to cut emissions in every sector and to accelerate the technology innovation to address scope 3 emissions, as well as the phase-down of fossil fuels in support of a transition consistent with limiting warming to 1.5°C."
Romain Ioualalen, global policy lead at Oil Change International, said in a statement that "strong support from the leaders' summit to address fossil fuels in the final COP28 agreement is a promising sign, but it is just good enough."
"Leaders must raise their ambition above a phase-down, and agree to immediately stop new fossil fuel expansion, and build a fast, full, fair, and funded phaseout of all fossil fuels while rapidly phasing in renewables," said Ioualalen. "Contrary to the COP28 president's assertions, the science is abundantly clear that warming will continue as long as we keep producing and burning fossil fuels."

News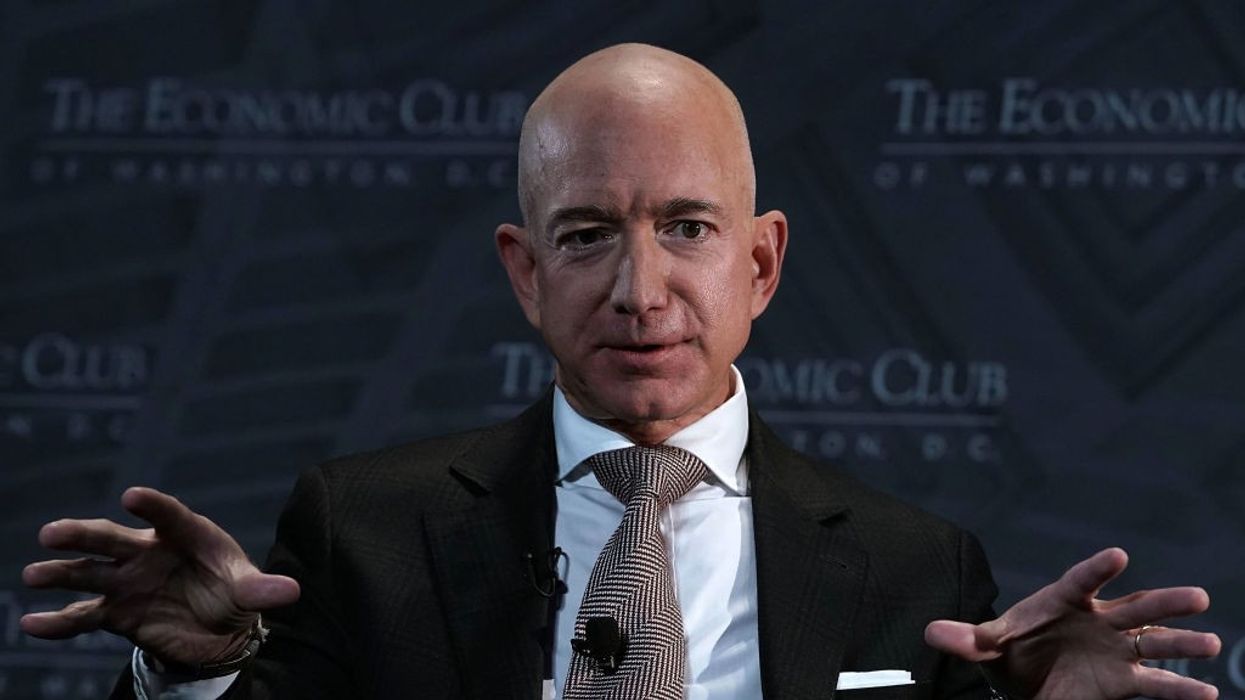 "The last thing Americans need is a Bezos-backed investment company further consolidating single-family homes and putting homeownership out of reach for more and more people. Housing should be a right, not a speculative commodity."
Among the three richest people on the planet, mega-billionaire Amazon founder Jeff Bezos received some praise last week for announcing approximately $120 million in donations to a number of groups fighting the scourge of homelessness in the United States.
"It's a privilege to support these orgs in their inspiring mission to help families regain stability," Bezos wrote in an Instagram post touting the multiple grants to 38 individual nonprofits in 22 states.
But hold your applause.
Just days after word of the charitable gifts—a minuscule drop in the bucket compared to the estimated $170 billion fortune he possesses—a Bezos-controlled company called Arrived dropped $500 million of new investment in single-family homes with a venture fund that critics warn will make the nation's housing crisis even worse.
According toGV Wire:
Since its inception in 2021, Arrived has attracted nearly a half a million customers, operating as a fractional real estate investing platform. The company's model is similar to buying a slice of the American pie, allowing investors to purchase shares of single-family rentals for as little as $100.
The fund itself—called the Single Family Residential Fund—allows investors to purchase portions of various homes and later trade, hold, or redeem their "chips" on a rolling basis like players at a casino.
While many Americans, especially younger people and working-class families, have been steadily priced out of homeownership by soaring costs and, more recently, higher interest rates, Arrived preys on that reality by selling the idea that owning a piece of a home as an investment is an "American Dream" akin to owning the home one lives in.
Speculative investors, however, are likely not among those struggling to make ends meet but this kind of investment behavior, warn critics, is certain to drive home prices even higher.

Rep. Ro Khanna (D-Calif.)—who has co-authored legislation to halt the rent-gouging and inflated home prices that result from such investment schemes—ripped Bezos' latest move.

"The last thing Americans need is a Bezos-backed investment company further consolidating single-family homes and putting homeownership out of reach for more and more people," Khanna tweeted on Friday. "Housing should be a right, not a speculative commodity."
As the author writing under the name Homeless Romantic on Mediumnoted last week, a primary concern "raised by critics is the monopolization of housing" that Arrived is pushing.
"By acquiring a large number of single-family homes," reads the post, "Bezos and other investors could consolidate control over the housing supply, giving them significant influence over rental prices and market dynamics. This could make it more difficult for ordinary individuals and families to find affordable housing, particularly in high-demand areas."
It wasn't lost on many that there was a disconnect between his relatively paltry gift to organizations valiantly standing on the frontlines to fight homelessness with the one hand, while simultaneously using his massive fortune to exacerbate the crisis with a for-profit venture on the other.
What else could he do? People had ideas.
According to the Department of Housing and Urban Development, it would cost a mere $20 billion annually to end homelessness in the United States.
In response to the latest revelations about his charitable giving, a few people said a person worth nearly $200 billion like Bezos "could literally end homelessness by himself if he wanted to."

News