For Immediate Release
Contact:
Joia Jefferson Nuri, TransAfrica Forum, 202.223.1960 x 131
Dan Beeton, 202-239-1460
Jesse Jackson, Danny Glover, Harry Belafonte, Haiti-Based Aid Groups, and Haiti Experts Call for U.S. to Prioritize Aid Delivery Over Military Deployment
WASHINGTON
A letter signed by the Reverend Jesse Jackson, actor Danny Glover,
Harry Belafonte, Haiti-based aid organizations, and a number of other
NGO's and academic experts was sent to House Democratic majority
leaders and the Congressional Black Caucus today, urging for the U.S.
to prioritize and improve coordination of aid delivery over military
deployment in Haiti. The letter notes that an over-emphasis on security
has meant costly delays in distributing aid that have cost lives and
led to otherwise unnecessary amputations in some cases.
The letter, which is also signed by Haiti-based aid groups including
Haiti Konpay, Sustainable Organic Integrated Livelihoods (SOIL), and
the Institute for Justice and Democracy in Haiti, calls for an
accounting of supplies and personnel passing through U.S.-controlled
ports and airports, and commitments to deliver aid to under served
areas and persons and to work with all governments and NGO's in doing
so, as reports continue to describe communities in parts of Haiti that
still await much-needed aid.
The letter follows:
January 27, 2010
Dear Members of Congress,
The outpouring of aid from U.S. citizens and their government to Haiti
in the wake of this immense catastrophe has been important and welcome.
However, it is also clear that there have been serious mistakes that
have unnecessarily delayed the delivery of medical supplies, water, and
other life-saving materials.
Currently, there are major shortages reported of food, tents, and water.
The most costly unnecessary delays had until recently been in the area
of medical supplies.
A team of volunteer surgeons including the incoming president of the
New York State Chapter of the American College of Surgeons, whose
deployment was delayed for days by the U.S. military, reported that "untold
numbers are dying of untreated, preventable infections."
Doctors Without Borders (MSF), the world-renowned humanitarian group is
one of the organizations who had tons of medical supplies re-routed
because of decisions made by the U.S. government.
"We
lost three days," Francoise Saulnier, the head of MSF's legal
department told Reuters Television in an interview. "And these three
days have created a massive problem with infection, with gangrene, with
amputations that are needed now, while we could have really spared this
to those people."
Jarry Emmanuel, air logistics officer for the UN's World Food
Programme, noted on January 16 that "most
flights are for the US military."
Perhaps the biggest mistake has been an overemphasis on security, and
the deployment of 20,000 troops, to the detriment of delivery of
life-saving supplies. This was especially true during the first 10-12
days after the earthquake hit.
Although the situation with regard to medical supplies has recently
improved, there are now other shortages, including food, water, and
tents.
To avoid more unnecessary loss of life in the coming weeks, we call
upon the Administration to guarantee the following:
A daily public accounting of the shipments of materials and
personnel that pass through the Port-au-Prince airport or any other
ports under control of the U.S. military
A public commitment to prioritize the distribution of vital aid
and supplies and personnel, including water, medical supplies, food,
medical personnel, and shelter. This means that these supplies and
personnel must be given priority over the deployment of any more
military personnel or equipment.
A public announcement as to what measures our government will
take going forward to make sure that the mistakes of the first two
weeks are not repeated.
A public commitment to deliver, water, food, and other urgently
needed supplies to rural areas and other population centers that have
seen little, no, or greatly delayed aid
A public commitment to ensuring that all survivors in Haiti
receive the necessities: clean water, food, shelter, and medical care,
and that all resources received will be immediately deployed for this
purpose
A public commitment to work with all governments and Civil
Society Organizations that are delivering these needed goods and
services
While security can help to ensure a better distribution of aid, the
actual distribution of aid is most important. While it is true that
there have been some supplies lost to looting, this is not nearly so
terrible as the loss of life and limb that has occurred due to
unnecessary delays. The over-emphasis on security has been costly, and
must not be repeated - from now on the top priority must be the
delivery and distribution of the basic survival needs of the
population. The Administration must publicly reassure the world that
this will indeed be the priority going forward.
Sincere regards,
Harry Belafonte, Board of Directors
Emeritus, TransAfrica Forum
Rev. Jesse Jackson Sr.
Founder and President, Rainbow/PUSH Coalition
Danny Glover
Chair of the Board, TransAfrica Forum
Brian Concannon Jr., Esq.
Director, Institute for Justice & Democracy in Haiti
Mark Weisbrot
Co-Director, Center for Economic and Policy Research
Rachelle Lyndaker Schlabach
Director, Mennonite Central Committee, U.S. Washington Office
Melinda Miles
Founder and Director, Konbit pou Ayiti (Haiti)
Fritz Gutwein
Co-Director and Haiti Reborn Coordinator
The Quixote Center
Sasha Kramer
Co-founder, Sustainable Organic Integrated Livelihoods (Haiti)
Veerle Opgenhaffen
Sr. Program Director
Center for Human Rights and Global Justice at NYU School of Law
Anne McConnell-Wisskirchen
Co-ordinator, Haiti Advocacy Platform-UK
Briggs Bomba, Michael Stulman and Gerald LeMelle
Africa Action
Larry Birns
Director, Council on Hemispheric Affairs
Mark C. Johnson,
Executive Director, Fellowship of Reconciliation
John Feffer
Co-Director, Foreign Policy In Focus
Institute for Policy Studies
Emira Woods
Co-Director, Foreign Policy in Focus
Institute for Policy Studies
Jane Hamsher
Publisher, Firedoglake.com
Kevin Martin
Executive Director, Peace Action
Blase Bonpane
Director, Office of the Americas
Chuck Kaufman
National Co-Coordinator, Alliance for Global Justice
Doug Henwood
Editor, Left Business Observer
James Jordan
National Coordinator, Campaign for Labor Rights
James G. Devine
Professor of Economics
Loyola Marymount University
Greg Grandin
Professor of History
New York University
Hope Lewis
Professor of Law
Northeastern University School of Law
Carl G. Estabrook
Professor Emeritus
University of Illinois
A. Belden Fields
Professor Emeritus, Political Science
University of Illinois
T. M. Scruggs
Professor of Anthropology
University of Iowa
Amy H. Gardner
Professor of Medical Anthropology
University of California, Berkeley

Rosario Aguilar-Pariente
Visiting Fellow, Center for US-Mexican Studies
University of California, San Diego
Hasan Johnson
Assistant Professor
California State University, Fresno
Peter Hallward
Professor of Modern European Philosophy
Middlesex University
Rosaura Sanchez
Professor, Latin American Literature and Chicano Literature
University of California, San Diego
Millie Thayer
Assistant Professor of Sociology
University of Massachusetts, Amherst
Kent Norsworthy
Content Director, Latin American Network Information Center
University of Texas, Austin
Sheila R. Tully
California State University, San Francisco
Chris Chiappari
Associate Professor
Saint Olaf College
Susanne Jonas
Lecturer, Latin American and Latino Studies
University of California, Santa Cruz
Laura Enriquez
Professor of Sociology
University of California, Berkeley
Edgar Ivan Gutierrez
History Instructor
Riverside City College
Dana Frank
Professor, Department of History
University of California, Santa Cruz
Vijay Prashad
George and Martha Kellner Chair in South Asian History and Professor of
International Studies
Trinity College
Martin Luis Cabrera
Assistant Professor, Peninsular and Latin American Literature and
Culture
University of California, San Diego
Steve Ellner
Professor of History
University of Oriente, Venezuela
Miguel Tinker Salas
Professor of Chicano and Latin American Studies
Pomona College
Sidney Lemelle
Professor of History
Pomona College
Victor Silverman
Associate Professor of History
Pomona College
Victor Rodriguez
Professor of sociology of race and ethnicity, Department of Chicano and
Latino Studies
California State University, Long Beach
Susana Chavez Silverman
Professor of Romance Languages and Literature
Pomona College
Forrest Hylton
Universidad de los Andes
Sujatha Fernandes
Assistant Professor of Sociology
City University of New York
Jose Vadi
Professor Eeritus, Political Science
California State University, Pomona
Sonja Wolf
Universidad Nacional Autonoma de Mexico (UNAM)
Tanalis Padilla
Associate Professor of History
Dartmouth College
Gilbert Gonzalez
Professor
University of California, Irvine
Alma Martinez
Associate Professor of Theater Arts
Pomona College
Ronald Chilcote
Professor Emeritus
University of California, Riverside
Thomas W. Walker,
Professor Emeritus, Political Science, Ohio University
Eric Bindler
Department of Folklore and Ethnomusicology
Indiana University
Dr. Clifford Andrew Welch
UNIFESP - Universidade Federal do Estado de Sao Paulo
Dr. Daniel Faber
Director, Northeastern Environmental Justice Research Collaborative
Jacob Rekedal
University of California, Riverside
Donald Bray
California State University, Los Angeles
Marjorie Bray
California State University, Los Angeles
Mayo C. Toruno
Professor of Economics
California State University, San Bernardino
Carol Hendrickson
Professor of Anthropology
Marlboro College
Michael Brun
Department of Economics
Illinois State University
Estevan Azcona
UH Center for Mexican American Studies (CMAS) Visiting Scholar
University of Houston
William I. Robinson
Professor of Sociology, University of California-Santa Barbara
Sydney Hutchinson, Ph.D.
Humboldt Fellow
Berlin Phonogram Archive
Ethnological Museum, Berlin
Royce Hutson, Ph.D
Associate Professor
School of Social Work
Wayne State University, Detroit, MI
Griselda Rodriguez,
Syracuse University
Gilbert Joseph, Ph.D
Farnam Professor of History & International Studies
Yale University
Marc Becker
Associate Professor of History
Truman State University
Linda Carty, Ph.D.
Director of Graduate Studies
Department of African American Studies
Syracuse University
Lynn Stephen
Distinguished Professor of Anthropology and Ethnic Studies
University of Oregon
Sylvia Tesh, Ph.D
Lecturer
University of Arizona
Alejandra Marchevsky
Associate Professor of Liberal Studies
Department of Liberal Studies
California State University, Los Angeles
Hector Perla
Assistant Professor
University of California, Santa Cruz
Gilberto M.A.Rodrigues, Ph.D,
Brazilian Professor Fulbright Visiting Scholar, Law School
University of Notre Dame
Ester Hernandez
Dept. of Chicano Studies
California State University, Los Angeles
Leisy Abrego, Ph.D
University of California President's Postdoctoral Fellow
University of California, Irvine
Lee Furey
Instructor of General Education
Art Institute of Atlanta
Nicole Weeks
Assistant Professor of Psychology
Pomona College
Lauren Derby
Associate Professor of History
University of California, Los Angeles
Jeanne M. Woods
Henry F. Bonura, Jr. Distinguished Professor of Law
Loyola University College of Law
LATEST NEWS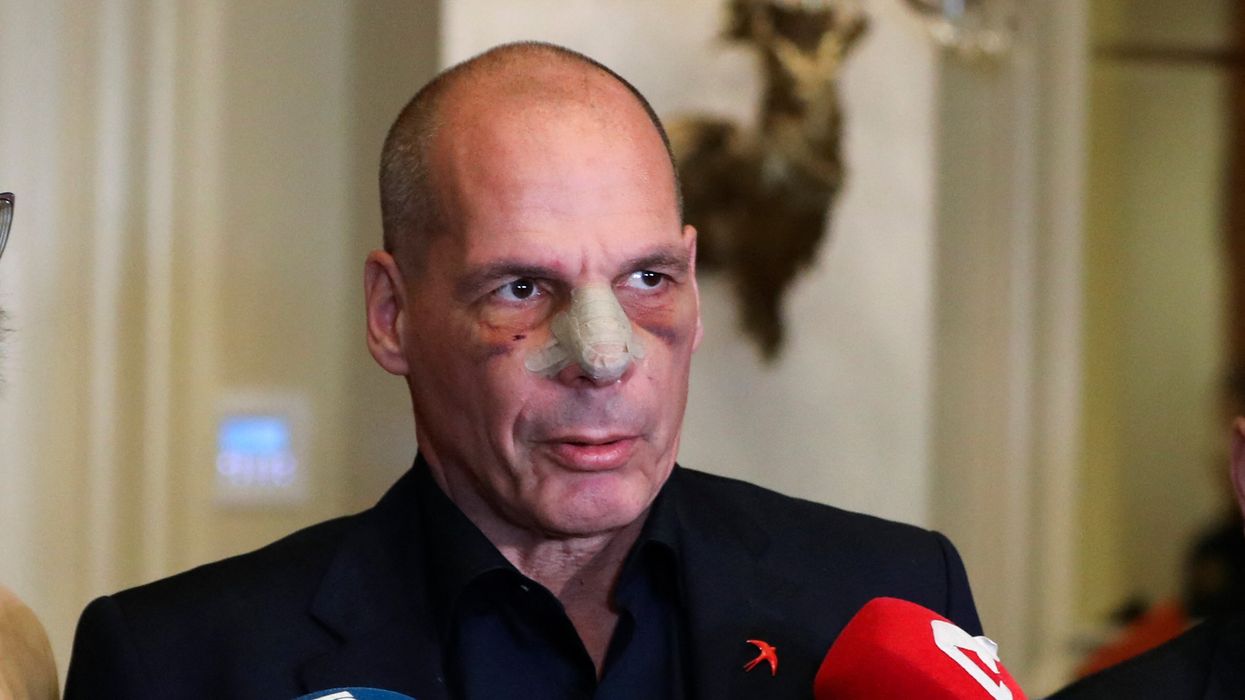 "I will recover," the Greek leftist said. "But those 57 from the train accident in Tempi won't, and their families' pain cannot be treated."
Recovering from a brutal assault that left him with a broken nose and cheekbone, leftist Greek lawmaker Yanis Varoufakis on Tuesday urged progressives "not get distracted" from the railway accident that killed 57 people last month or the neoliberal "privatize everything doctrine" he blames for the disaster.
Appearing on ANT1's "Kallimera Ellada" (Good Morning, Greece) on Tuesday, Varoufakis—the parliamentary leader of the left-wing MeRA25 party and former finance minister—told hosts Giorgos Papadakis and Maria Anastasopoulou he needs to "thank the public hospital staff" because "they worked miracles" to treat his fractured cheekbone and nose, which was broken in six places during the Friday evening assault by a group of young men the lawmaker described earlier as "hired thugs."
"The oligarchic establishment is trying to exploit my injuries in the most hideous, Goebbels-like manner."
"I will recover," he said, brushing off more questions about the attack. "But those 57 from the train accident in Tempi won't, and their families' pain cannot be treated," a reference to the February 28 collision of passenger and freight trains in Larissa.
Many observers have linked to disaster to austerity measures imposed upon Greece from abroad, especially by the so-called "Trokia" of the European Commission, European Central Bank, and International Monetary Fund. These institutions are widely reviled due to the suffering their policies forced upon Greece and other economically ailing European Union members after the 2007-08 global financial meltdown.
In aTuesday letter thanking supporters for "showering" him with "solidarity" following the attack, Varoufakis called for focusing on "what really matters."

"The Greek railway tragedy, that claimed 57 lives, has triggered a remarkable youth movement which is undermining the hegemony of the neoliberal 'privatize everything' doctrine," he wrote.
"The oligarchic establishment is trying to exploit my injuries in the most hideous, Goebbels-like manner," Varoufakis continued, referring to the Nazi propaganda chief. "They are insinuating that I, an anti-systemic politician, [have] fallen victim to the anti-systemic mood that politicians like me have inspired in our youth."
"We must not let them succeed in sullying a pristine, spontaneous, peaceful, progressive youth movement," he added.
Ekathimerinireported Tuesday that two people have been arrested in connection with that attack—a 19-year-old described by Greek Citizen Protection Minister Takis Theodorikakos as an "anarchist," and a 17-year-old who allegedly recorded the assault on his phone.

Varoufakis was attacked Friday evening outside a restaurant in the Athens neighborhood of Exarchia. According to the Democracy in Europe Movement 2025 (DiEM25)—which Varoufakis co-founded—the leftist lawmaker was at the restaurant with members of the movement from around Europe.
"A small group of thugs stormed the place shouting aggressively, falsely accusing him of signing off on Greece's bailouts with the Troika," DiEM 25 said. "Varoufakis stood up to talk to them but they immediately responded with violence, savagely beating him while filming the scene."
During his appearance on "Kallimera Ellada," Varoufakis said that after he left the eatery, one of his assailants was "pushing me and hitting me and I said to him, 'I'm trying to respect you, to listen to what you want, and you're hitting me?'"
When asked why he did not have a police or security escort, Varoufakis said police make him feel "imprisoned" but that "things will probably change now, due to my wife's demand... 'From now on, you will have police officers.'"

News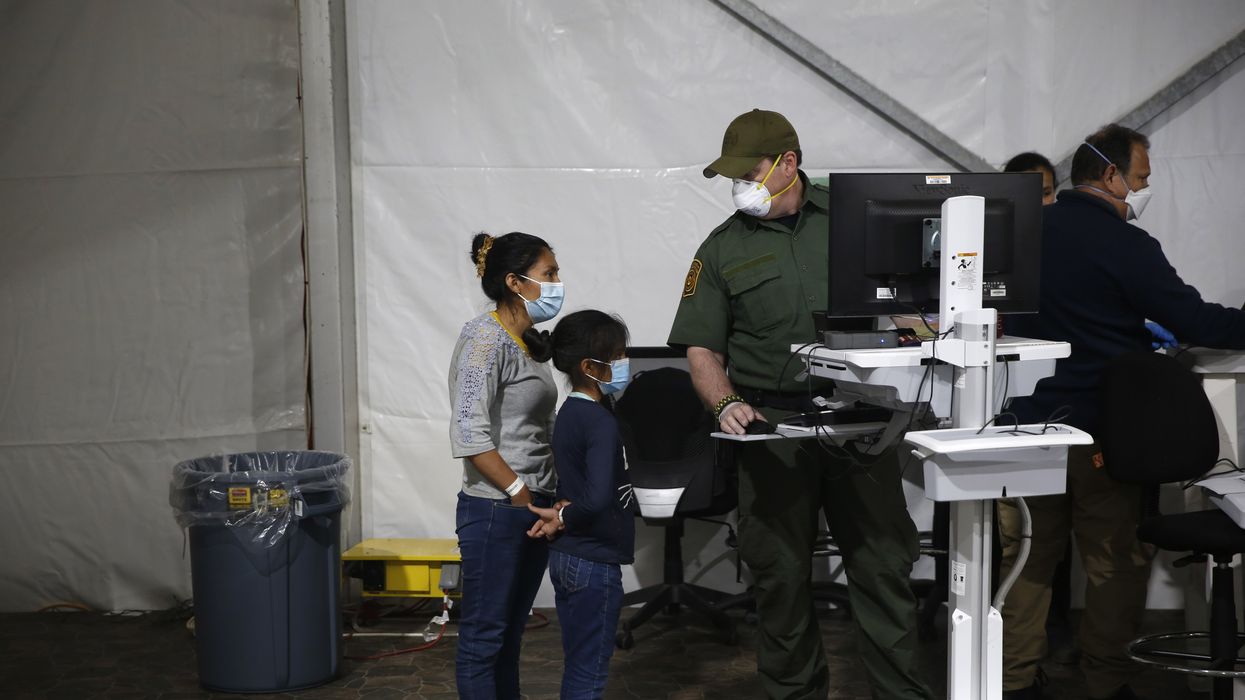 "No version of family detention, whether referred to as a detention facility, short-term processing center, emergency family staging center, or by any other name, is acceptable," the groups said.
Nearly 400 immigration justice and other advocacy groups on Wednesday added their voices to the call for President Joe Biden to reject family detention, amid reports that the White House is considering a revival of the practice that was used by the Trump and Obama administrations—despite the fact that it subjected thousands of families to numerous abuses and trauma.
The ACLU, Bend the Arc, and the National Immigration Law Center were among 383 groups that sent a letter to Biden Wednesday morning, calling on the president to keep the pledge he made when he took office in 2021 "to end family detention and to pursue just, compassionate, and humane immigration policies."
Despite that promise, as Common Dreamsreported last week, multiple media outlets have reported that the administration is considering once against detaining families in facilities that have been used under the Biden administration to detain single adults.
The groups warned that even short-term detention for families with children is "unacceptable."
"Reinstating a policy of detaining families in Immigration and Customs Enforcement (ICE) or Customs and Border Protection (CBP) custody, even for short periods of time, would be a horrifying reversal of your past policies and commitments," reads the letter. "No version of family detention, whether referred to as a detention facility, short-term processing center, emergency family staging center, or by any other name, is acceptable."
"Due process and access to counsel concerns will be magnified if the administration's recently promulgated asylum ban rule goes into effect, heightening the evidentiary standard for families to access the ability to seek protection."
The American Academy of Pediatrics (AAP) and the Department of Homeland Security's own medical experts have found that detention for any length of time, with or without parents or guardians, is harmful to children. The latter group, who served as whistleblowers when the Trump administration detained thousands of families and children, released a report in 2019 that detailed medical neglect which resulted in four deaths.
A 2017 report by AAP found that family detention centers provided "delayed medical care, inadequate education services, and limited mental health services," and that children who have been detained, even for short periods of time, "may experience developmental delay and poor psychological adjustment, potentially affecting functioning in school."
In 2016, the United Nations human rights office warned that the detention of children "can be devastating for a child and is not a legitimate response under international human rights law."
The letter sent Wednesday also noted that family detention robs families of due process, with "limited access to counsel at these facilities, making it nearly impossible to pursue protection claims under U.S. immigration law."
"These due process and access to counsel concerns will be magnified if the administration's recently promulgated asylum ban rule goes into effect, heightening the evidentiary standard for families to access the ability to seek protection," said the groups, referring to a proposed rule that would render certain undocumented immigrants ineligible for asylum.
"We urge you to reverse course on the proposed asylum ban rule, and are horrified that the punitive policy could be coupled with family detention," they continued. "This will essentially mean that these facilities will become deportation factories as families scramble to defend their asylum eligibility while trying to protect their children from the agony of detention."
The letter was sent as officials within the Biden administration are reportedly expressing concerns about the return of family detention. According to Greg Sargent at The Washington Post, ICE officials have "consistently" told the White House that "they don't want to get into the business of detaining children or families" again due to concerns about "safety, cost, and harm."
"We've seen family detentions before," a source from the agency told Sargent, "and it's been not pretty."
Biden appears motivated to introduce a crackdown on immigration to avoid criticism from the Republican Party, but as Sargent noted, "Republicans will attack him for creating no new consequences for border crossings even as we are seeing an escalation in them."
"But such attacks should be harder to mount if even ICE officials aren't on board with family detentions," he added. "And there's no reason for the administration to let fear of GOP attacks dictate anything. Instead, Biden should hew to the values that led him to criticize the practice in the first place and forcefully defend that decision."
News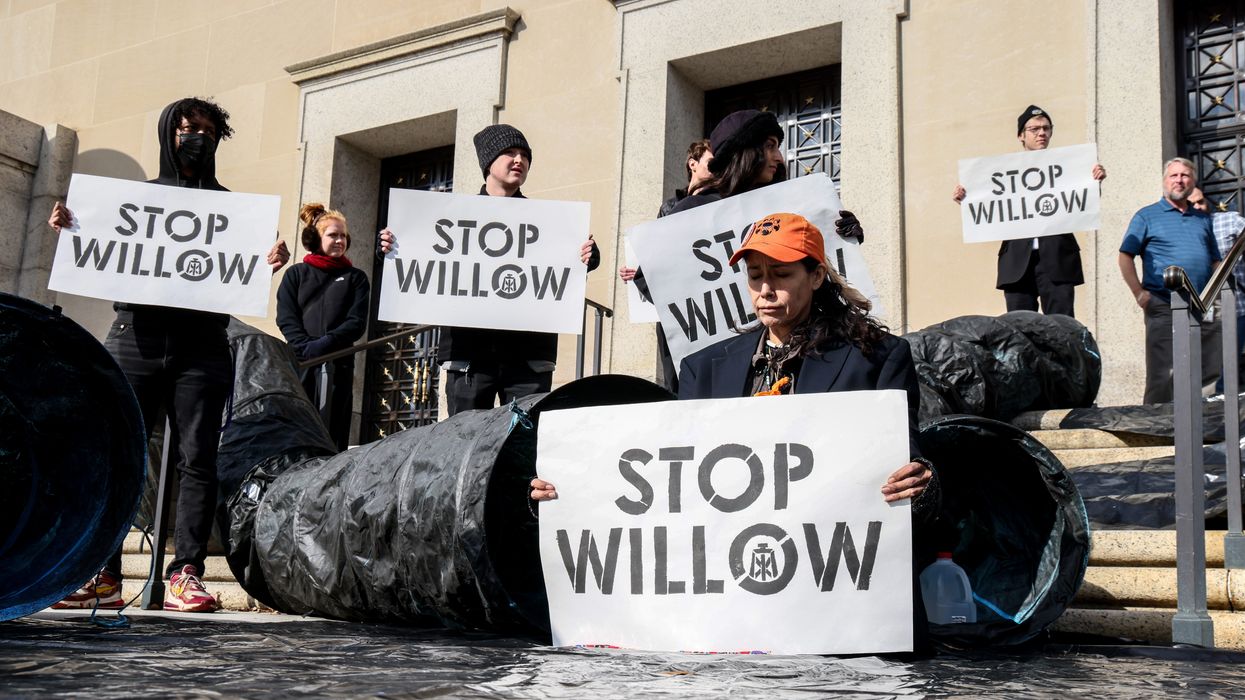 "Permitting Willow to go forward is greenlighting a carbon bomb," said one campaigner. "It would set back the climate fight and embolden an industry hell-bent on destroying the planet."
Environmental groups filed two separate lawsuits on Tuesday and Wednesday to fight the Biden administration's decision to approve a massive fossil fuel drilling project on Alaska's North Slope, a step that opened the door to hundreds of millions of tons of additional planet-warming carbon dioxide emissions.
The first lawsuit, filed by the public interest law firm Trustees for Alaska on behalf of six advocacy groups, accuses the Biden Interior Department and two of its agencies—the Bureau of Land Management and the Fish and Wildlife Service—of "violating their respective duties under the National Environmental Policy Act, the Alaska National Interest Lands Conservation Act, the Naval Petroleum Reserves Production Act, and the Endangered Species Act" by greenlighting ConocoPhillips' Willow Project.
The legal challenge specifically faults the federal agencies for "failing to consider alternatives that would further reduce impacts to subsistence users, preclude drilling in sensitive ecosystems, or reduce greenhouse gas emissions or climate impacts."
"It further charges agencies for not taking a hard look at direct, indirect, and cumulative impacts, as required by NEPA, including impacts on greenhouse gas emissions and climate change, air quality, polar bears, caribou, wetlands, and subsistence uses and resources," Trustees for Alaska said in a press release on Tuesday.

Siqiñiq Maupin, executive director of Sovereign Inupiat for a Living Arctic—an Alaska indigenous group involved in the suit—said in a statement that "once again, we find ourselves going to court to protect our lives, our communities, and our future."
"The Biden administration's approval of the ConocoPhillips Willow project makes no sense for the health of the Arctic or the planet and comes after numerous calls by local communities for tribal consultation and real recognition of the impacts to land, water, animals, and people," said Maupin. "ConocoPhillips has made record profits year after year and hopes to continue to do so at the cost of our communities and future generations."
"The science is clear. We cannot afford any new oil or gas projects if we are going to avoid climate catastrophe."
On Wednesday, the Biden administration faced an additional lawsuit filed by Earthjustice on behalf of an alliance of conservation groups including Defenders of Wildlife, the Center for Biological Diversity, the Natural Resources Defense Council (NRDC), and Greenpeace USA.
Both lawsuits were filed in the U.S. District Court for the District of Alaska.
"We're asking the court to halt this illegal project and ensure the public knows its true climate impacts," said Christy Goldfuss, chief policy impact officer for NRDC. "Permitting Willow to go forward is greenlighting a carbon bomb. It would set back the climate fight and embolden an industry hell-bent on destroying the planet."
The Wednesday lawsuit also charges the Biden administration with failing to fully examine alternatives to the project it formally approved earlier this week, ignoring months of protests from climate organizations.
Earthjustice noted that the options the administration considered "ranged only from allowing ConocoPhillips to develop 100% of the available oil to allowing it to develop 92% of the oil."
Natalie Mebane, the climate director for Greenpeace USA, said in a statement Wednesday that "approving what would be the largest oil extraction project on federal lands is incredibly hypocritical from President Biden, who in his State of the Union called the climate crisis an existential threat."
"The science is clear," said Mebane. "We cannot afford any new oil or gas projects if we are going to avoid climate catastrophe."
While the Biden Interior Department—headed by Deb Haaland, a former Willow opponent—has insisted that the version of the project it approved "subtantially reduces" the scope of ConocoPhillips' drilling operations, Earthjustice stressed Wednesday that the project "will still add about 260 million metric tons of carbon emissions into the atmosphere over the next 30 years, the equivalent of an extra two million cars on the road each year for thirty years."
"There is no question that the administration possessed the legal authority to stop Willow—yet it chose not to," said Erik Grafe, deputy managing attorney in Earthjustice's Alaska regional office. "It greenlit this carbon bomb without adequately assessing its climate impacts or weighing its options to limit the damage and say no."
"The climate crisis is one of the greatest challenges we face, and President Biden has promised to do all he can to meet the moment," Grafe added. "We're bringing today's lawsuit to ensure that the administration follows the law and ultimately makes good on this promise for future generations."
News
SUPPORT OUR WORK.
We are independent, non-profit, advertising-free and 100%
reader supported.