For Immediate Release
Contact:
Tel: +1-212-216-1832,Email:,hrwpress@hrw.org
World Report 2010: Harsher Climate for Human Rights
Missed Opportunities and Bigger Challenges in Middle East in 2009
BEIRUT
Middle East governments repressed efforts to promote human rights
and backed away from bold reforms despite growing human rights
challenges and promises to take action, Human Rights Watch said today
in releasing the Jordan, Lebanon, Saudi Arabia, Syria, and Yemen
country studies from its World Report 2010.
The 612-page report,
the organization's 20th annual review of human rights practices around
the globe, summarizes major human rights issues in more than 90 nations
and territories worldwide, including 15 countries in the Middle East
and North Africa.
"The year 2009 was one of the missed opportunities for women and
migrants in the region," said Sarah Leah Whitson, Middle East director
at Human Rights Watch."For human rights defenders, their small space
for maneuvering shrank even further."
The studies detail missed opportunities on women's rights in Jordan,
Lebanon, Saudi Arabia, and Syria; ineffective measures to protect
migrant domestic workers in Jordan, Lebanon, and Saudi Arabia; torture
of suspects in custody in Lebanon, Saudi Arabia, and Syria; and
repression of human rights defenders in Saudi Arabia, Syria, and Yemen.
Saudi Arabia discriminated against its Shi'a population and Syria
against its Kurds; Lebanon disregarded the plight of its Palestinian
refugees; and Jordan stripped some Jordanians of Palestinian origin of
their Jordanian nationality. Yemen's government committed violations in
the civil war in the north and the social unrest in the south.
"Middle East governments should publicly set out their human rights
agenda for 2010," Whitson said, "and expect to be measured against
their achievements."
Middle Eastern governments responded weakly to calls to curb
violence against women. Perpetrators of so-called honor killings in
Jordan (where there were at least 20 such killings), and in Syria (at
least 12), benefit from legal provisions that mitigate their
punishments, even though Syria closed a legal loophole that allowed
such perpetrators to avoid criminal sanction altogether. Domestic abuse
went largely unpunished in Saudi Arabia and Yemen. In Lebanon and
Jordan, where domestic abuse can be tried as assault, protection
mechanisms for women are largely inadequate and ineffective.
Despite their increasing participation in public life, women faced
discrimination in personal status, nationality, and penal laws. In
Lebanon, Syria, Jordan, and Saudi Arabia, women cannot confer their
nationality either on foreign spouses or their children. Saudi women
require a male guardian's approval for travel, study or work, and to
receive health care in certain circumstances. Saudi Arabia promised to
abolish the male legal guardianship system over women, but failed to
take steps to do so.
Migrant domestic workers in the Middle East faced exploitation and
abuse by employers, including excessive work hours, non-payment of
wages, and restrictions on their liberty. Governments adopted some
measures to reduce the abuse but did not enforce them. Jordan issued
regulations providing certain rights to migrant domestic workers after
becoming the first Middle Eastern country in 2008 to include them under
the labor law. However, these regulations fell short of international
standards, and allow for an employer to confine a worker in the
employer's house.
In January in Lebanon, the Labor Ministry put in effect tighter
regulations for employment agencies and a standard employment contract
that clarifies certain terms and conditions of employment for domestic
workers, such as the maximum number of daily working hours. However,
the rules have no enforcement mechanisms. Suicides and botched escape
attempts killed many migrant domestic workers in Lebanon, with eight
deaths in October alone.
In Saudi Arabia, Syria, and Yemen, human rights defenders paid a
heavy price for their activities. Syrian State Security detained
Muhannad al-Hasani, president of the Syrian Human Rights Organization
in July, and Haytham al-Maleh, a prominent human rights lawyer, 78, in
October, and later charged them with "weakening national sentiment."
They remain detained. In Saudi Arabia, the secret police (mabahith)
arrested Muhammad al-'Utaibi and Khalid al-'Umair in January for
attempting to hold a peaceful protest in solidarity with the people of
Gaza. One year later, the mabahith still hold them despite the six-month legal limit on pre-trial detention and the prosecution's decision not to press charges.
In Yemen, Central Security, National Security, and Political
Security officers arrested scores of activists, mostly from the
secessionist so-called Southern Movement, and began trials of some of
them for "contesting the unity of the state," including Professor
Husain al-'Aqil, an online journalist, Salah al-Saqladi, and a former
diplomat, Muhammad 'Askar Jubran.
Syria has not licensed any human rights groups, and Saudi Arabia
refused legal recognition to at least two new rights groups. Jordan
passed a new law extending the government's ability to control and
interfere in the work of charitable organizations.
Lebanon, Saudi Arabia, Syria, and Yemen failed to tackle frequent
incidents of torture. Jordan's prison reform program has not
strengthened accountability mechanisms for torture. Conditions in
prisons and detention facilities were poor in Lebanon, with
overcrowding and lack of proper medical care a perennial problem. While
Lebanon ratified the Optional Protocol to the Convention against
Torture (OPCAT) in December 2008, the country has not yet fulfilled its
obligation to set up a national preventive mechanism to visit and
monitor places of detention.
Saudi authorities punished those they believed responsible for
leaking footage of torture in Ha'ir prison, but did not announce steps
taken to hold accountable the prison guards who beat the inmates. In
Yemen, there were increased reports by detainees of torture in central
prisons around the country and in the detention facility of the
National Security and the Political Security Organizations in San'a.
The estimated 300,000 Palestinian refugees in Lebanon lived in
appalling social and economic conditions and were subject to
wide-ranging restrictions on housing and employment. Jordanian
authorities since 2004 have arbitrarily deprived over 2,700 Jordanians
of Palestinian origin of their nationality, usually on grounds that
they did not hold valid Israeli-issued residency permits for the West
Bank. No such condition for maintaining Jordanian nationality exists in
law. Hundreds of thousands more Jordanians may be at risk of losing
their nationality.
Following clashes in Saudi Arabia between minority Shi'a pilgrims
and Wahhabi religious policemen in Medina in February, the authorities
arrested scores of Shi'a in Medina and in the Eastern Province. The
Eastern Province governorate also arrested Shi'a who led prayers in
their private homes in Khobar and in Ahsa' and closed Khobar's only
mosque for Isma'ilis, a branch of Shi'ism.
Kurds, Syria's largest non-Arab ethnic minority, were subject to
systematic discrimination, including the arbitrary denial of
citizenship to an estimated 300,000 born in Syria. Authorities
suppressed expressions of Kurdish identity and prohibited teaching
Kurdish in schools. On February 28, security forces violently dispersed
Kurds who had gathered to protest a decree restricting real estate
transactions in border areas, and the authorities subsequently detained
21
demonstrators. The authorities also detained and tried at least nine
prominent Kurdish political leaders on vague charges of "weakening
national sentiment" and "broadcasting false information."
"Middle Eastern governments need to recognize that the rights of
minorities, refugees, and stateless persons need greater protections,"
Whitson said.
In 2010, Jordan should:
Strike clauses from the law that allow for punishment-reducing mitigating circumstances for "honor" killers.
Ease restrictions in the law governing the operation of
nongovernmental organizations to bring it into compliance with
international standards on freedom of association.
Revise regulations governing migrant domestic workers to comply
with international labor and human rights standards, and set up a
mechanism to investigate allegations of abuses against workers.
Strengthen accountability for torture by moving jurisdiction over
acts of torture by police agents from the Police Court to the civilian
courts.
Stop withdrawing the nationality of Jordanian citizens of Palestinian origin.
In 2010, Lebanon should:
Amend its citizenship law to ensure that all Lebanese women,
regardless of the nationality of their husbands, can pass on their
citizenship to their children and husbands.
Publish the results of the Interior Ministry's 2008 investigations
into torture, set up a national prevention mechanism for torture, and
prosecute officials suspected of torture.
Amend the labor code to provide legal protection for domestic
workers equal to that for other workers and create a labor inspection
unit to monitor working conditions for migrant domestic workers.
Amend legislation that restricts the ability of Palestinian
refugees to own property and remove restrictions on their employment.
In 2010, Saudi Arabia should:
Dismantle the system of male legal guardianship over women, and
strengthen protection for women against violence and accountability for
perpetrators of such violence.
Ensure equal citizenship rights for its Shi'a minorities, especially the freedom to practice their religion.
Release long-term detainees or try them in fair proceedings that meet international standards.
In 2010, Syria should
Free people being detained for peacefully exercising freedom of expression, association, or assembly.
Form a commission to address the human rights grievances of the Kurdish minority.
Investigate officials alleged to have tortured or mistreated detainees.
Reform all the articles in the criminal code that treat those who
say they killed for "honor" more leniently than other murderers.
In 2010, Yemen should
End child marriage and strengthen protection for victims of
violence against women and accountability for perpetrators of such
violence.
Take steps to combat torture, including facilitating visits by
independent monitors to all places of detention and prosecuting
officials alleged to have participated in torture.
Stop indiscriminate bombardments of civilians in the armed conflict
with northern rebels, and create a mechanism to ensure that the armed
forces, or allied tribal militias, do not employ child soldiers.
Train law enforcement officers on non-lethal methods of crowd
control, and do not use deadly force against unarmed protesters, such
as those who participated in large demonstrations in the southern
provinces.
Respect the rights to freedom of expression and of assembly and
release all persons detained for their peaceful expression or
participation in peaceful protests.
Human Rights Watch is one of the world's leading independent organizations dedicated to defending and protecting human rights. By focusing international attention where human rights are violated, we give voice to the oppressed and hold oppressors accountable for their crimes. Our rigorous, objective investigations and strategic, targeted advocacy build intense pressure for action and raise the cost of human rights abuse. For 30 years, Human Rights Watch has worked tenaciously to lay the legal and moral groundwork for deep-rooted change and has fought to bring greater justice and security to people around the world.
LATEST NEWS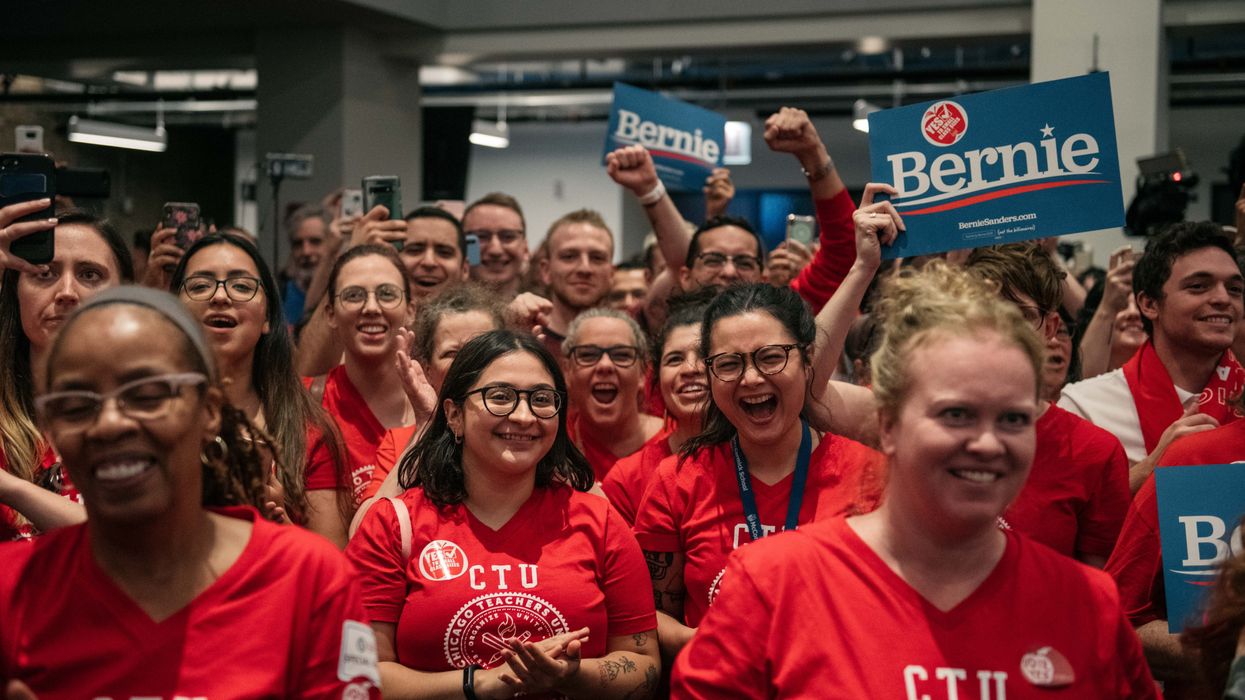 "The situation has become so absurd that the top 15 hedge fund managers on Wall Street make more money in a single year than every kindergarten teacher in America combined."
Demanding an end to "the international embarrassment" of low teacher pay in the United States, U.S. Sen. Bernie Sanders on Thursday introduced legislation to guarantee a minimum salary for public school educators of $60,000 per year, moving to fulfill a pledge he made during his 2020 presidential campaign.
The Vermont Independent senator called on the federal government to take accountability for chronic staffing shortages in school districts across the country, which he said is linked to the fact that "the starting pay for teachers in almost 40% of our nation's school districts is less than $40,000 a year" and that the average weekly wage of a public school teacher has gone up by just $29 in the past 30 years, adjusting for inflation.
More than half of the nation's schools are understaffed, according to the National Center on Education Statistics, and Sanders noted in a fact sheet about his proposal that "hundreds of thousands of public school teachers have to work two or three jobs during the school year to make ends meet." A recent report by the Teacher Salary Project found that 17% of educators work part-time in retail, restaurants, or in the gig economy to supplement their meager incomes.
Sanders, who chairs the Senate Health, Education, Labor, and Pensions Committee, called the statistic "simply unacceptable."
"The situation has become so absurd that the top 15 hedge fund managers on Wall Street make more money in a single year than every kindergarten teacher in America combined—over 120,000 teachers," said the senator. "Wages for public school teachers are so low that in 36 states, the average public school teacher with a family of four qualifies for food stamps, public housing, and other government assistance programs. We have got to do better than that."
The Pay Teachers Act of 2023 would significantly increase investments in public education, beyond teacher salaries—tripling Title I-A funding for schools with high percentages of low-income students and funding for rural education programs; providing an additional $1 billion for the Bureau of Indian Education; and investing in grant programs to improve teacher preparation and development, among other investments.
States would be required to establish a "minimum salary for teachers" of at least $60,000 per year, with increases throughout their career, and to ensure teachers are paid "a livable and competitive annual salary" that's comparable to professionals with similar education requirements.
"Educators are nation builders," said Randi Weingarten, president of the American Federation of Teachers, which represents 1.7 educators. "They have a vital role in educating and caring for our next generation. But they are neither treated nor paid commensurate with that role. Teachers earn nearly 24% less than similarly educated professionals, and when adjusted for inflation, many [earn] less than they were making a decade ago."
"Even with their need to take second jobs, educators spend hundreds of thousands of dollars on supplies, snacks, books, and other items for students," she added. "Chairman Bernie Sanders's bill, the Pay Teachers Act, will help close the pay gap by significantly increasing federal investments in public schools and raising annual teacher salaries."
Co-sponsors of the Pay Teachers Act include Democratic Sens. Mazie Hirono of Hawaii, Ben Ray Luján of New Mexico, Ed Markey of Massachusetts, Jeff Merkley of Oregon, Alex Padilla of California, Elizabeth Warren of Massachusetts, and Peter Welch of Vermont.
Ellen Sherratt, board president of the Teacher Salary Project, applauded the legislation and lawmakers who are"fighting for teacher salary levels that are professional."
Sanders introduced the legislation a month after holding a town hall with labor leaders and teachers from across the country regarding chronic low pay in the field, where educators talked about completing hours of work per week outside of the school day for no extra pay, purchasing snacks for low-income students, and facing barriers to working in schools that have many open teaching positions and have resorted to hiring people without teaching qualifications.
"Students of every color, background, and ZIP code deserve qualified and caring educators who are dedicated and have the resources to uncover the passions and potential of every child," said Becky Pringle, president of the National Education Association (NEA), as Sanders introduced the bill Thursday. "America's schools are facing a five-alarm crisis because of the educator shortages that have been decades in the making and exacerbated by the pandemic. Together, we must recruit large numbers of diverse educators into the profession and retain qualified and experienced educators in our schools to support our students in learning recovery and thriving in today's world. To do that, we must have competitive career-based pay to recruit and retain educators."
"On behalf of the three million members of the National Education Association, I thank Chairman Sanders for introducing the Teacher Pay Act," she added. "We urge senators to support educators and cosponsor this commonsense legislation that invests in our students, educators, and public schools."
News
"Continuing to throw this much money at weapons, war, and defense contractor profits is unacceptable," said one critic.
President Joe Biden unveiled a budget blueprint Thursday that requests $886.4 billion in military spending for fiscal year 2024, pushing for a nearly $30 billion increase over current outlays as progressives demand cuts to the bloated and notoriously fraud-ridden Pentagon.
The president's budget proposes $842 billion for the Pentagon alone, including nearly $38 billion for widely criticized efforts to "modernize" the United States' massive nuclear arsenal.

Robert Weissman, the president of Public Citizen and a vocal critic of excessive military spending, said Thursday that Biden's request for an $886 billion budget is "madness."
"That's a jump of $28 billion from the current year," Weissman noted. "The increase of $28 billion is more than twice the entire EPA budget."
Weissman argued that funneling more money into the Pentagon's coffers "makes the U.S. weaker, not stronger."
"It means we are weaker on healthcare, weaker on poverty, weaker on fairness and equity, weaker on climate, weaker on pandemics, weaker on diplomacy," he added.
The president's military budget request is part of a sprawling $6.8 trillion framework that was largely praised by progressives for its proposed tax hikes on the rich and large corporations—revenue from which would be used to fund Biden's plan to bolster Medicare and increase spending on Medicaid, public housing, and childcare.

But with austerity-obsessed Republicans in control of the House, much of the president's budget is dead on arrival.
However, recent history shows Congress is almost certain to build on Biden's military spending request.
Last year, lawmakers agreed on a bipartisan basis to add $45 billion to the president's topline proposal, bringing total military spending to $858 billion for fiscal year 2023.

"The proposed Pentagon topline level makes no sense," Lisa Gilbert, Public Citizen's executive vice president, said of Biden's new budget request. "There is no excuse for our country's reckless overspending on the Pentagon, and the FY24 proposal continues this dangerous trajectory."
"The Defense Department has never once passed an audit and is infamous for wasting funds with impunity," Gilbert continued. "The president's proposal would bring U.S. military spending to its highest level in history at an astronomical $886 billion. Continuing to throw this much money at weapons, war, and defense contractor profits is unacceptable."
"It's telling that as families struggle and see support they had during the pandemic evaporate, the Pentagon, which has never passed an audit, continues to get a budget windfall."
A fact sheet put out by the White House on Thursday states that the president's budget "prioritizes China as America's pacing challenge" and "supports investments to accelerate critical weapons and munitions production lines; develop capabilities like long-range strike, undersea, hypersonic, and autonomous systems; and increase resiliency of our space architectures."
While the White House claimed Biden's military budget would help the world confront "pressing global challenges," Sara Haghdoosti of Win Without War countered that "more F-35s aren't going to solve climate change or make sure families can afford basic supplies like eggs."
"It's telling that as families struggle and see support they had during the pandemic evaporate, the Pentagon, which has never passed an audit, continues to get a budget windfall," said Haghdoosti.
In an analysis of the president's request, William Hartung of the Quincy Institute for Responsible Statecraft noted that when accounting for "likely emergency military aid packages for Ukraine later this year plus the potential tens of billions of dollars in congressional add-ons," total U.S. military spending could balloon to around $950 billion for the fiscal year that begins on October 1.
"The Pentagon doesn't need more spending. It needs more spending discipline, tied to a realistic strategy that sets clear priorities and acknowledges that some of the greatest risks we face are not military in nature," Hartung wrote. "Today's announcement is just the opening gambit in this year's debate over the Pentagon budget. Hopefully critics of runaway spending will have more traction this year than has been the case for the past several years."
"If not," he added, "$1 trillion in annual military spending may be just around the corner, at great cost to taxpayers and to the safety and security of the country as a whole."
News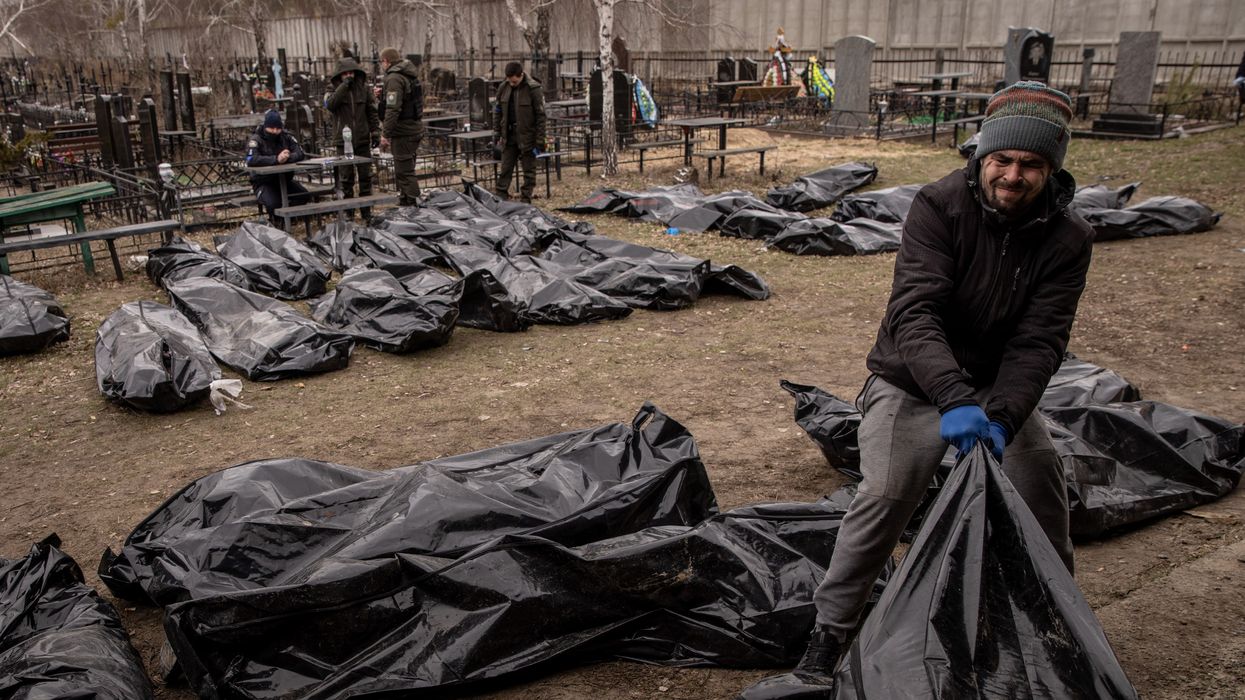 "The Ukrainian people deserve accountability. By blocking the sharing of evidence with the ICC, the administration, contrary to its stated position, is undermining it," said one expert.
The Pentagon is helping to shield Russia from International Criminal Court accountability for its atrocities in Ukraine, fearing such a reckoning could set a precedent allowing the tribunal to prosecute U.S. war crimes, a report published Wednesday revealed.
According toThe New York Times, Defense Secretary Lloyd Austin III and other Pentagon brass are blocking the Biden administration from sharing evidence of Russian war crimes in Ukraine gathered by U.S. intelligence agencies with the International Criminal Court (ICC) over the objections of officials in those agencies, as well as in the State and Justice departments.
Neither Russia, the United States, nor Ukraine are party to the Rome Statue, the treaty governing the ICC. However, according to "current and former officials briefed on the matter" who were interviewed by the Times, Austin and others are wary of the Hague tribunal targeting the crimes of countries outside its jurisdiction. Ukraine last year accepted the ICC's jurisdiction so the court could open an investigation of Russia's conduct during the invasion.

"Basically, we want others punished, but not ourselves."
"The Pentagon is flouting the rest of the U.S. government to try to block sending evidence of Russian war crimes in Ukraine to the International Criminal Court," tweeted human rights expert Kenneth Roth. "It fears a precedent: prosecuting non-parties on the territory of governments that accept the ICC."
Author and war correspondent Megan K. Stack wrote on Twitter that "basically, we want others punished, but not ourselves."
U.S. Sen. Lindsey Graham (R-S.C.)—whose resolution urging accountability for Russian war criminals and encouraging ICC member states to investigate documented and alleged atrocities unanimously passed the Senate last year—told the Times' Charlie Savage that the Pentagon "opposed the legislative change—it passed overwhelmingly—and they are now trying to undermine the letter and spirit of the law."
"It seems to me that [Department of Defense] is the problem child here, and the sooner we can get the information into the hands of the ICC the better off the world will be."
Documented and alleged war crimes committed by Russian forces and contractors in Ukraine include—but are not limited to— massacres and other murders of civilians and soldiers; indiscriminate attacks on densely populated areas; attacking critical civilian infrastructure; bombing hospitals and shelters; torture; rape and sexual enslavement of women and children; and stealing children.

U.S. troops and contractors have perpetrated each of those war crimes in its attacks, invasions, occupations, and peacekeeping operations in the years since the ICC was established in 1998.
President Joe Biden has called Russian President Vladimir Putin a "war criminal" and demanded he be tried for Russia's atrocities in Ukraine. The Biden administration and Congress even explored ways of helping the ICC prosecute Russian war crimes without the U.S. being subjected to the tribunal's authority.

As Savage noted:
Lawmakers enacted two laws aimed at increasing the chances that Russians would be held accountable for war crimes in Ukraine.

One was a stand-alone bill expanding the jurisdiction of American prosecutors to charge foreigners for war crimes committed abroad. The other, a provision about the International Criminal Court embedded in the large appropriations bill Congress passed in late December, received little attention at the time.

But that provision was significant. While the U.S. government remains prohibited from providing funding and certain other aid to the court, Congress created an exception that allows it to assist with "investigations and prosecutions of foreign nationals related to the situation in Ukraine, including to support victims and witnesses."
"The Ukrainian people deserve accountability," Rosie Berman, a project manager at the advocacy group Center for Civilians in Conflict, asserted via Twitter. "By blocking the sharing of evidence with the ICC, the administration, contrary to its stated position, is undermining it."
Under a law signed by former President George W. Bush, not only is the U.S. Congress barred from funding the ICC or from providing other assistance to the court, but the U.S. may use "all means necessary and appropriate"—including invading NATO ally the Netherlands—to secure the release of any U.S. or allied personnel held by or on behalf of the tribunal.
In March 2020 the ICC, then led by Prosecutor Fatou Bensouda, determined that an investigation into documented and alleged war crimes committed by all sides in the war in Afghanistan, and at secret CIA prisons in Eastern Europe, could proceed.
In retaliation, the Trump administration slapped sanctions on Bensouda and other ICC lawyers and investigators, as well as on journalists who provide evidence of U.S. war crimes. A federal judge later blocked former President Donald Trump's executive order authorizing sanctions.
"If we oppose investigations into countries, like our own, that haven't joined the ICC, how can we support an investigation into Russia, another country that hasn't joined the court?"
In September 2021, human rights defenders were outraged when the ICC, under new Prosecutor Karim Khan, said the investigation would focus only on potential war crimes perpetrated by the Taliban and Islamic State in Afghanistan, while excluding U.S. and allied atrocities.
Last April, progressive U.S.
Rep. Ilhan Omar
(D-Minn.)
introduced
a resolution calling on the United States to join the ICC, as well as bills that would have repealed the so-called Hague Invasion Act and codified the Office of Global Criminal Justice Act so that the State Department can more effectively respond to crimes against humanity.
"If we oppose investigations into countries, like our own, that haven't joined the ICC, how can we support an investigation into Russia, another country that hasn't joined the court?" Omar asked at the time.
News
SUPPORT OUR WORK.
We are independent, non-profit, advertising-free and 100%
reader supported.