For Immediate Release
November, 30 2009, 09:46am EDT
Contact:
Sam Husseini, (202) 347-0020; or David Zupan, (541) 484-9167
WASHINGTON
SERGIO MONCADA
A co-founder of Hondurans for Democracy, Moncada is a D.C.-based environmental policy analyst. He said today: "We're gravely disappointed that the State Department has said it will recognize the results of Sunday's fraudulent election. We're getting reports of widespread fear and intimidation by the military, especially in rural areas. The U.S. has taken the lead in legitimizing the coup government while practically all other countries in the hemisphere, as well as the UN and OAS, have said that they will not recognize the results."
TOM LOUDON
Loudon is co-director of the Maryland-based Quixote Center, which organized a delegation of 19 people from the U.S. and Canada now in various cities in Honduras. Loudon said today: "We're seeing brutal police and military repression ... [and] a dismal turnout." The group's website offers reports, photos and videos from various parts of Honduras.
JESSE FREESTON
A reporter for The Real News, Freeston said today: "I was in San Pedro Sula on Sunday. It's the commercial capital and it's a bellwether. There was a march of about 500 people and the Cobras -- militarized police squads -- attacked it. Peaceful protesters who were sitting and singing the national anthem were attacked with tear gas and beaten.
"The pro-coup media is reporting that the turnout is 60 percent. I interviewed several poll workers and I'd estimate that turnout was actually about 30 percent of registered voters -- that doesn't take into account that a lot of poor people are not registered."
See Freeston's reports from Honduras here.
ADRIENNE PINE
Author of the book Working Hard, Drinking Hard: On Violence and Survival in Honduras, Pine is assistant professor of anthropology at American University, has done extensive research on Honduras and has been blogging about recent events at quotha.net.
Pine said today: "The U.S. State Department has refused to acknowledge the human rights abuses by the coup government even though human rights groups are reporting thousands of arbitrary detentions, hundreds of people tortured and dozens assassinations since the June 28 coup."
A nationwide consortium, the Institute for Public Accuracy (IPA) represents an unprecedented effort to bring other voices to the mass-media table often dominated by a few major think tanks. IPA works to broaden public discourse in mainstream media, while building communication with alternative media outlets and grassroots activists.
LATEST NEWS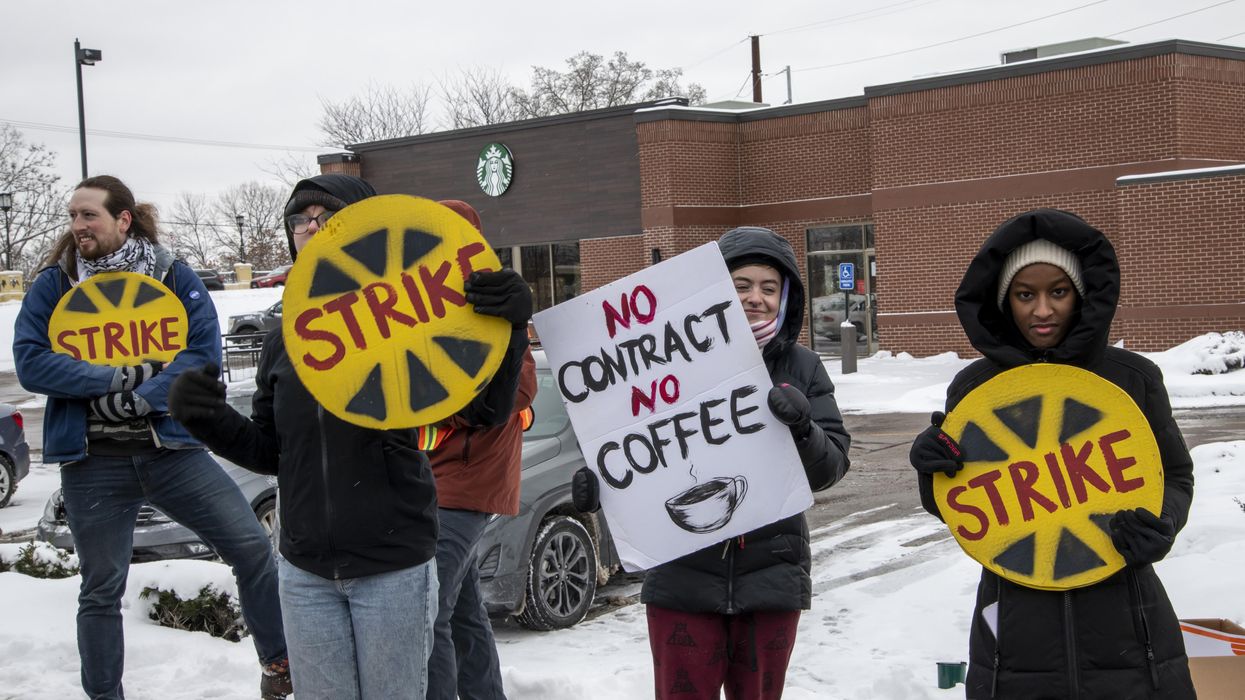 "It's time to pass the PRO Act and drastically expand union membership across this country," said Sen. John Fetterman.
Labor advocates renewed calls for boosting U.S. worker rights and protections on Thursday as federal data revealed that despite union membership rising by 273,000 from 2021 to 2022, a jump in nonunion jobs meant the unionization rate fell from 10.3% to a record low of 10.1%.
"In 1983, the first year where comparable union data are available, the union membership rate was 20.1% and there were 17.7 million union workers," the Bureau of Labor Statistics (BLS) noted in a statement announcing the new figures.
"These statistics highlight the need for the Protecting the Right to Organize (PRO) Act and the Public Service Freedom to Negotiate Act."
The number of workers who held a job covered by a union contract—including those who report no union affiliation—rose by 200,000 to 16 million last year, but the percentage of employees represented dropped from 11.6% to 11.3%, according to the BLS.
The bureau found that though 7.1 million public sector employees belonged to unions in 2022, similar to the 7.2 million private sector workers, the union membership rate was 33.1% for the public sector compared with just 6% for the private sector.
As The Washington Postreported:
The lackluster figures reflect how far unions have to go to see an upsurge in membership, especially in a year of booming job growth. More than 5 million jobs were created in 2022 across the economy, especially in industries where union membership is lower, such as leisure and hospitality, meaning union jobs did not outpace the growth of nonunion jobs. The economy also launched millions of new businesses, where jobs rarely start off unionized. And many of the high-profile victories at Starbucks, Apple, and REI, for example, added a relatively small number of union members. A 2022 Bloomberg analysis of labor data found that the average unionized Starbucks store added 27 workers to union rolls.

Despite the continued low union numbers, labor historians say there's been a major shift underway, propelled by pandemic conditions, in how Americans view unions. More Americans said they approved of unions in 2022 than at any point since 1965—some 71% of those polled, according to Gallup.
Responding to the BLS release, the AFL-CIO, a federation of unions representing 12.5 million workers, asserted, "These statistics highlight the need for the Protecting the Right to Organize (PRO) Act and the Public Service Freedom to Negotiate Act, which will hold union-busting companies and organizations accountable and give workers the negotiating power they deserve."

Specifically pointing to the record-low unionization rate last year, Nina Turner, a former Democratic congressional candidate and senior fellow at the Institute on Race, Power, and Political Economy, said that "this is a move in the wrong direction."
Noting the same statistic, Democrats on the U.S. House Committee on Education and the Workforce tweeted: "Unfortunately, this is not a surprise even though unions are extremely popular among workers. This is a direct result of employers using illegal union-busting tactics and Republicans turning their backs on working people."
The panel's Democrats also called on Congress to pass the PRO Act—a historic proposal to reform U.S. labor laws to better serve workers, spearheaded by the committee's ranking member, Rep. Bobby Scott (D-Va.) and Sen. Patty Murray (D-Wash.).
\u201cThe entire increase in unionization in 2022 was among workers of color\u2014who saw an increase of 231,000, while white workers saw a decrease of 31,000.\u201d

— Economic Policy Institute (@Economic Policy Institute) 1674153812
"Every worker deserves a union," Sen. John Fetterman (D-Pa.), who was elected in November, said in a statement Thursday. "Unions built the middle class and they built America. It's time to pass the PRO Act and drastically expand union membership across this country."
A trio of Economic Policy Institute experts who analyzed recent data from both the BLS and the National Labor Relations Board pointed out Thursday that between October 2021 and last September, the NLRB saw a 53% increase in union election petitions, and "evidence suggests that in 2022 more than 60 million workers wanted to join a union, but couldn't."
"The fact that tens of millions of workers want to join a union and can't is a glaring testament to how broken U.S. labor law is," they wrote. "It is urgent that Congress pass the Protecting the Right to Organize (PRO) Act and the Public Service Freedom to Negotiate Act. State legislatures must also take available measures to boost unionization and collective bargaining."
\u201cThe Protecting the Right to Organize (PRO) Act and the Public Service Freedom to Negotiate Act provide crucial reforms that would strengthen workers\u2019 rights to form a union and engage in collective bargaining. https://t.co/jRiXaa8y7G\u201d

— Economic Policy Institute (@Economic Policy Institute) 1674153812
Despite union-busting efforts from powerful corporations, last year saw a wave of high-profile worker victories. Employees at Apple, Amazon, Chipotle, Google, Starbucks, Minor League Baseball, T-Mobile, Trader Joe's, and beyond successfully organized.
"In 2022, we saw working people rising up despite often illegal opposition from companies that would rather pay union-busting firms millions than give workers a seat at the table," AFL-CIO president Liz Shuler said Thursday. "The momentum of the moment we are in is clear."
"Organizing victories are happening in every industry, public and private, and every sector of our economy all across the country," she added. "The wave of organizing will continue to gather steam in 2023 and beyond despite broken labor laws that rig the system against workers."

News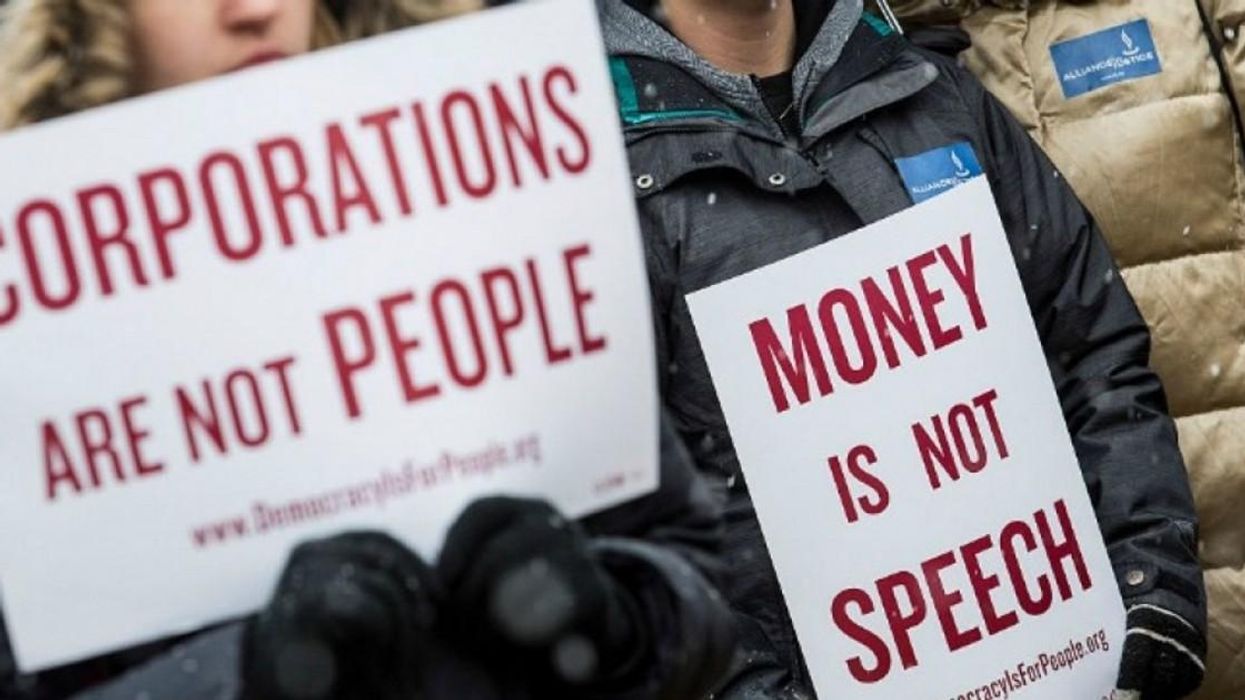 "It's time to ensure our democracy works for all people by getting big money out of politics and ensuring every voter's voice is heard," said Rep. Pramila Jayapal.
To end an era in which wealthy corporations have been given free rein to spend nearly unlimited money on political campaigns, Democrats in the U.S. House on Thursday proposed a constitutional amendment that would overturn the hugely consequential Citizens United v. Federal Election Commission decision by U.S. Supreme Court, saying the ruling "has dangerously eroded" the government's ability to serve the public interest.
Reps. Adam Schiff (D-Calif.), Pramila Jayapal (D-Wash.), Dean Phillips (D-Minn.), and Jim McGovern (D-Mass.) led dozens of co-sponsors in introducing the Democracy for All Amendment two days before the 13th anniversary of the Citizens United decision, in which the court struck down a ban on corporate independent expenditures.
According to Schiff, the constitutional amendment—which the congressman first proposed in 2013—would:
Make clear the Constitution does not restrict the ability of Congress or the states to propose reasonable, viewpoint-neutral limitations on the raising and spending of money by candidates and others to influence elections;
Distinguish between natural persons and corporations or other artificial entities, including by prohibiting the latter from spending unlimited amounts of money to influence elections;
Allow states to enact public campaign financing systems, which can restrict the influence of corporate or private wealth; and
Take further steps to protect the freedom of the press in the case of future campaign finance-related legislation.
The proposal, said the campaign finance reform group End Citizens United, "strikes at the heart" of the 2010 ruling.
"It would affirm the right of the people to pass state and federal laws by restoring Congress' and the states' authority to place [limits] on political spending," said the group.

In addition to overturning Citizens United, the Democrats aim to overturn the "fundamental flaws" and legal precedents that underpinned the court's reasoning in 2010 and in "an entire line of cases dating back to the 1976 Buckley v. Valeo decision, which prevented meaningful regulation of campaign expenditures by corporations and special interest groups."
\u201cBREAKING: We've introduced a constitutional amendment to overturn Citizens United and the irresponsible SCOTUS decisions that came before it.\n \nUnrestricted dark money has no place in our elections or democracy. We need to return power to people. Once and for all.\u201d

— Adam Schiff (@Adam Schiff) 1674144857
"Citizens United was one of the most egregious enablers of special interest money, but it was only the latest in a long line of Supreme Court cases that opened the floodgates. To truly rein in dark money, we must amend our Constitution," Schiff's office said. "The Democracy for All Amendment will close legal loopholes that wealthy megadonors, corporations, and special interest groups have exploited for far too long, and return power to the people once and for all."
The 2010 ruling allowed special interest groups and corporations to create super PACs, which can accept unlimited donations—including from "dark money groups" whose contributors are hidden from the public—and spend unlimited amounts of money on campaigns.
\u201cWe cannot continue to let members of Congress be controlled by dark money and corporations.\n\nThat's why I'm a cosponsor on the Democracy for All Amendment, which would overturn Citizens United v. FEC.\n\nAmericans deserve representatives who aren't influenced by dark money.\u201d

— Congressman Jamaal Bowman (@Congressman Jamaal Bowman) 1674146650
John Bonifaz, president and co-founder of Free Speech For People, said the amendment would allow for overall campaign spending limits and public campaign financing systems and would end the big money dominance of our elections."
The Democracy for All Act would affirm, said Jayapal, that "corporations are not people and money is not speech."
"In every election following Citizens United, billions of dollars of dark money have been dumped into our electoral system, giving corporations and the richest Americans outsized power and influence," said the congresswoman. "It's time to ensure our democracy works for all people by getting big money out of politics and ensuring every voter's voice is heard."
News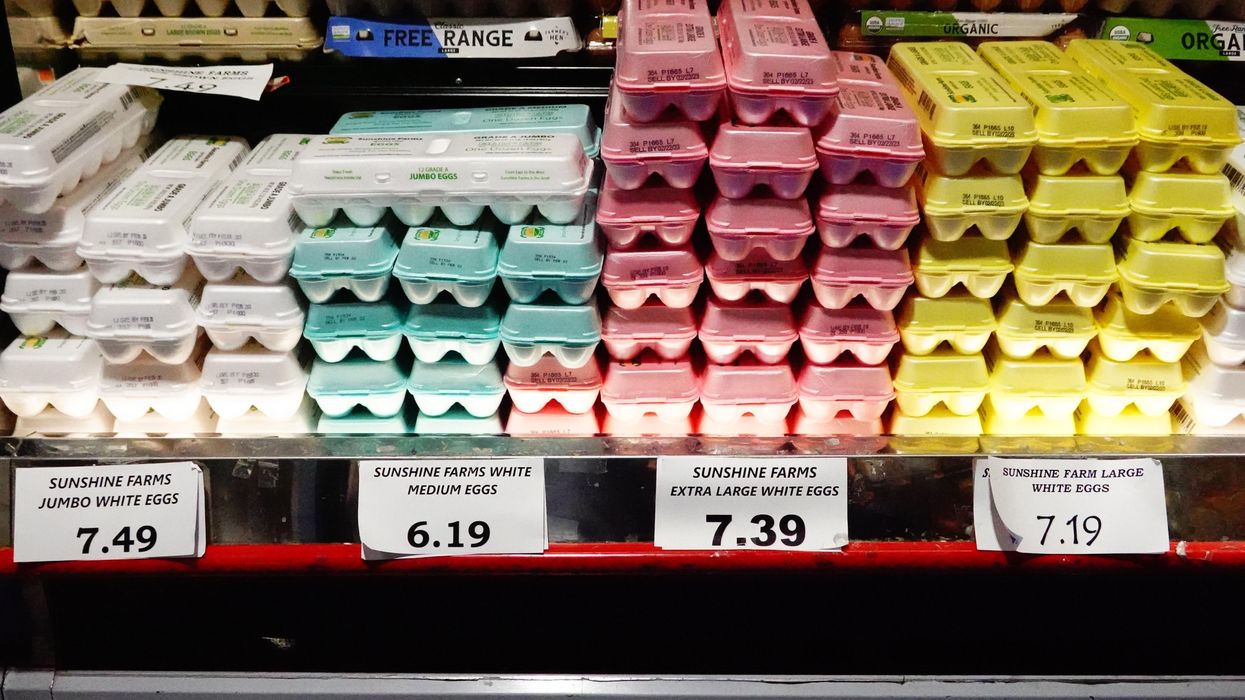 "Contrary to industry narratives, the increase in the price of eggs has not been an 'act of God,'" says Farm Action. "It has been simple profiteering."
As U.S. egg producers rake in record profits amid soaring prices, a farmer-led advocacy group focused on building a just and sustainable food system on Thursday implored the Federal Trade Commission to "promptly open an investigation into the egg industry, prosecute any violations of the antitrust laws it finds within, and ultimately, get the American people their money back."
Just before testifying at an open meeting of the FTC, Farm Action sent a letter to agency chair Lina Khan detailing its "concerns over apparent price gouging, price coordination, and other unfair or deceptive acts or practices by dominant producers of eggs such as Cal-Maine Foods, Rose Acre Farms, Versova Holdings, and Hillandale Farms, among others."
As Farm Action explained, "Egg prices more than doubled for consumers last year—going from $1.79 in December 2021 to $4.25 in December 2022 for a dozen large Grade A eggs."
Major egg producers and their allies have blamed surging prices on a "supply disruption" triggered by the deadliest outbreak of avian influenza in U.S. history, calling it "'act of God' type stuff," the letter notes.
Based on its analysis of publicly available industry data, however, Farm Action determined that while the avian flu outbreak killed roughly 43 million egg-laying hens nationwide in 2022, "its actual impact on the egg supply was minimal."
According to the letter:
After accounting for chicks hatched during the year, the average size of the egg-laying flock in any given month of 2022 was never more than 7-8% lower than it was a year prior—and in all but two months was never more than 6% lower. Moreover, the effect of the loss of egg-laying hens on production was itself blunted by "record-high" lay rates observed among remaining hens throughout the year. With total flock size substantially unaffected by the avian flu and lay rates between 1-4% higher than the average rate observed between 2017 and 2021, the industry's quarterly egg production experienced no substantial decline in 2022 compared to 2021.
Nevertheless, the "weekly wholesale price for shell eggs climbed from 173.5 cents per dozen at the end of February to 194.2 cents in the middle of March," the letter continues. "By the first week of April, it had reached 298 cents per dozen. For two months after this point, the wholesale price of eggs appeared to stabilize at elevated levels slightly below this peak—but then it started increasing again. In July, it broke previous records and reached over 300 cents per dozen. After dipping briefly in August, the rally in wholesale egg prices continued, hitting 400 cents per dozen in October and almost 450 cents per dozen in the first weeks of December."
According to Farm Action, major egg producers' massive price hikes are unjustifiable. In addition to the avian flu outbreak, some have attributed skyrocketing egg prices to higher feed and fuel costs, but "the dominant producers' course-of-business documents suggest these claims have little merit," the letter states. "For example, in a presentation to investors just this month, Cal-Maine noted that total farm production and feed costs in 2022 were only 22% higher than they were in 2021."
"What Cal-Maine Foods and the other large egg producers did last year—and seem to be intent on doing again this year—is extort billions of dollars from the pockets of ordinary Americans."
"The real culprit behind this 138% hike in the price of a carton of eggs," says the letter, "appears to be a collusive scheme among industry leaders to turn inflationary conditions and an avian flu outbreak into an opportunity to extract egregious profits reaching as high as 40%."
Max Bowman, the chief financial officer of Cal-Maine—the nation's largest producer and distributor of eggs—has admitted as much, saying in a recent statement that "significantly higher selling prices, our enduring focus on cost control, and our ability to adapt to inflationary market pressures led to improved profitability overall."
CNNreported last week that "there have been no positive tests" of avian flu at any of Cal-Maine's facilities, and yet the company's net average selling price per dozen conventional eggs more than doubled last year. The corporate giant, which controls roughly 20% of the egg market, is behind several popular brands, including Farmhouse Eggs, Sunups, Sunny Meadow, Egg-Land's Best, and Land O' Lakes eggs.
"Contrary to industry narratives, the increase in the price of eggs has not been an 'act of God'—it has been simple profiteering," Farm Action's letter argues. "For the 26-week period ending on November 26, 2022, Cal-Maine reported a 10-fold year-over-year increase in gross profits—from $50.392 million to $535.339 million—and a five-fold increase in its gross margins."
"Cal-Maine's willingness to increase its prices—and profit margins—to such unprecedented levels suggests foul play. That Cal-Maine—the leader in a mostly commoditized industry with, presumably, the most efficient operations and the greatest financial power—will quintuple its profit margin in one year without any compelling business reason is plainly an indication of market power," the letter continues. "It is also an invitation for rival egg producers to tacitly collude with Cal-Maine, forego price competition themselves, and maintain high prices for the entire industry. Fundamentally, Cal-Maine seems to be engaging in price leadership—using the avian flu outbreak and the inflationary conditions of the past year as cover to establish a new 'focal point' for egg prices."
"This pattern of behavior by the dominant firms in the egg industry raises significant concerns about monopoly power and potential antitrust violations in this sector," the letter adds. "It also presents exactly the kind of monopoly or oligopoly power that is entrenched in a market 'with highly inelastic demand' and that 'imposes substantial costs on the public,' which Chair Khan has previously argued enforcers should seek to challenge. We urge the FTC to exercise the full scope of its authorities—under the Sherman, Clayton, and FTC Acts—to identify, challenge, and uproot anti-competitive arrangements that suppress competition among egg producers and enable dominant firms like Cal-Maine to extort consumers for the eggs they need every day."
In November, "antitrust trailblazer" Khan led the agency in issuing a new policy statement restoring its commitment to "rigorously enforcing" the FTC Act's prohibition on "unfair methods of competition," including what critics have called "predatory pricing."
According to Farm Action: "What Cal-Maine Foods and the other large egg producers did last year—and seem to be intent on doing again this year—is extort billions of dollars from the pockets of ordinary Americans through what amounts to a tax on a staple we all need: eggs. They did so without any legitimate business justification. They did so because there is no 'reasonable substitute' for a carton of eggs. They did so because they had power and weren't afraid to use it."
"This kind of organized theft is exactly what Congress—and the public it represents—'empowered and directed' the FTC to prevent," the group concluded. "The FTC should do nothing less."
In addition to regulatory action, Sen. Bernie Sanders (I-Vt.) argued last weekend that Cal-Maine's "corporate greed" exemplifies why "we need a windfall profits tax."

\u201cCorporate greed is the producer of Egg-Land's Best, Farmhouse Eggs & Land O'Lake Eggs, increasing its profits by 65% last quarter to a record-breaking $198 million while doubling the price of eggs & reporting no positive cases of avian flu. Yes. We need a windfall profits tax.\u201d

— Bernie Sanders (@Bernie Sanders) 1673804220
Last March, Sanders introduced the Ending Corporate Greed Act, which seeks to stamp out price gouging by imposing a 95% tax on the windfall profits of major companies.
Progressive economists have long urged Congress and the Biden administration to enact a windfall profits tax, strengthen antitrust enforcement, and impose temporary price controls, arguing that only these measures—and not the Federal Reserve's unemployment-inducing interest rate hikes—can address the corporate profiteering underlying the cost-of-living crisis.
News
SUPPORT OUR WORK.
We are independent, non-profit, advertising-free and 100%
reader supported.