For Immediate Release
November, 03 2009, 12:00pm EDT
Contact:
Sam Husseini, (202) 347-0020; or David Zupan, (541) 484-9167
WASHINGTON
ROB RICHIE
Richie is executive director of FairVote and co-author of Every Vote Equal and Whose Votes Count. He outlined eight points toward better elections:
1) "Non-partisan election officials: It hardly matters whether the
method of voting is with paper and pen or open-source computerized
equipment if election administrators are not trustworthy. In 2004, the
secretaries of state overseeing elections in three battleground states
-- Ohio, Missouri, and Michigan -- were co-chairs of their state's
George Bush reelection campaigns. In Missouri, that Secretary of State
was running for governor -- he oversaw elections for his own race! A
highly partisan Republican Secretary of State ran elections in Florida,
as did a partisan Democrat in New Mexico. Election administrators
should be civil servants who have a demonstrated proficiency with
technology, running elections and making the electoral process
transparent and secure.
2) "National elections commission: The U.S. leaves election
administration to administrators in more than 12,000 counties scattered
across the nation with too few standards or uniformity. ...
3) "Universal voter registration: We lack a system of universal voter
registration in which citizens who turn 18 years of age automatically
are registered to vote by election authorities. This is the practice
used by most established democracies, giving them voter rolls far more
complete and clean than ours. ...
4) "'Public Interest' voting equipment: Currently voting equipment is
suspect, undermining confidence in our elections. The proprietary
software and hardware are created by shadowy companies with partisan
ties who sell equipment by wining and dining election administrators
with little knowledge of voting technology. ...
5) "Holiday/weekend elections: We vote on a busy workday instead of on
a national holiday or weekend (like most other nations do), creating a
barrier for 9 to 5 workers and also leading to a shortage of poll
workers and polling places. Puerto Rico typically has the highest voter
turnout in the United States -- and makes Election Day a holiday.
6) "Ending redistricting shenanigans by adopting forms of proportional
representation: Most legislators choose their voters during the
redistricting process, long before those voters get to choose them.
More than 97 percent of U.S. House incumbents have won re-election
since 1996, overwhelmingly by landslide margins. The driving factors
are winner-take-all elections compounded by rigged legislative district
lines. ...
7) "Establish the National Popular Vote plan for president: The current
winner-take-all rules governing the Electoral College in states enable
presidential campaigns to completely ignore most states in general
elections. ... States have the power by 2012 to guarantee election of
the candidate who wins the most popular votes in all 50 states by
joining several states that have adopted the National Popular Vote plan
for president.
8) "Pry open our democracy: Our 'highest vote-getter wins' method of
electing executive offices creates incentives to keep third-party
candidates off the ballot. ... Controversies of the New Jersey
governor's race is the latest example of how our system is not designed
to accommodate three or more choices, yet important policy areas can be
completely ignored by major party candidates. Most modern democracies
accommodate voter choice through two-round runoff or instant runoff
elections for executive offices, and proportional voting for
legislatures. Instant runoff voting is being used today in many
American elections, including city elections in Minneapolis, San
Francisco, and Pierce County, Wash."
A nationwide consortium, the Institute for Public Accuracy (IPA) represents an unprecedented effort to bring other voices to the mass-media table often dominated by a few major think tanks. IPA works to broaden public discourse in mainstream media, while building communication with alternative media outlets and grassroots activists.
LATEST NEWS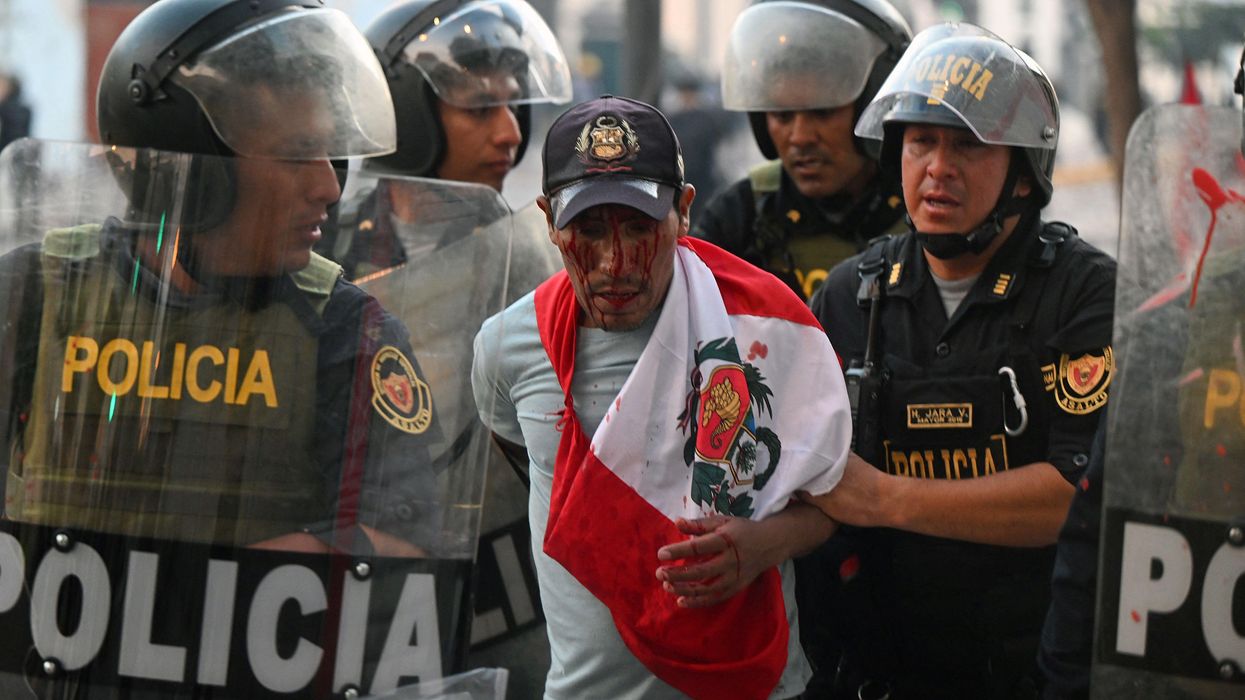 Peruvian security forces have met protests against unelected President Dina Boluarte with "indiscriminate violence," the U.S. lawmakers wrote.

Twenty House Democrats on Monday pressed the Biden administration to immediately halt the flow of security funding to the Peruvian government over its vicious crackdown on protests against unelected President Dina Boluarte, who rose to power following the arrest of leftist President Pedro Castillo last month.
Since Castillo's arrest and imprisonment—which drew vocal opposition from political leaders in the region—mass demonstrations have broken out and spread across Peru as largely low-income and Indigenous supporters of Castillo mobilize to demand his release, Boluarte's resignation, and sweeping constitutional reforms. Peru's security forces have swiftly and violently cracked down in an unsuccessful attempt to quell the uprising, killing more than 50 people and injuring hundreds more.
In a letter to U.S. President Joe Biden, a group of House Democrats led by Reps. Susan Wild (D-Pa.) and Chuy Garcia (D-Ill.) condemned the "indiscriminate violence" and "consistent use of excessive force" by Peruvian security forces and urged the administration to "publicly denounce these ongoing human rights violations."
The lawmakers also called on Biden to pause all security funding to Peru, which amounts to tens of millions of dollars annually. The House Democrats pointed with alarm to the U.S. ambassador to Peru's "recent meeting with the Peruvian minister of defense and announcement of $8 million in further U.S. funding for CORAH, a Peruvian government coca eradication program, which includes funding for forces involved in the egregious human rights violations that are currently taking place."
"We urge your administration to immediately suspend U.S. security assistance to Peru until the violent repression of protests ends and steps are taken by the country's authorities to investigate human rights crimes and prosecute those responsible," the lawmakers wrote.
\u201cThank you to @RepRaulGrijalva, @RepChuyGarcia, @JanSchakowsky and so many other colleagues for joining me in standing with the people of Peru. It is past time to demonstrate a dedication to human rights through actions, not just words.\nhttps://t.co/2joPwBZcBE\u201d

— Rep. Susan Wild (@Rep. Susan Wild) 1675120811
The letter came days after police killed a 55-year-old demonstrator in the Peruvian capital of Lima, where protests have swelled in recent days.
Boluarte, who has imposed curfews in several regions and curtailed civil liberties, is urging Peru's conservative-dominated Congress to approve a plan to hold new elections this year instead of in 2024 in an effort to end the demonstrations. Resisting pressure to resign, Boluarte—who served as vice president under Castillo—has pledged to stay on as president until new elections are held.
As Agence France-Presse reported Monday: "Boluarte said that if lawmakers refused to bring forward the vote, she would propose a constitutional reform so that a first round of elections would be held in October and a runoff in December. Demonstrators are calling for immediate elections, as well as Boluarte's removal, the dissolution of Congress, and a new constitution."
In their letter, the 20 House Democrats raised concern that the Biden administration has granted legitimacy and support to the Boluarte government as it rolls back basic freedoms and kills demonstrators.
Less than two weeks after Castillo's arrest, U.S. Secretary of State Antony Blinken held a call with Boluarte in which he said he "looks forward" to working with her "on shared goals and values related to democracy, human rights, security, anti-corruption, and economic prosperity."

The Democratic lawmakers also pointed to the Biden administration's expressed support for "peace on all sides," a message that the members of Congress called "ambiguous" in the face of massive human rights violations.
"The U.S. government can and must do more," the lawmakers wrote. "We believe our proposed actions would send a powerful signal in support of fundamental rights and help promote effective engagement for a political resolution."

News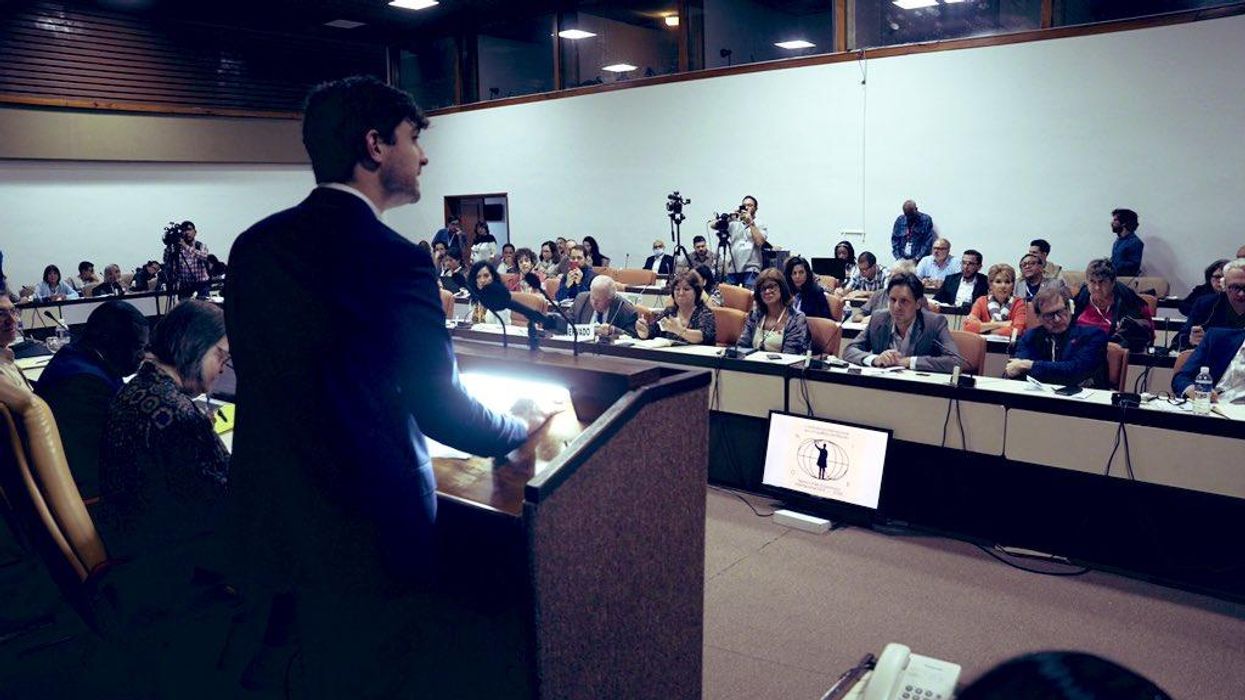 "What is the common vision to guide the Global South out of this crisis?" asked the Progressive International. "What is the plan to win it?"
Delegates to the Havana Congress on the New International Economic Order—a gathering organized by the Progressive International and attended by more than 50 scholars and policymakers from 26 countries across all six inhabited continents—agreed over the weekend on a declaration that outlines a "common vision" for building an egalitarian and sustainable society out of the wreckage of five decades of neoliberal capitalism.
"The crisis of the existing world system can either entrench inequalities," the declaration asserts, or it can "embolden" popular movements throughout the Global South to "reclaim" their role as protagonists "in the construction of a new world order based on justice, equity, and peace."
Delegates resolved to focus their initial efforts on strengthening the development and dissemination of lifesaving technologies in low-income nations.
"Delegates agreed that a key priority must be to secure science and technology sovereignty."
This decision comes one year after Cuban officials announced, at a press conference convened by the Progressive International (PI), their plan to deliver 200 million homegrown Covid-19 vaccine doses to impoverished countries abandoned by their wealthy counterparts and Big Pharma—along with tools to enable domestic production and expert support to improve distribution.
It also comes as Cuba assumes the presidency of the Group of 77 (G77), a bloc of 134 developing countries in Africa, Asia, and Latin America where "the combined crises of food, energy, and environment" are escalating, PI noted.
"What is the common vision to guide the Global South out of this crisis?" the coalition asked. "What is the plan to win it? What is the New International Economic Order for the 21st century?"
"After two days of detailed discussions about how to transform our shared world, delegates agreed that a key priority must be to secure science and technology sovereignty," PI general coordinator David Adler said Sunday at the conclusion of the Havana Congress. "From pharmaceuticals to green tech, from digital currencies to microchips, too much of humanity is locked out of both benefiting from scientific advances and contributing to new ones. We will, as today's declaration calls for, work to build 'a planetary bloc led by the South and reinforced by the solidarities of the North' to liberate knowledge and peoples."
Speaking at the January 12 ceremony during which Cuba ascended to the G77 presidency, Cuban Foreign Minister Bruno Rodríguez Parrilla emphasized the need for coordinated action across the Global South on science and tech, arguing that "scientific-technical development is today monopolized by a club of countries that monopolize most of the patents, technologies, research centers, and promote the drain of talent from our countries."
The G77 Summit on Science, Technology, and Innovation, scheduled for September in Havana, seeks to "unite, complement each other, integrate our national capacities so as not to be relegated to future pandemics," said Parrilla.
During his speech on the first day of the Havana Congress, meanwhile, former Greek Finance Minister Yanis Varoufakis called for a new non-aligned movement to "end the legalized robbery of people and Earth fueling climate catastrophe."
\u201cAt the Havana Congress on the New International Economic Order, @yanisvaroufakis calls for a New Non-Aligned Movement to "end the legalised robbery of people and Earth fuelling climate catastrophe."\n\nRead his full speech here: https://t.co/P8zdht8FD9\u201d

— Progressive International (@Progressive International) 1674836693
Read the full Havana Declaration on the New International Economic Order:
The Havana Congress,
Recalling the role of the Cuban Revolution in the struggle to unite the Southern nations of the world, and the spirit of the 1966 Havana Tricontinental Conference that convened peoples from Asia, Africa, and Latin America to chart a path to collective liberation in the face of severe global crises and sustained imperial subjugation;
Hearing the echoes of that history today, as crises of hunger, disease, and war once again overwhelm the world, compounded by a rapidly changing climate and the droughts, floods, and hurricanes that not only threaten to inflame conflicts between peoples, but also risk the extinction of humanity at large;
Celebrating the legacy of the anti-colonial struggle, and the victories won by combining a program of sovereign development at home, solidarity for national liberation abroad, and a strong Southern bloc to force concessions to its interests, culminating in the adoption of the U.N. Declaration on the Establishment of a New International Economic Order (NIEO);
Acknowledging that the project of decolonization remains incomplete, disrupted by concerted attacks on the unity of the South in the form of wars, coups, sanctions, structural adjustment, and the false promise that sovereign development might be won through integration into a hierarchical world system;
Emphasizing that the result has been the sustained divergence between North and South, characterized by the same dynamics that defined the international economic order five decades prior: the extraction of natural resources, the enclosure of 'intellectual property,' the plunder of structural adjustment, and the exclusion of the multilateral system;
Recognizing that despite these setbacks, the flame of Southern resistance did not die; that the pursuit of sovereign development has yielded unprecedented achievements—from mass literacy and universal healthcare to poverty alleviation and medical innovation—that enable a renewed campaign of Southern cooperation today;
Stressing that this potential for Southern unity is perceived as a threat to Northern powers, which seek once again to preserve their position in the hierarchy of the world system through mechanisms of economic exclusion, political coercion, and military aggression;
Seizing the opportunity of the present historical juncture, when the crisis of the existing world system can either entrench inequalities or embolden the call to reclaim Southern protagonism in the construction of a new world order based on justice, equity, and peace;
The Havana Congress calls to:
Renew the Non-Aligned Movement: In the face of increasing geopolitical tensions born from a decisive shift in the global balance of power, the Congress calls to resist the siren song of the new Cold War and to renew the project of non-alignment, grounded in the principles of sovereignty, peace, and cooperation articulated at the 1955 Bandung Conference, 1961 Non-Aligned Conference, 1966 Tricontinental Conference, and beyond.


Renovate the NIEO: To accompany the renewed non-aligned movement, the Congress calls to renovate the vision for a New International Economic Order fit for the 21st century; a vision that must draw inspiration from the original Declaration, but also account for the key issues—from digital technology to environmental breakdown—that define the present conditions for sovereign development; and to enshrine this vision in a new U.N. Declaration on the occasion of its 50th anniversary.


Assert Southern Power: The Congress recognizes that economic liberation will not be granted, but must be seized. As the original call for a New International Economic Order was won through the exercise of collective power in the coordinated production of petroleum, so our vision today can only be realized through the collective action of the South and the formation of new and alternative institutions to share critical technology, tackle sovereign debt, drive development finance, face future pandemics together, as well as coordinate positions on international climate action and the protection of national sovereignty over the extraction of natural resources.


Accompany Cuba in the G77: The Congress recognizes the critical opportunity afforded by Cuba's presidency of the Group of 77 plus China to lead the South out of the present crisis and channel the lessons of its Revolution toward concrete proposals and ambitious initiatives to transform the broader international system.


Build a Planetary Bloc: The Congress calls on all peoples and nations of the world to join in this struggle to definitively achieve the New International Economic Order; to build a planetary bloc led by the South and reinforced by the solidarities of the North, whose peoples recognize their obligation to resist the crimes committed in their names; and to bring the spirit of this Havana Congress into the communities that we call home.
News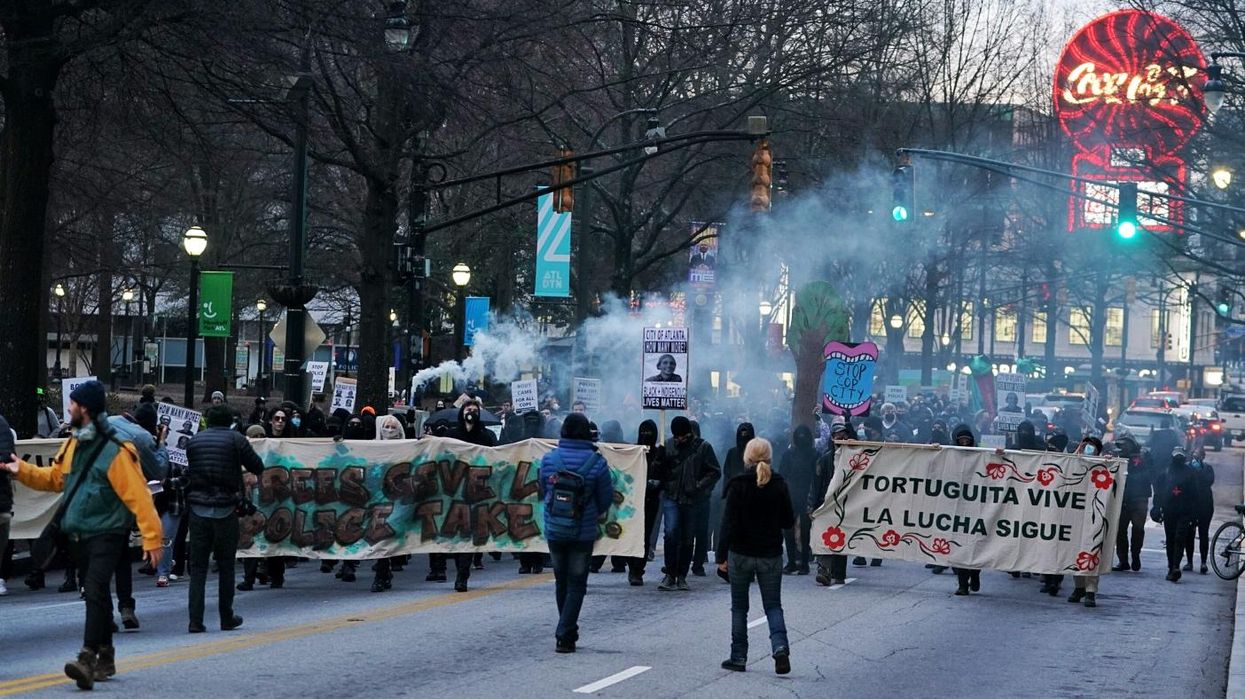 "It is imperative that we demand an independent investigation into the police murder of Manuel 'Tortuguita' Paez Terán," said one group. "We join calls for the termination of the lease and for Mayor Dickens' resignation."
A coalition of more than 1,300 climate and racial justice groups from across the United States on Monday joined a call for an independent investigation into the police killing of forest defender Manuel Paez Terán earlier this month, and demanded the resignation of Atlanta Mayor Andre Dickens.
Nearly two weeks after the fatal shooting of the 26-year-old activist and medic—known as Tortuguita—Dickens "has still failed to condemn the killing," said the groups, and has instead opted "to condemn protestors and parrot the rhetoric of extreme right-wing governor Brian Kemp."

Tortuguita was shot and killed on January 18 when a joint task force including Atlanta police officers raided an encampment at Weelaunee forest. The forest is the site of a proposed $90 million police training facility known as Cop City.
"His championing of Cop City occurs against the backdrop of a continued investment in the gentrification of Atlanta and a continued disinvestment of affordable housing for a city identified as having the country's highest level of wealth inequality."
Over the weekend Dickens, a Democrat, condemned people who have protested Tortuguita's killing in Atlanta, accusing protesters of traveling to the city to "wreak havoc" at demonstrations that were overwhelmingly peaceful.

"Within a few hours of the shooting, Dickens tweeted support for [an] injured state trooper and completely ignored the death at the hands of a task force which included Atlanta police officers on his watch," wrote the groups, which include People vs. Fossil Fuels, Jewish Voice for Peace, Climate Justice Alliance, and Oil Change International. "As a growing number of Atlanta residents, national and global news outlets, and human rights and environmental organizations worldwide call for an investigation of the police narrative of Tortuguita's death, Dickens has dismissed their concerns. He has refused to bring any scrutiny to the one-sided and unsubstantiated recounting of events. Dickens has yet to offer condolences to the slain protestor's family."
The groups noted that Dickens and the Atlanta City Council have the authority to terminate the land lease for Cop City in the forest and called for the mayor to do so immediately, denouncing his strong support for the Atlanta Police Foundation's proposal.
"His championing of Cop City occurs against the backdrop of a continued investment in the gentrification of Atlanta and a continued disinvestment of affordable housing for a city identified as having the country's highest level of wealth inequality," said the groups. "Mayor Dickens can somehow find $90 million dollars for Cop City, one third of which will come from taxpayer money. Still, he can't find money to keep our already overwhelmed hospitals open or to finance much-needed affordable housing."
Ikiya Collective, a signatory of the letter, noted that the training slated to take place at Cop City "will impact organizing across the country" as police are trained to respond to popular uprisings.
"This is a national issue," said the collective. "Climate justice and police brutality are interconnected, which is why we are joining the Stop Cop City calls to action with the frontline communities in Atlanta."
"It is imperative that we demand an independent investigation into the police murder of Manuel 'Tortuguita' Paez Terán," said Ikiya Collective. "We join calls for the termination of the lease and for Mayor Dickens' resignation."
News
SUPPORT OUR WORK.
We are independent, non-profit, advertising-free and 100%
reader supported.