For Immediate Release
Contact:
Tel: +1-212-216-1832,Email:,hrwpress@hrw.org
DRC: Clinton Should Highlight Rape and Justice Issues
Need to Protect Civilians Should Top the Agenda During Visit
GOMA
Killings and brutal sexual violence against women, girls and also men have massively increased in eastern Democratic Republic of Congo since the start of military operations in January 2009, the Congo Advocacy Coalition, a group of 88 humanitarian and human rights organizations, said today. The coalition urged Hillary Clinton, the United States secretary of state, who arrives in Congo today, to press the Congolese government and United Nations peacekeepers for more effective measures to protect civilians and to pursue justice for serious crimes.
Since the start of military operations in January, more than 600 civilians have been killed and thousands of women and girls raped by armed rebel groups and government forces. According to UN estimates, the violence has forced more than 800,000 people from their homes, including some 56,000 who fled from Uvira territory, South Kivu, in July.
"The UN-backed offensive that was supposed to make life better for the people of eastern Congo is instead becoming a human tragedy," said Marcel Stoessel, head of Oxfam in DRC. "Secretary Clinton needs to make it very clear that US support for the UN's efforts in Congo is not a blank check and that civilians should be protected."
UN peacekeepers have been backing Congolese military operations, known as Kimia II, against the Rwandan Hutu rebel group, the Democratic Forces for the Liberation of Rwanda (FDLR), since March. This support followed earlier joint operations between the Congolese and Rwandan armies against the rebel group.
Since the US government is one of the main financial backers of the UN peacekeeping force, the Congo Advocacy Coalition called on Clinton to push for a more thorough assessment of the risks to civilians in the UN's operations and concrete action by the UN and the Congolese government to mitigate such risks, with specific attention to protecting women and girls from rape.
Since the start of military operations, the FDLR rebels have carried out widespread retaliatory attacks, brutally killing and raping Congolese civilians. In one recent reprisal attack, on July 20, the rebels killed more than 20 civilians in the village of Manje, in Walikale territory, North Kivu province. As in previous similar attacks, the rebels hacked some victims with machetes, shot others, and burned a number to death in their homes.
The Congolese Advocacy Coalition urged Clinton to press the Congolese and Rwandan governments, the UN and its member states to urgently review their strategy against the FDLR rebels and to plan for a new and more comprehensive approach emphasizing protection of civilians.
"So far, these military operations have brought nothing but horrible suffering for the people of eastern Congo," said Anneke Van Woudenberg, senior Africa researcher at Human Rights Watch. "Secretary Clinton should offer high-level US diplomatic engagement to figure out how to address the problem of the FDLR and other armed groups without causing even more harm."
Congolese army soldiers have committed widespread and serious abuses during the military operations, including rape. The majority of sexual violence cases reported in North Kivu since January have been attributed to government soldiers. On July 4, the Congolese government announced a policy of "zero tolerance" for abuses committed by army soldiers and said that commanders who permit their troops to commit such crimes will be held responsible. To date, only a handful of officers have been arrested.
Widespread impunity, the recent integration of 12,000 militia fighters into the army's ranks, and problems with salary payments have all compounded the discipline problems that have plagued the army for many years.
"The increase in rape in an area where already so many women and girls have been victims is deplorable," said Olivia Caeymaex of Enough. "Ending impunity for rape and other serious crimes needs to be at the heart of any strategy to combat sexual violence. Secretary Clinton should ensure US diplomatic and financial assets are focused on bringing to justice those who are most responsible."
The Congo Advocacy Coalition called on Clinton to use her visit to:
Ensure that the UN Security Council sets out and stands by clear conditions for continued support for the joint operations with the Congolese army, including ensuring that human rights abusers do not take part in military actions, and guaranteeing rigorous monitoring and application of appropriate sanctions for any violations of international humanitarian law.
Pressure regional governments and the UN Security Council to review the current strategy against the FDLR rebels and urge a new comprehensive approach emphasizing protection of the civilian population, apprehending those wanted for genocide, and a more effective voluntary disarmament and demobilization program, among other measures.
Urge the Congolese government to bring to justice those responsible for serious human rights abuses, including sexual violence, within the Congolese army, particularly senior officers engaged in the present military operations.
Urge and offer support to the Congolese government to undertake comprehensive reforms of the security sector and address the structural causes of conflict in eastern DRC, which include the issues of land, livelihoods, and fair representation of all communities.
The Congo Advocacy Coalition is a group of local and international nongovernmental organizations established in 2008 to focus attention on the protection of civilians and respect for human rights in eastern Congo's peace process. The following organizations are members of the coalition's steering committee: ActionAid, Enough, Human Rights Watch, Norwegian Refugee Council, Oxfam, War Child Holland, Conseil Regional des Organisations Non Gouvernementales de Developpement (CRONGD) - North Kivu, Promotion et Appui aux Initiatives Feminines (PAIF) - North Kivu, Initiative Congolaise pour la Justice et la Paix (ICJP) - South Kivu, and Association des Femmes Juristes du Congo (AFEJUCO) - South Kivu.
Other Signatories:
International NGOs:
Action Against Hunger/Action Contre la Faim (ACF), Beati i Costruttori di Pace (Blessed are the Peacemakers), CARE International, International Crisis Group (ICG), International Rescue Committee (IRC), Jesuit Refugee Service (JRS), Light of Africa Network, Mercy Corps, Norwegian Church Aid, Refugees International (RI), Tearfund, Trocaire, VDay
Congolese NGOs:
ACODESK, Action de Promotion et d'Assistance pour l'Amelioration du Niveau des Vies des Populations (APANIVIP), Action des Chretiens activistes des Droits de l'Homme a Shabunda, Action des Chretiens pour l'Abolition de la Torture (ACAT), Action Pour Enfants Oublies ( APEO) Sud-Kivu, Action pour la Lutte contre l'Ignorance du Sida, Actions Globales pour la Promotion Sociale et la Paix (AGPSP), AEPDE (Sud Kivu), ALCM, APED, APIBA, APREDECI, ASPD, Association des Armateurs sur le Lac Kivu, Association des Jeunes Chretiens de l'Eglise Sinai (AJCS)/Sud Kivu, Association des Volontaires du Congo (ASVOCO), Association pour le Developpement dans les Pays de Grands Lacs Africaine (ADGL), Campagne Pour la Paix (CPP), Centre Africain pour la Paix, la Democratie, et les Droits de l'Homme (ACPD), Centre de Promotion Socio Sanitaire (CEPROSSAN), Centre de Recherche sur l'Environnement, la Democratie et les Droits de l'Homme (CREDDHO), Centre d'Intervention et de Promotion Sociale Participative (CIPSOPA), Centre d'Observation des Droits de l'Homme et d'Assistance Sociale (CODHAS), Centre Olame, CIDI/NK, CJP, Coalition Congolaise pour la Justice Transitionnelle (CCJT), Collectif des Associations des Femmes Pour le Developpement (CAFED), Collectif des Chercheurs et Analystes Politiques, Juridiques, et Socio-economiques (CAPJSE), Collectif des Jeunes du Sud Kivu, Collectif des Organisations des Jeunes Solidaires du Congo (COJESKI)/Nord Kivu, Conseil des Facilitateurs des Pays de Grands Lac, Dauphins Muzihirwa-Kataliko, Eglise Independante du Congo (UEIC), Encadrement des Femmes Indigenes et des Femmes Vulnerables (EFIM), GRAM-Kivu, Group d'Assistance aux Marginalises (GAM), Group d'Etudes et d'Actions Pour un Developpement Bien Defini (GEAD), Groupe Hirondelle - Bukavu, HEAL Africa, Heritiers de la Justice, Initiatives ALPHA, La Fondation Mere et Enfant, La Providence, Ligue Nationale et d'Appui aux Initiatives des Jeunes en RD Congo (LINAJEUN-RDC), Maman An'saar du Congo (MAC), Ouvriers du Monde (ODM), PAL, PAMI, Perspectives Monde Juste, PFND, Programme Chretien pour la Protection des Droit de l'Enfant, Programme du Developpement Sociale (PRODES), Promotion de la Democratie et Protection des Droits Humains (PDH), Reseau des Associations de Droits de l'Homme (RADHOSKI)/ Sud Kivu, Reseau Provincial des ONG des Droits de l'Homme au Congo (REPRODHOC), SEDI/Uvira, Solidarite Feminine pour la Paix et le Developpement Integral (SOFEPADI), Solidarite des Familles pour le Developpement (SOFADE), Synergie des Femmes pour les Victimes des Violences Sexuelles (SFVS), Union d'Actions pour les Initiatives de Developpement (UAID), Union des Jeunes pour le Developpement de Bunyakiri (UJDBu), UPADERI, UWAKI Sud Kivu, Villages Cobaye (VICO)
Human Rights Watch is one of the world's leading independent organizations dedicated to defending and protecting human rights. By focusing international attention where human rights are violated, we give voice to the oppressed and hold oppressors accountable for their crimes. Our rigorous, objective investigations and strategic, targeted advocacy build intense pressure for action and raise the cost of human rights abuse. For 30 years, Human Rights Watch has worked tenaciously to lay the legal and moral groundwork for deep-rooted change and has fought to bring greater justice and security to people around the world.
LATEST NEWS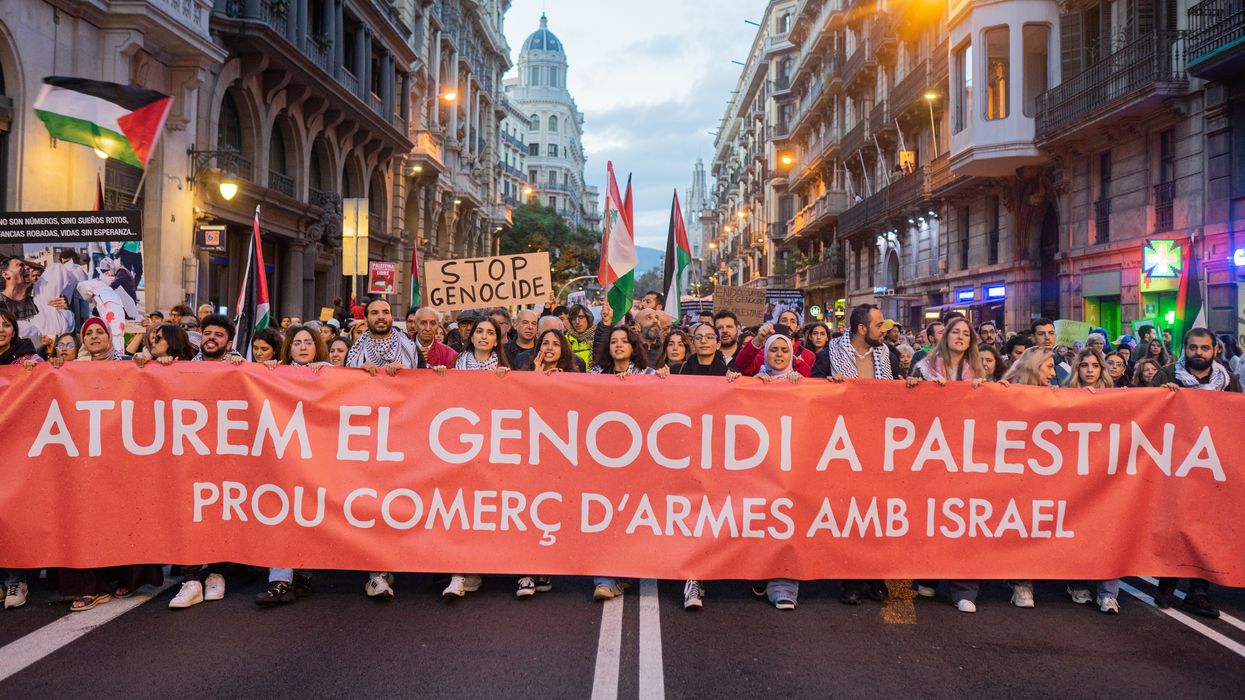 "It's not a war, it's a genocide," said Councilmember Ada Colau. "We not only need to denounce it, we must act and not stay on the sidelines."
The city council of Barcelona, Spain's second-largest city, voted Friday to suspend relations with Israel's far-right government over what the party behind the move called the "genocide" in Gaza.
Introduced by the leftist Barcelona en Comú party—which asserted that "no government can turn a blind eye to a genocide"—the resolution demands the municipal government discontinue "institutional relations with the current government of Israel until there is a definitive cease-fire, and respect for the basic rights of the Palestinian people and compliance with United Nations resolutions are guaranteed."
The resolution also calls for requiring public contracts to ensure that "no operator belongs to or carries out" activities "that go against international humanitarian law" and "rejects and condemns attacks against the population civilian, both Israeli and Palestinian, as well as any action constituting collective punishment, such as the forced displacement of population, the systematic destruction of homes and civilian infrastructure, or the blocking of the supply of energy, water, food, medical supplies and medicines to the population of the Gaza Strip."
Barcelona en Comú Councilmember Ada Colau said in a statement that "it's not a war, it's a genocide, and as [Spanish] President Pedro Sánchez has stated, it is unbearable, and if it is unbearable, we not only need to denounce it, we must act and not stay on the sidelines."
"Every 10 minutes, a child dies in the Gaza Strip under the bombs of one of the most powerful armies in the world," she added.
Colau, whose eight-year tenure as Barcelona's mayor ended in June, earlier this year announced her city was cutting ties with Israel and ending its symbolic 25-year-old "twin cities" relationship with Tel Aviv due to the Israeli government's "crime of apartheid against the Palestinian people."

Barcelona's current mayor, Jaume Collboni of the Socialists' Party of Catalonia, reversed Colau's move in September.
Earlier this month, Barcelona dockworkers also showed solidarity with Palestinians by refusing to load or unload military materials onto any ship bound for Israel or any conflict zone where they could be used against civilians.
The new Barcelona resolution urges Israel and Hamas to make permanent the temporary four-day ceasefire that began Friday morning, as well as an end to Israeli violence against Palestinian civilians in the illegally occupied West Bank and the unconditional and safe release of all hostages taken by Hamas.
On Friday, Hamas freed 24 captives—13 Israeli women and children, 10 Thai nationals, and one Filipino—as part of the cease-fire agreement. Israel released 39 Palestinian women and minors from behind bars to fulfill its end of the deal. Hamas has agreed to free 50 of its hostages in exchange for the release of 150 Palestinians imprisoned by Israel.
Israeli forces have arrested thousands of Palestinians on what critics claim are often dubious grounds meant to give Israel leverage and bargaining chips.
According to the Gaza Health Ministry, nearly 15,000 Palestinians, including more than 4,000 women and over 6,000 children, have been killed by Israeli bombs and bullets since the Hamas-led attacks on southern Israel that left around 1,200 people dead and 240 others kidnapped. The international humanitarian group Oxfam said Thursday that newborn babies are dying from preventable causes in Gaza's hospitals due to the Israeli siege.

More than 36,000 Palestinians have been wounded by Israeli attacks on Gaza, while around 7,000 others—including over 4,700 children—are missing and presumed dead. More than 1.7 million Gazans have been forcibly displaced and around half the homes in the besieged strip have been damaged or destroyed, according to United Nations agencies.
At least 255 Palestinians have also been killed by Israeli soldiers and settlers in the occupied West Bank and East Jerusalem.
In addition to the Barcelona councilmembers who voted Friday for the resolution, other Spanish officials have also called for cutting ties with Israel's government over its Gaza onslaught.
Last month, outgoing Social Rights Minister Ione Belarra, who also leads the leftist Podemos party, urged her country's coalition government to petition the International Criminal Court to open a war crimes investigation of Israeli Prime Minister Benjamin Netanyahu for Israel's indiscriminate bombardment of Gaza and for cutting off food, fuel, and electricity from the besieged strip's 2.3 million residents.
On Thursday, Belarra criticized Sánchez—a member of the Spanish Socialist Workers' Party—for visiting Israel this week, arguing that his trip "only serves to whitewash Netanyahu and to equate the state of Israel, an occupying power that perpetrates a genocide, with the victims of the Palestinian people."

"Such inaction," she added, "is absolutely unbearable."
News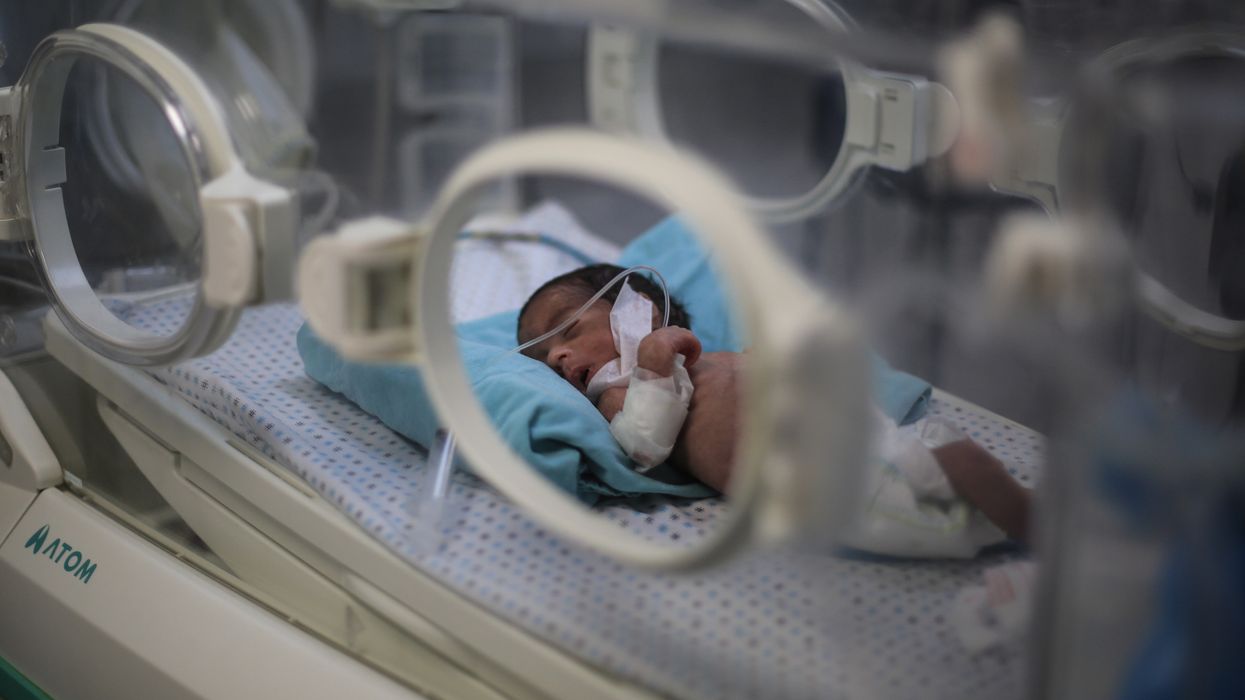 "Oxfam is urgently calling for a full cease-fire and unimpeded humanitarian access," said the group, explaining that a four-day pause in fighting is not sufficient.
Humanitarian workers in Gaza on Thursday said their daily experiences struggling to take care of pregnant people and babies demonstrate why a four-day pause in fighting is far from sufficient to save the lives of the blockaded enclave's most vulnerable residents, including newborns who have begun to die from preventable causes.
As Israel's blockade continues to keep Gaza authorities from providing clean water, food, sanitation, and heat to homes and hospitals, babies aged three months and younger "are dying of diarrhea, hypothermia, dehydration, and infection," said Oxfam International.
Juzoor, an organization partnering with Oxfam in northern Gaza, said premature births have increased by 25-30% since October 7 when Israel began its bombardment of Gaza in retaliation for an attack by Hamas.
The group has been supporting about 500 pregnant women in 13 shelters—where a total of 35,000 people are living—and many have gone into labor prematurely as they have the ongoing trauma of "walking long distances in search of safety, running away from bombs, and being crowded into shelters with squalid conditions."
Humanitarian workers are struggling to adequately care for thousands of people who have taken refuge in shelters, with waste piling up due to a lack of sanitation services and up to 600 people sharing one toilet.
Sally Abi Khalil, Middle East regional director for Oxfam, said the fact that the crisis has reached a stage where babies are dying of preventable illnesses is "abhorrent."

"Last month we lost at least one baby in every shelter, it's heartbreaking," said Umaiyeh Khammash, director of Juzoor. "Access to hospitals is extremely dangerous and virtually impossible, so many women are having to give birth with little or no maternity support in shelters."
As Common Dreams has reported, more than 50,000 Gaza residents are facing Israel's onslaught while pregnant, and more than 5,500 are expected to give birth within a month. Juzoor estimates that 30% of women will face pregnancy complications that require extra medical attention, putting their babies at greater risk—particularly in the first 28 days of life, when newborns are most vulnerable.

Khammash expressed fear that the group will soon be entirely out of food for residents.
"The absence of fuel has affected hospitals in the north and the shelters where we operate," he said. "There is no light, there is no heat. Now winter is coming and it's cold. It is really a disaster for everyone, but especially for expectant mothers."
Some women have given birth in recent weeks in repurposed classrooms surrounded by dozens of refugees, without qualified medical personnel present or any capacity for providing "basic hygiene," Khalil said.

"I don't think there is anyone anywhere in the world that would disagree that is simply inhumane," she added.

Oxfam is working to provide the Juzoor shelters with hygiene kits and food, while 60 health professionals have been mobilized to work with thousands of displaced people.

"But the ongoing violence, siege, and acute shortages of fuel and clean water severely hinder these efforts," said Oxfam as it called on officials to go further than negotiating only a four-day "humanitarian pause."

"Oxfam is urgently calling for a full cease-fire and unimpeded humanitarian access in order to restore vital services and provide desperately needed medical support particularly to pregnant women and newborn babies," said the group.
News
"We saw last night in Dublin a consequence of politicians spending years demonizing immigrants," said one critic.
Irish authorities on Friday condemned a far-right, anti-immigrant faction that rapidly spread rumors about the perpetrator of a violent knife attack in Dublin and ultimately tore through the streets of Ireland's capital Thursday night, setting cars and buses on fire and smashing storefront windows.
The country was shocked Thursday by a mid-day stabbing attack on three young children—including a five-year-old girl who sustained serious injuries—and a woman who were reportedly on their way to a daycare facility when a man assaulted them.
The Garda Síochána, Ireland's police force, were able to take the suspect into custody after several bystanders—including a Brazilian delivery driver who immigrated to the country—overtook the man, who authorities said acted on his own.
But the "appalling crime," as Minister for Justice Helen McEntee called the stabbing, soon gave way to chaos at the crime scene when far-right protesters arrived and began chanting anti-immigrant slogans.
One protester toldAgence France Presse that "Irish people are being attacked by these scum," even as the press reported that the suspected perpetrator was a naturalized Irish citizen who has lived in Ireland for 20 years.
The cost-of-living crisis in Ireland has fueled recent anti-immigrant protests and acts of violence, with a group of men violently attacking an encampment inhabited by migrants from several countries earlier this year. Such incidents have also led thousands of Irish people to march this year in support of the immigrant community.
The Brazil-born delivery driver, identified by The Irish Times as Ciao Benicio, told the paper that the far-right faction's decision to seize on the knife attack as evidence of a dangerous immigration crisis did not "make sense at all."
"I'm an immigrant myself and I was the one who helped out," said Benicio.
The city's public transit system was badly hit by the ensuing riots, with protesters setting trams and double-decker buses ablaze. They also smashed store windows on O'Connell Street, a major thoroughfare.
"This appalling incident is a matter for the Gardaí and that it would be used or abused by groups with an agenda that attacks the principle of social inclusion is reprehensible and deserves condemnation by all those who believe in the rule of law and democracy," said Irish President Michael Higgins in a statement.
Police commissioner Drew Harris said the riots were driven by misinformation that was spread for "malevolent purposes."

Mary Lou McDonald, president of the left-wing opposition party Sinn Féin, said the city of Dublin was "traumatized twice: by the barbaric attack... and then by marauding racist mobs."
Thirty-four rioters were arrested Thursday evening, and Prime Minister Leo Varadkar addressed the country's immigrant community by saying Ireland would be "vastly inferior" without immigration.
The demonstrators did not wreak havoc across the city "out of any sense of patriotism, however warped," said Varadkar, "they did so because they are filled with hate."

One critic of the riots noted that anti-immigrant sentiment has been egged on in recent years not only by politicians like Hermann Kelly, head of the far-right Irish Freedom Party, but also by liberal policymakers like British Labour Party Leader Keir Starmer.
Starmer said in a Sky News interview Thursday that migration levels in the U.K. are "shockingly high."
"We saw last night in Dublin," said agriculture researcher Alex Heffron, "a consequence of politicians spending years demonizing immigrants."
News