Moscow Summit Is Prime Opportunity for President Obama to Address Troubling Rise of Hate Crime in Russia
Human Rights First notes tackling these critical issues will improve U.S.-Russian relations
WASHINGTON
Just two weeks before President Barack Obama travels to Moscow to
meet with Russian President Dmitry Medvedev, Human Rights First (HRF)
is urging him to ensure that tackling hate crimes is included on the
Summit's agenda. In a letter sent today to President Obama, HRF
explained that these crimes are on the rise in Russia and its
government has inadequately responded to this troubling trend. This,
coupled with other rights abuses such as increased harassment of human
rights defenders, could make Russia a far less reliable partner in
addressing economic, security, and other issues.
In the letter to President Obama, Elisa Massimino, HRF's Chief Executive Officer and Executive Director, wrote:
"We appreciate the many facets of the U.S-Russia
relationship and the complex agenda of the upcoming Summit in Moscow.
But we believe, as you stated in April, that respect for human rights
and the rule of law is the bedrock of a more constructive relationship
between the United States and Russia. You also said then that 'it is
time to get down to business and translate our warm words into actual
achievements of benefit to Russia, the United States, and all those
around the world interested in peace and prosperity.' Your attention to
Russia's efforts to combat racist, xenophobic and other violent hate
crimes and to strengthen and protect human rights organizations and
civil society will help the move from words to deeds by making clear
that the United States considers progress on these issues essential to
building a strong bilateral relationship with Russia in the future."
According to Human Rights First, during the past five years there
has been a sharp increase in the number of racist and other
bias-motivated attacks in Russia,
a rise of about 15 percent per year. In 2008, there were nearly 100
such reported murders in Russia - by far the highest incidence of such
serious violence in Europe. This problem has been compounded by a
lackluster governmental response to these heinous acts. Russia's
deeply-flawed antiextremism legislation has been used to silence
government critics, rather than to thoroughly investigate and prosecute
the cases of increasingly brutal violent hate crimes. In recent years,
human rights activists have also been the targets of aggressive attacks
by neo-Nazi and other groups.
The organization called on President Obama to carry out a series of
steps during his upcoming meetings with President Medvedev, including:
Expressing concern about the sharp rise in violent
hate crimes in Russia and the so far inadequate response of the Russian
authorities to this most pernicious form of discrimination, while
making clear the common interest of the United States and Russia in
combating violent hate crime throughout Europe and North America
through developing shared solutions to the problems.
Encouraging a regular dialogue between the
U.S. Department of Justice and the Russian Interior Ministry and
prosecutorial officials to improve responses to hate crime.
Showing support for Russian human rights and other civil society groups by meeting with them in Moscow.
HRF's letter to President Obama
was sent on the same day the organization submitted testimony in
conjunction with a United Sates Commission on Security and Cooperation
in Europe (CSCE) hearing examining the realities of "the Medvedev thaw."
In those remarks for the record, HRF called on the Commission to
encourage the Obama Administration to set the tone to the new
relationship with Russia by welcoming some of the positive steps taken
by President Medvedev since he assumed the presidency, while
consistently raising continuing human rights concerns.
Elisa Massimino and Paul LeGendre, HRF's Fighting Discrimination
Program Director, will travel to Moscow from July 5-8 to take part in a
civil society conference on the sidelines of the summit.
Read Human Rights First's letter to the President
Read Human Rights First's Fighting Discrimination Program Director, Paul Legendre's written submission
Human Rights First is a non-profit, nonpartisan international human rights organization based in New York and Washington D.C. Human Rights First believes that building respect for human rights and the rule of law will help ensure the dignity to which every individual is entitled and will stem tyranny, extremism, intolerance, and violence.
LATEST NEWS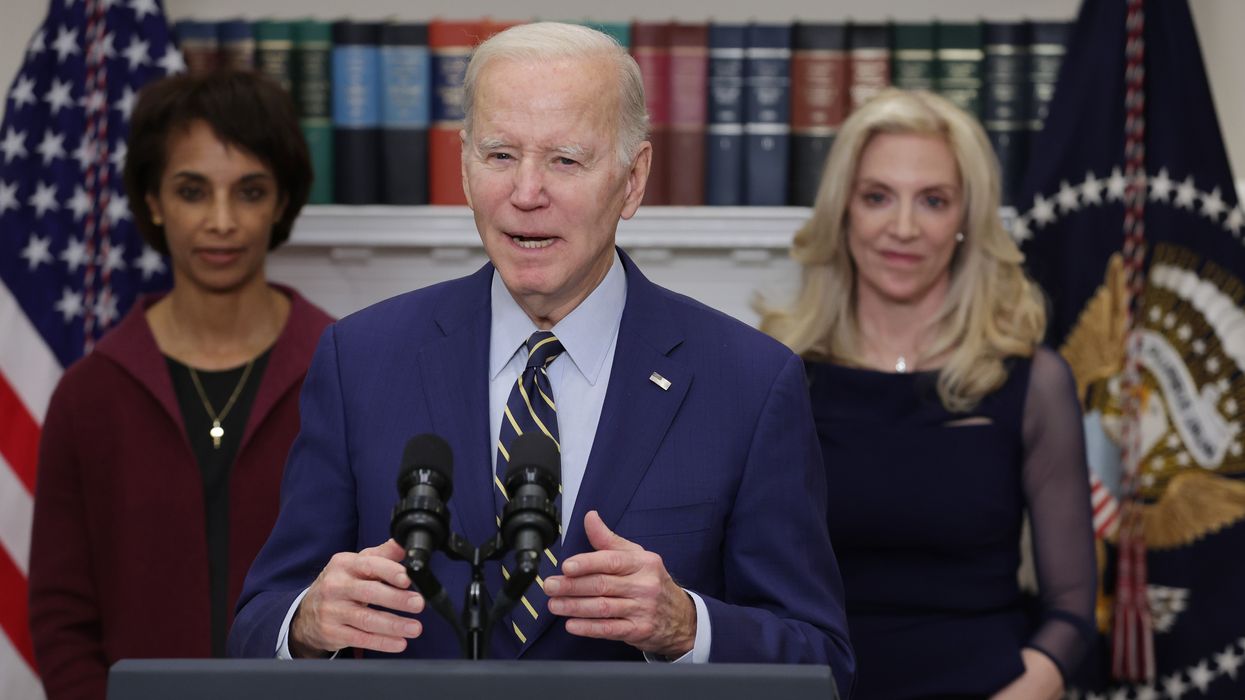 "Republicans have already made clear they're on the side of the 1 Percenters and big corporations by trying to shield rich tax cheats and endangering Social Security and Medicare with deficit-busting tax cuts for the wealthy and corporations," said one expert. "The contrast couldn't be sharper."
While far-right Republicans continue threatening to blow up the global economy unless Congress makes cuts to popular social programs, progressive taxation experts are celebrating U.S. President Joe Biden's latest push to invest in "widespread prosperity" by raising taxes on wealthy individuals and corporations.
As part of his fiscal year 2024 budget blueprint unveiled Thursday, Biden calls for a 25% minimum tax on the wealthiest 0.01%; reforms to ensure high-income individuals pay their fair share into the Medicare Hospital Insurance trust fund; and repealing 2017 tax cuts and restoring the top tax rate of 39.6% for people making over $400,000 a year.
Along with pushing for raising the corporate tax rate from 21% to 28%—which is still far below the 35% rate that was in place prior to Republicans' 2017 tax overhaul—the president advocates expanding the child tax credit while eliminating tax subsidies for cryptocurrency transactions, fossil fuel companies, and real estate.
Biden also "proposes to reform the international tax system to reduce the incentives to book profits in low-tax jurisdictions, stop corporate inversions to tax havens, and raise the tax rate on U.S. multinationals' foreign earnings from 10.5% to 21%," according to a White House fact sheet.
Although many of these proposals are unlikely to go anywhere due to the GOP-controlled U.S. House and divided Senate, Groundwork Collaborative executive director Lindsay Owens said Friday that "it's great to see President Biden leading the charge to increase taxes on billionaires, crack down on stock buybacks by massive corporations, and prevent the wealthiest Americans from cheating on their taxes and avoiding paying what they owe."
"The tax policies laid out in this budget are fair, popular, and long overdue," she declared. "The next time someone claims that we can't afford to protect Social Security and Medicare for future generations—or that we need to cut popular investments in education, healthcare, housing, or clean energy—show them President Bident's latest budget proposal and ask them why they care so much about protecting the ultrawealthy from paying their fair share."
According to Institute on Taxation and Economic Policy executive director Amy Hanauer, "President Biden's budget proposal presents a bold vision for what tax justice should look like in America."
"The provisions would raise substantial revenue, fund important priorities, and increase tax fairness," she stressed. "The revenue raisers are laser-focused on taxing very wealthy individuals and corporations, and the budget would reduce the deficit while easing costs for American families, particularly for middle and low-income parents."
Americans for Tax Fairness executive director Frank Clemente asserted Thursday that "President Biden's budget plainly shows whose side he's on: working families struggling with the high cost of healthcare, childcare, housing and more—not the wealthy elite and their big corporations rolling in dough and dodging their fair share of taxes."

"Republicans have already made clear they're on the side of the 1 Percenters and big corporations by trying to shield rich tax cheats and endangering Social Security and Medicare with deficit-busting tax cuts for the wealthy and corporations," Clemente added. "The contrast couldn't be sharper."
As Common Dreams reported earlier Friday, the House Freedom Caucus said its 45 members would "consider voting" to raise the U.S. debt limit if their colleagues in Congress abandon some of Biden's key economic priorities, slash hundreds of billions of dollars in social spending, and restrict federal agencies' future budgets.
Responding on Twitter, Biden said that "extreme MAGA House Republicans are showing us what they value: tax breaks for the rich."

News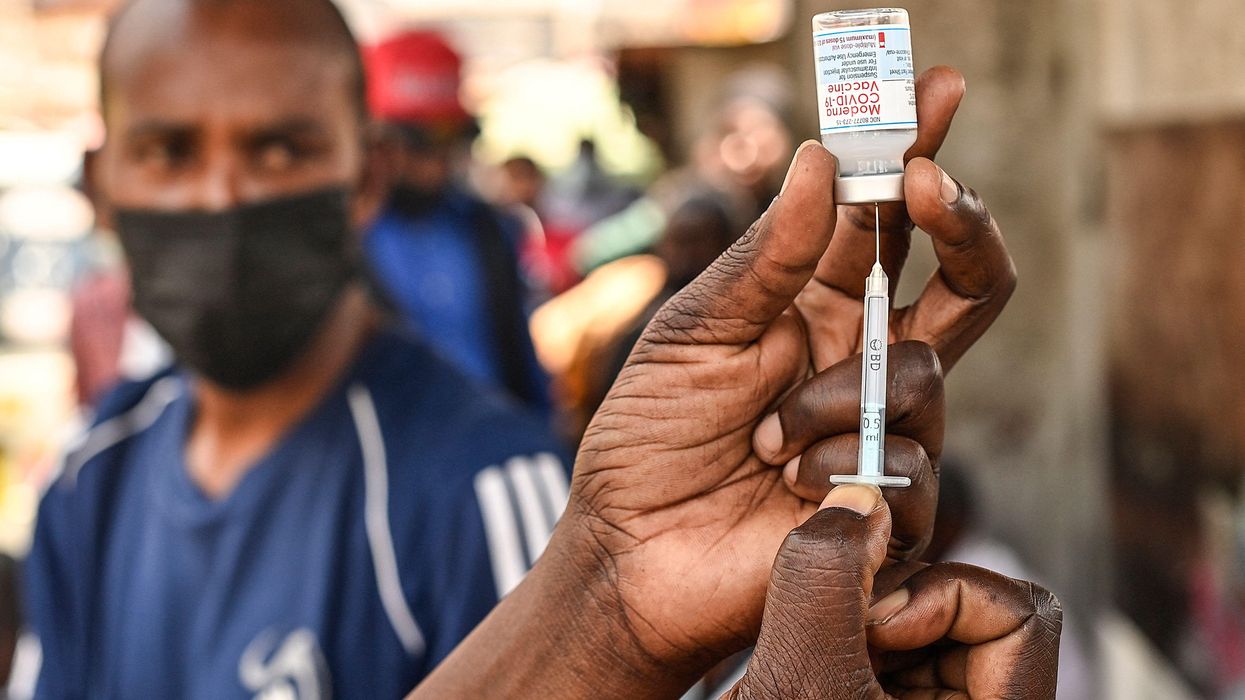 "These past three years should act as a warning for future pandemics," said former U.N. Secretary-General Ban Ki-moon. "We need a return to genuine cooperation between nations in our preparation and response to global threats."
Around 200 current and former world leaders, Nobel laureates, health and faith leaders, and activists this week marked the third anniversary of the World Health Organization's Covid-19 pandemic declaration by taking aim at the "vaccine apartheid" that according to one advocacy group was responsible for one death every 24 seconds during the outbreak's first year alone.
A letter led by the People's Vaccine Alliance notes that three years have passed since "the World Health Organization (WHO) first characterized Covid-19 as a pandemic" on March 11, 2020 and implores governments to "never again" allow nationalism and capitalist greed to supersede human needs."

"We have seen extraordinary feats of scientific innovation and an enormous mobilization of public resources to develop effective vaccines, tests, and treatments," the letter continues. "But we have also seen a global response held back by profiteering and nationalism."
The signers asserted:

We are hopeful that an end to the acute stage of the Covid-19 pandemic may be in sight. Thus, the world is at a critical juncture. Decisions made now will determine how the world prepares for and responds to future global health crises. World leaders must reflect on mistakes made in responding to the Covid-19 pandemic so that they are never repeated.

There are decades of publicly funded research behind Covid-19 vaccines, treatments, and tests. Governments have poured taxpayer money by the billions into research, development, and advance orders, reducing the risks for pharmaceutical companies. These are the people's vaccines, the people's tests, and the people's treatments. Yet, a handful of pharmaceutical companies has been allowed to exploit these public goods to fuel extraordinary profits, increasing prices in the Global North while refusing to share technology and knowledge with capable researchers and producers in the Global South.
"Instead of rolling out vaccines, tests, and treatments based on need, pharmaceutical companies maximized their profits by selling doses first to the richest countries with the deepest pockets," the letter adds. "Billions of people in low- and middle-income countries, including frontline workers and the clinically vulnerable, were sent to the back of the line."
These inequities, the alliance said, resulted in over 1.3 million preventable deaths—one every 24 seconds—in the pandemic's first year alone. Even today, as the pandemic enters its fourth year, much of the Global South lacks adequate access to Covid-19 testing and treatments.
The letter's signatories urge world leaders to take immediate action to:
Support a pandemic accord at the WHO that embeds equity and human rights in pandemic preparedness and response;
Invest in scientific innovation and manufacturing capacity in the Global South through projects like the mRNA Technology Transfer Hub established by the WHO and partners;
Invest in global common goods; and
Remove the intellectual property barriers that prevent knowledge and technology sharing.
"In the AIDS pandemic, pharmaceutical monopolies have resulted in an appalling number of unnecessary deaths—and it has been the same story with Covid-19," lamented Winnie Byanyima, executive director of UNAIDS and co-chair of the People's Vaccine Alliance.

"It was only the production of inexpensive generics in developing countries that made the first generation of HIV medicines available and affordable to people in the [Global] South," she added. "But governments still have not learned that lesson. Unless they break the monopolies that prevent people from accessing medical products, humanity will sleepwalk unprepared into the next pandemic."

East Timorese President José Manuel Ramos-Horta, who also signed the letter, said that "in the Covid-19 pandemic, those of us in low and middle-income countries were pushed to the back of the line for vaccines and denied access to the benefits of new technologies."
"Three years on, we must say 'never again' to this injustice that has undermined the safety of people in every country," he added. "Steps that we take today can hasten global access to vaccines, medicines, and tests in the next pandemic, with regional hubs researching, developing, and manufacturing medical products for everyone, everywhere."
Former United Nations Secretary-General Ban Ki-moon asserted:
The great tragedy of the Covid-19 pandemic has been the failure of multilateralism and the absence of solidarity between the Global North and Global South. These past three years should act as a warning for future pandemics. We need a return to genuine cooperation between nations in our preparation and response to global threats. That requires a pandemic accord rooted in equity and human rights, which places the needs of humanity above the commercial interests of a handful of companies.
Independent Panel for Pandemic Preparedness and Response co-chair Helen Clark—who served as New Zealand's prime minister from 1999 to 2008—noted that "publicly funded science contributed a lot to the phenomenal success of Covid-19 vaccines."
"Yet, that public investment did not lead to vaccines being treated as global common goods," Clark continued. "Rather, nationalism and profiteering around vaccines resulted in a catastrophic moral and public health failure which denied equitable access to all."
"We need to fix the glaring gaps in pandemic preparedness and response today," she added, "so that people in all countries can be protected when a pandemic threat emerges."
News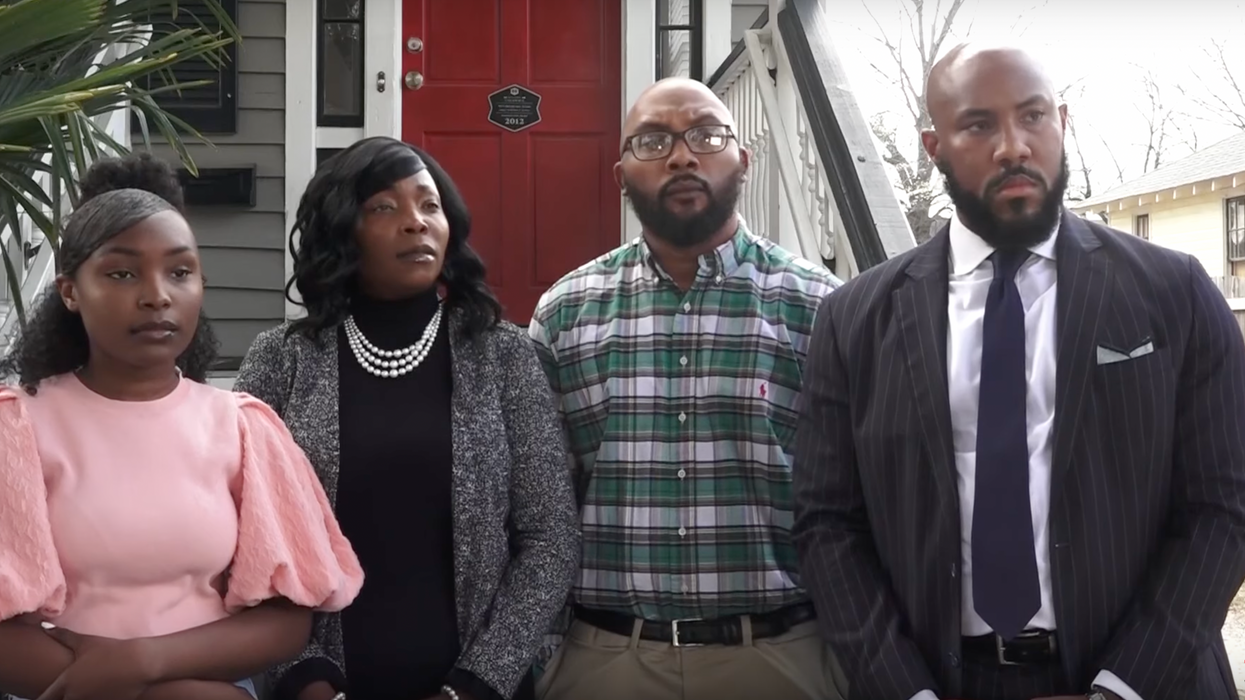 "The thing that's beautiful about America is we have freedoms," said the student's lawyer. "Students in our schools should feel safe."
Marissa Barnwell, a 15-year-old high school student in Lexington, South Carolina, was joined by her parents and the family's lawyer on Thursday as they spoke publicly about a federal lawsuit they filed against her school district, the state Department of Education, and a teacher who they say assaulted Barnwell late last year for not reciting the Pledge of Allegiance.
Surveillance footage from River Bluff High School shows Barnwell walking through a school hallway on November 29, 2022 when the pledge began playing over a loudspeaker.
A state law passed three decades ago requires public schools to play the Pledge of Allegiance over their intercom systems each day at a specific time, but it prohibits any punishment of people who refuse to recite the pledge as long as "they are not disruptive or do not infringe on others."
Barnwell continued walking and was quickly confronted by a special education teacher, Nicole Livingston, who yelled at her and pushed her against a wall before sending her to the principal's office.
"I was just in disbelief," Barnwell said at the press conference Thursday. "You can hear me say in the video, 'Get your hands off of me.'"
Barnwell's parents learned about the incident when she called them in tears, according to the Associated Press. The school did not talk to them about the alleged assault and has reportedly "never responded" to their requests for an explanation.
"It will not be tolerated, and we will get justice for this action that [Livingston] did," Fynale Barnwell, Marissa's mother, toldNews 19 WLTX, a local CBS affiliate.
The lawsuit was filed last month, with the family arguing Livingston violated Barnwell's "constitutional rights by yelling and demanding that M.B. stop walking and physically assaulting her by pushing M.B., on the wall and forcefully touching M.B., in an unwanted way without her consent."
The Secular Coalition for America applauded the family for taking legal action.
Tyler Bailey, the Barnwells' attorney, said Barnwell was "threatened for exercising [her] constitutional rights."
"The thing that's beautiful about America is we have freedoms," Bailey said Thursday. "Students in our schools should feel safe."
According toThe State, a local newspaper, Livingston is still employed by the school.
"Nobody did anything," Bailey said. "This is why the federal civil rights lawsuit has been filed."
News
SUPPORT OUR WORK.
We are independent, non-profit, advertising-free and 100%
reader supported.