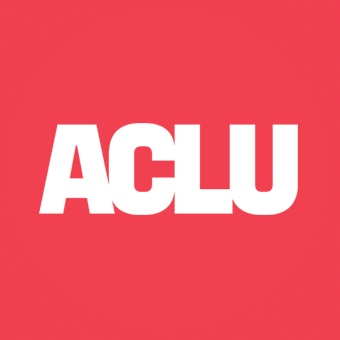 For Immediate Release
Contact:
James Freedland, ACLU, (212) 549-2666 or (646) 785-1894; media@aclu.org
Military And Civilian Attorneys Challenge The Military Commissions Act In Second Round Of Guantanamo Pretrial Motions
For
the second time this month, a group of military defense lawyers and a
team of civilian attorneys assembled by the American Civil Liberties
Union and National Association of Criminal Defense Lawyers (NACDL) as
part of the John Adams Project filed several pretrial motions in
Guantanamo challenging the constitutionality of the military commission
prosecutions. The defense is protesting the legality of these ad hoc
tribunals, which may rely on coerced confessions and expressly preclude
prisoners from invoking the Geneva Conventions.
WASHINGTON
For
the second time this month, a group of military defense lawyers and a
team of civilian attorneys assembled by the American Civil Liberties
Union and National Association of Criminal Defense Lawyers (NACDL) as
part of the John Adams Project filed several pretrial motions in
Guantanamo challenging the constitutionality of the military commission
prosecutions. The defense is protesting the legality of these ad hoc
tribunals, which may rely on coerced confessions and expressly preclude
prisoners from invoking the Geneva Conventions. The John Adams Project
is a partnership between the ACLU and the NACDL that sponsors expert
civilian counsel to assist the under-resourced military defense counsel
for several Guantanamo detainees.
"It has become painfully clear that the military commissions lack
meaningful constitutional protections and yet the Bush administration
is ramming these cases through the system in its final days - even as
President-elect Obama is making plans to shut down Guantanamo and these
sham proceedings," said Denny LeBoeuf, Director of the John Adams
Project. "History shows that federal civilian or military courts are
perfectly capable of handling terrorism prosecutions and accommodating
sensitive national security concerns, as has been demonstrated time and
time again."
Motions filed yesterday in the case of several 9/11 defendants focused
on the grave constitutional flaws underlying the Military Commissions
Act (MCA), charging that the tribunals lack the jurisdiction to
prosecute detainees for acts that do not constitute war crimes and that
the trial procedure established by the Department of Defense is so
deficient that it violates basic constitutional and international
standards of due process.
"These challenges cut to the heart of the commission's authority to
convict suspects in a system that resembles a trial in name only," said
Michael Price, National Security Coordinator for NACDL.
The filings come just one day after President-elect Obama reiterated his commitment to close Guantanamo Bay.
In a joint trial of five detainees implicated in 9/11, defense lawyers in United States v. Mohammed et al filed seven pretrial motions yesterday, bringing the total up to 73 since charges were referred in May. The motions include:
* Defense Motion to Dismiss for
Unlawful Command Influence by the President. The defense requested
dismissal of all charges because of evidence that President Bush, as
commander-in-chief, has unlawfully influenced the military commissions
through prejudicial and inflammatory public comments and by amassing
such unmovable public hostility towards the detainees that any
objective, disinterested person would harbor a significant doubt that a
fair trial in the military commissions can be achieved. The Commission
is duty-bound to ensure fair trials that will guarantee that a death
sentence will not be imposed due to the passion and prejudice that has
been injected into the proceedings by the President of the United
States.
* Defense Motion to
Dismiss Charge for Lack of Jurisdiction. Settled Supreme Court
precedent reiterates that Congress may only use military commissions to
prosecute war crimes. The Military Commissions Act unconstitutionally
creates jurisdiction to try detainees for conduct not traditionally
recognized as a war crime. As a result, the MCA is overbroad and
unconstitutional, and the military commissions lack jurisdiction to
consider such charges.

Defense Motion to Dismiss (Ex Post Facto Application of Unlawful
Combatant Status). This motion rejects the concept or category of
detainees dubbed "alien unlawful combatants," arguing that there is no
basis for this classification under international humanitarian law, and
that prior to September 11, 2001, no such category existed in American
jurisprudence. The MCA simply invents a new class of prisoner in order
to substantially reduce the elements and burden of proof necessary to
convict and punish, including by execution, and subvert the presumption
of innocence by altering rules of evidence to make it easier for the
government to convict. This retrospective application of such changes
in the law violates the Ex Post Facto Clause of the Constitution (Art.
I, Sec. 9, cl. 3).
Defense Motion to Dismiss (MCA Exceeds Congress' War Powers). In Boumediene v. Bush,
the Supreme Court rejected the government's contention that it had "the
power to switch the Constitution on or off at will" and that it could
treat Guantanamo Bay as a law-free zone. In this motion, the defense
makes a related point: Congress cannot establish a Constitution-free
zone simply by calling a criminal proceeding a "military commission."
Defense Motion to Dismiss (The Commission Is Not a "Regularly
Constituted Court"). This motion seeks to dismiss all charges against
because the Military Commissions Act and the Rules for Military
Commissions fail to provide the minimum standards of due process
mandated by the Supreme Court in Hamdan, the International Covenant on
Civil and Political Rights, and customary international law. The
commissions violate the right to equal protection and the right to due
process, denying the accused adequate time and facilities to prepare a
defense and permitting the admissibility of coerced confessions,
including those possibly obtained by torture or cruel, inhuman or
degrading treatment.
The motions were filed on behalf of detainees
Mustafa Ahmed al Hawsawi and Ramzi bin al Shibh. Khalid Sheikh
Mohammed, Ali Abdul Azziz Ali and Walid bin Attash reserved the right
to join at a later time once the filings are translated into Arabic and
the detainees have had an opportunity to consult with counsel. The
linguists provided by the military have been unable to accomplish the
translations, and the ability of defense attorneys to meet with their
clients remains extremely restricted.
More information on the John Adams Project is available online at: www.aclu.org/johnadams
The American Civil Liberties Union was founded in 1920 and is our nation's guardian of liberty. The ACLU works in the courts, legislatures and communities to defend and preserve the individual rights and liberties guaranteed to all people in this country by the Constitution and laws of the United States.
(212) 549-2666
LATEST NEWS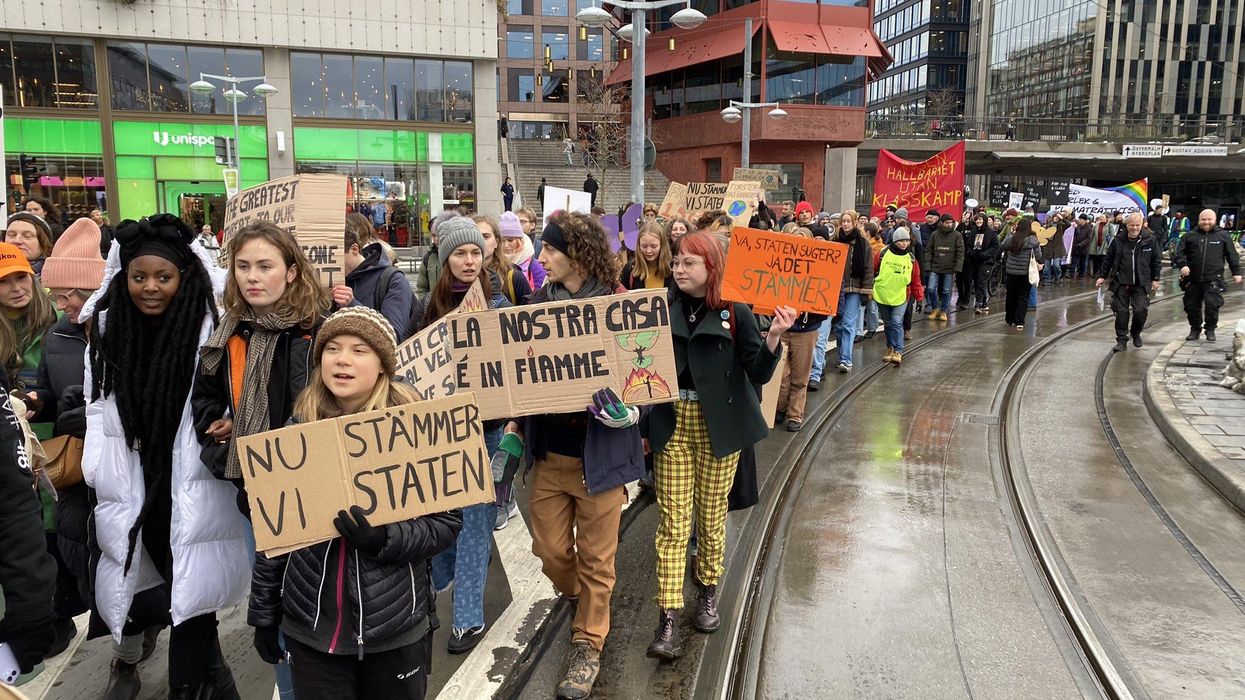 The country's climate action "constitutes a violation of human rights," argues one Swedish group.
A Swedish court on Tuesday ruled that hundreds of youth climate activists including Greta Thunberg can collectively sue Sweden for the government's "insufficient climate policy."
More than 600 people under age 26, including 20-year-old Thunberg, signed the 87-page document that is the basis for the lawsuit, which was filed in Stockholm in November and coincided with a march through the city.

"Sweden has never treated the climate crisis like a crisis," Anton Foley of the youth-led group Aurora, which prepared and filed the class-action suit, said at the time. "Sweden is failing in its responsibility and breaking the law."
The Nacka District Court determined Tuesday that the case can proceed and gave the Swedish government three months to respond.
"The district court has today issued a summons in a high-profile class-action lawsuit," the court said. "In the case, demands have been made for the district court to determine that the state has an obligation to take certain specified measures to limit climate change."
"Limiting global warming to 1.5°C requires drastic emission reductions starting now."

"At present, the district court cannot give a forecast as to when the case may be finalized or when it may be necessary to hold hearings in the case," the court continued, adding that the case could go to trial or be settled in writing.
As Aurora's webpage for the case explains, the young activists believe the climate emergency "is a problem we all have to solve together, but the responsibility is not evenly distributed between the countries of the world" and "Sweden, as a rich country with historically high emissions, has a particularly big responsibility to take the lead."
Referencing the 2015 Paris agreement's more ambitious goal for global heating by the end of this century, the activists argue that their country's climate action "is insufficient to be in line with Sweden's fair share of limiting global warming to 1.5 °C" and therefore "constitutes a violation of human rights."
"Limiting global warming to 1.5°C requires drastic emission reductions starting now," the youth warn, noting calculations that suggest Sweden doing its fair share would involve moves to cut emissions by 6.5-9.4 million tons annually from 2019-30.
"The consequences of the climate crisis in Sweden are a serious threat to life and health," Aurora's webpage says, pointing to forest fires, floods, droughts, heatwaves, and the spread of diseases.
The climate crisis also negatively impacts mental health, "partly as a consequence of the extreme weather and environmental changes that are happening and will happen, but also due to anxiety and stress during youth," the site stresses. "Everyone who is involved in the class action is young and therefore runs a high risk of suffering these consequences during their lifetime."
The Swedish court's decision came a day after the release of a highly anticipated Intergovernmental Panel on Climate Change (IPCC) report that United Nations Secretary-General António Guterres called "a survival guide for humanity" which shows the 1.5°C goal for this century is still achievable but requires "a quantum leap in climate action."
Thunberg, founder of the global Fridays for Future movement, tweeted Monday in response to the report, "The fact that people in power still somehow live in denial, and actively move in the wrong direction, will eventually be seen for and understood as the unprecedented betrayal it is."
"Today, after yesterday's IPCC report, everything is back to normal—as always," Thunberg added Tuesday. "We continue to ignore the climate crisis as if nothing happened. Our societies are still in denial, and those in power go on with their never ending quests to maximize profits. We cannot afford this."
News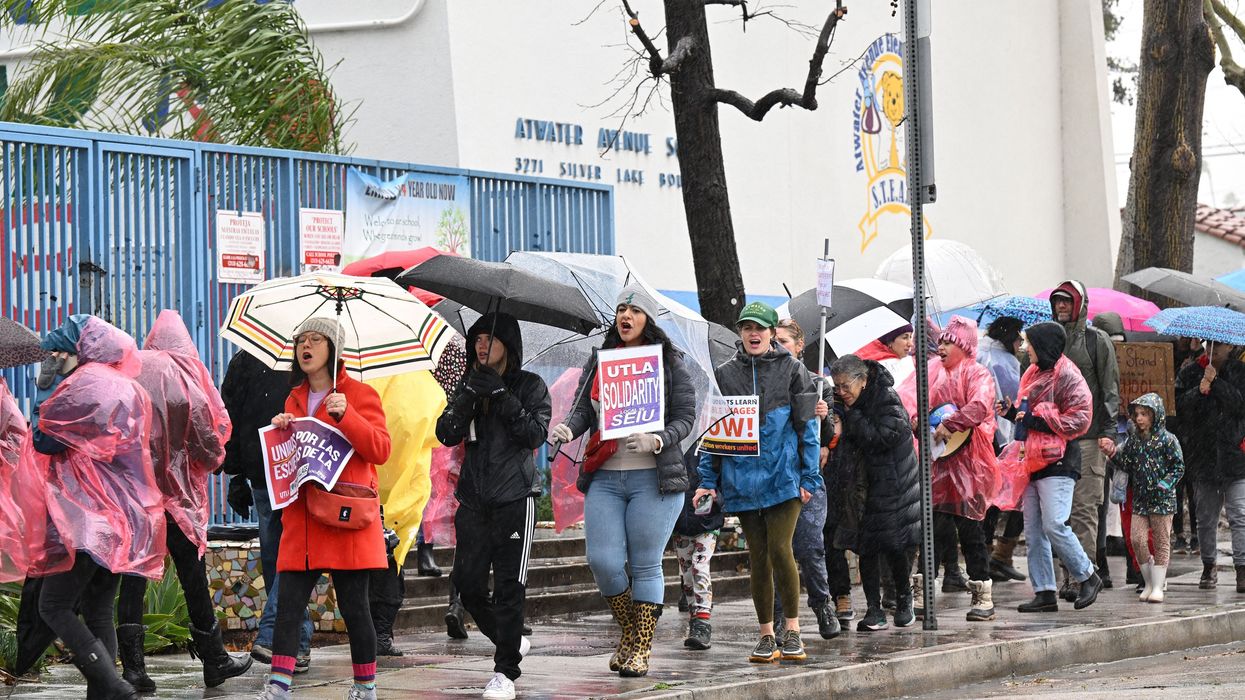 "As workers we are powerful. As parents we are powerful. As the people united, we are unstoppable."
An estimated 65,000 teachers and school staffers from across Los Angeles walked picket lines in the rain on Tuesday as the city's public school district employees went on strike—but more than half of the picketers were staging the walkout in solidarity, protesting conditions that don't directly affect them.
The 35,000 teachers who are represented by United Teachers of Los Angeles (UTLA) joined cafeteria workers, bus drivers, teaching aides, grounds workers, and others who help ensure that more than 1,000 public schools in Los Angeles run safely and smoothly, demanding that support staff are treated fairly by the district.
"We are LA Public Schools," tweeted UTLA. "We are on strike because we won't let the district treat any of us with disrespect. It stops here."
Classes were canceled across the district—the second-largest in the nation.

As Common Dreamsreported Monday, support workers represented by Service Employees International Union (SEIU) Local 99 have been in contract negotiations with the district since April 2022, and the union is demanding a 30% overall pay raise to help ensure its members can afford to live in one of the country's most expensive cities.
SEIU Local 99 members currently earn about $25,000 on average.
Speaking to The New York Times, SEIU Local 99 executive director Max Arias said the union's last contract expired in the early days of the coronavirus pandemic in 2020—"when his workers were on the front lines helping to feed students at lunch pickup sites even as schools were closed."
"We are now here demanding respect from the district, and it starts with livable wages," said one member on a picket line on Tuesday.

Arias noted at a rally in Tuesday that the district can afford to spend far more on employees' compensation.

"Let me be clear, the district has approximately between a $13 billion and $14 billion budget a year," he said. "Out of that budget, it spends between 5% and 6% on payroll for 40% of the workforce. That's negligible."
Bus drivers were some of the first employees on the picket lines Tuesday, marching and chanting in the early morning hours.
"We're often the first LAUSD employees that students see in the early morning when we pick them up and the last ones they see when we drop them off," said SEIU Local 99. "We are essential and demand respect."

Special education teacher Opal Getaw told the Times that her own daily living expenses have risen in recent months amid inflation, and that she "could not imagine" the financial struggles her colleagues in support services are facing.

"It's not just about teachers, it's about community and camaraderie, it's about our colleagues," Getaw told the Times. "They want a fair chance and an ability to be able to earn enough, to have what everybody wants: a good life."
In a number of picket lines, teachers dressed in ponchos danced in the rain.
The union said in December that the negotiations had reached an impasse, and members voted overwhelmingly to strike last month. The strike has been called in response to unfair negotiating tactics, according to the union, rather than demands for fair pay.
SEIU Local 99 said Monday that the district subjected members "to surveillance, intimidation, and harassment" during the bargaining and strike voting process, and broke a confidentiality agreement.
"This afternoon, SEIU Local 99 had agreed to enter a confidential mediation process with LAUSD to try and address our differences," said Arias. "Unfortunately, LAUSD broke that confidentiality by sharing it with the media before our bargaining team, which makes all decisions, had a chance to discuss how to proceed. This is yet another example of the school district's continued disrespect of school workers. We are ready to strike."
LAUSD attempted to block the strike, issuing a complaint to state officials that the strike is actually in response to members' pay and that the union has not exhausted all bargaining possibilities before staging a walkout. The state rejected those claims over the weekend.
The strike is set to continue through Thursday.

News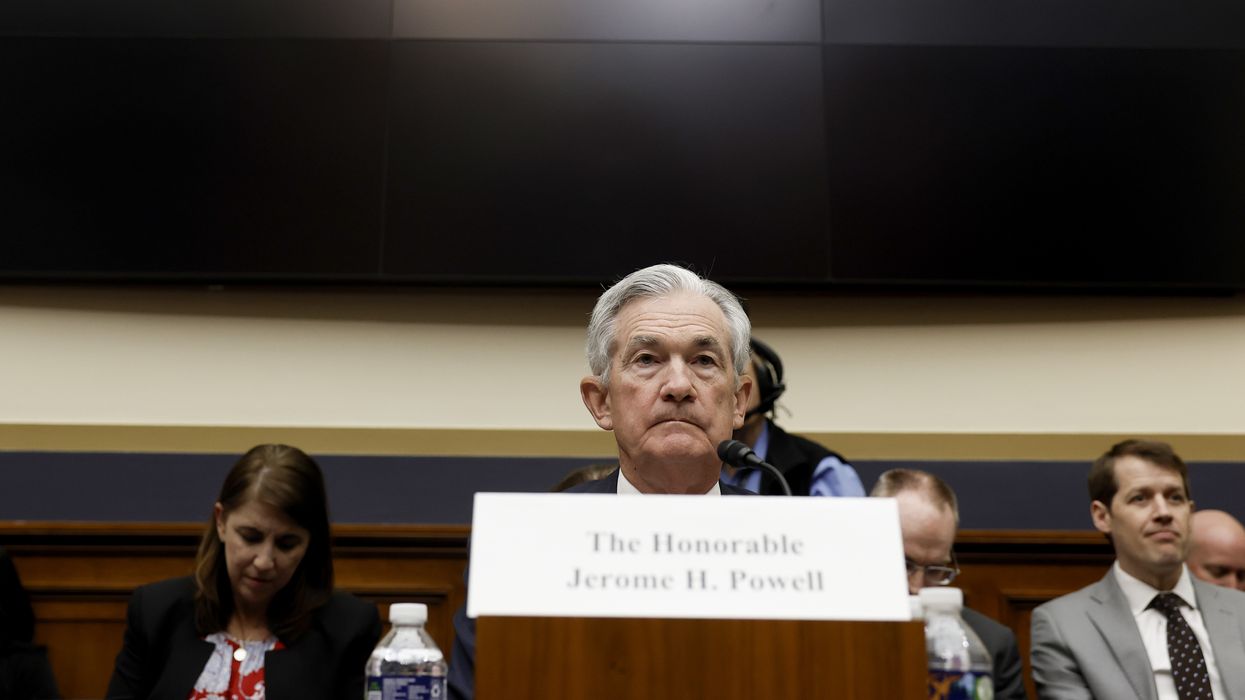 One economist slammed the Fed for "protecting wealthy venture capitalists and startup CEOs" while showing "little concern for the millions of people who could lose their jobs."
Federal Reserve policymakers convened Tuesday for a two-day meeting that will culminate in a decision with major implications for the U.S. and global economies, which have been jarred by recent banking sector chaos and growing fears of a broader financial crisis.
The Fed is widely, though not universally, expected to raise interest rates by 25 basis points on Wednesday despite concerns that the central bank's tightening of monetary policy over the past year is at least partially responsible for the collapse of Silicon Valley Bank (SVB), a top lender to tech startups and venture capital firms.
Rakeen Mabud, chief economist at the Groundwork Collaborative, warned Tuesday that another rate increase would be a huge mistake with potentially devastating consequences that will fall most heavily on vulnerable workers.
The Fed's own projections indicate that millions of additional U.S. workers could face unemployment by the end of the year as the central bank continues to raise borrowing costs and tamp down economic demand.

"While the Federal Reserve wasted no time protecting wealthy venture capitalists and startup CEOs last weekend, it has shown little concern for the millions of people who could lose their jobs as a result of its aggressive rate hikes," said Mabud, who argued another rate hike would "be the straw that breaks the camel's back, sending our economy into a painful—and completely avoidable—recession."
"After the SVB fiasco," Mabud added, Fed Chair Jerome Powell "should not touch rate hikes with a ten-foot pole."
Josh Bivens, chief economist at the Economic Policy Institute, also called for a pause, arguing Monday that the case for halting rate hikes was clear even before SVB failed earlier this month, given recent signs that inflation and wages are cooling substantially.
"It is a genuine problem that interest rate hikes of nearly 5% in a year cause this much distress in the financial sector, indicating a clear failure of bank management and supervision," wrote Bivens, who noted that banks typically benefit from higher interest rates.
"These failures should be addressed going forward," Bivens continued. "But they exist today and the fallout of them clearly provides another argument for standing pat on further rate increases."
"Higher rates reduce inflation only by creating financial crises that crash the economy."
The Fed's policy meeting comes as it is facing mounting criticism over its role in the collapse of SVB and Signature Bank, with lawmakers and experts pointing to the central bank's rollback of post-financial crisis regulations that imposed tougher liquidity requirements on financial institutions with between $50 billion and $250 billion in assets.
"The Federal Reserve is irreparably broken and can no longer be trusted to go it alone on monetary policy," Lindsay Owens, the executive director of the Groundwork Collaborative, said last week. "As Congress works to re-regulate mid-size banks after the misguided 2018 rollbacks... they should also address the rot at the Fed."
In concert with the U.S. Treasury Department and other central banks, the Fed has worked to stem the fallout from the recent bank failures by launching liquidity operations and new lending programs aimed at backstopping the financial industry at home and abroad.
But experts have cautioned that the Fed's efforts to shore up the banking system will be undermined by further interest rate increases, which have proven to be a destabilizing force.
"The Fed has never managed to engineer a soft landing," Yeva Nersisyan, associate professor of economics at Franklin & Marshall College, and L. Randall Wray, professor of economics and senior scholar at the Levy Economics Institute of Bard College, wrote in an op-ed for The Hill late last week.
"The reason is simple: higher rates reduce inflation only by creating financial crises that crash the economy," Nersisyan and Wray explained. "After more than a decade of near-zero interest rates, the Fed hiked rates extremely quickly—by 400 basis points (4 percentage points). All balance sheets that had been built during the period of low rates immediately became toxic."
"What is missing from the debates over monetary policy today is the understanding that the Fed was not established to control inflation," they continued. "It was created to prevent financial crises by acting as a lender of last resort in times of distress. Indeed, that's exactly what the Fed is doing now—opening up its lending facilities to banks in need. But rather than focus on maintaining financial stability, the Fed has become obsessed with controlling inflation, something it cannot really do without causing either a recession or a financial crisis (or both)."
"Put on the crash helmets," the pair concluded. "It's going to be a bumpy landing."
News
SUPPORT OUR WORK.
We are independent, non-profit, advertising-free and 100%
reader supported.