For Immediate Release
Contact:
Tel: +1-212-216-1832,Email:,hrwpress@hrw.org
Uzbekistan: Free Human Rights Activist
Government Critic Held on Fabricated Charges, Ill-Treated in Custody
MOSCOW
Uzbek authorities should drop all charges against a human rights
defender and opposition activist who faces politically motivated
prosecution and immediately release him, Human Rights Watch said today.
The trial against Akzam Turgunov resumes on September 16, 2008 in the
remote town of Manget. Human Rights Watch also called on the
authorities to ensure that Turgunov gets medical care for burns he
suffered from ill-treatment in custody.
"The case against Turgunov sends a chilling message to other activists
that working for justice is a dangerous business in Uzbekistan," said
Igor Vorontsov, Uzbekistan researcher at Human Rights Watch. "Despite
the recent release of several other activists, new cases like this one
show that any government critic will be dealt with harshly."

Police in Manget arrested Turgunov, 56, on July 11 on
suspicion of extortion under circumstances that seemed to have been
staged to frame him. He had originally traveled to Manget, in
Karakalpakstan, an autonomous republic 1,100 kilometers west of
Tashkent, in response to a request from a woman to help her with a
court case to seek child support payments from her former husband. The
woman's former husband agreed to an out-of-court settlement and
arranged to meet Turgunov and the woman's brother to hand over the
money. When a plastic bag supposedly containing the money was handed
over to Turgunov, the police appeared and arrested him and the woman's
brother, charging that they had extorted money from the former husband.
If convicted of extortion, Turgunov faces up to 15 years of
imprisonment.


Turgunov is the chairman of Mazlum ("the oppressed"), a
Tashkent-based human rights organization. He has served as a public
defender in trials throughout Uzbekistan, including many in
Karakalpakstan, in cases involving violations of human rights and civic
freedoms.
Turgunov's trial is not the only politically motivated
prosecution ongoing in Uzbekistan. Last week, the trial of Salijon
Abdurakhmanov, an independent journalist, began in Nukus, on politically motivated drug charges.
These cases are the latest in a long line of prosecutions against
government critics. At least 18 human rights defenders, dissidents and
journalists remain in prison. Numerous others, fearing for their
safety, have fled Uzbekistan to seek asylum abroad. In response to
international criticism, the government has released several imprisoned
human rights defenders, but harassment and arrests of others continue.


Turgunov told his lawyer that he suffered ill-treatment
in custody. On July 14, he was taken from a police cell to an
investigator's office to write a statement. He told his lawyer that,
while he was in the office, someone poured boiling water down his neck
and back, causing severe burns. Turgunov's lawyer, Rustam Tulyaganov,
told Human Rights Watch that he observed burns on Turgunov's body. On
July 22, Tulyaganov filed a request to the Prosecutor's Office to
investigate the ill-treatment, but as of this writing had received no
reply.

"The abuse of a prisoner is unacceptable," said Vorontsov.
"Uzbekistan's partners should demand that it brings to justice those
who ill-treated Turgunov in custody."


Turgunov's trial began on September 4. Serious due process
violations during the investigation and proceedings undermine
Turgunov's right to a fair and impartial trial. Prosecutors did not
allow Turgunov to confront his "victims" during the investigation
phase, as required by Uzbek criminal procedure, although the lawyer of
Turgunov's co-defendant signed the document as if the confrontation had
taken place. It is not clear whether the lawyer was coerced. After
Turgunov's trial began, a senior court administrator told observers
that "even if BBC would come to this trial, Akzam Turgunov will get a
long prison sentence," suggesting that the outcome of his trial is a
foregone conclusion.

Turgunov's trial comes one month before the European Union
is slated to review Uzbekistan's human rights record to determine
whether to continue the sanctions regime adopted in the aftermath of
the 2005 Andijan massacre, when government forces shot hundreds of unarmed protesters.
Among the assessment criteria established by the European Union for
reviewing the sanctions are for the Uzbek government to stop the
harassment of civil society, to release imprisoned rights defenders and
dissidents and to allow UN experts, including the special rapporteur on
torture, to visit Uzbekistan.

"It's ridiculous to talk about fundamental improvements in
human rights in Uzbekistan when the government is bringing new cases
against activists," said Vorontsov. "In evaluating Uzbekistan, the EU
should demand evidence of real reform, because Turgunov's prosecution
shows that nothing has changed."


Human Rights Watch urged the US and EU governments to
monitor Turgunov's trial in Manget closely and to call for Turgunov's
immediate release. Human Rights Watch also called for an impartial and
effective investigation into Turgunov's ill-treatment in custody and to
bring those responsible to justice. Torture remains widespread in
Uzbekistan. In November last year, the UN Committee Against Torture
expressed concern about "numerous, ongoing and consistent allegations
concerning routine use of torture and other cruel, inhuman and
degrading treatment or punishment committed by law enforcement and
investigative officials or with their instigation or consent." In
November, the committee will review Uzbekistan's progress in tackling
torture and ill-treatment.
In July, the Uzbek government banned Human Rights Watch's researcher from entering Uzbekistan.
Human Rights Watch is one of the world's leading independent organizations dedicated to defending and protecting human rights. By focusing international attention where human rights are violated, we give voice to the oppressed and hold oppressors accountable for their crimes. Our rigorous, objective investigations and strategic, targeted advocacy build intense pressure for action and raise the cost of human rights abuse. For 30 years, Human Rights Watch has worked tenaciously to lay the legal and moral groundwork for deep-rooted change and has fought to bring greater justice and security to people around the world.
LATEST NEWS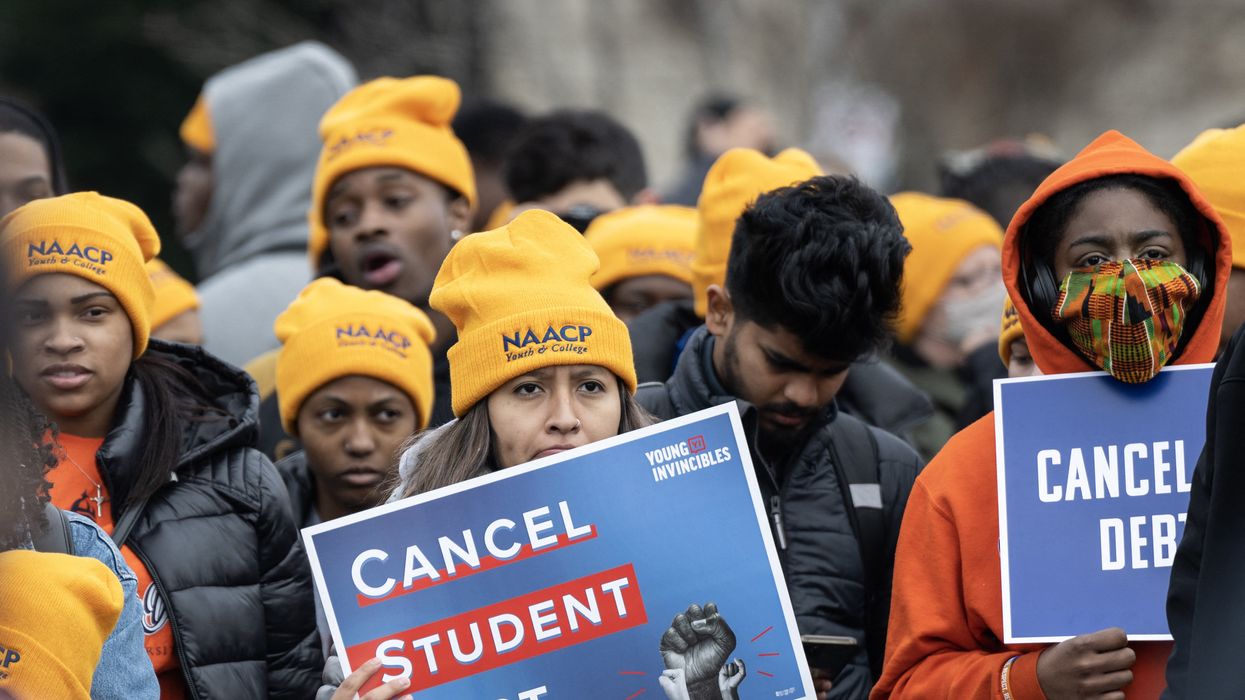 "Forty million people are being thrown to the wolves," warned one advocacy group.
Despite advocates' pleas for the Biden administration to slam on the brakes, the U.S. Education Department confirmed Thursday that student loan payments will resume for the first time in three-and-a-half years on October 1—even if the federal government shuts down.
An unnamed Education Department spokesperson toldPolitico that payments will be due starting in October "even if Republicans needlessly shut down the government." Student loan debt began accruing interest again earlier this month after the coronavirus pandemic-related pause.
The official's comment came hours after the Student Borrower Protection Center (SBPC) issued a statement imploring the Biden administration to halt the planned restart of student loan payments.
"If House Republicans shut down the federal government, the Biden administration must shut down the student loan system too," said SBPC executive director Mike Pierce. "As it stands, the administration plans to keep paying the student loan companies botching this effort to restart payments while furloughing the federal employees who are supposed to help borrowers when things don't go according to plan."
"This will result in more borrowers receiving inaccurate and incorrect information with less oversight and fewer resources to fix problems," Pierce added. "Forty million people are being thrown to the wolves. It will be a catastrophe."
"To throw borrowers back into repayment with bad-faith loan servicers and an understaffed Department of Education is a recipe for disaster."
Rep. Ayanna Pressley (D-Mass.), a longtime champion of student debt cancellation, also urged the Biden administration to keep the repayment pause in place if the government shuts down this coming Sunday.
"The student loan payment pause has been a lifeline for borrowers across the nation," said Pressley. "As we stare down an impending Republican government shutdown, it is abundantly clear that student loan payments should not resume October 1."
Pressley continued:

To throw borrowers back into repayment with bad-faith loan servicers and an understaffed Department of Education is a recipe for disaster and would deeply undermine the progress we have made to advance economic justice for student loan borrowers. While the administration works diligently to push back on the corrupt Supreme Court's obstruction of President [Joe] Biden's historic cancellation plan, we should take immediate steps to prevent borrowers from entering into repayment at a time when the infrastructure is not there and bad actors will seize on the lack of government capacity caused by Republican dysfunction.

This Republican government shutdown stands to harm families across the nation, many who were just regaining their financial footing for the first time since the Covid-19 crisis. The administration should absolutely pause student loan payments and interest accrual in light of these stark realities.

The Education Department said earlier this year that it would lift the student loan repayment pause shortly after the Supreme Court's ruling on Biden's debt cancellation plan. That timeline was cemented by a debt ceiling agreement that the White House negotiated with House Republicans.

Advocates have been warning for months that a resumption of payments without broad-based relief for borrowers would be both unjust and unwise. The Consumer Financial Protection Bureau estimated in June that millions of borrowers "have risk factors that suggest they could struggle when scheduled payments resume," including "pre-pandemic payment assistance on student loans" and "delinquencies on other credit products since the start of the pandemic."
Additionally, analysts believe resuming student loan payments will yank $70 billion out of the U.S. economy each year.

In an effort to mitigate some of the looming financial pain, the Education Department has implemented a three-month grace period for missed payments once the pause is lifted in October and launched a new income-driven repayment plan known as SAVE, which is aimed at lowering borrowers' monthly payments.
But advocates and borrowers have already reported significant chaos in the weeks leading up to the end of the freeze, a signal that the resumption of payments in the coming days is likely to be nightmarish.
The American Prospect's David Dayen reported in late August that the "transfers of millions of student loan accounts to new private loan servicers, which have slashed staff and need to ramp up quickly, have led to what some borrowers believe are miscalculations and mistakes."
"One borrower, Melanie Neff, a pediatric palliative care social worker, said her payment under SAVE more than tripled, from $300 to $1,000 a month, even though her income hasn't significantly increased since 2019," Dayen wrote. "Some servicers even sent borrowers statements saying their debts were paid off in full based on the Biden administration's debt cancellation program, only to have to revoke that when the Supreme Court struck it down. Since that program was stopped almost immediately by court injunction, there's no way that servicers should have sent out payoff statements, which just added to the confusion."
The Debt Collective noted in a social media post on Thursday that "the Biden administration is already attempting to do the administratively impossible—resume a 45 million person portfolio of student debt payments after a three-year pause with broken servicers."
"Doing it during a government shutdown will only exacerbate problems," the group wrote. "This is bad bad bad."
The Biden administration is currently pursuing an alternative student debt cancellation plan using the Higher Education Act of 1965, but it has chosen to undergo a time-consuming rulemaking process instead of wiping out debt immediately—which advocates and experts say he has the authority to do.

News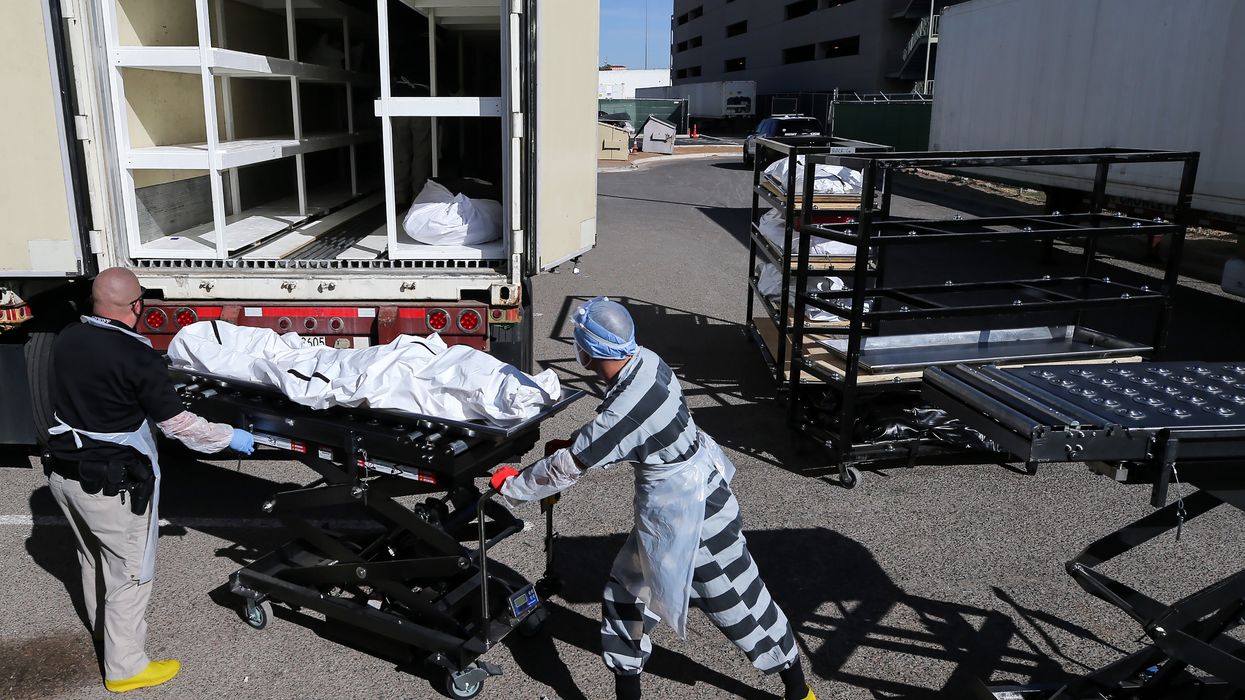 One of the U.N. experts who compiled the report after visiting the U.S. earlier this year said its findings "point to the critical need for comprehensive reform."

A report published Thursday by United Nations human rights experts condemns systemic racism in the U.S. criminal justice system and policing, while describing "appalling" prison conditions and decrying forced unpaid convict labor as a "contemporary form of slavery."
The U.N. International Independent Expert Mechanism to Advance Racial Justice and Equality in the Context of Law Enforcement report follows a visit to the U.S. earlier this year by a team of human rights experts. The U.N. officials collected testimonies from 133 affected people, visited five prisons and jails, and held meetings with advocacy groups and numerous government and police officials in Atlanta, Chicago, Los Angeles, Minneapolis, New York City, and Washington, D.C.
"In all the cities we went to, we heard dozens of heartbreaking testimonies on how victims do not get justice or redress. This is not new, and it's unacceptable," Tracie Keesee, an expert member of the mechanism, said in a statement. "This is a systemic issue that calls for a systemic response."
"Law enforcement and criminal justice institutions in the United States share and reproduce values, attitudes, and stereotypes of U.S. society and institutions. These must be reformed."
The experts found that "racism in the U.S.—a legacy of slavery, the slave trade, and 100 years of legalized apartheid that followed slavery's abolition—continues to exist today in the form of racial profiling, police killings, and many other human rights violations."
The report cites instances of prisoners locked away in solitary confinement—widely recognized as a form of psychological torture—for a decade or longer, children sentenced to life in prison, and pregnant inmates chained during childbirth, "who due to the chaining, lost their babies."
"All these practices—including shackling pregnant women before, during, and after labor—are an affront to human dignity and the best interest of the child," the report states. "Instruments of restraint shall never be used on women during labor, during childbirth, and immediately after childbirth, in accordance with the U.N. Standard Minimum Rules for the Treatment of Prisoners," also known as the Nelson Mandela Rules.
The experts were "astonished" that forced unpaid or poorly paid convict labor "exists to this day in the United States, constituting a contemporary form of slavery." The 13th Amendment to the U.S. Constitution outlawed slavery and involuntary servitude, "except as punishment for crime," and congressional efforts to close the loophole have been unsuccessful.
The report notes:
The delegation received shocking information over "plantation-style" prisons in Southern states, in which contemporary forms of slavery are reported. Commonly known as "Angola," the Louisiana State Penitentiary occupies an 18,000-acre former slave plantation, larger than the island of Manhattan. The plantation prison soil worked by incarcerated labor today is the same soil worked by slaves before the Civil War. Angola currently houses nearly 5,000 adult men, the majority of them Black men, forced to labor in the fields (even picking cotton) under the watch of white "freemen" on horseback, in conditions very similar to those of 150 years ago. The mechanism received direct testimonies from Angola victims and allegations of children being transferred to this prison, held in solitary confinement, and in general under appalling detention conditions.
Earlier this month, a federal judge ordered Louisiana officials to stop imprisoning children on Angola's former death row by September 15.

Addressing the more than 1,000 people killed annually by U.S. law enforcement officers—only 1% of which result in the killer being criminally charged—the report warns that such killings will continue unless police use of force regulations are aligned with international standards.
"We reject the 'bad apple' theory," There is strong evidence suggesting that the abusive behavior of some individual police officers is part of a broader and menacing pattern," said mechanism expert member Juan Méndez. "Law enforcement and criminal justice institutions in the United States share and reproduce values, attitudes, and stereotypes of U.S. society and institutions. These must be reformed."
To that end, the report contains a lengthy list of over 30 recommendations, including:
Fully implementing the United Nations High Commissioner for Human Rights' four-point agenda for transformative change for racial justice and equality;
Tackling poverty and lack of quality education, employment opportunities, healthcare, adequate housing, and other human rights violations as a way to combat systemic racism;
Adopting a human rights-based approach to policing and a national strategy—including legislation—to reduce killings by law enforcement;
Eliminating all racial profiling;
Creating an effective nationwide record system of individuals under investigation or found criminally or administrative guilty for police misconduct;
Removing police from schools in favor of alternatives, including counselors, social workers, nurses, and mental health professionals;
Adopting an immigration system with a human rights-based approach and addressing systemic racism within the ranks of immigration authorities;
Ending the "War on Drugs" and adopting a human rights-based approach to drug policies, in part by decriminalizing low-level drug offenses;
Reducing and strictly regulating militarized police and "no knock" entries;
Abolishing the death penalty, "death by incarceration" sentencing, and the charging of children as adults;
Exercising clemency powers in favor of condemned prisoners, people serving sentences beyond life expectancy, and those who were convicted for confessions under torture—especially children;
Strictly regulating solitary confinement and other forms of restrictions in detention in accordance with international standards;
Eliminating free or poorly paid prison labor; and
Reducing former felon disenfranchisement.
"Our findings," said Méndez, "point to the critical need for comprehensive reform."
News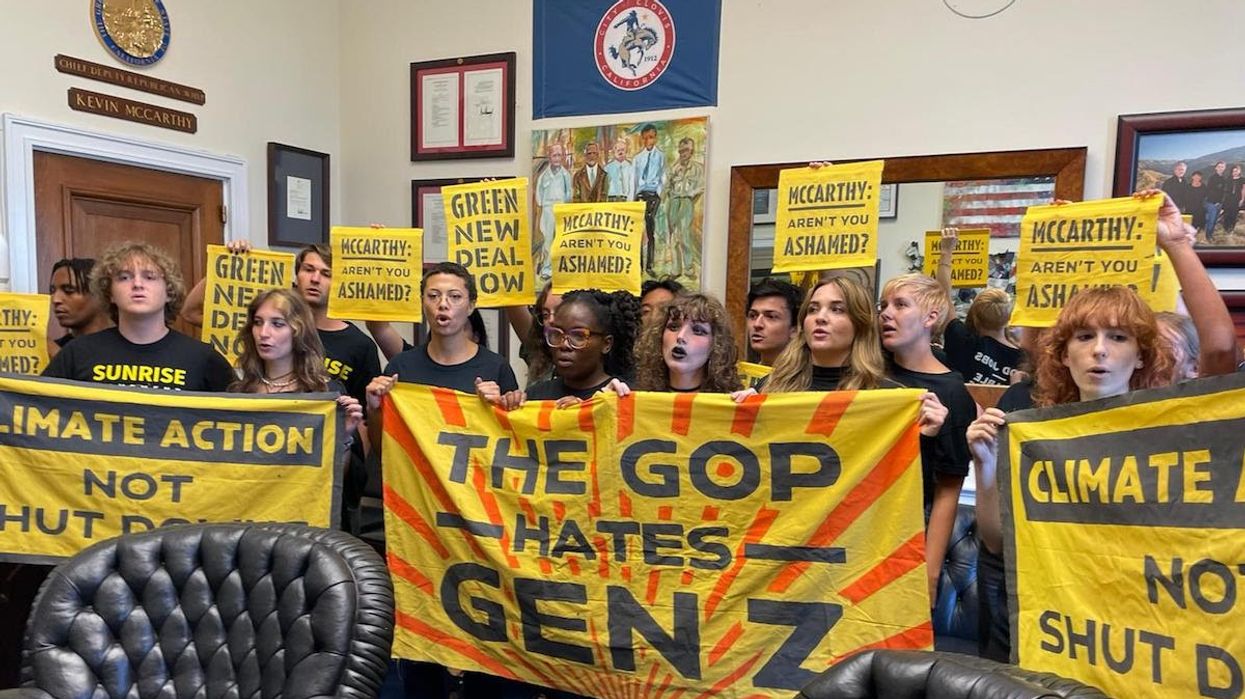 "Young people are here because Kevin McCarthy and other Republicans are playing political games with our lives. We're over this bullshit."
A group of youth climate activists occupied House Speaker Kevin McCarthy's office in Washington, D.C. on Thursday to condemn the Republican leader and his caucus for pushing the U.S. government to the brink of a destructive shutdown as they demand draconian cuts to food aid, housing assistance, and environmental programs.
"We are fed up and we won't take it anymore," said Adah Crandall a 17-year-old Sunrise Movement organizer who joined a number of other climate activists inside McCarthy's (R-Calif.) office. "As storms rage stronger, fires grow hotter, and heatwaves grow more deadly, Kevin McCarthy is playing political games with our futures. We're facing a climate emergency and McCarthy can't even do his job."
The Sunrise Movement said around 150 students from across the nation traveled to Capitol Hill Thursday to take part in the protest, which comes just two days before the federal government is set to shut down.
Eighteen youth activists were arrested outside of McCarthy's office during the demonstration, according to the climate group.
Earlier Thursday, the Biden administration began notifying government employees that they could soon be temporarily furloughed after McCarthy rejected a bipartisan short-term funding proposal put forth in the U.S. Senate this week.
"Speaker McCarthy is a coward," Shiva Rajbhandari, a 19-year-old Sunrise Movement organizer. "McCarthy and Republicans can either do their jobs, act on the climate crisis, and fund our schools, or they can risk our economy to appease a few extremists. Our generation is watching and we will hold them accountable for their actions."
The impacts of a shutdown on critical government functions and programs—and the overall U.S. economy—could be massive.
"With each passing day, Washington would further deplete federal safety net programs that carry over their unused money from past years," The Washington Post's Tony Romm reported earlier this week. "Eventually, the government might not be able to provide some poor families with childcare, nutrition assistance, housing vouchers, or college financial aid. The longer a shutdown persists, the greater the blow it could ultimately deliver to an economy that has teetered for more than a year on the precipice of recession."
Food & Water Action warned Thursday that "in the event of a shutdown, serious and specific threats to food and water safety could immediately arise," noting that Environmental Protection Agency (EPA) regulators "could be forced to suspend critical safety inspections at drinking water sources, hazardous Superfund waste sites, and chemical facilities."
Additionally, the group noted, the EPA "would be forced to shut down the $15 billion project to replace dangerous lead water pipes throughout the country, putting impacted families at continued risk."
"By driving this country to the brink of a shutdown, congressional Republicans are proving once again, in stark relief, that they simply don't care about the health and well-being of the American people," said Mitch Jones, deputy director of Food & Water Action. "Nowhere is this more obvious than in their willingness to shut down critical food and water safety inspections that occur every day across the country."
"Rather than working with Democrats to responsibly fund the government, Speaker McCarthy and his slim majority are catering to the most extreme right-wing members in an already extreme caucus," Jones added. "House Republicans should be thoroughly ashamed of themselves, and they must be shown the door in 2024."
News
Independent, nonprofit journalism needs your help.
Please Pitch In
Today!