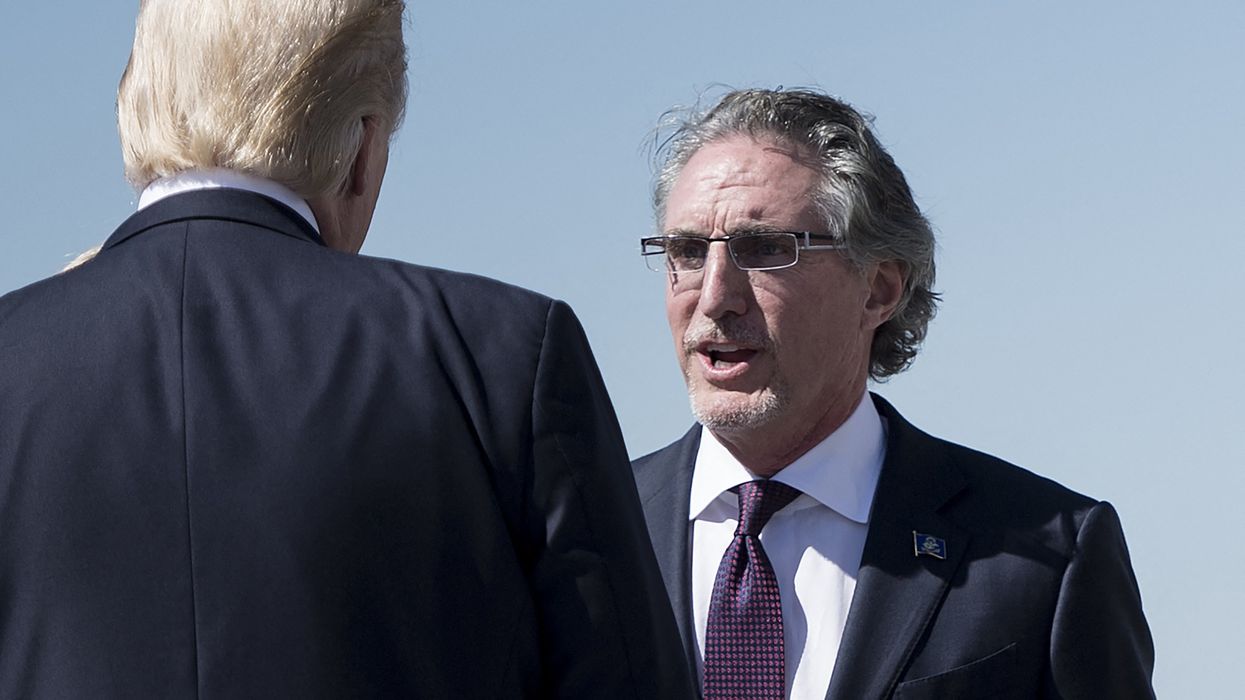 "Mandating birth is state responsibility. Helping feed those kids is not," is how Democratic California Gov. Gavin Newsom summarized the Republican position.
Republican Gov. Doug Burgum of North Dakota on Monday signed one of the nation's most draconian abortion bans into law, just weeks after the state's GOP lawmakers shot down a proposal to provide free school lunches to low-income students.
The new forced pregnancy law, which takes immediate effect, prohibits abortion care in nearly all cases. Abortion is allowed in cases of rape or incest, but only during the first six weeks of pregnancy—before many people realize they are pregnant. Abortion is also allowed without gestational limits if terminating a pregnancy could prevent the pregnant person's "death or a serious health risk."
North Dakota is one of several states where dormant abortion bans took immediate effect last June when the U.S. Supreme Court's reactionary majority overturnedRoe v. Wade, the 1973 decision that had legalized the healthcare procedure nationwide.
However, "North Dakota's trigger ban was blocked last year by a district judge, after its sole abortion provider, the Red River Women's Clinic, filed a lawsuit against the law," The New York Times reported Monday. "The state Supreme Court upheld the lower court's ruling last month and said the state constitution protected abortion rights in some situations."
Burgum, a former vice president at Microsoft, said in a statement that North Dakota's new forced pregnancy law "clarifies and refines" the existing abortion ban that has been blocked by courts.
As the Times noted:
Under the earlier ban, providers who performed an abortion to save the life of a mother could face felony prosecution. The provider would need to offer an "affirmative defense" proving that the abortion was medically necessary within the confines of the state law.

Under the new version of the law, the exceptions do not require an affirmative defense from providers. But providers could still face criminal charges if they violate the exceptions detailed in the law.
Elisabeth Smith, director of state policy and advocacy at the Center for Reproductive Rights, accused North Dakota lawmakers of "attempting to bypass the state constitution and court system with this total ban."
"They made the exceptions a little bit less narrow but essentially tried to repackage the trigger ban," she told the Times.
North Dakota has been completely bereft of abortion clinics since August, when the Fargo-based Red River Women's Clinic moved its operations a short distance across the border to Moorhead, Minnesota. But as the Times reported, Center for Reproductive Rights attorneys representing the clinic "say it is important to ensure that the ban does not take effect, so that patients facing medical emergencies can receive abortions in hospitals and from their doctors."
As the lawsuit opposing North Dakota's currently enjoined abortion ban proceeds, fresh legal challenges to the state's new forced pregnancy law are expected.
"I don't think women in North Dakota are going to accept this, and there will be action in the future to get our rights back," state Rep. Liz Conmy (D-11) toldThe Associated Press. "Our Legislature is overwhelmingly pro-pregnancy, but I think women in the state would like to make their own decisions."
Burgum, who also signed a bill prohibiting gender-affirming healthcare for trans youth last week, argued that the new abortion ban "reaffirms North Dakota as a pro-life state."
Democratic California Gov. Gavin Newsom, however, contrasted North Dakota Republicans' willingness to enact a forced pregnancy law with their refusal last month to expand access to free school lunches.
Condemning GOP lawmakers and officials, Newsom summarized their position as follows: "Mandating birth is state responsibility. Helping feed those kids is not."
\u201cNorth Dakota GOP have decided to force women to give birth. Even victims of rape.\n\nMeanwhile, they voted against providing school meals because child hunger isn't "the responsibility of the state."\n\nMandating birth is state responsibility. Helping feed those kids is not. Got it.\u201d

— Gavin Newsom (@Gavin Newsom) 1682376954
Just 10 days after North Dakota Republicans rejected a bill that would have broadened eligibility for free school lunches, they voted in early April to increase their own daily meal reimbursements from $35 to $45, adding insult to injury.
"I'm beyond enraged at these cruel backward MAGA extremist politicians," tweeted human rights lawyer Qasim Rashid. "A special place in hell."
\u201cThese votes were 10 days apart.\n\nNorth Dakota GOP (@NDHouseGOP)\n\u2022Voted NO on free school lunches for hungry kids\ud83d\ude33\n\u2022Then Voted YES on free breakfast, lunch, & dinner for themselves\ud83e\udd14\n\nI\u2019m beyond enraged at these cruel backward MAGA extremist politicians. A special place in hell\u201d

— Qasim Rashid, Esq. (@Qasim Rashid, Esq.) 1682277899
In sharp contrast to their counterparts in Bismarck, North Dakota, lawmakers in St. Paul recently made Minnesota the fourth state to guarantee universal free school meals.
Meanwhile, a first-of-its-kind lawsuit filed last month by five Texas women whose lives were endangered by that state's near-total abortion ban underscores the spurious nature of so-called "abortion exceptions," as Common Dreamsreported.
With its new law, North Dakota became at least the 14th state with an active ban on nearly all abortions. Additional states have slightly less restrictive prohibitions in place.
The U.S. Supreme Court's 6-3 opinion last summer in Dobbs v. Jackson Women's Health Organization ended the constitutional right to abortion and turned regulation of the procedure over to individual states, leaving tens of millions of people without access to lifesaving reproductive healthcare.
The ruling's elimination of federal protections has enabled right-wing lawmakers to prohibit or restrict abortion in more than half of the states, unleashing a life-threatening crisis that human rights advocates consider a violation of U.S. obligations under international law.
News