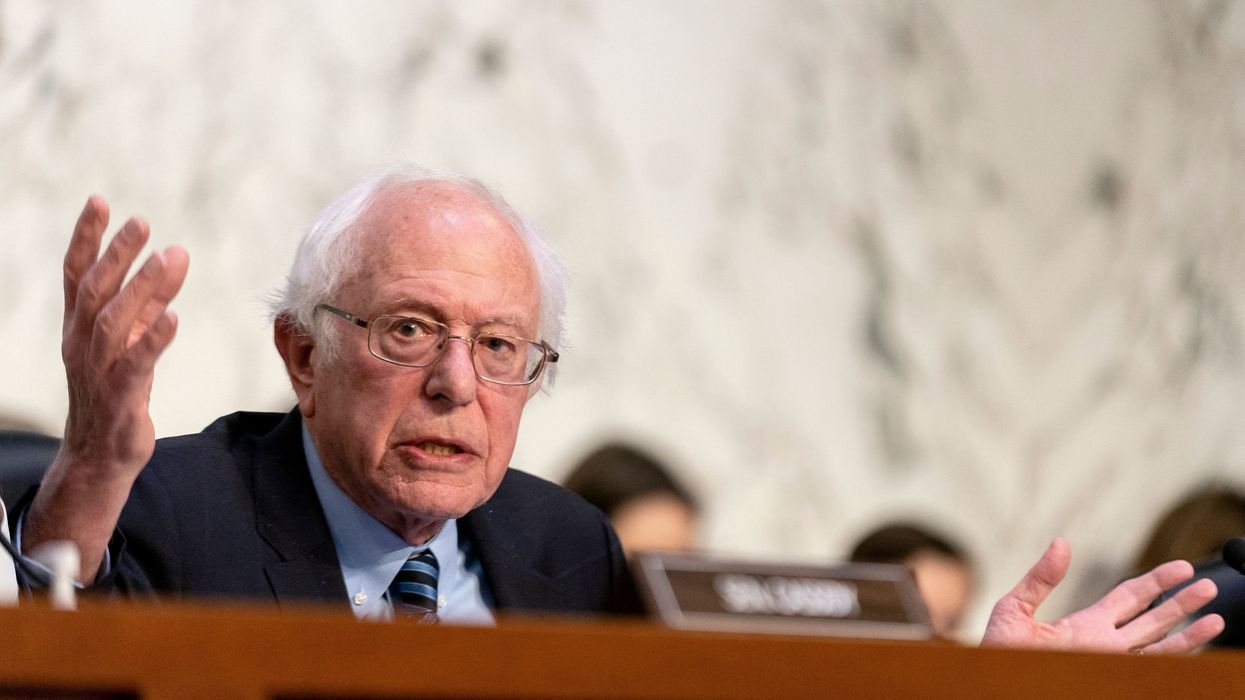 One of the Vermont senator's amendments would require the Pentagon to return a portion of its budget if it fails another audit.
Sen. Bernie Sanders has filed amendments to the National Defense Authorization Act that would cut the U.S. military's historically large budget by 10%, penalize the Pentagon if it fails another audit, and spotlight fraud committed by defense contractors.
The Vermont Independent's efforts to rein in Pentagon spending come after the Republican-controlled House passed its version of the National Defense Authorization Act (NDAA)—but not before loading it with right-wing amendments that would roll back service members' access to abortion and gender-affirming care.
The Senate is expected to begin considering its own NDAA on Tuesday afternoon. Once the Senate completes its bill, the two chambers will conference and reconcile the differences.

Sanders' budget-reduction amendment—backed by Sens. Elizabeth Warren (D-Mass.), Ed Markey (D-Mass.), and Jeff Merkley (D-Ore.)—proposes an $88.6 billion cut to the $886 billion in total U.S. military spending set to be authorized by the NDAA.

The amendment states that "the total amount of funds authorized to be appropriated by this act is hereby reduced by 10%," excluding "accounts and funds relating to military personnel, the Defense Health Program, and assistance to Ukraine," which the U.S. has sent roughly $46 billion in military aid over the past year and a half—a small fraction of the Pentagon's annual budget.
"The amount of reduction for each account and fund subject to such requirement shall be applied on a pro rata basis across each program, project, and activity funded by such account or fund," the measure reads.
House Republicans refused to allow a vote on Rep. Barbara Lee's (D-Calif.) amendment that called for a $100 billion cut to the Pentagon's fiscal year 2024 budget.
Sanders has also filed amendments aimed at cracking down on waste and fraud at the Pentagon, which has failed five consecutive audits. One of the senator's proposals, which has bipartisan support, would require the Pentagon to return a small portion of its budget to the Treasury Department's general fund if it fails an audit "during any fiscal year after fiscal year 2024."
Another Sanders-led amendment would require the Pentagon chief to "submit to the congressional defense committees a report on defense contracting fraud, including a summary of fraud-related criminal convictions, civil judgments, and settlements over the previous five fiscal years, a listing of contractors debarred or suspended from federal contracting based on a criminal conviction for fraud, and a valuation of contracts affected by fraud."
In May, Sanders urged the Pentagon to investigate rampant price gouging by military contractors after a CBS Newsinvestigation highlighted the extent to which profitable private companies are overcharging the Defense Department for weapons and other items.
"Pentagon analysts found overcharges that boosted total profits to nearly 40% and sometimes as high as 4,000%," Sanders and other senators wrote in a recent letter to Defense Secretary Lloyd Austin. "Lockheed Martin, Boeing, Raytheon, and TransDigm are among the offenders."
Analysts have estimated that roughly half of the Pentagon's budget each year winds up in the coffers of private military contractors—a trend that's on track to continue with the NDAA for fiscal year 2024.
"This bill continues to double down on militarism and unchecked spiraling funding, an approach that hasn't led to a more peaceful or just world," Amelia Kegan, associate general secretary for policy and advocacy with the Friends Committee on National Legislation, said of the House-passed NDAA.
News