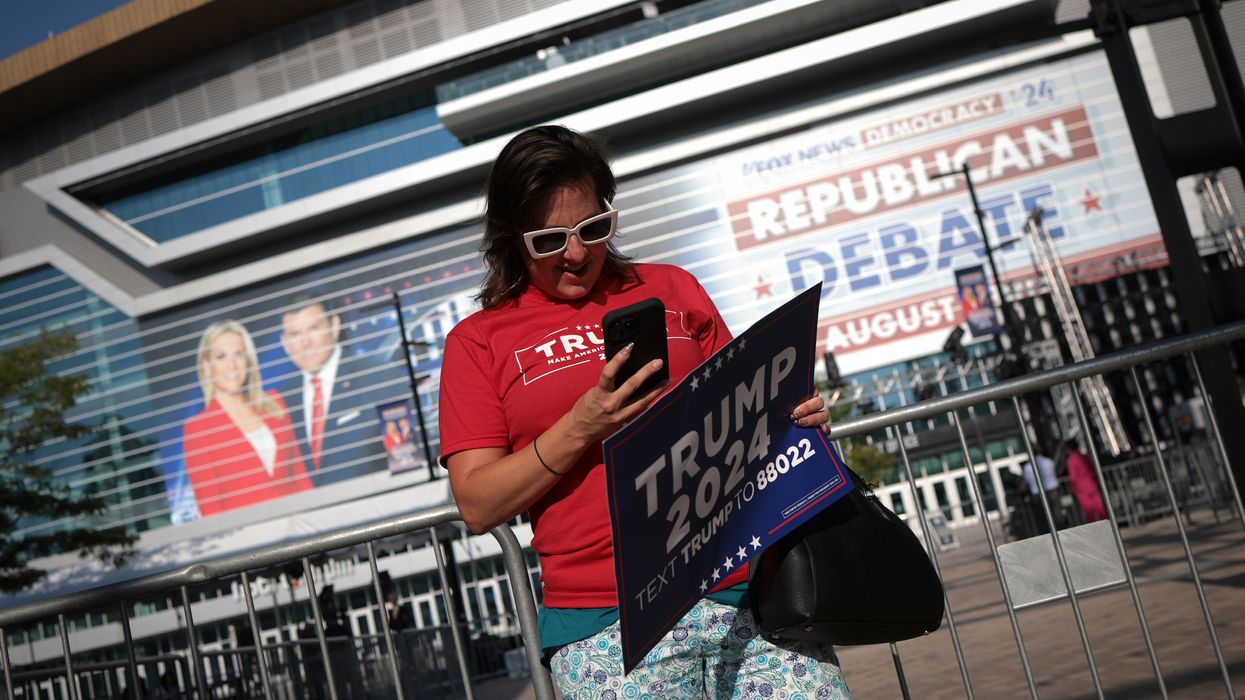 "Even after he betrayed our country and set fire to our sacred institutions, the MAGA extremists gunning for the presidency and running Congress continue to stand by Trump's traitorous flag instead of the Constitution," said the head of MoveOn Political Action.
During the first 2024 Republican presidential primary debate scheduled for Wednesday night—which former U.S. President Donald Trump, the front-runner, is set to skip—the progressive group MoveOn Political Action plans to air an advertisement calling out his enablers in the party.
The 30-second ad highlights that Trump has been indicted in four cases this year and faces a total of 91 charges—and the complicity of other GOP presidential candidates, who have pledged to support and even pardon the ex-president.
"As Trump's GOP opponents try to enable him for their own gain, we must make sure he's held accountable," the ad declares.
MoveOn Political Action said in a statement that the ad will air in Washington, D.C. and "the very backyards of members of the Complicit Caucus," or "vulnerable Republicans" in swing districts that the group is hoping to unseat because they all are enabling Trump's "Make America Great Again" (MAGA) agenda and "represent a district that Democrats can win again."
For Wednesday's airing, the group is targeting constituents of Republican U.S. Reps. David Schweikert of Arizona's 1st District, Juan Ciscomani of Arizona's 6th District, Mike Flood of Nebraska's 1st District, Nicholas LaLota of New York's 1st District, George Santos of New York's 3rd District, Anthony D'Esposito of New York's 4th District, Nicole Malliotakis of New York's 11th District, and Marcus Molinaro of New York's 19th District.

The ad is titled "Disqualify Trump," a reference to the argument made by various advocacy groups and legal scholars across the political spectrum that the 14th Amendment to the U.S. Constitution bars Trump from holding office again because he incited the January 6, 2021 attack on the Capitol as part of his effort to overturn his 2020 loss.
"Trump was responsible for a deadly insurrection against our country and should be ineligible to run for president again," said MoveOn Political Action executive director Rahna Epting. "Even after he betrayed our country and set fire to our sacred institutions, the MAGA extremists gunning for the presidency and running Congress continue to stand by Trump's traitorous flag instead of the Constitution."
Nearly 400,000 people have signed the group's petition urging secretaries of state and state election officials to "respect the Constitution and reject Trump from their ballots," and members of Congress to pass "legislation to bar Trump from office under the 14th Amendment."
Trump confirmed on his social media platform Sunday that he would not participate in the first primary debate and suggested he will not join future ones, citing his first term and recent CBSpolling that shows him as the top candidate by a significant margin.

"The public knows who I am & what a successful Presidency I had, with Energy Independence, Strong Borders & Military, Biggest EVER Tax & Regulation Cuts, No Inflation, Strongest Economy in History, & much more," he wrote. "I WILL THEREFORE NOT BE DOING THE DEBATES!"
The two-hour debate moderated by Fox News hosts Bret Baier and Martha MacCallum is scheduled to start at 9:00 pm ET. The candidates expected to join the event in Milwaukee, Wisconsin are North Dakota Gov. Doug Burgum, former New Jersey Gov. Chris Christie, Florida Gov. Ron DeSantis, former South Carolina Gov. Nikki Haley, former Arkansas Gov. Asa Hutchinson, former Vice President Mike Pence, entrepreneur Vivek Ramaswamy, and U.S. Sen. Tim Scott of South Carolina.
As counterprogramming to the debate, Trump has recorded an interview with former Fox host Tucker Carlson—who has been putting out content on X, formerly known as Twitter, since he was ousted from the network. Carlson confirmed in a teaser video that their conversation will air on the social media platform Wednesday at 8:55 pm ET.
On Thursday, Trump is supposed to surrender at the Fulton County Jail for charges related to his effort to overturn the 2020 election results in Georgia. He also faces charges stemming from the Manhattan district attorney's investigation of alleged hush money payments during the 2016 election cycle and a pair of federal probes led by Special Counsel Jack Smith—one related to classified documents and another related to the last presidential election.
This post has been updated with details about former President Donald Trump's interview with Tucker Carlson.

News