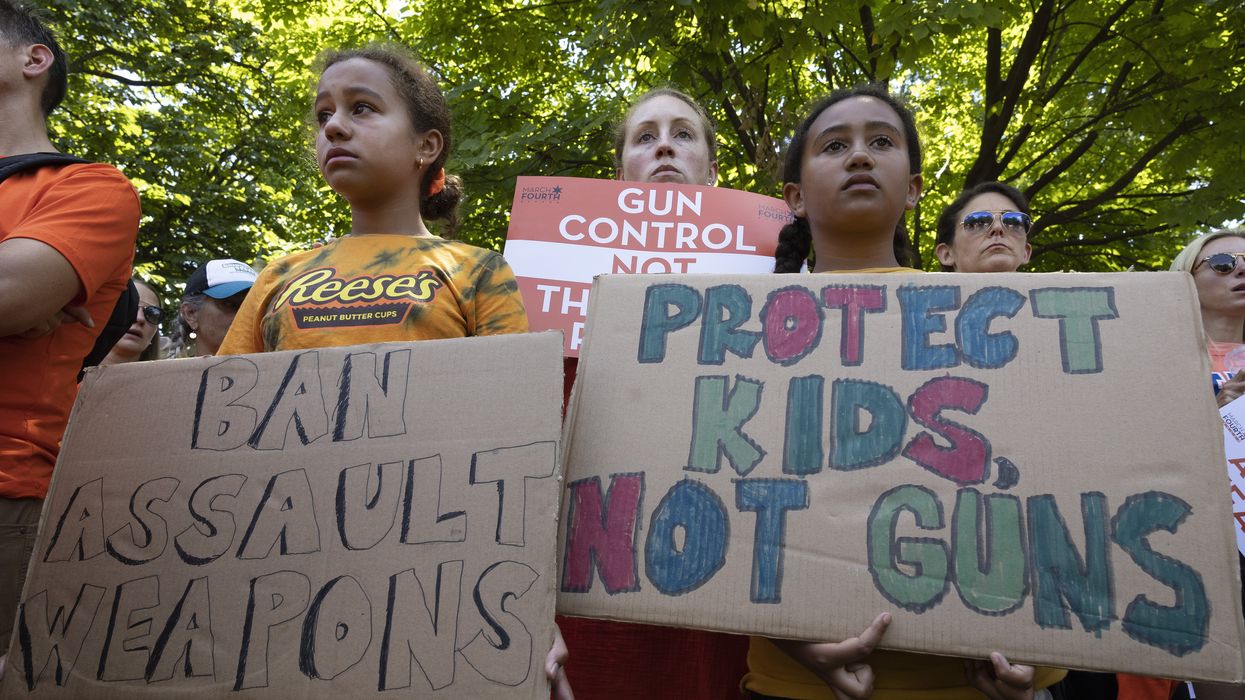 "This is a significant victory for the movement for gun safety and getting semiautomatic rifles off our streets," said Parkland survivor and March for Our Lives co-founder David Hogg.
Gun control advocates and Illinois leaders on Friday celebrated the state Supreme Court upholding the Protect Illinois Communities Act, which banned the sale of assault weapons and high-capacity magazines after a 2022 massacre at an Independence Day parade in the Chicago suburbs.
"Weapons and accessories designed for the battlefield shouldn't have a place in our communities," declared Nick Suplina, senior vice president for law and public policy at Everytown for Gun Safety. "Communities across Illinois cannot afford another tragedy like Highland Park to occur and today's decision by the Illinois Supreme Court ensures that we can keep these deadly weapons of war off our streets."
March for Our Lives co-founder David Hogg—who survived the 2018 mass shooting at Marjory Stoneman Douglas High School in Parkland, Florida—said that "this is a significant victory for the movement for gun safety and getting semi-automatic rifles off our streets."
As The Associated Pressdetailed: "The law bans dozens of specific brands or types of rifles and handguns, .50-caliber guns, attachments, and rapid-firing devices. No rifle is allowed to accommodate more than 10 rounds, with a 15-round limit for handguns. The most popular gun targeted is the AR-15 rifle."
Overturning a lower court's ruling, the justices found the law does not violate the equal protection or special legislation clauses of the Illinois Constitution. They also found that "plaintiffs expressly waived in the circuit court any independent claim that the restrictions impermissibly infringe" on the Second Amendment to the U.S. Constitution.
The decision came in a case brought by state Rep. Dan Caulkins (R-101), "part of a flurry of challenges to the constitutionality of the ban," as the Chicago Sun-Timesexplained. "Some of those challenges are still being fought in federal court."
The newspaper also noted that billionaire Illinois Gov. JB Pritzker "tapped his wealth last year to help boost two Democratic state Supreme Court justices who helped seal the majority Friday, as they did last month in upholding another key progressive measure backed by the billionaire governor: a provision promising to end cash bail next month."
Pritzker said Friday he was "pleased" with the court's 4-3 decision and that the contested measure, which he signed in January, "is a commonsense gun reform law to keep mass-killing machines off of our streets and out of our schools, malls, parks, and places of worship."
"Illinoisans deserve to feel safe in every corner of our state—whether they are attending a Fourth of July Parade or heading to work—and that's precisely what the Protect Illinois Communities Act accomplishes," he added. "This decision is a win for advocates, survivors, and families alike because it preserves this nation-leading legislation to combat gun violence and save countless lives."
The Highland Park shooting—in which seven people were killed and dozens more were injured—provoked calls for stricter state and federal gun laws. The suspect, Robert Crimo III, has been charged with 21 counts of first-degree murder, 48 counts of attempted murder, and 48 counts of aggravated battery with a firearm. He has pleaded not guilty and is awaiting trial.
"For years, moms, students, survivors of gun violence, and other community safety advocates fought hard to pass comprehensive gun safety legislation in Illinois," Moms Demand Action executive director Angela Ferrell-Zabala said Friday. "Today's decision by the Illinois Supreme Court is an incredible victory for our dedicated volunteers who were relentless in their advocacy to pass this lifesaving legislation, especially in the aftermath of the tragedy in Highland Park."
Sheri Williams, who co-leads the Illinois chapter of Moms Demand Action, also stressed that the law was the result of "tireless advocacy" by her group and Students Demand Action. Friday's ruling, she said, "put public safety over the gun lobby's agenda, and our families will all be safer because of it."
This post has been updated with additional details about the ruling.

News