For Immediate Release
Contact:
Tel: +1-212-216-1832,Email:,hrwpress@hrw.org
Cluster Munitions: South Sudan Accedes to Global Ban
South Sudan acceded to the international Convention on Cluster Munitions on August 3, 2023, the 112th country to do so, Human Rights Watch said today. "By banning cluster bombs, South Sudan is taking an important step to strengthen international peace and security," said Mary Wareham, arms acting director at Human Rights Watch and chair of the Cluster Munition Coalition. "Other countries should follow South Sudan's example because preventing new use of cluster munitions is a humanitarian and human rights imperative."
Cluster munitions can be fired from the ground by artillery, rockets, missiles, and mortar projectiles, or dropped by aircraft. They typically open in the air, dispersing multiple bomblets or submunitions over a wide area. Many submunitions fail to explode on initial impact, leaving bomblets that pose a long-lasting danger, like landmines.
South Sudan's National Assembly approved a proposal to accede to the 2008 Convention on Cluster Munitions on May 9. South Sudan deposited the instrument of accession with the United Nations on August 3.
The convention comprehensively bans cluster munitions and requires states parties to destroy their stockpiles, clear areas contaminated by cluster munition remnants, and provide assistance to victims of the weapons.
South Sudan had expressed interest in joining the convention since it became an independent state on July 9, 2011. The executive Council of Ministers unanimously approved South Sudan's accession to the convention in 2017 and referred the matter to parliament for legislative approval.
South Sudan has participated as an observer at formal meetings of the convention since 2011. It joined the international treaty banning antipersonnel landmines on November 11, 2011, through the process of "succession" after gaining its independence from Sudan.
South Sudan provided voluntary transparency reports to the convention in 2020 and 2021, confirming that it does not possess any stocks of cluster munitions. In 2014, South Sudan stated that it has not produced cluster munitions and does not intend to acquire or use them.
There have been no reports or allegations of South Sudanese government forces using cluster munitions, but the country is contaminated from air-dropped and ground-launched cluster munition remnants left over from previous conflicts.
Human Rights Watch reported in February 2014 that remnants of Soviet-era RBK 250-275 cluster bombs, including intact AO-1SCh submunitions, were found outside the city of Bor in Jonglei state, after airstrikes by Ugandan forces, which were providing air support to the South Sudan government during a military operation against opposition forces. Uganda – a signatory to the convention – denied that it had used cluster munitions.
The National Mine Action Authority of South Sudan should step up its efforts to clear cluster munition remnants and to assist victims of the weapons, Human Rights Watch said.
In addition to the 112 states that are party to the Convention on Cluster Munitions, which came into force on August 1, 2010, another 12 have signed the convention but not yet ratified it. Nigeria was the previous country to ratify the convention, on February 28, 2023.
Eight of the signatory countries that have not ratified the convention are in Africa: Angola, Central African Republic, Democratic Republic of Congo, Djibouti, Kenya, Liberia, Tanzania, and Uganda. The others are Cyprus, Haiti, Indonesia, and Jamaica.
Ten other countries in Africa have not joined the convention: Algeria, Egypt, Equatorial Guinea, Eritrea, Ethiopia, Gabon, Libya, Morocco, Sudan, and Zimbabwe.
Since its all-out invasion on February 24, 2022, Russian forces have repeatedly used cluster munitions in Ukraine, causing civilian casualties, damaging civilian infrastructure and contaminating agricultural land. Ukrainian forces have also used cluster munitions, causing civilian deaths and injuries. Cluster munitions were previously used by the Syrian-Russian military alliance in attacks in Idlib governorate in Syria on November 6, 2022, killing and wounding civilians. None of these countries have joined the Convention on Cluster Munitions.
"Clearing landmines and explosive remnants of war is a critical way to help many Africans achieve safety and security in their daily lives," Wareham said. "With this accession we hope that South Sudan receives greater support to continue its clearance and destruction of cluster munition remnants, landmines, and other weapons used in past conflicts."
Human Rights Watch is a co-founder of the Cluster Munition Coalition, the global coalition of nongovernmental organizations working to eradicate cluster munitions and provides editing for its annual Cluster Munition Monitor report.
Human Rights Watch is one of the world's leading independent organizations dedicated to defending and protecting human rights. By focusing international attention where human rights are violated, we give voice to the oppressed and hold oppressors accountable for their crimes. Our rigorous, objective investigations and strategic, targeted advocacy build intense pressure for action and raise the cost of human rights abuse. For 30 years, Human Rights Watch has worked tenaciously to lay the legal and moral groundwork for deep-rooted change and has fought to bring greater justice and security to people around the world.
LATEST NEWS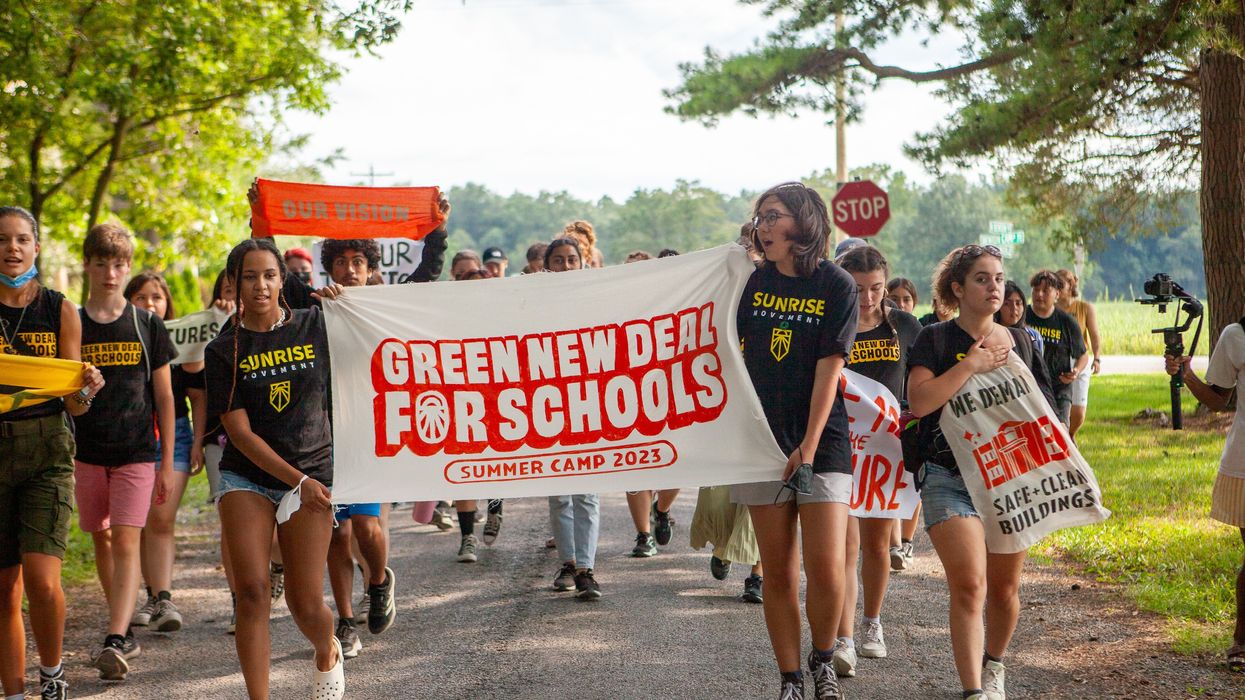 "Public schools belong to us, and we know we deserve better," said a Sunrise Movement organizer and the youngest school board member in Idaho.

In the face of right-wing attacks on public schools—including climate education—more than 50 high schools nationwide launched the Green New Deals for Schools campaign Monday.
The campaign, organized by the youth-led Sunrise Movement, is demanding that school boards and districts act to provide buildings powered with renewable energy; free, healthy, local, and sustainable meals; support for finding well-paying, unionized green careers; plans for extreme weather events; and instruction about the climate crisis.
"The Republican Party knows that they don't have the youth vote," Aster Chau, who organizes for Green New Deal for Schools while attending the Academy at Palumbo in Philadelphia, Pennsylvania, said in a statement. "They've spent the last few years antagonizing students and teachers—eroding trust in public education—in order to distract from all of the problems they've created in our society. Today, we say no more—these are our schools and our futures."
The push comes as lawmakers in Republican-controlled states have increasingly attempted to mandate what can be taught in the classroom. In Georgia, for example, a "divisive concepts" law prohibits teachers from discussing nine race-related topics. This would include the unequal impacts of the climate crisis, The Guardian pointed out, and has had an overall chilling effect on educators' willingness to raise political issues in the classroom.
"We don't learn about climate change at all," 16-year-old Summer Mathis, who studies at North Cobb High School in Kennesaw, Georgia, told The Guardian.
In Texas, meanwhile, education officials are imposing their views on climate science textbooks, and in Idaho there is an ongoing dispute over whether or not the climate crisis can be included in the curriculum at all. Florida under Gov. Ron DeSantis has approved the use of PragerU Kids materials, which include climate denying and pro-fossil fuel talking points.
"It's really scary knowing that I'm underage, and can't vote to elect the people making these big decisions about our futures."
Beyond curriculum building, there are many things that schools in all states can do to better prepare for and fight the climate crisis.
Currently, public elementary, middle, and high schools use around 9% of the energy consumed by commercial buildings in the U.S., Lisa Hoyos, the national climate strategy director for the League of Conservation Voters, wrote in an op-ed for The Progressive Friday. Switching them all to renewable energy would have the same impact as removing 18 coal plants from the grid.
Schools can also do more to prepare for extreme weather events. In Philadelphia, for example, Chau started school during a heatwave in a building that lacked air conditioning, they told The Guardian.
"Being a youth right now is really scary," Chau said. "It's really scary knowing that I'm underage, and can't vote to elect the people making these big decisions about our futures, not having a say in that."
The new campaign is partly a way to change that.
"For too long, students have been left out of the decision-making spaces within our schools," Shiva Rajbhandari, a Sunrise Movement organizer who is also the youngest school board member in Idaho, said in a statement. "Students are the most important constituents of our school boards, and they deserve to call the shots for their own education. Public schools belong to us, and we know we deserve better."
The campaign comes out of a camp that the Sunrise Movement ran this summer to train hundreds of high school students to advocate for themselves and their communities.
The young people have older allies as well. This week Rep. Jamaal Bowman (D-N.Y.) and Sen. Ed Markey (D-Mass) will reintroduce their Green New Deal for Public Schools Act with hundreds of students present, according to The Guardian.
"Our generation is on the frontlines of this fight," 17-year-old campaign leader Adah Crandall said in a statement, "and it's time for our school districts to take real action."
News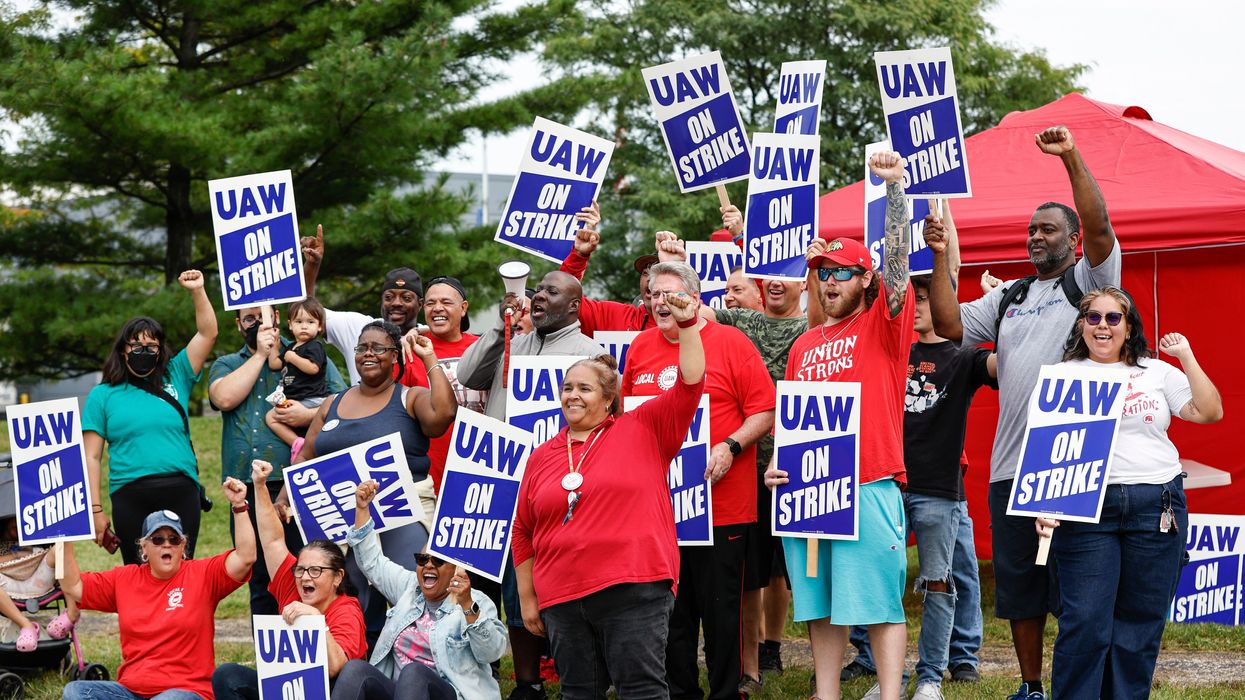 "Compared to the week before, when we asked the same question just after the announcement of the strike, support for the UAW strikes has risen from 55% to 62%," Data for Progress found.
Survey data released Monday shows that the United Auto Workers strikes have grown in popularity with U.S. voters since they kicked off 10 days ago.
A Data for Progress poll of 1,229 likely U.S. voters conducted on September 20-21 found that 62% of all voters support the UAW strikes, which expanded last week to every General Motors and Stellantis parts distribution facility in the country.
Nearly half—48%—of Republican voters support the strikes, according to Data for Progress, along with 79% of Democratic voters and 59% of Independent and third-party voters.
"Compared to the week before, when we asked the same question just after the announcement of the strike, support for the UAW strikes has risen from 55% to 62%, while opposition has dropped from 35% to 29%," noted Lew Blank, a communications associate at Data for Progress. "Notably, we find a seven percentage point increase in support among Independents and a 10 percentage point increase in support among Republicans."
Data for Progress also asked voters whether they trust President Joe Biden or former President Donald Trump more to support labor unions.
Forty-four percent of all likely voters said they trust Biden and 29% chose Trump, while 21% said they trust neither.
"More than 2 in 5 Independents (42%) report that they trust neither figure more or that they don't know which one they trust more, indicating that the Democratic Party has a considerable opportunity to bolster support among Independent voters by standing alongside UAW workers," Blank wrote.
The new polling comes a day before Biden—who is seeking reelection in 2024—is set to join striking UAW members on the picket line in Michigan, a historic show of support for the union's fight for major contract improvements.
Trump, for his part, is scheduled to speak to around 500 current and former union members on Wednesday night in Clinton Township, Michigan, skipping the 2024 Republican presidential debate.
"If Trump is a friend of workers, why did his administration repeatedly do what corporate lobbyists asked for instead of what worker advocates wanted?"
With his Michigan visit, Trump—the GOP front-runner—is attempting to posture as a champion of the working class, running radio ads in Detroit and Toledo, Ohio that praise autoworkers and claim he has "always had their back."
Steven Greenhouse, a veteran labor reporter, called that narrative "appalling poppycock" in an op-ed for The Guardian on Monday.
"During Trump's four years as president, he and his administration did far more to stab workers in their backs," Greenhouse wrote. "Trump didn't lift a finger to increase the federal minimum wage, which has been stuck at a pathetically low $7.25 an hour since 2009. And he certainly didn't have workers' backs when he scrapped [former President] Barack Obama's move to expand overtime coverage, thereby denying 8 million workers the ability to receive time-and-a-half overtime pay."
"If Trump is a friend of workers," Greenhouse asked, "why did his administration repeatedly do what corporate lobbyists asked for instead of what worker advocates wanted?"
News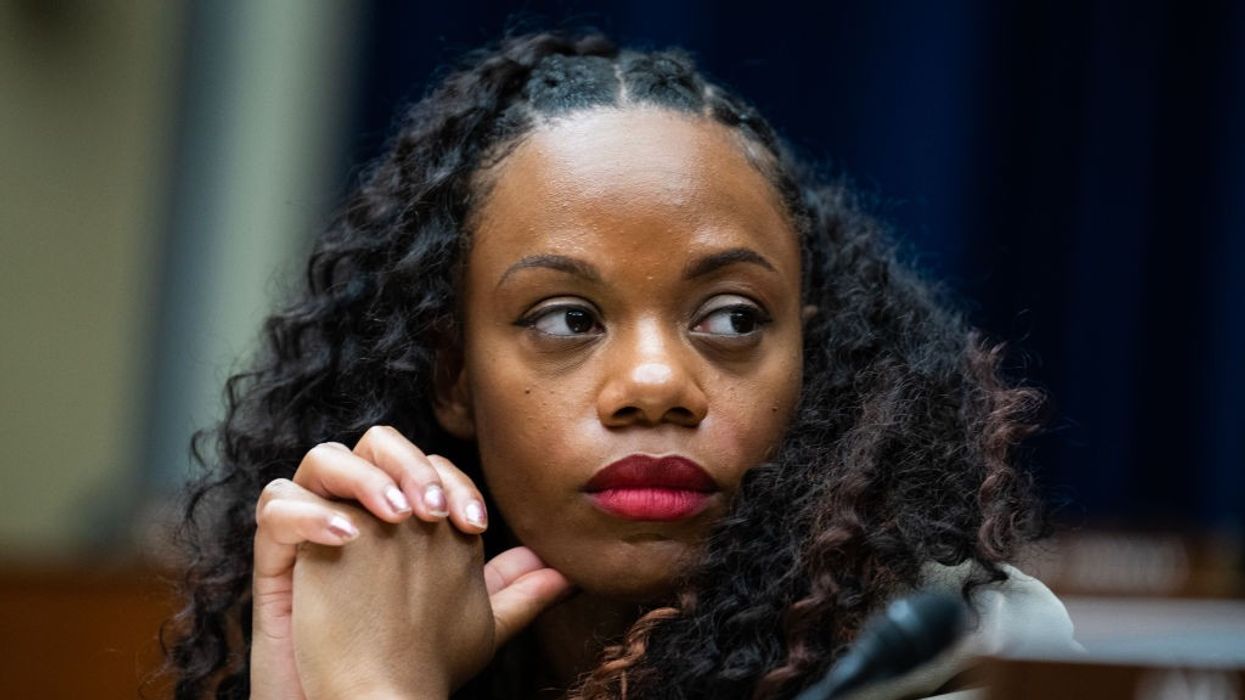 "We can't talk about holding Thomas and Alito accountable for selling out our freedoms for luxury vacations and private jet flights if we fail to hold a senator accountable for selling out his chairmanship," she said.
Pennsylvania Rep. Summer Lee has become the latest prominent Democrat to call on New Jersey Sen. Bob Menendez to resign following his indictment on bribery charges Friday.

Menendez was accused along with his wife Nadine and three businessmen over a "corrupt relationship" that saw Menendez exchange political favors—including aiding the Egyptian government—for kickbacks such as cash, gold, and help with a mortgage payment.
"Senator Menendez must resign," Lee said in a statement released Monday. "Corruption is corruption. Bribery is bribery. We can't talk about holding Thomas and Alito accountable for selling out our freedoms for luxury vacations and private jet flights if we fail to hold a senator accountable for selling out his chairmanship to a dictator gifting gold bars and cash to keep military aid flowing to Egypt as its government violates human rights."
Lee has been outspoken in calling out corruption in the Supreme Court. Her statement Monday comes the day after she spoke on MSNBC about a ProPublica article, also released Friday, revealing that Supreme Court Justice Clarence Thomas had attended at least two political fundraisers organized by the Koch network.
During Sunday night's interview, host Mehdi Hasan also asked Lee about the fact that only one other senator—John Fetterman of Pennsylvania—had called on Menendez to resign.
At the time, Lee stopped short of calling for his resignation herself, saying that the people who knew him in the Senate needed to speak out. However, she also said it was important that public servants hold themselves to higher standards, especially as the Republican Party continues the descent into extremism that escalated on January 6, 2021.
"We need to be clear about the types of people who should represent us, about the standards by which we should hold them, about what they are allowed to do, their conduct. We need a code of conduct for the Supreme Court, and we also need to adhere to our own conduct, whether we're in the Senate, or the House, or anywhere else," she said.
As of Monday, Lee adds her name to a small but growing list calling for Menendez's resignation including Fetterman and Reps. Alexandria Ocasio-Cortez (D-N.Y.), Jeff Jackson (D-N.C.), Dean Phillips (D-Minn.), Josh Gottheimer (D-N.J.), Tom Malinowski (D-N.J.), Frank Pallone (D-N.J.), Mikie Sherill (D-N.J.), Bill Pascrell (D-N.J.), and Andy Kim (D-N.J.)
Menendez, meanwhile, said Monday that he thought the calls for his resignation were a mistake, as The Hill reported.
"The allegations leveled against me are just that: allegations," Menendez said while speaking to supporters and reporters in Union City, New Jersey. "I recognized that this will be the biggest fight yet. But as I have stated through this whole process, I firmly believe that when all of the facts are presented, not only will I be exonerated, but I will still be New Jersey's senior senator."
However, while Lee acknowledged that Menendez had not yet been found guilty, more was at stake than his career.
"Menendez is of course owed due process, but the American people are owed trust in our institutions," she said. "Our fight against right-wing fascism depends on that trust."
News
Independent, nonprofit journalism needs your help.
Please Pitch In
Today!