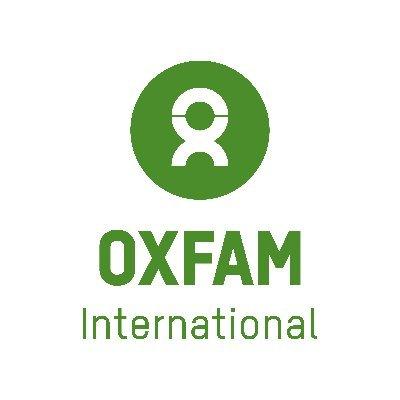 For Immediate Release
Contact:
Phone
+1 617 482 1211 (Toll-free 1-800-77-OXFAM)
Escalating death, destitution and destruction as Yemeni civilians left to bear brunt of 7-year war: Oxfam
The human cost of the war in Yemen is rising sharply as the conflict enters its eighth year, with the number of civilian deaths increasing sharply, hunger on the rise and three quarters of the population in urgent need of humanitarian support, Oxfam warned today.
LONDON
The human cost of the war in Yemen is rising sharply as the conflict enters its eighth year, with the number of civilian deaths increasing sharply, hunger on the rise and three quarters of the population in urgent need of humanitarian support, Oxfam warned today.
The international agency said another year of war would bring unimaginable suffering to civilians --almost two-thirds of Yemenis will go hungry this year unless the warring parties lay down their arms or the international community steps in to fill a massive gap in the appeal budget. This year's aid program is currently 70 percent underfunded, providing just 15 cents per day per person needing help.
The escalating cost of war includes:
17.4 million people are currently going hungry, with predictions this will rise to 19 million by the end of the year (62 percent of the population and an increase of more than 8 million since the conflict started).
4.8 million more people need humanitarian assistance than did in 2015, the first year of the conflict.
Since UN human rights monitoring was withdrawn in October 2021 the civilian casualty rate has doubled, now reaching well over 14,500 casualties.
24,000 airstrikes have damaged 40 percent of all housing in cities during the conflict.
During the last seven years, over four million people have been forced to flee from violence.
The Ukraine crisis has exacerbated the situation, raising concerns over supplies of grain and cooking oil. Yemen imports 42 percent of its grain from Ukraine and Oxfam has been told prices have already started to rise. In Sana'a bread went up 35 percent over the week that fighting broke out (200 Yemeni Rial to 270 Yemeni Rial).
Ali Hassan Hadi from Hajah, who has two children suffering from malnutrition, said: "Sometimes my children sleep hungry. If we have lunch, then we skip dinner. We have to cope with the situation. Sometimes we only eat bread, other times we eat cooked food. Mostly we do not eat well."
Seven long years of war have also caused a fuel crisis. Prices have risen 543 percent since 2019, trebling in just the last three months. Queues at petrol stations are so long that it can take three days to reach the forecourt.
The increase in fuel prices has a knock-on effect, increasing prices of essential items such as food, water and medicines making them unaffordable for many who are already struggling to meet their daily needs. It is also causing a reduction in humanitarian aid deliveries to more remote areas as the fuel prices have increased so much some remote communities are now experiencing a reduced delivery of water and sanitation support.
Oxfam's Country Director in Yemen, Ferran Puig said: "After seven years of war, Yemenis are desperate for peace - instead they are facing yet more death and destruction. Violence and hunger are on the increase once more and millions of people cannot get the basics their families need.
"People can't afford to pump water to irrigate their crops and in remote areas where people rely on trucked drinking water, they can't afford to pay increased prices meaning they have to use water that is not safe to drink. City dwellers in some areas are experiencing electricity cuts of 10-12 hours a day --those who have them are relying on solar panels to charge mobile phones and supply a small amount of power."
Farmers are unable to afford to transport produce to markets, causing prices of fresh produce to rise even further. Buses and motorbike taxis are becoming unaffordable leaving many unable to pay the cost of transport to healthcare facilities and other life-saving services. Health facilities across the country could soon be forced to shut off life-saving equipment because of lack of fuel. During the last few days, local media in Taiz have reported that the Al Thawra hospital has stopped its operations due to the fuel shortage.
Government employees have not been paid since the end of 2016. The COVID-19 pandemic coupled with new restrictive regulations has reduced the number of Yemenis able to work in Saudi Arabia and send money to relatives at home. A spiralling currency devaluation means that what little income people may have buys less and less every day forcing Oxfam and other aid agencies to regularly increase the cash transfers they provide to support vulnerable families.
Civilian deaths and injuries in the conflict have doubled since the UN body responsible for monitoring violations of international humanitarian law in Yemen was removed in October of last year. There have been over 14,554 civilian casualties since recording by the Civilian Impact Monitoring project started in 2017. During the last seven years there have been over 24,600 airstrikes across Yemen. In the last few months, shifting frontlines have led to an increase in landmine deaths and injuries around Marib where retreating forces lay them to slow down their opponents. Civilians using mined roads or gathering firewood in contested land are often victims.
Yemenis faced with these problems are forced to resort to cope any way they can. People live in a cycle of debt, increasing numbers are resorting to begging.
Puig said: "Yemen desperately needs a lasting peace so people can rebuild their lives and livelihoods. Without peace the cycle of misery will continue and deepen. Until then, adequate funding for humanitarian aid is critical."
Oxfam International is a global movement of people who are fighting inequality to end poverty and injustice. We are working across regions in about 70 countries, with thousands of partners, and allies, supporting communities to build better lives for themselves, grow resilience and protect lives and livelihoods also in times of crisis.
LATEST NEWS
"The same party who provided $2 trillion tax giveaways to the wealthy wants to slash funding for WIC, devastating women and children," said Democratic Rep. Gwen Moore.
Democratic lawmakers and policy analysts are expressing growing alarm over the House GOP's pursuit of increasingly severe spending cuts that would decimate education programs, slash housing assistance and food aid for low-income families, undermine clean air and water safety, and compromise medical research.
Rep. Pramila Jayapal (D-Wash.), the chair of the Congressional Progressive Caucus, called the Republican proposals "unbelievably cruel" and accused the GOP of "playing political games on the backs of the most vulnerable, working people, families just trying to get by."
House Republicans' push for sharp cuts that would be dead on arrival in the narrowly Democratic Senate has all but guaranteed a government shutdown come midnight Saturday.
After failing twice last week to approve a rule that would have advanced a Pentagon spending measure, House Republicans on Tuesday voted to open debate on a package of appropriations bills for the Departments of Defense, Homeland Security, State, and Agriculture—just four out of the 12 measures that must be approved to fully fund the federal government.
In floor remarks ahead of Tuesday's vote, Rep. Rosa DeLauro (D-Conn.)—the top Democrat on the House Appropriations Committee—warned that the GOP's agriculture appropriations bill "shamefully" cuts aid "for the most vulnerable children and families."
"This bill abandons the most vulnerable among us by slashing the Women, Infants, and Children (WIC) program by $800 million. Some 4.6 million women and children would also get severely reduced food and vegetable vouchers," said DeLauro.
"I do not believe we should practice this so-called 'fiscal responsibility' by taking food out of the mouths of moms and of children," she added. "Is this how Republicans seek to sell their spending cuts to the American people? By taking food from veterans and the most vulnerable?"
DeLauro also pointed to a rider in the GOP legislation that would reverse the Food and Drug Administration's decision earlier this year to allow the abortion pill mifepristone to be dispensed at certain pharmacies.
As The Washington Post's Jeff Stein reported Tuesday, House Republican leaders are aiming to cut discretionary federal spending by around 27%, ditching spending levels that they agreed to as part of a bipartisan debt ceiling agreement reached earlier this year.
The floated 27% cut, Stein observed, "appears to translate into taking more than $150 billion per year out of the part of the budget that funds childcare, education subsidies, medical research, and hundreds of additional federal operations."
Citing estimates from the Center for American Progress (CAP), Stein noted that the GOP's current appropriations bills would cut housing subsidies for the poor by 33%, force "more than 1 million women and children onto the waitlist of a nutritional assistance program for poor mothers with young children," and slash home heating assistance for low-income families by more than 70%.
CAP also estimated in a recent analysis that the House GOP's proposed appropriations measures would inflict a staggering 80% cut on Title I education grants for elementary and secondary schools in low-income areas.
Additionally, according to CAP, Republicans' bills would cut Social Security Administration funding by $183 million, slash $2.8 billion from the National Institutes of Health's budget, and curb Environmental Protection Agency funding by 39%.

"Back in May, Speaker Kevin McCarthy made a bipartisan debt ceiling deal with deep cuts and policies that hurt everyday people but with a promise to the American people that no further cuts would harm them," Rep. Delia Ramirez (D-Ill.) said in a statement Tuesday.
"Today," Ramirez continued, "Speaker McCarthy's hunger for power and lack of leadership are leading him to back out of that deal and further cave into far-right Republicans' irrational demands to cut more than $150 billion per year for childcare, education, medical research, and hundreds of other federal critical programs that feed families, provide safe housing, and protect our environment. These are unacceptable demands that I WILL NOT support."
"The same party who provided $2 trillion tax giveaways to the wealthy wants to slash funding for WIC, devastating women and children."
The Senate, meanwhile, voted Tuesday to begin debate on a continuing resolution that would fund the government through November 17, a short-term solution as both chambers work on passing their appropriations bills for the coming fiscal year.
"A shutdown would be nothing short of a catastrophe for American families, our national security, and our economy," said Sen. Patty Murray (D-Wash.), chair of the Senate Appropriations Committee. "It is critical that we avoid one, and that's exactly what this bipartisan legislation will do."
But a number of House Republicans, including members of the far-right House Freedom Caucus, have signaled that they are opposed to any short-term government funding bill. Earlier this month, the House GOP put forth a 30-day stopgap funding measure that would have cut nonmilitary discretionary spending by 8% instead of keeping the government funded at current levels.
The House Republican leadership ultimately pulled the bill after it became clear it did not have the votes to pass.
"The House GOP doesn't serve working families," Rep. Gwen Moore (D-Wis.) wrote on social media Tuesday. "The same party who provided $2 trillion tax giveaways to the wealthy wants to slash funding for WIC, devastating women and children who depend on this program to receive fresh fruits and vegetables."
The Biden White House warned Wednesday that in addition to threatening food aid for millions of mothers and children, a government shutdown "would have damaging impacts across the country—including risking significant delays for travelers and forcing air traffic controllers and Transportation Security Officers to work without pay."

"During an Extreme Republican Shutdown, more than 13,000 air traffic controllers and 50,000 Transportation Security Officers—in addition to thousands of other Federal Aviation Administration (FAA) and Transportation Security Administration (TSA) personnel—would have to show up to do their critical jobs without getting paid until funding becomes available," the White House said. "In previous shutdowns, this led to significant delays and longer wait times for travelers at airports across the country."
News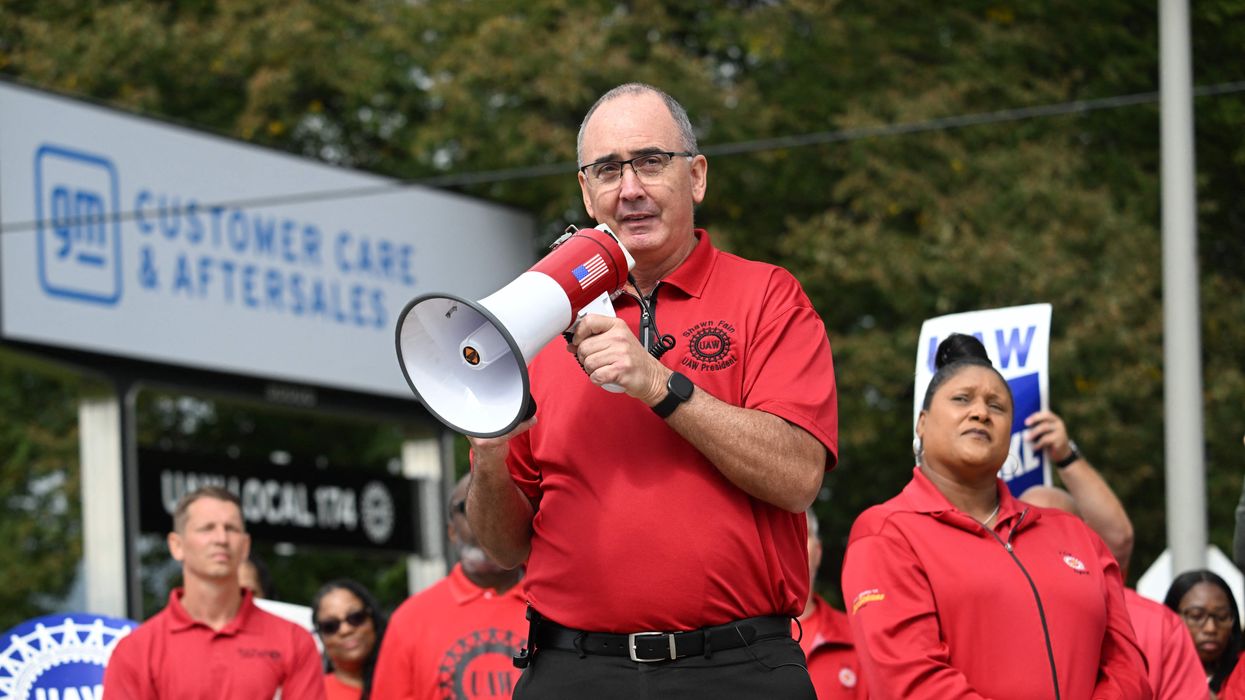 "All you have to do is look at his track record," said United Auto Workers president Shawn Fain. "His track record speaks for itself."
United Auto Workers president Shawn Fain said Tuesday that he will not be meeting with Donald Trump when the former president visits Michigan, pointing to his long history of anti-worker rhetoric and policies.
"I see no point in meeting with him because I don't think the man has any bit of care about what our workers stand for, what the working class stands for," Fain said in a CNN appearance. "He serves the billionaire class, and that's what's wrong with this country."
Fain's remarks came hours before Trump's scheduled address Wednesday night at Drake Enterprises, a nonunion auto parts manufacturer in Clinton Township, Michigan. A national UAW spokesperson toldHuffPost that the union—which is nearly two weeks into its strikes against the Big Three U.S. automakers—doesn't represent any workers at Drake Enterprises, but the facility "could be home to other unions."
In his CNN interview, Fain said he finds it a "pathetic irony" that Trump—who has repeatedly bashed the UAW's leadership—is holding a purportedly pro-worker event at a nonunion business.
"All you have to do is look at his track record," said Fain. "His track record speaks for itself. In 2008 during the Great Recession, he blamed UAW members. He blamed our contracts for everything that was wrong with these companies. That's a complete lie. In 2015 when he was running for president, he talked about doing a rotation, taking all these good-paying jobs in the Midwest and moving them somewhere in the South where people work for less money, and then to make people beg for their jobs back at lower wages."
"And the ultimate show of how much he cares about our workers was in 2019 when he was the president of the United States," Fain continued. "Where was he then? GM—our workers at GM were on strike for 60 days. For two months, they were out there on the picket lines. I didn't see him hold a rally. I didn't see him stand up at the picket line. And I sure as hell didn't hear him comment about it. He's missing in action."
Earlier Tuesday, President Joe Biden joined Fain and striking autoworkers on the picket line outside of a General Motors plant in Belleville, Michigan. Labor historians say Biden is the first sitting U.S. president to walk a picket line with striking workers.
The UAW has not endorsed a candidate in the 2024 presidential race, and Fain told CNN that his comments on Trump were "not an endorsement for anyone."
"It's just flat-out how I view the former president," he said.

News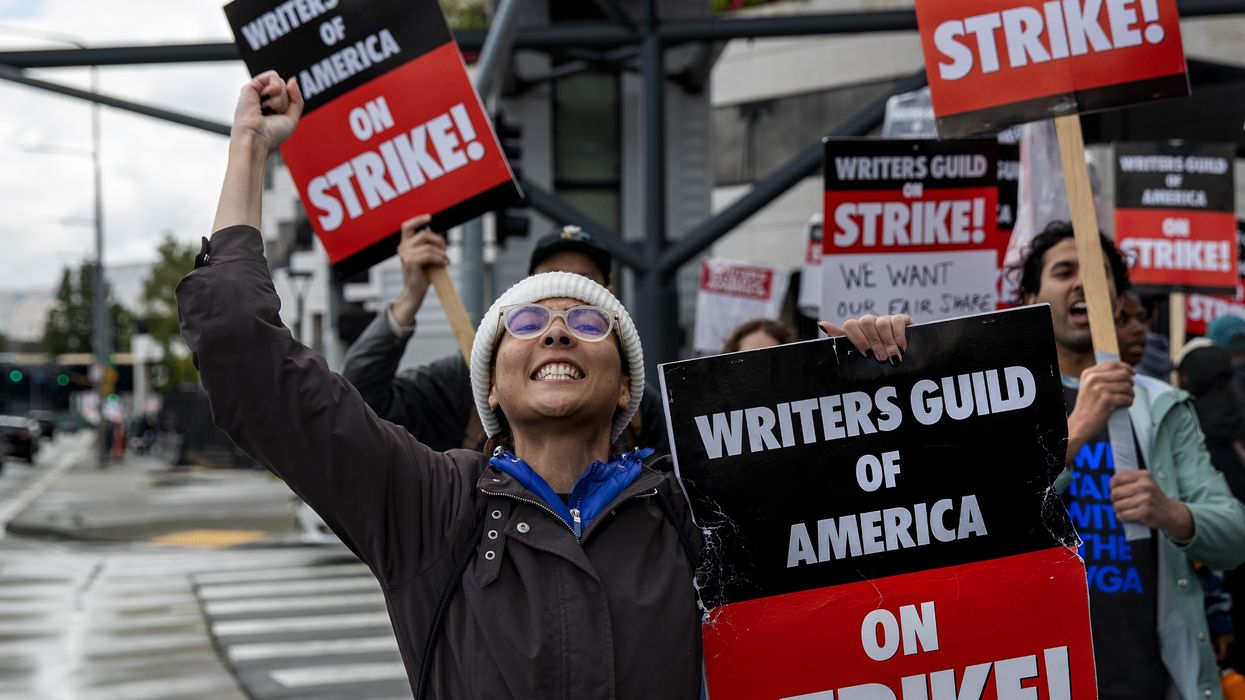 "The WGA appears to have won more than analysts initially believed possible."
Hollywood screenwriters' monthslong strike ended Wednesday after the Writers Guild of America leadership voted unanimously to recommend the tentative three-year contract agreement that the union reached with major studios over the weekend.
WGA members will now vote on whether to ratify the deal, which includes higher pay than the studios were originally willing to offer, improved healthcare benefits, viewership-based streaming residuals, minimum staffing requirements for television writers' rooms, and regulations constraining studios' use of artificial intelligence.
In a statement late Tuesday, the WGA negotiating committee said that union members "will be able to vote from October 2nd through October 9th, and will receive ballot and ratification materials when the vote opens."
"The WGAW Board and WGAE Council also voted to lift the restraining order and end the strike as of 12:01 am PT/3:01 am ET on Wednesday, September 27th," the committee added. "This allows writers to return to work during the ratification process, but does not affect the membership's right to make a final determination on contract approval."
The WGA committee called the tentative agreement an "exceptional deal, with gains and protections for members in every sector of the business."
"The WGA appears to have won more than analysts initially believed possible," The New York Timesreported Tuesday. "Studios suggested early on that they wouldn't bend on issues like residuals or staffing, citing changes streaming has made to their industry. But the strike—coupled with the SAG-AFTRA walkout—has crippled Hollywood, with studio owners like Warner Bros. Discovery predicting big hits to their earnings. Analysts have estimated that studios could lose as much as $1.6 billion in global ticket sales because of movie delays."
According to survey data, the writers' strike was broadly popular with the U.S. public. A Data for Progress poll conducted last month found that 67% of all likely voters backed the strike, while a Gallup survey showed that the public sympathized with screenwriters over Hollywood studios by a margin of 72% to 19%.
SAG-AFTRA actors who joined writers on the picket lines will remain on strike, and the union said Wednesday that it currently has no scheduled dates to meet with the Alliance of Motion Picture and Television Producers, which represents the major studios.
News
Independent, nonprofit journalism needs your help.
Please Pitch In
Today!