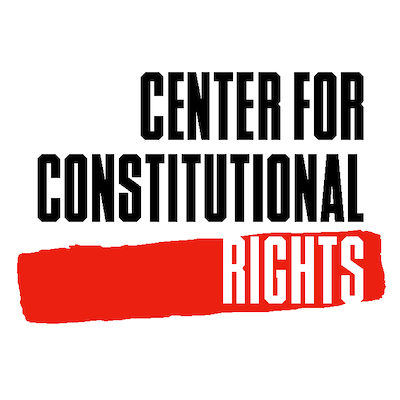 Immigrant Rights Groups FOIA for Info on ICE's Chicago Vigilante Training
WASHINGTON
On Thursday, the Immigrant Defense Project (IDP), Organized Communities Against Deportations (OCAD) and the Center for Constitutional Rights filed a Freedom of Information Act Request to demand more information on the Immigration and Customs Enforcement's announcement of a pilot Enforcement and Removals Operation (ERO) Citizen Academy to be held in Chicago over a six-week period starting in mid-September of this year. The request also asks for information on past ICE "citizen academies" held in other cities, which have recently come to light.
At a time when the nation is being forced to grapple with systemic police violence, ICE has invited civilians in Chicago to engage "in scenario-based training and exercises conducted in a safe and positive environment, including, but not limited to defensive tactics, firearms familiarization, and targeted arrests." This has raised alarm with OCAD as well as other immigrant rights organizers and advocates in Chicago who see the trainings as potentially encouraging vigilantes to profile and target people in their communities.
A hallmark of the Trump administration has been the campaign of terror waged against migrants at the border and increased ICE raids at homes, on the street, at courthouses, and in workplaces. The administration has used escalated ICE presence in cities with policies that limit police collaboration with ICE, such as Chicago and New York, to threaten and intimidate these cities.
Of additional concern to the organizations is that ICE ERO is planning to hold this initial Academy in Chicago and include "scenario-based training and exercises" on firearms familiarization, just three years after ICE agents shot an individual in Chicago during a raid. That same year community groups exposed ICE's use of Chicago Police Department resources, such as the Citizen and Law Enforcement Analysis and Reporting (CLEAR) system to target immigrant communities. In 2018, it was reported that ICE detained more than 150 individuals in the Chicagoland area in cases where the agency did not have administrative warrants or reasonable suspicion to take people into custody. A pending lawsuit alleges this type of enforcement was fueled by "racial profiling."
The Immigrant Defense Project has documented ICE tactics for the past seven years, and, in the first few months of 2020 alone, ICE massively escalated their raids in the New York City region--at a rate of 400% greater than the previous three months--with increasingly aggressive tactics, including shooting a bystander in the face, pulling teenagers out of cars and holding guns on them, and waving an assault rifle on a Bronx street. Through analyzing the over 1400 reports of ICE raids reported to IDP as well as reviewing ICE memos, guidances, trainings and internal documents received via FOIA litigation, IDP found that ICE policies and strategies encourage and justify overly-aggressive policing tactics, widespread surveillance, and a disregard for constitutional and human rights.
"It is outrageous at a time when many are condemning the violence of policing and efforts to defund police are gaining momentum, that ICE would invest in training civilians to embrace and support their criminalizing and dehumanizing agenda," said Mizue Aizeki, Deputy Director of the Immigrant Defense Project. "When ICE recruits local police to serve as immigration agents, racial profiling and civil rights abuses persist. Recruiting civilians into ICE missions is similarly problematic, threatening community safety and encouraging vigilantism."
"Trainings like this are part of strategies used by law enforcement to normalize violence and spread propaganda under the guise of improving community relations. This is a program designed to institutionalize ICE's actions such as the use of firearms, use of violence, and questionable tactics that lead to the separation of families in Chicago and across the country. Law enforcement agencies like ICE can't improve community relations when they are part of the problem, they need to be dismantled," said Rey Wences, community organizer with OCAD.
Click here to read the FOIA request.
The Immigrant Defense Project (IDP) is a New York-based nonprofit that works to secure fairness and justice for immigrants in the racially-biased U.S. criminal and immigration systems. IDP fights to end the current era of unprecedented mass criminalization, detention and deportation through a multi-pronged strategy including advocacy, litigation, legal support, community partnerships, and strategic communications. Visit www.immigrantdefenseproject.org and follow @ImmDefense.
Organized Communities Against Deportations (OCAD) is an undocumented-led group that organizes against deportations, detention, criminalization, and incarceration, of Black, brown, and immigrant communities in Chicago, Illinois and surrounding areas since 2013. Through grassroots organizing, legal and policy work, direct action, and cross-movement building OCAD fights alongside families and individuals to stop deportations and to create an environment for undocumented communities to thrive, work, and organize with happiness and without fear. Visit www.organizedcommunities.org and follow @OCAD_CHI.
The Center for Constitutional Rights is dedicated to advancing and protecting the rights guaranteed by the United States Constitution and the Universal Declaration of Human Rights. Founded in 1966 by attorneys who represented civil rights movements in the South, CCR is a non-profit legal and educational organization committed to the creative use of law as a positive force for social change. Visit www.ccrjustice.org and follow @theCCR.
The Center for Constitutional Rights is dedicated to advancing and protecting the rights guaranteed by the United States Constitution and the Universal Declaration of Human Rights. CCR is committed to the creative use of law as a positive force for social change.
(212) 614-6464
LATEST NEWS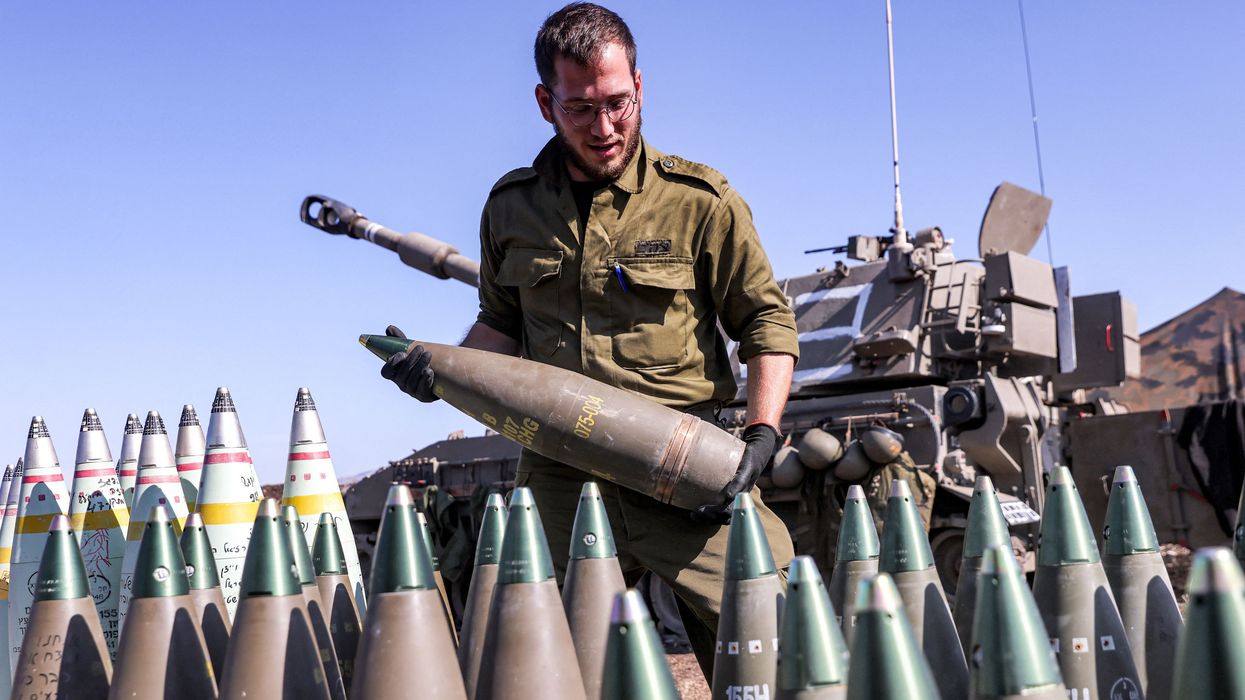 The senators—who are seeking improved oversight—sounded the alarm on the "staggering number of civilian deaths" caused by Israeli bombing with U.S.-supplied ordnance.
As the number of Gazans killed, maimed, or left missing by Israeli bombs and bullets—many of them manufactured in the United States— tops 60,000, a group of U.S. senators on Tuesday urged President Joe Biden to boost oversight of how American arms are used against Palestinian civilians.
Noting that Israel's response to the Hamas-led attacks of October 7 "has killed over 15,000 Palestinians in Gaza, the vast majority of whom are civilians," Sens. Elizabeth Warren (D-Mass.), Jeff Merkley (D-Ore.), Bernie Sanders (I-Vt.), Tim Kaine (D-Va.), and Martin Heinrich (D-N.M.) asked the White House for "information on the accountability and oversight measures that ensure any use of U.S. weapons is in accordance with U.S. policy and international law."
"U.S. allies and human rights groups have argued many of these deaths were preventable," the senators wrote in their letter. "In its campaign, Israel has also repeatedly targeted areas it previously designated as 'safe zones,' after telling Palestinians to move to these locations for safety."
"[Israel Defense Forces] airstrikes have also hit the densely populated Jabalia refugee camp multiple times," the lawmakers noted. "The first strike killed 'more than 100 people' and injured 'hundreds' more. The second strike left dozens wounded and rescuers said those killed included 'whole families'... Other strikes and operations have targeted hospitals."
A growing number of legal, human rights, and other experts have called Israel's war on Gaza a genocide.
The senators' letter continues:
While these strikes were aimed at Hamas, we have concerns that strikes on civilian infrastructure have not been proportional, particularly given the predictable harm to civilians. The United Nations Secretary-General António Guterres has said these strikes are 'clear violations of international humanitarian law.' Even Israeli Prime Minister Benjamin Netanyahu has admitted that his government's efforts to minimize civilian casualties to date are 'not successful.'
The letter singles out 155mm artillery shells, unguided explosive rounds with a "kill radius" of about 50 meters, with shrapnel able to kill and wound people hundreds of meters away.
"The IDF requires its ground forces to stay 250 meters away to protect its own forces," the letter states. "The IDF has previously used these shells to 'hit populated areas including neighborhoods, hospitals, schools, shelters, and safe zones,' causing a staggering number of civilian deaths."
"Over 30 U.S.-based civil society organizations warned against providing Israel 155mm shells in an open letter to [U.S. Defense Secretary Lloyd] Austin calling the shells 'inherently indiscriminate' and 'a grave risk to civilians,'" the lawmakers added.
Claiming that "civilian harm prevention is a cornerstone of American foreign policy"—a curious assertion given that the United States has killed more foreign civilians by far than any other armed force on the planet since the end of World War II—the senators argued that "we must ensure accountability for the use of U.S. weapons we provided to our ally."
"As you have acknowledged, Israel's military campaign has included 'indiscriminate bombing,'" they wrote. "Your administration must ensure that existing guidance and standards are being used to evaluate the reports of Israel using U.S. weapons in attacks that harm civilians in order to more rigorously protect civilian safety during Israel's operations in Gaza."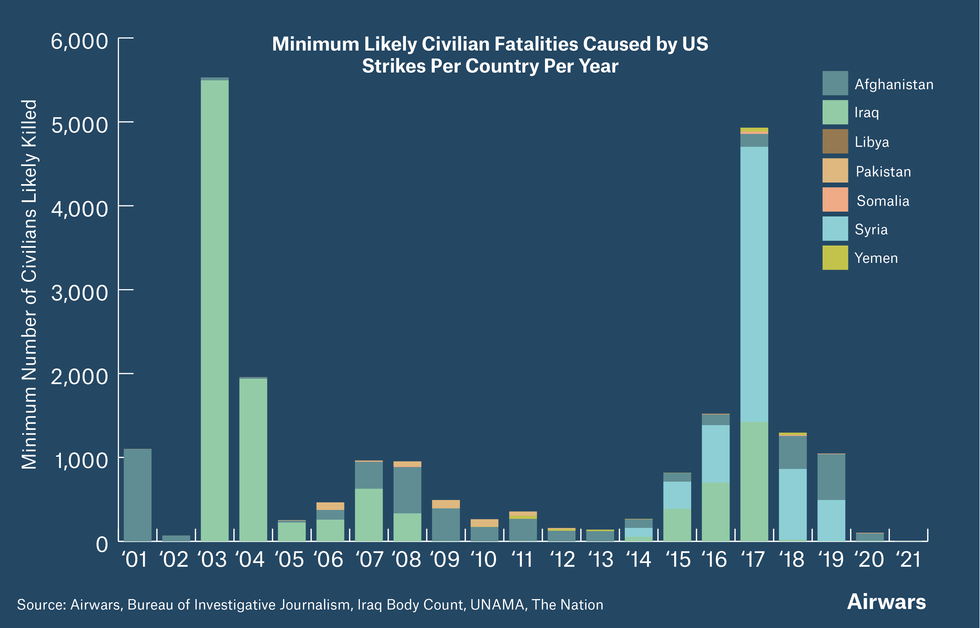 (Source: Airwars)
To that end, the senators ask Biden to answer 13 questions, including:
Are U.S. officials aware of the IDF's current policy on preventing civilian harm?
What insights does the U.S. government have into how the Israeli military assesses issues of proportionality?
What systems does the Israeli government have in place to investigate allegations of civilian harm?
Does the U.S. Defense Department or State Department plan to provide Israel with guidance on how 155mm shells should be
used when civilians are nearby?
Are you aware of any requests for inspector general reviews or audits of U.S. military assistance provided to Israel?
The senators' letter came ahead of Wednesday's procedural vote on whether to begin debating a $106 billion "national security" spending package requested by Biden, which includes more than $10 billion in additional U.S. military aid to Israel atop the nearly $4 billion it receives each year from Washington.
On Tuesday, Sanders—who has angered progressives by failing to demand a Gaza cease-fire—said he opposes sending billions of dollars in unconditional U.S. armed aid to the "right-wing, extremist" Israeli government led by Prime Minister Benjamin Netanyahu.

"Israel must dramatically change its approach to minimize civilian harm," he said, "and lay out a wider political process that can secure lasting peace."
News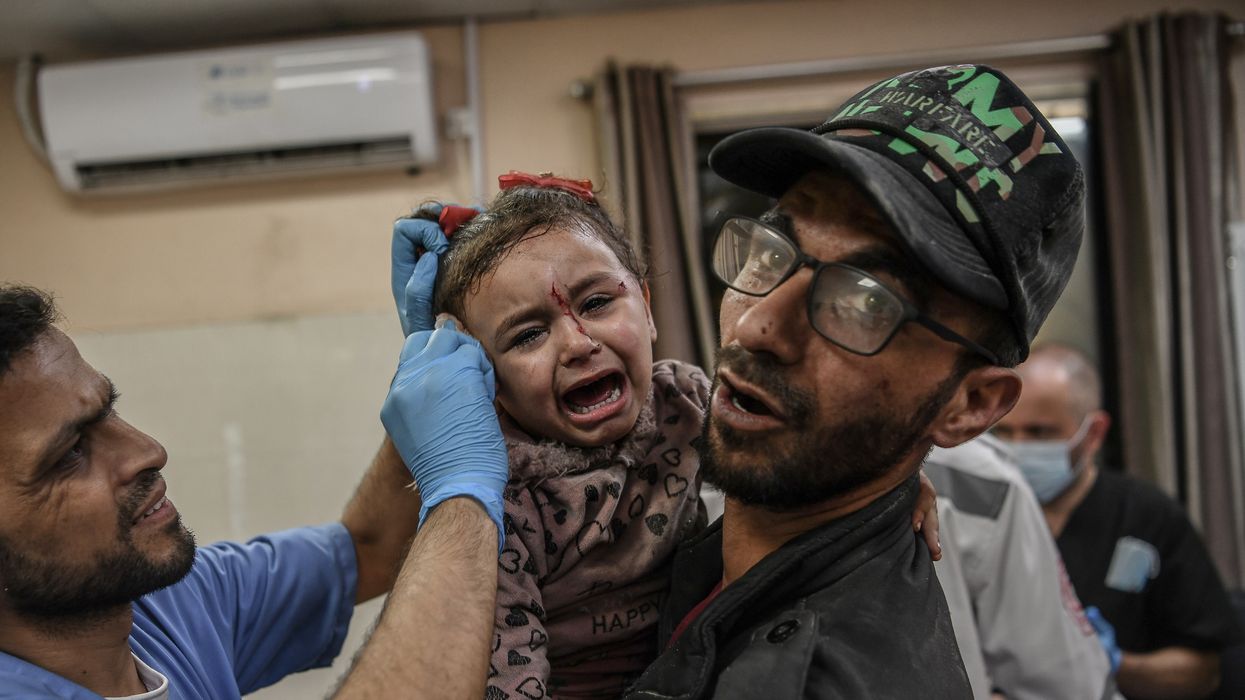 The Israeli military has admitted to a 66% civilian death rate, which it has called "tremendously positive."
Israel's public admission that it has killed two civilians in the Gaza Strip for every Hamas militant—a roughly 66% noncombatant death rate—is a major understatement, according to an analysis released Tuesday by the Euro-Mediterranean Human Rights Monitor.
Based on preliminary statistics, the Geneva-based nonprofit estimated that at least 90% of the people killed in Israel's assault on Gaza thus far have been civilians, a rate that exceeds those of the U.S. wars on Vietnam, Korea, Iraq, and Afghanistan, as well as Russia's war on Ukraine.
Euro-Med Monitor found that when including those believed to be missing under the rubble of Gaza's decimated infrastructure, Israeli forces have killed 21,022 people in the besieged Palestinian territory since October 7, an estimated 19,660 of whom were civilians. The nonprofit said that 60% of the civilians killed were women and children.
The group said its figures "clearly refute" Israel's claim of a two-to-one ratio of civilians to militants killed, which an Israel Defense Forces (IDF) spokesperson hailed as "tremendously positive" in a CNNinterview earlier this week. Israeli forces believe they have killed around 5,000 Hamas fighters since October 7.
"If you compare that ratio to any other conflict in urban terrain between a military and a terrorist organization using civilians as their human shields, and embedded in the civilian population, you will find that that ratio is tremendous, tremendously positive, and perhaps unique in the world," said the IDF's Jonathan Conricus.
But an analysis released last month by the watchdog Action on Armed Violence found that Israel's latest assault on Gaza—carried out with the help of artificial intelligence, according to recent reports—has been far deadlier for civilians than even its previous attacks on the strip.
The group estimated that each of Israel's casualty-causing strikes on Gaza since October 7 have killed an average of 10.1 civilians.
"This significantly surpasses previous Gaza operations which, at its historic recent worst in Operation Protective Edge, was just 2.5 civilian fatalities per casualty-causing strike," the watchdog said. "As such, the current operation appears to be four times more lethal, based on per injurious strike data, than previous Israeli operations. It also exceeds the global average of 7.4."
Citing military analysts, the Financial Timesreported Tuesday that "the destruction of northern Gaza in less than seven weeks has approached that caused by the yearslong carpet-bombing of German cities during the Second World War."
"Dresden, Hamburg, Cologne—some of the world's heaviest-ever bombings are remembered by their place names," U.S. military historian Robert Pape told the newspaper. "Gaza will also go down as a place name denoting one of history's heaviest conventional bombing campaigns."
Jan Egeland, secretary-general of the Norwegian Refugee Council, said Tuesday that the "pulverizing of Gaza now ranks amongst the worst assaults on any civilian population in our time and age."
News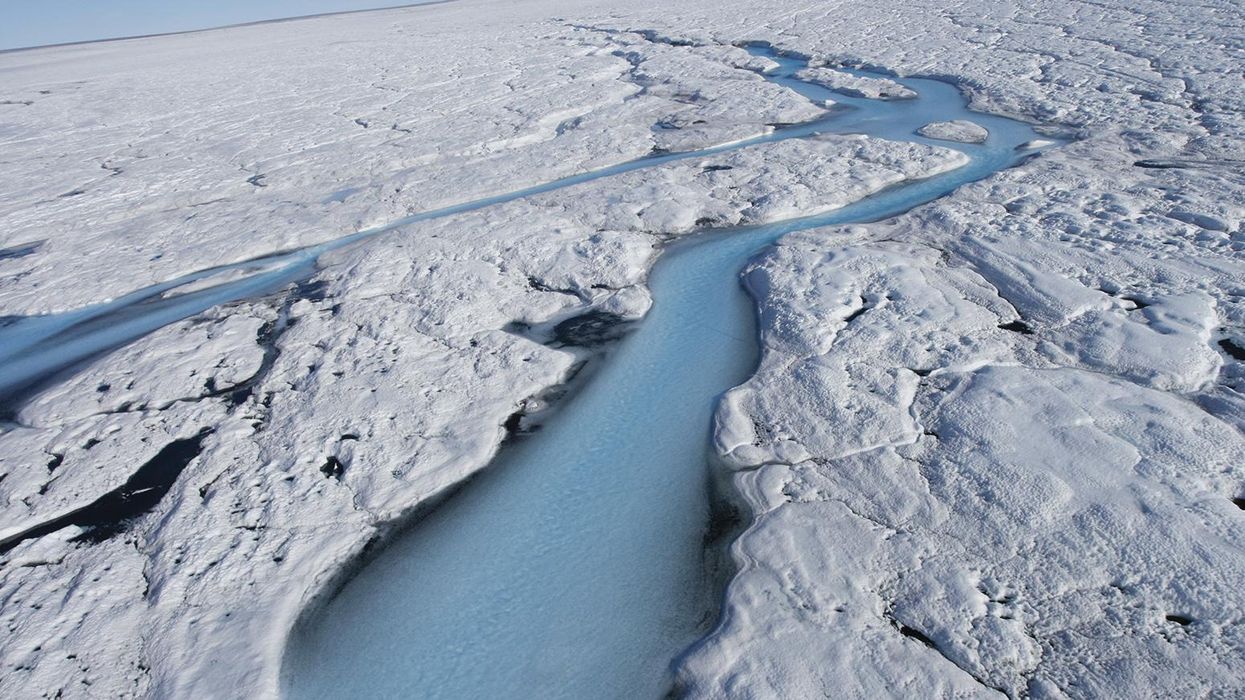 "Averting this crisis—and doing so equitably—must be the core goal of COP28 and ongoing global cooperation," one expert said.

Current levels of global heating from the burning of fossil fuels and the destruction of nature risk triggering five tipping points that could throw Earth's systems further out of balance, with three more at risk of toppling in the next decade.
The Global Tipping Points Report, released Wednesday at the United Nations Climate Change Conference (COP28) in the United Arab Emirates, argues that policymakers have delayed climate action long enough that "linear incremental change" will no longer be enough to protect ecosystems and communities from the worst impacts of the climate crisis. However, world leaders can still choose to take advantage of positive tipping points to drive transformative change.
"The existence of tipping points means that 'business as usual' is now over," the report authors wrote. "Rapid changes to nature and society are occurring, and more are coming."
"Crossing these thresholds may trigger fundamental and sometimes abrupt changes that could irreversibly determine the fate of essential parts of our Earth system for the coming hundreds or thousands of years."
The report defines a "tipping point" as "occurring when change in part of a system becomes self-perpetuating beyond a threshold, leading to substantial, widespread, frequently abrupt and often irreversible impact." A group of more than 200 researchers assessed 26 different potential tipping points in Earth's systems that could be triggered by the climate crisis.
"Tipping points in the Earth system pose threats of a magnitude never faced by humanity," report leader Tim Lenton of Exeter's Global Systems Institute said in a statement. "They can trigger devastating domino effects, including the loss of whole ecosystems and capacity to grow staple crops, with societal impacts including mass displacement, political instability, and financial collapse."
Because current emissions trajectories put the world on track for 1.5°C of warming, this is likely to trigger five tipping points, the report authors found. Those tipping points are the melting of the Greenland and Antarctic ice sheets, the mass die-off of warm-water coral reefs, the thawing of Arctic permafrost, and the collapse of the North Atlantic Subpolar Gyre circulation.
The melting of just the Antarctic ice sheet, for example, could raise global sea levels by 656 feet by 2100, Carbon Brief reported, meaning 480 million people would face yearly coastal flooding. Three more tipping points could be triggered in the 2030s if temperatures rise past 1.5°C. These include the mass death of seagrass meadows, mangroves, and boreal forests, according to The Guardian.
"Crossing these thresholds may trigger fundamental and sometimes abrupt changes that could irreversibly determine the fate of essential parts of our Earth system for the coming hundreds or thousands of years," co-author Sina Loriani of the Potsdam Institute for Climate Impact Research told The Guardian.
Contributor Manjana Milkoreit of the University of Oslo said in a statement that "our global governance system is inadequate to deal with the coming threats and implement the solutions urgently required."
But that doesn't mean the report authors believe that hope is lost. Rather, they see it as a call to ambitious action at the current U.N. climate talks and beyond.
"Averting this crisis—and doing so equitably—must be the core goal of COP28 and ongoing global cooperation," Milkoreit said.
One way to do this is to take advantage of positive tipping points.
"Concerted actions can create the enabling conditions for triggering rapid and large-scale transformation," the report authors wrote. "Human history is flush with examples of abrupt social and technological change. Recent examples include the exponential increases in renewable electricity, the global reach of environmental justice movements, and the accelerating rollout of electric vehicles."
The report authors made six recommendations based on their findings:
Immediately phasing out fossil fuels and emissions from land use changes like deforestation;
Strengthening plans for adaptation and loss and damage in the face of inevitable tipping points;
Taking tipping points into account in Paris agreement mechanisms like the global stocktake and national climate pledges;
Collaborating to trigger positive tipping points;
Organizing a global summit on tipping points; and
Increasing research on tipping points, including through a special report by the Intergovernmental Panel on Climate Change.
"Now is the moment to unleash a cascade of positive tipping points to ensure a safe, just, and sustainable future for humanity," Lenton said.
News