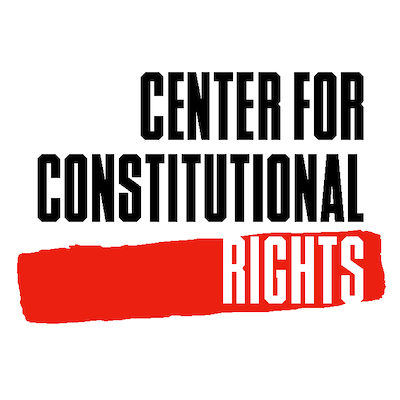 For Immediate Release
Contact:
Jen Nessel, Center for Constitutional Rights, (212) 614-6449, jnessel@ccrjustice.org
Alejandra Lopez, The Legal Aid Society, (917) 294-9348, ailopez@legal-aid.org
Juan Gastelum, National Immigration Law Center, (213) 375-3149; media@nilc.org 
Yatziri Tovar, Make the Road New York, (917) 771-2818; yatziri.tovar@maketheroadny.org
Immigrant Rights Advocates in New York File First Federal Lawsuit to Jointly Block Three Interrelated "Public Charge" Immigration Rules
Litigation represents broadest challenge to government's attempt to redefine longstanding definition of "public charge."
WASHINGTON
Today, immigrant rights advocates in New York filed Make the Road New York v. Pompeo, the first federal lawsuit seeking to jointly block three interrelated "Public Charge" rules promulgated by the Trump administration. These rules seek, independently and together, to wholly transform the United States' longstanding family-based immigration system, which allows all immigrants to seek a new and better life in the United States regardless of their means, into a system that favors the wealthy and discriminates against people of color. These radical proposed changes violate the immigration statutes, and the Constitution.
The complaint was filed in the United States District Court for the Southern District of New York by The Legal Aid Society, Center for Constitutional Rights, National Immigration Law Center, and Paul, Weiss, Rifkind, Wharton & Garrison LLP, on behalf of Make the Road New York (MRNY), African Services Committee (ASC), Central American Refugee Center New York (CARECEN-NY), Catholic Legal Immigration Network, Inc. (CLINIC), Catholic Charities Community Services (CCCS), and five individual plaintiffs.
The lawsuit challenges the legality of the following three rules:
The Department of State (DOS) January 3, 2018 changes to the public charge provisions of its Foreign Affairs Manual (FAM) governing consular processing, which led to a twelve-fold increase in visa denials, largely against nonwhite immigrants;
The DOS October 11, 2019 Interim Final Rule, which changes the public charge regulations that pertain at the point of consular processing and would require DOS to apply the same enjoined DHS "public charge" criteria to immigrants who must undergo consular processing before entering the country to unify with their parents, children, and spouses;
The "Presidential Proclamation Suspending the Entry of Immigrants Who Will Financially Burden the Health Care System," issued on October 4, 2019, which would bar entry to any immigrant who cannot demonstrate the ability to obtain certain types of private health insurance within 30 days of arrival.
"The Trump administration aims to transform immigration in the U.S. from a system that prioritizes keeping families together to a privilege for the wealthy," said Center for Constitutional Rights Senior Attorney Ghita Schwarz. "Unsurprisingly, like so many other Trump policies, these immigration rules harm people of color the most. The courts should not allow the administration to circumvent numerous court injunctions, based on determinations that the public charge criteria are likely unlawful and unconstitutional, simply by applying that criteria via different agencies."
"Public charge has meant people wholly unable to take care of themselves for over 100 years in the U.S., not members of working families who may use government benefits to supplement their income. We will not allow Trump's xenophobic interpretation to proliferate across the nation," said Susan Welber, Staff Attorney in the Civil Law Reform Unit at The Legal Aid Society. "We will challenge every new attempt to redefine public charge, and consequently, the very fabric of this country, and look forward to fighting in court on behalf of our clients and all low-income noncitizens and their families."
"The Trump administration's multiple attempts to restrict family-based immigration by executive mandate are an unlawful and discriminatory attack on diverse low-and moderate-income families of color," said Joanna E. Cuevas Ingram, Staff Attorney at the National Immigration Law Center. "These actions dramatically alter longstanding immigration policy, and undermine the goals of the Affordable Care Act (ACA) and other health insurance programs established by Congress. We stand with our plaintiffs and their families and with immigrant communities across the country as we continue to fight against these dangerous, unlawful, and racially motivated attacks."
"We wholeheartedly reject the administration's shameless attempts to impose a racist wealth test on our immigration system," said Javier H. Valdes, Co-Executive Director of Make the Road New York. "We've seen in the first round of public charge litigation that the law is on our side on this issue, and we urge the courts to stop this latest attempt by the administration to deny status to immigrants based on a reckless and illegal attempt to redefine 'public charge.'"
"The FAM Revisions, the DOS IFR, and the Health Insurance Proclamation are the latest bricks in Trump's invisible wall that is cruelly separating immigrant families across the United States," said Elise de Castillo, Legal Director of CARECEN - NY. "The detrimental impact of all three policies is not only felt by those who are needlessly separated from their loved ones, but also by organizations such as ours, dedicated to serving and providing clear legal advice to immigrant families and communities, and the local communities across the country that are being denied the social and economic benefits new Americans would bring to them."
"The U.S. immigration system is based on family unity. These new public charge rules tear families apart, preventing citizens from reuniting with parents and children," CLINIC's Executive Director Anna Gallagher said. "We are a nation founded on faith-based values. There is no place in this country for requiring a wealth test for families trying to be reunited."
"The Trump Administration's recent attempts to unlawfully undermine and restrict family-based immigration threatens serious harm to immigrant families who are trying to reunite with eligible relatives both living in the United States and abroad. African Services Committee represents some of the most vulnerable populations who will be devastated by the implementation of these illegitimate policies," said Franco Torres, Supervising Attorney at African Services Committee. "African Services Committee will continue to challenge these arbitrary and capricious attempts to redefine public charge into a virtual wall that prevents lawful immigration and family unification."
BACKGROUND
The State Department rules closely track the changes made to "public charge" determinations under the blocked Department of Homeland Security rule, redefining a public charge from those who are predominantly reliant on government aid for subsistence to include anyone who is likely to use any amount, at any time in the future--even long after becoming a U.S. citizen--of various cash and non-cash benefits, including Medicaid, food stamps, and federal housing subsidies. The rules challenged today apply to immigrants who must undergo consular processing, including immigrants who must temporarily leave the U.S. in order to obtain LPR status. Thus, though immigrants obtaining their green card from within the U.S. are not subjected to the DHS rule because it is enjoined, intending immigrants seeking immigrant visas through consular processing are threatened by nearly identical provisions via the State Department rule. The lawsuit states that denials of admissions and permanent status on public charge grounds rose dramatically-- by twelve-fold following the change--denials of immigrants from some countries rose from single digits in 2016 to thousands in 2019. According to one study, 81 percent of the world's population would fail to satisfy the wealth test that is a factor in the public charge determination under the State Department's proposed Interim Final Rule (IFR).
The lawsuit also challenges a presidential proclamation that bars entry to immigrants who cannot demonstrate an ability to obtain private health insurance within 30 days of arrival or financial resources to pay for foreseeable medical costs. Attorneys say this, too, is a wealth test for immigrants, and note that the proclamation provides no support for assertions that immigrants are more burdensome to healthcare resources than U.S. citizens.
The changes to State Department public charge criteria and the healthcare proclamation are racially discriminatory, the lawsuit says--driven by racial animus, and having a disparate impact on nonwhite immigrants. The complaint references Trump's longstanding hostility to non-white immigrants from what he has referred to as "shithole countries." It further describes how the challenged changes originated in a policy memo by the Center for Immigration Studies, "a far-right group founded by white supremacist John Tanton and dedicated to immigration restrictionism." The architect of Trump's immigration policies, White House Advisor Stephen Miller, is similarly associated with white nationalist groups. The revised "public charge" criteria include vague evaluations of English proficiency, and lawyers say that the new criteria and the health insurance requirement disproportionately impact immigrants with disabilities and those from countries with low incomes and largely non-white populations.
For more information, visit the Center for Constitutional Rights' case page.
The Center for Constitutional Rights is dedicated to advancing and protecting the rights guaranteed by the United States Constitution and the Universal Declaration of Human Rights. CCR is committed to the creative use of law as a positive force for social change.
(212) 614-6464
LATEST NEWS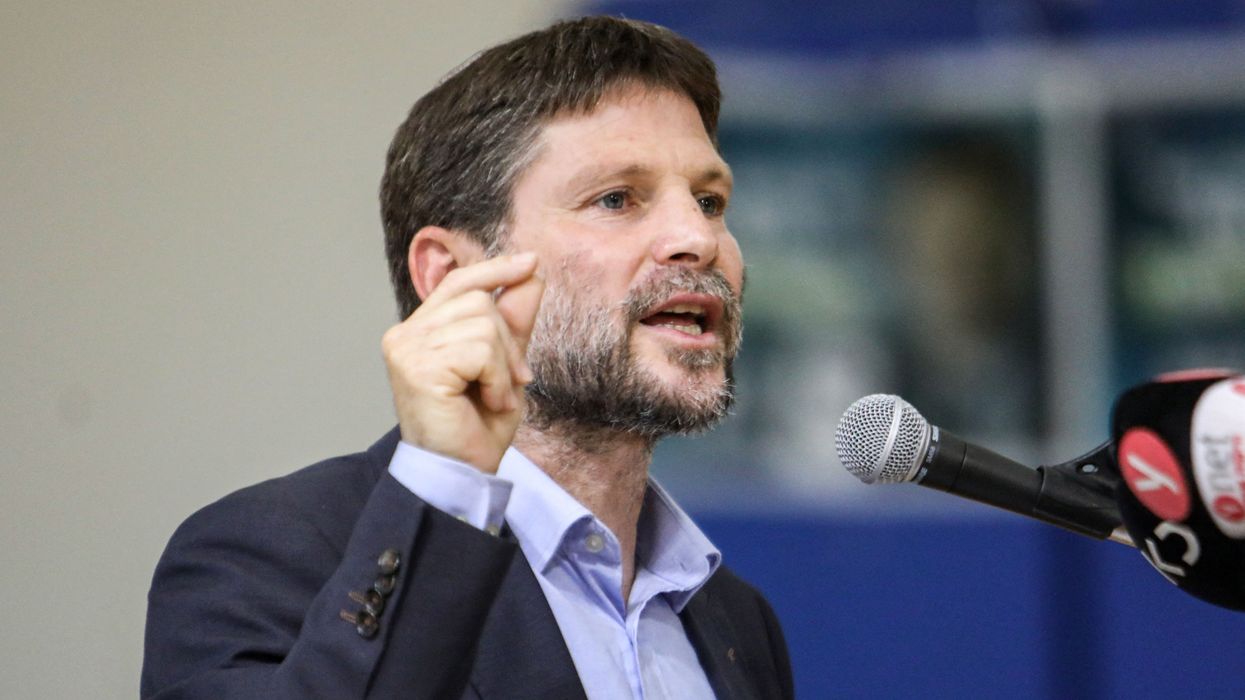 The "only difference between Smotrich and 'liberals' is that he's open about Zionism being genocidal," said one observer.
While condemning the latest anti-Palestinian rights comments from far-right Israeli Finance Minister Bezalel Smotrich, advocates on Monday said his remarks were "genocidal" and noted that Smotrich's violent rhetoric represents longstanding views by Zionists in Israel and elsewhere.
A day after Palestinian and Israeli leaders met in Egypt to discuss deescalating tensions ahead of Ramadan and Passover, Smotrich spoke at a memorial service in Paris where he claimed the Palestinian people are "an invention" dating back to the mid-20th century to fight Zionism.
"There's no such thing as Palestinians because there's no such thing as a Palestinian people," said Smotrich, standing at a podium that displayed a map of Israel, including the occupied West Bank and parts of Jordan. "There is no such thing as a Palestinian nation. There is no Palestinian history. There is no Palestinian language."
He also asked the crowd, "Do you know who are the Palestinians?" before claiming he himself is Palestinian because his grandparents were from Jerusalem and the northern Israeli town of Metula, despite the fact that his surname is derived from a Ukrainian town where his ancestors lived.
The Foreign Ministry of Jordan called Smotrich's comments "extremist, inflammatory, [and] racist" while Palestinian officials described them as "fascist."
Smotrich's comments came less than a month after he publicly said the State of Israel should "wipe out" the village of Hawara soon after the town was targeted by Israeli settlers in a deadly rampage. For those comments, Palestinian rights groups called on the United States government to bar Smotrich from the country.
The Biden administration granted Smotrich a visa despite officials' claims that they found his remarks "repugnant."
Israeli Prime Minister Benjamin Netanyahu's government this month granted Smotrich broad power over the occupied West Bank, including control over settlement planning.

Smotrich's comments also came as Netanyahu's coalition government signaled it is moving forward with parts of a planned overhaul of the country's judicial system, which critics say will make Israel's government even more authoritarian.

Violence in the occupied Palestinian territories has exploded in recent weeks, with 85 people killed by Israeli forces so far this year. Observers have raised alarm that violence could intensify as Jewish and Muslim people are expected to visit Jerusalem's Old City and holy sites to mark Passover and Ramadan in the coming weeks.
Benzion Sanders of the Israel-based anti-occupation group Breaking the Silence warned that Smotrich's comments on Sunday indicated not just his personal beliefs, but his "vision" as a government official and chair of the Religious Zionist Party.
"He's been talking about the vision to ethnically cleanse Palestinians for years," said Sanders.

While the open violence of Smotrich's rhetoric in recent weeks has been uncommon, said Ali Abunimah of Electronic Intifada, his comments have been in line with Israel's long history of "expelling Palestinians from their land and denying their existence."
The "only difference between Smotrich and 'liberals' is that he's open about Zionism being genocidal," said Abunimah.
News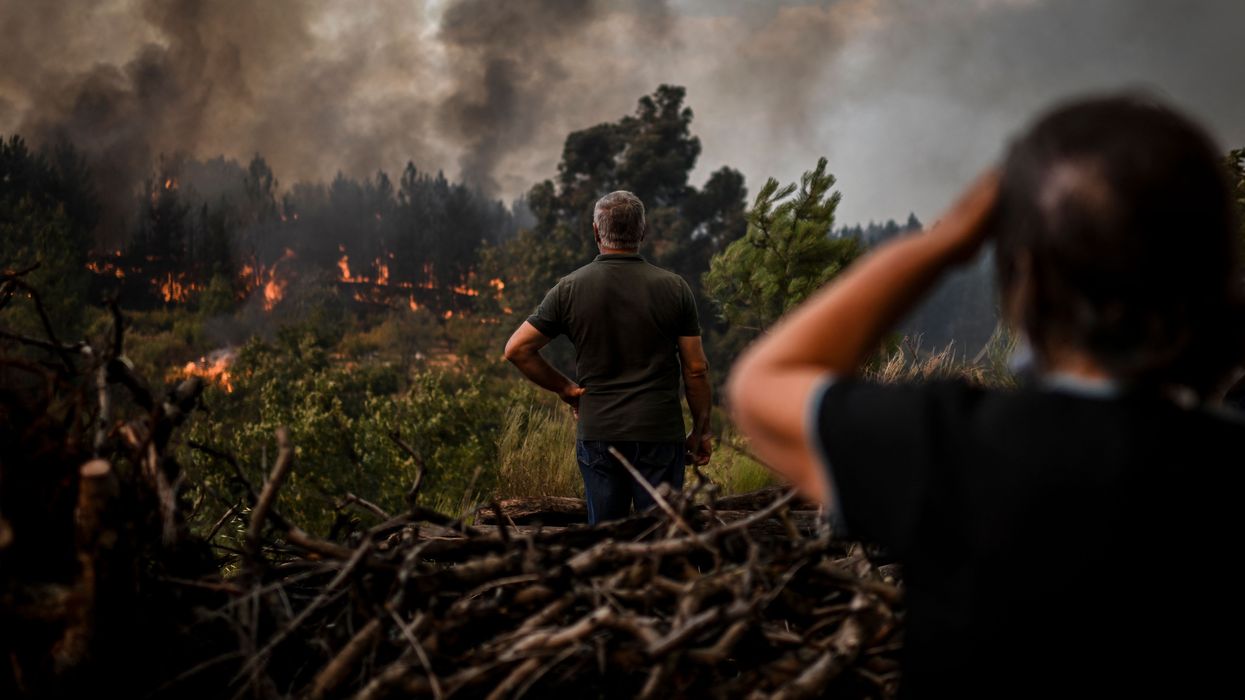 "We must move into warp-speed climate action now. We don't have a moment to lose," said United Nations Secretary-General António Guterres.
The head of the United Nations outlined a plan Monday to "super-charge" climate action after the Intergovernmental Panel on Climate Change released its most stark warning yet about the trajectory of planetary heating and its cascading impacts on ecosystems and the life they sustain.
"This report is a clarion call to massively fast-track climate efforts by every country and every sector and on every timeframe," said U.N. Secretary-General António Guterres, who argued the IPCC's findings show that "humanity is on thin ice—and that ice is melting fast."
"Today's IPCC report is a how-to guide to defuse the climate time bomb," Guterres added. "It is a survival guide for humanity. As it shows, the 1.5-degree limit is achievable. But it will take a quantum leap in climate action."
To achieve such a leap, the U.N. chief said it is imperative for governments to urgently work toward a number of benchmarks, including:

No new coal and the phasing out of coal by 2030 in OECD countries and 2040 in all other countries;
Ending all international public and private funding of coal;
Ensuring net zero electricity generation by 2035 for all developed countries and 2040 for the rest of the world;
Ceasing all licensing or funding of new oil and gas—consistent with the findings of the International Energy Agency;
Stopping any expansion of existing oil and gas reserves;
Shifting subsidies from fossil fuels to a just energy transition; and
Establishing a global phase-down of existing oil and gas production compatible with the 2050 global net zero target.
"By the end of COP28, I count on all G20 leaders to have committed to ambitious new economy-wide nationally determined contributions encompassing all greenhouse gases and indicating their absolute emissions cuts targets for 2035 and 2040," said Guterres, who is set to host a September summit aimed at building global support for bold climate action.
"Partial pledges won't cut it," Guterres said Monday. "We have never been better equipped to solve the climate challenge—but we must move into warp-speed climate action now. We don't have a moment to lose."
"This report is a clarion call to massively fast-track climate efforts by every country and every sector and on every timeframe."
Compiled by hundreds of top scientists from around the world, the IPCC's new report—like previous iterations—emphasizes that greenhouse gas emissions stemming from human activity "have unequivocally caused global warming" and that "continued greenhouse gas emissions will lead to increasing global warming."

"There is a rapidly closing window of opportunity to secure a liveable and sustainable future for all," the report states. "The choices and actions implemented in this decade will have impacts now and for thousands of years."
Warming beyond the Paris accord's most ambitious target of 1.5°C by century's end, the report warned, would expose ecosystems and societies to "greater and more widespread" consequences, including "increased wildfires, mass mortality of trees, drying of peatlands, and permafrost thawing, weakening natural land carbon sinks and increasing releases of GHGs."
The report cautioned that without dramatic emission cuts, the world could hit the 1.5°C warming threshold by "the first half of the 2030s." Earth has already warmed 1.1°C since the mid-19th century.
IPCC scientists estimated that global greenhouse gas emissions must be cut by 60% by 2035—compared to 2019 levels—to keep alive hopes of averting climate catastrophe.

Romain Ioualalen, global policy campaign manager at Oil Change International, said Monday that the new assessment "once more raises the alarms to code red."
"The United Nations secretary-general's response to the IPCC report makes it abundantly clear that the time when countries can pretend to be climate leaders while expanding oil and gas production is over," said Ioualalen. "This is why the Biden administration's reckless decision to approve the Willow oil project in Alaska deserves international condemnation."
"We commend Secretary-General Guterres for laying out clear expectations for all countries to ban new oil and gas projects immediately while charting a just and equitable transition away from fossil fuels and towards clean energy for all," Ioualalen continued. "This question must be at the heart of the secretary general's September summit and COP28."
News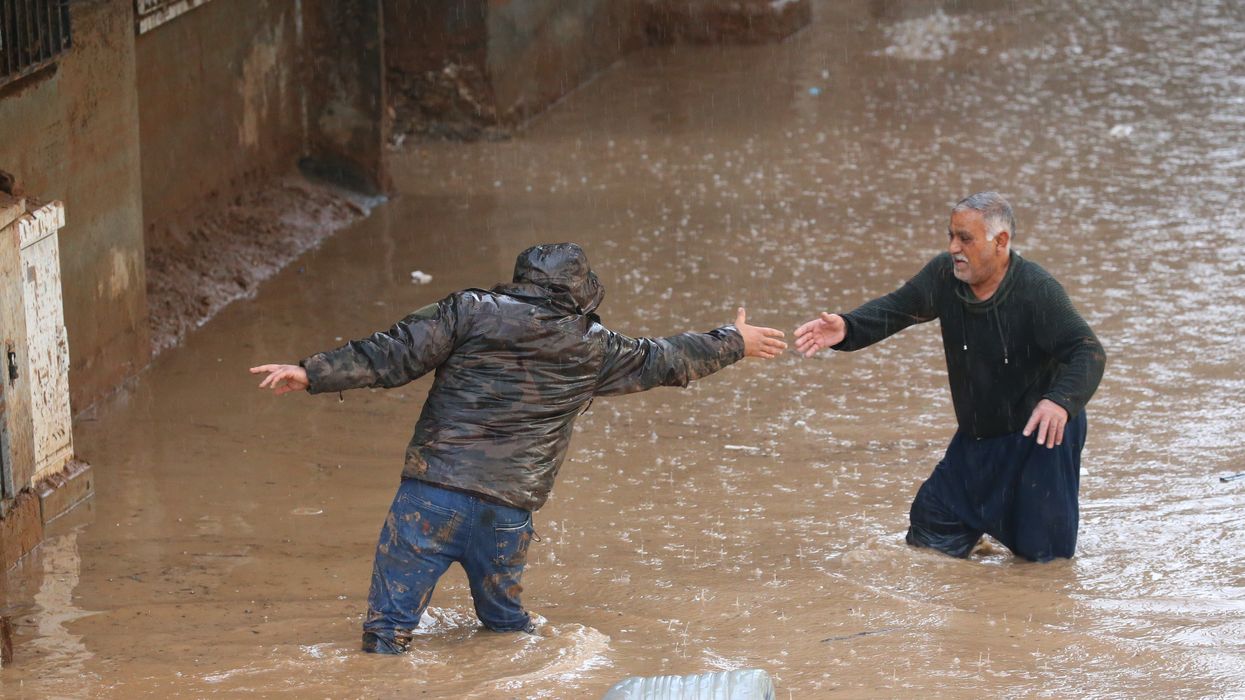 "The central message from climate scientists is unmistakable: governments must rally to drastically cut emissions and cease the extraction and burning of fossil fuels this decade."
A United Nations panel composed of the world's top scientists is set to release its latest climate assessment on Monday as governments fail to heed repeated, increasingly urgent warnings that the window for action to prevent catastrophic global heating is nearly shut.
The landmark report from the Intergovernmental Panel on Climate Change (IPCC) will come after a year in which planet-warming CO2 emissions shattered records once again as the impacts of such pollution—from "apocalyptic" flooding in Pakistan to deadly drought in East Africa—continued to mount.
After repeated delays, government delegations signed off on the IPCC's Sixth Assessment Report on Sunday, clearing the way for the formal release of a sprawling synthesis of years of climate research.
The Associated Pressreported that the final decision came after "officials from big nations such as China, Brazil, Saudi Arabia, the United States, and the European Union haggled through the weekend over the wording of key phrases in the text."
Lesley Hughes, a former IPCC author and a director of the Australia-based Climate Council, said ahead of the report's release that "while this is a summary report of work we'd already seen in development, there is no doubt the findings of this report will be dire."
"Since the previous IPCC report was released, we've had even more unnatural disasters," Hughes added. "We must focus on the fact that predictions are now becoming observations. We've also had a period since the previous IPCC report came out where global emissions are rising once again, so the gap between where we are and where we need to go is increasing rather than decreasing."
"If we haven't seriously turned things around by the time the next such assessment report is due, then we'll be in very deep trouble."
The IPCC's 2021 report was deemed a "code red for humanity," a glaring signal that accelerated global action to phase out fossil fuel extraction and use was needed to avert disaster.
But in the years since, governments—specifically the rich nations most responsible for the climate crisis—have refused to act with the speed and ambition that scientists say is necessary.
At the end of 2022, the U.N. climate conference—an event teeming with fossil fuel lobbyists—ended with no concrete action to rein in oil and gas production.
As a result, hugely profitable global fossil fuel giants are planning to expand their operations in the coming years, potentially locking in additional emissions and further imperiling efforts to meet critical warming targets.
Governments, including those that claim to view the climate crisis as an existential threat, are actively aiding the continued extraction of fossil fuels. Just last week, the Biden administration approved the largest proposed oil drilling project on U.S. public land despite widespread opposition.
"This is the kind of thing that we simply can't afford to do anymore," Kristina Dahl of the Union of Concerned Scientists wrote late last week. "The fossil fuel industry has, for decades, opposed and obstructed any meaningful action on climate change. And despite ardent claims otherwise, the industry has refused to commit to align its business model with what the IPCC says is required to minimize climate harms. The industry remains a barrier to the future the world's children deserve."

Simon Bradshaw, the Climate Council's director of research, said Monday that the IPCC's new report will represent "a final warning."
"The central message from climate scientists is unmistakable: governments must rally to drastically cut emissions and cease the extraction and burning of fossil fuels this decade," said Bradshaw. "That message has been delivered repeatedly, and consistently, for many decades."
"We are seeing progress when it comes to renewable energy uptake, and cleaner transport, but things just aren't moving fast enough. If we haven't seriously turned things around by the time the next such assessment report is due, then we'll be in very deep trouble," Bradshaw added. "We have a choice here to act swiftly this decade. If we start giving it our all right now, we can avert the worst of it. So many solutions are readily available, like solar and wind power, storage, electric appliances, and clean transport options. We need to get our skates on."
News
SUPPORT OUR WORK.
We are independent, non-profit, advertising-free and 100%
reader supported.