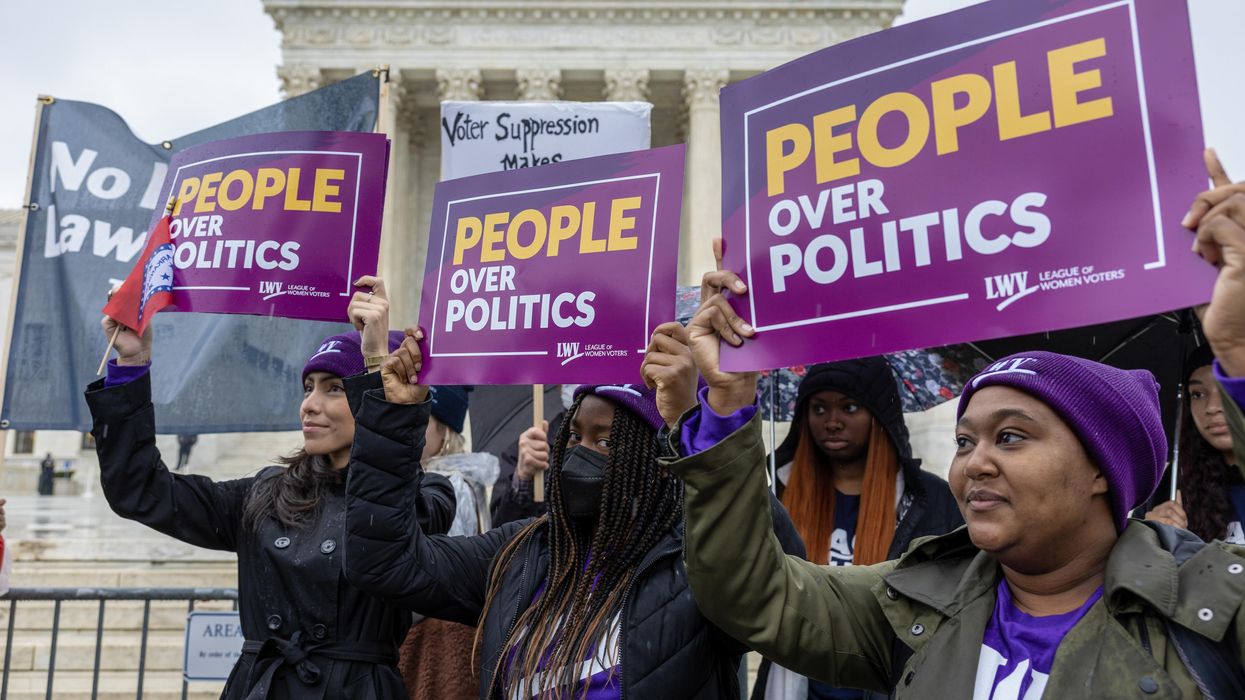 "This reckless case out of North Carolina could explode the unifying understanding that power ultimately rests with the people of this country," one campaigner said of Moore v. Harper.
Signals from U.S. Supreme Court justices during oral arguments in Moore v. Harper on Wednesday heightened concerns that the right-wing majority may issue a ruling that partly or fully embraces a "dangerous" legal theory and would radically transform federal elections.
"Their theory would invalidate constitutional provisions in every single state, many tracing back to the founding."
The case stems from the North Carolina Supreme Court striking down a congressional map drawn by GOP state legislators as a partisan gerrymander. North Carolina Republican lawmakers unhappy with that decision are now pushing the "independent state legislature" theory (ISLT), an argument that the U.S. Constitution gives only state legislatures control over the regulation of federal elections, without checks from state constitutions, courts, or governors.
"This reckless case out of North Carolina could explode the unifying understanding that power ultimately rests with the people of this country," said Kathay Feng, national redistricting director for Common Cause, after about three hours of arguments on Wednesday. "We cherish our right to vote in free and fair elections. But that sacred right could be undermined if the court disregards the essential role checks and balances serve in our federal elections."
A pair of ACLU experts, Kristi Graunke and Ari Savitzky, warned earlier this week that "if the Supreme Court adopts the North Carolina legislators' proposed rule in Moore, it will make it even easier for state legislatures to suppress the vote and subvert election results, and it will give both political parties the green light to draw gerrymandered election districts."
\u201cMoore v. Harper could be one of the most consequential Supreme Court cases for our democracy.\n\nYou might just now be hearing about it \u2014 but it could let extremist state legislatures pick the next president without you.\n\nOral arguments begin today.\n\nHere's what you need to know:\u201d

— Robert Reich (@Robert Reich) 1670423820
Legal reporters and other observers noted after the arguments Wednesday that the high court seemed to be split into three camps for this case: right-wing Justices Samuel Alito, Clarence Thomas, and Neil Gorsuch "appeared willing to embrace" ISLT, according toReuters, while liberal Justices Ketanji Brown Jackson, Elena Kagan, and Sonia Sotomayor came across as concerned that the theory threatens U.S. democracy.
The New York Times' Adam Liptak explained that "the remaining members of the court--Chief Justice John G. Roberts Jr. and Justices Brett M. Kavanaugh and Amy Coney Barrett--seemed to be searching for a compromise under which state supreme courts would generally have the last word on disputes over state laws governing federal elections but be subject to oversight from federal courts in rare cases."
Liptak pointed out that when Roberts suggested to David Thompson, the North Carolina GOP legislators' lawyer, that a 1932 Supreme Court decision about the U.S. Constitution's election clause undermined his argument, the attorney "responded with a distinction that did not seem to persuade the chief justice or his colleagues."
After also highlighting that exchange, Politicoreported:
Kavanaugh's and Barrett's questions to Thompson were less revealing than those from Roberts. But Kavanaugh seemingly suggested that the version of the independent state legislature theory advanced by the North Carolina lawmakers was going too far. He noted that North Carolina was trying to go further than then-Chief Justice William Rehnquist's concurrence in the 2000 case Bush v. Gore, which is the origin of the theory that state courts have overstepped their role and that they could be hemmed in in some way.

Kavanaugh also raised a brief from the Conference of Chief Justices, a collection of chief jurists from the states, asking how to square their writing about the history of state courts applying state constitutions to federal elections, with the independent state legislature theory. Barrett, meanwhile, also seemed skeptical at times of the argument that Thompson was advancing, noting that state constitutions could be amended.

But later, Roberts' questioning to Neal Katyal, who represented the groups that challenged the initial legislatively drawn maps, showed how some of the court's swing conservative justices could still potentially rule in favor of the GOP lawmakers without embracing the most robust interpretation of the independent state legislature theory.
Just ahead of this week's arguments, Eliza Sweren-Becker and Ethan Herenstein at the Brennan Center for Justice, pointed out that "in recent months, the theory's proponents have tried to persuade the Supreme Court and the broader public that there are more moderate, less problematic variants of the theory out there."
"But there's no 'lite version' of the independent state legislature theory," they asserted. "The gerrymanderers who put the theory on the Supreme Court's doorstep in Moore v. Harper are asking for a radical upending of election law and all the chaos that comes with it, no matter how they try to soft-pedal it."
During arguments Wednesday, the trio of liberal justices touched on concerns that have mounted from pro-democracy groups since June, when the high court agreed to hear Moore.
Mother Jones' Ari Berman highlighted one of those moments:
"This is a theory with big consequences," Justice Elena Kagan told Thompson, getting to the heart of the huge significance of the case. "It would say that if a legislature engages in the most extreme forms of gerrymandering, there is no state constitutional remedy even if the courts think that that's a violation of the constitution. It would say that legislators could enact all manner of restrictions on voting, get rid of all kinds of voter protections that the state constitution in fact prohibits. It might allow the legislatures to insert themselves and to give themselves a role in the certification of elections and the way election results are calculated. So in all these ways, I think what might strike a person is that this is a proposal that gets rid of the normal checks and balances on the way big governmental decisions are made in this country.'

"Our position is that checks and balances do apply, but they come from the federal Constitution and the panoply of federal laws like the Voting Rights Act," Thompson responded.
Berman also stressed that "the overwhelming bulk of historical evidence refutes the idea that the Founders intended to give state legislatures such unchecked power," and shared Sotomayor's comment to Thompson that his position could only prevail "if you rewrite history."
As the two ACLU experts similarly wrote earlier this week:
Proponents of the independent state legislature theory try to hang their hat on the U.S. Constitution, but their position is contrary to the Constitution's original and ordinary meaning. The Framers fundamentally understood the power of "legislatures" to be drawn from and limited by written constitutions. They fought a war to break away from a runaway legislature, and they founded a new government based on the precept that legislatures and all government bodies can only act within the limitations placed on them by written constitutions ordained by the people. The suggestion that the Framers trashed that fundamental principle when it comes to legislating the rules of democracy makes no sense.

The theory is also contrary to the constitutional principle of federalism, whereby federal courts are bound to respect the various ways in which states organize their own governments, and to allow the state lawmaking process, including activity by state courts, to operate without undue interference. Deferring to the governmental arrangements set forth in state constitutions is a basic tenet of federalism. But the independent state legislature theory would require federal courts to constantly intervene in politicized conflicts between state legislatures and state courts over state constitutional matters--and then to reorder the way that the checks and balances of state government are arranged in the state's own constitution to put a thumb on the scale for the state legislature. That arrangement would dishonor federalism principles.
Katyal, a former acting solicitor general, issued similar warnings to the justices on Wednesday, saying that "I'm not sure I've ever come across a theory in this court that would invalidate more state constitutional clauses as being federally unconstitutional, hundreds of them, from the founding to today."
"The blast radius from their theory will sow elections chaos, forcing a confusing two-track system with one set of rules for federal elections, and another for state ones," he continued. "Case after case would wind up in this court with a political party on either side of the dais."
Solicitor General Elizabeth B. Prelogar, who is representing the Biden administration in the case, also told the court that ILST rejects U.S. history and "would wreak havoc in the administration of elections across the nation."
"Their theory would invalidate constitutional provisions in every single state, many tracing back to the founding," she said. "That would sow chaos on the ground as state and federal elections would have to be administered under divergent rules and federal courts, including this court, would be flooded with new claims, often at the eleventh hour, in the midst of hotly contested elections."
\u201cIf the court accepts the independent state legislature theory, the consequences for our elections would be devastating.\u201d

— Common Cause (@Common Cause) 1670435607
Some who have raised the alarm about ISLT in recent months have recalled the attempt by former President Donald Trump--who is now seeking the GOP's 2024 nomination--and his allies to reverse President Joe Biden's victory in 2020, which culminated in a deadly attack on the U.S. Capitol that briefly delayed certification of the election results.
As Slate's Mark Joseph Stern wrote Wednesday: "It's the argument that Trump deployed when he tried to nullify millions of votes in 2020. And it's the argument that Ginni Thomas, wife of Justice Clarence Thomas, relied upon when lobbying state legislators to appoint 'alternate electors' who would support Trump."
Notably, despite his wife's involvement in what Stern and others have called Trump's failed "coup," Justice Thomas has not recused himself from this case.
"In the end, Moore v. Harper probably comes down to Justice Amy Coney Barrett," Stern argued. "Thomas, Alito, Gorsuch, and Kavanaugh have all endorsed the ISLT in the past. Roberts, along with Justices Sonia Sotomayor, Elena Kagan, and Ketanji Brown Jackson, clearly have no desire to revive it. So Moore is in Barrett's hands, and it serves as the ultimate test of her self-proclaimed originalism."
Fears about how the six right-wing justices, including three Trump appointees, will rule in the case have fueled fresh calls for expanding the court--though legislation to do so is unlikely to pass any time soon, with Republicans set to seize control of the U.S. House of Representatives in under a month.
News