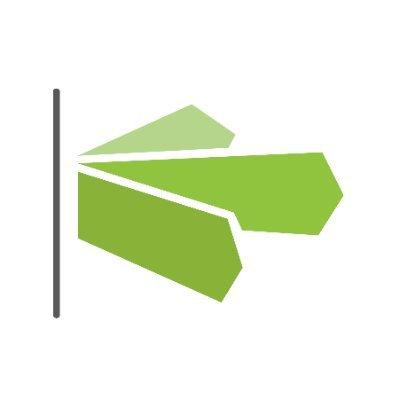 For Immediate Release
Contact:
press@mainstreetalliance.org
In House hearing, Small Business Owners Respond to the Republican Tax Law
From coast to coast, small business owners are speaking out about how the GOP tax law hurts them.
WASHINGTON
Today, as the House Ways & Means Tax Policy Subcommittee held a hearing on tax reform and small businesses, small business owners from across America shared their stories with committee members about how the Republican tax law hurt their businesses, employees, and communities. The Republican tax law gave Wall Street a massive tax cut while leaving Main Street with a tangled web of complexity, skyrocketing healthcare costs, and higher taxes. Far from fostering small business growth or enabling them to hire, it will cost the average small business owner more to hire accountants and lawyers to detangle the new tax code than they would reap in any tax cuts.
The Main Street Alliance, a national network of small business owners, released a report in April 2018 about early impacts of the Republican tax law, and today six small business owners from the Main Street Alliance, contributed testimony about their concerns about how the new law will affect their livelihoods:
ReShonda Young, owner of Popcorn Heaven in Waterloo, IA, on healthcare (video of ReShonda's testimony being read in today's hearing is available here):
"The Republican tax law is not what my business needs to create jobs and grow. I've talked with my accountant, and the nominal tax cut I might receive won't cause me to grow my business or hire more employees. In fact, this tax law makes me worried more than anything. I'm worried about my employees' and customers' access to quality, affordable healthcare. In order to pay for the tax cuts to wealthy corporations, Republicans are sabotaging the ACA by repealing the individual mandate. Coupled with other effort by the Trump Administration, including the expansion of short-term and junk health plans, premiums are increasing by double digit numbers, while the quality of coverage is decreasing."Read ReShonda's full story.
Davis Senseman, founder of Davis Law Office in Minneapolis, MN, on increased complexity for small businesses:

"The new tax law is so confusing that tax accountants and lawyers are the only ones who are going to grow their business and hire more employees as a result of it. Even then, there's so much uncertainty in the law that it's really hard to find an accountant who can give you a simple yes or no answer about whether you should restructure your small business into an S-corp or an LLC. Uncertainty is never your friend when running a business, and there are so many things about this bill that are uncertain. We simply don't know how much of it is going to be interpreted. Just wait until next April, when people are trying to guess what they should be doing."Read Davis' full story.
Maurice Rehming, owner of O'Neill Construction Group in Portland, OR, on how the GOP tax bill will affect his construction business after Republicans capped the deduction on state and local taxes:
"A large part of our business comes from public contracts. The recent tax changes reduce the SALT deductions, putting pressure on public budgets. Public budgets which are already stretched thin. Not only does this mean fewer public construction projects, and less business for my company, but it means we won't be able to repair our roads and bridges or modernize our schools. If that's not bad enough, the rollbacks to the SALT deduction also make owning a home more expensive. This will lead to fewer new home purchases and renovation projects, depressing the housing market and hurting small contractors like us, and our crews of electricians, carpenters, painters, and masons."Read Maurice's full story.
Deborah Field, owner of Paperjam Press PDX in Portland, OR, on small business owners paying more and getting less as a result of the Republican tax law:

"The GOP tax plan doesn't help me or many other small businesses. I used to be a corporate tax accountant, so I am very comfortable with numbers. I calculated my tax based on the new changes, and I end up paying $700 more than last year. If Republicans really wanted to help small businesses, they would stop giving us phony tax cuts and look to the banks that are not loaning to small businesses. They would invest in policies and programs that expand access to credit and capital for small businesses. That would really help small businesses like mine grow-- trillion dollar tax breaks large corporations will not."Read Deborah's full story.
David Borris, owner of Hel's Kitchen Catering in Northbrook, IL, on small business owners like himself not benefiting from the Republican tax law:

"For over 33 years we have created hundreds of jobs in the Chicagoland area. Ever since we started, we've been committed to providing family sustaining wages and quality, affordable healthcare to our employees. The new Republican tax law will not put more dollars in my pocket or cause me to expand my business. While I may see a nominal benefit through the pass-through deduction, it will be zeroed out by the limits on SALT deductibility. I certainly won't be able to hire more employees or provide raises to my current employees. To put it simply, I am a job creator who is decidedly not benefitting from the Republican tax law. Yet multinational corporations who offshore what were once good paying domestic jobs and profits are reaping a windfall in benefits at the expense of small businesses and middle-class taxpayers like me."Read David's full story.
Kelly Conklin, owner of Foley-Waite LLC in Kenilworth, NJ, on the need to repair and modernize our infrastructure instead of handing out massive corporate tax breaks:
"The new Republican tax law has the potential to devastate my business. My wife and I own a custom woodworking business in Kenilworth, New Jersey. The bulk of our business is conducted in New York City and the tax law -- which limits the deductibility of state and local taxes -- has already sent the City's residential real estate market into a tailspin. Home sales are on the decline. If people are not purchasing homes, they definitely aren't renovating their homes and engaging our custom carpentry services. This could be incredibly damaging to our business. Instead of a tax giveaway to ultra-rich, we should be investing in repairing and modernizing the country's crumbling infrastructure, including a new rail tunnel under the Hudson River that will relieve both rail and ground transportation congestion while markedly improving the flow of goods and people up and down the East Coast."Read Kelly's full story.
The Main Street Alliance (MSA) is a national network of small business coalitions working to build a new voice for small businesses on important public policy issues. Main Street Alliance members are working throughout the country to build policies that work for business owners, their employees, and the communities they serve.
LATEST NEWS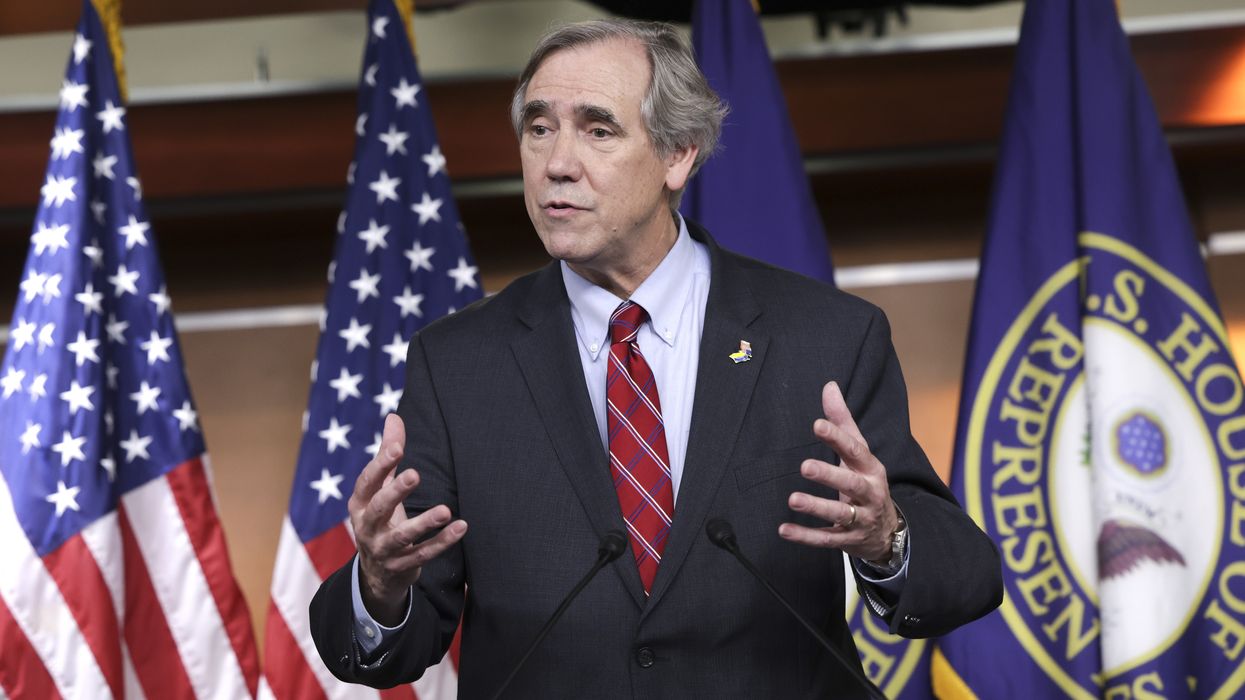 "At this rate there won't be any Palestinians left in Gaza before enough U.S. senators screw up the courage to do the right thing."
U.S. Sen. Jeff Merkley on Monday became just the second member of the Senate to demand a cease-fire in the Gaza Strip, over six weeks into Israel's brutal bombardment and ground operations that have killed over 13,000 Palestinians, including 5,500 children.
The Oregon Democrat's move, which he explained in a lengthy post on Medium, follows a cease-fire call from Sen. Dick Durbin (D-Ill.), the number two Senate Democrat, earlier this month, and demands from a couple dozen Democratic House members.
Merkley, who first visited Israel in 1978, wrote that by his fifth visit earlier this year, "far-right extremists were now helping to drive Israeli government policy," with Prime Minister Benjamin Netanyahu having "formed a government with Bezalel Smotrich as minister of finance and Itamar Ben-Gvir as minister of national security."
"Israel has unleashed a bombing campaign on Gaza of phenomenal ferocity... The impression the world has been left with is one of indiscriminate bombing."

"Under such a government, attacks by Israel's settlers against Palestinians in the West Bank have become more frequent and violent, often condoned by the Israel Defense Forces (IDF)," he pointed out. "Meanwhile, the Palestinian Authority (PA), which had worked closely with the IDF to prevent violence by Palestinians, was losing its legitimacy."
Since winning local elections in 2006, Hamas—which the Israeli and U.S. governments consider a terrorist group—has controlled Gaza, and Israel has limited who and what can come and go. After the October 7 Hamas-led attack in which around 1,200 Israelis were killed and 240 people were taken hostage, Israel declared war and intensified its blockade.
"The whole world was with Israel," Merkley wrote, noting U.S. President Joe Biden's trip to meet with Netanyahu—which was followed by a request that Congress give Israel $14.3 billion in military aid, on top of the $3.8 billion that the country already gets each year. "I and others defended Israel's right to respond with a campaign targeted at destroying Hamas."
"But the way that Israel has conducted that campaign matters and has been deeply disturbing for me and millions of others," the senator asserted, pointing to civilians in Gaza facing "the immediate possibility of starvation," hospitals operating without basic medical supplies, a lack of clean water that could spread diseases, and Israel's refusal to boost the flow of humanitarian aid.
Merkley also highlighted that "Israel has unleashed a bombing campaign on Gaza of phenomenal ferocity. Israel defends this campaign as necessary to strike Hamas wherever necessary. But the impression the world has been left with is one of indiscriminate bombing. Airstrikes have leveled much of Gaza City and hit crowded refugee camps, schools, hospitals, and even shelters operated by the United Nations."
"The result is mass carnage," he declared. "Too many civilians and too many children have died, and we must value each and every child equally whether they are Israeli or Palestinian. The war will damage Israel's economy with so many workers called to military duty. It also risks undoing the relationships with Arab neighbors won through the Abraham Accords, puts the negotiations for normalization with Saudi Arabia on ice, and could trigger a regional conflict with Hezbollah and other powers."
The senator previously called for humanitarian pauses, the position also held by the White House and various other senators. He wrote Monday that "after grimly witnessing accelerating body counts, many Americans, including thousands of Oregonians, have raised their voices to say more must be done to stop the carnage. I agree. So today I am calling for a cease-fire."
"The cease-fire requires an immediate cessation of military hostilities by both sides. But the cease-fire and the negotiations that follow must accomplish a number of objectives or it will not endure," he stressed. "Most importantly, the Israeli people and the Palestinian people must find leaders determined to partner with each other and the world to replace the cycle of hate and violence with both a long-term vision for security, peace and prosperity featuring two states for two peoples, and immediate, concrete steps toward that goal."
While individuals and groups who have spent weeks demanding a cease-fire—including with massive demonstrations around the world—celebrated Merkley's shift as proof that the pressure is working, he is still just the second of 100 senators.
"At this rate there won't be any Palestinians left in Gaza before enough U.S. senators screw up the courage to do the right thing and demand a cease-fire, and this after collectively embracing colonial Zionism and calling for its incessant support," University of California, Berkeley history professor Ussama Makdisi said on social media.
While many senators and representatives are under pressure from their constituents, a notable target is U.S. Sen. Bernie Sanders (I-Vt.), who has also faced calls from hundreds of former staffers from his presidential campaigns to demand a cease-fire.
Sanders, who briefly lived in Israel in the 1960s and has since said he is "proud to be Jewish" but "not actively involved in organized religion," has argued in recent weeks that "Israel has the right to go after Hamas" but must stop its "indiscriminate bombing."
In a statement on Saturday, Sanders reiterated his positions while also suggesting that Israel should have to meet certain conditions to receive any more U.S. military aid, including "a significant pause in military operations so that massive humanitarian assistance can come into the region" and "no long-term Israeli reoccupation or blockade of Gaza."

"The Netanyahu government, or hopefully a new Israeli government, must understand that not one penny will be coming to Israel from the U.S. unless there is a fundamental change in their military and political positions," the senator said.
News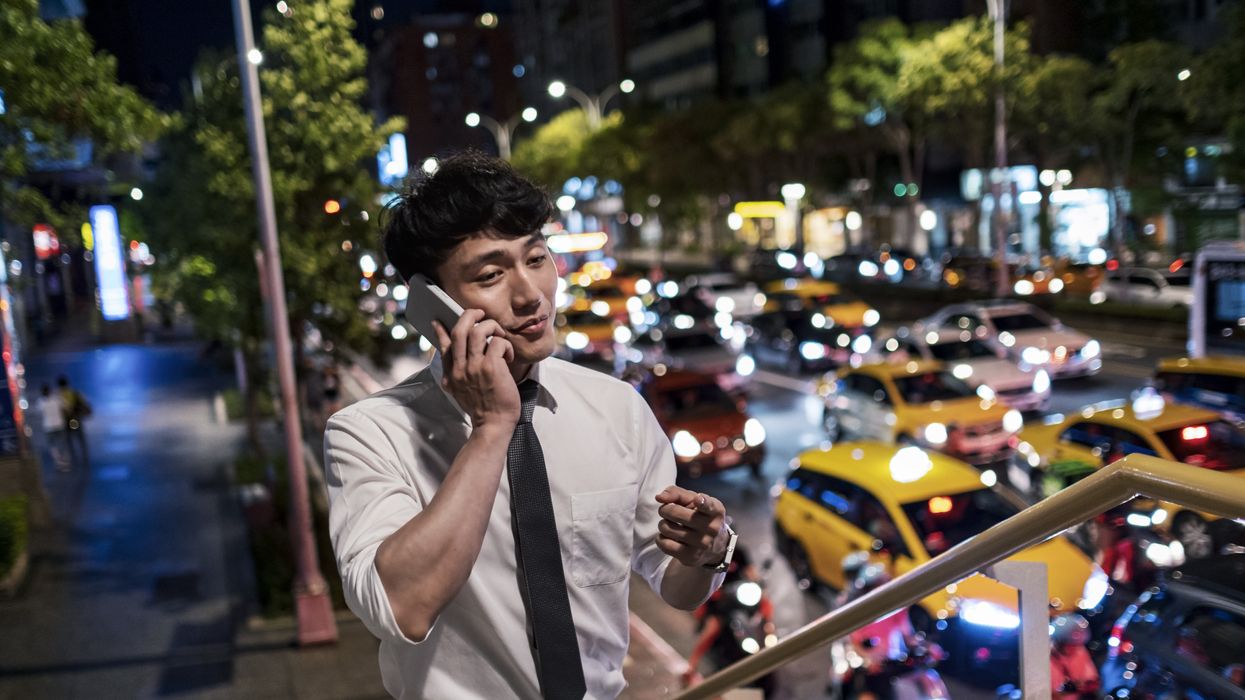 "These new details add up to a horrifying picture that proves the need for Congress to... enact comprehensive privacy protections for Americans before reauthorizing any spying powers," said one campaigner.
Privacy advocates on Monday renewed demands for swift congressional action on government surveillance in response to new WIREDreporting on a federally funded program through which law enforcement obtains phone records from AT&T.
"This is a long-running dragnet surveillance program in which the White House pays AT&T to provide all federal, state, local, and tribal law enforcement agencies the ability to request often-warrantless searches of trillions of domestic phone records," U.S. Sen. Ron Wyden (D-Ore.) wrote Sunday in a letter to Attorney General Merrick Garland, which WIRED obtained and published in full.
Wyden—a lead sponsor of the Government Surveillance Reform Act (GSRA), a bipartisan bill introduced earlier this month—shared some of what he has learned about the program and urged the U.S. Department of Justice (DOJ) to release information about it.
Now known as Data Analytical Services (DAS), the program was initially revealed to the public as the Hemisphere Project by The New York Times in 2013. Information collected includes caller and recipient names, phone numbers, and dates and times of calls.
Based on what officials told Wyden's staff, "all Hemisphere requests are sent to a single AT&T analyst located in Atlanta, Georgia, and... any law enforcement officer working for one of the federal, state, local, and tribal law enforcement agencies in the U.S. can contact the AT&T Hemisphere analyst directly to request they run a query, with varying authorization requirements," the letter says.

The letter also explains that "although the Hemisphere Project is paid for with federal funds, they are delivered to AT&T through an obscure grant program, enabling the program to skip an otherwise mandatory federal privacy review" by the DOJ.
Citing a document provided by the White House Office of National Drug Control Policy (ONDCP), Wyden noted that "White House funding for this program was suspended by the Obama administration in 2013, the same year the program was exposed by the press, but continued with other federal funding under a new generic sounding program name, 'Data Analytical Services.'"
"ONDCP funding for this surveillance program was quietly resumed by the Trump administration in 2017, paused again in 2021, the first year of the Biden administration, and then quietly restarted again in 2022," according to the senator.
"The public interest in an informed debate about government surveillance far outweighs the need to keep this information secret."
"I have serious concerns about the legality of this surveillance program, and the materials provided by the DOJ contain troubling information that would justifiably outrage many Americans and other members of Congress," he wrote, referencing materials the department gave his office. "While I have long defended the government's need to protect classified sources and methods, this surveillance program is not classified and its existence has already been acknowledged by the DOJ in federal court. The public interest in an informed debate about government surveillance far outweighs the need to keep this information secret."
WIRED pointed out that in addition to DAS not being subjected to a DOJ privacy review, "the White House is also exempt from the Freedom of Information Act, reducing the public's overall ability to shed light on the program."
While the White House "acknowledged an inquiry... but has yet to provide a comment," WIRED reported, AT&T spokesperson Kim Hart Jonson declined to comment, "saying only that the company is required by law to comply with a lawful subpoena."
"There is no law requiring AT&T to store decades' worth of Americans' call records for law enforcement purposes," the outlet highlighted. "Documents reviewed by WIRED show that AT&T officials have attended law enforcement conferences in Texas as recently as 2018 to train police officials on how best to utilize AT&T's voluntary, albeit revenue-generating, assistance."
Responding in a statement Monday, Demand Progress policy director Sean Vitka noted that the reporting comes as members of Congress are considering whether to reauthorize Section 702 of the Foreign Intelligence Surveillance Act (FISA), which allows warrantless surveillance targeting foreigners located outside the United States and will expire at the end of 2023.
"Hemisphere appears to be Exhibit A for mass domestic surveillance, the data broker loophole, and even parallel construction," said Vitka. "These new details add up to a horrifying picture that proves the need for Congress to close the data broker loophole and enact comprehensive privacy protections for Americans before reauthorizing any spying powers, most notably Section 702 of FISA. The fact that a White House office—one that is actively fighting FISA reform—restarted funding for Hemisphere in 2022, in spite of recent Supreme Court precedent, is scandalous."
Demand Progress is among the groups backing Wyden's recently unveiled legislation—which, as WIRED reported, would close various loopholes, "effectively rendering the DAS program, in its current form, explicitly illegal."
Elizabeth Goitein of the Brennan Center for Justice at New York University School of Law, which also endorsed the GSRA, said of the reporting: "This is exactly why Congress must pass comprehensive surveillance reform as a precondition for ANY reauthorization of FISA Section 702. The Government Surveillance Reform Act would put an end to the abuses revealed in this latest bombshell story."
Freedom of the Press Foundation also acknowledged current reauthoriztion battle, saying on social media Monday: "So the [government] used loopholes to secretly restart a mass domestic surveillance program, and some lawmakers also want to re-up FISA Section 702 without real reforms because we can 'trust' authorities not to abuse their power to go after journalists and others? No thanks."
News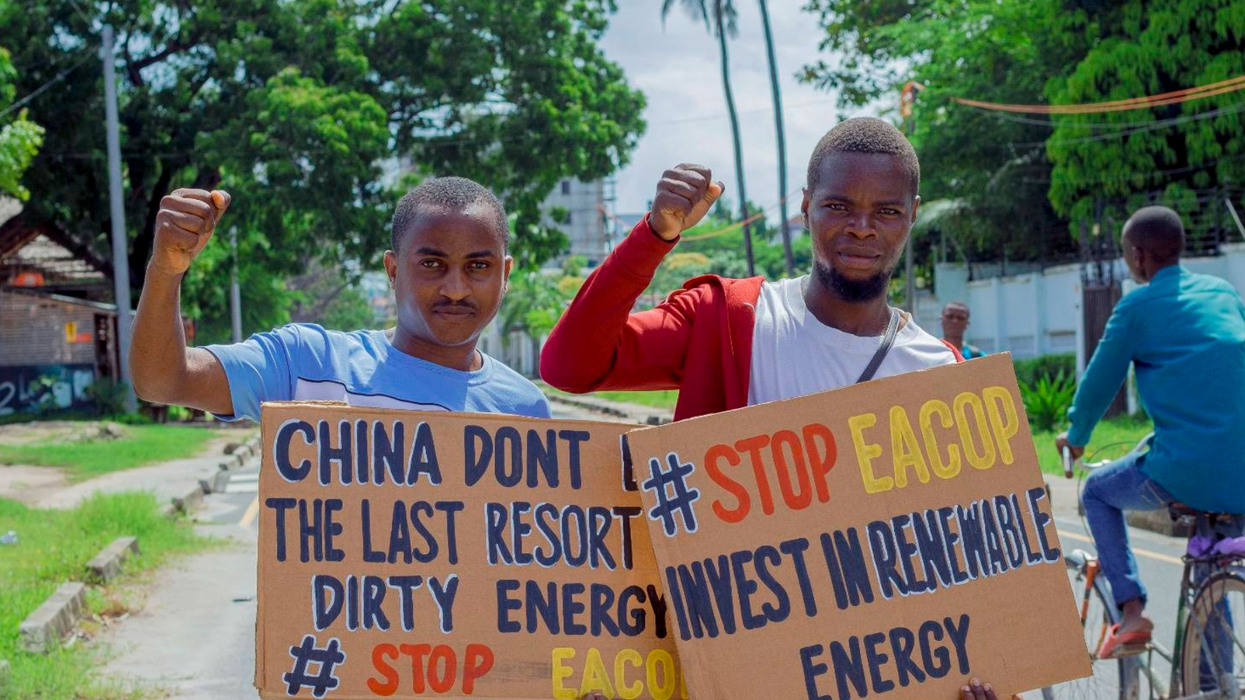 "The controversial EACOP project threatens pristine ecosystems, biodiversity hotspots, water resources, and community lands," said campaigners.
Campaigners assembled on Monday in four African countries and in Europe, rallying outside the headquarters of several Chinese financial institutions and embassies with one demand of Chinese officials: Withhold financing for the East African Crude Oil Pipeline.
The global campaign #StopEACOP has already helped push banks and insurers in North America, Europe, and Japan to refrain from getting involved in the project, which is being spearheaded by French multinational TotalEnergies and China National Offshore Oil Corporation.
Now, the state-owned China Export & Credit Insurance Corporation (SINOSURE), the Export-Import Bank of China (China Exim), and the Industrial and Commercial Bank of China (ICBC) are reportedly considering financially supporting the pipeline, which could lead to 379 million tons of fossil fuel emissions even as climate and energy experts warn there is no place for new gas and oil extraction on a pathway to limiting planetary heating to 1.5°C.

"Today, people stood united across borders to say this dangerous pipeline project must be stopped," said Zaki Mamdoo, #StopEACOP coordinator. "We urge SINOSURE, China Exim Bank, and the ICBC to listen to local communities and respect their rights, aspirations, and agency. By refusing to provide insurance or financing for EACOP, these entities must prove that they are not simply interested in profiting at the expense of Africa's well-being."
Organizers rallied at Chinese embassies in Dar es Salaam, Tanzania; Kampala, Uganda; Kinshasa, Democratic Republic of Congo (DRC); and Tshwane, South Africa. In London, United Kingdom, climate campaigners held a solidarity action outside the offices of SINOSURE and in Paris, France they rallied at the offices of the China Exim Bank and the ICBC.
The planned pipeline would run from Hoima, Uganda to Tanga, Tanzania, transporting oil from two oil fields and potentially connecting to oil blocks in the DRC.

"The controversial EACOP project threatens pristine ecosystems, biodiversity hotspots, water resources, and community lands," said #StopEACOP, as well as "contradicting global climate goals."
Campaigners had planned to deliver petitions opposing the 896-mile pipeline, as well as documents containing analysis of the socioeconomic and climate impacts of the project. According to #StopEACOP, the pipeline would run through the basin of Lake Victoria, which more than 40 million people depend on for food and water; displace landowners who say they have already faced threats and intimidation; and run through the habitats of endangered animals including lions, giraffes, roan antelopes, and sables.
#StopEACOP reported that officials at the embassies refused to receive the documents.
Organizers also denounced authorities for arresting seven advocates in Kampala.
"Every time activists and communities stand up to peacefully oppose EACOP in Uganda, they are brutalized and arbitrarily arrested," said Brian Atuheire, executive director of the African Initiative on Food Security and Environment (AIFE). "Today, seven young activists have been detained for peacefully protesting outside the Chinese Embassy in Kampala. Despite the repression, we remain resolute and have drawn strength and courage from the incredible show of solidarity from comrades worldwide."
Richard Senkondo, executive director for the Organization for Community Engagement, said any institution supporting EACOP "is perpetrating injustice."

"This pipeline will destroy our land and water—our very way of life," said Senkondo. "It poses a grave threat to the environment and the well-being and rights of our communities."
"We are united with allies around the world in our continued resistance against this harmful project," Senkondo added. "Instead of supporting such projects, we urge these Chinese institutions to be a true ally to the African continent by favoring the development of people-centered renewable energy to power Africa's future."
News