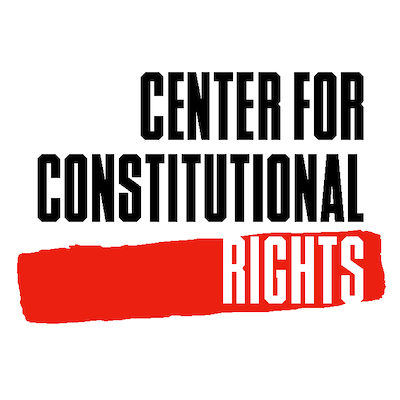 Two Years After Historic Settlement Ending Indefinite Solitary Confinement in CA, CCR Details Ongoing Violations, Releases Report Showing Lasting Consequences of SHU Post-Release
New Filing Seeks One-Year Extension of Court Monitoring Based on Violations
NEW YORK and PALO ALTO
Two years after the historic settlement of Ashker v. Governor of California marked the end of indefinite solitary confinement in California, the Center for Constitutional Rights and co-counsel filed a motion to extend the terms of the settlement by one year, noting that substantial reforms are still needed and the California Department of Corrections and Rehabilitation (CDCR) continues to violate the constitutional rights of Ashker class members. Concurrently, the legal team and researchers from the Human Rights in Trauma Mental Health Lab at Stanford University (Stanford Lab) released a report detailing the ongoing negative health consequences Ashker class members have suffered following their release from long-term solitary confinement into the general population, the first-ever in-depth report on the subject.
The Ashker litigation followed coordinated hunger strikes undertaken by thousands of prisoners statewide. The 2015 settlement resulted in nearly 1,600 prisoners being released into general population, but hundreds of class members were transferred to Level IV prisons, where conditions are similar to the SHU, with many spending the same or more time isolated in their cells than when they were in SHU. Today's motion details how, two years later, California has failed to make the requisite reforms to bring their prisons into compliance with due process. It asks the court to maintain its supervision and order CDCR to remedy various violations.
Among the violations: the settlement created a new "Restricted Custody General Population" unit, intended to temporarily house class members who would face a threat to their safety in the general population, until they could be safely transferred out. The RCGP was to provide increased recreation and interaction, akin to a GP unit, but, instead, it has become what one CDCR official called a "purgatory" where prisoners are indefinitely isolated from their families, denied jobs and educational programs, and have no way to earn release. CDCR's failure to properly administer the unit amounts to yet another constitutional violation. In addition, CDCR continues to use unreliable, fabricated, or improperly disclosed confidential information to send class members back to solitary and is still using old, improper gang validations to bar people from the opportunity to get parole. The men who were in SHU continue to suffer severe psychological harms and are not receiving the care they need to recover.
The Stanford Lab report released today, based on interviews at three maximum-security prisons, details severe and wide-ranging mental health consequences, further underscoring the need for CDCR reform.
"The torture of solitary confinement doesn't end when the cell doors open," said lead counsel with the Center for Constitutional Rights Jules Lobel. "California's continued violation of the Constitution and new evidence of the persistent impact of prolonged solitary confinement requires CDCR to make essential changes in their conduct and rehabilitative programs, and, more broadly, demonstrates the urgent need to end solitary confinement across the country."
The severe mental health impact of solitary confinement has been thoroughly documented, but before now, little was known about how prisoners adjust after release to a GP unit. CCR approached the Stanford Lab--a multi-disciplinary collaboration among Stanford University's School of Medicine, Law School, and the WSD Handa Center for Human Rights and International Justice--to investigate the open question of how and to what extent psychological harm caused in long-term, isolated imprisonment continues after transfer into general population.
The interviews revealed a range of continued, and potentially permanent, adverse consequences, including: mood deterioration and depression, intense anxiety, emotional numbing and dysregulation, cognitive impairments, modifications in perception of time, physical health ailments, distressful relational estrangement with family and/or friends, and diminished capacity for socialization.
According to the report, the emotional numbing and desensitization that commonly results from prolonged solitary continues to be a problem long after release, and significant alterations in cognition, perception, concentration, and memory not only persist, but worsen. Class members reported ongoing anxiety, paranoia, and hypervigilance. They emphasized the importance of jobs, mental health and psychological services, and other rehabilitative program opportunities to ease this transition, but expressed dismay about the inadequate options offered by the California Department of Corrections and Rehabilitation--in particular, they had reservations about programs run by correctional officers, and requested services and support from non-CDCR staff.
The report recommends an overhaul of occupational, educational, and social programs as well as mental health services for former SHU prisoners after their release. The Stanford Lab recommends that class members be offered mental health and psychological services in the form of independent psychiatric care and/or peer-facilitated support groups, echoing the feedback of class members, one saying, "It feels good to relate your experience to others. You can help someone else by recognizing patterns in your own life and preventing that for them."
The Stanford Lab report is being sent to corrections and government officials around the country.
The prisoner representatives in the Ashker case released a statement last month, which underscores the directives of both the extension motion and the report. They wrote, "We must stand together, not only for ourselves, but for future generations of prisoners, so that they don't have to go through the years of torture that we had to."
For more information, visit CCR's case page. Read the full report from Stanford Lab here.
The Center for Constitutional Rights is dedicated to advancing and protecting the rights guaranteed by the United States Constitution and the Universal Declaration of Human Rights. CCR is committed to the creative use of law as a positive force for social change.
(212) 614-6464
LATEST NEWS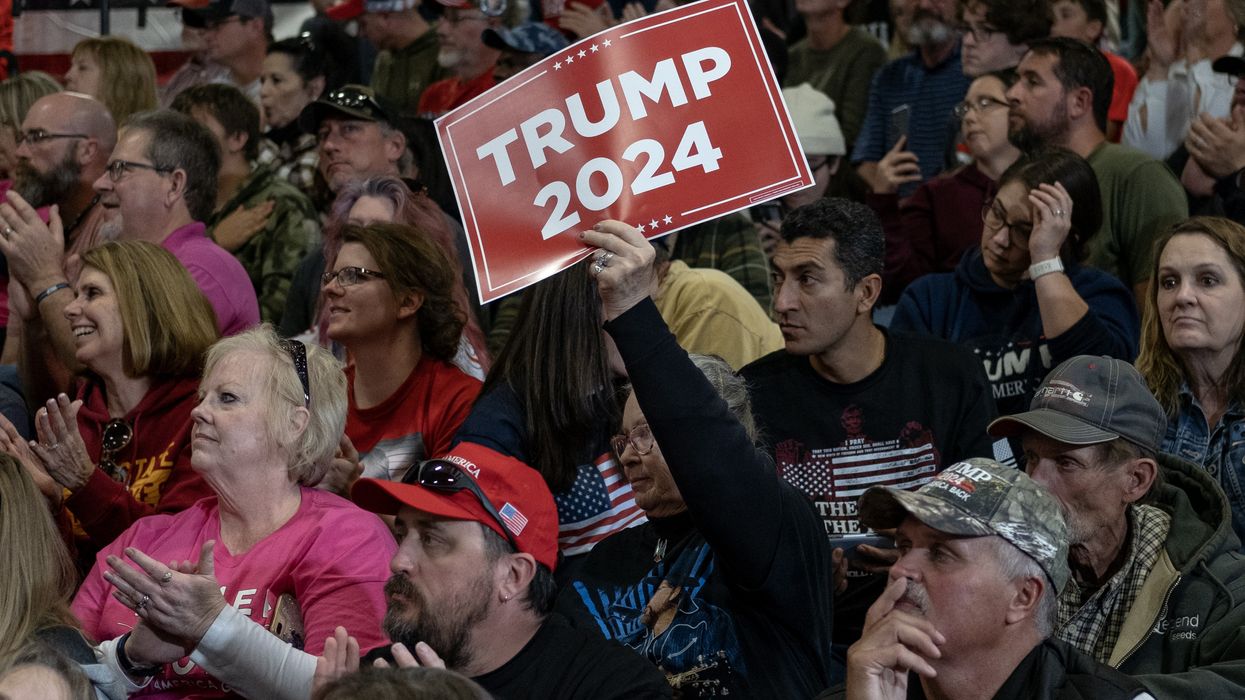 "Since Secretary of State Griffin-Valade has announced that Trump will be on the primary ballot unless a court orders otherwise, we are seeking a court order."
In response to Oregon Secretary of State LaVonne Griffin-Valade's announcement that she won't remove former U.S. President Donald Trump from the ballot for the Republican Party primary without a court order, voters on Wednesday filed a lawsuit seeking one.
This case and others like it across the country are based on Section 3 of the 14th Amendment, which bars anyone who has taken an oath to the U.S. Constitution and then "engaged in insurrection or rebellion" from holding any civil or military office.
"Donald Trump violated his oath of office and incited a violent insurrection that attacked the U.S. Capitol, threatened the assassination of the vice president and congressional leaders, and disrupted the peaceful transfer of power for the first time in our nation's history," Free Speech for People (FSFP) legal director Ron Fein said in a statement.
"Our predecessors understood that oath-breaking insurrectionists will do it again, and worse, if allowed back into power, so they enacted the insurrectionist disqualification clause to protect the republic from people like Trump," he continued. "Trump is legally barred from the ballot and election officials must follow this constitutional mandate."
"All Oregon voters, including the plaintiffs, have a well-established right to have only eligible candidates on the ballot."
FSFP—which represents the Oregon voters and has filed similar legal challenges in Michigan and Minnesota—had sent a letter last month requesting that Griffin-Valade "issue a temporary rule (and subsequent declaratory ruling) that Mr. Trump is constitutionally ineligible to appear on any Oregon future ballot for nomination of election to federal office."
In a statement about denying that request last week, the secretary's office noted that her decision relies on legal advice from the Oregon Department of Justice (DOJ), it only applies to the primary, and she "received significant voter contact" on the topic.
"Oregon law does not give me the authority to determine the qualifications of candidates in a presidential primary," Griffin-Valade said. "I will follow our usual process and expect to put Donald Trump on the primary ballot unless a court directs me otherwise."
"I understand that people want to skip to the end of this story. But right now, we don't even know who the nominee will be," she added. "When the general election comes, we'll follow the law and be completely transparent with our reasoning."
Along with FSFP, the Oregon voters behind the new filing are represented by local attorneys Jason Kafoury and Daniel Meek.
"The United States Constitution makes Donald Trump ineligible to run for or serve in any public office in the country, let alone president," Kafoury argued Wednesday. "All Oregon voters, including the plaintiffs, have a well-established right to have only eligible candidates on the ballot. Since Secretary of State Griffin-Valade has announced that Trump will be on the primary ballot unless a court orders otherwise, we are seeking a court order preventing Trump from being on the ballot."
Griffin-Valade spokesperson Laura Kerns said in an email to the Oregon Capital Chronicle on Wednesday that "the secretary believes that she made the right decision to rely on the advice of DOJ regarding the presidential primary election."

The lawsuit came on the same day as oral arguments before the Colorado Supreme Court in a Trump disqualification case initially brought by Citizens for Responsibility and Ethics in Washington (CREW) and firms representing state voters in September.
It also came a day after Trump—the GOP's 2024 front-runner, despite his ongoing criminal cases—said during a televised Fox News town hall that he would be a dictator on "day one," adding that "I want to close the border and I want to drill, drill, drill."

News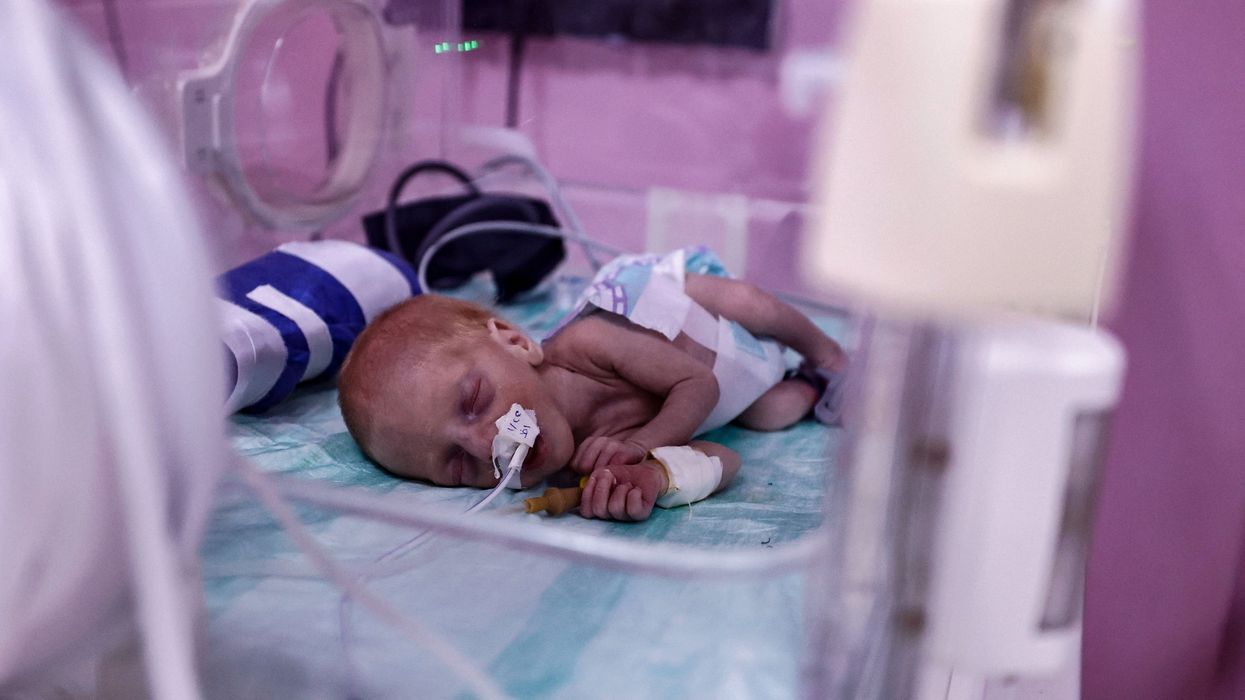 "What kind of weasel-mouth defense of Israel is that?" asked one observer, who quipped that "...deliberately killing babies is a war crime in Ukraine, but for Israel it is self-defense."
U.S. State Department Spokesperson Matthew Miller demurred Wednesday when asked if footage of decomposing newborn babies who died in a Gaza hospital—where staff were forced to flee an imminent Israeli invasion—showed a war crime.
"I would say that is a tragedy," Miller said during his daily press conference in response to a question from Al-Quds reporter Said Arikat about the infants' remains found last week in the evacuated neonatal intensive care unit at al-Nassr Children's Hospital in northern Gaza.
"It's a tragedy for those babies. It's a tragedy for their family members. It's a tragedy for the Palestinian people and it is a tragedy for the world," Miller continued. "And this is why we have made clear that far too many Palestinians have been killed in this conflict, and that, of course, includes far too many Palestinian children and of course, Palestinian babies."
"And it is why we have taken every measure we could to speak loudly and clearly to the government of Israel that it needs to do everything it can to minimize civilian harm," he added.
However, critics condemn the Biden administration for refusing to press Israel for a permanent cease-fire, and for seeking another $14.3 billion in U.S. military aid for Israel, which already gets nearly $4 billion in annual armed assistance from Washington.

Workers at al-Nassr Children's Hospital toldThe Washington Post that, with Israeli tanks surrounding the facility, oxygen supplies cut off by airstrikes, and warnings to flee for their lives, they were forced to leave behind four prematurely born babies—children of some of the 1.8 million Palestinians forcibly displaced in Gaza.
"I felt like I was leaving my own children behind," said one nurse. "If we had the ability to take them, we would have."
Two weeks later, local journalist Mohammed Balousha went to al-Nassr during the weeklong pause in the bombing. He witnessed the "terrible and horrific scene" of the mold-covered, worm-eaten bodies of the four babies, who he said had also been mauled by stray dogs.
Around the same time that al-Nassr staff were forced to abandon the infants, at least five premature babies died at al-Shifa Hospital after Israeli bombardment knocked out electricity needed to power its incubators. Earlier, Israeli forces also bombed the cancer ward of the al-Rantisi Pediatric Hospital.
According to Gaza officials, at least 7,112 children are among the more than 16,200 Palestinians killed in Gaza since Israel began what many critics around the world have called a "genocidal" assault on the besieged strip after Hamas-led attacks left 1,200 Israelis and others dead in southern Israel on October 7.
"Each day we see more dead children and new depths of suffering for the innocent people enduring this hell," Norwegian Refugee Council secretary-general Jan Egeland said Wednesday, demanding an immediate cease-fire. "The situation in Gaza is a total failure of our shared humanity. The killing must stop."
News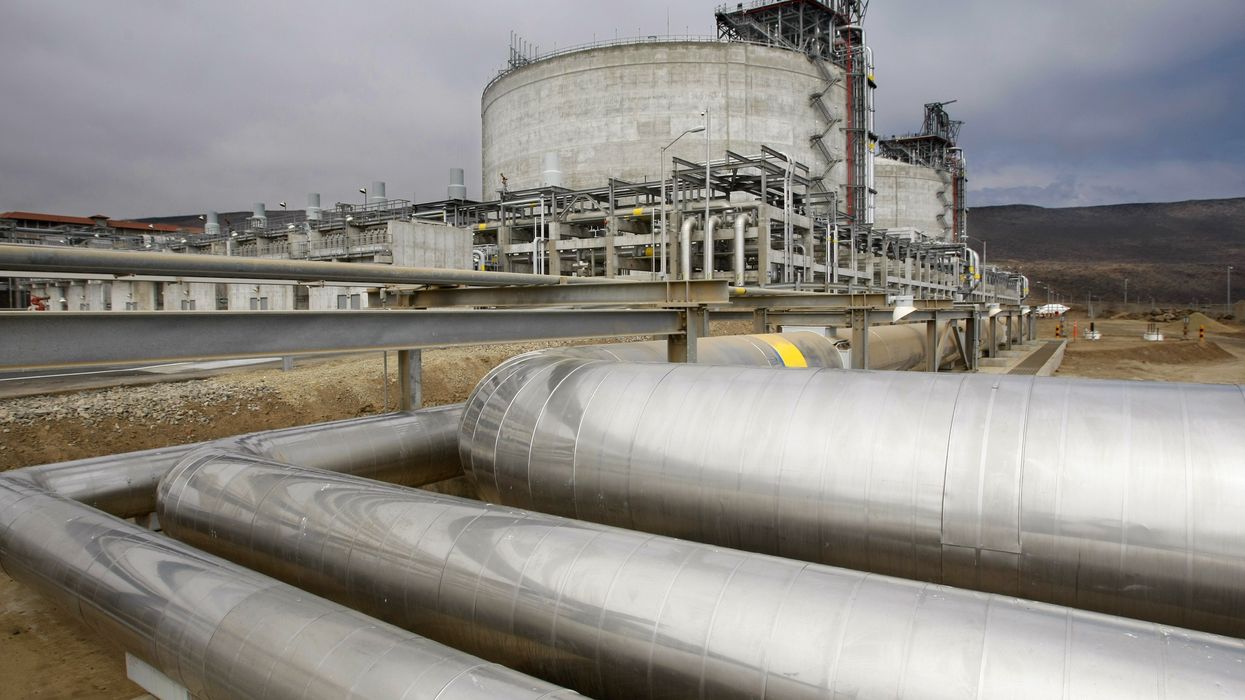 The U.S. State Department, said Public Citizen, "abdicated its authority" when it approved the Saguaro LNG pipeline without securing an emissions review.
Days after U.S. Secretary of State Antony Blinken addressed the 28th United Nations Climate Change Conference and warned that food insecurity "is made worse by our warming climate," government watchdog Public Citizen wrote to the top diplomat Wednesday, demanding to know why—if he is concerned about planetary heating—his agency recently approved the construction of a fracked gas pipeline.
The group was particularly perplexed by the fact that the State Department approved Oneok's Saguaro pipeline even though two weeks earlier, the Bureau of Energy Resources had ignored a request for a federally mandated emissions review for the project.
"Today Public Citizen requests that the U.S. Department of State explain why it abdicated its authority to grant a favorable recommendation for a natural gas export pipeline without first obtaining a lifecycle analysis of the project's impact on greenhouse gas emissions," wrote Tyson Slocum, director of Public Citizen's energy program. "We request a meeting with the appropriate representative to discuss."
Oneok wrote to the Federal Energy Regulatory Commission (FERC) in December 2022, requesting a presidential permit to build and operate the proposed 155-mile pipeline, which would connect the Permian Basin in West Texas to liquefied natural gas (LNG) export terminals in Mexico.
"Why did the government backtrack on a modest demand for a greenhouse gas emissions analysis for a pipeline and instead rubber-stamp a major fossil fuel project?"
FERC is required to obtain a "favorable recommendation" from the State Department before granting a permit for the construction of a pipeline that would cross a U.S. border.
But in an executive action announced in September, President Joe Biden directed agencies to consider the greenhouse gas impacts of new projects, "in environmental reviews conducted pursuant to the National Environmental Policy Act (NEPA)."
As such, Public Citizen noted in its letter, Hagen Maroney, deputy director of the State Department's Office of Global Change wrote to FERC on November 8 requesting "a greenhouse gas emissions analysis for the Saguaro pipeline project that covers lifecycle upstream and downstream greenhouse gas emissions."
Both FERC and Oneok refused to cooperate with the request, saying it was "beyond the scope" of the agency's analysis—but nevertheless, on November 13, the company and the commission were granted a favorable recommendation for the presidential permit.
As Reutersreported in June, U.S. companies were on track to approve three LNG export projects capable of processing 5.1 billion cubic feet per day (bcfd)—a record annual volume for LNG projects.
The U.S. became the largest producer of LNG in 2022, with exports expected to reach 12.1 bcfd this year and 12.7 bcfd in 2024.

"The Biden administration must explain why it is allowing a major fossil fuel export pipeline to be built, at the very moment it is traveling to global climate talks to call for ambitious climate action," said Slocum. "Why did the government backtrack on a modest demand for a greenhouse gas emissions analysis for a pipeline and instead rubber-stamp a major fossil fuel project?"
"The green light for the Saguaro pipeline project," he added, "shows yet again that the Biden administration's support for unfettered fossil fuel exports compromises its position to address the climate crisis."

News