For Immediate Release
Contact:
Tel: 202-785-3962,amazon@amazonwatch.org
Ecuador Moves To Close Leading Environmental Organization as Part of Crackdown on Civil Society
Reprisal comes after the group's public defense of Shuar indigenous peoples in conflict over Chinese copper mine
WASHINGTON
Ecuador's Environment Ministry announced yesterday its intention to shutter Accion Ecologica, the country's leading grassroots environmental organization. The move is a clear reprisal to the group's efforts to raise awareness about environmental and indigenous rights concerns over a planned mega-copper mine on the lands of the Shuar indigenous people in the southern Ecuadorian Amazon. Then yesterday evening the national police raided the offices of the Shuar federation, FICSH, detaining its president, Agustin Wachapa.
"We reject the assertion of the Ministry of the Environment that we have violated national law," said Accion Ecologica in a statement released after the announcement. "We have been scrupulous in our compliance with the law, and our actions are in full harmony with [the government's] National Plan for Good Living 2013-2017," which calls for participatory management of the country's environmental treasures like the Amazon.
Nonetheless, a government memo advocating for the closure - obtained by Accion Ecologica - cites the group's awareness-raising efforts about "the serious environmental impacts and the ecosystem that would result from the extractive activity" in the Cordillera del Condor - the location of the Chinese mining operation - "and to the violation of the rights of indigenous communities living in this area." In its closure notification, the government goes so far as to claim that Accion Ecologica has violated the Constitution by allegedly straying from its mission.
Accion Ecologica began sounding the alarm about likely rights violations occurring since last week as a conflict between the Shuar community of Nankints, the government, and EXSA intensified. The situation escalated after the forced removal of Shuar families from their ancestral territory to make way for the mining operations that were initiated without prior consultation with the community, as stipulated by international norms and jurisprudence and despite the fact that the Shuar had requested dialogue about the project on multiple occasions in previous months. Nankints and the surrounding area are now under a state of emergency and heavily militarized.
"The government is trying to shutter Accion Ecologica for doing its job," said Kevin Koenig, Ecuador Program Director with Amazon Watch. "This is a witch hunt which illustrates the Correa administration's rollback of rights for civil society and indigenous peoples."
The heightened tensions resulting from the state of emergency have also spilled over into neighboring Amazonian provinces. On Monday, the Kichwa of Sarayaku in Pastaza province, who have publicly declared support for the Shuar and called for dialogue, intercepted 11 soldiers traveling unexpectedly through their ancestral territory, in order to investigate the soldiers' presence. After talks with the governor of Pastaza and the Brigade commander, the soldiers were peacefully and safely released to Ecuadorian authorities, yet the government now claims Sarayaku kidnapped the soldiers and has reportedly fired the governor.
The government gave Accion Ecologica 24 hours to offer a response to the closure order and ten days to present detailed evidence on the charges against it. In its statement Accion Ecologica said, "we will continue to defend the rights of both humans and nature."
The action against Accion Ecologica is not the first time the administration of Rafael Correa has sought to dissolve the organization. In a 2009 attempt to shut it down, the administration similarly argued that the group had veered away from its registered organizational mission. The government had to reverse course after evidence provided by Accion Ecologica call the government's bluff, as well as due to significant national and international outcry.
The Correa administration did successfully shut down the environmental organization Fundacion Pachamama in 2013 after it supported a protest denouncing new oil concessions on indigenous lands in the country's southern Amazon region.
Accion Ecologica celebrated its 30th anniversary this year, and is largely responsible for the country's modern environmental movement. On issues ranging from resource extraction, climate change, GMOs, deforestation, free trade, ecological debt, and globalization, Accion Ecologica has been an instrumental and outspoken voice in shaping environmental policy and corporate accountability in Ecuador and beyond. It was the founding member of Oilwatch, a south-to-south network of resistance to oil activities in tropical countries, and was one of the first groups to explicitly make the call to Keep It In The Ground, which has become a worldwide movement and scientific mandate to keep fossil fuels in the ground.
Many of the Correa administration's landmark environmental initiatives actually originated with Accion Ecologica, like the the 2007 Yasuni-ITT initiative, which sought to keep close to a billion barrels of crude in the ground underneath Yasuni National Park in exchange for financial contributions equaling half of the country's forgone revenue. After Correa pulled the plug on the initiative and approved drilling, the group spearheaded the formation of Yasunidos, a national grassroots collective that gathered over 750,000 signatures to force a vote on drilling plans in Yasuni. And the groundbreaking inclusion of the Rights of Nature in the country's 2008 Constitution, which constitutionally enshrined the rights of mother nature, would not have happened without the organization's work.
Amazon Watch is a nonprofit organization founded in 1996 to protect the rainforest and advance the rights of indigenous peoples in the Amazon Basin. We partner with indigenous and environmental organizations in campaigns for human rights, corporate accountability and the preservation of the Amazon's ecological systems.
LATEST NEWS
"We've shown the world that this industry is harming workers and consumers to the benefit of company executives and the rich—and it's time that the working class did something about it," said the UAW president.
Days after unionized workers at the Big Three automakers voted to ratify their new contracts—secured after the United Auto Workers staged an innovative "stand up strike" that lasted six weeks—the union made clear on Wednesday it has no plans to stop its fight for economic justice for thousands of workers at car manufacturing plants across the United States.
Urging all autoworkers in the U.S. to "stand up," the UAW launched what pro-labor media organization More Perfect Unioncalled "the largest organizing drive in modern American history," aiming to bring 150,000 employees at 13 nonunion auto companies into the union.
The UAW announced its campaign with the launch of a new website detailing the skyrocketing profits and CEO pay at firms including Germany's Volkswagen and Mercedes; Japanese and Korean manufacturers Toyota, Hyundai, and Mazda; and U.S. electric car companies Tesla and Lucid.
At Toyota, for example, top executives have enjoyed a 125% increase in pay as profits have soared 30% in the last decade—but the company is firmly against unionization, offering a 9% raise to nonunion workers shortly after the UAW secured its new contracts, which include a 25% raise over the four-and-a-half year agreement.

Tesla, headed by the world's richest man, Elon Musk, has doubled its U.S. production since 2020, but the company also remains staunchly anti-union—and Mercedes' profits have grown by 200% in recent years, but this year the company "spent $1.9 billion on stock buybacks instead of sharing those record profits with their workforce," said the UAW.

In a video posted on the union's website, UAW president Shawn Fain urged workers at the 13 nonunion manufacturers to "stand up and win [their] fair share."
"We've shown the world that this industry is harming workers and consumers to the benefit of company executives and the rich—and it's time that the working class did something about it," said Fain. "To all the autoworkers out there working without the benefit of a union, now it's your turn."

Fain said autoworkers from across the country have been reaching out to the union since it began its stand up strike, in which workers at a few auto plants at a time were called to join the work stoppage in order to preserve the union's strike fund and gradually show the Big Three the impact of the growing strike.
"We've lost so much since I started here, and the raise won't make up for that," said Jeff Allen, a worker at Toyota's Georgetown plant in Kentucky—one of several states where Republicans have passed union-weakening "right-to-work" laws. "A union contract is the only way to win what's fair."
Autoworkers across the U.S. "don't have to like paycheck to paycheck," Fain said in the video, emphasizing that "the money is there."
"You don't have to worry about how you're gonna pay your rent or feed your family while the company makes billions," he added. "A better life is out there. It starts with you—UAW."

News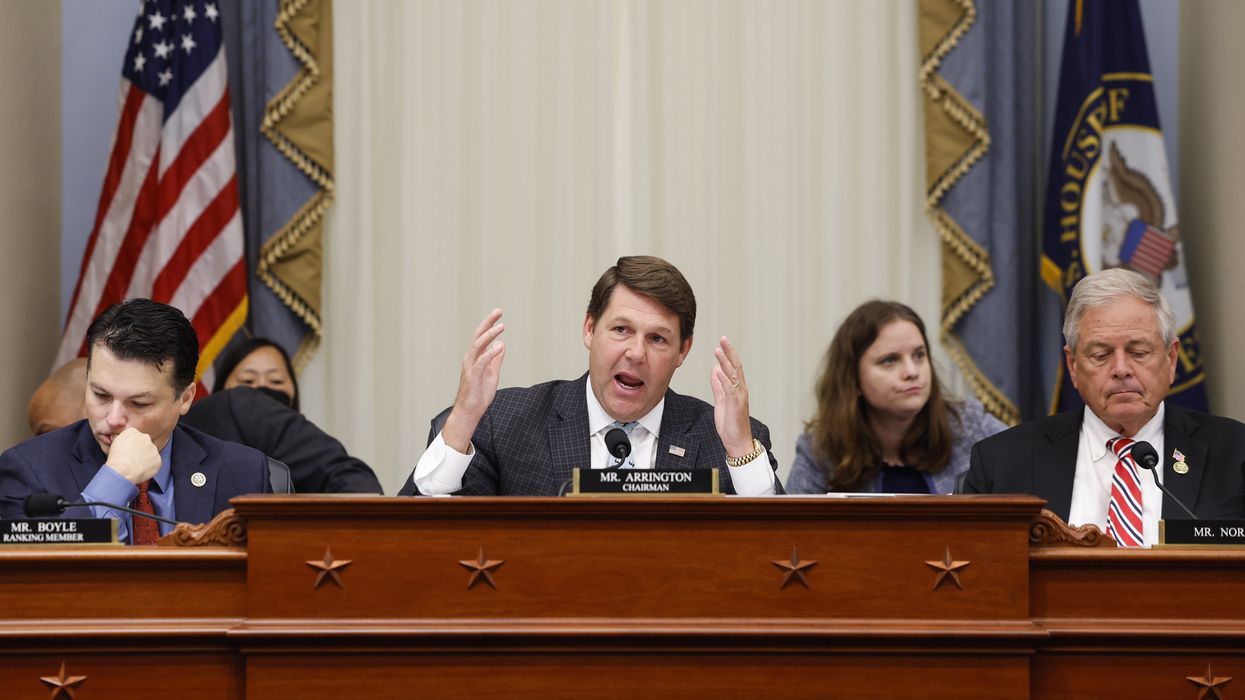 "At today's hearing, Republicans made the true purpose of their 'fiscal commission' crystal clear: demolish Social Security and Medicare behind closed doors," said one campaigner.
The Republican-led push to establish a fiscal commission for the U.S. debt was met with vocal opposition during a House Budget Committee hearing on Wednesday, with progressive advocates and Democratic lawmakers calling the proposal a thinly veiled ploy to further undermine and cut Social Security and Medicare.

Rep. Jim McGovern (D-Mass.), one of eight witnesses who testified at Wednesday's hearing, said he was "a little skeptical" that Republican lawmakers are now concerned about the national debt given that they have driven it up with tax cuts for the rich and large corporations in recent years—and are still trying to increase it.
According to one analysis, the series of tax cuts approved under former Presidents George W. Bush and Donald Trump have added $10 trillion to the debt since their enactment and are responsible for the bulk of the increase in the debt ratio since 2001.
Social Security, by contrast, is not a driver of federal deficits.

"If we want to ensure long-term solvency [for Social Security], there are two choices: Some on the other side think we should cut benefits, I think we should ask the ultra-rich to pay their fair share. We don't need a commission to tell us that," McGovern said during his testimony. "And my fear is that a commission would be used by some as an excuse to slash Social Security, Medicare, Medicaid, and other federal anti-poverty programs."
Rep. Jan Schakowsky (D-Ill.), a member of the House Budget Committee who served on the infamous Bowles-Simpson commission that proposed deep cuts to Social Security, expressed similar concerns during Wednesday's hearing.
Schakowsky said she was "happy" the Bowles-Simpson proposals—which she vocally opposed at the time—weren't adopted and warned that a fiscal commission of the kind backed by Republicans and right-wing Democrats is "a way for members of Congress to get out from under having to take the blame for the kinds of cuts that may be presented."
In an op-ed for Common Dreams on Wednesday, Schakowsky wrote that "if Republicans cared about improving our fiscal position, they would demand the rich pay their fair share."
"If Republicans wanted to actually solve our budget challenges, they would robustly fund tax enforcement to ensure corporations are complying with laws already on the books," she added. "But Republicans aren't serious about the deficit. They aren't even serious about governing. They are serious about only one thing, and that's ripping away Social Security from seniors behind closed doors."
Wednesday's hearing examined three pieces of legislation put forth by bipartisan groups of lawmakers in the House and Senate.
A bill introduced earlier this month by Sens. Mitt Romney (R-Utah) and Joe Manchin (D-W.Va.)—both of whom testified at Wednesday's hearing—would form a 16-member bipartisan, bicameral fiscal commission comprised of 12 elected officials and four outside experts tasked with crafting legislation to "improve solvency of federal trust funds over a 75-year period."
If approved by the commission, the legislation would be put on a fast track in the House and Senate.
Romney insisted during his testimony Wednesday that he doesn't know of a single Republican or Democrat who wants to cut Social Security and said benefit reductions should be off the table.
But Social Security Works, a progressive advocacy group, pointed out that a proposal released earlier this year by the Republican Study Committee (RSC)—a panel comprised of 175 House Republicans—called for raising the Social Security retirement age, which would de facto cut benefits across the board.
Rep. Jodey Arrington (R-Texas), who presided over Wednesday's hearing, is a member of the RSC. During his opening remarks, Arrington described efforts to prevent what he called a "sovereign debt crisis" as "our generation's World War."
Alex Lawson, executive director of Social Security Works, told Common Dreams that "at today's hearing, Republicans made the true purpose of their 'fiscal commission' crystal clear: demolish Social Security and Medicare behind closed doors, while avoiding accountability from voters."
"Chairman Jodey Arrington referred to the commission's supporters as 'partners in crime,'" Lawson added. "That's exactly what they are: criminals who are plotting to reach into our pockets and steal our earned benefits."
"It should be a national scandal that middle- and working-class families have to pay Social Security taxes on all of their income but millionaires and billionaires do not."
Instead of taking the deeply unpopular step of slashing benefits, Democrats who spoke at the budget committee hearing argued that Congress should pass legislation requiring the rich to contribute more to Social Security. This year, because of the payroll tax cap, millionaires stopped paying into the program in late February.
"It should be a national scandal that middle- and working-class families have to pay Social Security taxes on all of their income but millionaires and billionaires do not," said McGovern.
Rep. Brendan Boyle (D-Pa.), the top Democrat on the House Budget Committee, said at Wednesday's hearing that Congress could extend Social Security's solvency through the end of the century by requiring the rich to pay more in taxes.
"I think that is fair. I think that is appropriate," said Boyle. "And for those who disagree, I would be very interested in seeing what their plan is and their alternative."
Following the hearing, Rep. Summer Lee (D-Pa.) delivered a speech on the House floor condemning Republicans for working to "establish a death panel commission to gut earned benefits" and described the effort as part of a "cycle" that must be opposed.
"First, Republicans pass tax handouts for their filthy rich donors, promising a trickle-down miracle that never has and will never happen—from Reaganomics to Trump's tax scam," said Lee. "Then, when their tax scam causes the economy to slow and deficits to grow, they refuse to correct their mistake. Instead they blame immigrants, poor folks, Black folks, and brown folks."
"Then they repeat the cycle," she continued, "hoping enough of us will forgive or forget their scheme to tear away Medicare and Social Security and believe their lie that they were 'only after' food assistance, healthcare, and housing for poor folks—not your earned benefits—when the truth is that they always were and always will be after it all."
News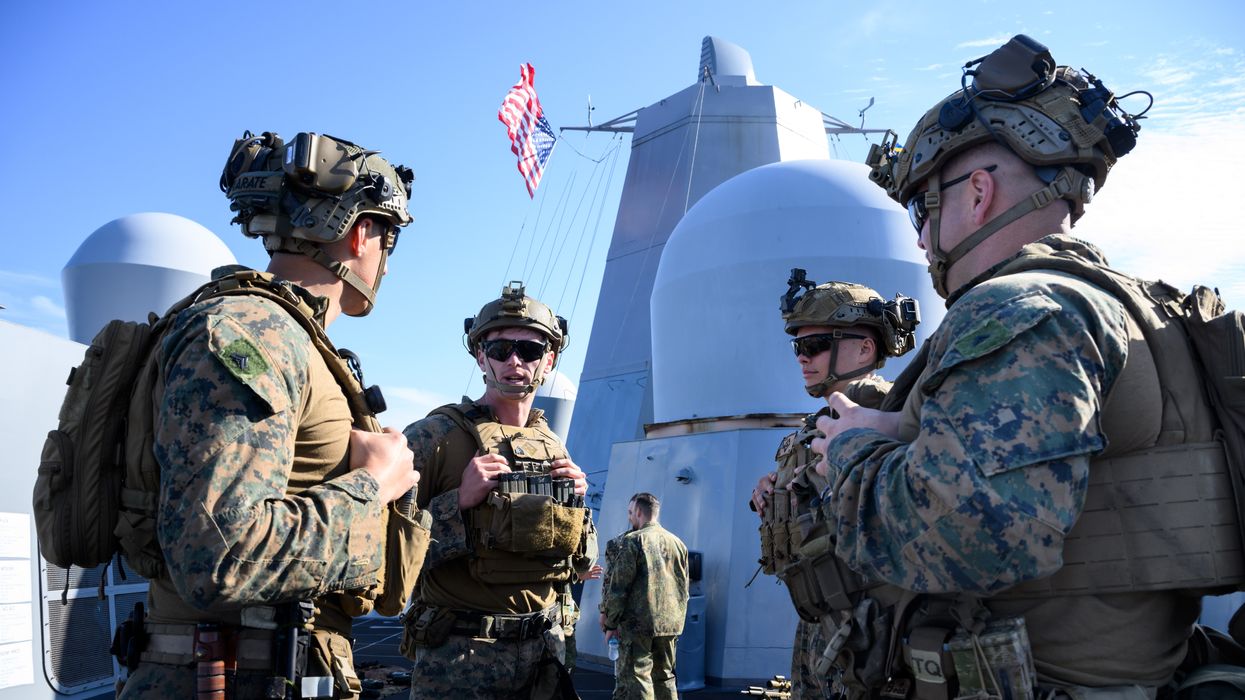 "Taken altogether, this map's data highlights that the expansive global counterterrorism apparatus grinds ever onwards," says a Costs of War Project report.
"We're not at war."
That's what U.S. House Budget Committee Chair Jodey Arrington (R-Texas) claimed during a Wednesday hearing about controversial legislation backed by Republicans and right-wing Democrats that would create a so-called fiscal commission for the U.S. debt.

Making some on-the-fly additions to his prepared remarks, Arrington said, "120% debt to GDP—this is the highest level of indebtedness in the history of our country surpassing World War II and we're not at war, we're in relative peace and prosperity."
And yet, a report published Wednesday by the Costs of War Project at Brown University's Watson Institute for International and Public Affairs shows that since 2021, the U.S. military has conducted counterterrorism operations—including training and assistance, military exercises, combat and detention, and air and drone strikes—in at least 78 countries.
"The war launched by the United States government in response to the 9/11 terror attacks continues," states the report, authored by project co-director Stephanie Savell. "This map is a snapshot of today's global military and civilian operations that evolved from President George W. Bush's 'Global War on Terror,' launched in 2001, and continued through and beyond the U.S. military's official withdrawal from Afghanistan in 2021. This war on terror continues under President Joe Biden."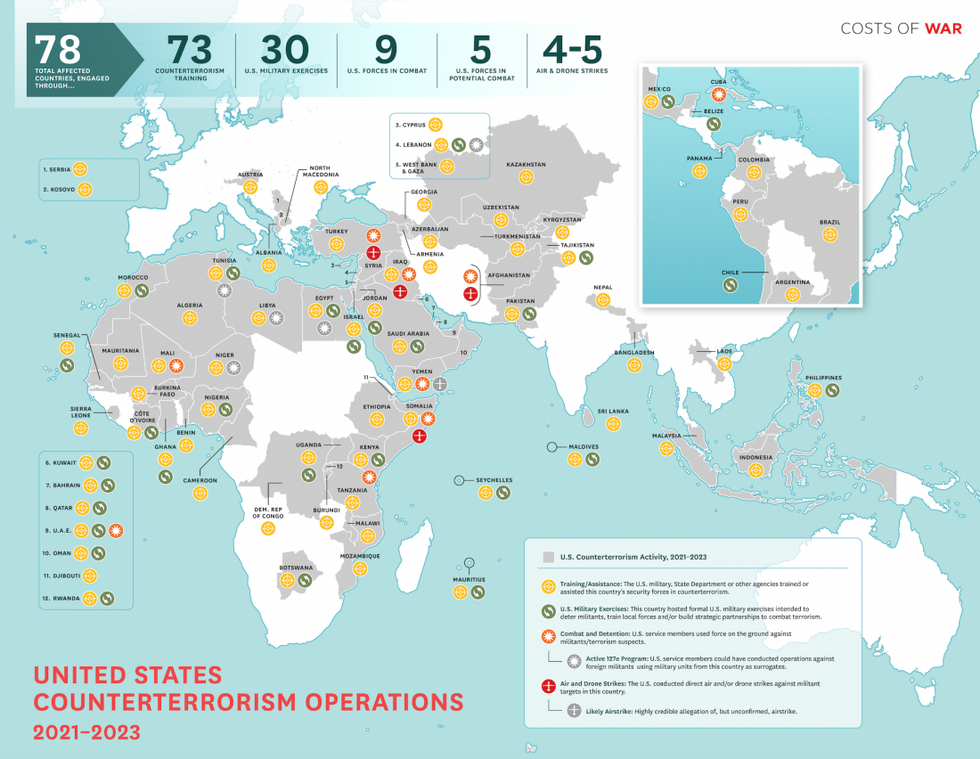 The United States conducted air and drone strikes against militants in Afghanistan, Iraq, Somalia, Syria, and likely Yemen, according to the report. U.S. forces also "engaged in combat and detention, using force on the ground against militants/terrorism suspects" in those five countries plus Cuba, Kenya, Mali, and the United Arab Emirates.
The publication also identifies 30 countries where the United States "conducted formal, named military exercises to project
force locally and rehearse scenarios of combating 'terrorists' or 'violent extremist organizations," and 73 nations where the U.S. government "trained and/or assisted military, police, and/or border patrol forces."
As the report details:
Many U.S. military operations are not included here—notably, those aimed at what U.S. officials and media identify as the military threat posed by Russia and China, the focus of much current U.S. foreign policy. Nor does this map include the military bases that have housed counterterrorism operations. Further, it does not include counterterrorism-related arms sales to foreign governments, all deployments of U.S. special operations forces, or all Central Intelligence Agency (CIA) operations. Also excluded are "military information support operations (MISO)," or "psychological operations," which the U.S. military carries out in many countries on the map and beyond, such as in Iran. All of these are significant elements of the bigger picture of U.S. counterterrorism strategy but beyond the scope of the map's data set.
USA Today exclusively reported on the new map. Citing the Pentagon and David Vine, an anthropologist and U.S military expert at American University, the newspaper noted that "there are up to 800 U.S. military bases overseas," and "the Biden administration signed an agreement in June that will bring six new U.S. military bases to Papua New Guinea."
The Costs of War Project report points out that "there are a few notable differences in comparing the current data with the previous version of the map, which covered activities between 2018 through 2020 under President Donald Trump's administration." Differences include that the number of nations hit with U.S. airstrikes decreased while the tally of countries where U.S. service members engaged in ground combat rose by one—the UAE.
"Overall, though the total number of countries has decreased slightly, from 85 to 78 total countries, the United States counterterrorism footprint remains remarkably similar," the report stresses. "Taken altogether, this map's data highlights that the expansive global counterterrorism apparatus grinds ever onwards. This contrasts starkly with claims or assumptions on the part of the U.S. public and policymakers that the so-called 'War on Terror' is over."
The report comes as Congress considers how much more military aid—if any—to provide Ukraine, which has been battling a Russian invasion since February 2022, and Israel, which launched a war on the Gaza Strip in retaliation for a Hamas-led attack on October 7.
"Today, in the current geopolitical context of the Middle East, the U.S. counterterrorism machinery is like a spark, ready to ignite," Savell wrote Wednesday in a related opinion piece for Newsweek. "The U.S. footprint in the region does not only make U.S. forces sitting ducks—it also threatens to dramatically escalate the current war on Gaza. Research has shown that having U.S. troops at the ready in so many places actually makes the chances of the U.S. waging aggressive, offensive wars far more likely."
"It is time for the U.S. to think deeply about the costs of overseas counterterrorism and to admit it has been a failure, underlaid by structural racism," she argued. "It is time to truly end the post-9/11 war era."
News